How to Make a Coastal Wreath (using Dollar Tree Wreath Form)
Summertime is the perfect season to add coastal touches to your home. And what could be easier and more affordable than making your own coastal wreath using a Dollar Tree wreath form?
In this tutorial, I'll show you how to create a beautiful wreath that captures the essence of summer coastal decor in seaside towns, but you don't have to live in a seaside town or near the beach to enjoy it!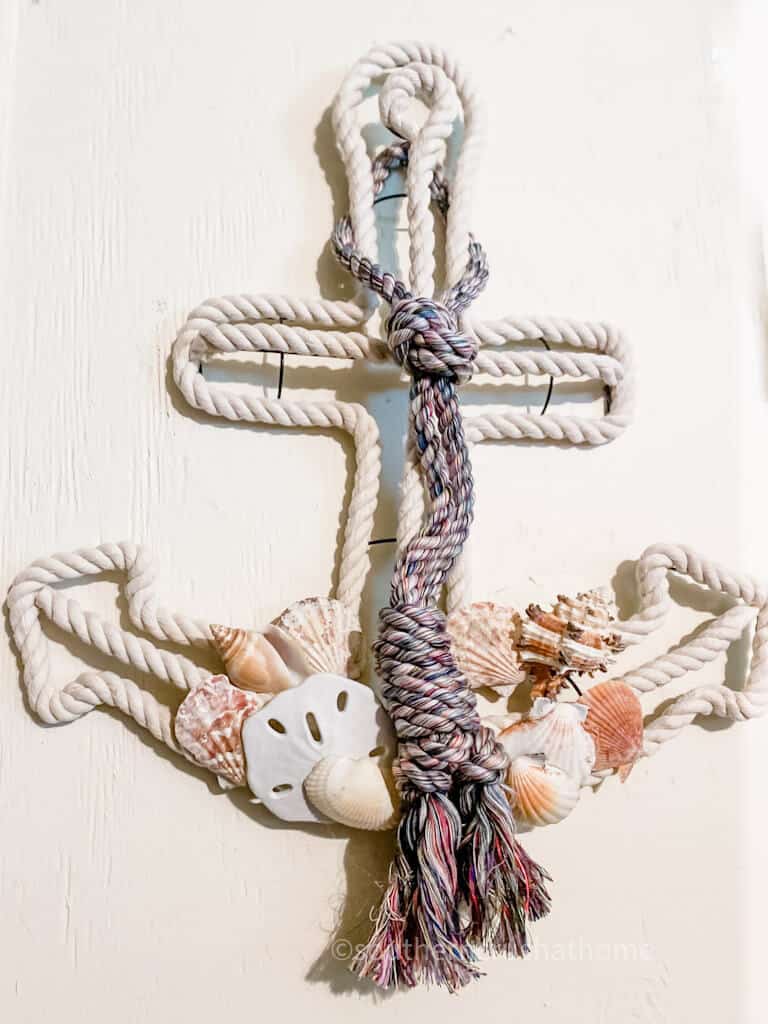 If you are looking for another nautical wreath be sure to check out my Patriotic Wreath with Nautical Rope. It's perfect for Memorial Day, Fourth of July, or a patriotic touch to your front door!
Now let's get to this pretty coastal wreath so you can make your own in plenty of time for all of those summertime get-togethers.
This blog post contains affiliate links. The opinions are wholly my own from my own experience. I may earn a small commission from clicks through to the websites that end in a purchase.
Supplies Needed to Make a Coastal Wreath
Dollar Tree Anchor Wreath Form
Seashells
Nautical Rope
Dog Toy Rope
Hot Glue Gun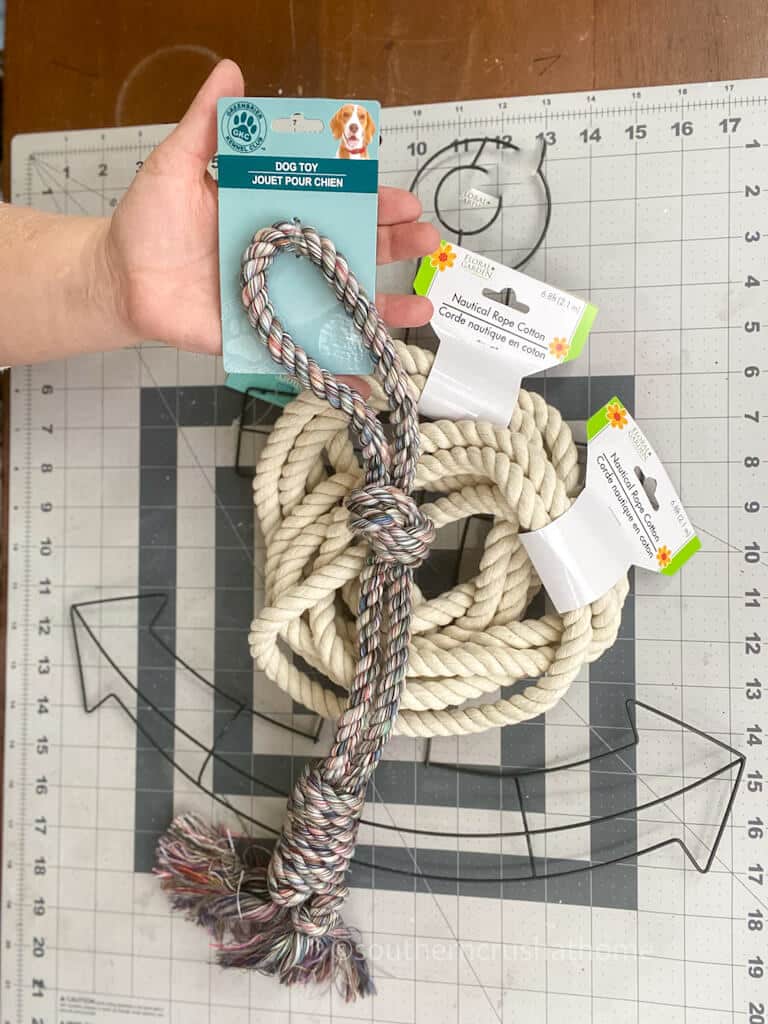 Coastal Wreath Tutorial
If you prefer you can watch a step-by-step video tutorial on how to make this coastal wreath using a Dollar Tree anchor wreath form below.
Step 1. Glue on the Rope
Start by gluing the nautical rope to the Dollar Tree wire anchor-shaped wreath form.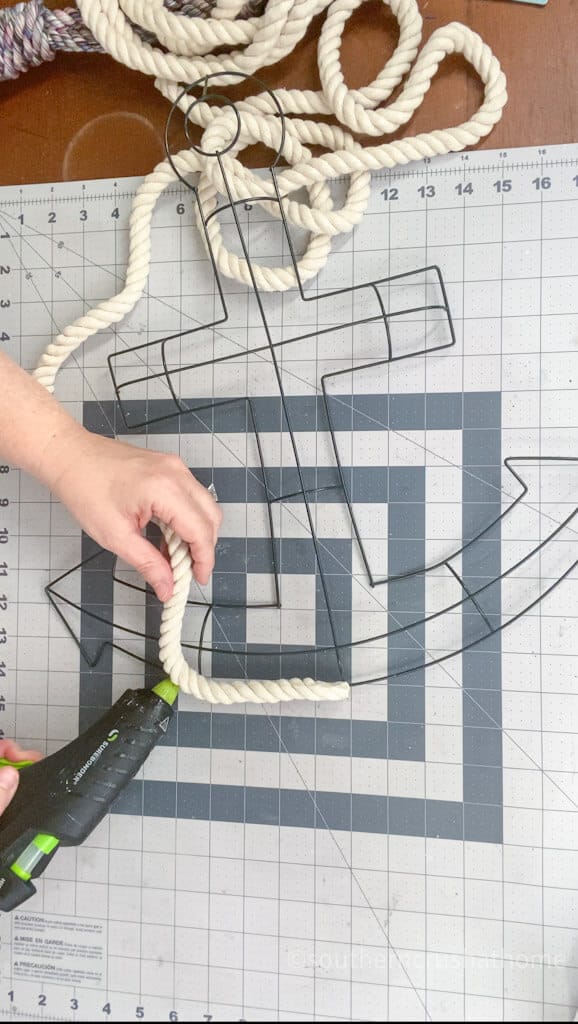 You can start at the bottom and work your way around the wreath.
Step 2. Add tape to the end of the rope
A quick tip I learned a while back when working with rope is to wrap the end piece with tape. This will help eliminate fraying and make it much easier to work with.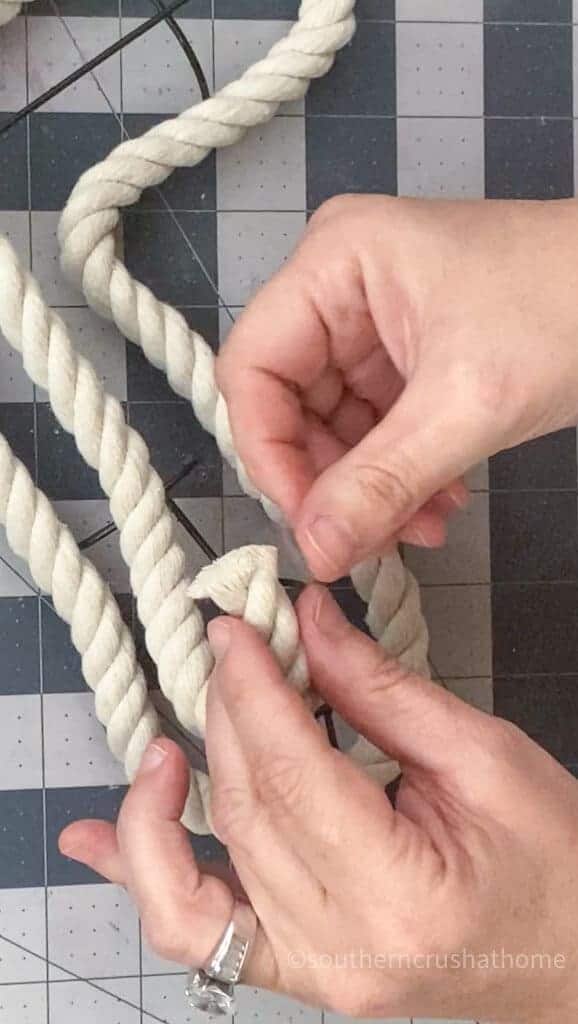 Step 3. Secure dog toy with colorful rope
To give this wreath a little more color, I added another piece of colorful rope accent that is actually a dog toy! Can you believe that? It's always fun to think outside the box when creating.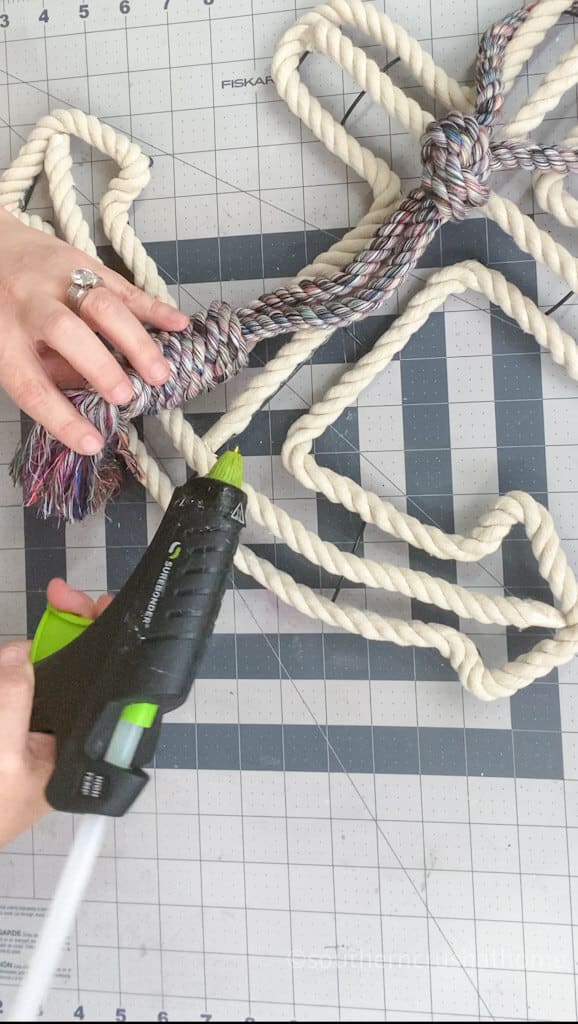 Just loop the dog toy around the top and add a little hot glue to the bottom so it stays nice and secure. This really pops against the white rope and also adds lots of extra texture.
Step 4. Gather assorted seashells
Keep an eye out on your next beach trip for free seashells. They can be used in so many fun craft and home decorating ideas.
If you have kids at home they can help you collect the seashells for free and make this a family project for summer!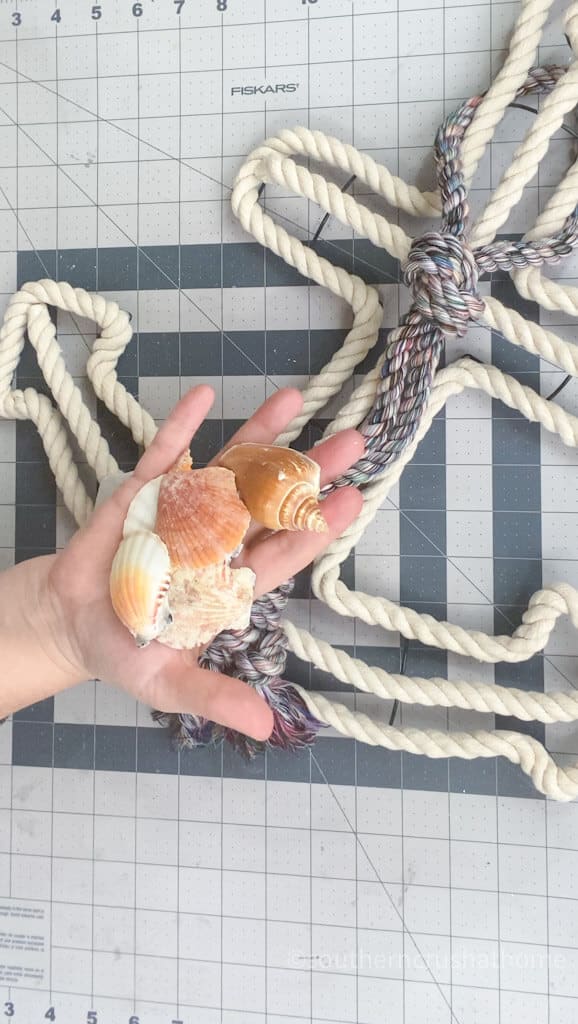 But, if you don't have access to any from the beach, you can also go shopping for a small bag at Dollar Tree, or a larger bag at the craft store for a good price. Check for a coupon at the craft store too!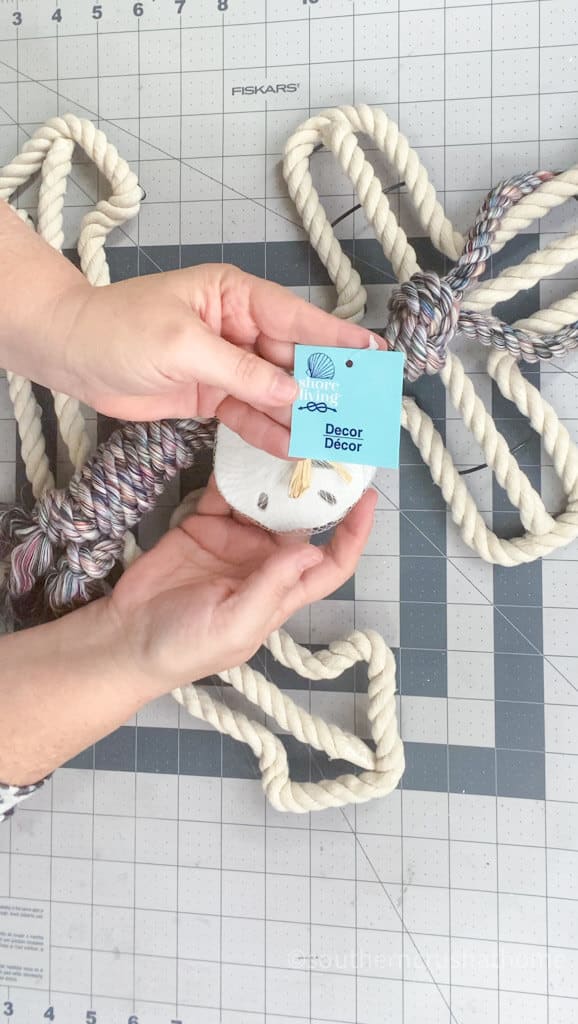 Look how pretty the white sand dollar shells are!
Step 5. Hot Glue Shells
Now you want to attach your seashell collection to your coastal wreath. I added a variation to the bottom of my wreath, but you can add them all the way around the wreath if you want.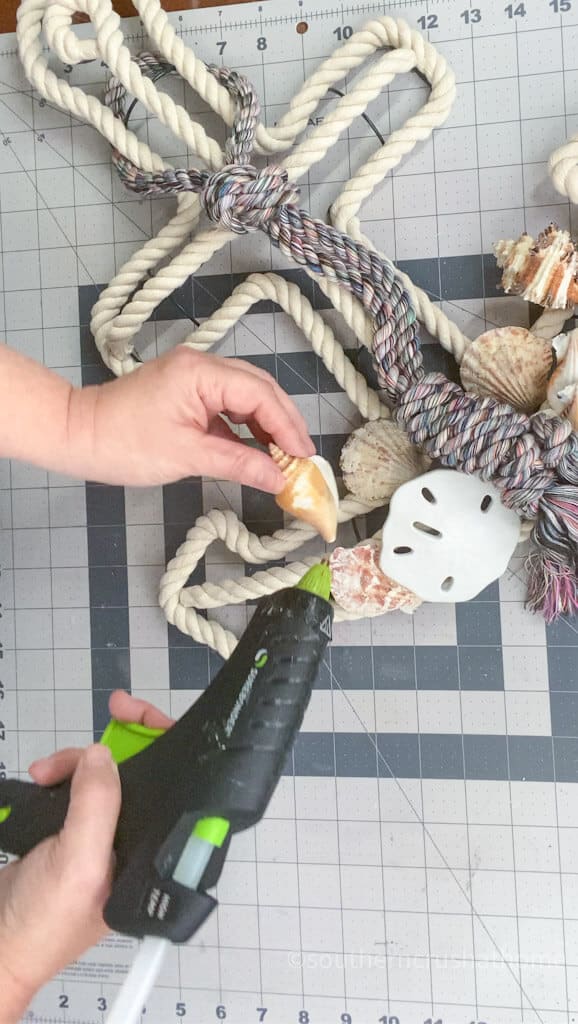 A few would look pretty at the top too. Just use your creativity and have fun with it! Be sure to alternate different style shells to really give it dimension.
Step 6 . Hang and enjoy!
This type of wire wreath form is so easy to hang too. Hang it on a wall with a small nail or on a door with a command strip.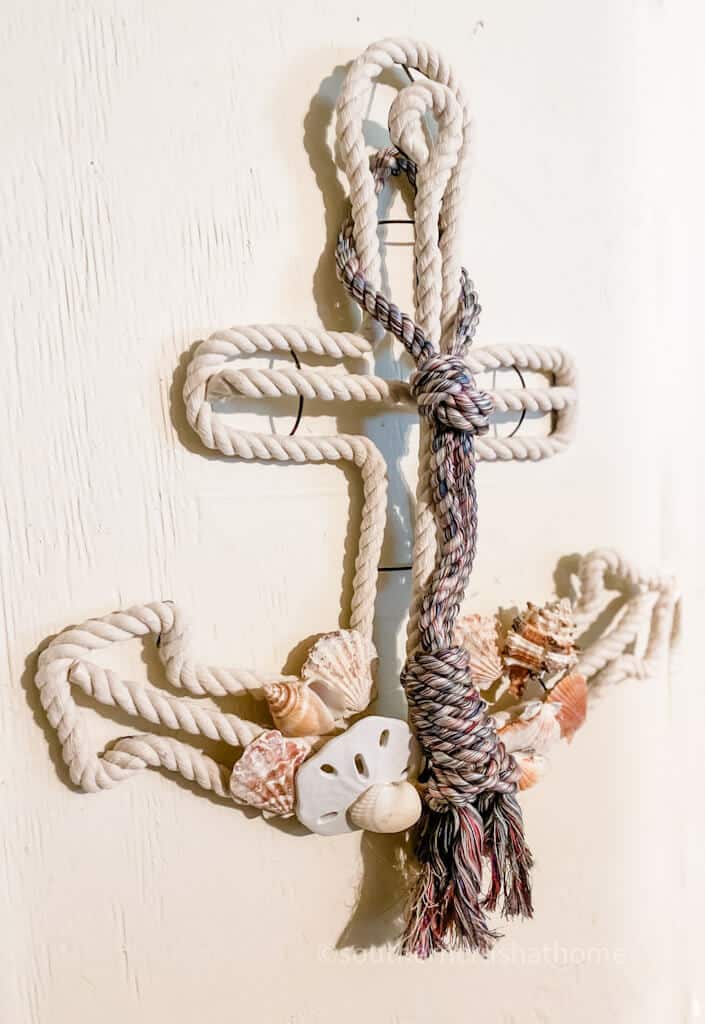 Coastal decor looks great in a guest bathroom, on the patio, or near the pool!
I've seen similar-looking beach decor in high-end stores as this coastal theme is super popular. Why not make it for less?
Beautiful Coastal Wreath
That's all there is to it. For under $10 and about $30 minutes of your time, you have a beautiful and unique coastal wreath that will get any space looking like summertime!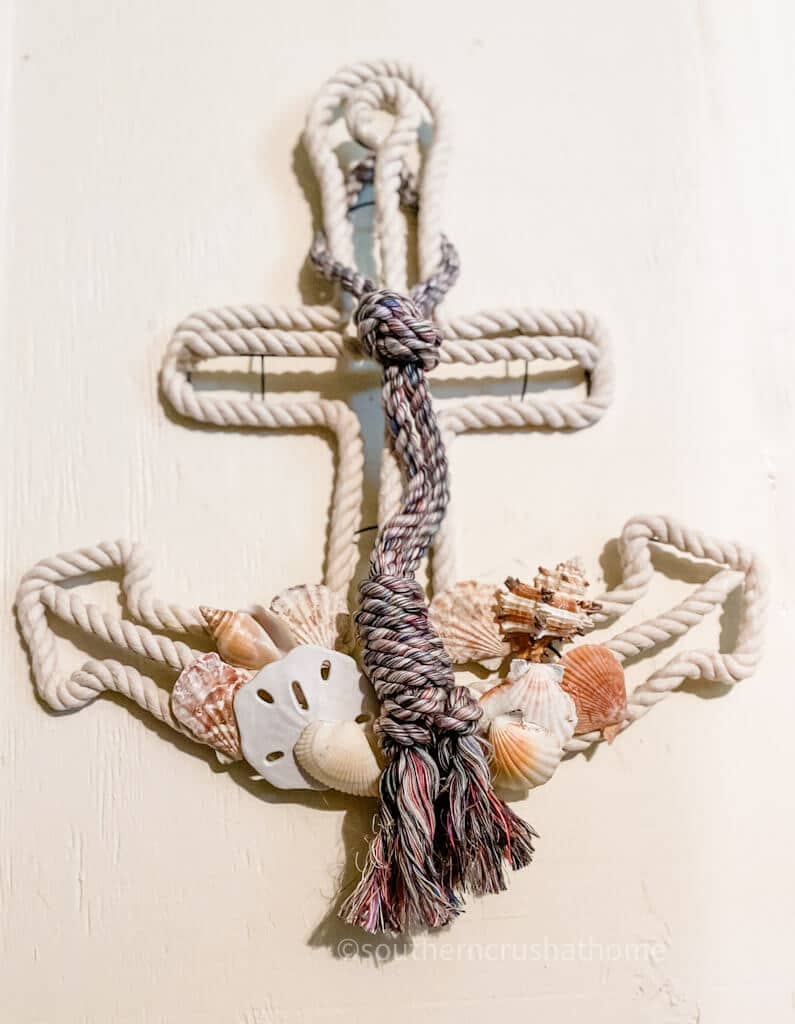 What do you think? Does this wreath or something similar look like you could see yourself making? If you give it a try, please leave me a comment below and let me know how it turned out.
You can definitely add different colors of nautical rope, more sand dollars, sea horses, tiger shells, scallop shells, or even a cute beach sign!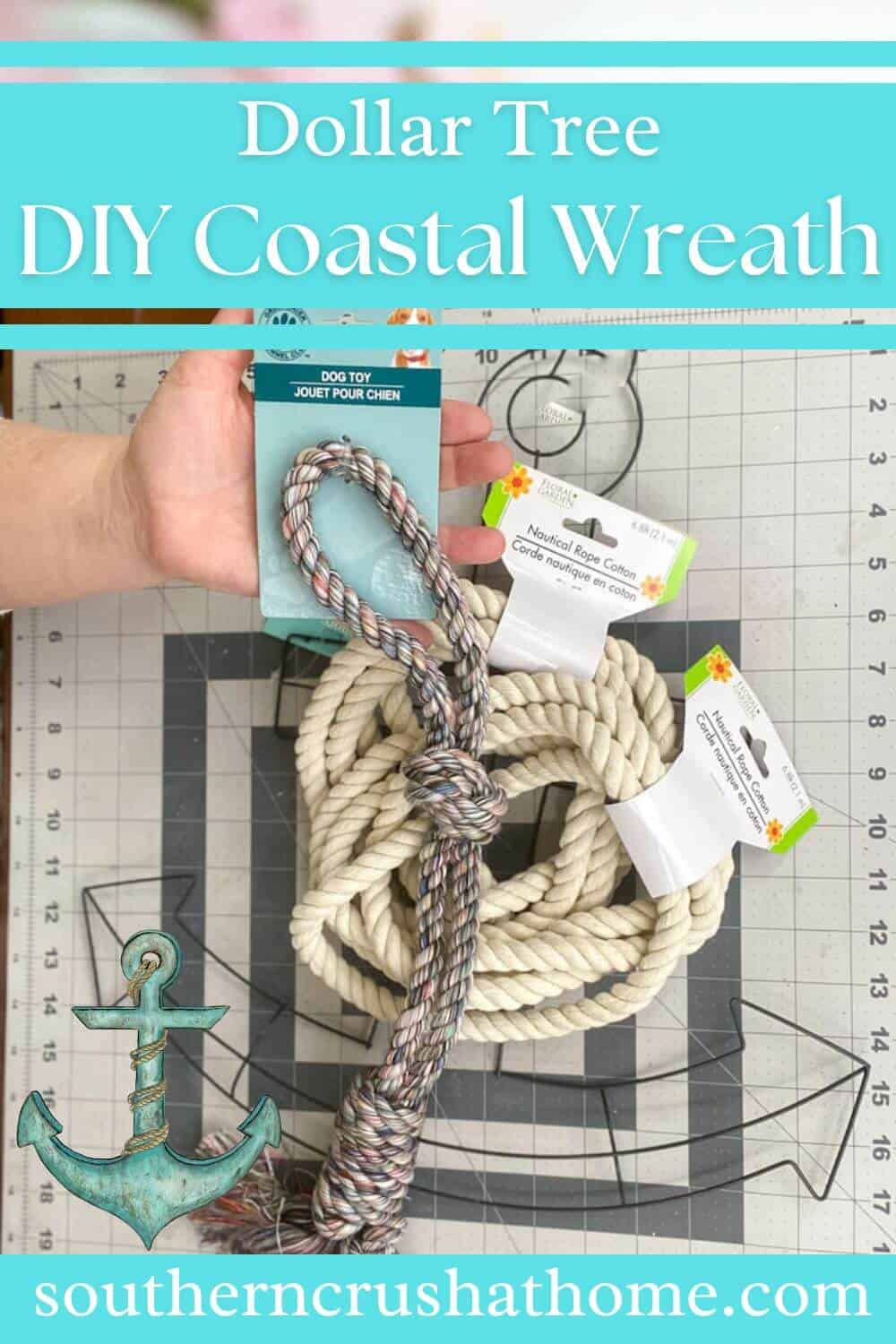 Be sure to PIN this one for later!
Thanks for stopping by. Happy summer!
What can I put on the front door instead of a wreath?
Door Hanger
Cute Farmhouse Sign
Hanging Mailbox
House Numbers
Fancy Doorknocker
Boots
Chalkboard
Umbrella
Enjoy even more summer wreaths here:
Best Wreath Supplies Online in 2022
Of all the crafts, wreaths are probably one of the most enjoyable to make. With quality, affordable wreath supplies, you can create wreaths for every season and holiday with little effort.
These are the best wreath supplies you'll find online in my opinion.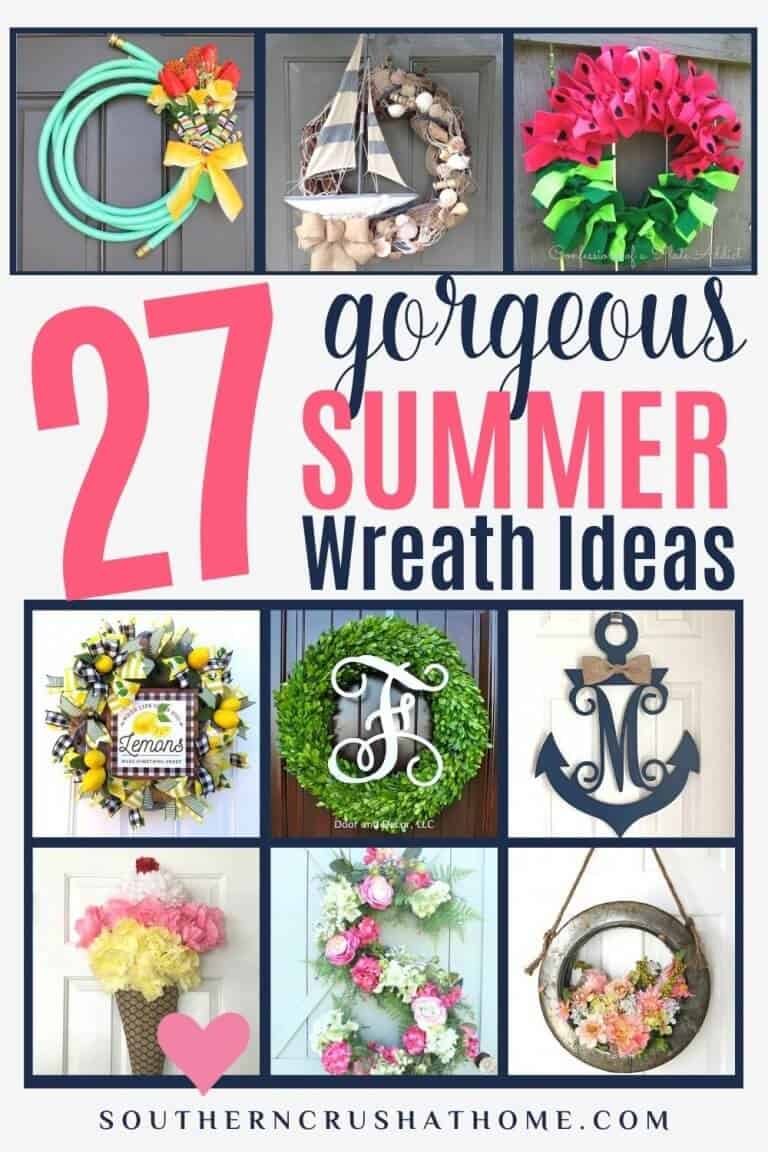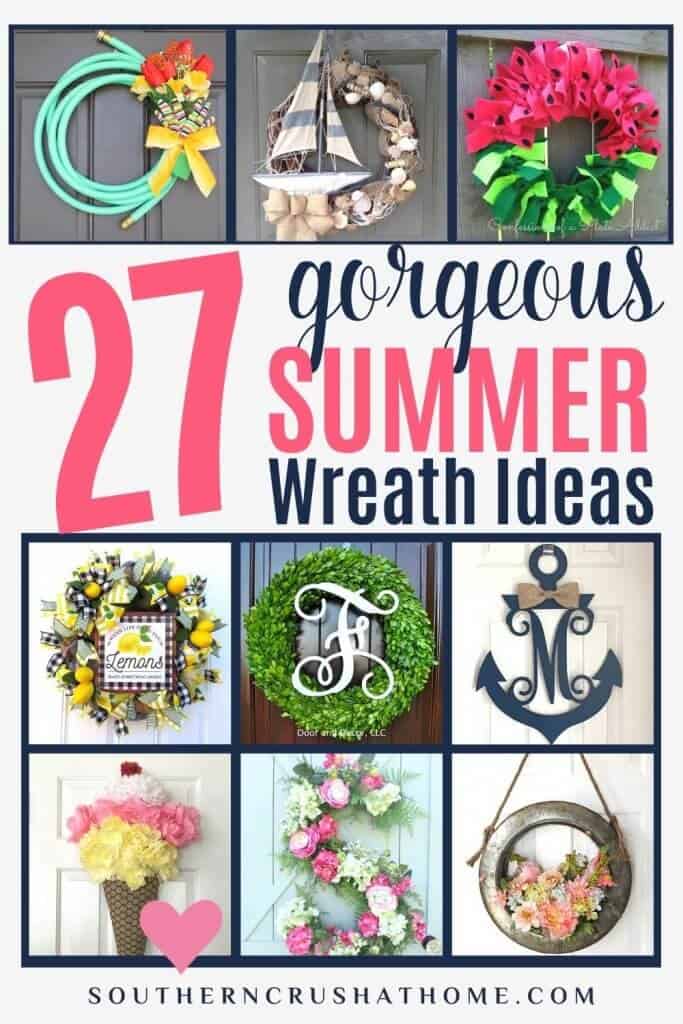 Other Wreath Ideas:
Other Fun Summer Crafts:
How to Make a Coastal Wreath (using Dollar Tree wreath form)
In this blog post, we'll show you how to make a coastal wreath using a Dollar Tree wreath form. So gather up your supplies and let's get started!
Materials
Dollar Tree Wreath Form

Seashells

Nautical Rope

Dog Toy Rope
Instructions
Wrap the end of the rope with tape.

Glue the nautical rope to the Dollar Tree wire wreath form.

Start at the bottom and work your way around the wreath.

Secure the dog toy rope around the wreath in a loop.

Add a little hot glue to the bottom so it stays nice and secure.

Attach different seashells to your coastal wreath.