Easy Pool Storage Box Restoration DIY
We spend tons of our time outside during the warm Texas summer months. We are so very grateful to have a nice pool to dip into when it gets too hot. With owning and maintaining a pool comes "all the things" and so our pool storage box outside gets a ton of use. It's where we store everything from our pool's unsightly vacuum equipment to the nasty smelling chemicals for the pool. It's exposed to the outdoor elements day in and day out. It has been known to double as a 'catch-all' of sorts because of it's location. Apparently, certain things have been left outside sitting on it's top that have also rusted before being removed. Let's just say a makeover or renovation for this pool storage box was long over due. See how easy this pool storage box makeover was to do below…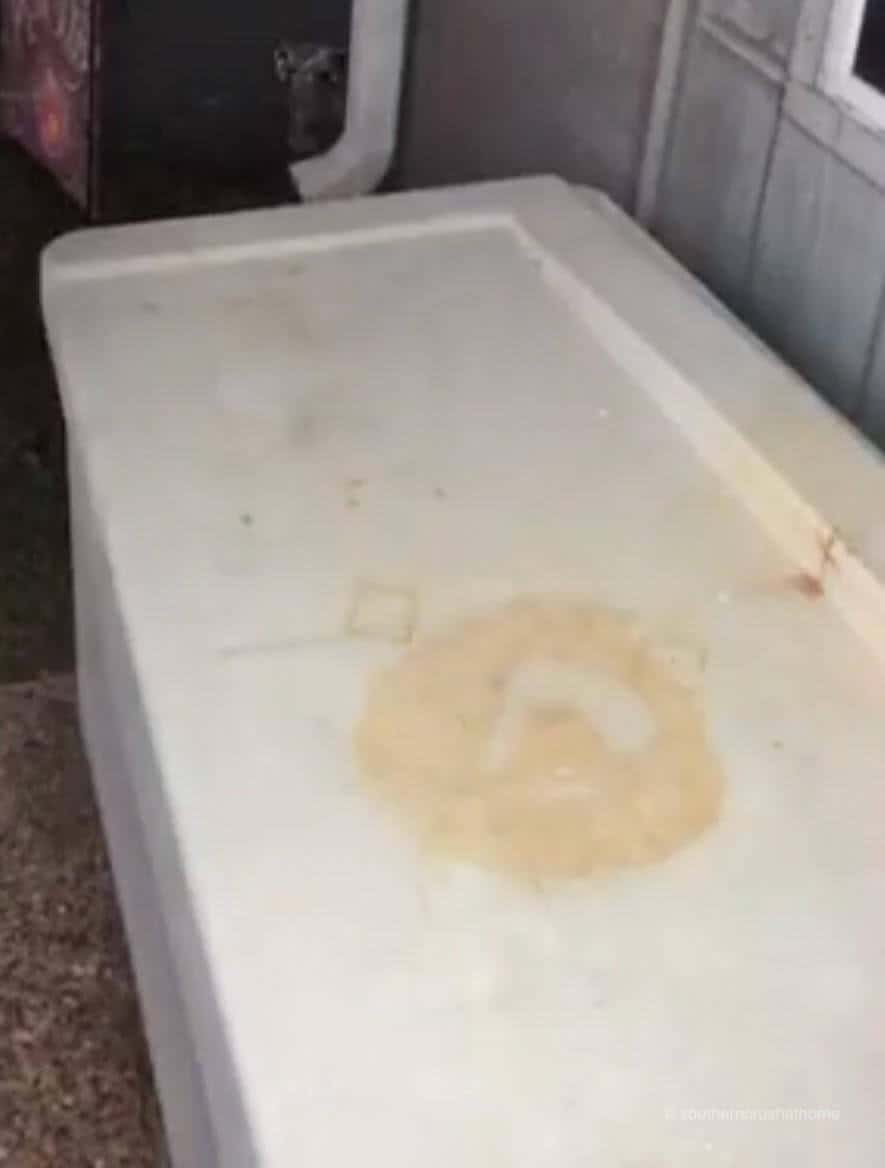 SUPPLIES NEEDED TO MAKEOVER A STORAGE BOX
chalk type paint to match you can use any paint with my DIY chalk paint recipe HERE (I used some leftover Maison Blanche paint I had in Cobblestone)
squeegee for application (any spatula will do just fine)
POOL BOX MAKEOVER Step by Step Instructions
First I cleaned off the top of the box with a damp paper towel. Who am I kidding, it was almost an entire roll of paper towels it was so filthy! LOL.
Once dry, I used a liberal amount of chalk-type paint to paint just the top surface of the box making sure to thoroughly cover all of the stains.
Allow to dry over night.
Taking the Moroccan inspired tile stencil, I placed it first in the center of the project and proceeded to squeegee on the chalk type paste. I chose the color navy as it matched our pool furniture accent color.
Working quickly, I removed the stencil and washed it with warm water and allowed it to dry between sections.
I went back and completed the stencils on either side of the middle tile until the design was complete.

Allow to dry overnight.

Since the pool storage box would be outside, I decided to seal the design with a quick couple of coats of clear spray sealer.
If you missed the two part live tutorial, view it below.
VIOLA! Pool Storage Box Makeover
The before and after photos on this one really shocked me because it was so easy to do. I have no idea why I ever put this DIY project off for so long!

I was super pumped that the color of chalk paint matched the pool storage box perfectly! Even if that was all that would've been done, it would've been amazing. The addition of the navy Moroccan inspired tile design was just the cherry on top for this project! It was so very easy and turned out so beautiful that can't believe I didn't do this sooner! Now we can entertain with confidence again without having to look over at the poor pool storage box with all of it's stains.
Every time I complete a makeover of sorts, it reminds me of how God has made me over, too! I love how it says in 2 Corinthians 5:17 "with Christ, all things are made new." How awesome is that?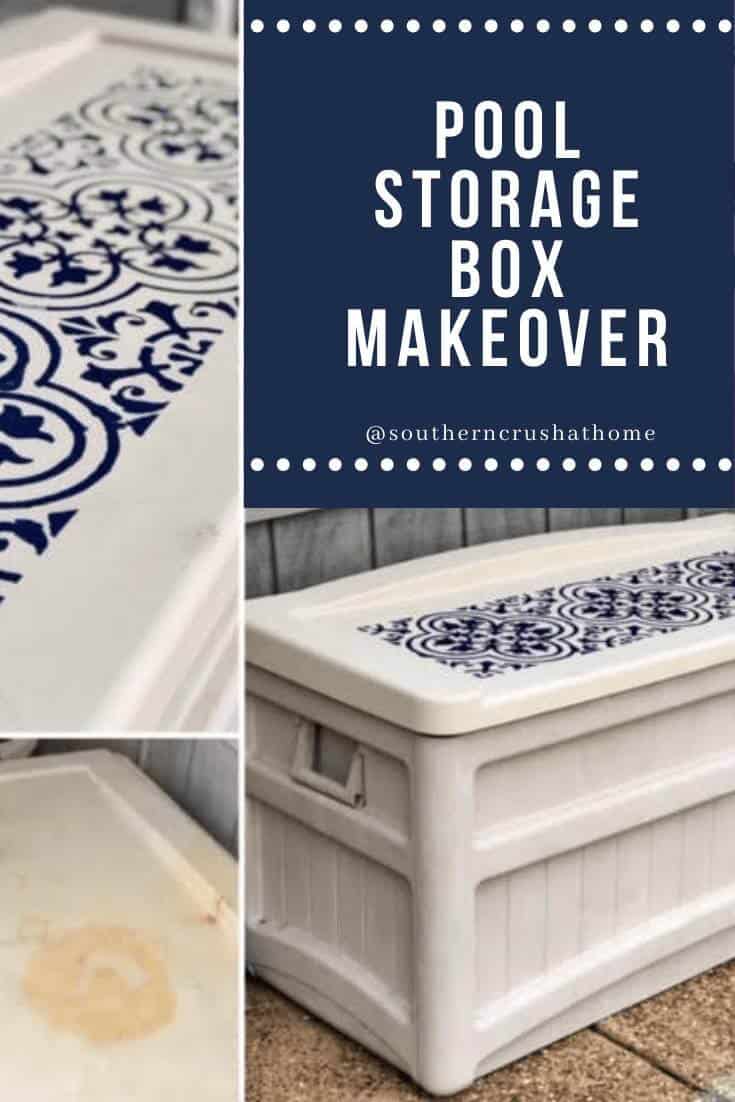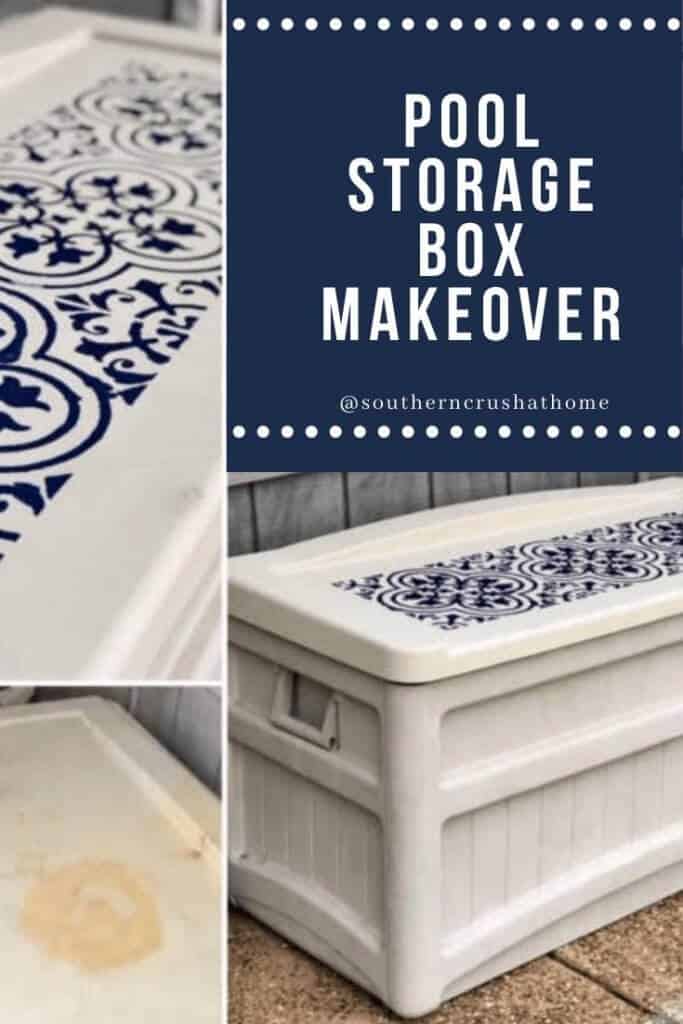 If you loved this project, you need to be getting my emails, friend! Each week I send out a couple of emails that include updates, crafts, and decor inspiration. Be sure to get yourself signed up below. I can't wait to meet you!
>>Leave your thoughts below in the comments please… BTW— Life is short—Enjoy the mess!
**P.S. Please join us over on our
Facebook Page
to see more fun projects "Live". If you've completed a fun makeover at your home, please share it with our
creative community
. It helps people so much when they see others being creative! This was another fun summertime DIY in case you missed it–
Watermelon Coasters!