7 DIY Ways to Store BBQ Tools
Summertime means longer days and more time outdoors. BBQ grilling is almost always a great way to spend a summer evening. It never fails that when you are ready to grill the bbq tools are missing or are scattered about inside and out. This list of 7 DIY ideas for storing bbq tools is the answer to the problem…
what tools are needed for grilling?
Grilling is supposed to be easy and relaxing. With that being said, minimal tools are needed. There are tons of bbq tools out there on the market, but you can get by with just a few simple tools that will handle most of your grilling needs.
BBQ Tongs for grabbing hot dogs and other small items off of the grill
BBQ Fork for stabbing thicker pieces of meat
BBQ Spatula for flattening and flipping over hamburgers
BBQ Cleaning Tool or brush for cleaning off the grill after use
I found that these are the basics that would be useful for most grilling needs. You can find them HERE in a convenient set on Amazon. (affiliate link)
Extra Optional BBQ Grill Tools:
BBQ Grilling Mitt
BBQ Grill Thermometer
BBQ Grill Spray
BBQ Grilling Apron
how do you store bbq tools?
This was a cute DIY BBQ Grill Tool Sign that I made from a scrap piece of wood, some stain, a few knobs and this cute "Grillin' & Chillin'" FREE Printable! Grab your PRINTABLE HERE

Simple Supplies Include Scrap Wood, Mod Podge, Random Knobs, and E6000 Glue.

Easy Process to make your own DIY Grillin & Chillin sign. Stain wood, apply FREE Grillin & Chillin Printable with mod podge and attach knobs with E6000 glue. Add sand & stain to edges for effect. Hang tools with matching bakers twine.

Another fun way to store BBQ Tools is in an old toolbox like this one!
You can always store your BBQ tools in a fancy grilling apron with tons of pockets like this one!
Using an old metal rake to hang and store your BBQ tools adds a touch of vintage to your bbq area and I love it!
A wooden tool caddy makes the perfect storage container for BBQ tools. Place them on either side and carry it with you out to the grilling area when you're ready to grill. This is a cute one created by Tiffany at Dream Design DIY.
A curtain rod and hooks is another clever way to store your BBQ tools. IKEA makes this one!
A convenient BBQ tool belt works, too!
how do you clean bbq tools?
There are so many ways to clean your BBQ tools! It's best to clean them between each use so that they don't build up yucky grease and food layers. Soak them in warm soapy water. I do not put mine in the dishwasher even though most are probably dishwasher safe.
where is the best place to put a bbq grill?
It is definitely best to place your BBQ grill away from any covered areas to avoid an unwanted fire. We keep ours a few feet away from the back patio on a cement slab. Keep it away from wood and dry grass to avoid any sparks or flames that may ignite a fire. We keep ours covered from the elements with a handy BBQ grill cover like this one. Just be sure to measure so that the one you pick actually fits your grill. This is where we place our BBQ Grill outside.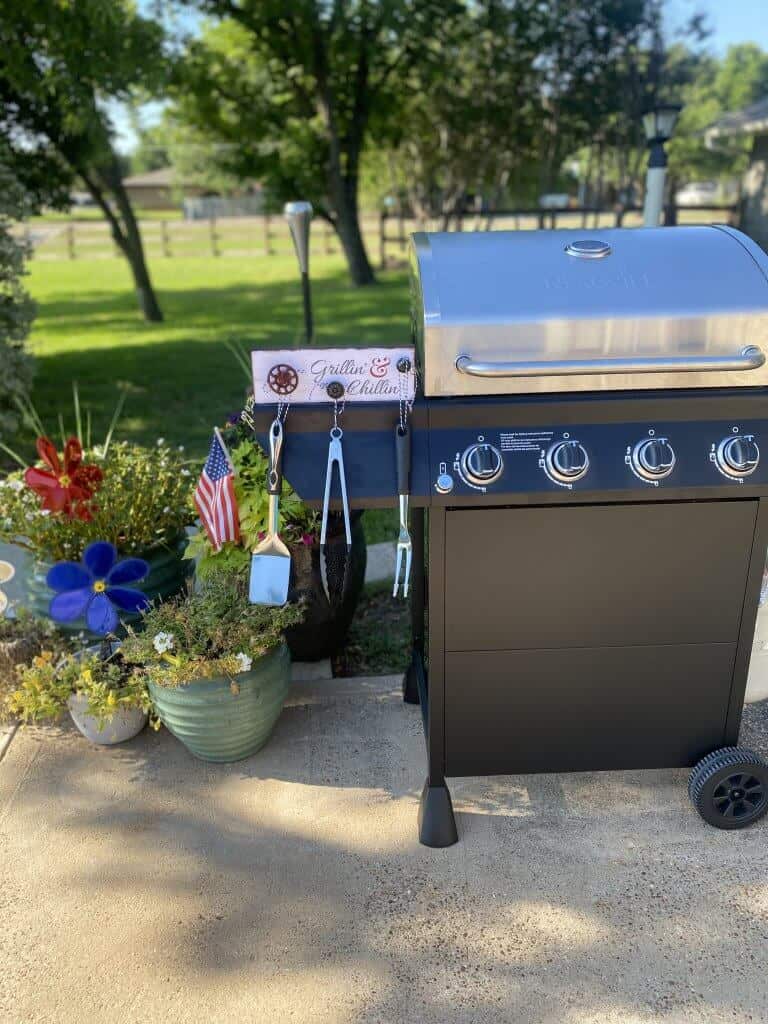 If you love this kind of DIY project, you need to be getting my emails, friends! Each week I send out a couple of emails that include updates, crafts, shopping experiences, and decor inspiration. Be sure to get yourself signed up below. I can't wait to meet you!
Leave your thoughts below in the comments, please… BTW— Life is short—Enjoy the mess!
**P.S. Please join us over on our Facebook Page to see more fun "Live".