Dollar Tree Summer Sun Hat Wreath + FREE Printable
Summer sun hats are great for a variety of uses, but creating a wreath with them is just plain fun! This Dollar Tree sun hat and cake pan made making this adorable summer sun hat wreath super easy and inexpensive. Here is how you can make one, too.
how can you make a straw hat wreath?
In order to make this cute front door wreath, you just need a few materials. You may even already have some of these things lying around the house. You can get as creative with this DIY project as you like, the sky is the limit for colors, ribbons, paint, flowers and more.

supplies needed to make a summer sun hat wreath
All supplies needed for this DIY Project can be found here in my Amazon Shop!
Dollar Tree summer sun hat
Dollar Tree 8″ cake pan
Dollar Tree florals
Any paint you like (my DIY Chalk Paint would probably work really well)
Chip brush
wooden beads
scrap fabric or ribbon
Hot Glue Gun and Hot Glue
Cute Printable (I made this one with the Farmer's Market Series Watermelon Printable)
If you love this kind of DIY project, you need to be getting my emails, friend! Each week I send out a couple of emails that include updates, crafts, shopping experiences and decor inspiration. Be sure to get yourself signed up below. I can't wait to meet you!
step by step SUN HAT tutorial
Use your favorite paint to do a quick coat on the inside of the cake pan.
Print out, cut out and glue down your printable into the bottom of the cake pan.
Glue the cake pan down into the sun hat, pressing in the top of the hat from the back side.
Glue down the wooden beads to the edges of the cake pan for an added Boho home decor look.
Pick out your greenery and pluck the florals from their stems to glue down to just the underneath edge of the cake pan.
Tear a piece of scrap fabric or use a ribbon to wrap around the back of the hat as a hanger.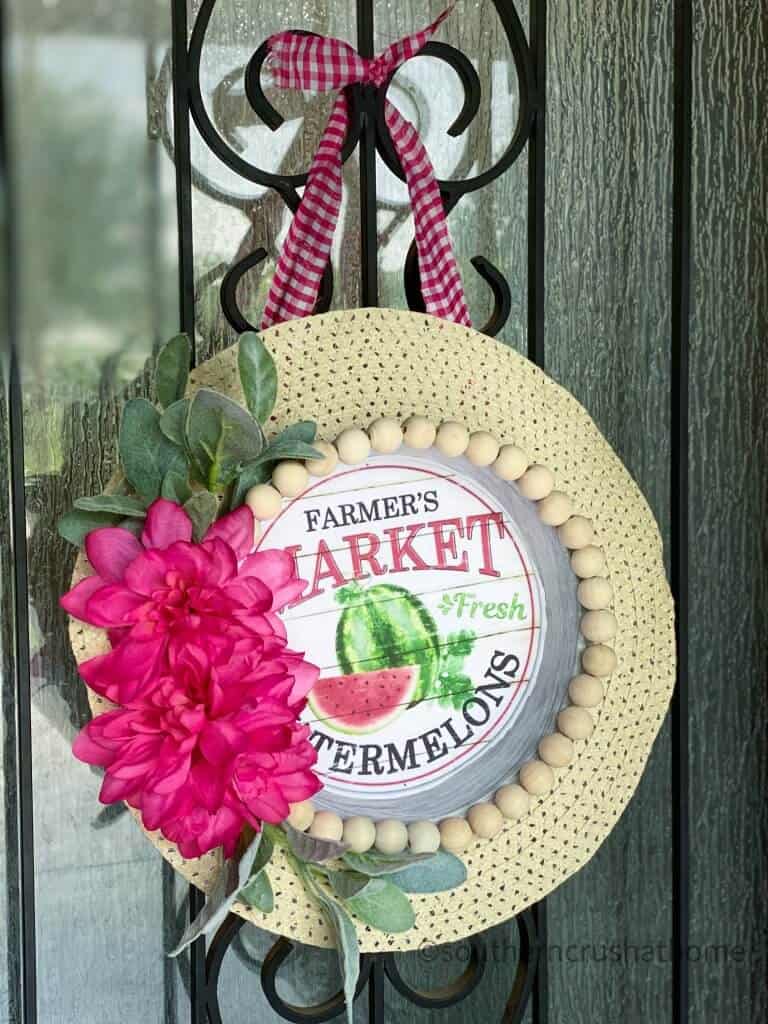 That's it! It's that easy! Now go hang your beautiful summer sun hat wreath on your front door! If you missed the video tutorial, you can still catch it HERE.
what are other ways to decorate a straw hat?
Glue old jewelry pieces or BLING onto the hat or inside the flowers for an added touch!
Flip it over and decorate with flowers and a cute T-shirt Bow for a more traditional sun hat wreath.
Use colorful paints to turn the sun hat wreath into a watermelon or a sunflower for a cute summer look.
Take a Sharpie and hand-letter a cute saying on the rim of the sun hat like these: Home Sweet Home, Welcome, Blessed, Hello Sunshine, Summertime
Add a few seashells to the rim for a beach-themed summertime look.
Paint it like a pumpkin or a scarecrow and add raffia for an easy fall wreath.
How can you decorate with a summer sun hat?
There are several ways to decorate your home using a summer sun hat. Once you grab a few and get started, they most likely will become one of your summertime favorites! Here are a few ways to decorate using straw hats:
The easiest way to decorate with them is on a Gallery Wall. You can find my FREE gallery wall template HERE.
You can also make a cute wreath like this one to hang on your front door.
If you choose to write on them with Sharpies, you can make them into a fun sign for the back patio area.
By layering a lot of florals on a sun hat, you can use it in the center of your table or picnic table as a unique centerpiece.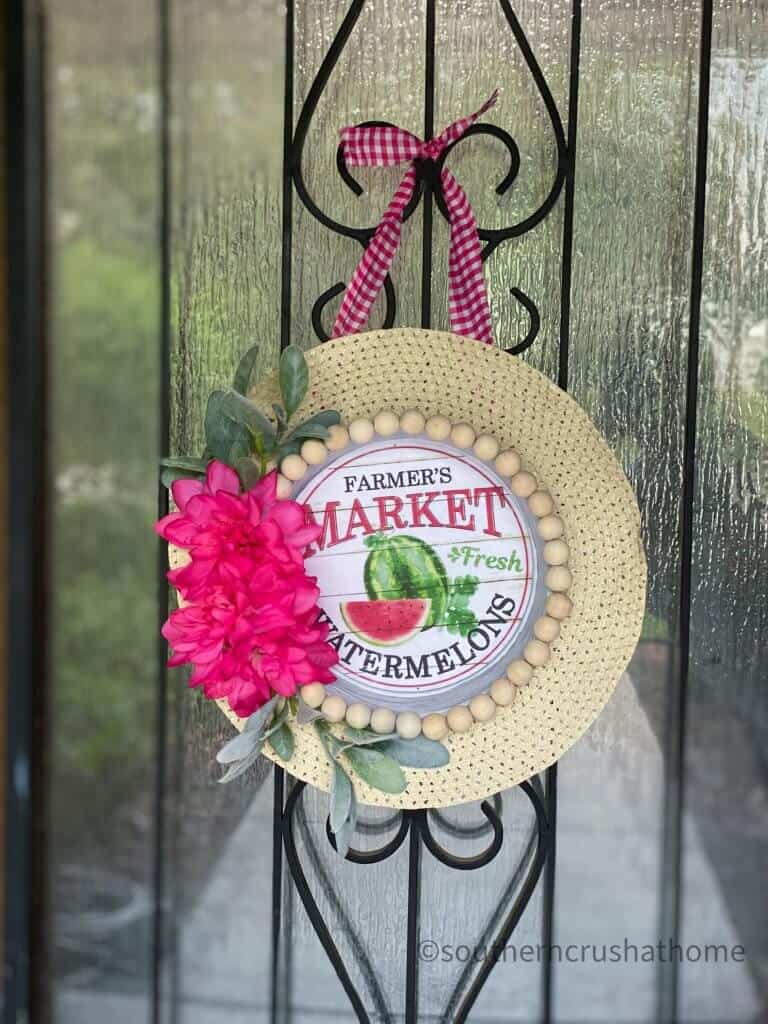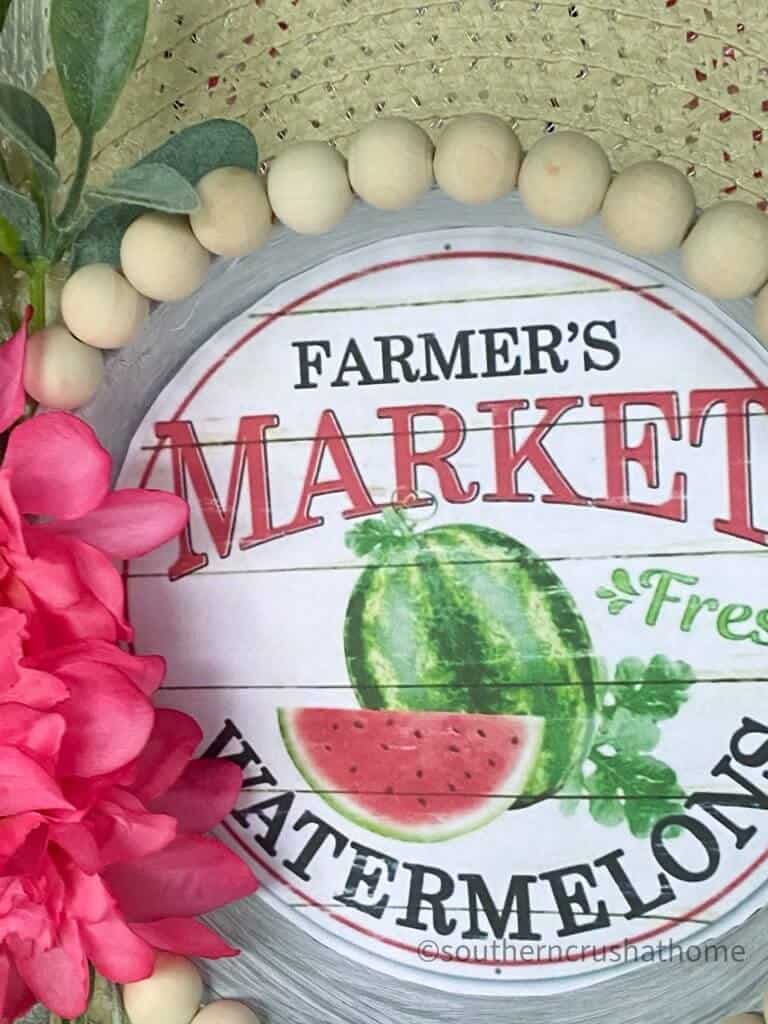 I hope you'll get creative and make one of these easy sun hat wreaths for your own home decor. Be sure to comment below with your photos so that I can see them!
>>>Leave your thoughts below in the comments please… BTW— Life is short—Enjoy the mess!