How to Make a Lemonade Wreath (Perfect for Summer!)
This lemonade wreath is the perfect way to greet visitors at your front door, particularly in the warm summer months! Make one of your own and spread the joy.
supplies needed for THE Lemonade Wreath
Grapevine wreath
Yellow spray paint (optional, but fun!)
Lemonade sign
Wired Ribbons
Florals
Greenery
Lemons and limes
Wire cutters
Glue gun + sticks
Pipe cleaners or zip ties
how to make a Lemonade Wreath
This project was crafted by Celebrity Crafter: Rhonda Jones
Celebrity Crafter's Etsy Page: Adore and a Wreath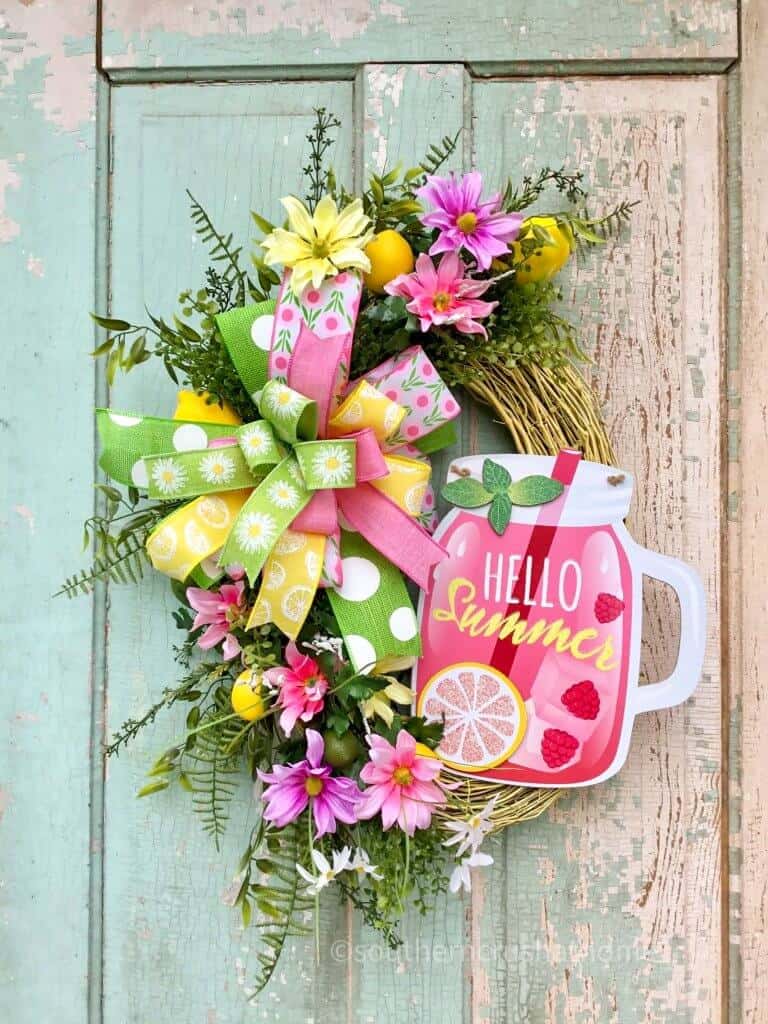 What CAN I ADD TO MY WREATH?
A good embellishment is what makes this summer lemonade wreath extra fun! Here are some ideas you can use to jazz up your wreath:
lemonade sign – I got mine at the Dollar Tree, but if you can't find one there you can check Etsy or a wreath supply store. You also may have luck in your local craft store if they have the summer decor out! Lastly, you can always find and print one online – just make sure to put it on something sturdy like chipboard.
faux flowers and greenery – you can go with whatever colors or type of flowers you like! Personally, I stuck with yellow and pink because they coordinated with my sign.
faux lemons or limes – these are so much fun! You can order 20 lemons off Amazon for about $10 and split them with a friend!
Other fun Wreath crafts:
I especially love this project because it makes me smile every time!
If you love this craft, consider joining us inside Southern Crush Creative Club VIP! In the meantime, if you love this kind of DIY ideas, you need to be getting my emails, friend! Each week I send out a couple of emails that include updates, crafts, shopping experiences and decor inspiration. Be sure to get yourself signed up below. I can't wait to meet you!
There are so many ways you can make this wreath your own! I can't wait to see how yours turns out.
>>>Leave your thoughts below in the comments please…