7 Easy Ways to Save at Hobby Lobby
If you're addicted to home decor and all things DIY crafting…. you probably already shop at Hobby Lobby. They're always putting something on sale, but it's pretty tricky to keep up with if you don't have the inside scoop! I actually worked there during college so I want to share my best tips with you, so here are several easy ways to save and make shopping at Hobby Lobby more affordable.
This one seems simple enough. Go to the website and in the top right-hand corner, there will always be a 40% OFF coupon to be used on any single regular price item. Go ahead and print it out, or show the coupon at checkout time from your smartphone at the store after you go shopping when it's time to pay.
Only 1 coupon per person, per day.
Did you know that you can also swap out discounts? If the 40% off coupon is a better deal than something's discount price use your 40% off coupon INSTEAD. They will ring it up at full price instead of the sales price and then apply your 40% off coupon!
This same 40% off Hobby Lobby coupon is honored at several competitor's stores as well, like— Michael's & Joann Fabrics.
Is Hobby Lobby getting rid of its 40% off coupons?
UPDATE: HOBBY LOBBY DISCONTINUED ITS 40% OFF COUPON AS OF FEBRUARY 2021.
Never fear, you should still never pay full price at Hobby Lobby with these additional savings hacks as well as great ideas on ways to save money at Hobby Lobby.
2. Use My Hobby Lobby Sale Schedule Cheatsheet
Did you know that Hobby Lobby rotates its sale items on a set schedule? This is a game-changer! In order to save money and keep on top of when items are reduced; I'm sharing with you my Hobby Lobby Sale Schedule Cheatsheet through the link below as the top way to save money.
This is a high-resolution pdf file for you to download and keep handy. It is an at-a-glance cheat sheet with tips and Hobby Lobby's weekly sales schedule. You can also download it and take a screenshot to save on your phone for easy reference. Enjoy!
Some of Hobby Lobby's items are reduced all of the time, while others go on sale every few weeks through a predictable rotation as found on their weekly ad.
ALWAYS on Sale:
Floral
T-Shirts
Trees & Plants
some Fabric
Frames & Posters
Every Other Week:
Yarn & Needlepoint
Craft Kits, Art Supplies
Jewelry Kits
Floral Stems
Garlands
Trays
Baskets and Boxes
Wreaths
Ribbon and Tulle
Metal, Wood, Ceramic and Resin Decor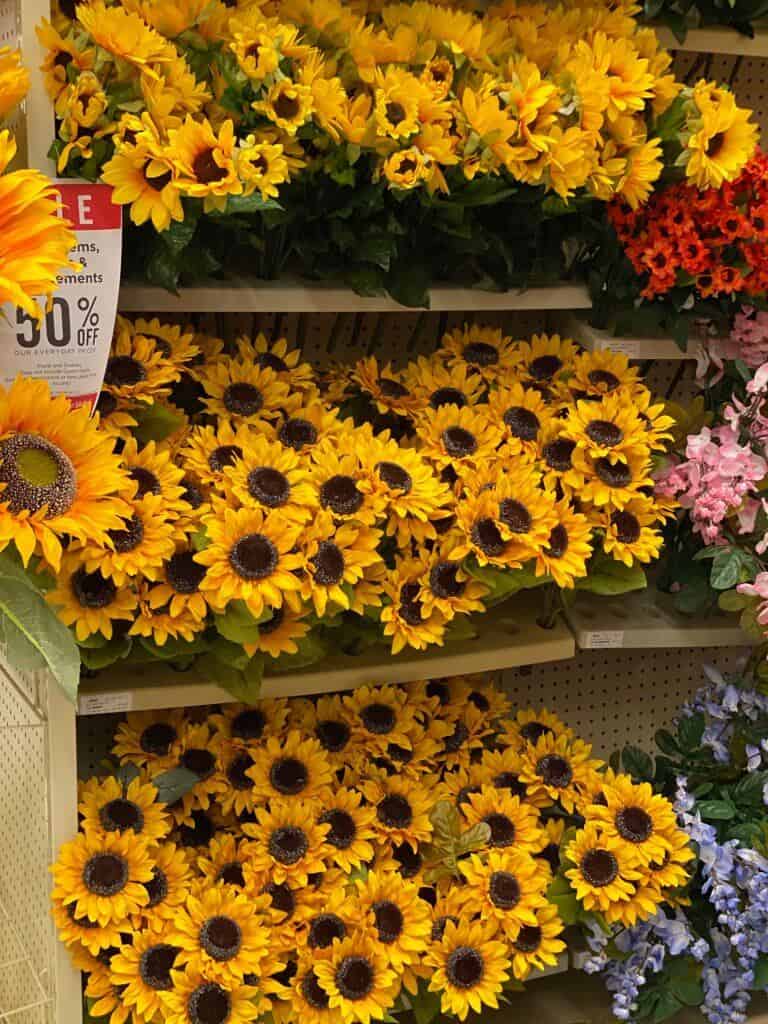 Three Weeks Out of Every Four:
Clocks
Candle Holders
Pillows
Rugs and Wall Decor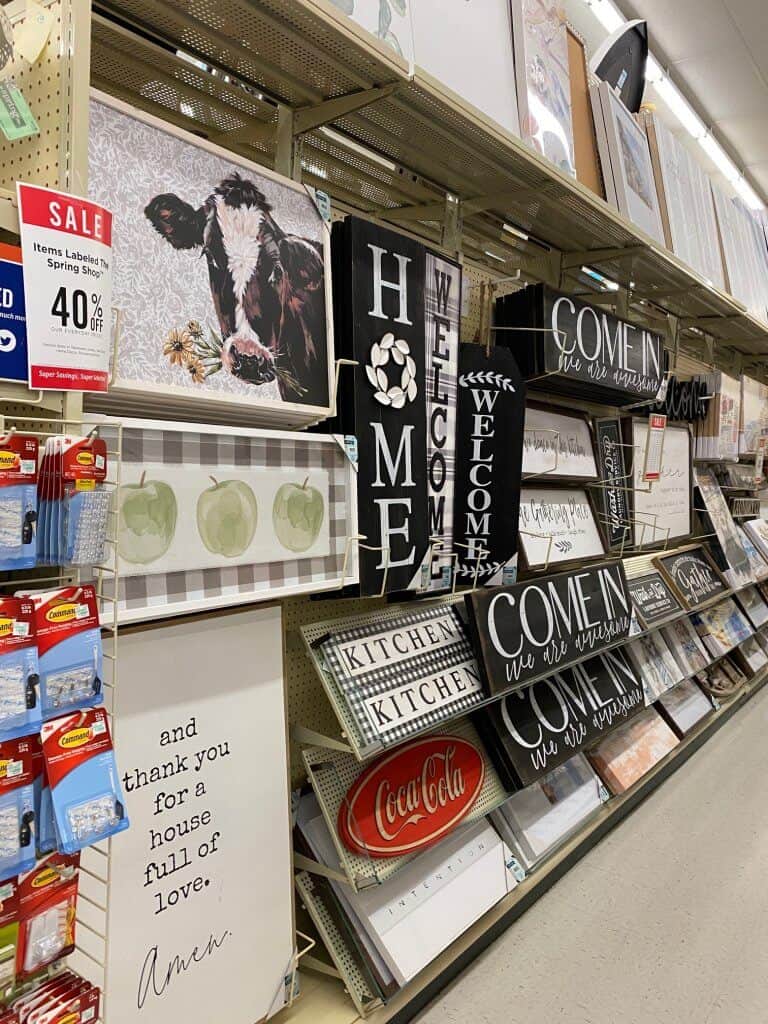 Two Weeks Out of Every Three:
Jewelry Making Supplies
Canvas 2-Pks
Once Every Four Weeks:
Home Decor
Paper Crafting and Stationary
Select Fabric
Men's Decor
Scrapbooking Supplies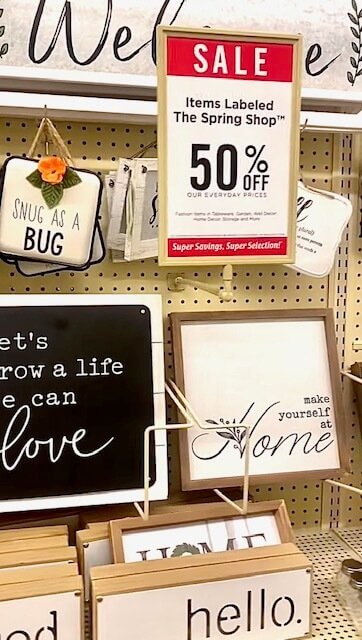 Sadly, some items are never discounted; including candy and cake-making supplies, gift wrap, party supplies, bakeware, and Cricut products. (Occasionally, you will find party supplies and gift wrap in the clearance section!)
If you're ever in doubt, you can see the official Hobby Lobby Store Weekly Ad as a way to save money and see if the item you need is to go on sale for the current week here.
3 . Try Price Matching
Hobby Lobby will price match their competitor's pricing advertisements! Bring in the competitor's weekly ad to your local store or show them on your smartphone for a price match. (Hobby Lobby does not match percentages off, sales, or coupons; just pricing)
Items must be like for like exactly
The competitor's physical ad is required
No additional coupons are allowed
4. Slightly Damaged Items = Bigger SAVINGS
Have you ever found something you love with a little chip on it or maybe it's damaged in some way? If you ask the cashier for a damage discount they will typically take an extra 10% – 15% OFF the item, which can make the damage seem inconsequential!
5. Rain checks for Sold Out Items
When an item you want is out of stock in the store, always ask for a rain check. If it was to go on sale but sold out, Hobby Lobby will honor the price on your rain check when it's back in stock.
I know from working at Hobby Lobby that there is no extra stock hiding in the back storeroom of the store. Everything they get in goes right to the store shelves, so what you see is what they have available!
6. Check out the Clearance Items Section
Getting a great deal is one of the addicting factors of shopping! Did you know that you can often find clearance items at up to 90% OFF? Yes, you read that correctly. A full week before each holiday, Hobby Lobby marks down seasonal items to clearance pricing so you can be sure to stock up!
Hobby Lobby Hack: Search for the neutral pieces of decor on the clearance wall that happen to be marked down simply because they were part of a particular holiday! For example, red items work for Valentine's Day, Fourth of July, and Christmas! Some green decor can work for Easter, St. Patrick's Day, and Christmas!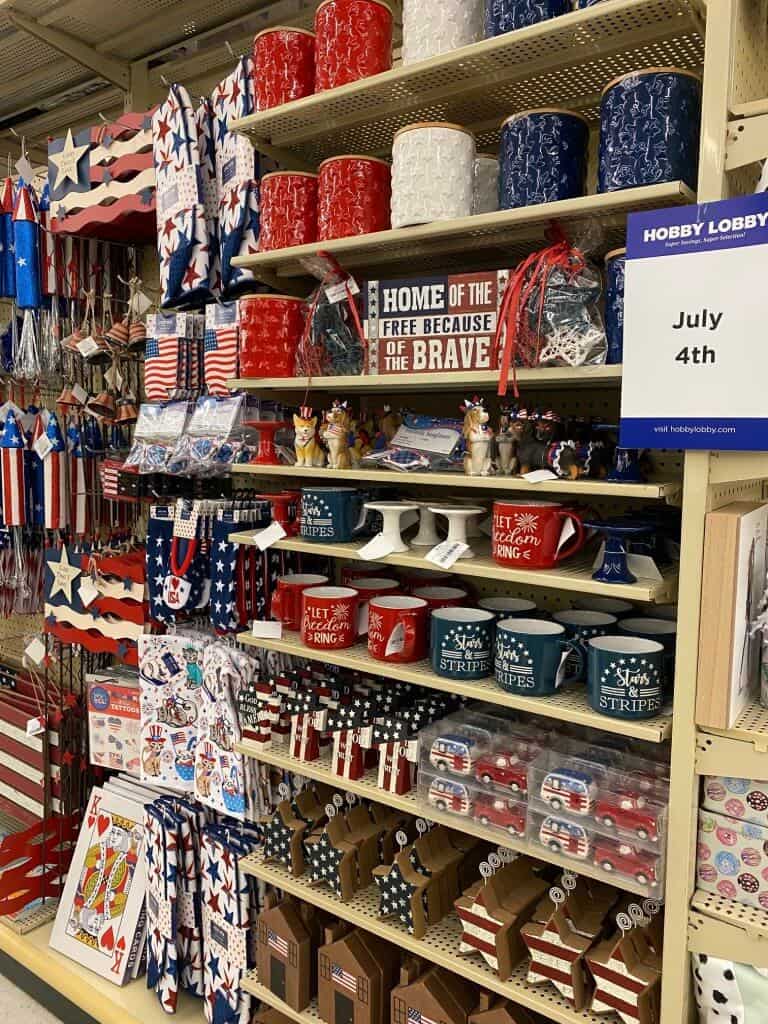 Typical markdowns start at 50% OFF right before the holiday arrives, then it will go methodically down to 66%, 80%, and finally 90%. Look for red tags! Some items will eventually get two red tags which equal even more savings.
Some of the best clearance deals can be found the week JUST BEFORE Christmas, Easter, 4th of July, Valentine's Day, Thanksgiving, and Halloween. While most home decor stores wait until after the holiday, Hobby Lobby offers their best deals the week just before any of the holidays!
Speaking of holidays… Did you miss any of my Hobby Lobby Seasonal Home Decor Tours? Check them out below.
Hobby Lobby Hack: Hobby Lobby also offers huge discounts up to 90% off twice a year on home accents. The first sale is typically just after Christmas through February. The second sale begins on Mother's Day and runs through July.
7. Oops! It's on Sale Now, Will Hobby Lobby Adjust the Price?
Additionally, did you know that if you purchase an item at full price – but find out the next week it went on sale – Hobby Lobby will honor the sale price? Return with your receipt and the item you purchased prior for an adjustment up to 14 days after your original purchase! (Keep in mind, this is only to save money for a sale every week and does not apply to clearance items)
Hobby Lobby Hack: Shop for the item you need exactly when you need it so that you have the best selection from plenty of inventory of styles and colors. Hold it until the next week it goes on sale and then bring it back in for the price match guarantee difference.
Are you disappointed in an item you ordered while shopping online? Be sure to return it in person in order to receive a refund that includes your shipping costs. Returns that are not in person will still be charged shipping.
Speaking of returns, you have 30 days from the date of purchase to return an item for a refund with your receipt. Even if you do not have your receipt, Hobby Lobby will give you the lowest price in the past 60 days as a credit.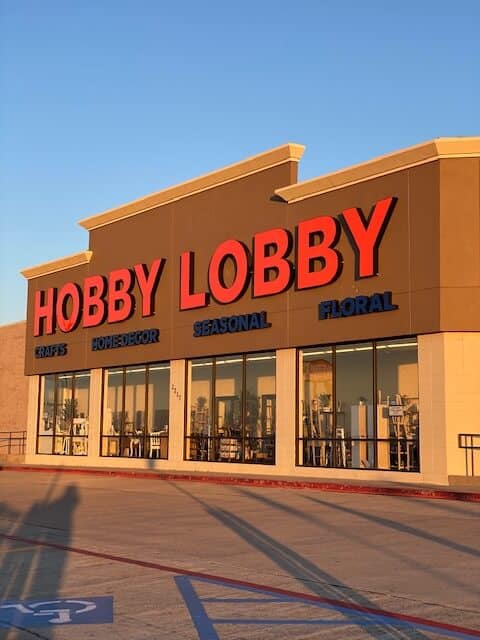 Other Ways to Save Money at Hobby Lobby
download the Hobby Lobby app
Did you know that Hobby Lobby has an app for Android and iOS devices? It's a great way to keep tabs on all of their deals and save items you want now for purchase when they get reduced later.
organizational discounts
Are you part of an organization like a school, church, or charity? Hobby Lobby offers 10% off on all purchases which can equal huge savings when buying in bulk.
When is the Best Time to Shop at Hobby Lobby for Savings?
As you can see there are so many ways to save money at Hobby Lobby. With my handy CHEAT SHEET, you're sure to have an advantage. However, there is a "best" time to shop at Hobby Lobby in my opinion.
If you can swing it, try shopping on a Saturday night. As we all well know, Hobby Lobby is closed on Sundays. This means that Saturday night is the time that the markdowns happen for the next week's sale.
If you shop on Saturday night you get the advantage of shopping for last week's discounts and possibly newly discounted items at the same time!
check out my other savings tips to find online discounts
I'd love to hear your favorite ways to save at Hobby Lobby – and what you're addicted to buying there! Please let me know in the comments below.
If you love these kinds of insider tips, you need to be getting my emails, friend! Each week I send out a couple of emails that include updates, crafts, shopping experiences, and decor inspiration. Be sure to get signed up below. I can't wait to meet you!
>>>Leave your thoughts below in the comments, please… BTW— Life is short—Enjoy the mess!