Melanie's $2 Dollar Tree DIY Bow Maker for Easy Wreath Bows
Looking for a quick and easy way to make bows for your wreaths? Wait no longer! I'm super excited to share "Melanie's Bow Maker"! With this Dollar Tree DIY bow maker, it takes just minutes to create a beautiful bow. Best of all, it only costs $2! So grab the supplies and get started crafting those perfect bows today. Thanks for reading this life-changing post!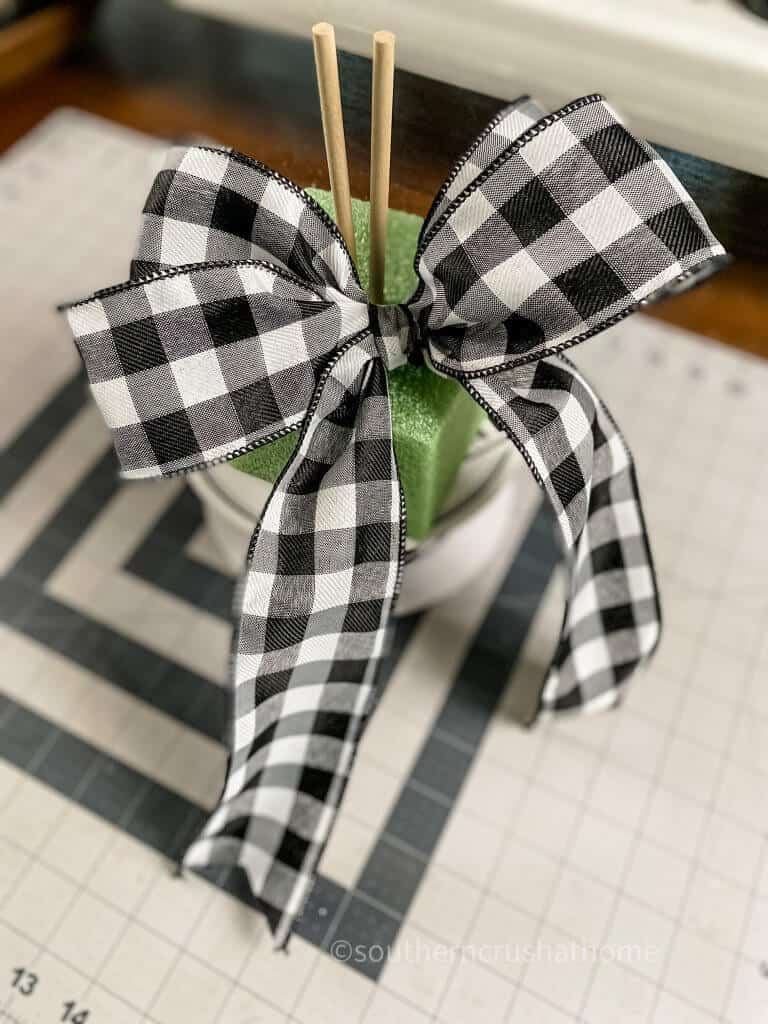 There are so many techniques and ways to make a bow by hand, and they can all turn out to be beautiful, but sometimes making a bow by hand isn't feasible or efficient.
Using an actual tool is a great solution for those who want a quick and simple way to make a perfect bow, or to make multiple perfect bows quickly.
This blog post contains affiliate links. The opinions are wholly my own from my own experience. I may earn a small commission from clicks through to the websites that end in a purchase.
Y'all know I'm a huge fan of the handmade bow. In fact, I created my signature DIY messy bow that has become a staple for many crafters and a go-to for anyone who thinks they cannot make their own bows.
So it makes sense that I would now create "Melanie's DIY Bow Maker"! I am pretty pleased with how this little gadget turned out.
It makes bow making life so much easier. So there are NO excuses not to make your own bows with this nifty Dollar Tree tool.
Take a look at several other DIY Bows I've shared:
Click on each photo for the complete bow tutorial!
Ever wanted to make a pretty bow but didn't have one of those fancy bow tools?
Maybe you wanted to make your own tool; but like me, you find working with wood and power drills intimidating.
You will never buy another wreath bow again after seeing my super easy bow maker tutorial.
This $2 DIY bow-making tool is really easy to put together, and you can use it to create perfectly shaped bows in no time.
So skip the expensive bows this year, and make your own instead!
Now, let's get to this super quick tutorial…
Supplies Needed for Dollar Tree Wooden Bow Maker
Foam Block
Wood Dowels
Zip tie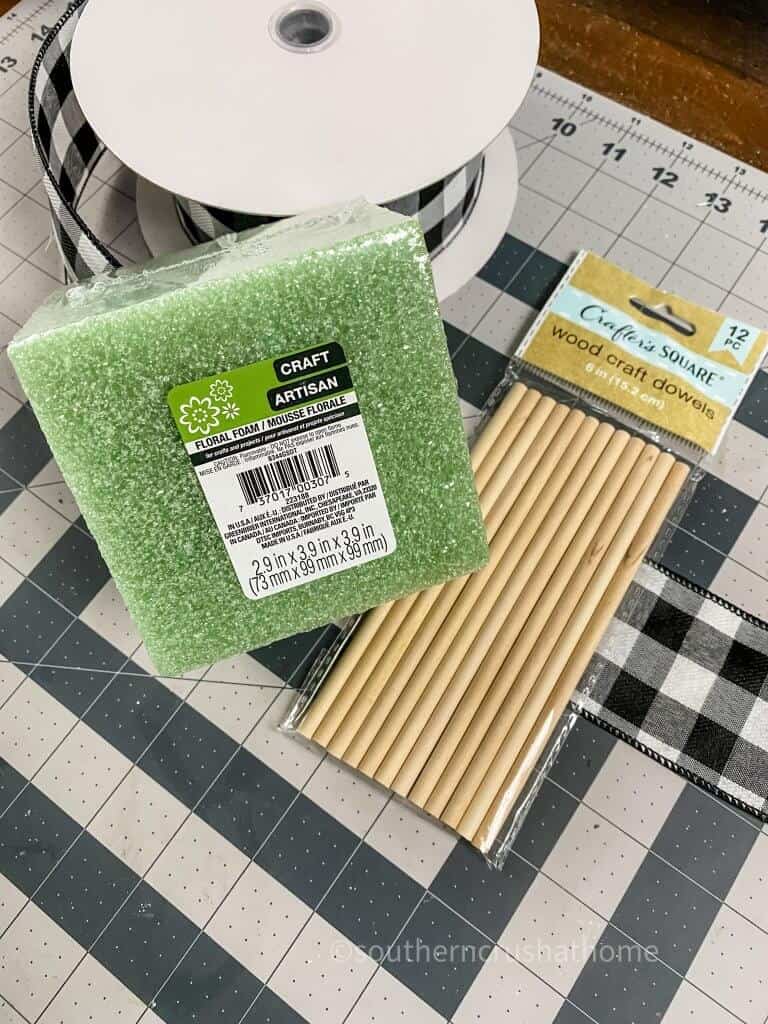 The first part of any good wreath is making a show-stopping bow.
There's a lot that goes into making a bow, but it doesn't have to be overwhelming at all.
I'm super excited to show you my new little invention for making fast and easy bows every single time.
How to Make a Homemade Bow Maker
Step 1.
Start by inserting two wood dowel rods into the center of the foam block.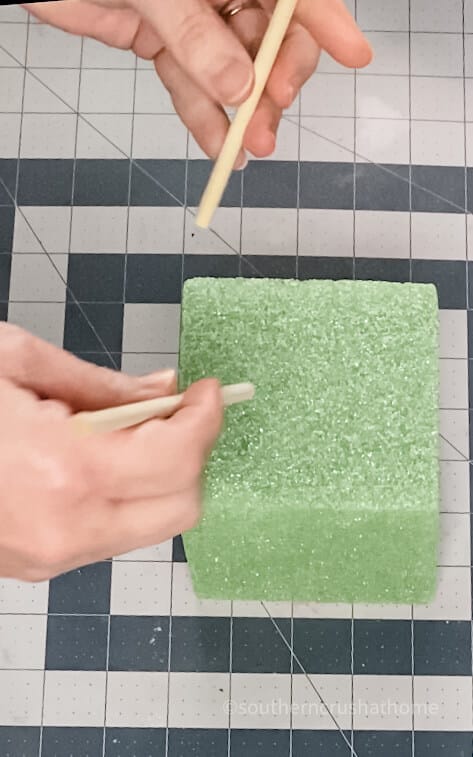 I placed them into the center of the floral foam, stopping a little past halfway and being careful not to push through the bottom of the block on the other side.
I allowed about a half inch from the center of the base.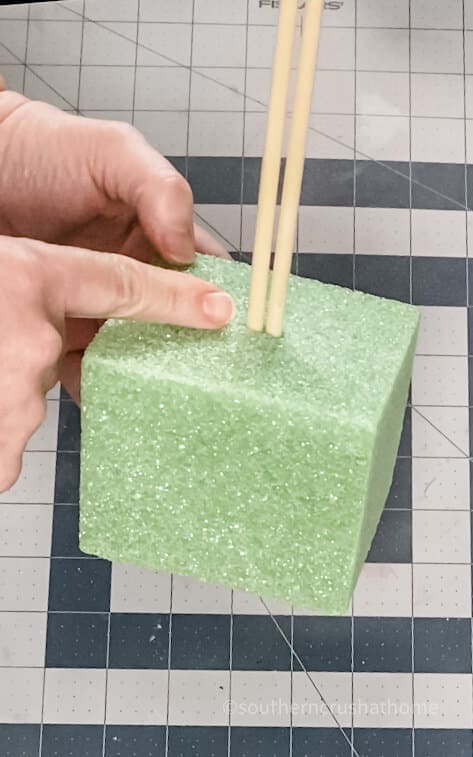 Step 2.
Slide a zip tie to the center of the two dowel rods to test the space between the wooden dowels. You can also use floral wire or pipe cleaners down the middle for making your ribbon bows.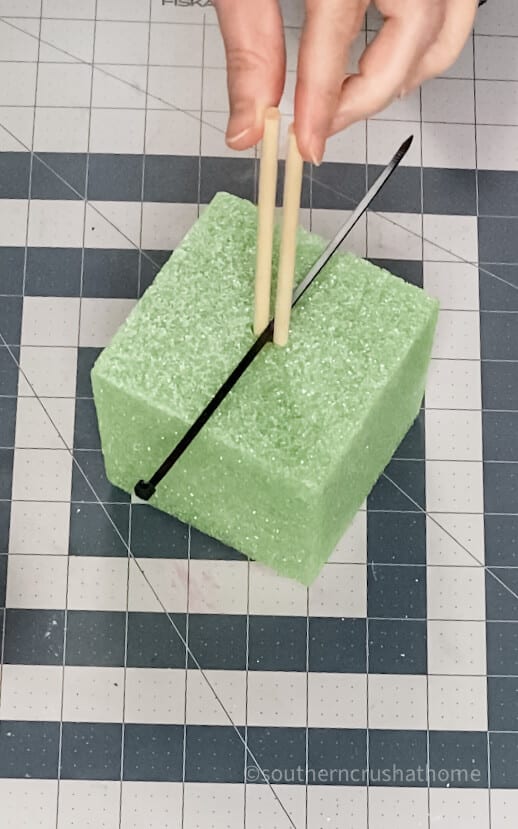 Step 3.
Remove each dowel. Here you can see each hole left behind by the wooden dowels in the center of the block.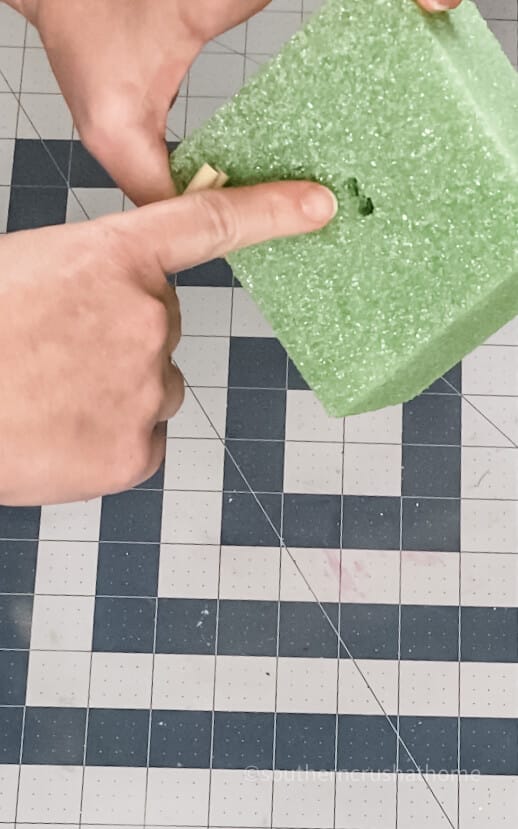 Step 4.
Now you want to insert hot glue into the center of the holes on the floral block. Wood glue could be used as well; however, you would have to wait quite a while for it to dry and I just don't have the patience.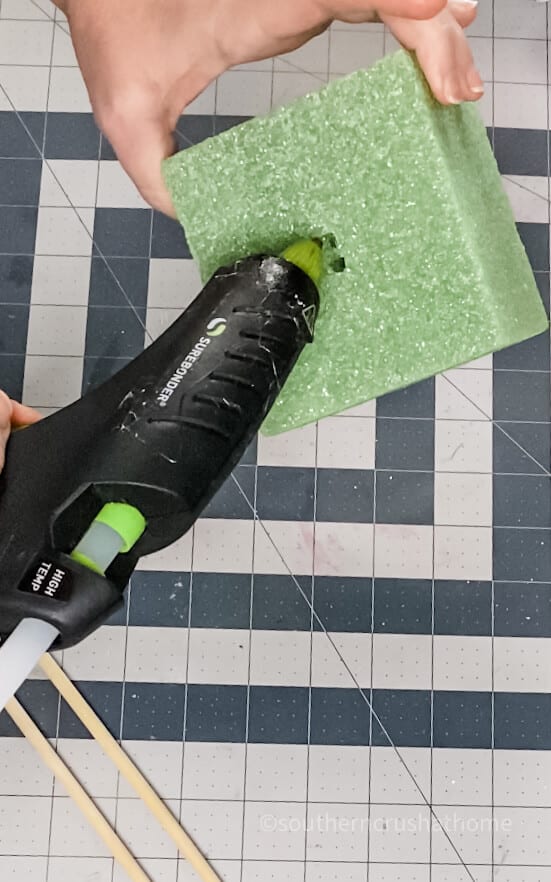 Step 5.
Place the dowels back into the foam block and you have your completely assembled DIY tool! I told you this was super easy. Now to find the perfect ribbon!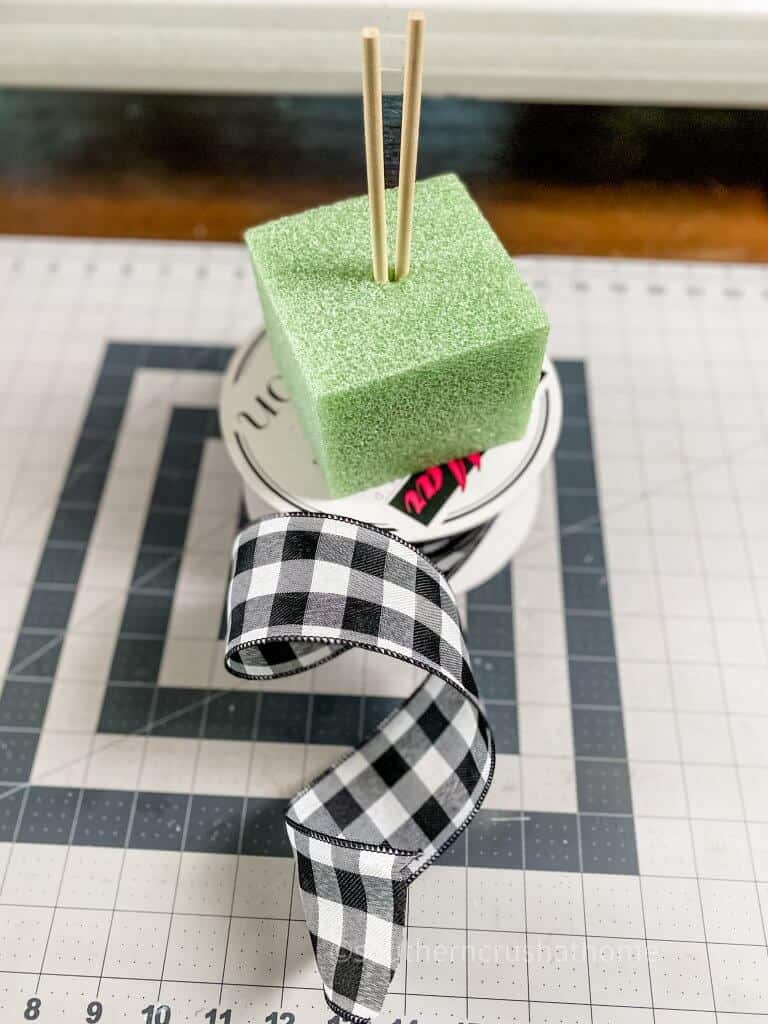 Step-by-Step Video Tutorial
If you want to see the exact step-by-step process, be sure to check out this video below over on my YouTube Channel!
Melanie's Bow Maker
Of course, I had to use buffalo check ribbon to test out this bow maker. It worked like a charm.
I used a zip tie to secure the center of this bow, but feel free to use floral wire or a pipe cleaner to secure the ribbon instead.
I didn't measure the loops but it is so easy to eyeball them to the same size.
Look at this gorgeous beauty made with buffalo check ribbon: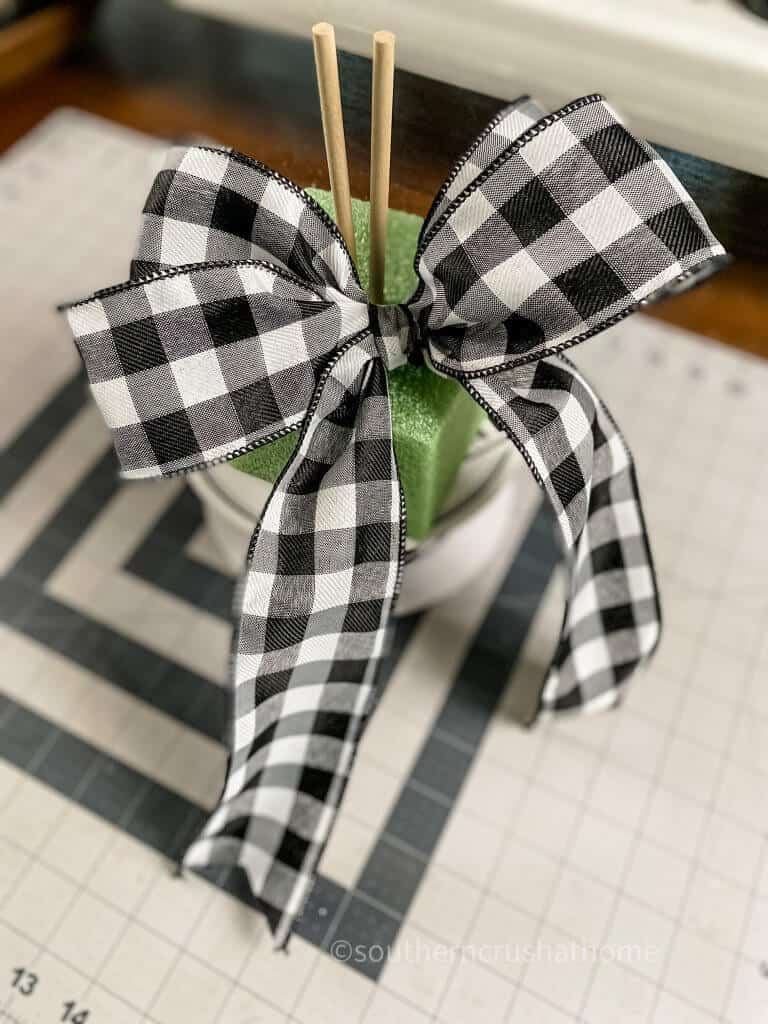 Be sure to tell your friends about this and then come back this week to see new posts with the full step-by-step process I'm sharing on making your own bows using your favorite ribbon and this amazing new tool.
Best Tool for Making Bows – Best Price
The question I hear most often is "How do you make an easy bow?" With this easy tool, all the guesswork is taken away!
It's super simple to use and even a lot of fun! You'll be making bows to decorate with and for your projects left and right.
My $2 Dollar Tree bow maker can be used again and again to create a perfect wreath bow or bow to put on a sign.
With the addition of this tool to your craft arsenal, you will never need to buy bows again.
Decorate your mantel for each holiday, wrap presents with pretty bows, and add them to wreaths.
I decorate with these bows on wreaths, gifts, a sign, a Christmas tree, gift wrapping, the dining room chair back, and really any decor that needs a little jushing.
The possibilities are endless!
The Best Bow Makers for Wired Ribbon Bows
Now, there are several other bow-making solutions out there for sale if you would rather purchase one instead of saving a ton of money. LOL.
Some of the most popular tools you can purchase in craft stores are the EZ Bow Maker, Bowdabra and Pro Bow the Hand. (affiliate link) These are used by professionals and hobby crafters alike.
I personally, think you can go a much simpler route with my DIY solution for the making perfect bow.
Comment below and tell me if you've used one of these tools before in making your own pretty bows…
tips and tricks for the perfect bow
Whichever tool you choose to use, it is super important to remember that a good quality wired ribbon is your bow's best friend when it comes to shape.
Wired Ribbon is the key to a good wreath bow! When making a bow for a wreath, use high-quality for amazing bows every single time.
Ribbon Buying Tips
I usually stock up on good quality ribbons when it's 50% off or more from the craft stores. I watch for the sales on the ribbon at Hobby Lobby with this handy Sale Cheatsheet I put together for us!
If you must use a non-wired ribbon like satin, use shorter and fewer loops and you will still love the way it turns out!
I decorated my entire Christmas tree with deep dark green wide satin ribbon bows with bling in the center this year and I'm in love with the way it looks.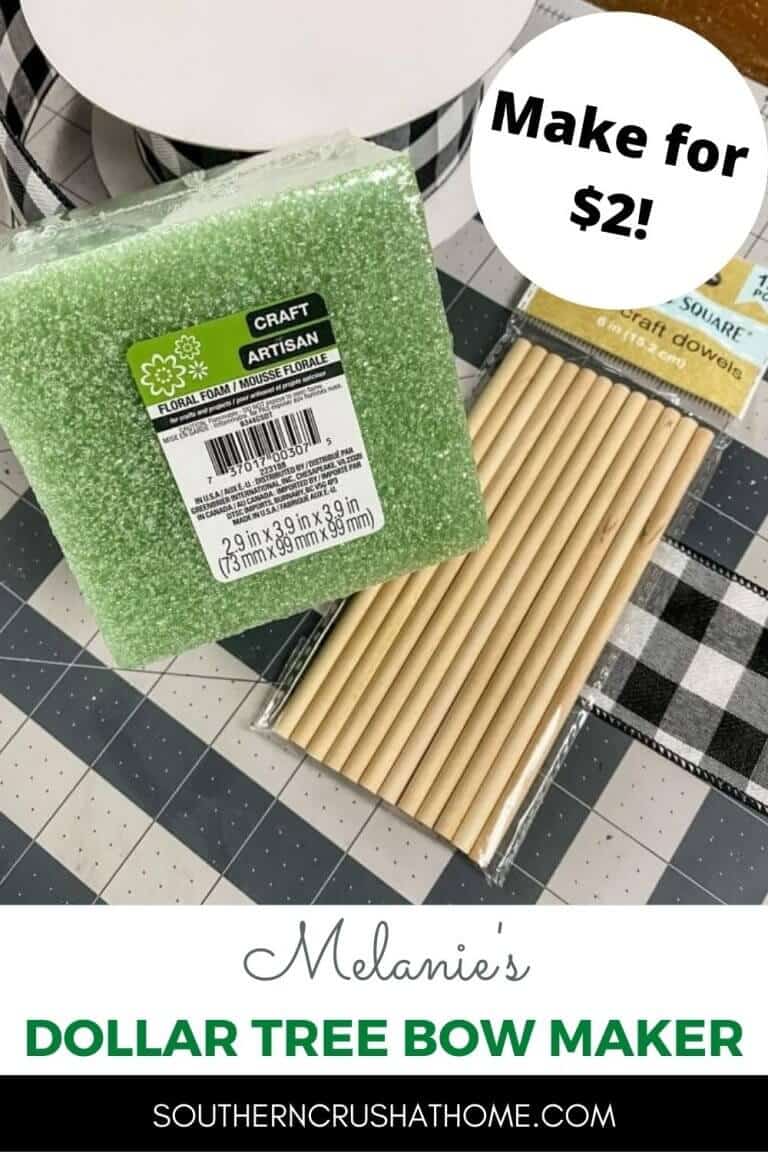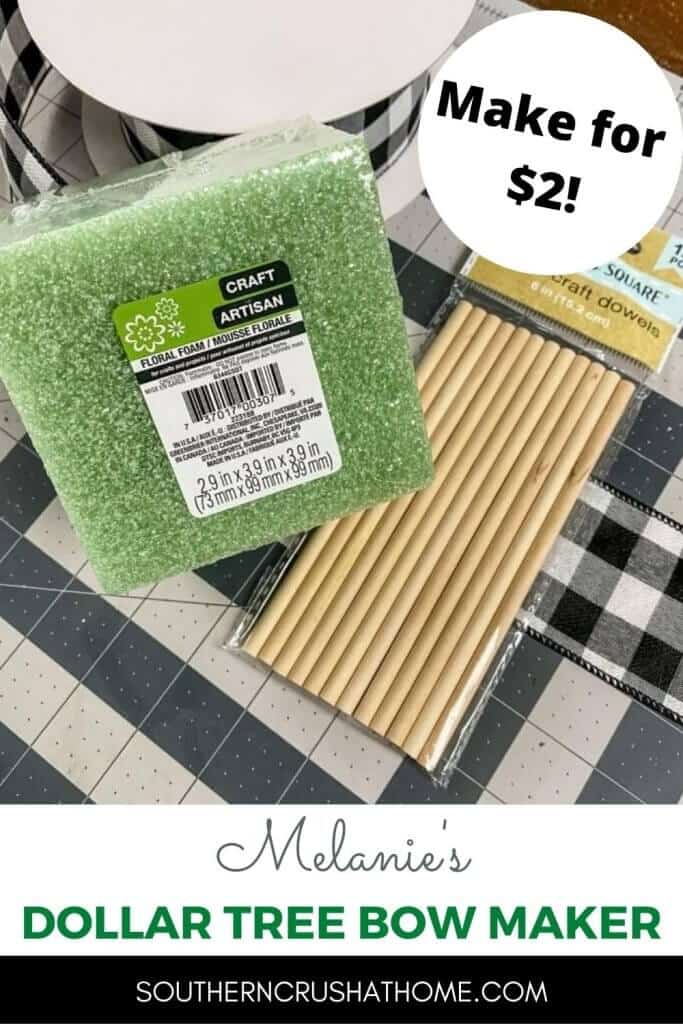 Be sure to PIN this for later!
I hope I've inspired you with this idea to grab some ribbon and make your own DIY tool in order to save time and money on making wreath bows.
This solution I found to be sturdy, durable, light, and portable!
I'd love to read your follow-up comments below if you make one.
For even more quick and easy crafts, look at these ideas!
Melanie's $2 Dollar Tree Bow Maker
Pick up a couple of supplies from the dollar store and make your own bow maker!
Materials
Floral Foam Block

Wood Dowels

Zip Tie
Instructions
Place the wood dowels into the center of the floral foam.

Place a zip tie in between to test the width.

Remove the dowels and place hot glue into the holes.

Place the dowels into the glued holes and let dry.