Easy Dollar Tree Easter Decor Ideas
If you're looking for some easy and affordable Easter decor ideas, look no further than your local Dollar Tree! With a little bit of creativity, you can transform dollar store items into chic farmhouse-inspired Easter decorations.
For a neutral easter tablescape, start with a drop cloth table runner like this one as your base. All of these nine Easter decor ideas I'll be sharing have a touch of black and white buffalo check in them, so this runner is the perfect match!
Nine Dollar Tree Easter Decor Ideas
1. Quick and Easy Dollar Tree Easter Bunny Eggs
These little eggs are so cute and easy to make! All you need is some baker's twine and a hot glue gun. Start by wrapping the twine around an egg in a spiral pattern. Once you've covered the entire egg, cut off the excess twine and add a fun pom pom bunny tail.
See the Entire Tutorial HERE.
2. Easy Dollar Tree Cloche
This clear plastic garden bell cloche from the Dollar Tree was a great way to add some farmhouse flair to the Easter egg decor. Simply place the eggs in a nest on a platter underneath the cloche!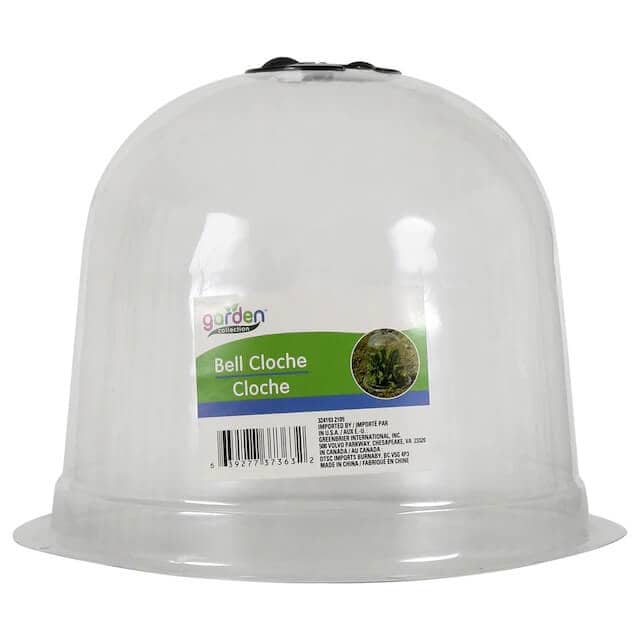 Making an easy bow for the top is so simple with my DIY bow maker! All you need is some wired buffalo check ribbon and the bow maker. Cut a piece of ribbon about 24″ long, place it in the bow maker, and create your loop bow for the top!
3. Easter Egg Hunt Arrow Sign
Create this adorable egg hunt arrow sign using a dollar store arrow, some black paint, and this foil technique. Simply paint your wood sign black, and allow it to dry. Once it's dry, add the foil adhesive and lay the foil over the wording "Egg Hunt".
4. Dollar Tree Easter Basket
Hang your sign using a ziptie on a dowel tucked into a floral foam base. Hot glue it to the bottom of one of these dollar store baskets. Finally, hot glue the basket onto the top of a dollar tree candlestick. Add spanish moss, wooden tag with buffalo check bow and faux carrots or Easter eggs! So cute!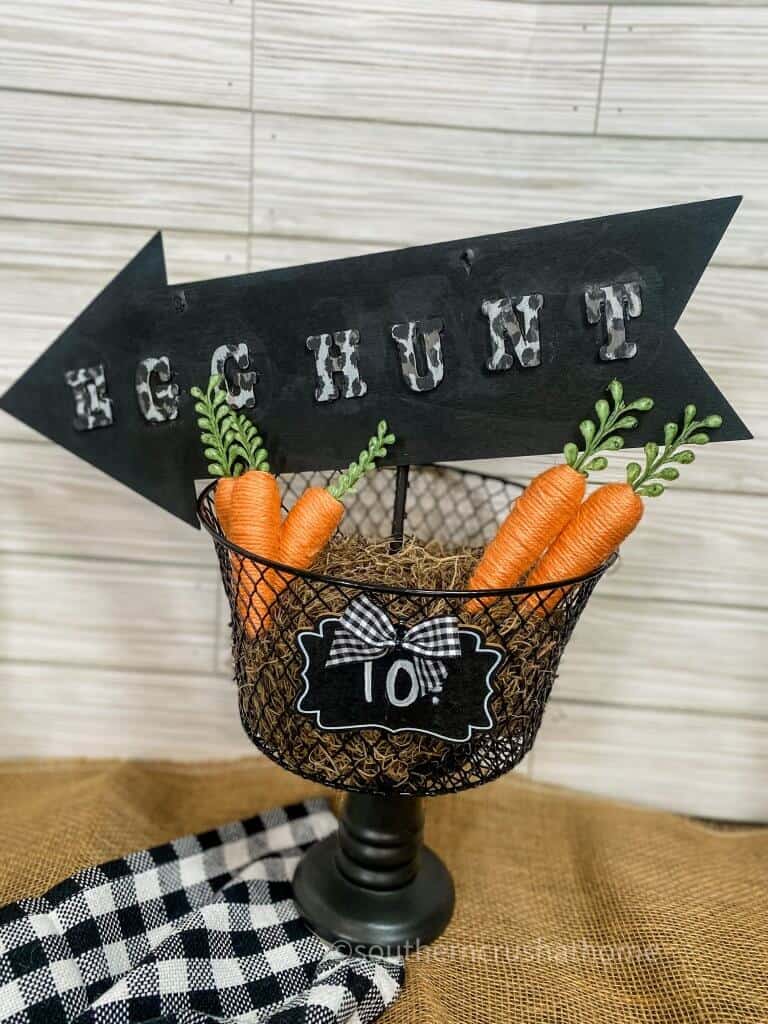 5. Cute Dollar Tree Carrots
Make these adorable carrots by taking carrot decor from the Dollar Tree and removing their original green paper stems. Dig a hole with the dollar store embossing tool. Replace them by adding faux greenery taken from a fern spray from another pick using hot glue. So much better!
See the entire process on this step-by-step tutorial video that includes all of these projects.
6. Plush Easter Bunny
This soft and cuddly bunny is the perfect addition to the rest of your Easter decor. She's also a great gift for an Easter basket! Take the original Dollar Tree bunny in either white or tan and add some buffalo check fabric to her ears and make her a fun bow with bling to jazz her up!
7. Boyfriend Bunny Sign with FREE Printable
This Easter boyfriend bunny sign is so simple to make! Just download and print the FREE printable onto the peel and stick printer paper, and cut it out using scissors or a paper trimmer. Attach the printable to a dollar store sign front, embellish with trim and buttons and you're done!
8. Dollar Tree Easter Bunny Twine Spool DIY
This Easter bunny DIY is so easy to make, and it's super cute too! All you need is a dollar tree spool of twine, some hot glue, dollar tree bunny pick and a fake yarn pom pom bunny tail. Start by disassembling the bunny pick and gluing the head on the front of the twine spool. Glue the pom pom tail to the back and paint the ears with chalk paint if desired!
It's that easy and so adorable! Think of all of the bunny tail options; flowers, scrap fabric rosette tail, tiny messy bow tail, feathers tail or a simple cotton ball for the tail!
9. Toile and Burlap Easter Bunny Banner
This Dollar Tree Easter bunny banner is so cute and easy to make! All you need is the toile contact paper, wooden Easter bunny tags, buffalo check ribbon, sola wood flowers, burlap, and hot glue all from the Dollar Tree.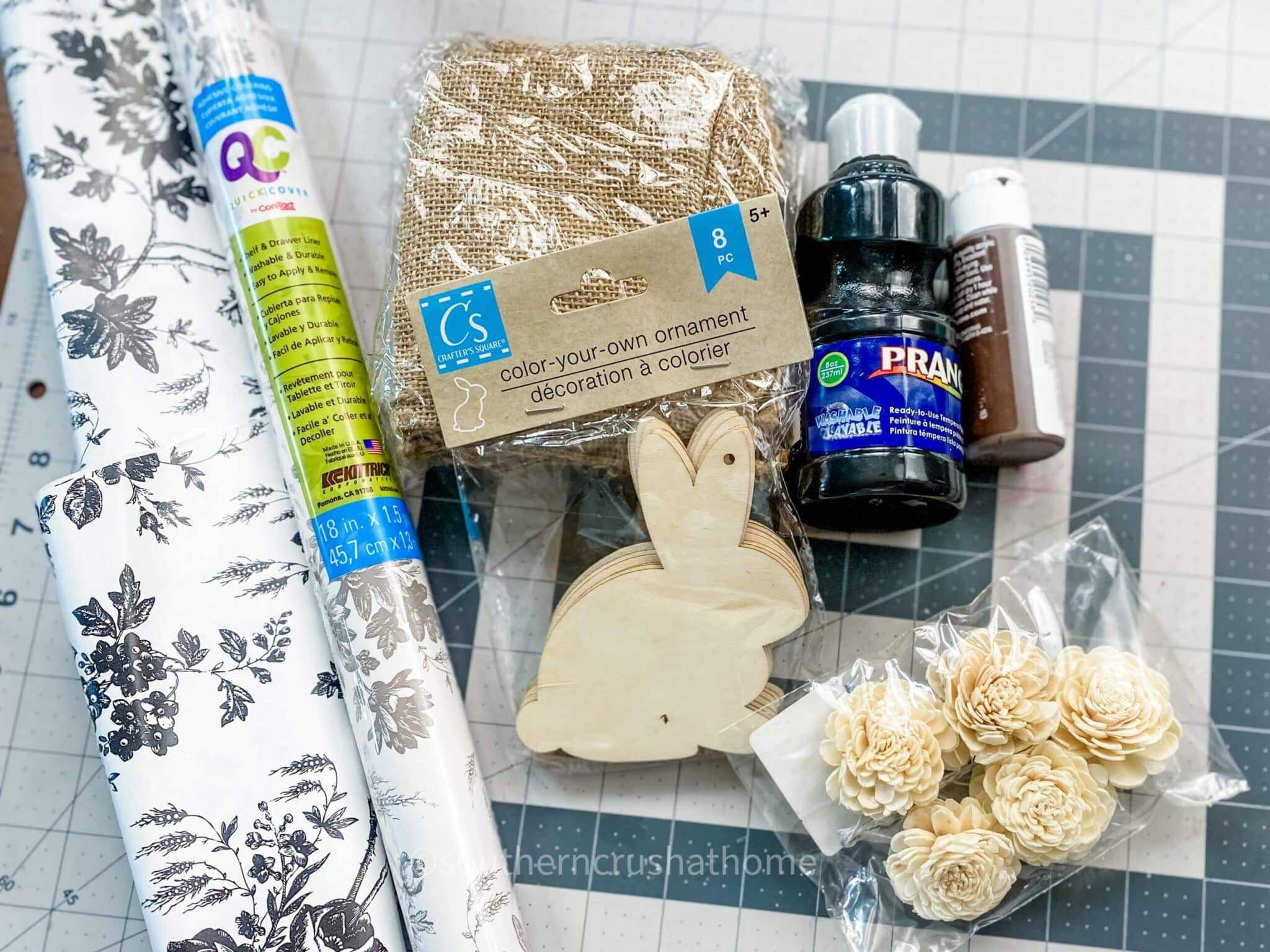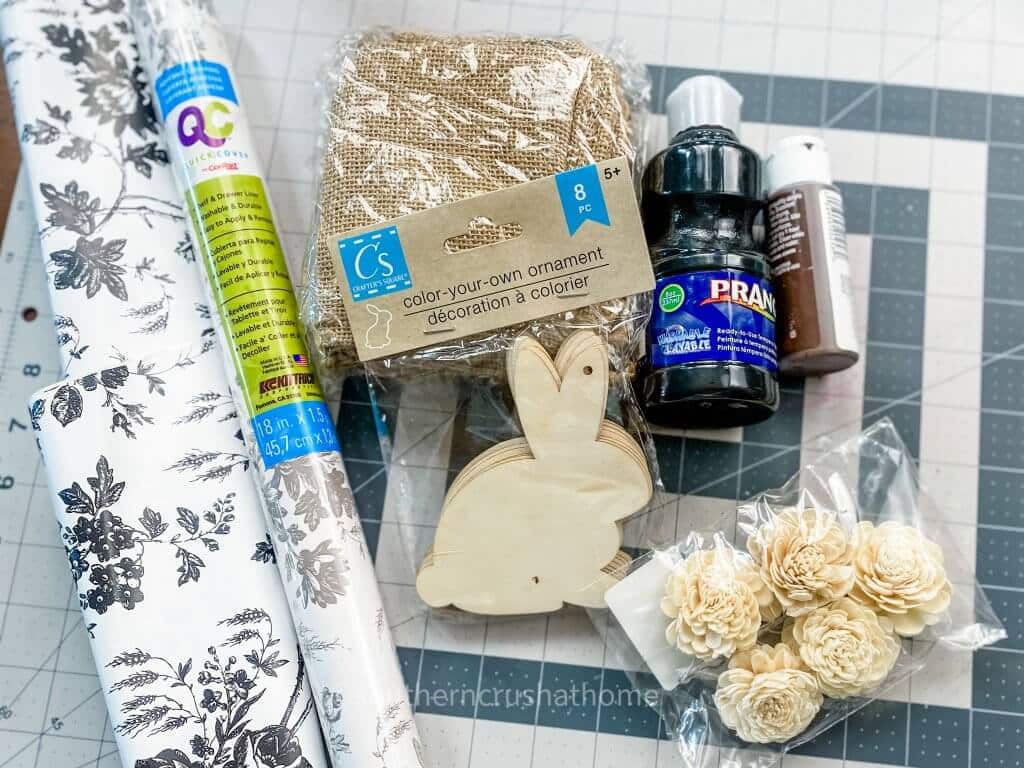 Adhere the toile floral contact paper onto the cut out wood bunny shapes, die the sola wood flowers and add as bunny tails with hot glue. Then hot glue them to pieces of burlap. String the banner up using twine or ribbon, and you're done! Absolutely adorable!
See the Entire Tutorial HERE.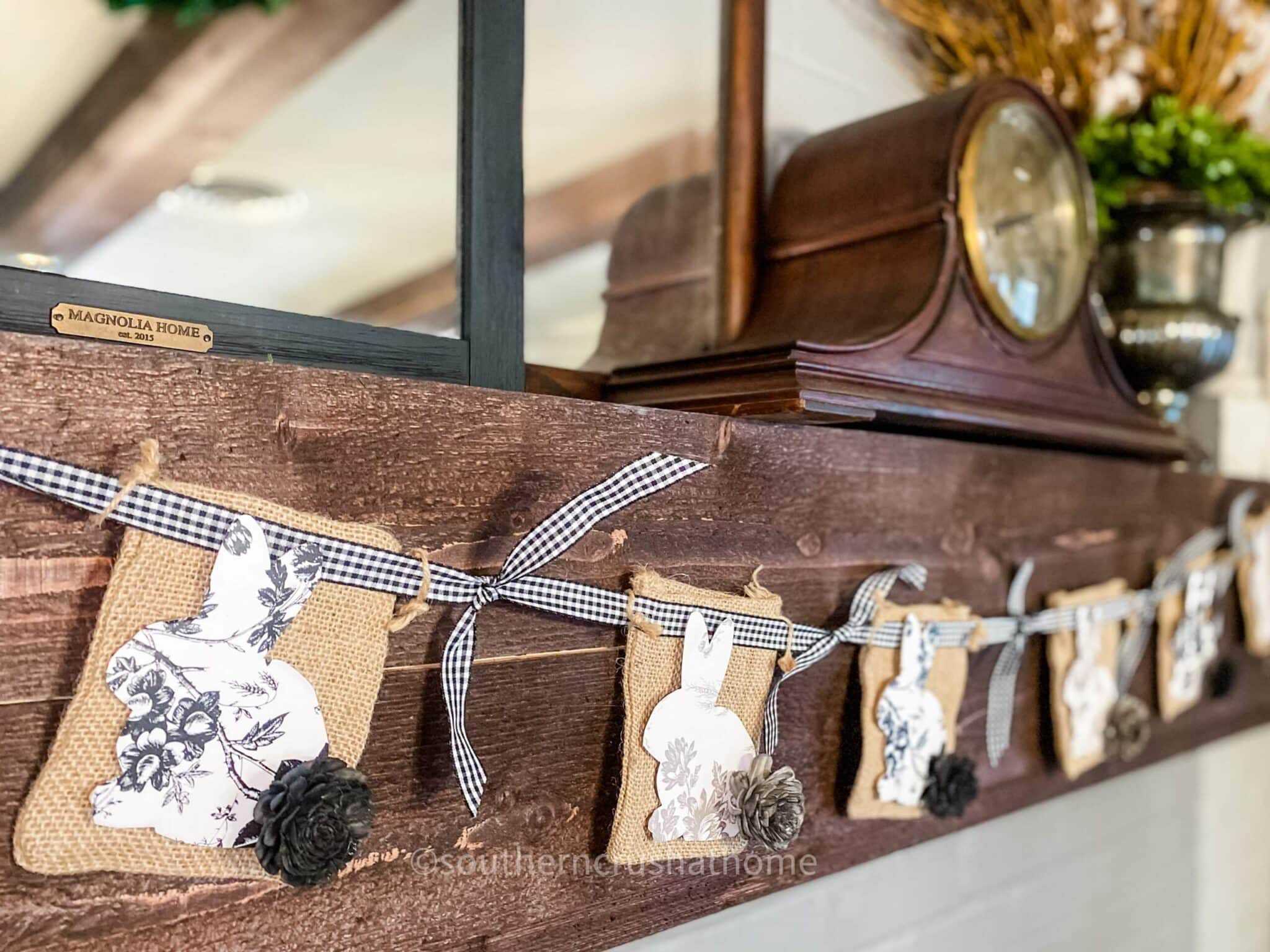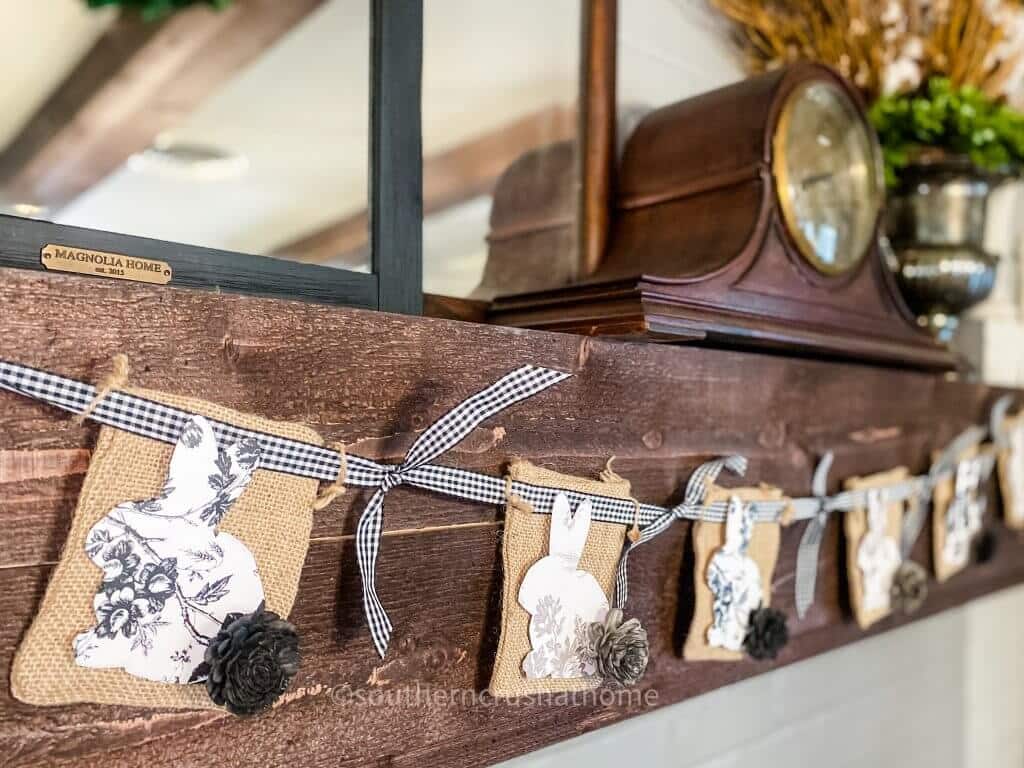 Easter Decor on a Budget
I hope you've enjoyed these neutral Dollar Tree Easter decor ideas and plan to make some of your own! Dollar Tree has everything you need to create beautiful Easter decor on a budget! With just a few simple supplies you can have beautiful, neutral Easter decor!
Here are Twelve more Neutral Easter Decor ideas you might like!
More Easy Easter Decor Ideas