Using an old t-shirt to make a bow was something I never thought I'd see, but here it is! This is an easy t-shirt bow DIY project using an old long sleeve t-shirt and some scissors! It could not be any easier than that! Once you start making these, you'll be on the hunt for old t-shirts all of the time…ask me how I know–lol!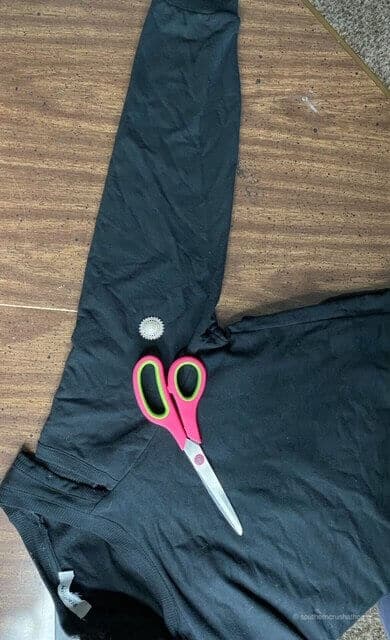 supplies for easy t-shirt bow diy
Old long sleeve t-shirt
Fabric Scissors
Old jewelry or Bling
step by step instructions for T-SHIRT bow
Cut sleeve away from t-shirt at the shoulder area as shown.
Cut the cuff off at the end of the sleeve and save it for later use.
Turn the sleeve piece wrong side out and cut up the center along the seam as shown.
Now cut the seam trim piece away from the one side of the sleeve as shown and retain for later use.
Now use a "pinching" technique to fold up the sleeve in an accordian-like fashion as shown.
Then take the cuff piece that you saved after cutting and place it around the center of the folded piece as shown.
Take the center "cuff" piece and twist it back around the bow a second time to tighten it onto the bow as the center as shown.
Optionally, you can hot glue a piece of jewelry or bling to the center of this bow for an added flair!
If you plan to 'hang' it on something else as decor, you can attach the piece of seam that was reserved by threading it through the back of the bow as shown.
viola! A t-shirt bow out of an old t-shirt!
I'm in love with the look of this super easy DIY bow. There are so many uses for it, but this is just a couple.
hang it on a wreath!

use it on a napkin ring for a pretty place setting!


>>>BE SURE TO PIN THIS FOR LATER!<<<
If you love these kind of DIY ideas, you need to be getting my emails, friend! Each week I send out a couple of emails that include updates, crafts, shopping experiences and decor inspiration. Be sure to get yourself signed up below. I can't wait to meet you!
>>>Leave your thoughts below in the comments please… BTW— Life is short—Enjoy the mess!
Furthermore, if you'd like to see more DIY bow ideas, you should check out this other post
DIY Messy Bow.