Follow this tutorial to make your own wood bead garland! It's so easy and it looks amazing with the tassel at the end. It really adds charm to every room in your home.
Making a wooden beaded tassel by stringing your own beads is a wonderful stress-free project that can take you away from even the most overwhelming of days.
Depending on how you style them, you can use wooden beads with any decor theme. They fit naturally among modern farmhouse decor and also look fantastic with rustic or even nautical themes.
Keep reading – I'll share an easy tutorial that will walk you through every step. If you are a visual learner, I have a video too!
Then, I'll even share some different ways you can customize your DIY home decor with wooden beads.
How To Make A Wood Bead Garland
On this particular project, I decided to take things up a notch from the usual tassel with all-natural wooden beads and simple jute tassel. Crochet covered wooden beads in gray, navy, and blue adorn this tassel as never before.
Combined with a fun, gray-colored jute twine makes this DIY decor project extra unique.
How To Use Wooden Beads As Decor
The uses for this wood bead garland is endless. Here are some of my favorite ideas.
Layer them on vases to display on a mantel
Lay it across stacks of books on a tray
String it like a garland across your mantel
Hang them from the ceiling
Your creativity is truly your only limit.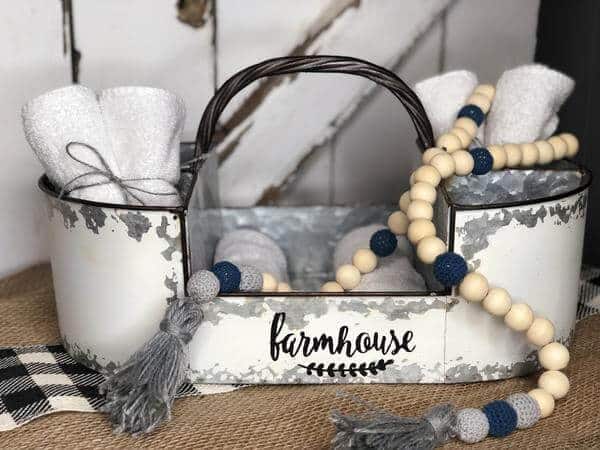 Wood Bead Garland With Tassels Tutorial
Here's how to make your own wooden beads decor idea! Be creative and have fun with it.
Supplies
20 mm unfinished or raw wooden beads
Crochet beads in the desired color
Hemp string for stringing
Jute twine for tassel
Large needle (optional)
So many asked where to get the colored, crochet beads for this project, so here is the list of resources I used directly from my Amazon shop >>> Shop the Project- Wooden Beaded Tassel

Instructions
Count out your desired number of beads based on the length you want your tassel to be when completed. I used about 33 beads for this one. Decide what color pattern you'd like to create for your tassel and count out your colored beads at this point as well.
Using your hemp string (and a large needle if preferred), thread your beads one by one in your desired pattern until finished.
Take your jute twine and begin wrapping it around your fingers in a circular fashion or use any circle-shaped object until the desired thickness for your tassel is reached. I wrapped mine about 13 times.
Thread your hemp string inside the middle of your jute loop and tie a knot to attach it to your beads.
Take your jute and tie a small piece around the top portion of your tassel and then tie off in a knot.
Snip the bottom loop portions of your tassel and trim them as needed. Repeat for the second tassel.
Video Tutorial
If you're more of a visual learner, the easiest thing to do is watch this quick video tutorial for step by step instructions!
It was a blast to make— if you missed the project live, watch it below >>>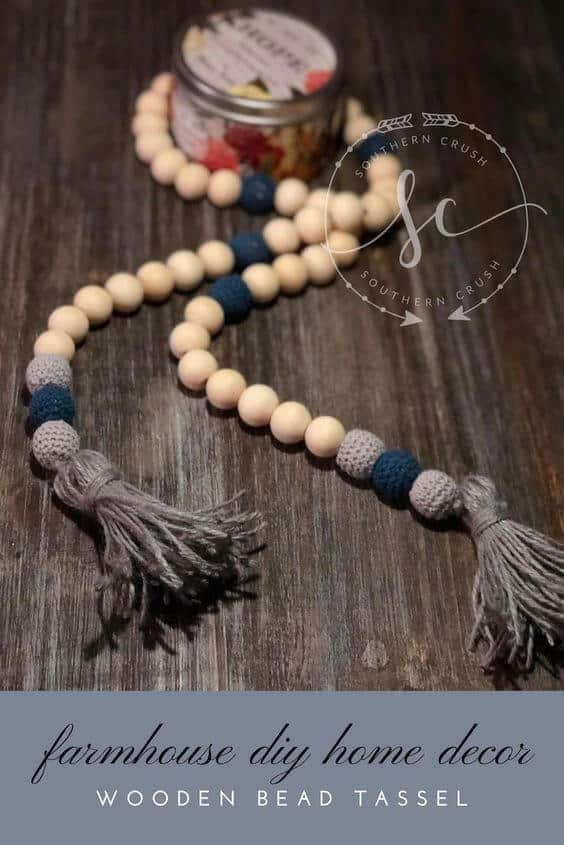 Ya'll, don't forget to pin this as a reminder for later!
Different Materials To Use For The Tassel
This is where creativity shines, so have fun with this. Try out different fabrics for your tassel. You can use almost anything!
I used jute because I love how it works with the wooden beads.
Other materials you can use for a homemade tassel include:
Embroidery thread
Yarn
Ribbon
Fringe trims
Suede or leather
More beads
More Creative Ideas To Try Out With Wooden Beads
I had so much fun with this idea that I made a few different versions. It's amazing how much different it looks when you use different colors of beads and a different fabric for the tassel.
Buffalo Checked Beads Idea
This is another variation on the wooden beaded tassel, but with buffalo checked beads and black and white bakers twine! So much fun.
See how just a few color changes totally alter the aesthetic? You can make them match your holiday decor this way.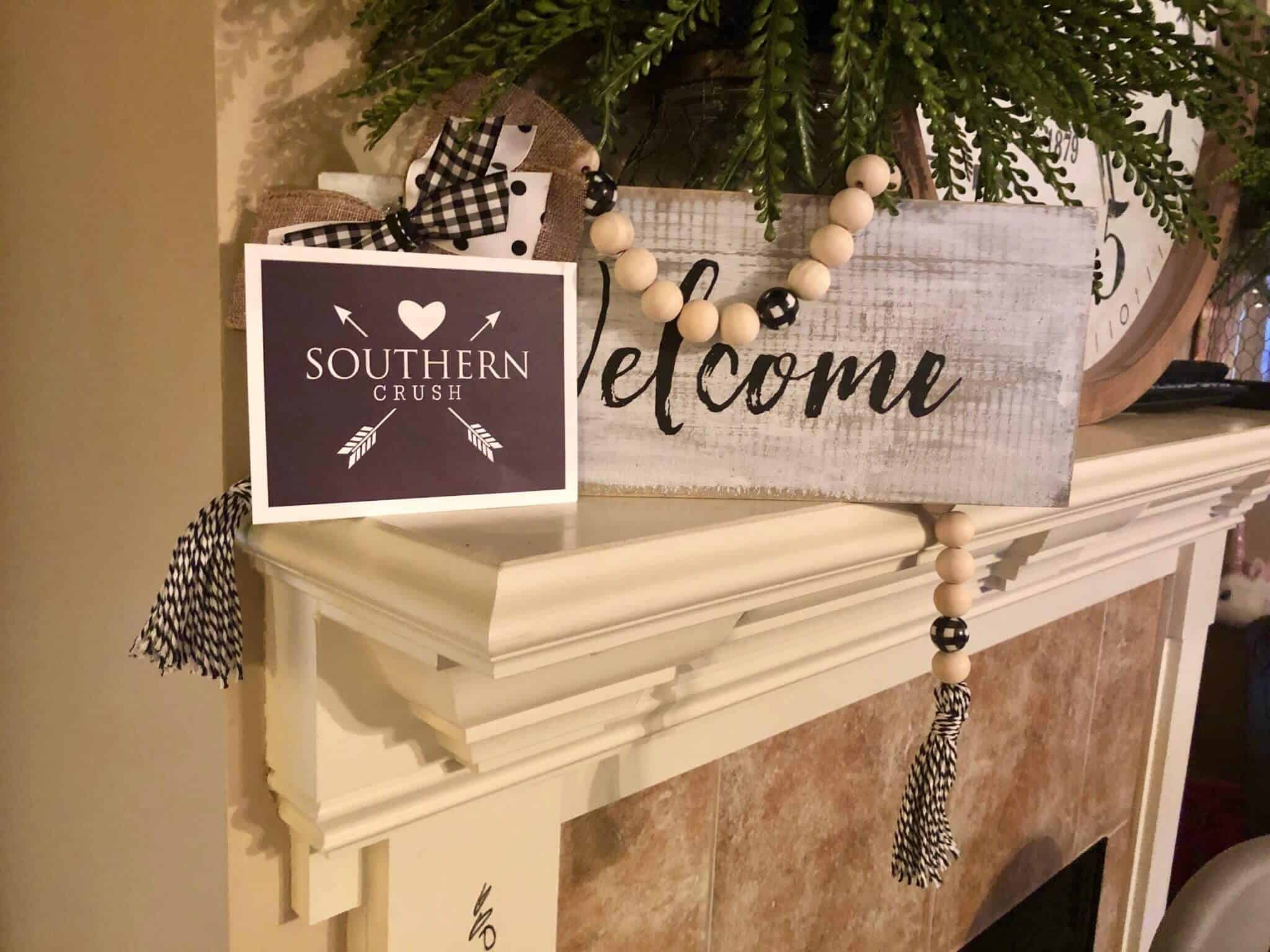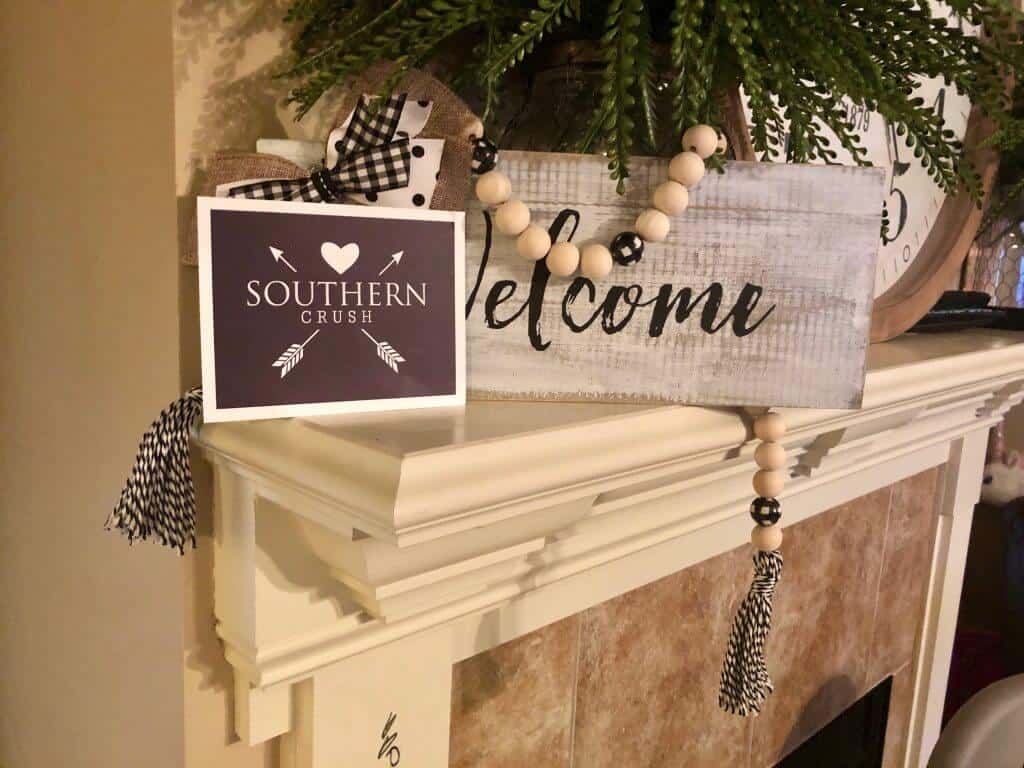 How To Use Wooden Beads Garland On Books
Here is another version of the tassel displayed on one of my favorite coffee table books, Home Body by Joanna Gaines followed by a picture of it displayed on a hanging shelf.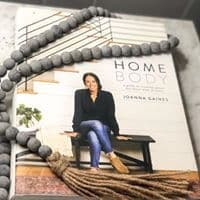 If you'd like to see that fun DIY dresser project, you can view the entire step by step project HERE.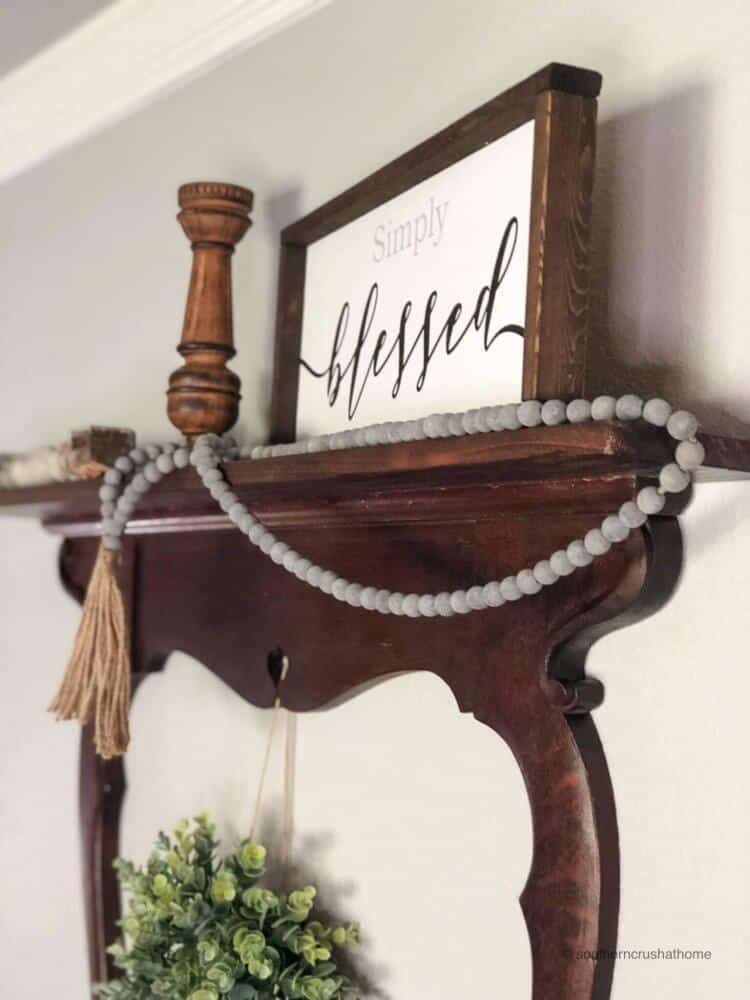 Bling Ribbon Idea
This was a fun version on the tassel by adding a bling ribbon to the top of the tassels for extra fancy flair! When you are in the craft shop, let your imagination fly, and use your favorite fabrics and decorations on your tassels.
Farmhouse DIY Wooden Beaded Tassels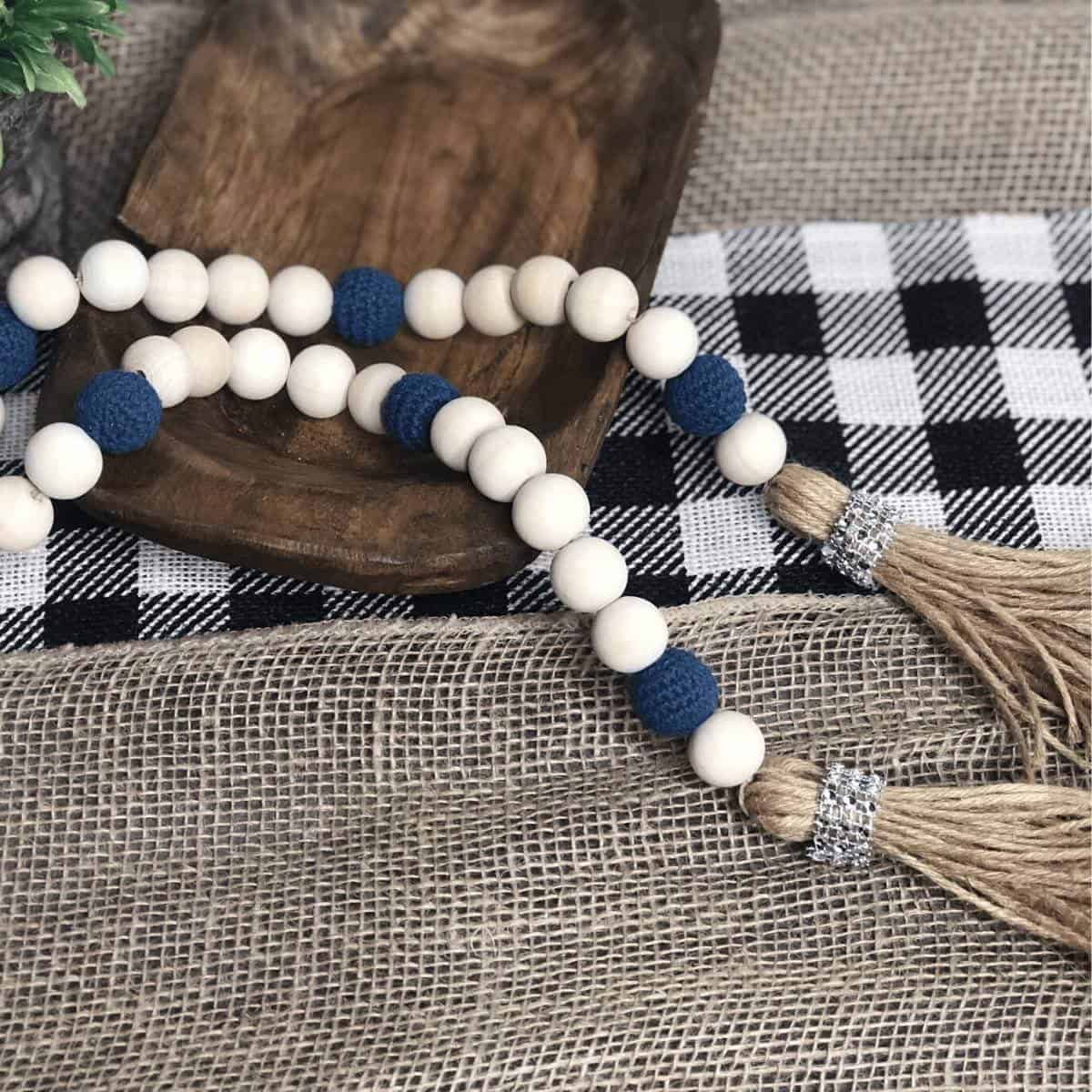 These fun, farmhouse DIY wooden beaded tassels are one of the newest trending pieces in home decor—they can be purchased literally everywhere!
But it's more fun, relaxing, and gratifying to make them yourself, and then it can be customized, which is my favorite part!
More Crafts With Wooden Beads
Can you tell how much I enjoy crafts that use wooden beads? Here are some more crafts and ideas you can do with them.
Hear About My New Crafts First
What do you think? If you love this kind of DIY, you need to be getting my emails, friend!
Each week I send out a couple of emails that include updates, crafts, shopping experiences, and decor inspiration.
Be sure to get yourself signed up below. I can't wait to meet you!
Leave your thoughts below in the comments, please… BTW— Life is short—Enjoy the mess!
**P.S. Please join us over on our Facebook Page to see more fun projects "Live".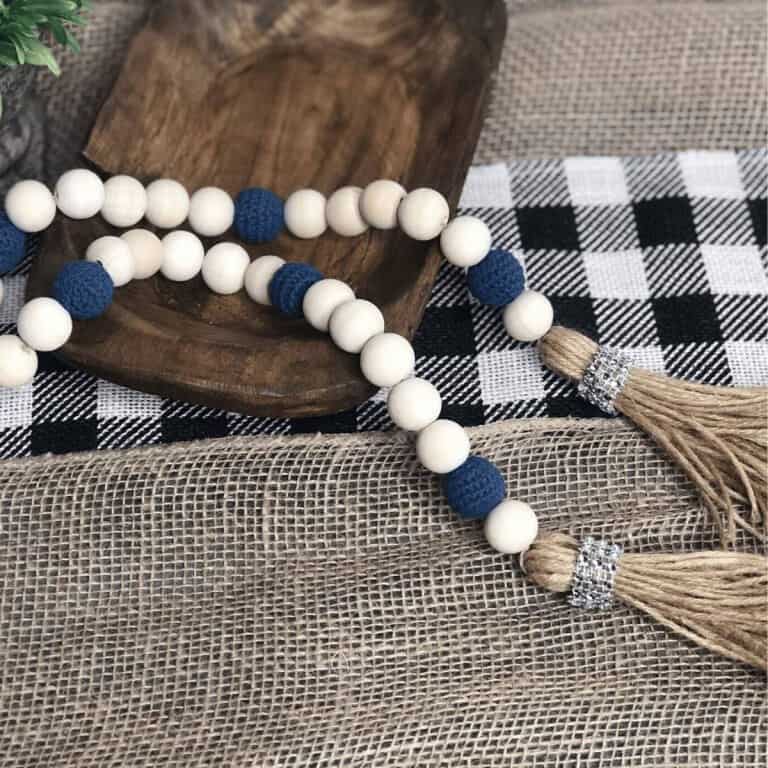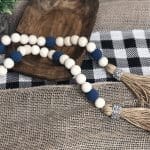 Print
DIY Wood Bead Garland
This DIY wood bead garland adds a touch of warmth and texture to your farmhouse style decor. Learn how to easily make your own!
Materials
20 mm unfinished or raw wooden beads

Crochet beads

in whatever color you'd like

Hemp string for stringing

Jute twine for tassel

Large needle

optional
Instructions
Decide what length you'd like your garland to be, then count out as many beads as you need to fill that length.

Using a hemp string and a needle thread your beads onto the string. You can create patterns but alternating the wood beads and crochet beads if you'd like.

Create a tassel by using the jute twine and wrapping it around your fingers until the thickness you want for a tassel is created. Thread another piece of string inside the loop and tie a knot to attach it to your beads.

Repeat for the other side as needed.