How to Use Rhinestones in your Home Decor
Rhinestones are a fun, sparkly way to add interest and glamour to your home decor. They can be used to create a focal point or add pops of color and texture. In this post, you'll learn some tips and tricks for using rhinestones in your home decor. So let's get started!
This blog post contains affiliate links. The opinions are wholly my own from my own experience. I may earn a small commission from clicks through to the websites that end in a purchase.
Introducing the Southern Crush at Home Bling Pack
I'm so excited to share with you my newly curated Southern Crush at Home bling pack with Totally Dazzled! It's simply amazing! All of the rhinestones are hand-picked by yours truly and each of them is meant to inspire you to create amazing sparkly DIY home decor!
As the Queen of Sparkle as I'm sometimes referred to, you have seen me use my favorite bulk rhinestones on my DIY home decor and craft projects, like my signature Messy Bow; however, did you know that you can use this amazingly fun embellishment for so much more?
Rhinestones are a great way to add a touch of sparkle and glamour to your home decor. They can be used to accentuate existing features or to create new ones. For example, rhinestones can be used to add a hint of sparkling glamour to a piece of furniture or to add shimmer to a vase or lamp. See how I used some here below on this thrifted pitcher.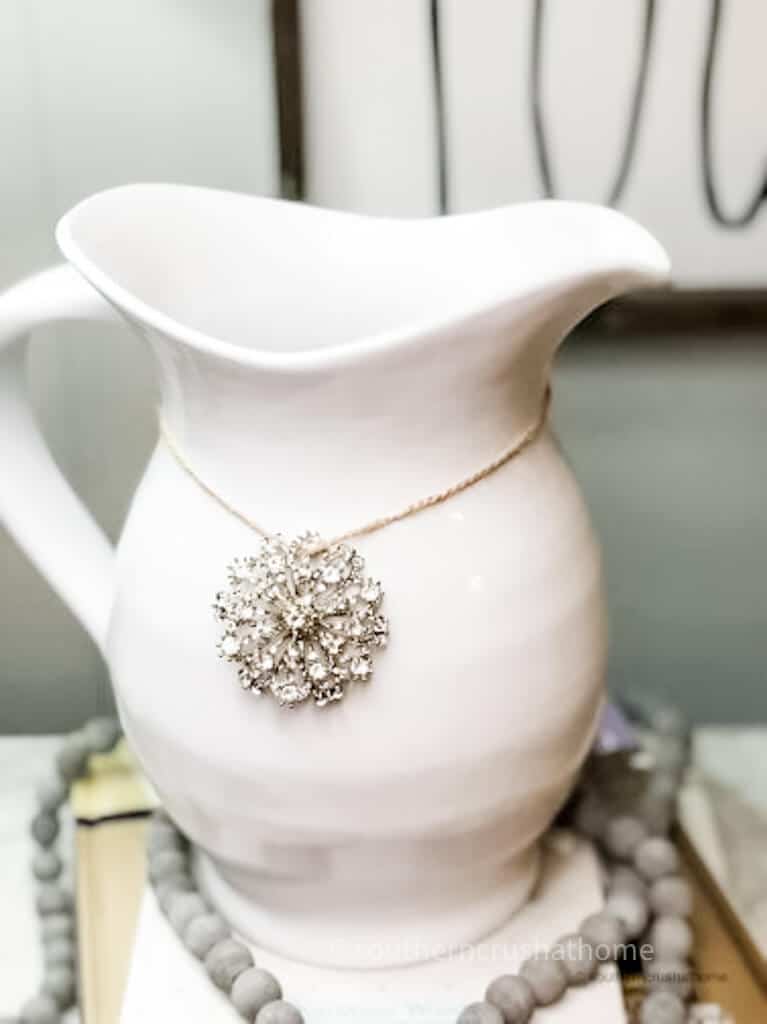 They can also be used to create an eye-catching border around a mirror or piece of art. When using rhinestones in your home decor, it is important to consider the overall aesthetic you are trying to achieve.
Rhinestones are a great way to add a touch of Old Hollywood Glamour to your home decor. Here are a few tips on how to use rhinestones in your home decor:
Rhinestones can be used to add sparkle to vases, lamps, frames, and other decor items. Simply glue them onto the item using a strong adhesive like a combination of hot glue and E6000.
If you want to add rhinestones to fabric, such as curtains or upholstery, use fabric glue. This will ensure that the rhinestones stay in place and don't fall off.
Rhinestones can also be used to create new designs on furniture, walls, and floors. For example, you could create a border around a mirror or table, or make a design on the door of a cabinet. The possibilities are endless!
With a little creativity, you can use rhinestones to add Sparkle Backgrounds as well as some extra pizzazz to your home decor. A great way to ease into using rhinestones is to try adding some fun sparkly rhinestone napkin rings to your holiday table setting as I did below!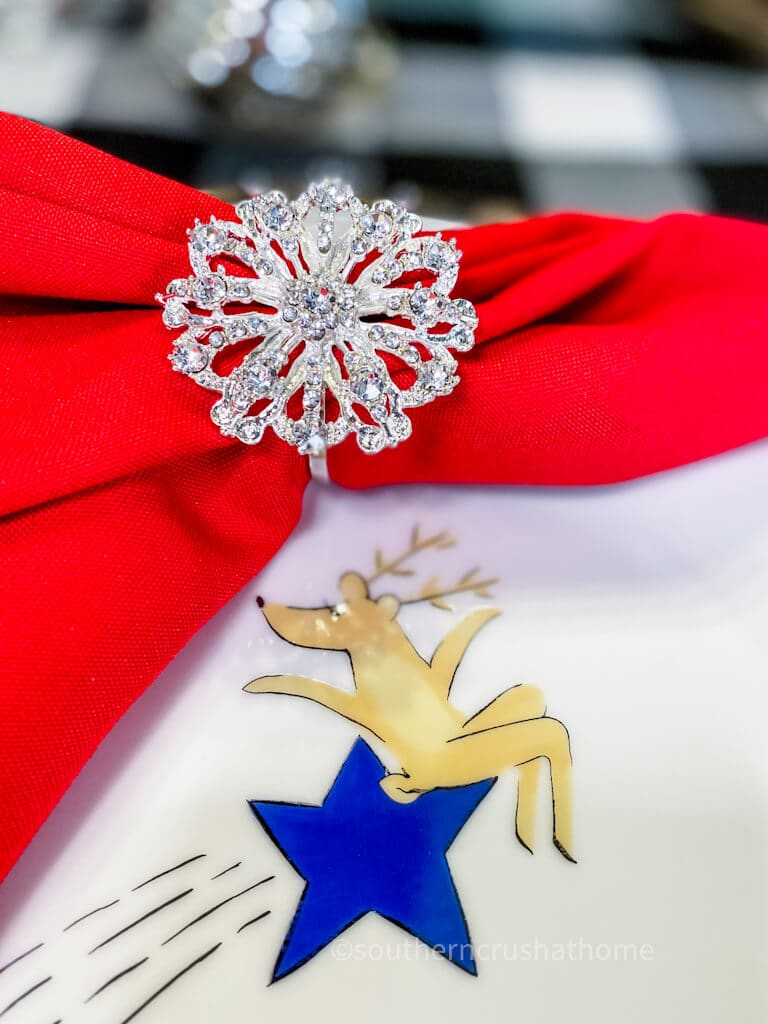 Ribbon with Rhinestones
Have you seen the ribbon with rhinestones? It's an even easier way to add some glamour to your home decor. You can use as little or as much as you like to create amazing DIY centerpieces, bows, tassels, and crafts. See how I used some below on this wood bead garland with tassels.
Bulk Rhinestones
The best way to purchase rhinestones for DIY projects and home decorations is to buy in them in bulk.
Totally Dazzled is my favorite place to buy quality bulk rhinestones to use on my home decor. Natalie the owner stands behind her products and makes sure each shipment is packed carefully and securely.
The bulk rhinestones are the deepest discount available and make it easy to keep sparkly rhinestones on hand at all times for my crafts!
DIY Wedding Centerpieces
Did you know that rhinestones make the perfect wedding centerpieces? Not to mention wedding favors, wedding decorations, pew bows, bridal bouquets, and even a wedding garter. There are so many options when it comes to decorating for a wedding with rhinestones.
Imagine creating your very own DIY wedding centerpiece for each table using bulk rhinestones. From floral arrangements to candle wraps, the sky is the limit! See how I added sparkle to a simple tulle bow for a pop of glamour in a floral arrangement below.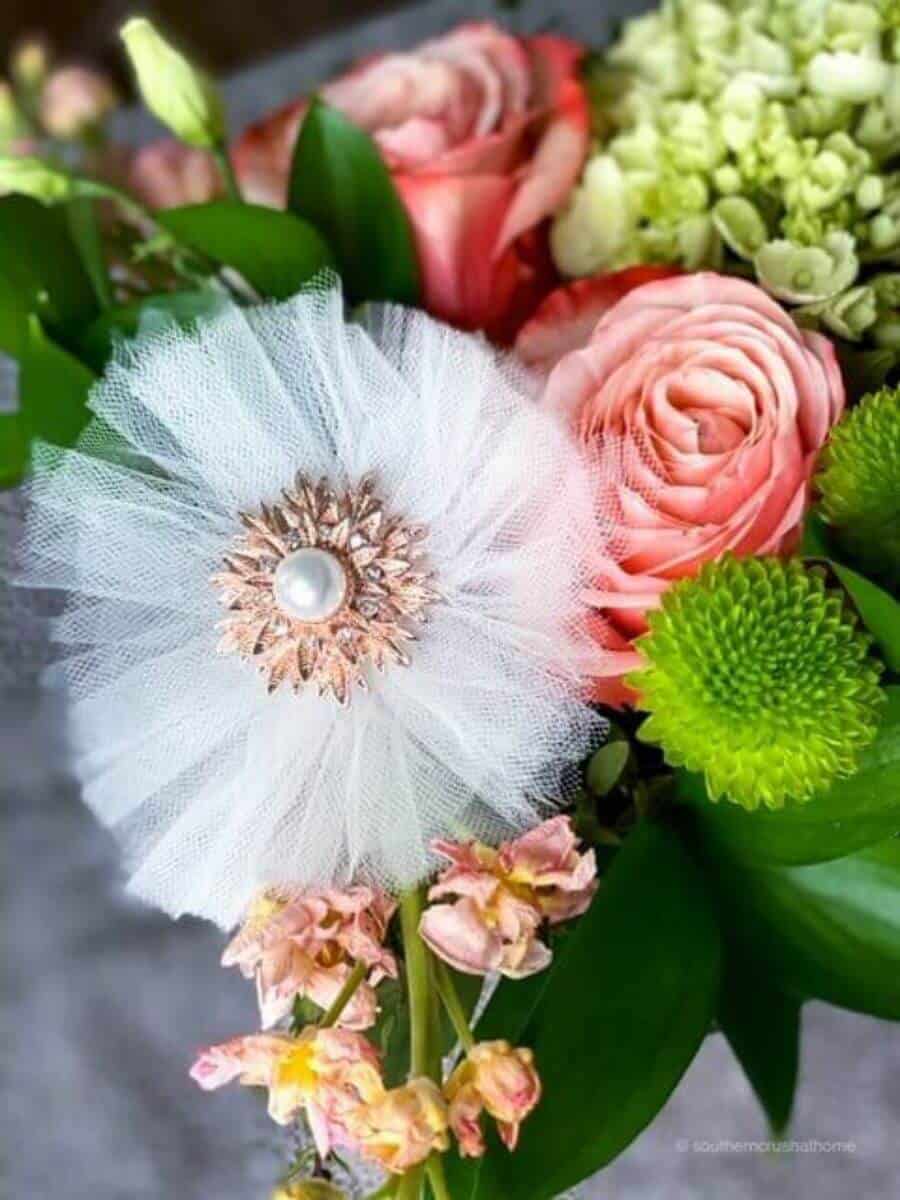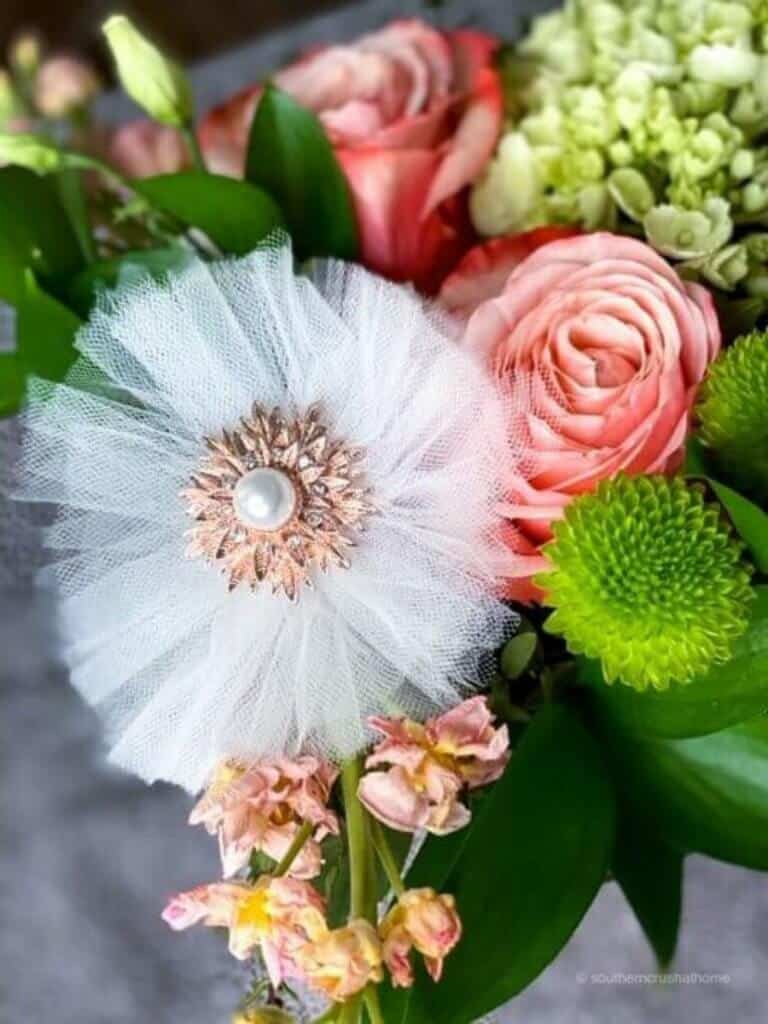 Rhinestones can be very versatile, but they should be used in moderation so as not to overwhelm the space. When used thoughtfully, rhinestones can help you create a truly one-of-a-kind look for your home.