DIY Decorative Books with Homemade Tassels
Celebrate your love of books! Learn how easy it is to make your own hand-stamped decorative books with some cute tassels to put on top.
Who else loves books? Have you seen those cute stacks of books in the craft or home decor sections of your favorite stores? I'm about to show you how easy it is to make your own!
This is the perfect craft for bibliophiles like me. I love giving my cherished books a second life.
Decorative Books: A 5-Minute Craft
Books, books and more books! Seems like there are always books around at my house. Most of mine have already been read more than once and are in a pile to be donated.
Hand-Stamping Decorative Books
Hand-stamping has been the latest craze in decorating books to use in decor, so I thought I'd give it a try! It was actually a very fun and easy DIY!
I decided to add my own twist with jute twine and bling tassels; follow along to see how I did it.
How To Make Decorative Books
When I say this is a 5-minute craft, I'm not exaggerating. This is such an easy craft that you can do them with kids or even with a bunch of friends while you laugh and craft together.
I'll take you through all of the steps, and I even included a video if you prefer to watch a craft in action.
Old Paperbacks (I chose odd numbers)
Alphabet Stamps (lowercase)
Stamping Pad with Gridlines
Acid-free Ink Pad (black)
Jute Twine
Bling Trim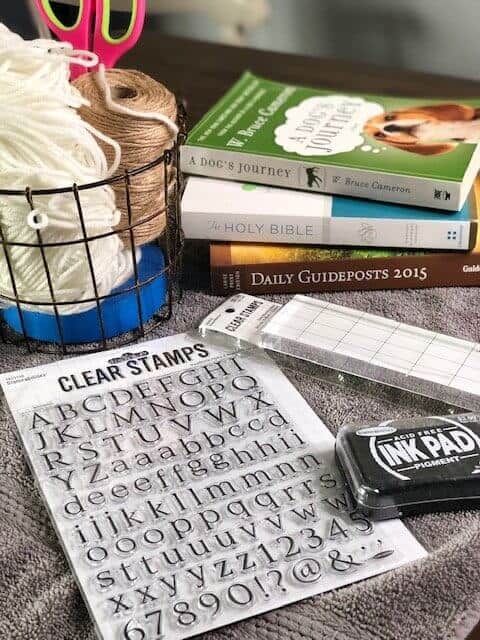 This was personally one of my favorite and easiest DIY projects! In fact, the hardest part was choosing a saying.
Step-By-Step Instructions TO MAKE HAND STAMPED DECORATIVE BOOKS
1. Pick your favorite saying or decide if you'd like to use names, etc.
2. Choose the appropriate number of books that will correspond to your saying or names. I like to stick to odd numbers of books to keep in line with design basics.
3. Tear off the paperback covers, tearing as much of the spine piece as possible, but leave a bit behind for a more vintage effect.
4. Layout your first word on the stamping block in reverse order. This way your word will appear correctly once you stamp it.
5. Dab the word part of the stamp on the black ink pad while trying your best not to get it all over the stamp block itself.
6. Practice stamping on a plain sheet of paper if you want to make sure that your final stamping will look like you desire it to.
7. Stamp your book in a 'rocking' motion being careful to start at the bottom part of the spine.
8. Tie your books together with some simple ribbon or twine and finish with some bling tassels if you like!
Craft Tutorial Video
You can also follow along with my Facebook live video here in case you missed it. This is a smart option for anyone that learns best by watching the craft be created. It's fun too!
More Decorative Books Ideas
This craft is basic and can be altered in any number of ways. Save your old and worn out books and use them to make creative decor for every season and holiday.
Here are some of my favorite ways you can create your own decorative books.
Holiday scrapbook paper
Stamp your monogram
Add colorful twine
Wrap with ribbon
Collage colorful paper on the books with Mod Podge
Other Options Besides Stamps
If you don't have any ink stamps, use what you have around your house. You can print out some words and glue them to the spine. If you enjoy hand-lettering, write out something inspirational.
Where To Display Decorative Books
There are so many places you can display decorative books. I prefer to display mine on a coffee table, on a tray, with some wooden beads. Have fun being creative with your display locations.
Here are a few more ideas for you:
On your bookshelf
In between photo frames on your mantle
On a coffee cart or coffee station
On a breakfast or serving tray – move it around the house
Respectfully Decorating With A New Testament
I cannot tell you the number of people who noticed that one of my paperbacks of choice was a Bible. YES! I did a project with my Bible!
I respectfully gave a very well-loved and worn New Testament a new life.
It was a $5.00 paperback bible that I bought many, many years back and it had been very "well-loved."
While I understand how this might seem disrespectful, I can promise that I used my utmost care and even helped elongate its life. I simply removed the stained cover, (it's totally readable and usable), and I love it now even more!
God is love and love lives here!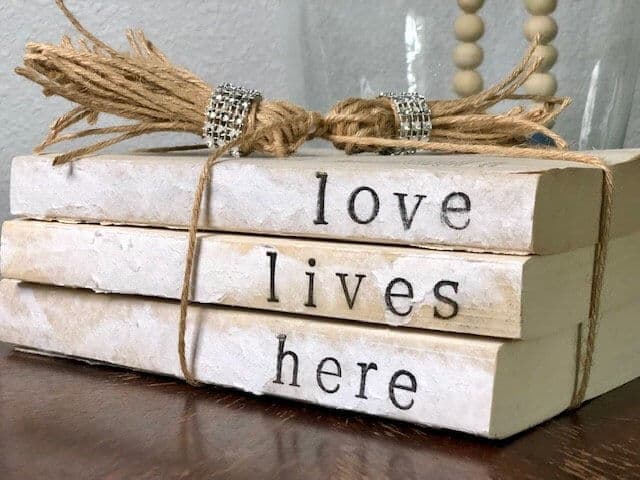 More Home Decor Posts
I think my favorite thing to craft is home decor projects. It fills me with pride to see my creations around my home. If you love that feeling too, then check out some more home decor crafts just like these decorative books.
Decorative Books: Final Thoughts
Repurposing worn-out books is so much fun when you turn them into decorative books. This is a beautiful way to celebrate your love of reading. It fits into the modern farmhouse theme perfectly too!
How did you enjoy this tutorial? Leave your thoughts below in the comments please…
BTW— Life is short—Enjoy the mess! I hope you enjoy this hand-stamped book project for yourself, it's fun to upcycle old books and they can really add interest to any room! It reminds me of another great project where I upcycled rustic buffalo check cross with bling.
Enjoy Fun Projects Live
Please join us over on our Facebook Page to see more fun projects "Live." It's so fun to do crafts and laugh together. I can't wait to see you there!
Hand Stamped Book with Bling Tassels
Looking for an inexpensive, easy DIY project that can jazz up your space? Try this easy hand stamped book project with pretty bling tassels!
Materials
Old Paperbacks

as many as you want to make, I chose an odd number.

Alphabet Stamps

Stamping Pad with Gridlines

Acid-free Ink Pad (black)

Jute Twine

Bling Trim
Instructions
Choose what you'd like to stamp on the books—it could be a saying or a last name, etc.

Tear off the covers of your books and as much as the spine as possible without ripping the pages apart from each other.

Layout your first word on the stamping block. You'll need to do it in reverse order so that it appears correctly once stamped on the books.

Ink your stamps, then practice stamping on a sheet of paper. Once you are happy with the design, ink once more and stamp the book using a rocking motion.

Tie your books together with ribbons, jute, twine, and bling tassels!