Dresser Mirror Idea – Turn a Mirror Into A Shelf
If you have an old dresser mirror and not sure what to do with it, take this simple dresser mirror idea for a spin! Turn it into a shelf!
I love it when I find a way to reuse or repurpose something instead of throwing it away. Do you have a piece of furniture that could use a little extra TLC? Then try this fun project. You can do the entire thing in just a weekend.
Don't forget to pin this project for later!
What Can You Make with an Upcycled Dresser Mirror?
Inspiration can come from anywhere. This up-cycled dresser mirror shelf idea was inspired literally a year earlier. When scrolling on Pinterest one Sunday afternoon, I came across an amazing photo of a gorgeous round vanity mirror turned upside down on the wall to be used as a shelf. It was absolutely beautiful! By the way, do you follow me on Pinterest yet? Check out all the fun projects you might be missing here on my Pinterest page!
Dresser Mirror Idea – Make it into a shelf
You never know when you'll be inspired. When I saw this beautiful vintage vanity dresser for sale on Facebook marketplace for $50 I knew right away, I wanted it for this unique home decor up-cycled project! You can find these vintage dressers at estate sales, online, or maybe even curbside! After meeting the owner of the dresser and hearing his story of how the piece had been his grandmother's treasure; I loved it even more. I believe that all things vintage have a story waiting to be told. Once the dresser made it home to my place, the up-cycled shelf project began!
I have the entire project in a printable craft card at the bottom of this post. First, I wanted to share some tips and step-by-step pictures.
1. Take It Apart
Once we got it home, it was easy for my husband to help me take it apart. We removed the mirror from the back of the dresser portion. It was so old and the original screws were there. Once it was off, we removed the dresser mirror from the beautiful wood frame it was in.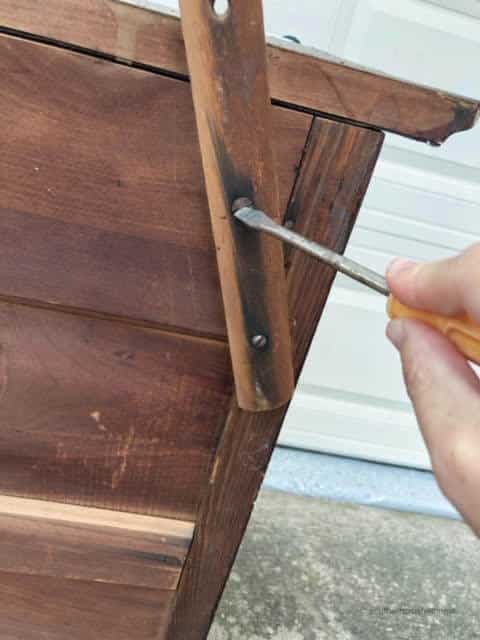 2. Cut the wood for the shelf
Conveniently, we already had a 1×6 piece of wood in our garage that was just collecting dust, so it was time to put it to use. We measured out a 44-inch piece for the shelf and cut it down.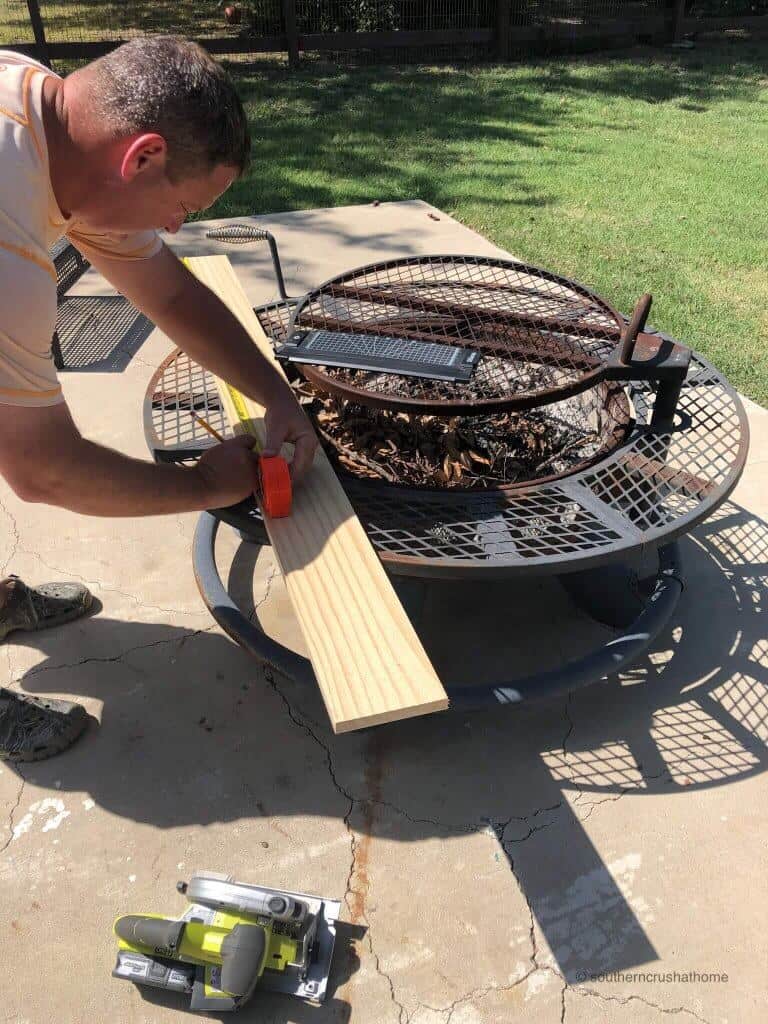 3. Match the shelf to the mirror stain
Next came the stain to match. I also conveniently already had a leftover stain from our home renovation that I decided to use. Yes, I stained this in my living room on my leather couch with craft paper underneath. It's just how I roll.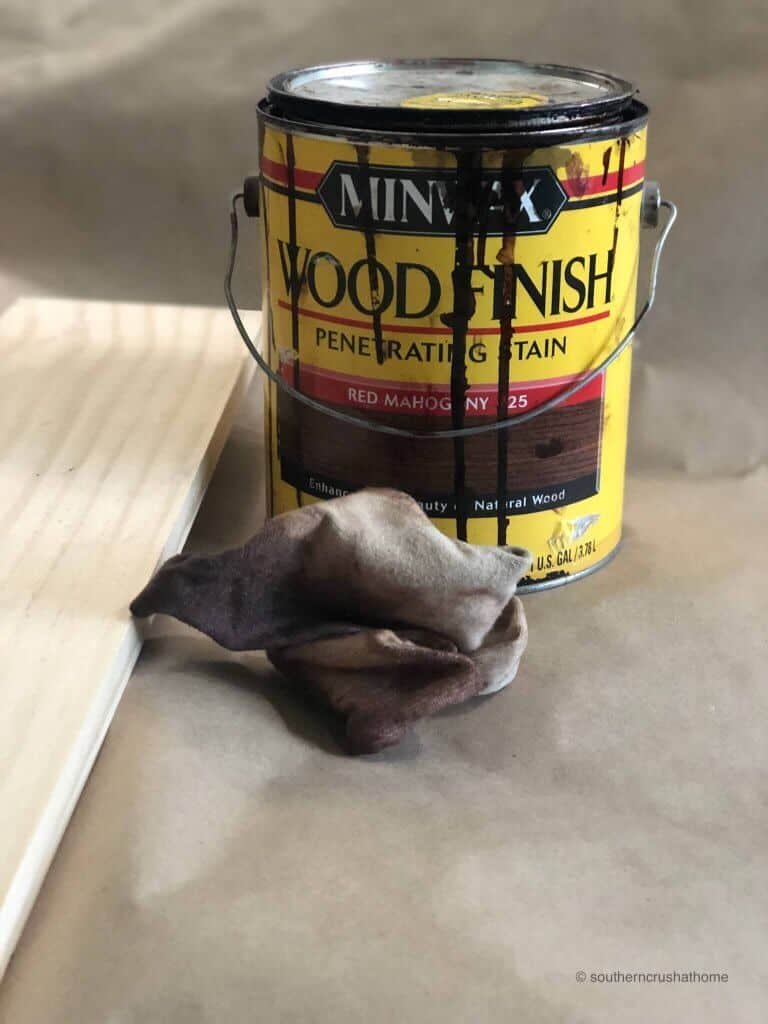 4. Top With Poly Seal
I finished off the shelf with a top coat of poly spray to seal it a little.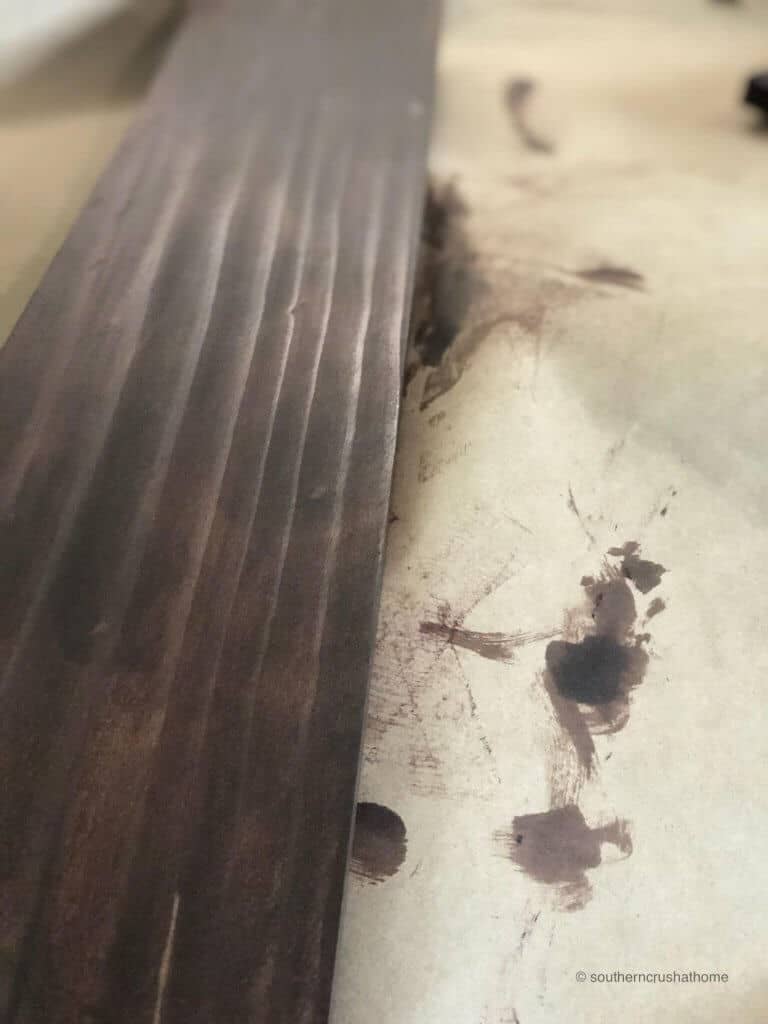 5. Attach it to the wall
My husband stepped back in at this point and screwed down the wood to the top of the flipped over mirror frame and voila! A unique vintage vanity shelf was born! After arguing where the dead center was on our wall, we settled on a spot to hang the shelf over our couch.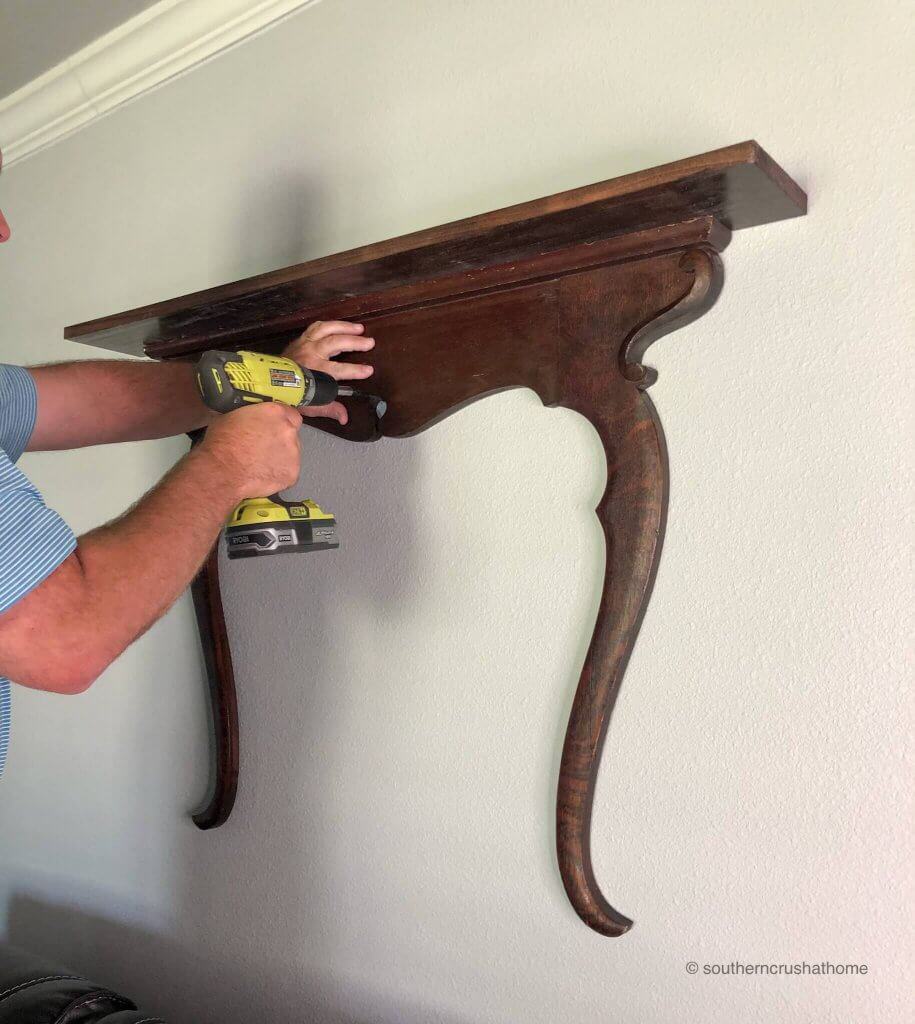 How To Decorate your dresser mirror idea
As you can see, I had a lot of fun decorating this pretty shelf. I love how the legs of the mirror decorate the wall beneath the shelf. Decorate your shelf with your favorite pictures or DIY decor.
This is a fun way to continuously change things up for each season too.
Here are some more ideas and ways you can decorate it:
Fairy lights and electric candles
Family photos
Favorite quotes
Seasonal decor
Floral bouquets


After adding a wreath below and a little bit of decor to the shelf, I am in love with how it turned out.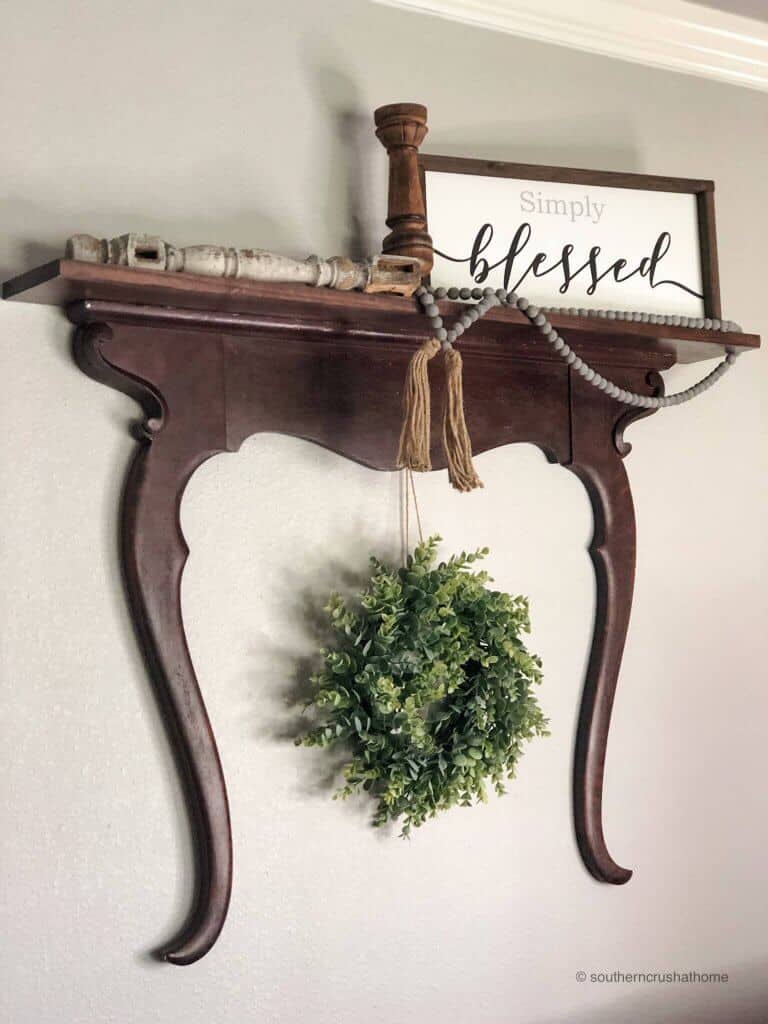 I chose to go more simple with my decorations. I used a wreath and hung it directly from the middle of the shelf. Then, I used wood beads and a few wooden rustic decor pieces.
Could you leave the mirror on?
Yes, you definitely could! I love how mirrors make a small room appear larger. This would make the wreath unable to be used. I think the trade-off is worth it though. Personally, the mirror I had wasn't in the best shape so I wanted to just use the legs for my wall.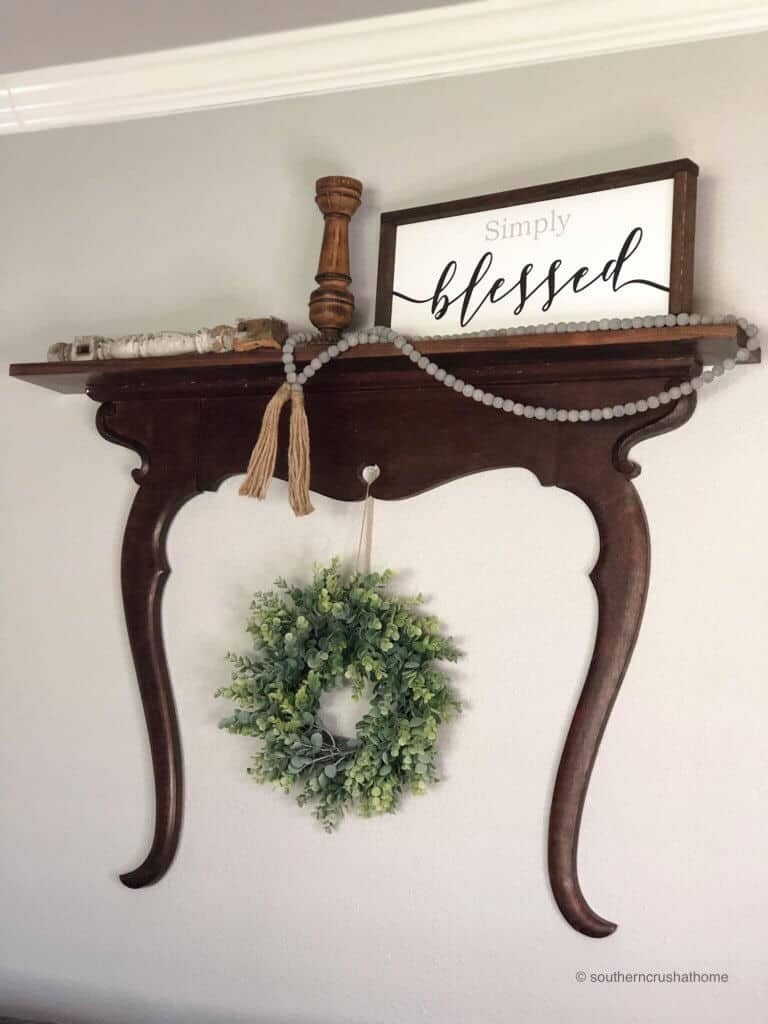 Paint It White
Of course, we could have painted it all white to give it even more of a farmhouse feel, but something about the history of this treasured piece made me want to preserve it in its original state. It actually blends well with the room in which it's displayed and can be painted down the road if I ever change my mind!
I know your next question is what did I do with the mirror and dresser portions of this piece? Well, I cleaned them up too. The mirror will be made into a chalkboard and the dresser is being used on my porch as a unique side table! Now the entire vintage vanity is truly re-purposed. What inspires you?
Easy Dresser Mirror Idea
Here's the entire tutorial in a printable card, just like I promised! Print it out, but don't forget to pin this post for later!
Easy Dresser Mirror Idea
Learn how to turn a dresser mirror into a decorative shelf!
Equipment
Wood stain

Saw

Electric Drill / Screwdriver

Screws
Materials
1

old dresser with a mirror

1

1×6 piece of wood

cut 44-inches
Instructions
Remove the mirror from the dresser.

Cut wood for the shelf. Cut a 1x6 piece of wood 44-inches long.

Stain the wood to match the dresser mirror.

Attach the shelf to the mirror frame.

Hang up the shelf on the wall.

More DIY Projects
If you like to see transformations like this, you may want to check out this post on how I restored my porch pillows! Let me know if you try it!
If you love this kind of DIY project, you need to be getting my emails, friends! Each week I send out a couple of emails that include updates, crafts, shopping experiences, and decor inspiration. Be sure to get yourself signed up below. I can't wait to meet you!
>>Leave your thoughts below in the comments please… BTW— Life is short—Enjoy the mess!
**P.S. Please join us over on our
Facebook Page
to see more fun projects "Live". And always, I would love to know what you think of my Upcycled Dresser Mirror