Who knew that you can make a cute Fall decor pumpkin with Dollar Tree splatter screens? This project was definitely a one of a kind creation. It was messy, took a lot of creativity and was super fun–my kind of craft! I love using different fabrics, burlap and bling in my projects so this one did not disappoint. The secret ingredient to this one was the beanie which made it just that much easier!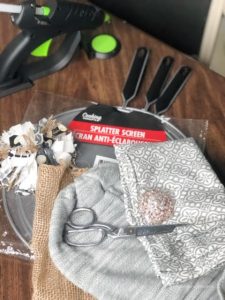 SUPPLIES FOR SPLATTER SCREEN PUMPKINS
3 splatter screens with handles
beanie of your choice
burlap material
scrap fabrics
scissors
wooden beads
hemp twine
regular twine
large needle
paint brush
floral wire
Step by Step Tutorial
Glue burlap piece onto two of the splatter screens in opposing directions.
Trim the burlap around the edge of the screen.
Bend the handles down on the two screens to be used for standing up your pumpkin and for support.
Attach the two screens together using the floral wire. Keep in mind, you need them to be apart enough to make the sides of the pumpkin look correct.
Cut up your scraps of desired fabric into circles each one bigger than the next.
Take the circles and connect them by using the hemp twine and a large needle to sew them together from the center. Fold and pinch as you go to make a 'rosette' effect.
Flip over the circles and sew them from the center on the back to create a 'cinched' effect.
Flip back over and add your rhinestone bling brooch/piece by either pinning it or gluing it down to the center.
Take your beanie and use it to cover your final splatter screen.
Attach final screen to other two screens as the center of the pumpkin using the floral wire.
Cinch the top of the beanie and tie off with a piece of twine.
Hot glue the 'rosette' you created to the center of the beanie.
Take the wooden beads and string them onto the hemp twine to desired length for the edge of the screen. (this step is optional)
Tie them off with another piece of twine as shown.
Hot glue your wooden bead strand down to the edge of the splatter screen and paint them your desired color once they're in place. I found this method to be the easiest. If preferred you can always paint them first before stringing them.
Take more twine and wrap around the handle 'stem' of your pumpkin, gluing down as you go.
If you prefer to see the video tutorial for this DIY, grab a seat and watch it below.
VIOLA! My version of the DIY Splatter Screen Pumpkin!
These are all over the internet now and I just couldn't wait to try them out! They did not disappoint as they were so much fun to make. I hope that you will take this idea and make some splatter screen pumpkins of your own and share them with me. Another fun pumpkin project where I used the rhinestone bling was over on this Rhinestone Leopard Pumpkin project.
Pumpkins always remind me of Fall and Fall is such a peaceful time to me. I love how the leaves gently shed from the trees as they float through the air. One of my favorite verses this time of year is "Do not be anxious about anything, but in everything through prayer and thanksgiving let your requests be made known to God. And the peace of God, which is greater than you can understand will protect your heart and your mind." Philipians 4:6,7

Y'ALL DON'T FORGET TO
PIN
THIS FOR LATER!
If you love this kind of DIY project, you need to be getting my emails, friend! Each week I send out a couple of emails that include updates, crafts, shopping experiences and decor inspiration. Be sure to get yourself signed up below. I can't wait to meet you!
>>>Leave your thoughts below in the comments please… BTW— Life is short—Enjoy the mess!
**P.S. Please join us over on our
Facebook Page
to see more fun shopping trips "Live".