13 Gorgeous Dollar Tree Pumpkin Wreath Form Ideas
I put together some of my favorite Dollar Tree pumpkin wreaths for you! Pick up a Dollar Tree wire pumpkin wreath form and make one of these gorgeous wreaths for your home today. Choose inspiration from 13 different designs; including farmhouse style, traditional, modern and more!
Love to Craft?
Join us in the Southern Crush Creative VIP Group TODAY!
Be sure to grab one of the wreath forms HERE or HERE before they sell out. You will definitely want to add one of these darling pumpkin wreaths to your home decor this fall season.
(Some of these ideas may contain affiliate links. See my entire disclosure here.)
Dollar tree pumpkin wreath form ideas
denim pumpkin wreath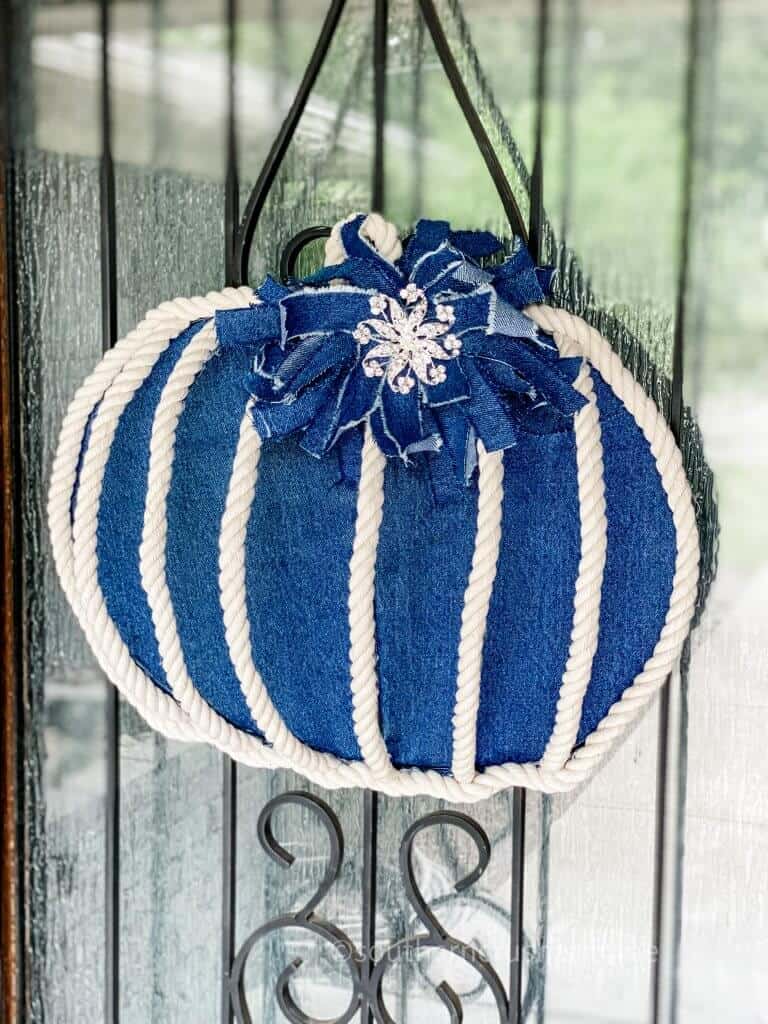 In case you missed it, I made this one from a couple of Dollar Tree Nautical ropes and some scrap denim material. I topped it off with my Denim Messy Bow. All of the instructions for this one are HERE. It turned out so cute and the navy blue and white colors are definitely a non-traditional way to welcome fall!
wooden bead wreath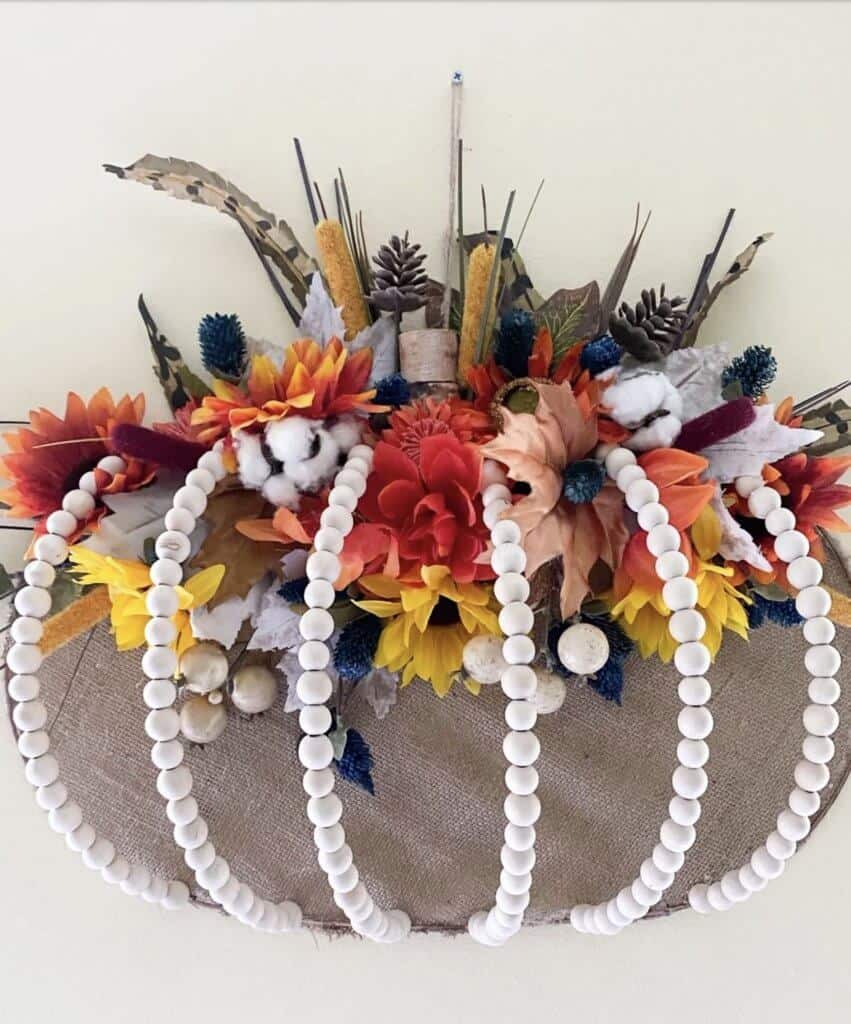 The wooden beads on this one really make it super gorgeous! Did you see how to make a fun wood bead tassel with leftover beads? The blend of the burlap and the pop of navy blue made this wreath one of my top picks!
macrame fall wreath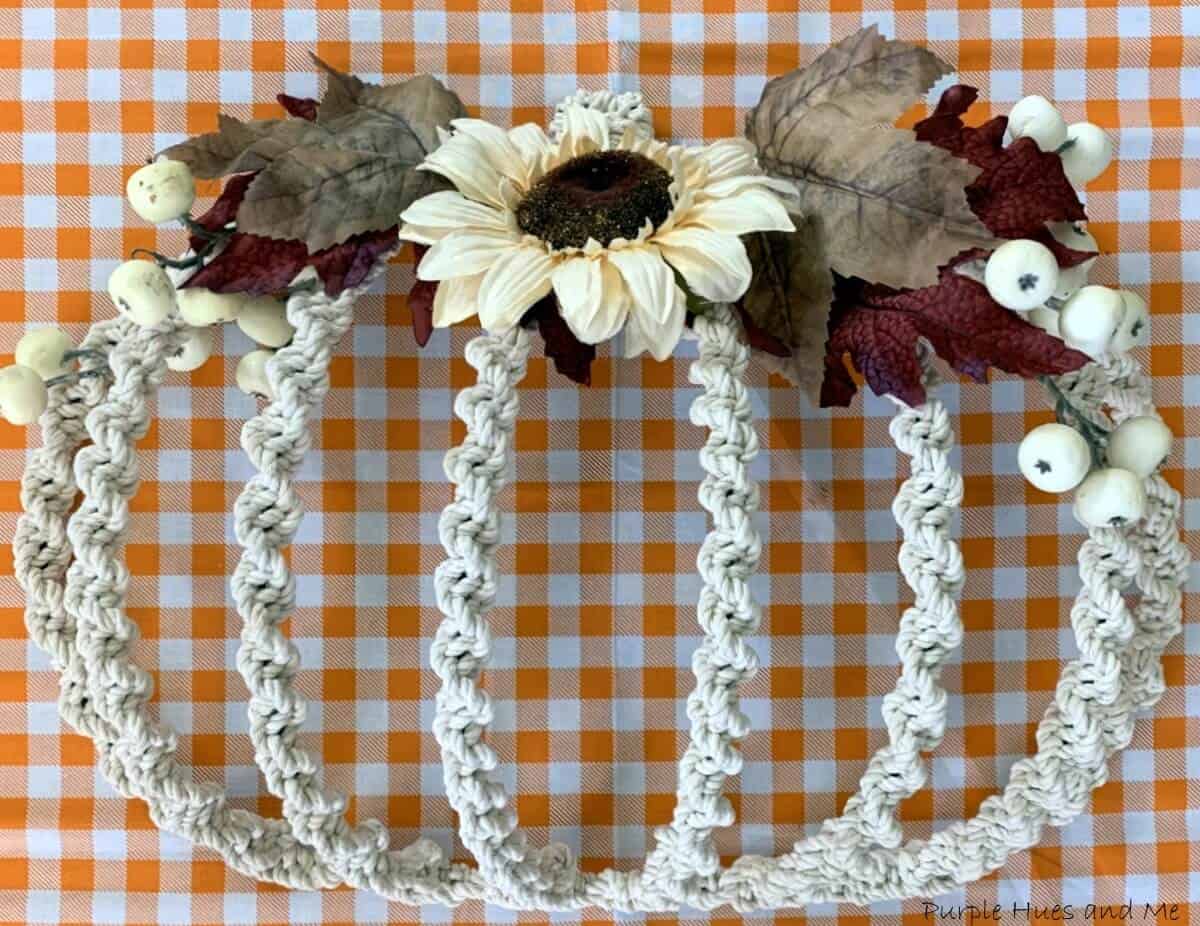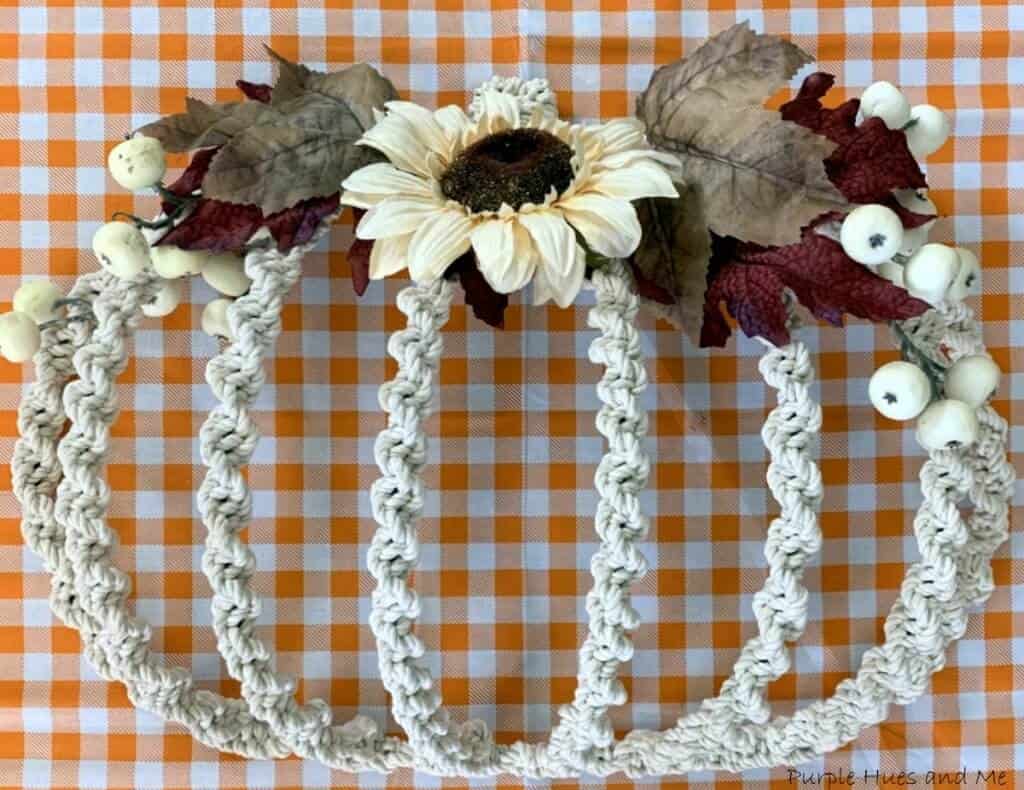 Incorporating macrame into our home decor is one of the hottest trends this year! This sweet pumpkin looks like fun to make. Did you see my macrame leaf you could add to this one?
buffalo plaid farmhouse wreath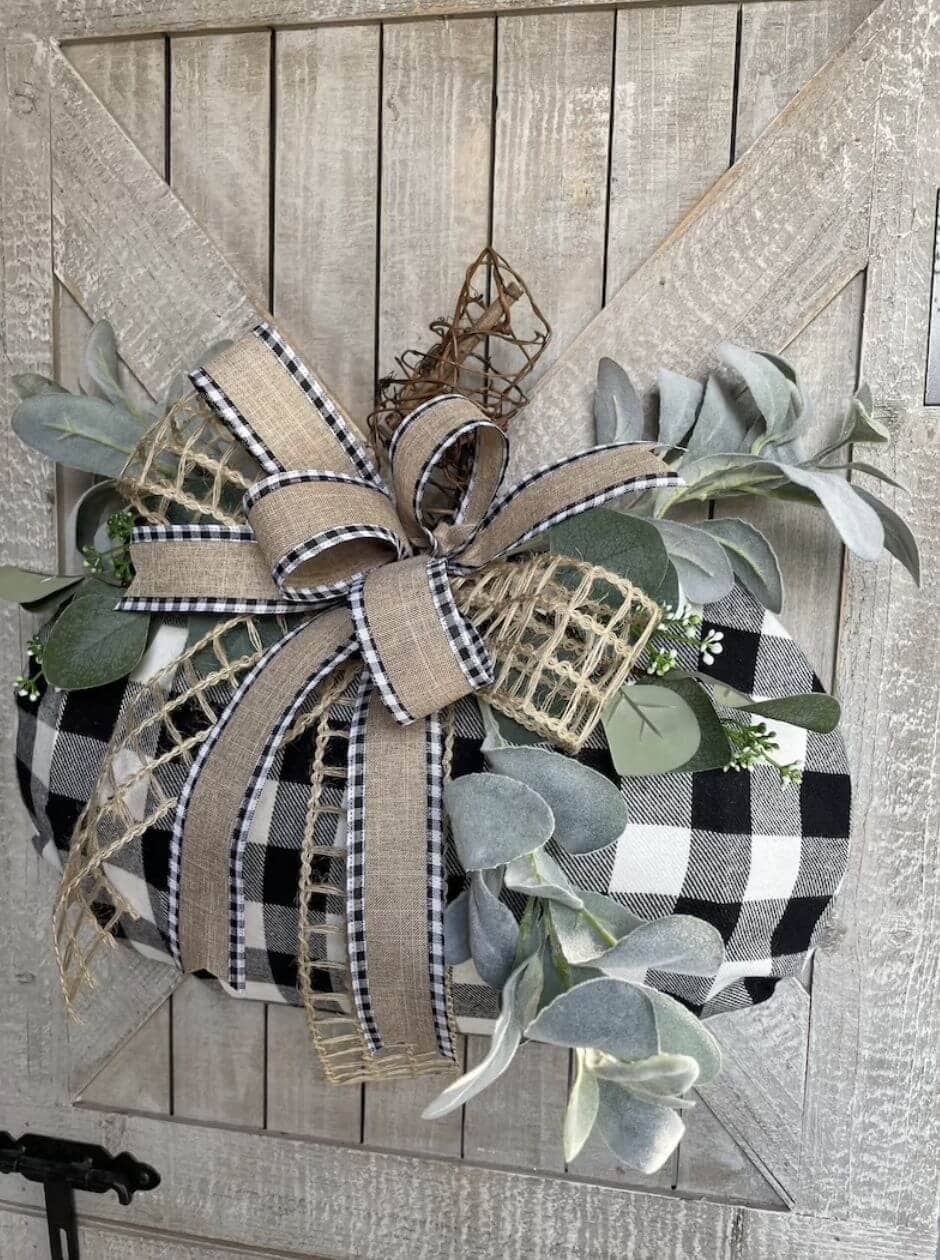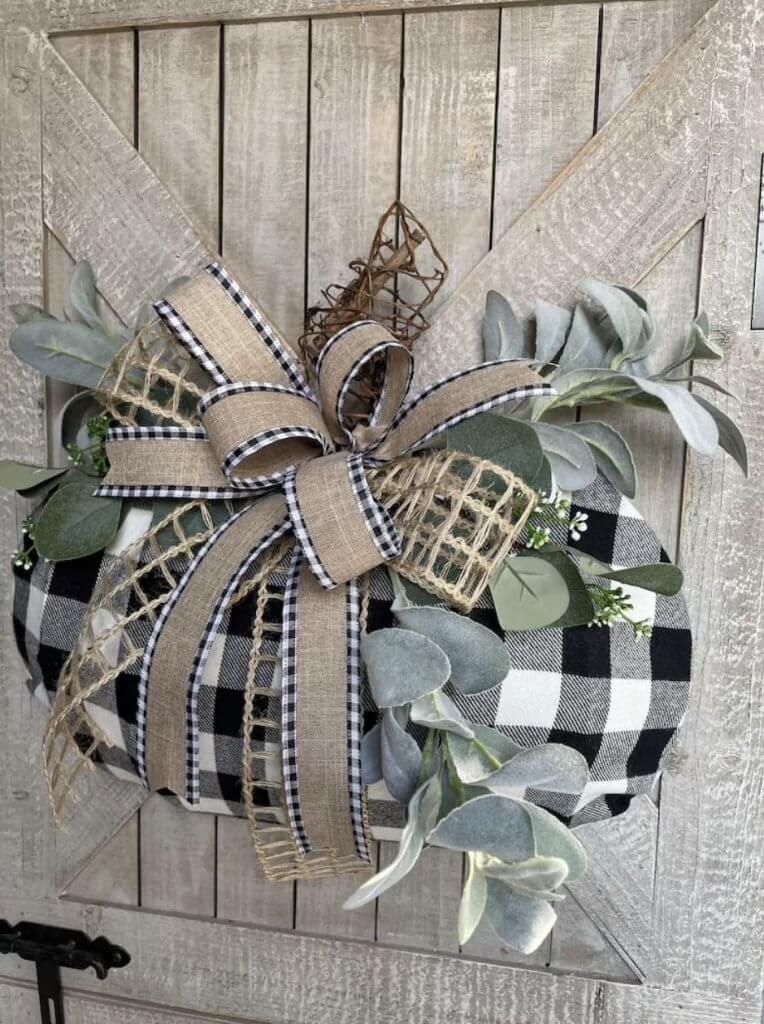 Buffalo check gets me every single time. This was no exception! If you love buffalo check, like I do; you may want to join us in my FREE buffalo check obsessed group over on Facebook HERE.
tobacco basket fall decor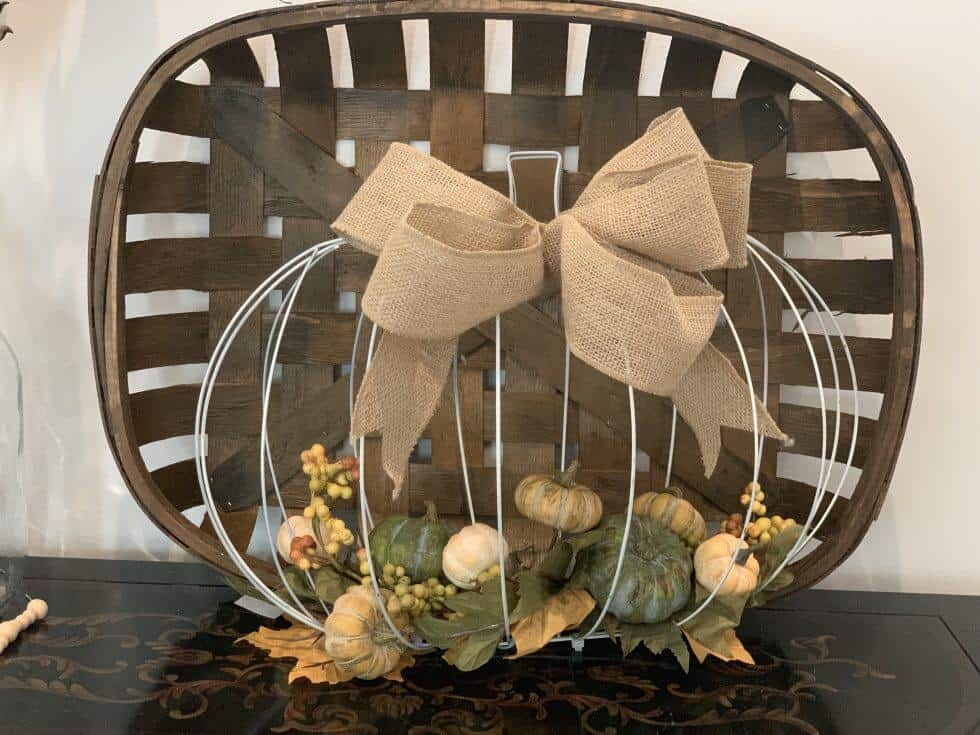 Oh how I love a good tobacco basket! I used to sell them everyday in my storefront. They give such a great bit of farmhouse feel and texture to any decoration. This was definitely a sweet one!
fall sunflower wreath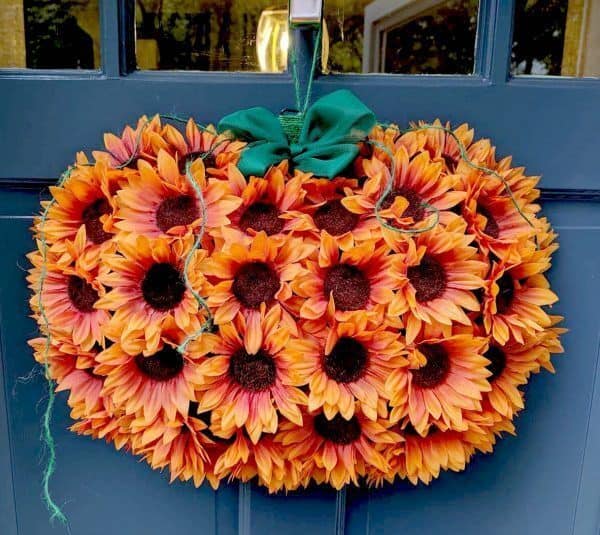 Sunflower overload and I love it! These bright orange sunflowers simply "pop" don't they? The cute little green bow at the top is precious; however, I think I may make one of these for myself and add one of my signature "messy bows". What do you think?
pumpkin patch wreath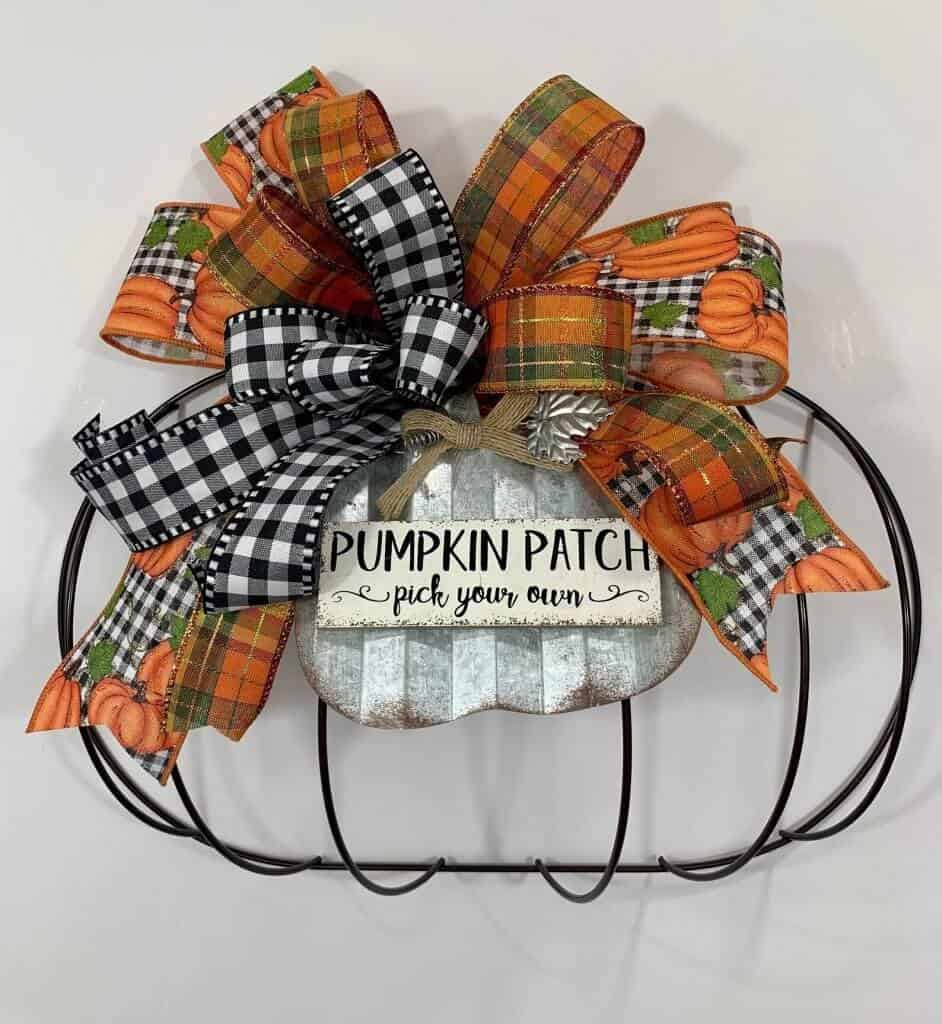 Pumpkin patches are so much fun! When my kids were little we went every year to pick out baby pumpkins and take fun pictures! There's just something about a pumpkin patch that screams fall so this sign is the perfect addition to the Dollar Tree pumpkin wreath!
fabric covered pumpkins idea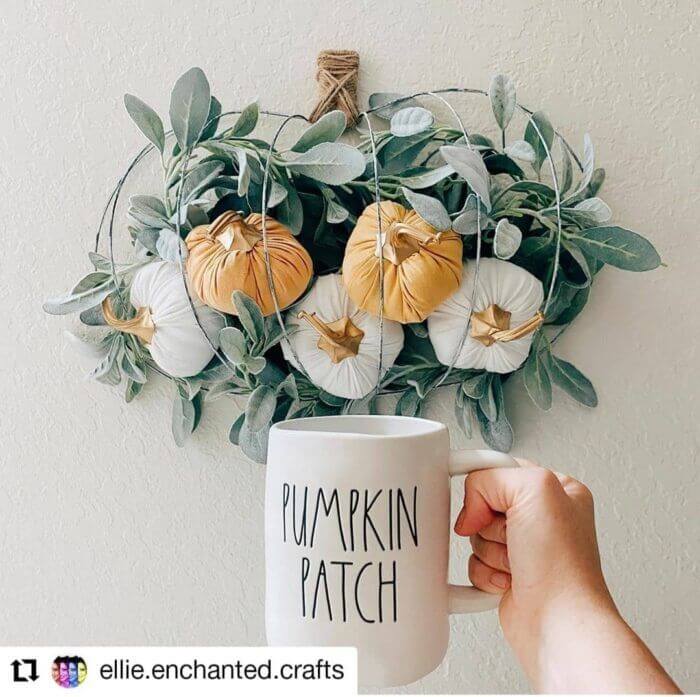 Sometimes simple is best. The combination of the peach and white fabric-covered pumpkins along with the fuzzy lambs ear greenery is so soothing and unexpected. I love this pumpkin wreath idea!
turquoise burlap fall wreath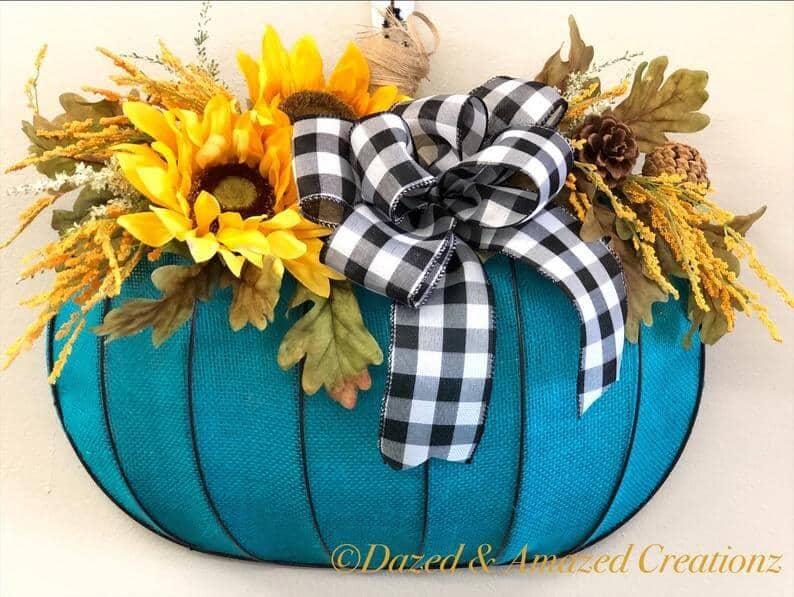 Sunflowers, pinecones, buffalo check and turquoise burlap! Let's go! What an amazing pop of color for your front door. This mix of traditional with non-traditional make me so happy!
farmhouse chicken wire decor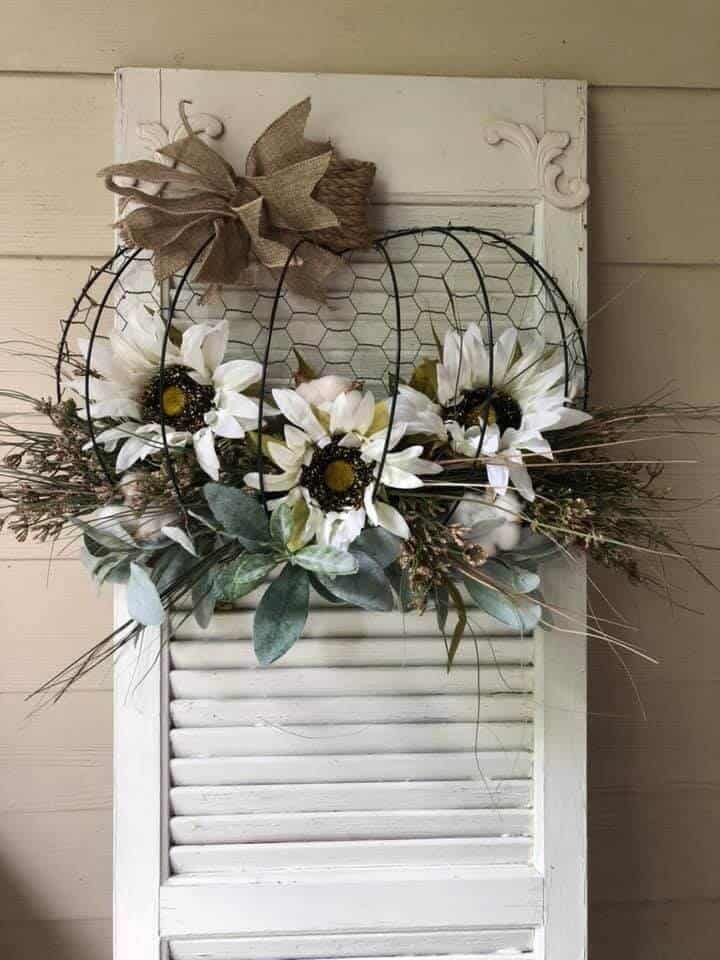 You know how much I love combining old and new things. Shopping for vintage finds is one of my favorite pasttimes. You can catch up on my adventures HERE. This old wooden shutter is the perfect backdrop for this chicken wire pumpkin wreath form! I'm in love.
spider web wreath idea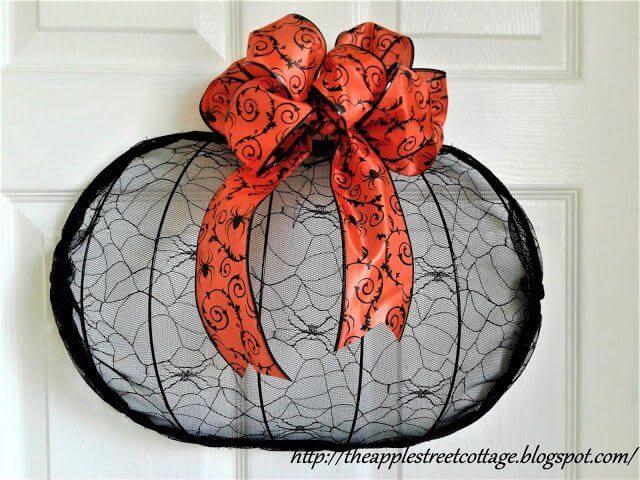 Halloween is coming and so are the halloween decorating ideas! This spooky take on the Dollar Tree pumpkin wreath form is one of my favorites. Did you see the fun witch's hat we made last year with dollar tree supplies?
grateful fall foliage wreath
The sweet little sign on this DIY wreath really makes a statement. You can hand write one like this one or you can simply use an easy stencil. This is where you can see my take on using a stencil for a cute tag that you could add to this idea!
pink burlap and floral wreath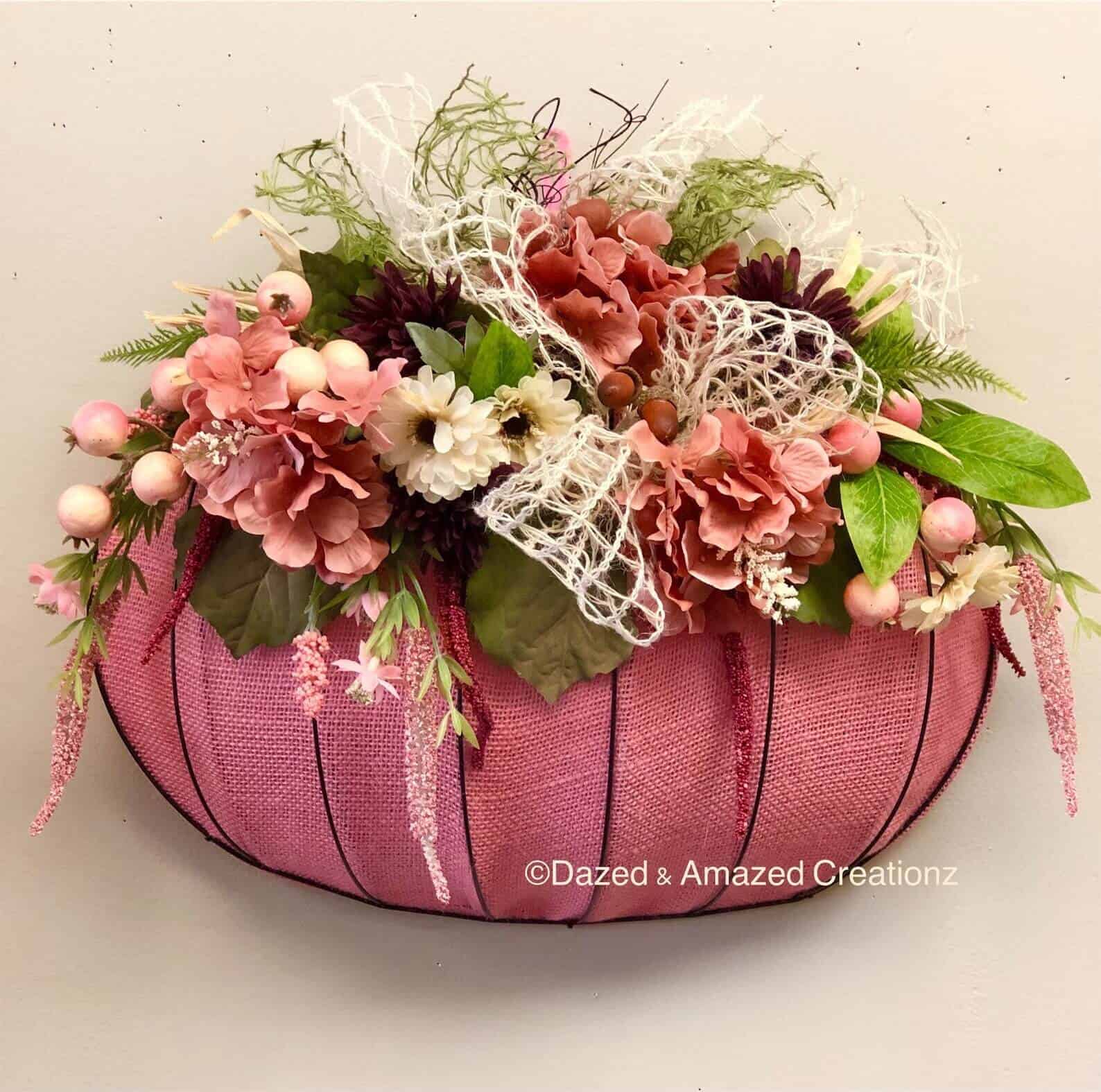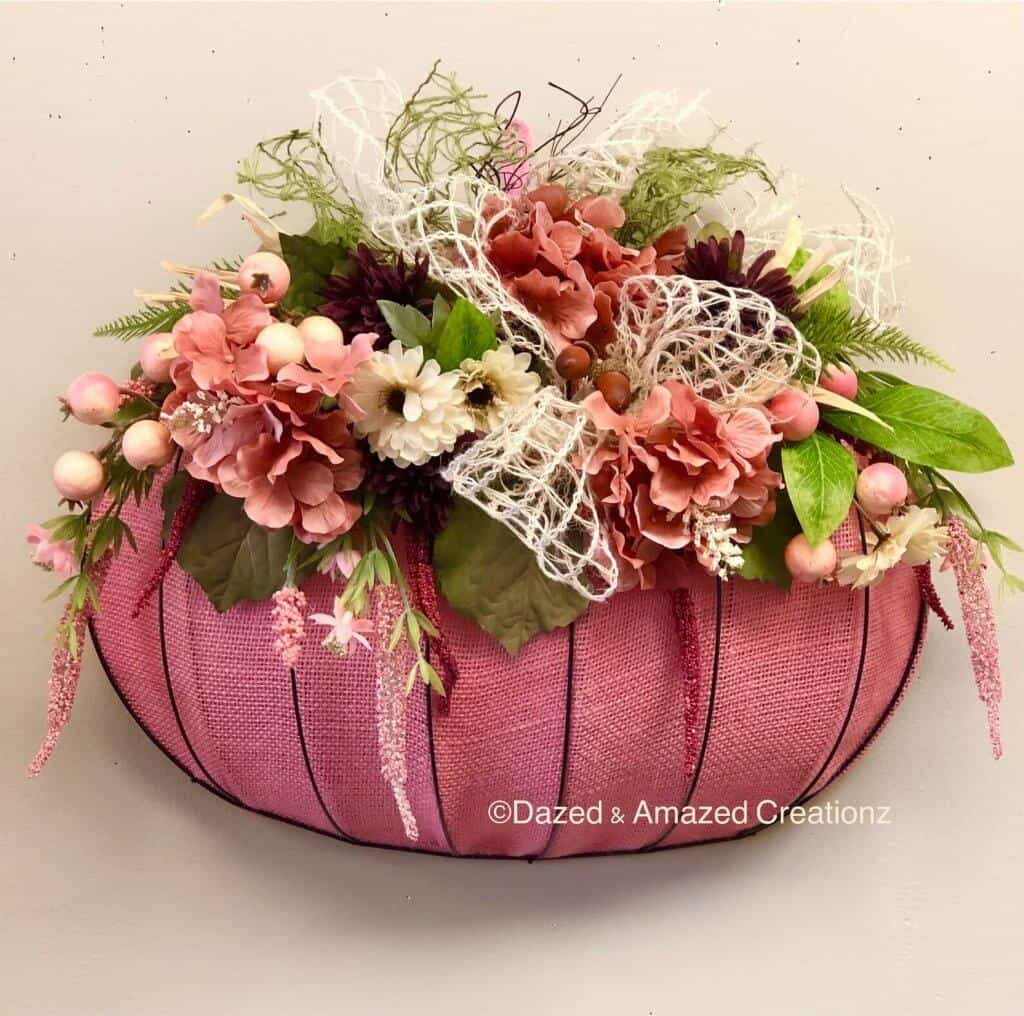 Pink. Who would've had thought it? This sweet take on a fall pumpkin offers quite a vintage appeal. It reminds me of the hobnail milk glass pumpkin idea that I did to recreate something new from something old.
Dollar tree pumpkin wreath form ideas
So, what do you think of these beautiful pumpkin wreath ideas? Have you found a new one you'd like to try? I know I sure have!