Let's celebrate the red, white and blue with these easy to make patriotic decor Ideas. There are fun and festive DIY pillows, patriotic banners, outdoor decor and more. Be sure to tell me your favorites!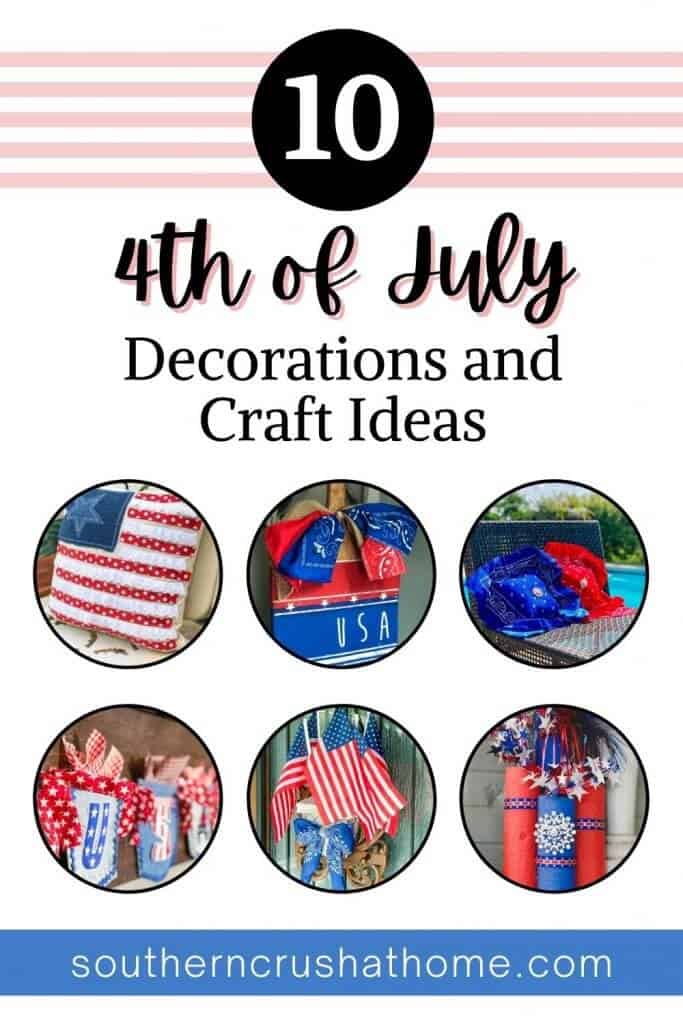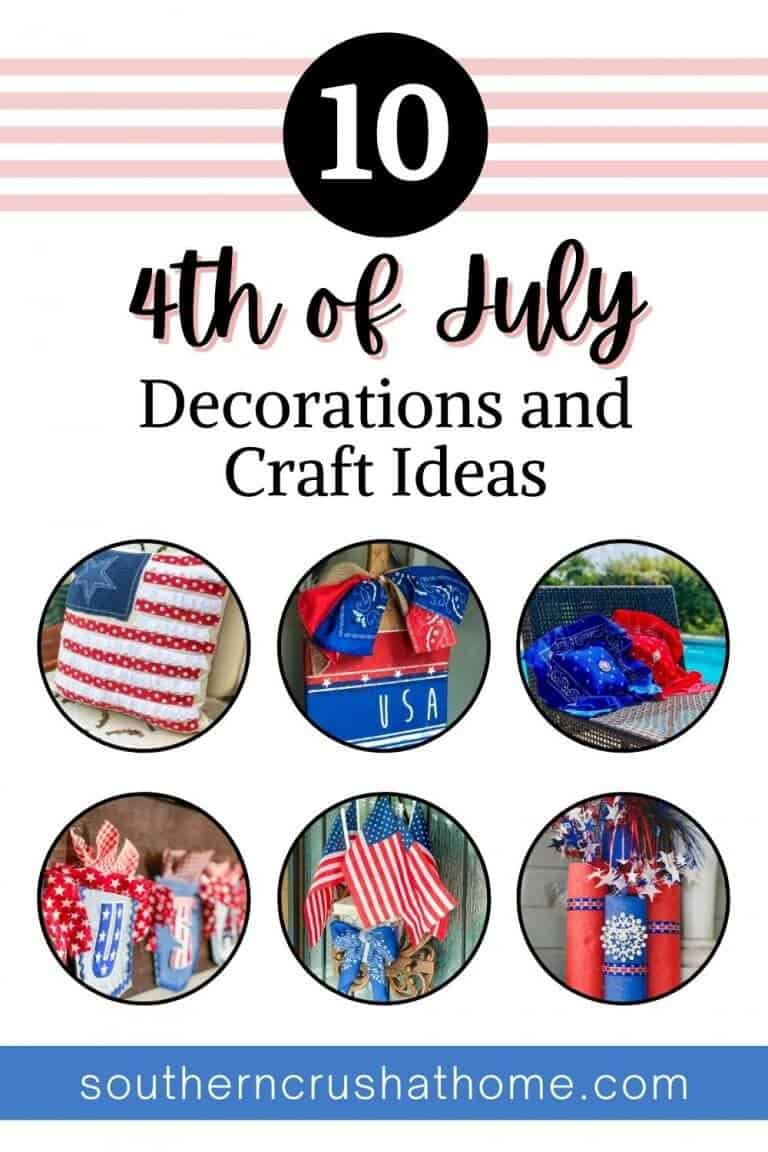 Create your own decor for a little 4th of July celebrating or any time you are feeling patriotic. Whether you want to decorate indoors, or out, I've got you covered with these 10 patriotic decor ideas.
Follow these step by step DIY tutorials for each idea so you can easily recreate the projects in no time. Enjoy!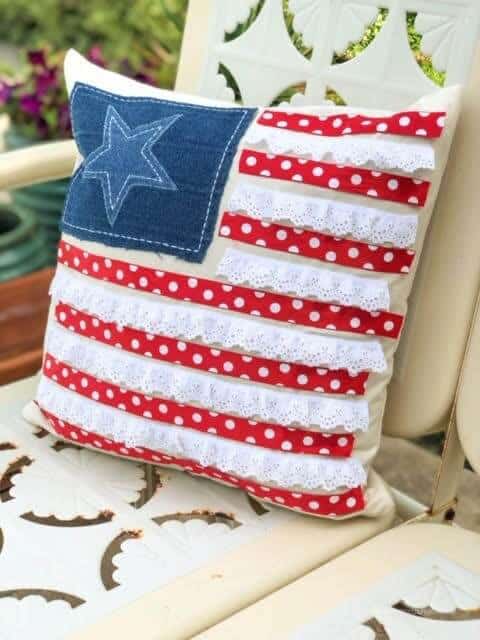 This patriotic flag canvas pillow was quick and easy using scrap denim from the thrift store, white eyelet and random polka dot scrap ribbon. This no sew project can be brought to life in just a few minutes using hot glue.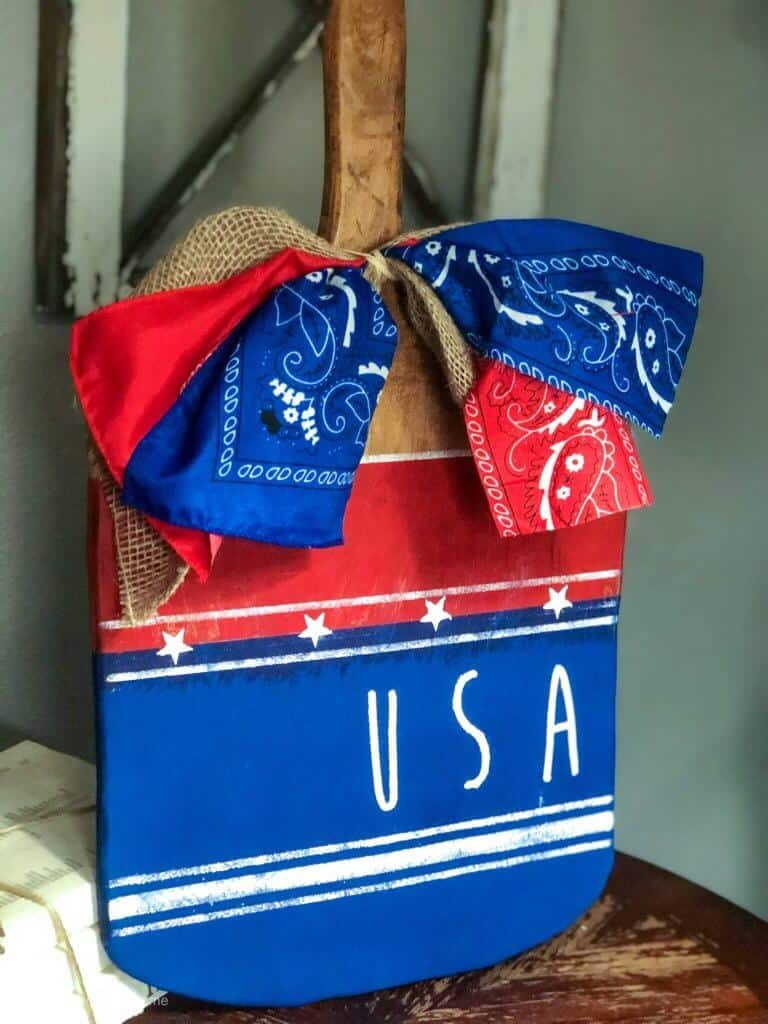 This patriotic cutting board project is a little on the whimsical side to me and I love it! It is perfect to display on a buffet table, a picnic table or as part of a larger centerpiece! Where could you display this piece?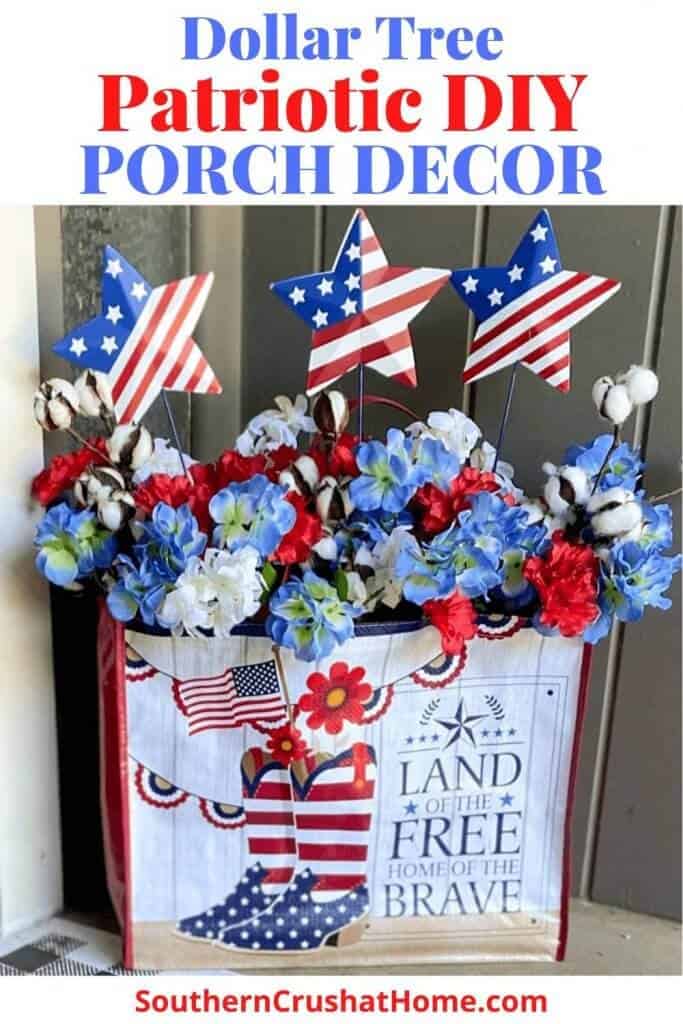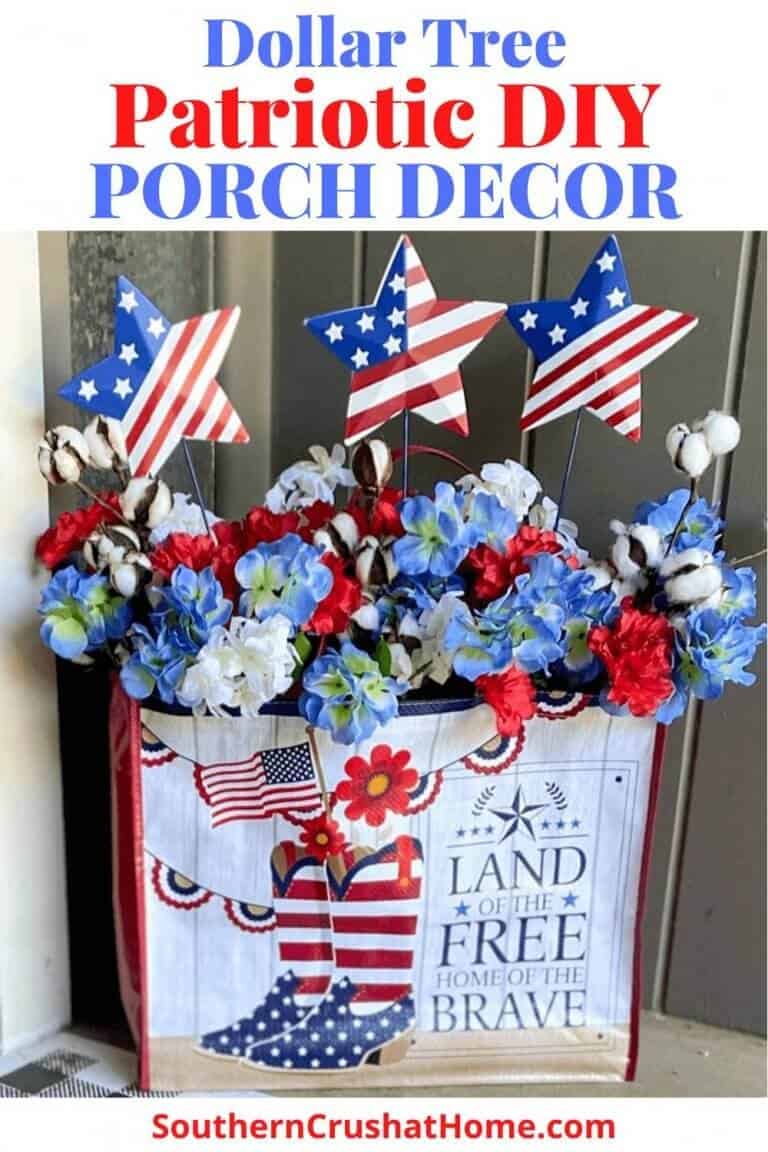 With a few items from the Dollar Tree this fun porch decor DIY became such a cute patriotic display that will last the entire summer! The durable, reusable bag is the main attraction with its festive graphic and wording. It's like a "Welcome" sign of another kind. I call it a "porch sitter" sign!
No Sew Bandana Scarf Bling Pillows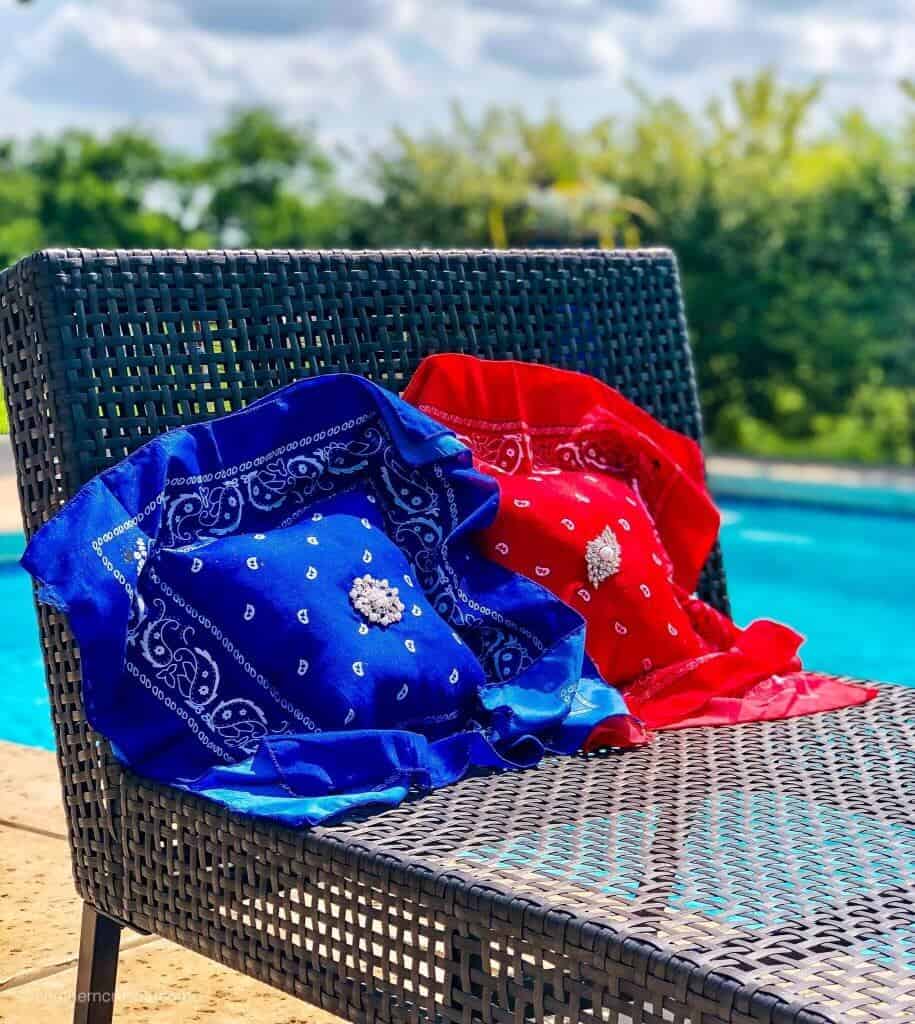 This easy and quick no sew bandana scarf pillow project uses hot glue, filler and red and blue patriotic bandanas from the Dollar Tree!!! Plus, I opted to pin on a little bling… of course. They are perfect by the pool all season from Memorial Day to Labor Day and everything in between!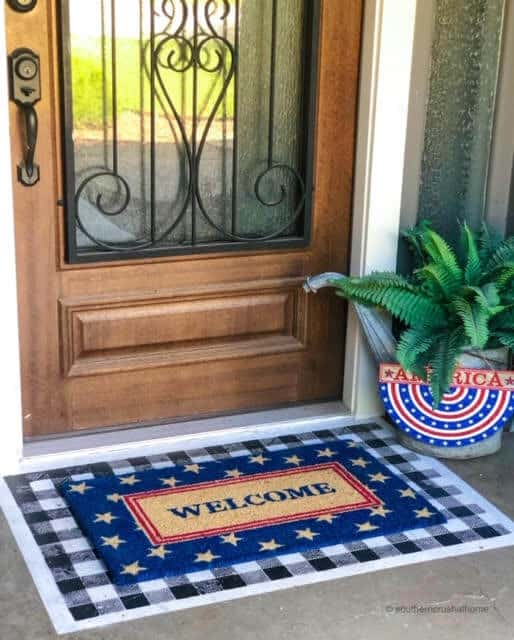 Paint a DIY buffalo check layered doormat and change out the rug for each season. This patriotic welcome mat looks so pretty on top of the buffalo check. It's practically instant decor!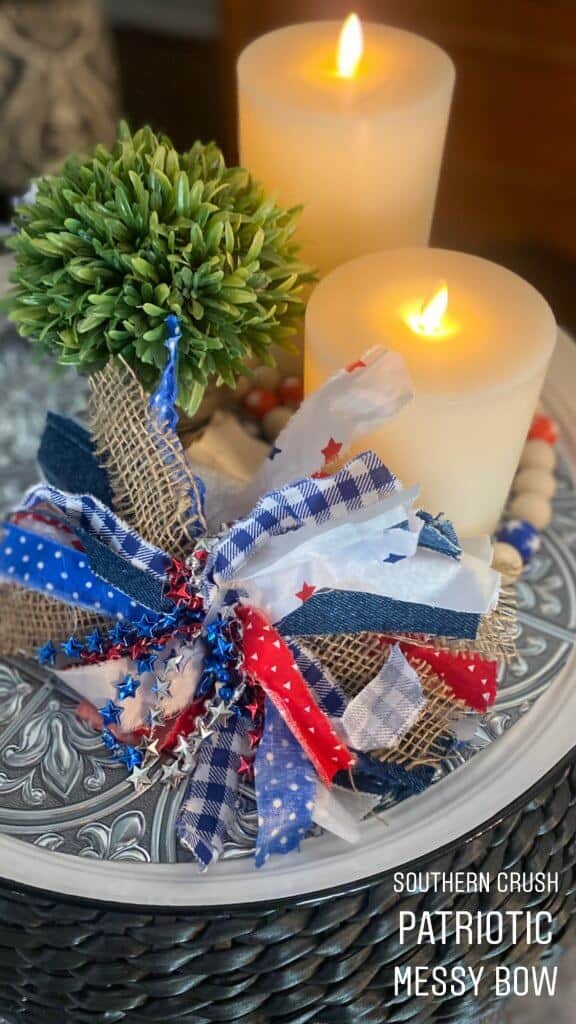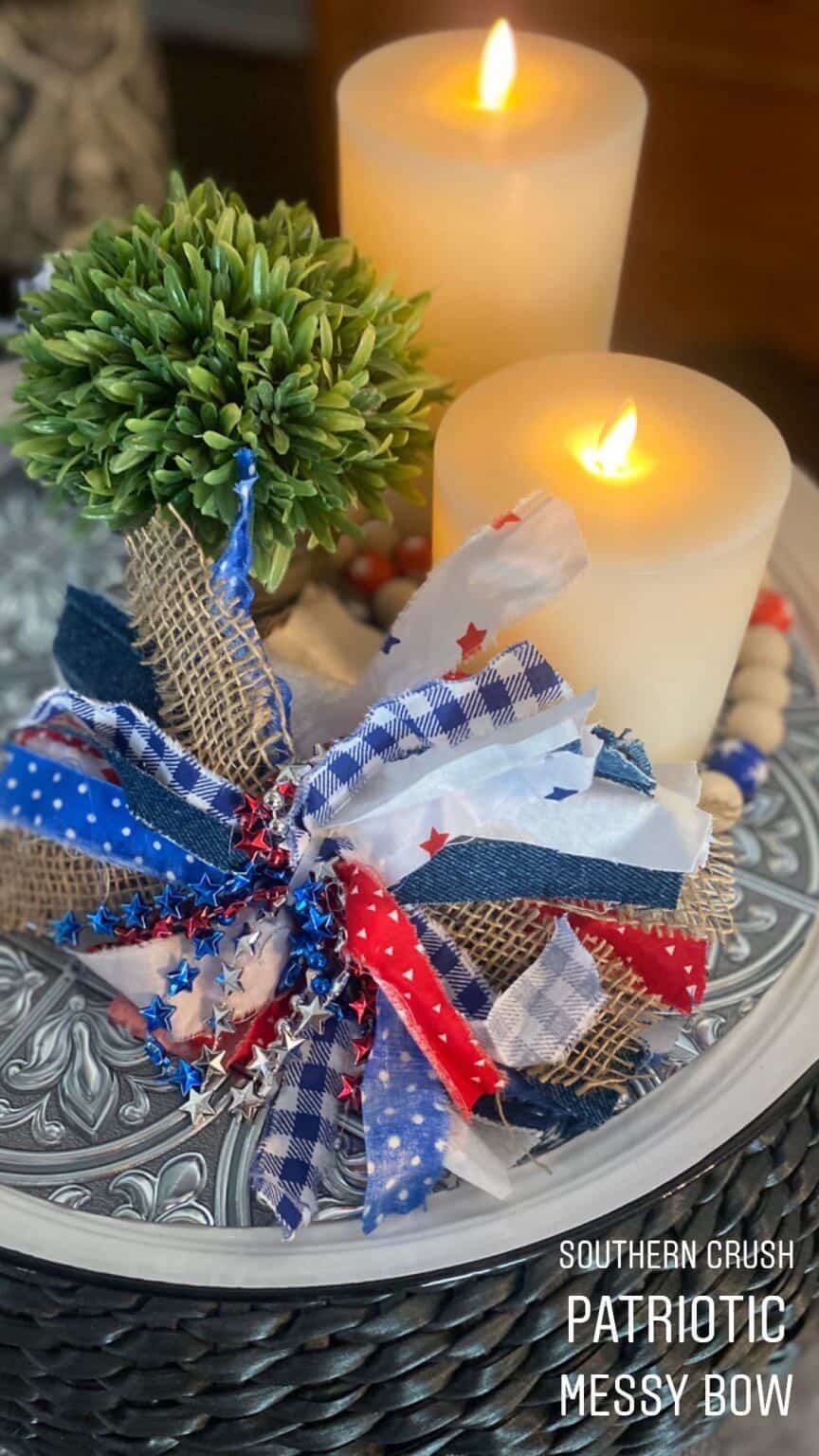 This messy bow DIY tutorial will be the only one you need to make bows for every season, including this patriotic messy bow. It basically takes the scraps from any fabric project and ties them together with a zip tie. Don't forget to add some bling! For this messy bow, I added patriotic necklaces from the Dollar Tree in the center.
DIY Jean Pocket Patriotic Banner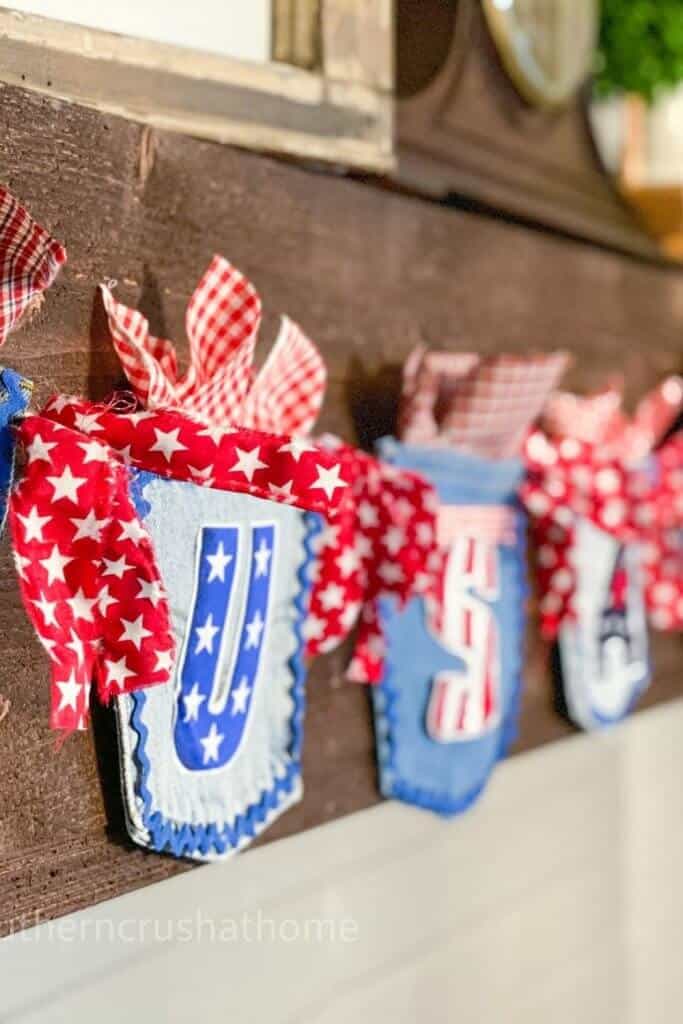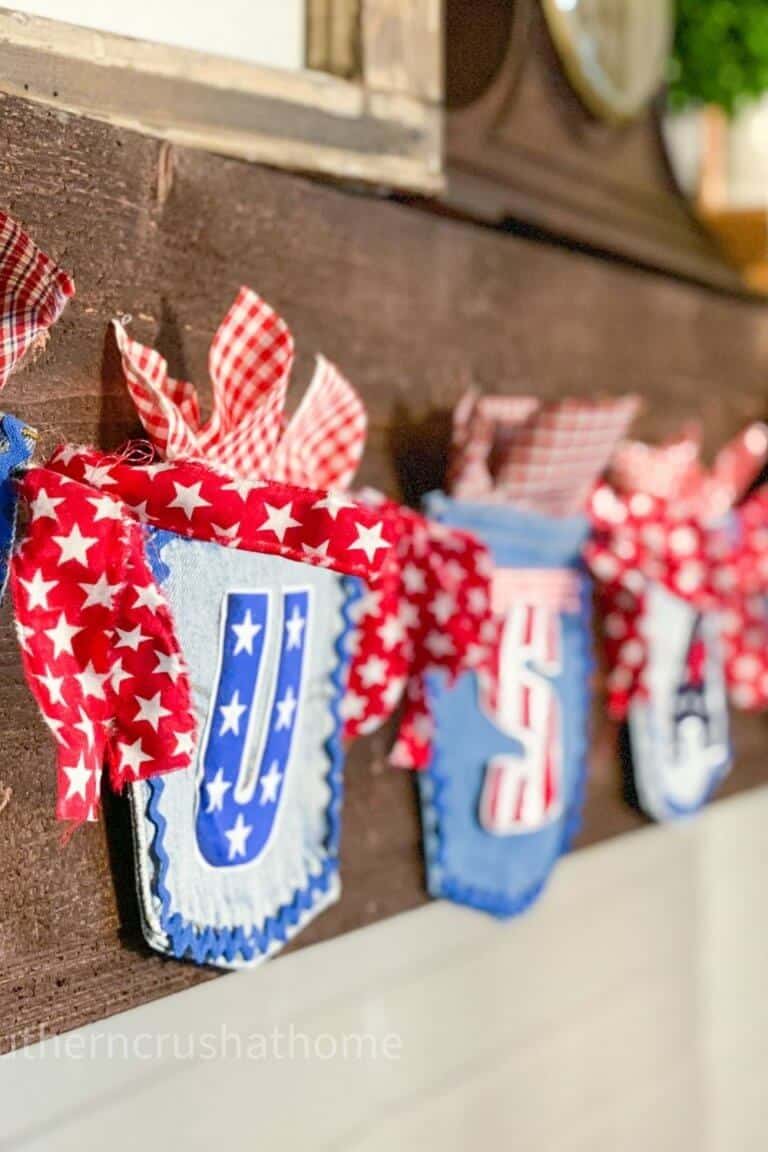 Grab your old Levi's and some patriotic scrap fabric to make an adorable patriotic jean pocket banner. This will add such a festive touch to your home, and is a great way to use up old jeans. This one is another versatile DIY that can be changed out for different holidays! The pockets are the perfect hiding spot for just about anything.
Dollar Tree Pool Noodle Firecracker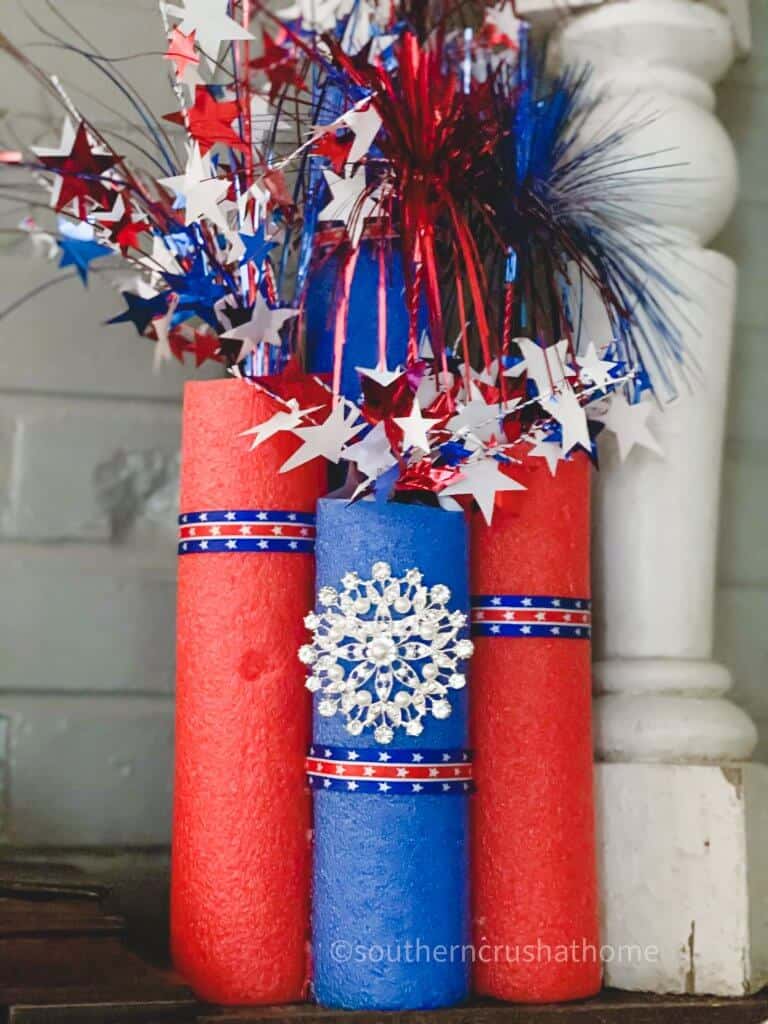 Add a fun patriotic pool noodle firecracker to your home decor. They are seriously the cutest Fourth of July craft and so simple to make. Who knew a simple pool noodle had so many unconventional uses?
Dollar Tree Gift Bag Patriotic Bunting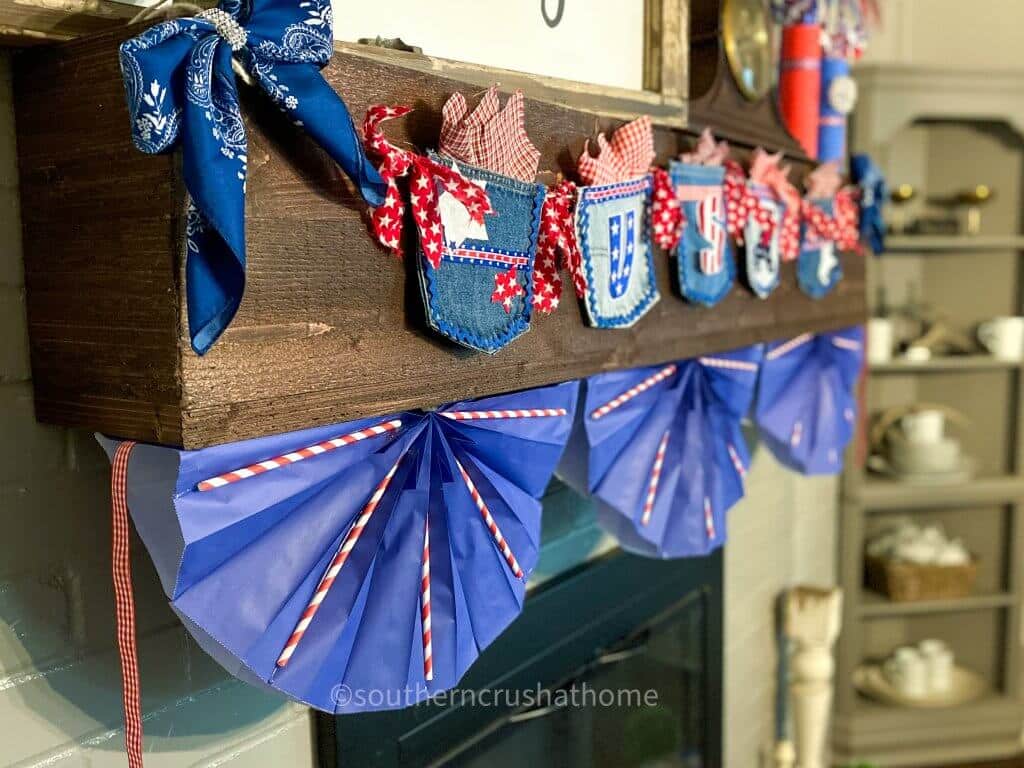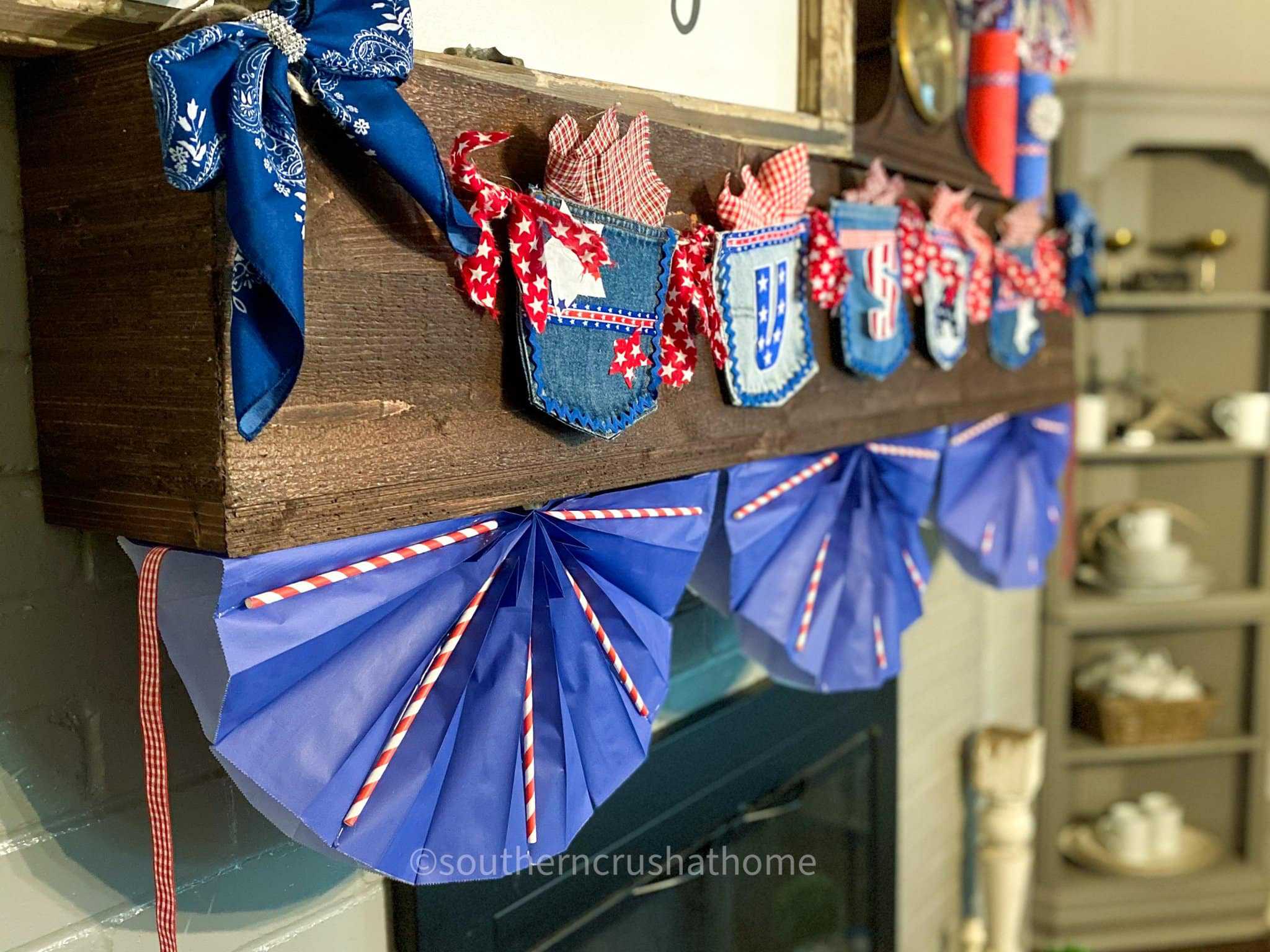 Learn how to make a super cute Dollar Tree Gift Bag DIY Patriotic Bunting. It's so easy to make, and the supplies are crazy inexpensive too. You'll want to make these for all sorts of celebrations!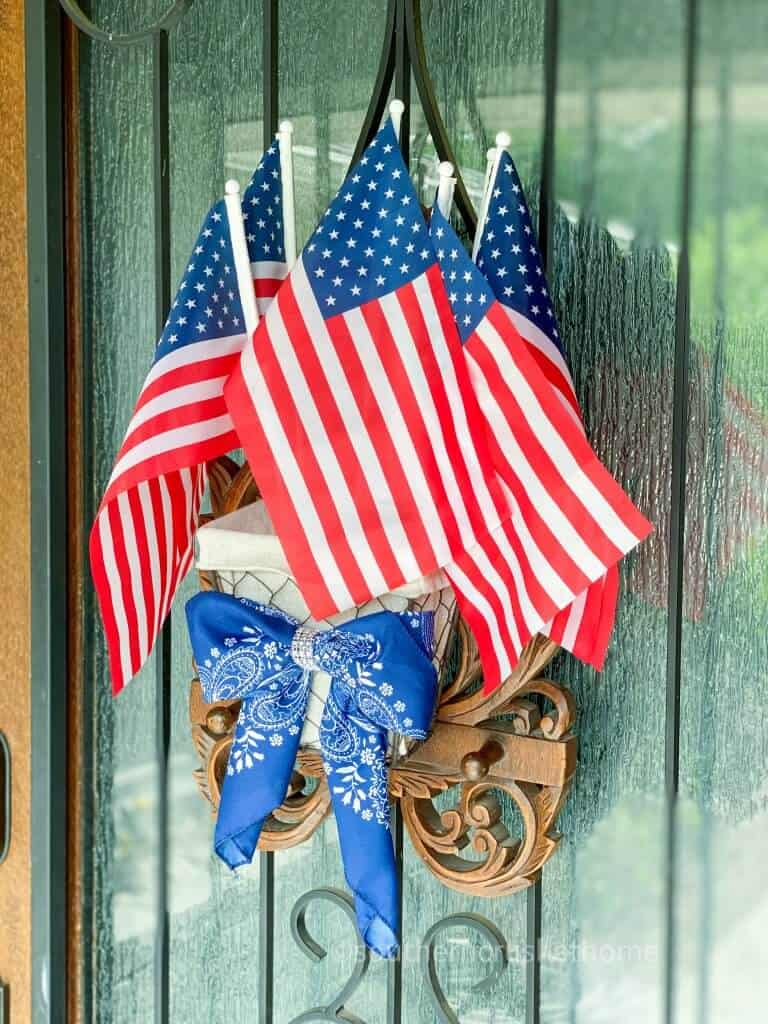 Create an easy bandana scarf bow for a pretty piece of patriotic decor, with a little bling!
So, what do you think? Are you ready to get crafty? Let me know in the comments below what patriotic decor idea is your favorite.
You may also want to check out these DIY summer decor projects: