Peppermint Hot Chocolate Recipe (Starbucks Copycat)
Continuing on with the holiday spirit as I share this quick and easy recipe for Peppermint Hot Chocolate! This is a copycat of Starbucks' peppermint hot cocoa drink that is so loved. It's so simple to make, tastes amazing and you can enjoy it year round. I hope you love it…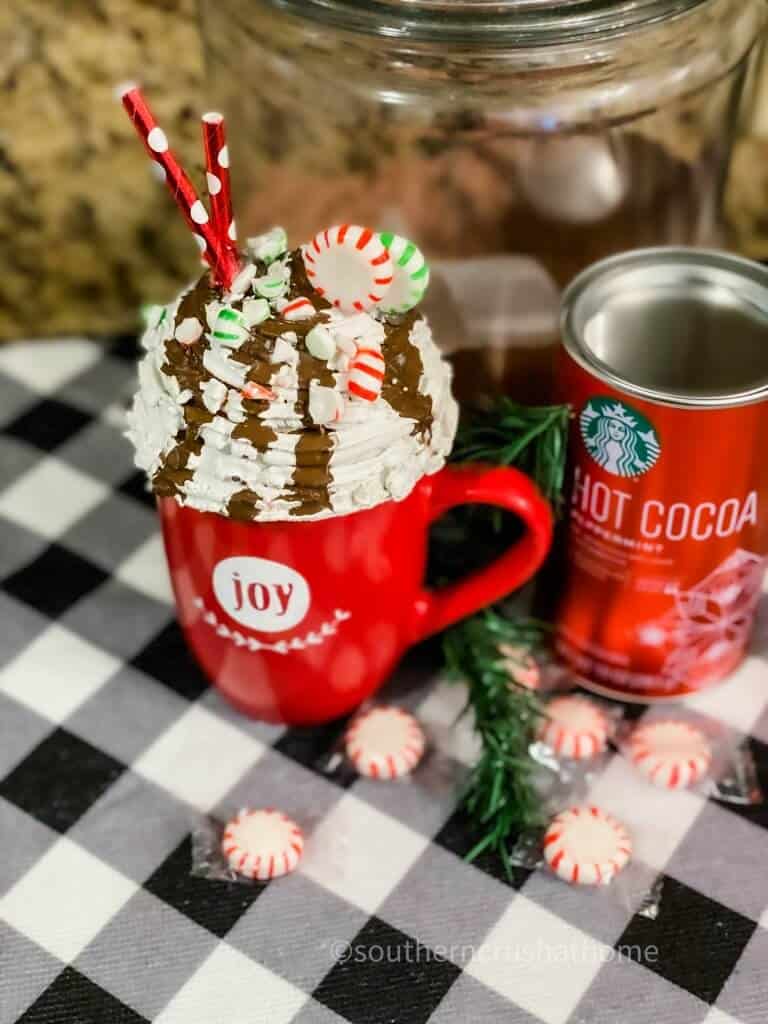 ingredients needed for peppermint hot chocolate
2 cups of milk
2 cups of half and half (you can use heavy cream, but I prefer a lighter taste)
7 oz of condensed milk (1/2 can)
1 cup of semi sweet chocolate chips
1 tsp of vanilla extract
1 tsp of peppermint extract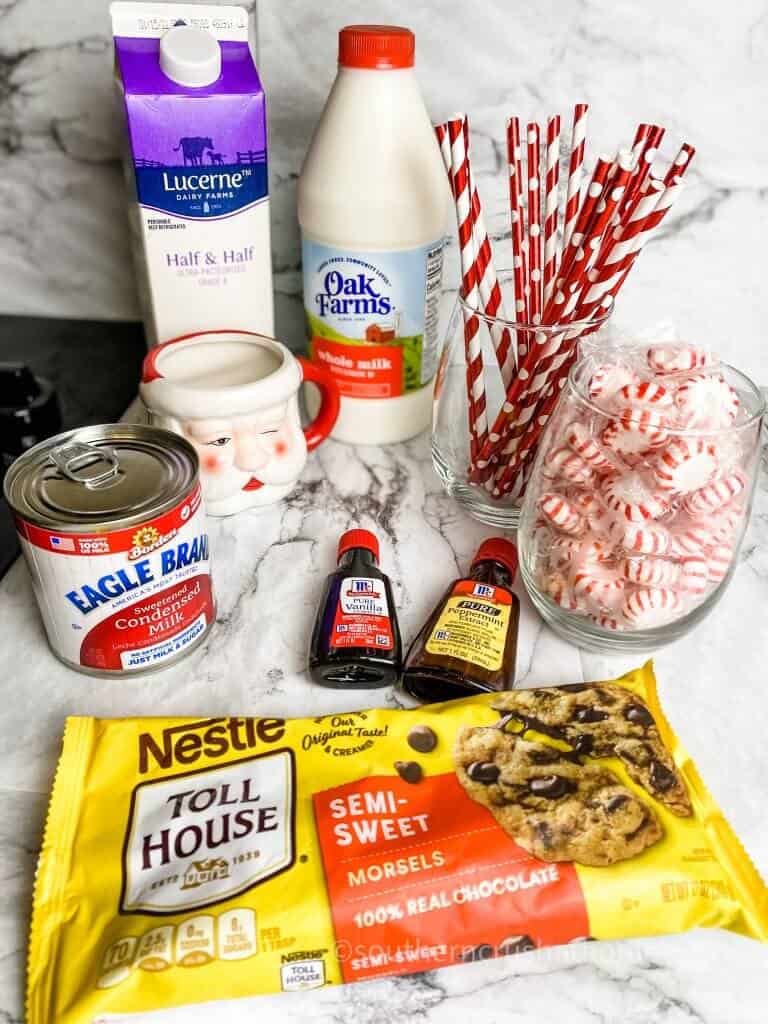 HOW TO MAKE PEPPERMINT HOT CHOCOLATE VEGAN & GLUTEN FREE
This recipe can also be made vegan with just a few simple substitutions! Use a dairy-free milk such as soy milk or almond milk instead of both the milk and half and half. Skip the condensed milk.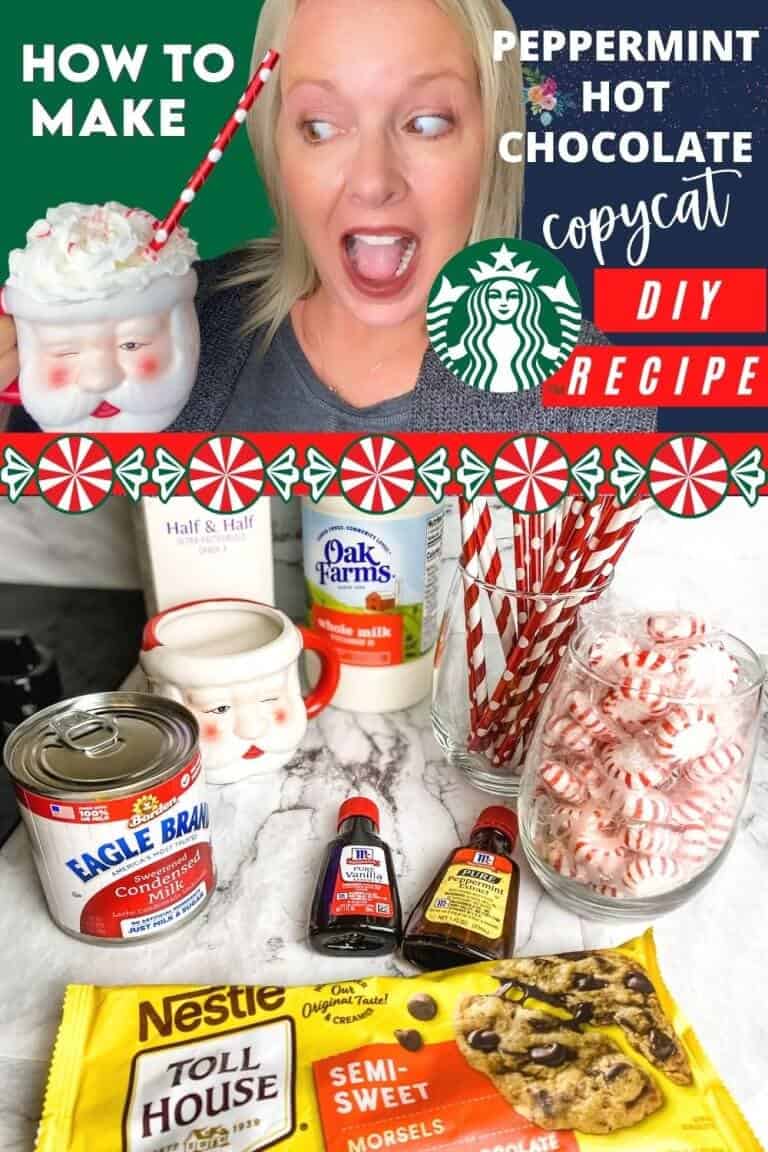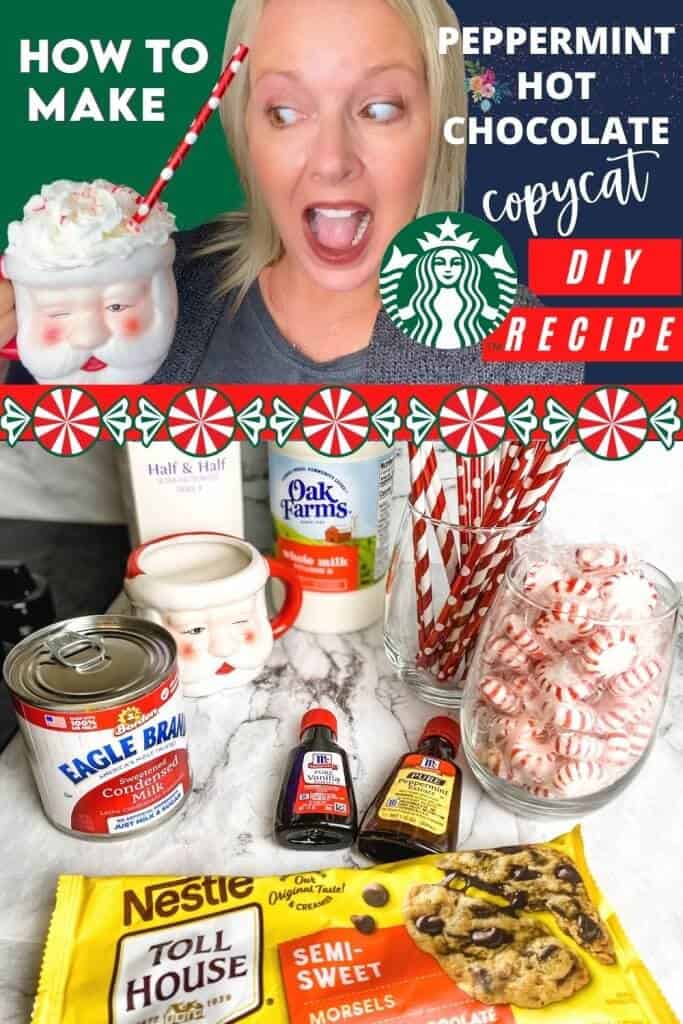 Be sure to PIN this for later!
how to make peppermint hot chocolate step by step
Are you a fan of Starbucks' Peppermint Hot Chocolate? If so, you'll love this copycat recipe for your own at home. It's perfect for the colder months and will keep you warm all winter long!
This can be made on the stove or in your instapot! I prefer make it on the stove.
first
Slowly pour in condensed milk and then chocolate chips and whisk over low heat until melted stirring often.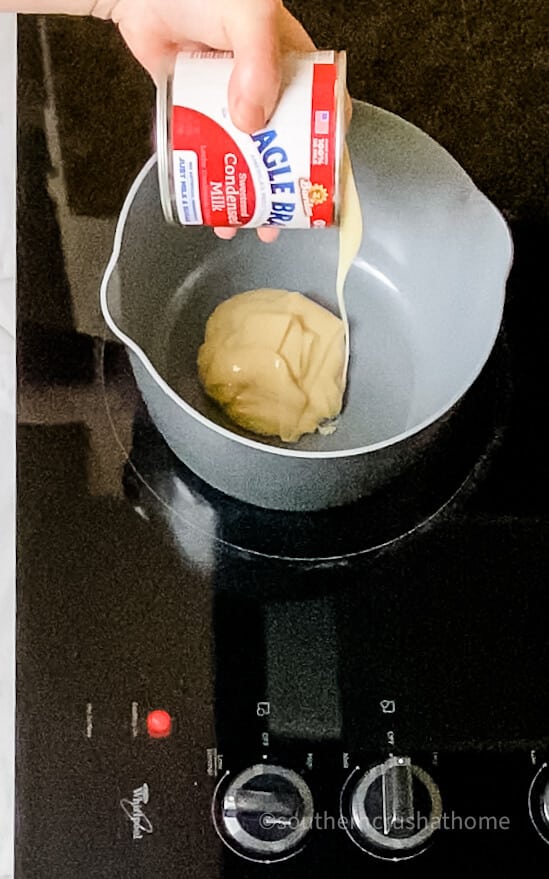 Any chocolate chips will do for this recipe; however, I used Nestle Toll House brand for mine.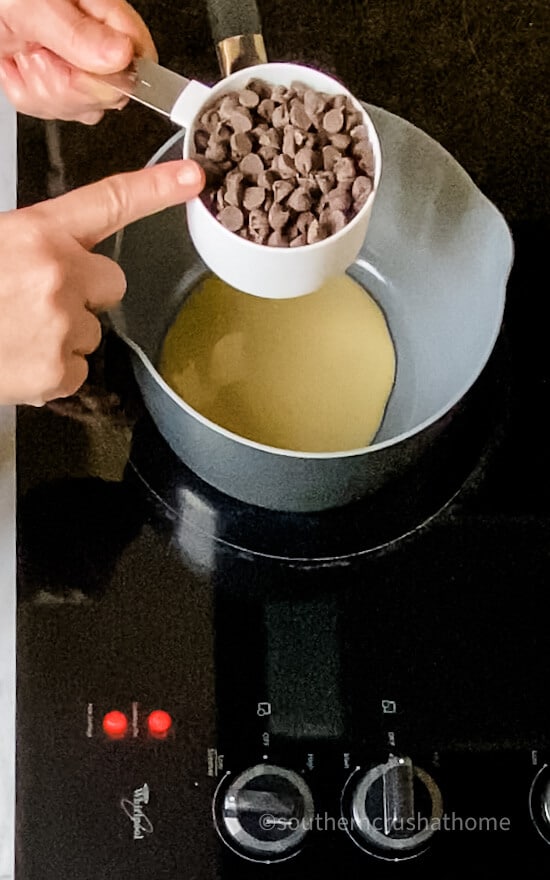 Keep stirring until fully incorporated, making sure the mixture does not stick to the bottom of your pan.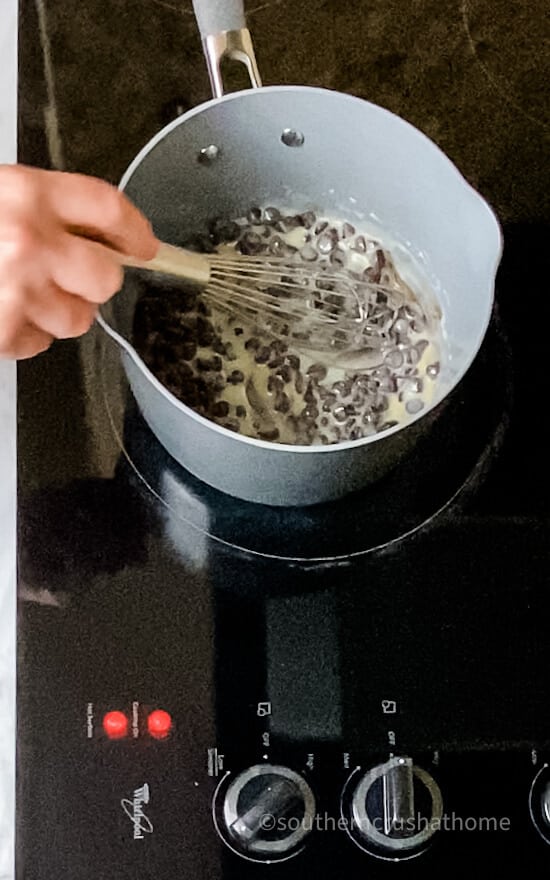 next
Gradually incorporate the half and half one cup at a time and finally whisk in the whole milk one cup at a time. Adjust by adding more milk if needed for taste.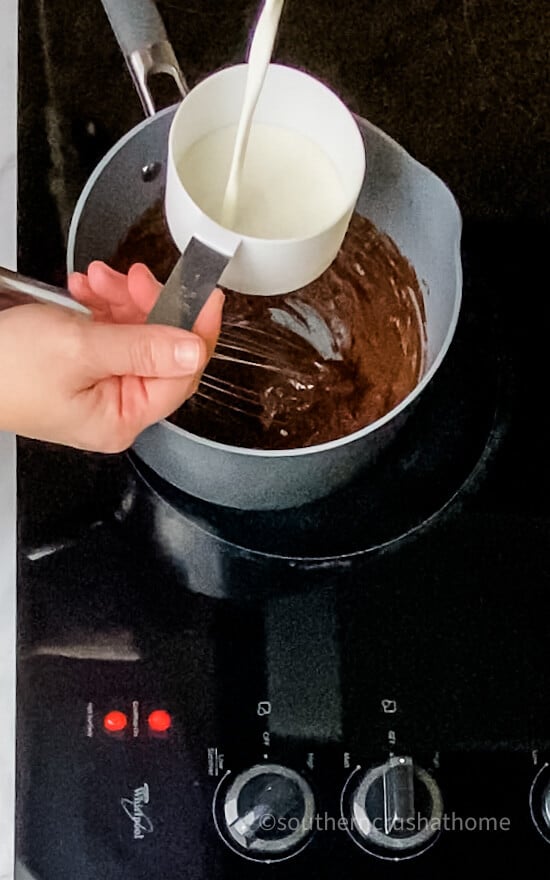 last
Drop in the vanillla extract and the peppermint extract to taste.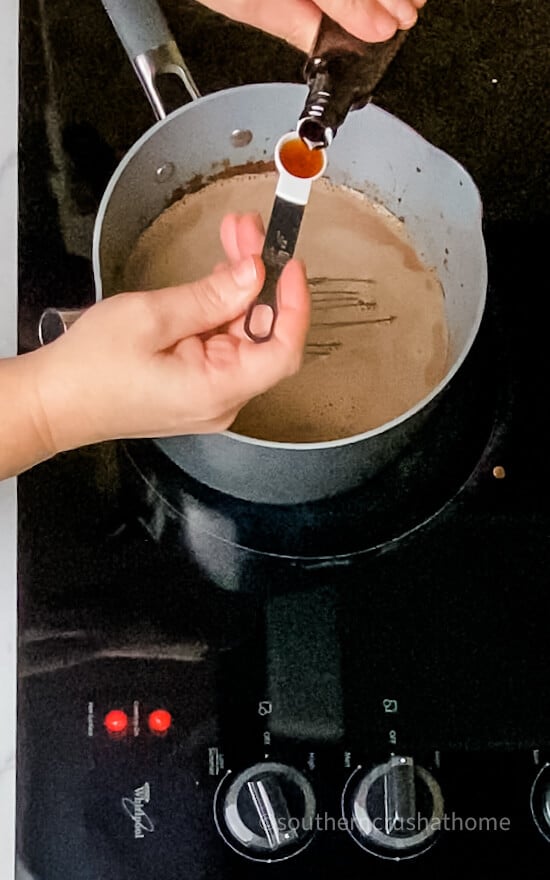 serving hot cocoa
It's time to enjoy the holiday season with a hot cup of pepperminty goodness that is sure to delight both young and old. This recipe is easy to make, takes just minutes, and tastes wonderful!
Grab a ladle and pour a cup in a cute Santa Mug off your Vintage Santa Mug Tree!
You can even jazz it up by adding whipped cream topping or chocolate shavings.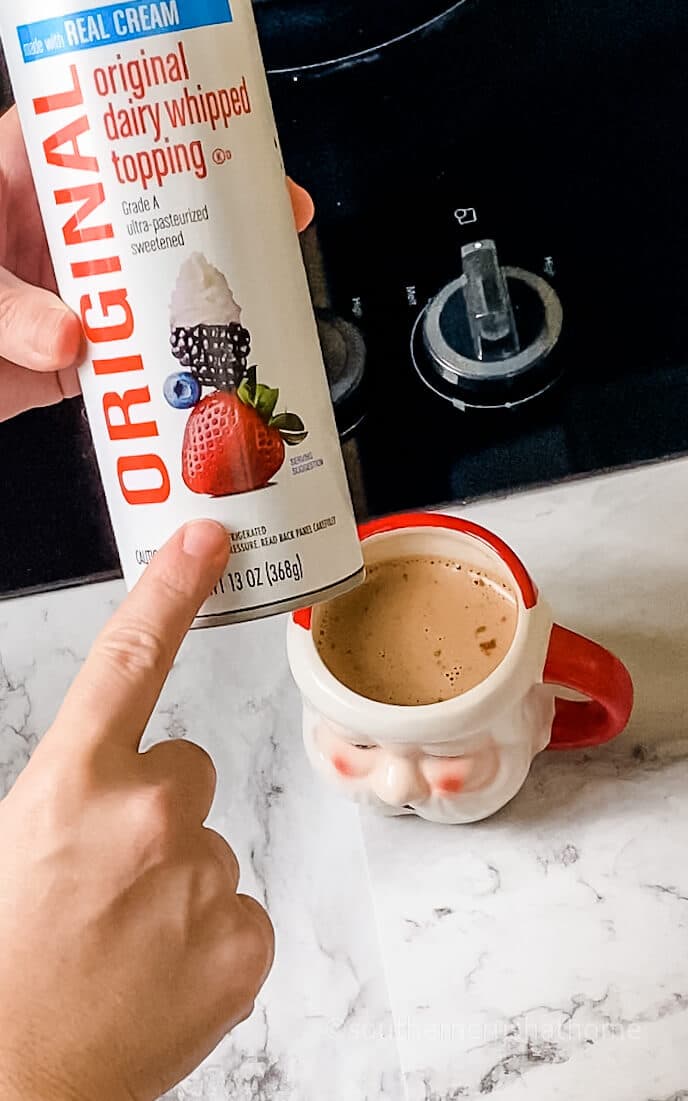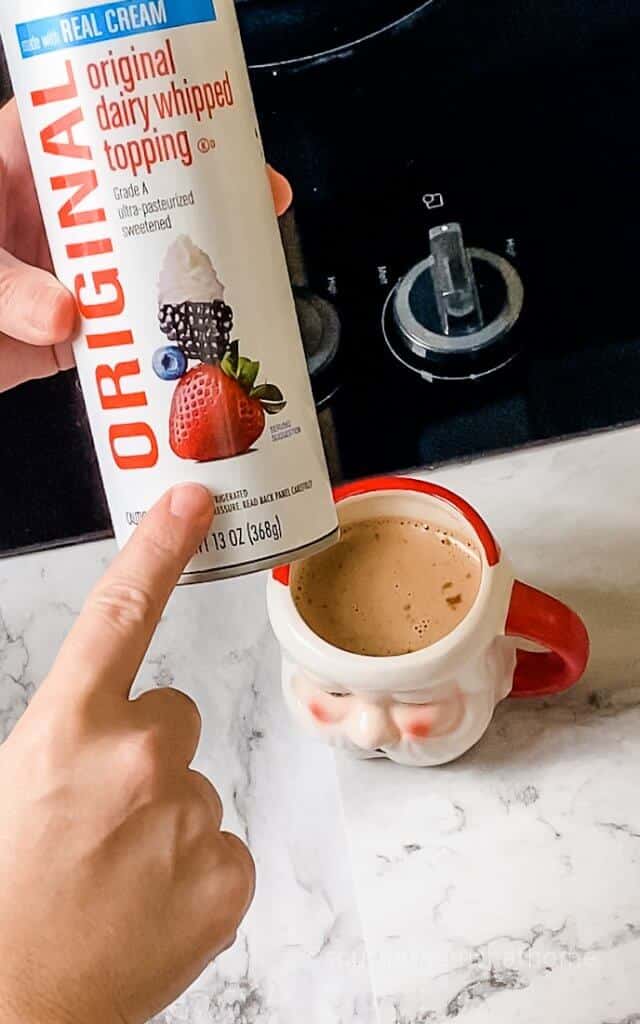 Optionally, crush a few peppermint candies in a ziploc baggie.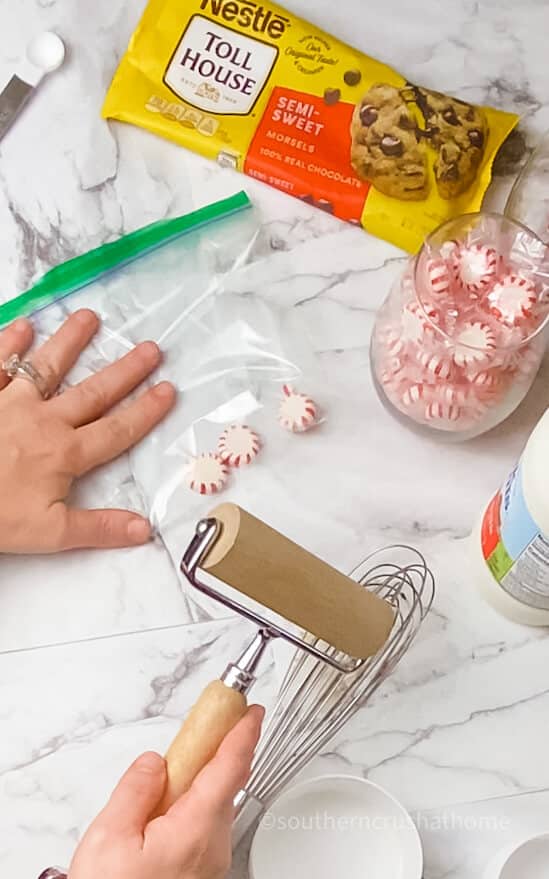 Be sure to eave some larger chunks.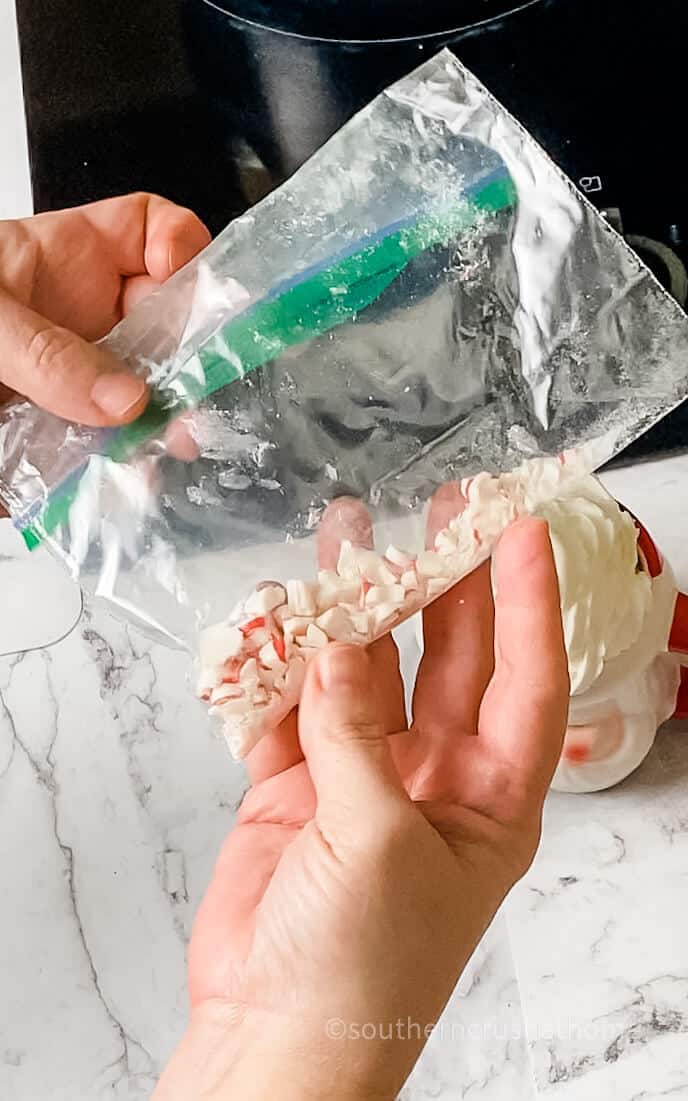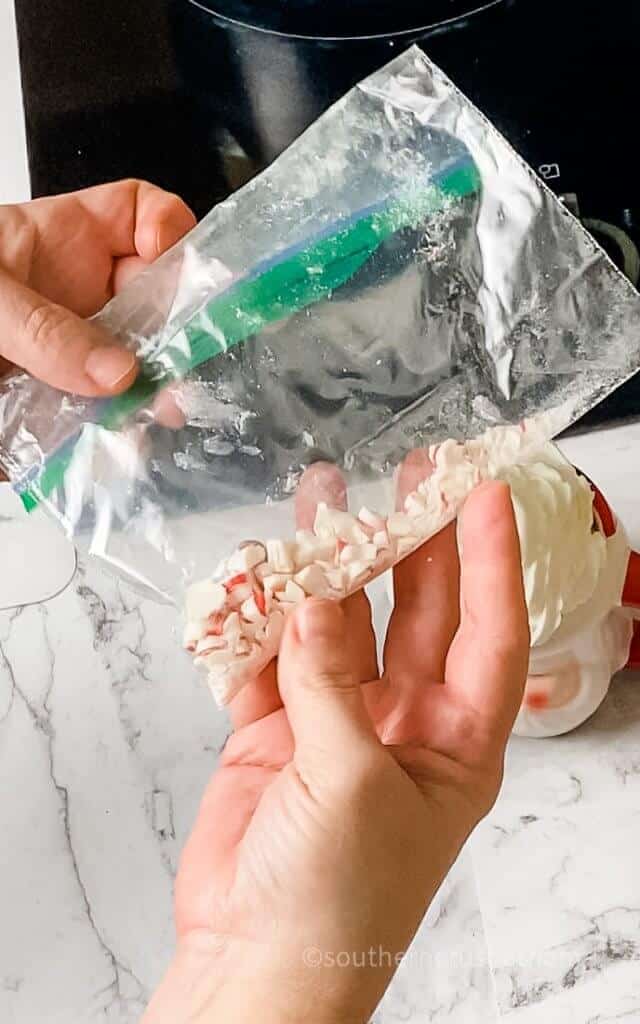 Finally, add a super cute and festive straw like this red and white polka dot one from Dollar Tree to make it feel even more special!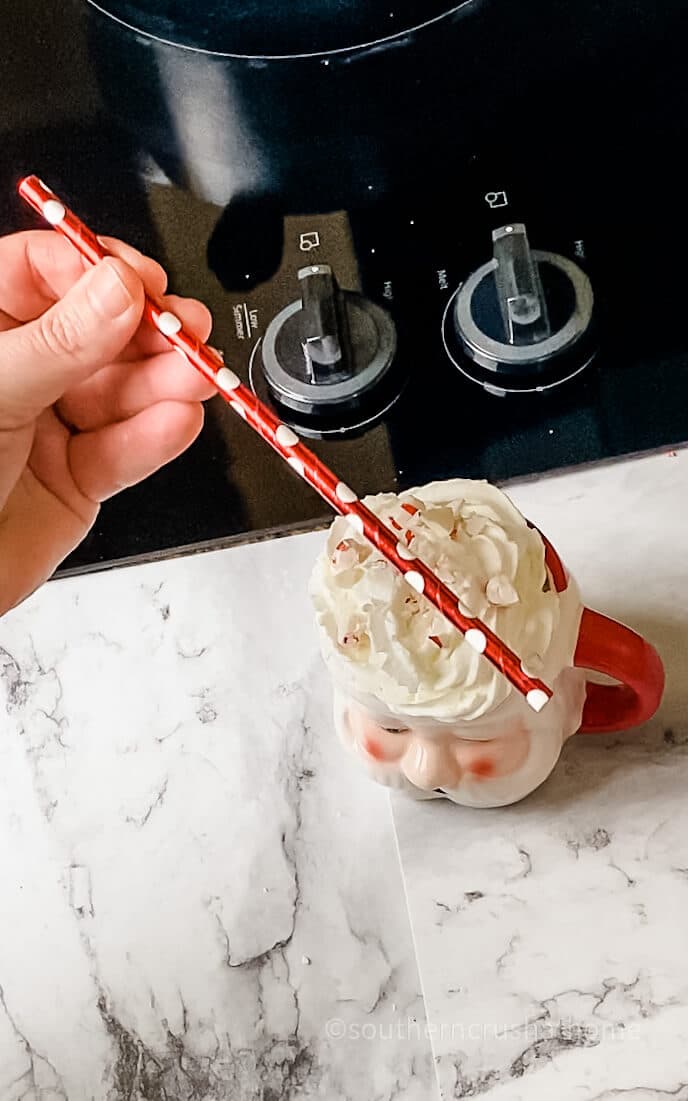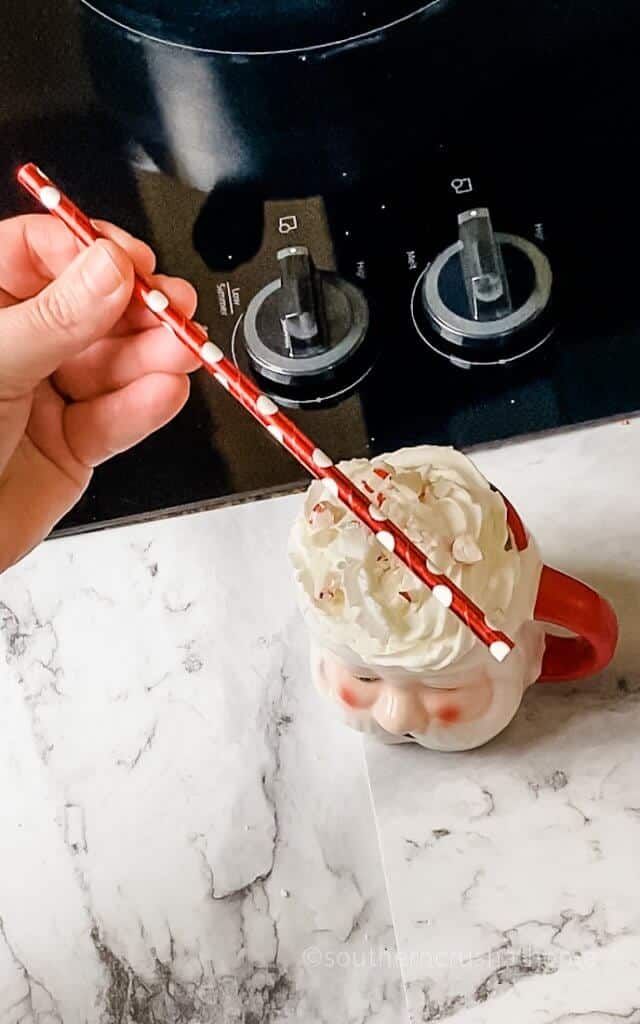 What are you waiting for? Get into the kitchen and whip up some deliciousness today!
STEP BY STEP VIDEO TUTORIAL
If you want to see the exact step-by-step process, be sure to check out this video below over on my YouTube Channel!
This recipe turns out so yummy~ I hope you'll try it and let me know in the comments below what you think!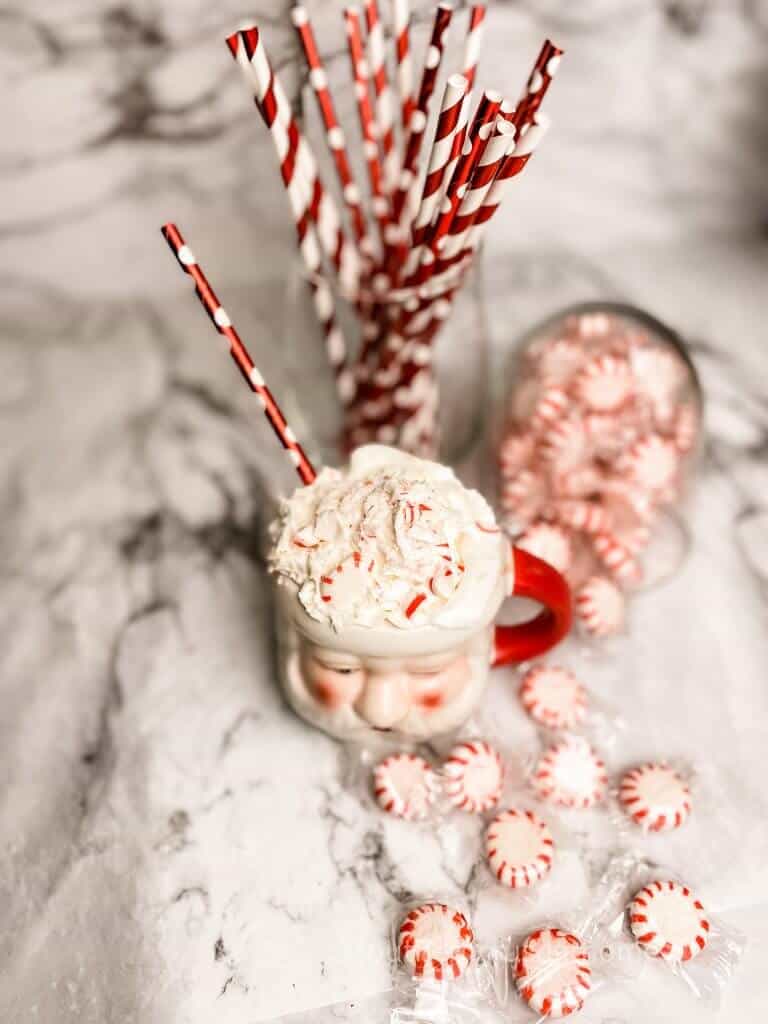 Start a new holiday tradition and make this easy peppermint hot chocolate recipe each year! And remember…. "Christmas Calories Don't Count!"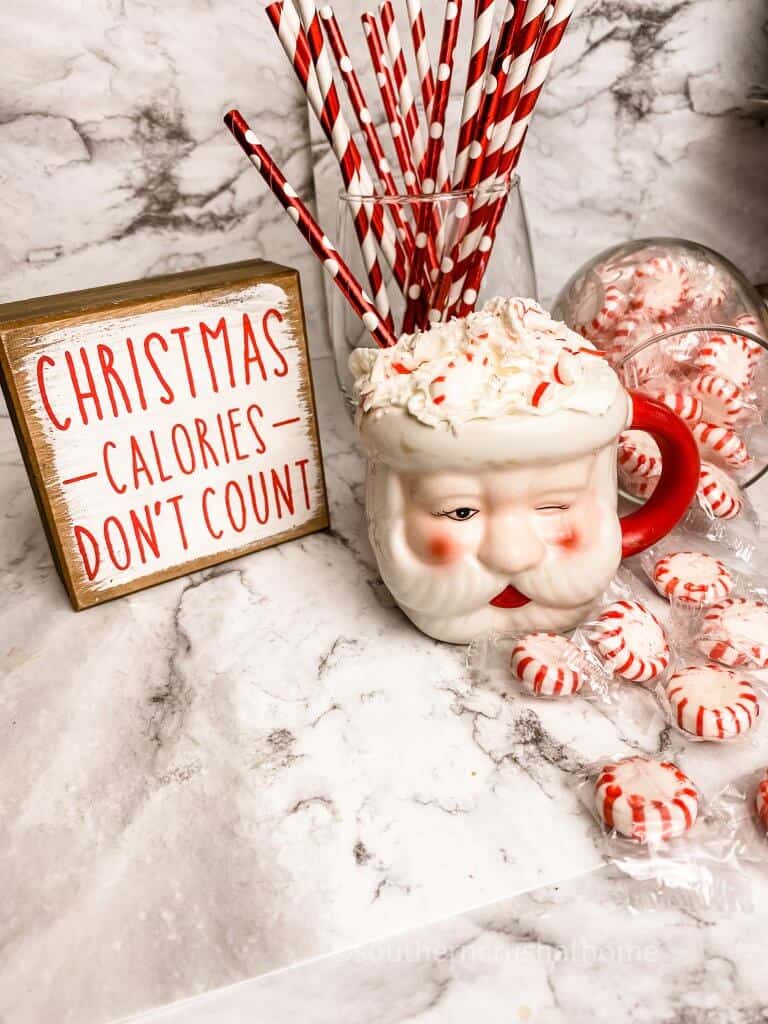 So grab your favorite holiday mug or make one with Sharpies like this!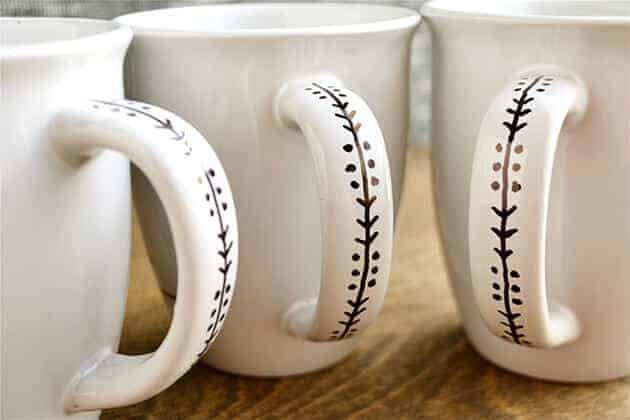 Make a cute hot cocoa bar and add these cute FAUX MUG TOPPERS to your mugs!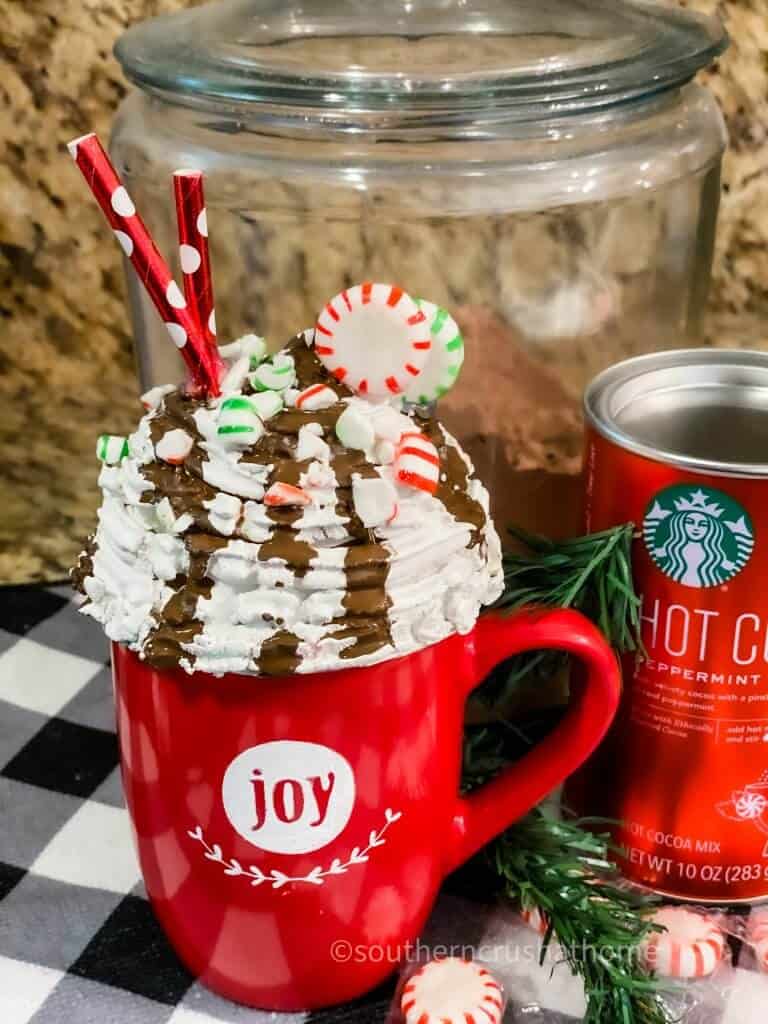 other holiday treats
what is the difference between cocoa and hot chocolate?
This is a question I have had for as long as I can remember! We tend to think of them as both the same thing; however, there is a difference between hot cocoa and hot chocolate.
Hot Cocoa is made with cocoa powder and tends to be much lighter whereas, hot chocolate is made with chocolate like this recipe using chocolate chips which makes it much richer and creamier in texture.
Which one you choose depends on your taste; however, I like to go with hot chocolate for special occasions due to it's richness! The added hint of peppermint flavor just kicks it up a notch.
What is the difference between mocha and hot chocolate?
This is another question that easily gets a lot of people confused. Hot chocolate is a sweet drink with toppings like whipped cream, peppermints and chocolate drizzle. Mocha is hot chocolate with added coffee. Yum!
Starbucks sells a yummy warm Peppermint Mocha drink during the holiday seaason, not to be confused with their peppermint hot cocoa mix.
Does Starbucks sell peppermint hot chocolate mix?
Yes! It's definitely a shortcut to buy the peppermint hot chocolate mix from the store; however, you will not get the yummy smell permeating through your house during the holidays or the richness of add more chocoloate chips to your hearts desire!
Here it is for sale on AMAZON (affiliate link)
These are some other Starbuck's Peppermint Hot Chocolate things to try!

What ARE other some STARBUCKS HOLIDAY DRINKS?
caramel brule latte
toasted white chocolate mocha
iced sugar cookie almond milk latte
chestnut praline latte
irish cream cold brew
peppermint mocha
Check out this fun DIY for repurposing those Starbucks Cold Brew amber bottles!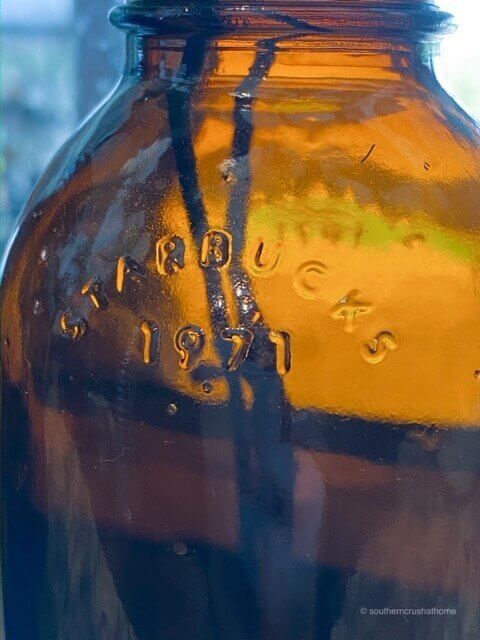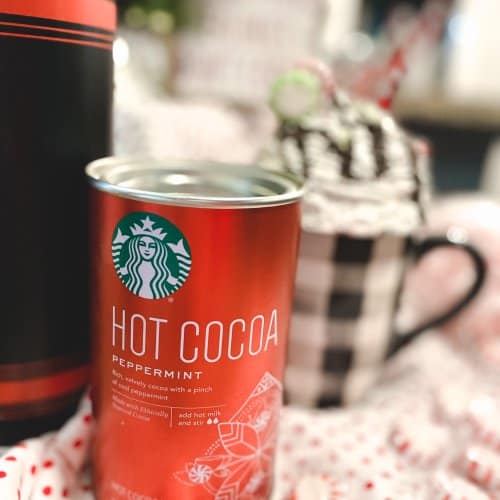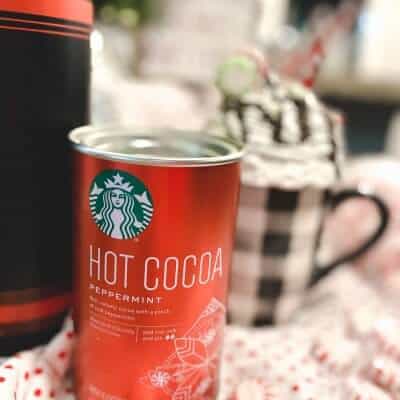 Peppermint Hot Chocolate (Starbucks Copycat)
This is a copycat of Starbucks' peppermint hot chocolate drink that is so loved. It's so simple to make, tastes amazing and you can enjoy it year round. I hope you love it...
Ingredients
2

cups

of milk

2

cups

of half and half

you can use heavy cream, but I prefer a lighter taste

7

oz

of condensed milk

1

cup

of semi sweet chocolate chips

1

tsp

of vanilla extract

1

tsp

of peppermint extract
Instructions
Slowly stir condensed milk and chocolate chips over low heat until melted stirring often.

Gradually incorporate the half and half and finally the whole milk.

Drop in the vanillla extract and the peppermint extract to taste.