Grinch Christmas Tree (with Grinch Tree Topper)
Looking for a festive way to add some fun to your Christmas decor this year? Why not try out a Grinch Christmas Tree! This unique tree is perfect for fans of the movie and is sure to get you in the holiday spirit. Plus, it's easy to make – all you need is your favorite tree, some whimsical ornaments, and a Grinch tree topper. So why not give it a try? Let me show you how.
Be sure to PIN this one for Later!
This blog post contains affiliate links. The opinions are wholly my own from my own experience. I may earn a small commission from clicks through to the websites that end in a purchase.

How to Make a Grinch Christmas Tree
This is my uber-talented sister-in-law's tree and I'm loving how she used the red, green, and white color scheme with deco mesh ribbon, a feather boa, faux candy, and lots of twirly picks that remind me of a Whoville Christmas tree. She also added some Grinch-themed ornaments and a Grinch tree-topper to finish it all off.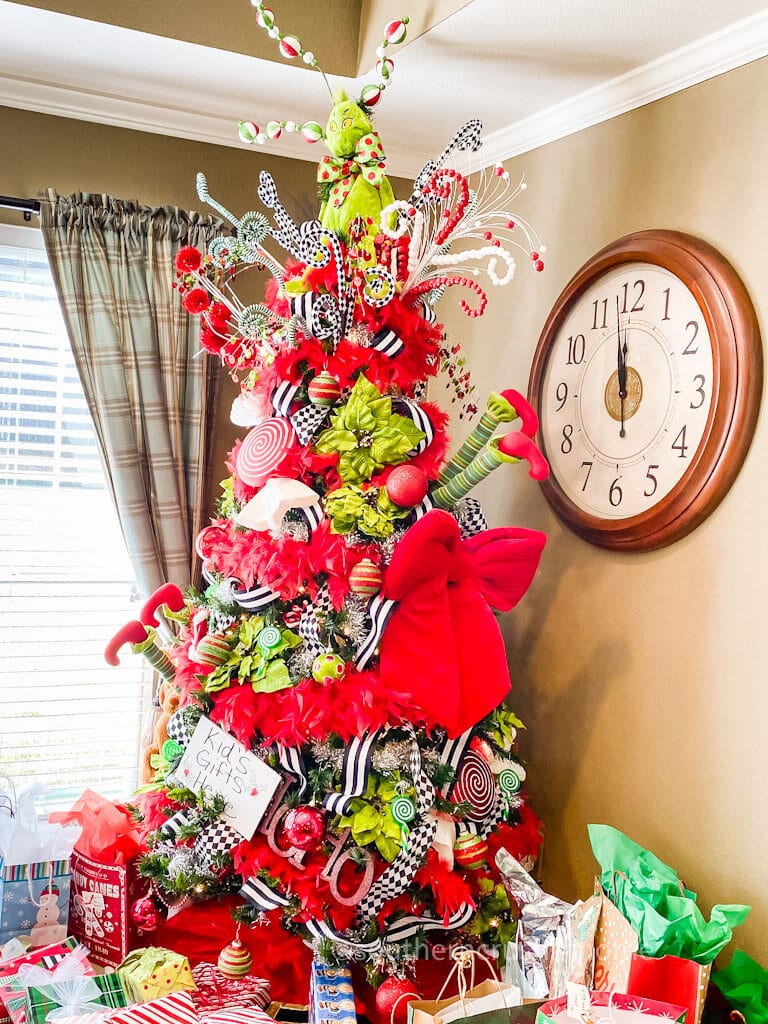 Step One
Start by adding your ribbons, tinsel, and garlands. Before the Christmas tree gets crowded attach a variety of wired ribbons around the tree using the branches to twist them on securely.
I'm loving the look of these black and white harlequin ribbons mixed with the black and white striped ribbon. The silver tinsel adds just the right amount

Step Two
Then add large florals to different sections of the tree. These non-traditional light green faux poinsettias are the perfect touch for a Grinch-themed Christmas tree! You can find them HERE.

Step Three
Next, add the largest Christmas ornaments and decor pieces. This tree includes whimsical faux candy ornaments as well as several plush character ornaments, like the elf legs sticking out of the tree and a large red velvet bow on the side.
A fun added touch is the full-size version of the Grinch's dog Max on the side of the tree trying his best to help the Grinch steal Christmas!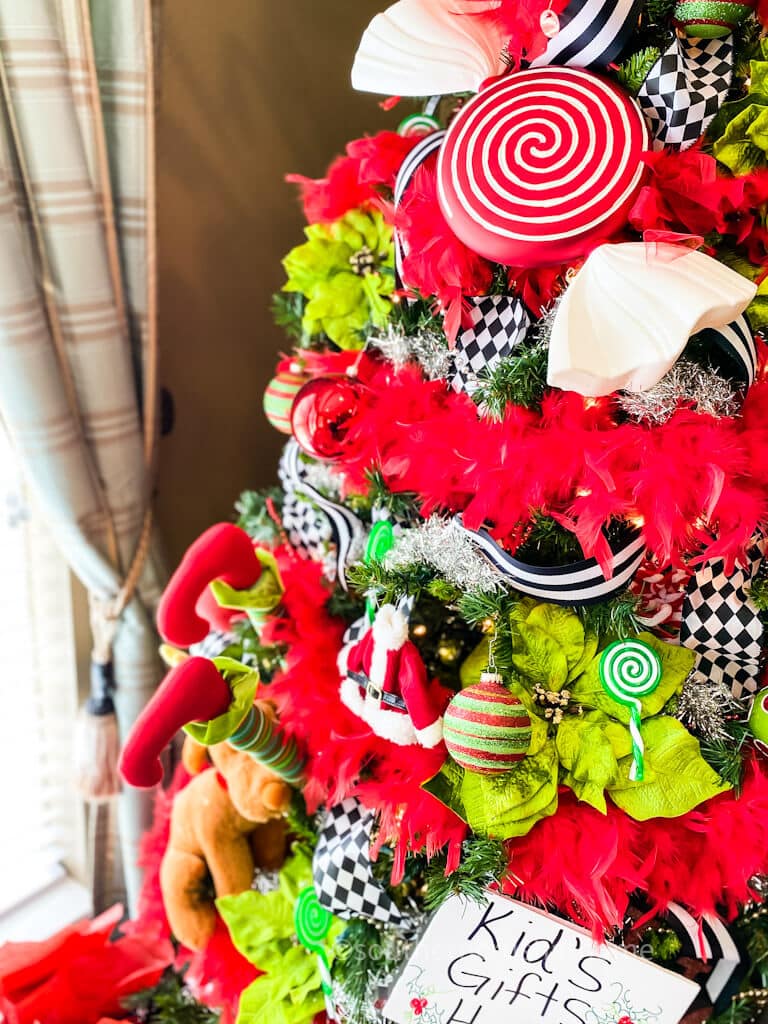 You can find Grinch-themed Christmas decorations like these below.

Step Four
Now add smaller ornaments and picks to the tree. Use a variety of traditional red and green along with a few fun but complementary ornaments. These swirly red, green, black, and white picks play right into the "Whoville" look, don't you think?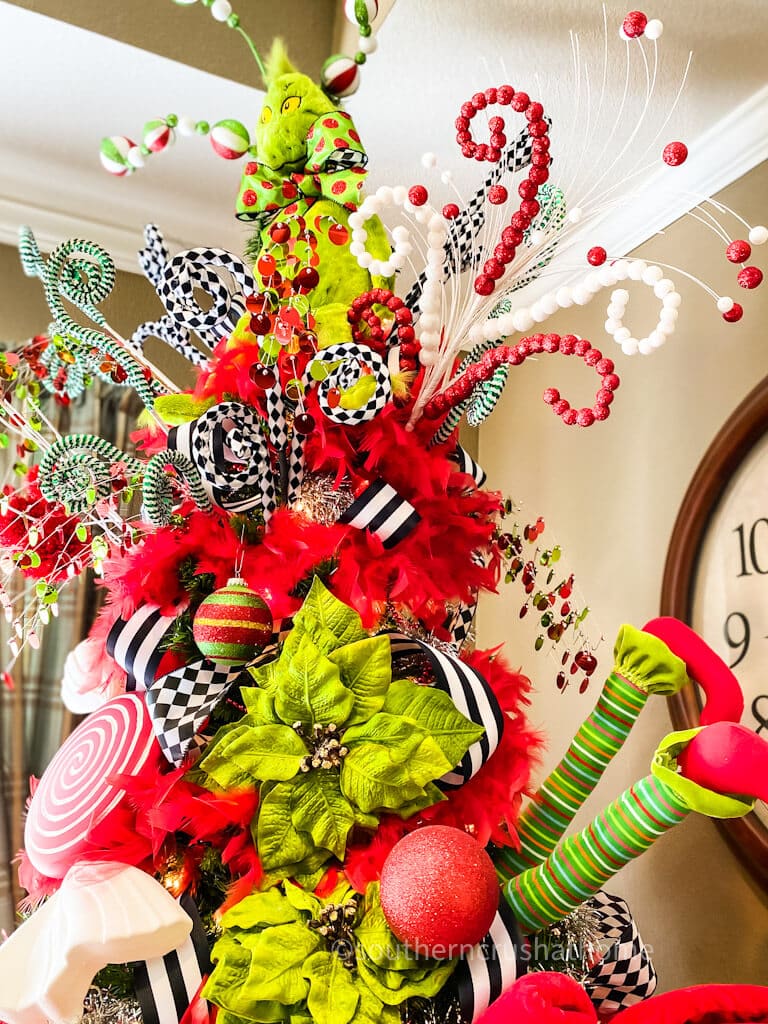 You can find picks like these below.

Step Five
Why add the Grinch Tree Topper, of course!
Grinch Tree Topper
Tree toppers are a great way to show your holiday spirit!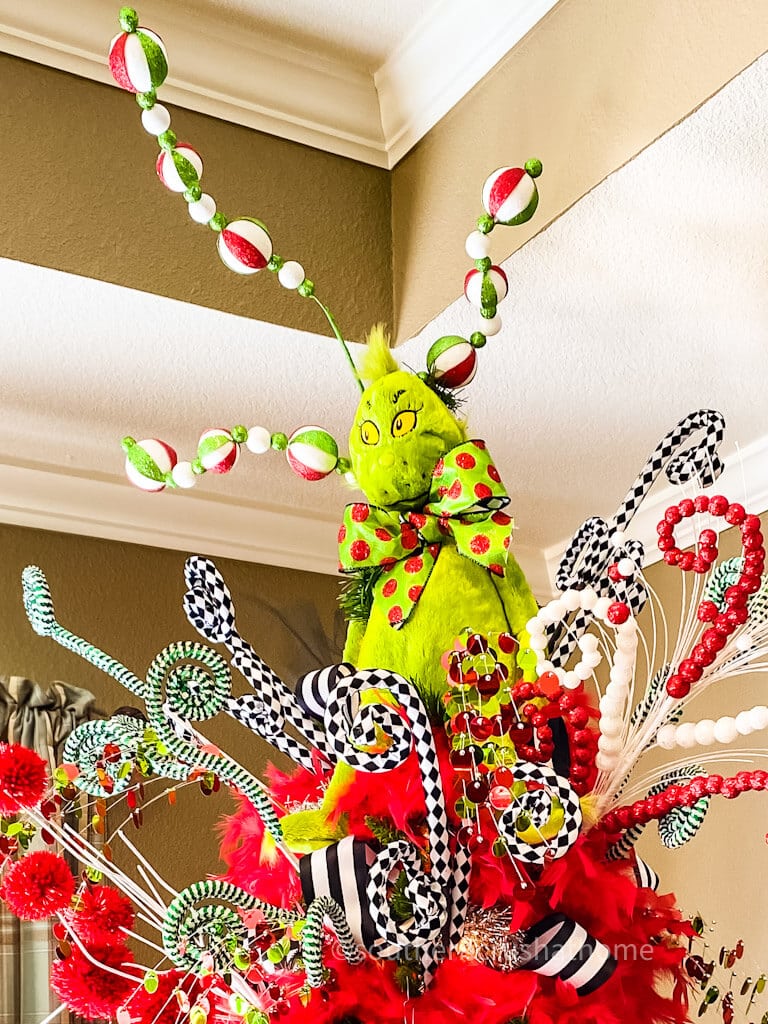 Christmas tree toppers come in all shapes and sizes, from traditional angels to yes, even a Grinch tree topper. You can find these grumpy-looking tree toppers online HERE or at your local Christmas store.

Where to Buy Grinch Christmas Tree Decorations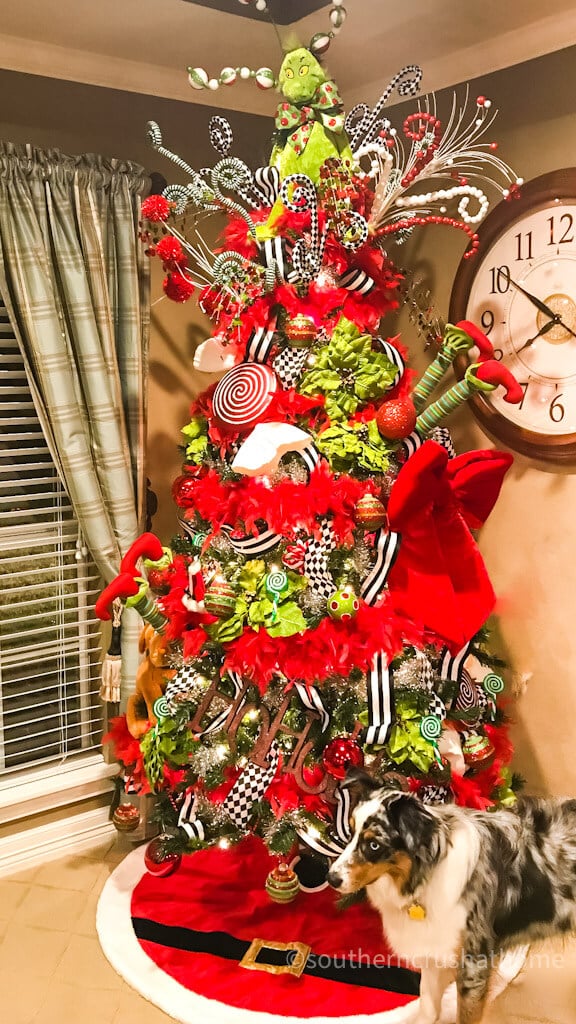 So, if you're looking for a unique way to celebrate Christmas this year, look no further than a Grinch Christmas tree! This festive tree is sure to get everyone in the holiday spirit, and it's easy to create using just a few supplies. You can even make DIY Grinch ornaments!
Plus, the Grinch Tree Topper makes it perfect for any Dr. Seuss fans out there. So get ready to deck your halls with some green and red cheer!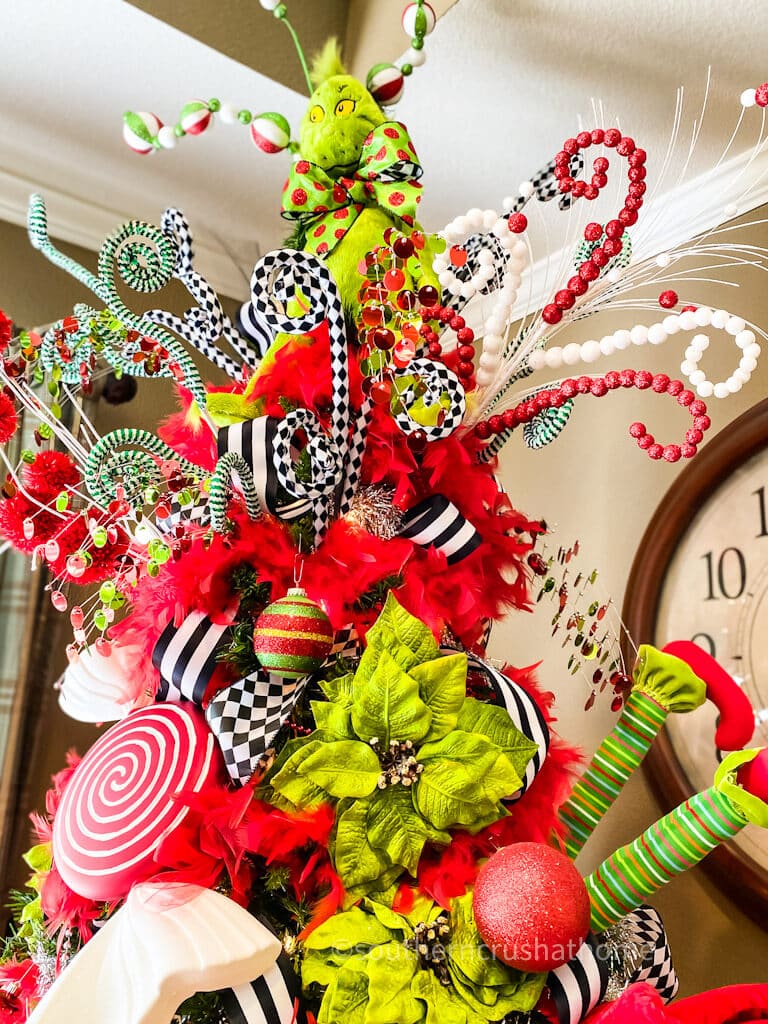 The Story of the Grinch Who Stole Christmas
The story of the Grinch is a super popular Christmas tale that is enjoyed by many. The Grinch is a popular Christmas character who is known for being grumpy and trying to steal Christmas. The Grinch was originally created by Dr. Seuss and has been made into several movies, including the most recent one starring Jim Carrey. It takes place in Whoville which is the fictional town that is home to the Grinch.
Whoville is known for being a very festive place. The Grinch is a grumpy character who tries to ruin Christmas for everyone. His heart was two sizes too small and his grumpiness was off the charts. No one could stand him, not even his poor dog Max. But despite his grumpy exterior, the grinch had a heart of gold.
Cindy Lou who is the Grinch's neighbor is a little girl who is kind to everyone, even the grinch. She helps the Grinch realize that Christmas is about more than just presents and decorations.
Even though the grinch tries to ruin Christmas by stealing all the presents, in the end, the Grinch learns the true meaning of Christmas and brings joy to all.
What are the trees called in Whoville and the Grinch Movie?
The trees in Whoville are actually called Grump Trees which are lemon cypress trees that have a wonderful lemony scent that even the Grinch himself would find appealing.
What is the Grinch Tree?
The tree made popular by the movie The Grinch Who Stole Christmas is the Grinch or Grump Tree!
You can buy a Grinch Tree at Trader Joe's or Aldi's either one when they're in season and before they're gone!
You can easily make a Grinch Tree like this one by taking any small cedar or spruce Christmas tree and wrapping it tightly with ribbon. Add a small weighted ornament with a clip to the top to create the iconic bend!
More Grinch-Themed Christmas Ideas
Take it a step further by surprising your family with an entire grinch-themed Christmas!
Grinch Christmas Ideas
Grinch-themed gifts are the perfect way to show your holiday spirit! Grinch games, grinch socks, grinch pajamas, grinch personalized ornaments, and grinch wrapping paper are all great ideas. You can find grinch-themed gifts like these below.

Grinch Home Decor
Why not throw in a few fun Grinch-themed decor items to bring your entire Grinch Christmas idea together! I'm loving these Grinch pillow covers, table runner, towels, doormats, and more!

Other Fun Christmas Tree Ideas