Pioneer Woman Christmas Tree Theme + Free Fabric Christmas Tree Pattern
Getting ready to decorate for Christmas this year; I was faced with decorating six trees and was looking for something special to do for each tree which is how this Pioneer Woman Christmas Tree theme came to life! It's easy to fall in love with Ree Drummond's colorful country style. After my trip earlier this year to Pawhuska, Oklahoma to visit the Mercantile; it was super easy to be hooked on all things Pioneer Woman. It's perfect theme for a rustic and whimsical Christmas tree…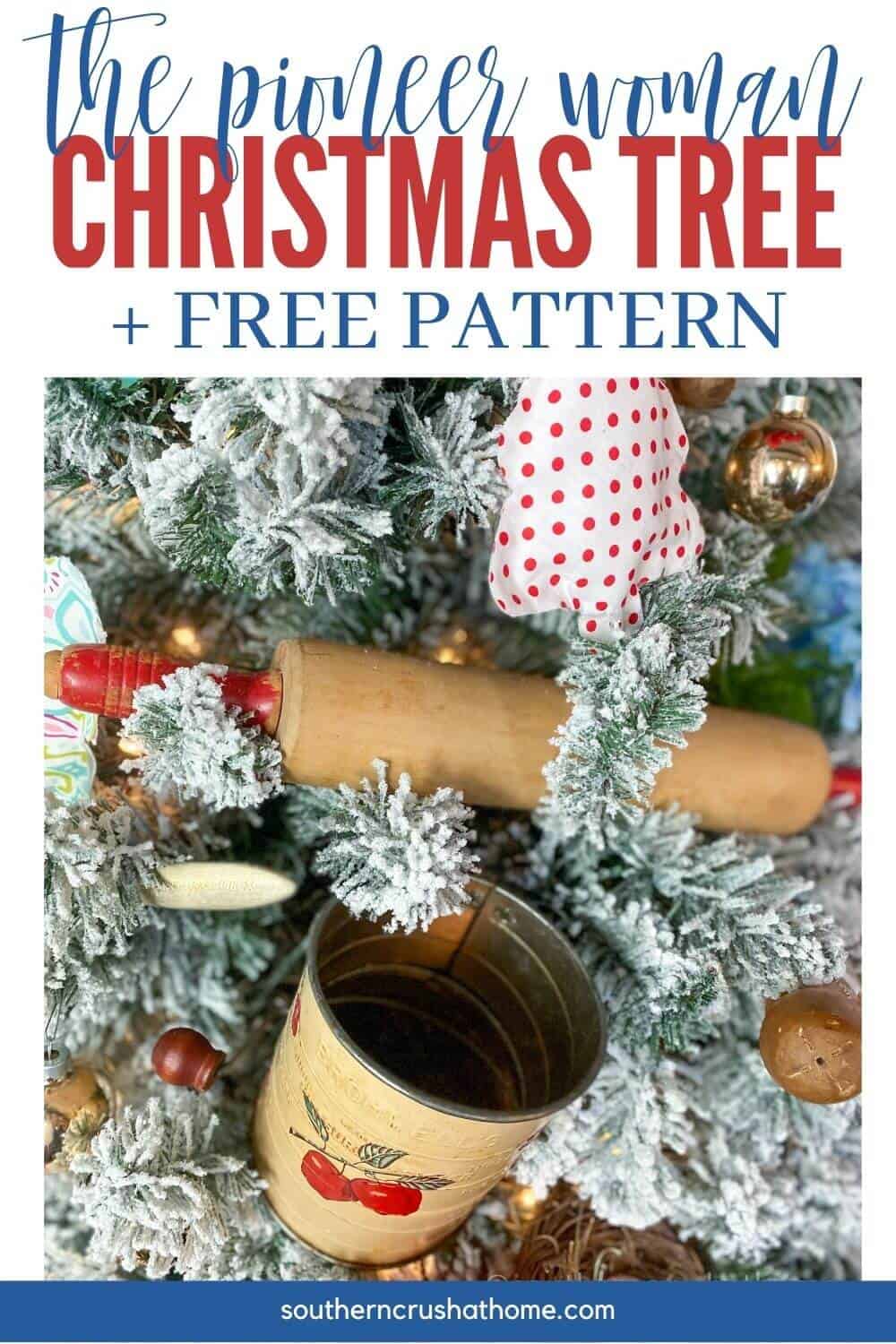 how to decorate a christmas tree pioneer woman style
Start with anchor pieces. I used vintage sifters that I found over on the Facebook marketplace. A couple of them were hand painted with flowers and cherries which are two of the patterns Ree uses in her amazing designs.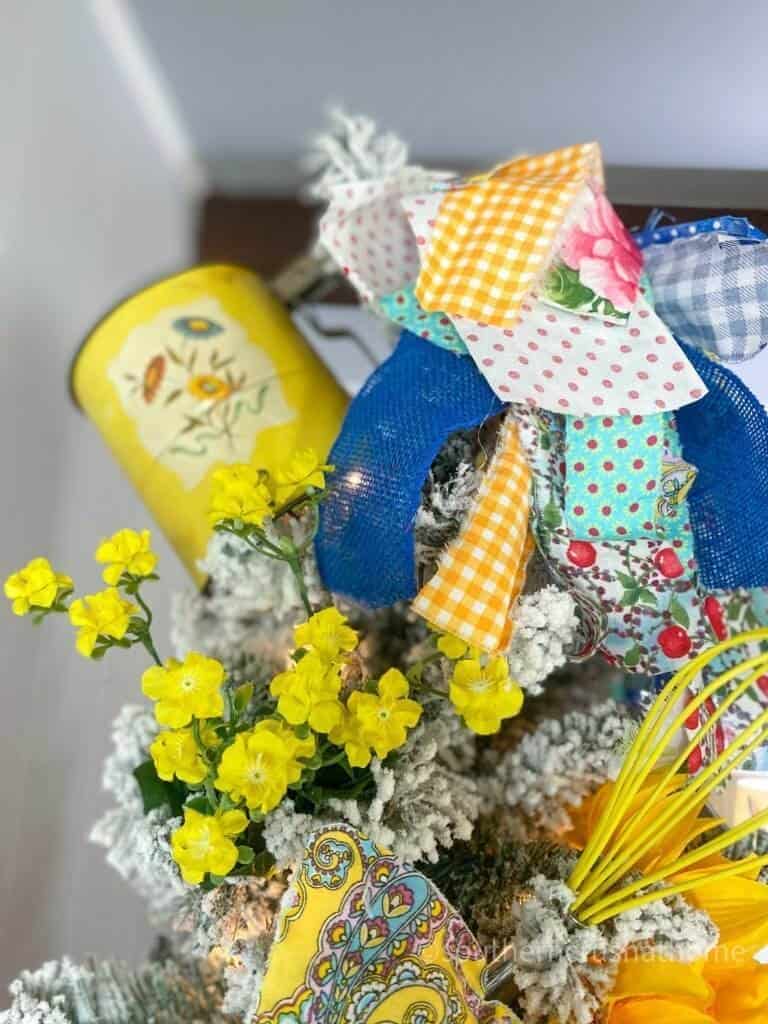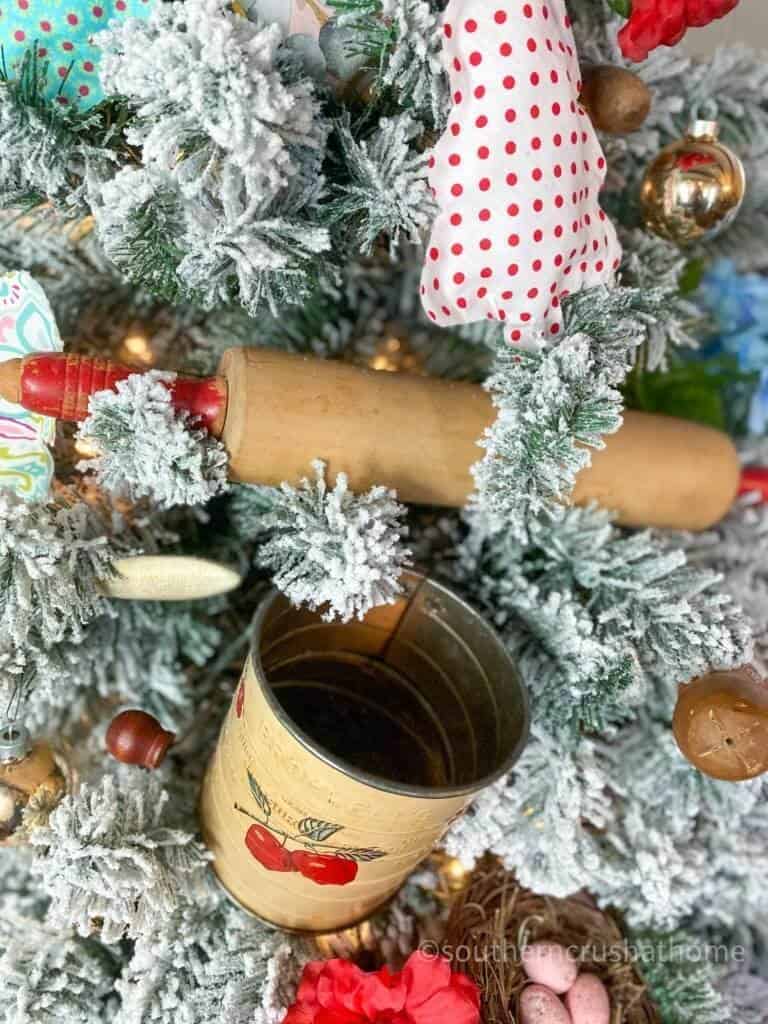 Add some color with a few no-sew fabric christmas trees (see instructions below)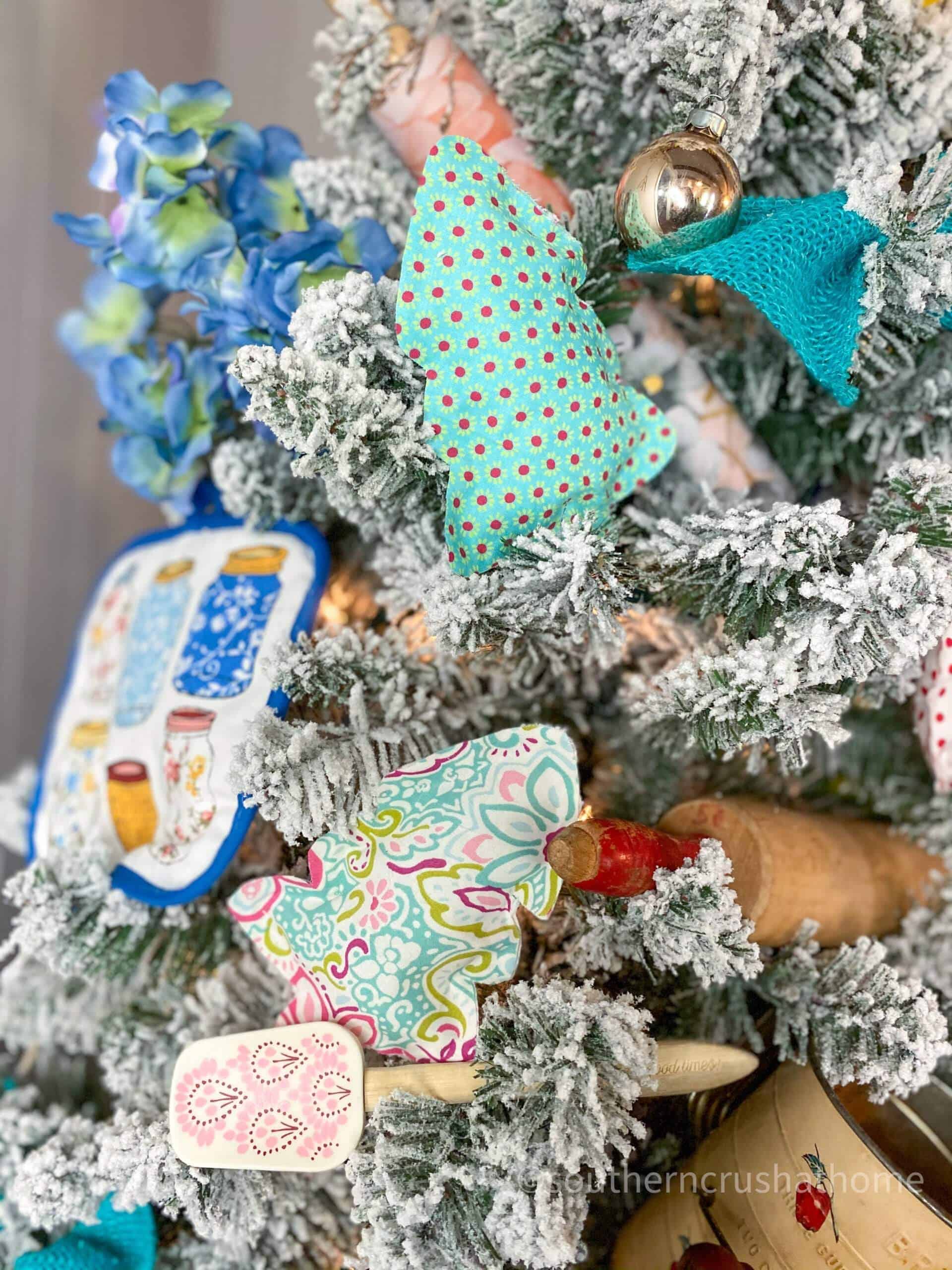 Fill empty holes in the tree with flower stems to add a pop of color.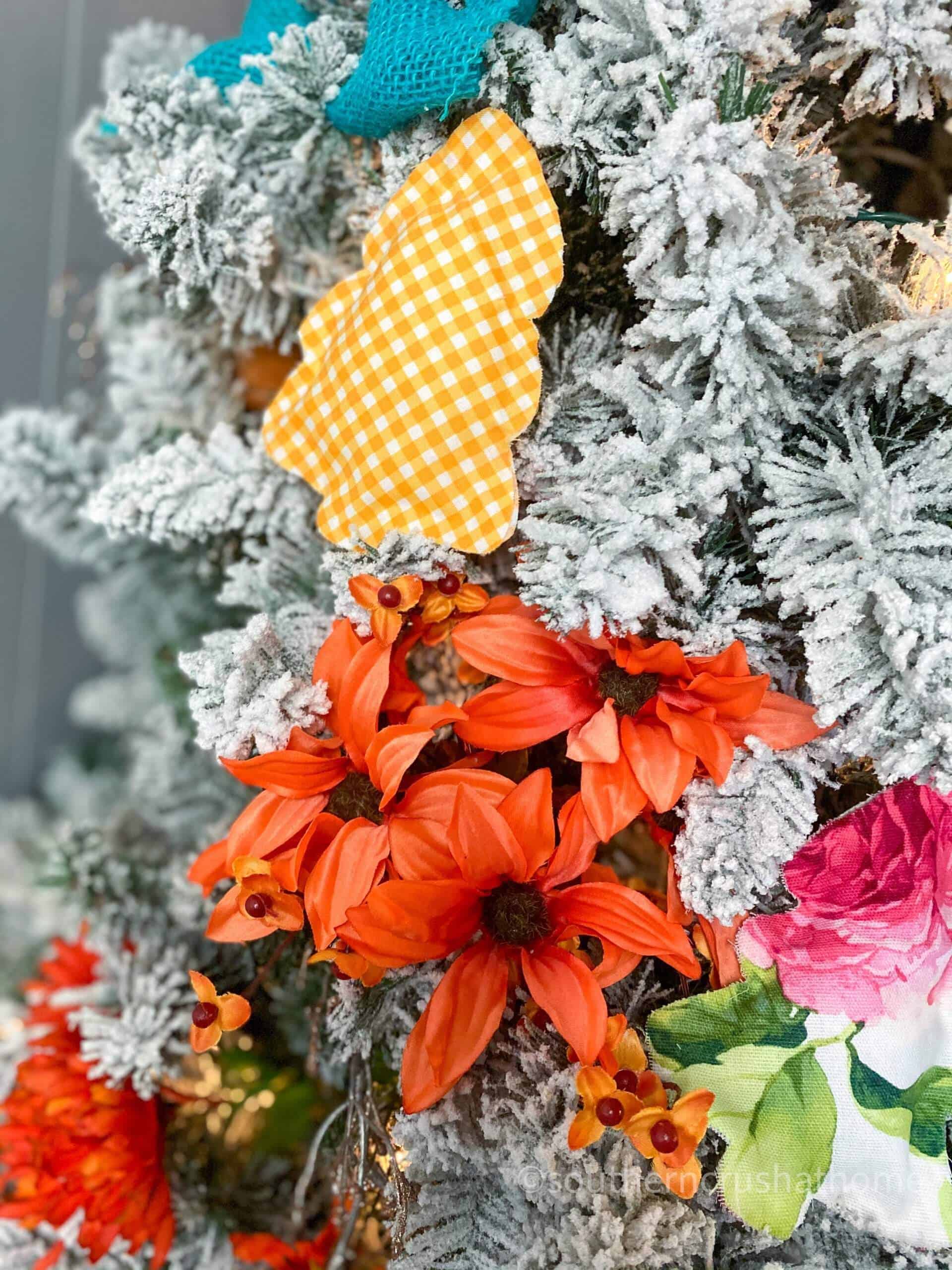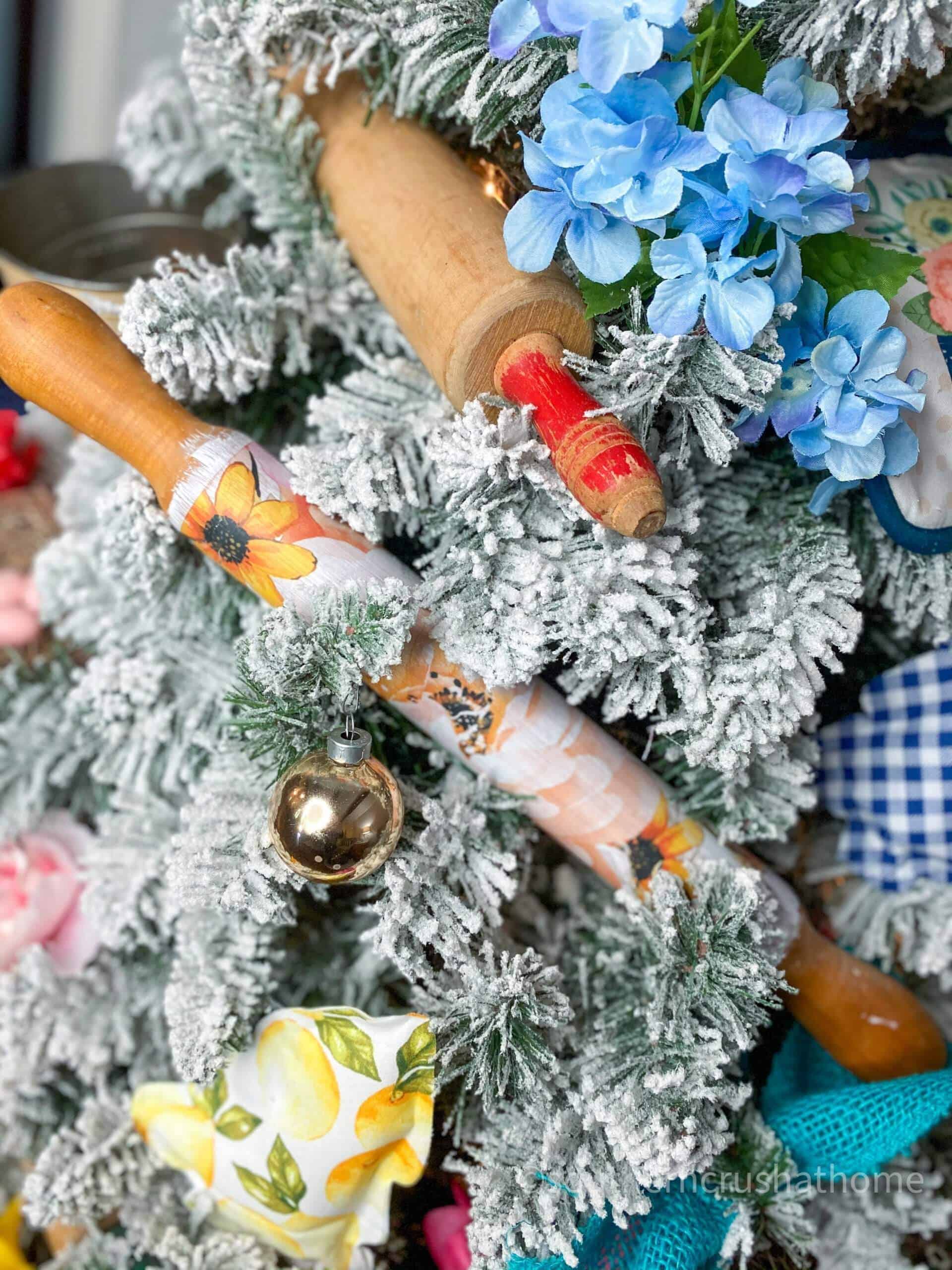 Pot holders and mitts make great little fillers for the tree. The ones I used are from the Dollar General and mimic the look of all things Pioneer Woman.
The messy bow tree topper is a super fun way to "top" it off. I used multiple fabric scraps in multiple colors and patterns to create a one of a kind messy bow tree topper. This messy bow can be found in several DIY projects of mine and complete instructions on how to make a messy bow are HERE.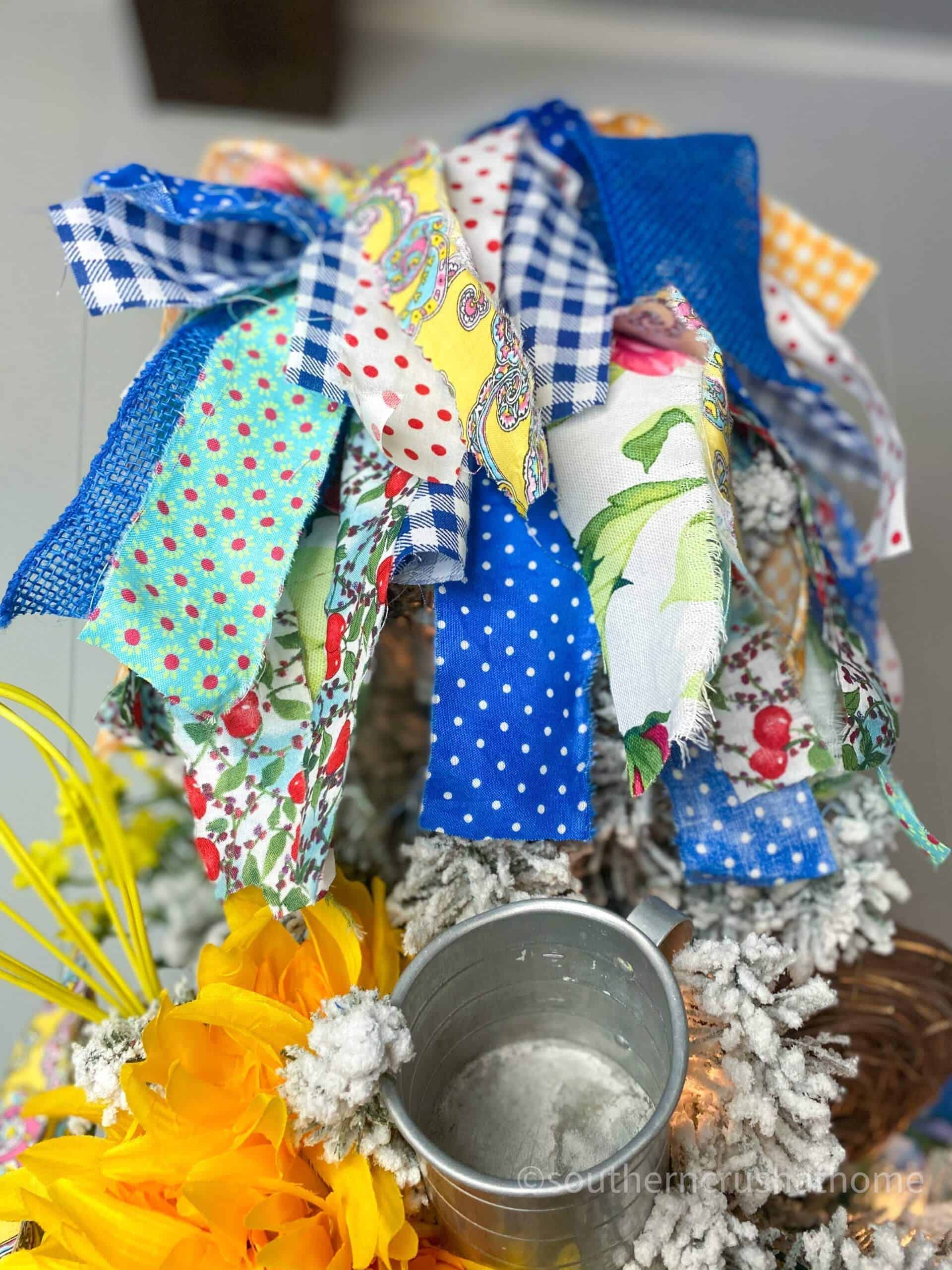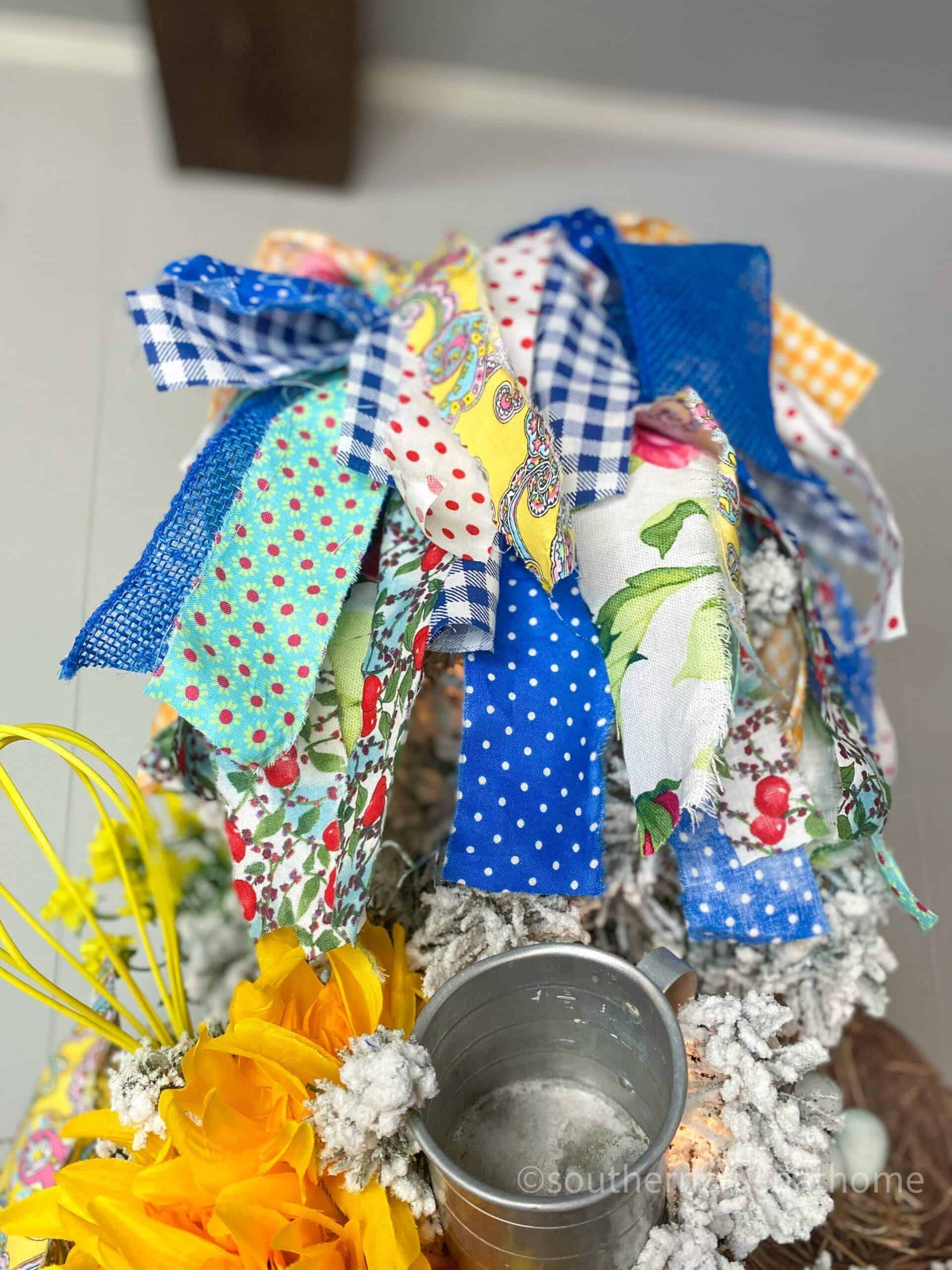 An older colorful patchwork quilt makes the easiest "frontier" look for a tree skirt.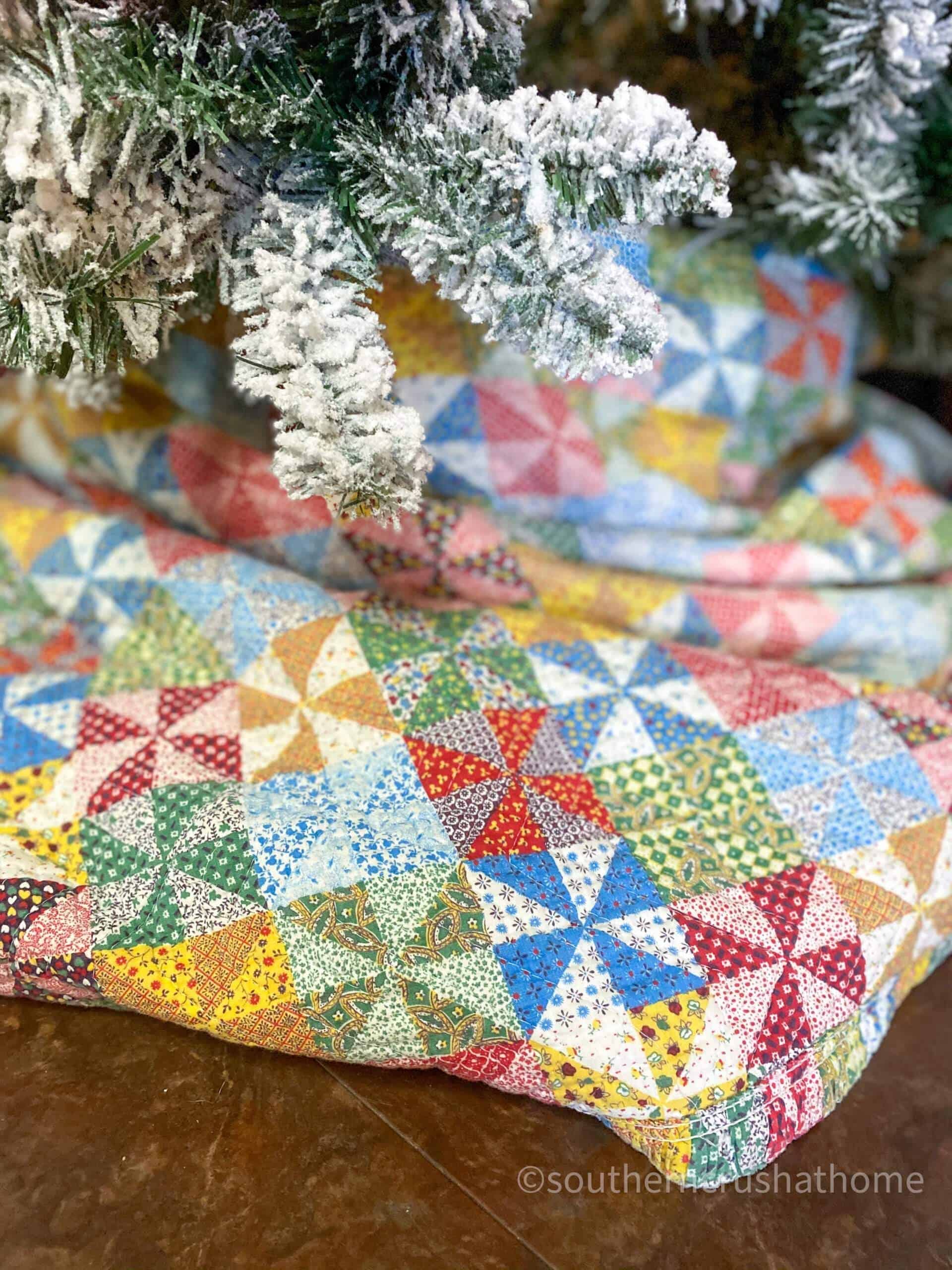 supplies needed for making fabric trees
Piece of cardboard for template
Scissors
Variety of colorful fabrics
Polyfill
how to make a christmas tree out of fabric
Download this FREE FABRIC CHRISTMAS TREE PATTERN
Use the pattern to cut out a template from a piece of cardboard.
Place two pieces of the fabric of choice together.
Using a marker trace the tree pattern onto one side of the fabric.
Trim the fabric pieces at the same time into the shape of the tree leaving a bit of space outside of the lines for gluing.
Glue down around most of the edges leaving a large enough opening for adding polyfill.
Add a small amount of polyfill to make a pillow. Use a pencil or stick to tuck the polyfill into the tip of the tree.
Using a little glue, seal the last edge being careful not to burn your fingers.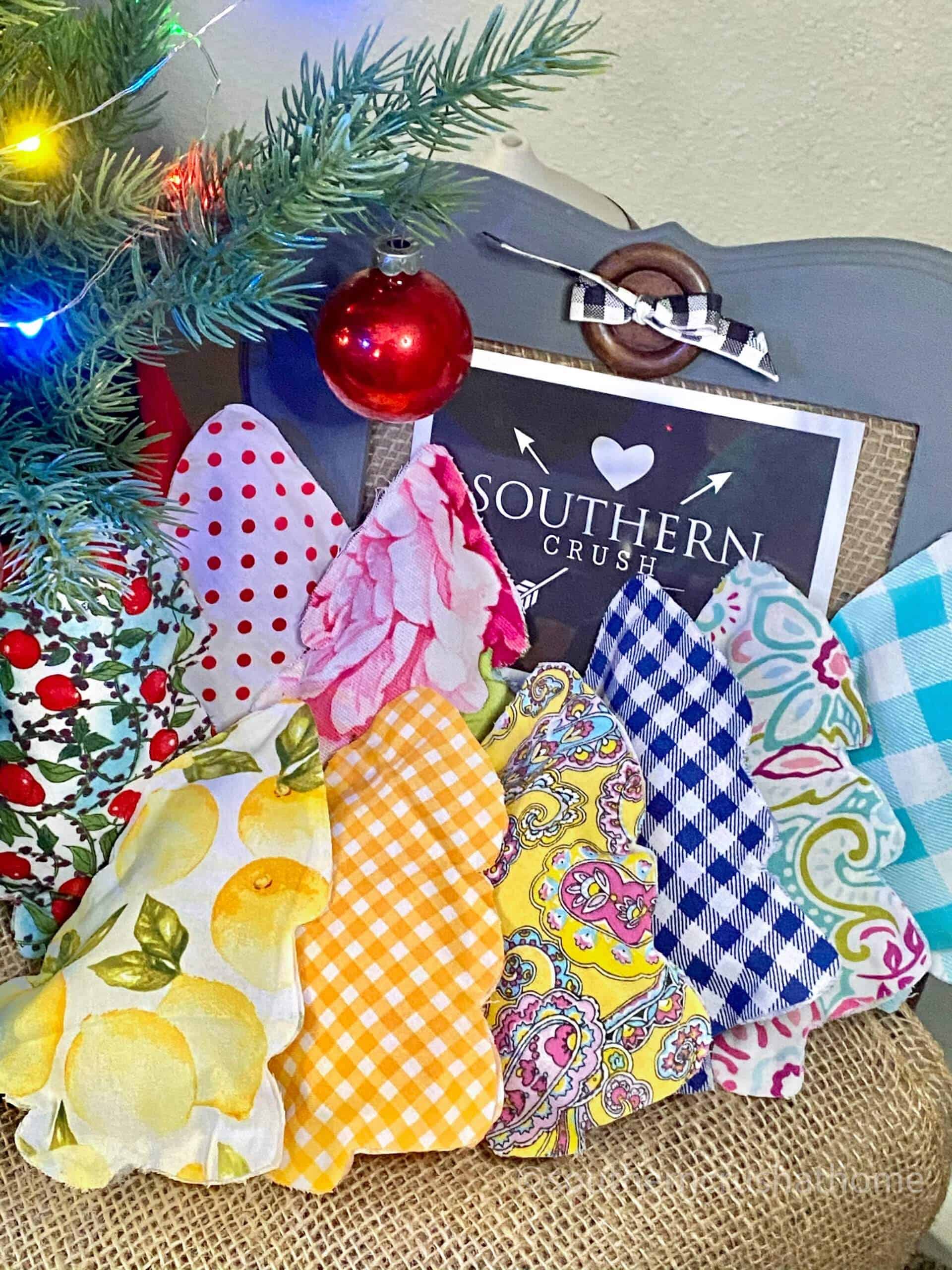 fabric christmas tree video tutorial
If you missed the video tutorial, it is linked HERE for your convenience.
pioneer woman inspired christmas tree
After it was all put in place, this tree turned out to be one of my new favorite themes for Christmas trees.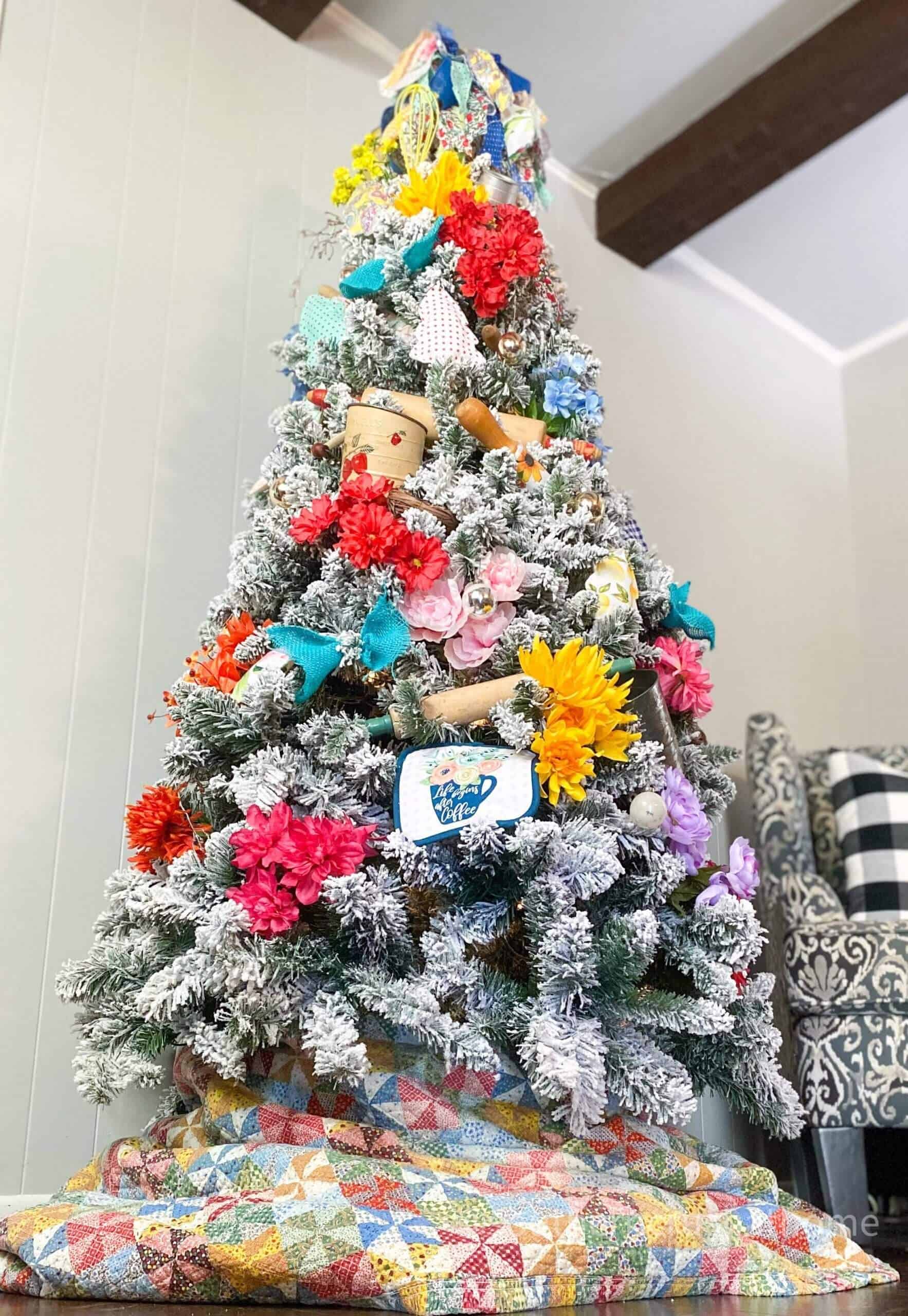 pioneer woman christmas tree decor ideas


If you love All Things Christmas, you need to join my FREE Christmas Group where we share new creative DIY ideas every single day!
other popular christmas tree themes
My movie theater themed Christmas tree has been feature several times as a unique and fun way to change things up with your Christmas decor. See how I decorated it HERE.
Gingerbread Man with a Candyland theme.
Nautical theme for those near the ocean or your beach house.
Disney themed trees are fun for kids.
The Grinch seems to always make the popular tree theme list. Some of these trees can be super creative.
Snowman trees are popular with a top hat as the tree topper. See my Dollar Tree version of this tree theme HERE.
Ombre trees are fun to create with various colored ornaments blending together.
Outdoor themes are beautiful with touches of nature throughout. Think pinecones, antlers, and wood slice ornaments.
Sports themes are great for avid sports fans. Pick your favorite team and create a Christmas tree showing off your spirit.
sign up for more diy ideas
If you love these kinds of DIY ideas, you need to be getting my emails, friend! Each week I send out a couple of emails that include updates, crafts, shopping experiences, and decor inspiration. Be sure to get yourself signed up below.