Dollar TREE Decorated CHRISTMAS TREE UNDER $50
Y'all know my favorite thing to do is inspire you to create & decorate a home you'll love—well, how about a Dollar Tree Christmas Tree for under $50?! I set out to decorate my Christmas tree on a budget mostly because I just love a good challenge, how about you? The white, flocked 7-foot Christmas tree was from Walmart and was purchased for $79. The super cute snowman hat tree-topper was also from Walmart for $9.99. The rest of the Christmas tree was decorated for under $50 using ribbon from JoAnn's & items from DOLLAR TREE. (my affiliate link is for Dollar Tree) See how I put everything all together here…
supplies for dollar tree decorated christmas tree
tips for using a flocked christmas tree
There were several lessons learned from this being my first year to have a flocked Christmas tree.
Don't wear a nice dark colored outfit while trying to put the tree together
Don't forget to "unstick" all of the flocked branches before you decorate
Don't let your black dog near the tree… see below
step by step
I started off with a neat little trick to make the tree appear taller by adding a cardboard box underneath the Christmas tree base. Surrounding the bottom, was a cute metal snowflake ring, but I quickly determined I wanted a softer look, so enter the tree skirt. Then I figured, what could be better than one tree skirt but TWO! This is where the TWO tree skirts idea came in! The bottom layer was an old bedspread my daughter decided she didn't want anymore and I failed to return, so we had it sitting in a linen closet; super-handy! The top layer was quilted, buffalo check fabric I snagged from JoAnn's and used my 40% off coupon which made it next to nothing! Score! See photos below.
Secondly, I chose which ribbons to use was the hardest part of the entire process, but adding the ribbon made the biggest impact and was super easy —y'all know I'm all about easy!
The decorative sprays and fun picks were all from Dollar Tree came next and really helped pull the tree together with lots of color pops!
The Dollar Tree signs were nice and bold statement pieces added throughout the tree. This was a first for me to add signs and I think I love️ it!
The topper was the show stopper for sure! In the past, we've had a star, a Grinch, and even a pretty mesh bow, but this year I went for something different to go with the new tree. Nothing says snowy flocked tree like a snowman, so a snowman top hat was the winner! This is the view of the top portion of the Christmas tree and a close up of the Dollar Tree signs that were tucked into the tree >>>
Last but not least, adding all of the new ornaments mixed in with the tried and true older ones finished off the tree perfectly! In fact, one of the ornaments added was the EMBROIDERY HOOP ORNAMENT that was super popular!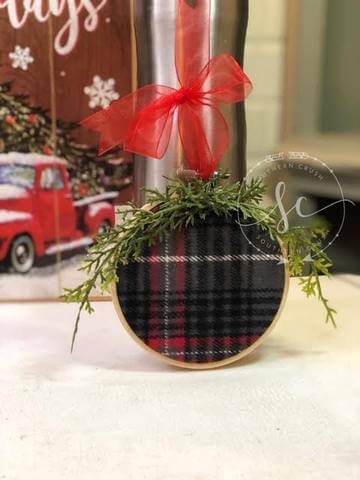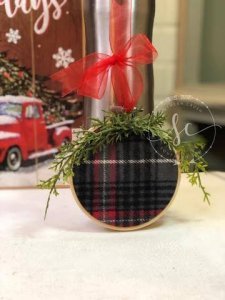 viola! my christmas tree decorated by dollar tree under $50~
I hope you're inspired and happy decorating a home you love for the holidays! IF you like Christmas projects on a budget, check out this super cute and easy post on Dollar Tree potholder pillows!
If you enjoy this kind of DIY project, you need to be getting my emails, friend! Each week I send out a couple of emails that include updates, crafts, shopping experiences and decor inspiration. Be sure to get yourself signed up below. I can't wait to meet you!
>>Leave your thoughts below in the comments please…BTW— Life is short—Enjoy the mess!
**P.S. Please join us over on our Facebook Page to see more fun projects "Live".