Easy Copycat Nothing Bundt Lemon Bundt Cake Recipe
This Copycat Nothing Bundt Lemon Bundt Cake recipe uses a simple lemon cake mix and tangy cream cheese icing! Even though it's my favorite… There's no real need to buy a dessert from Nothing Bundt Cakes now with this copycat cake recipe. It's an easy dessert to make and tastes just like the original!
Be sure to PIN this one for later!
Nothing Bundt Cakes is a bakery chain that makes the most delicious, dense, and moist cakes in a variety of flavors. They are always decorated with a thick, elegant layer of frosting. The lemon version is crisp with a decadent cream cheese frosting and my favorite, by far.
I live pretty near a Nothing Bundt Cakes location which can be a dangerous thing when all you want to do is order one of every bundt cake on the menu.
Thank goodness the nothing bundt cake lemon recipe from scratch is easy to make at home, especially if you use a lemon cake mix to keep things simple!
This blog post contains affiliate links. The opinions are wholly my own from my own experience. I may earn a small commission from clicks through to the websites that end in a purchase.
Using a Bundt Cake Pan
Cakes baked in a bundt pan look fancy but don't let them intimidate you. A bundt pan works like any other cake pan – it just has a hole in the center. You pour the cake batter in and bake just as you would with any cake recipe.
The only difference is that the bundt pan is flipped onto a plate or cake stand after baking. It must cook completely before frosting, like any other cake.

Can You Use Regular Cake Mix in a Bundt Pan?
Absolutely! Any cake can be made in a bundt pan. They are also great for baking monkey bread and creating fun jello molds. Your friends and family will think you are skilled in the kitchen when they see what you can create using a bundt pan.
Bundt pans make recipes look complicated when they couldn't be easier to use. Let the pan do all the work for you.
Choosing a Bundt Pan
Bundt pans can produce a smooth or intricately designed cake. You can use them for any cake recipe. The trick is to spray the inside of the pan thoroughly with baking spray before pouring in the cake batter.
A bundt pan can take your cake level up a notch with very little effort. Here are some of the best bundt pans, including my personal favorites below.

Lemon Bundt Cake Recipe with Cake Mix
Now that you have a bundt pan, gather the ingredients below and start baking using this nothing bundt cake's secret recipe!
Ingredients

for a Lemon Bundt Cake
1 lemon cake mix

(I like Duncan Hines)

1 – 3.4 oz instant lemon pudding mix

1 cup sour cream

4 large eggs

½ cup canola oil

¼ cup fresh squeezed lemon juice

¼ cup water
How to Make a Lemon Bundt Cake: Step-by-Step
Directions
Step 1 – Prepare Bundt Pan
Begin by preheating the oven to 350 degrees. Spray a 9-inch round bundt pan with baking spray.
Step 2 – Combine Ingredients
Using a stand mixer; beat the cake mix, pudding, sour cream, eggs, oil, lemon juice, and water until well combined. This will take about two minutes.
Step 3 – Pour in Bundt Pan
Pour the batter evenly into the bundt pan.
Step 4 – Bake
Bake in the oven for 45-55 minutes or until a toothpick comes out clean.
Step 5 – Cool Completely
Allow the cake to cool completely in the bundt pan. Once the cake is cooled, carefully run a knife around the edges to separate the cake from the pan.
Step 6 – Removing the Cake
Now place a plate on the top of the bundt pan, and holding the plate slowly flip both the bundt pan and plate over. If the cake doesn't completely release from the pan, gently tap the bottom.
Wrap the cooled cake tightly in plastic wrap and store it in the fridge overnight.
Decorating a Bundt Cake
The cream cheese icing looks elegant, but it's not hard to decorate this lemon bundt cake.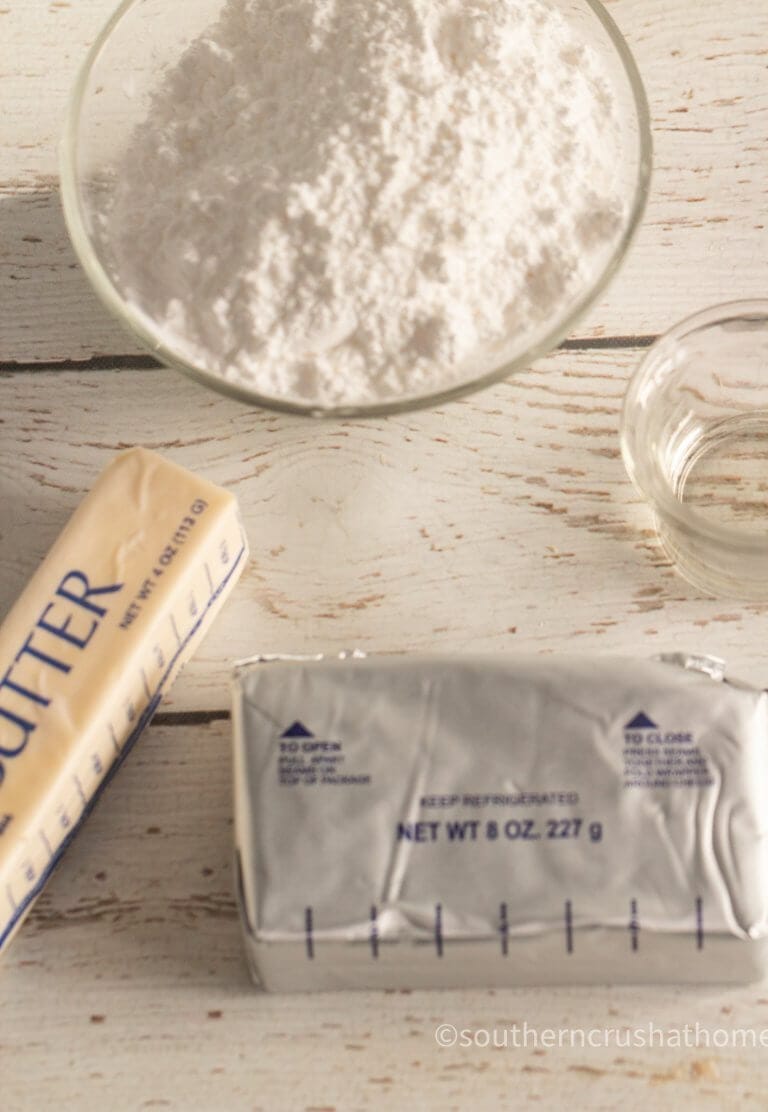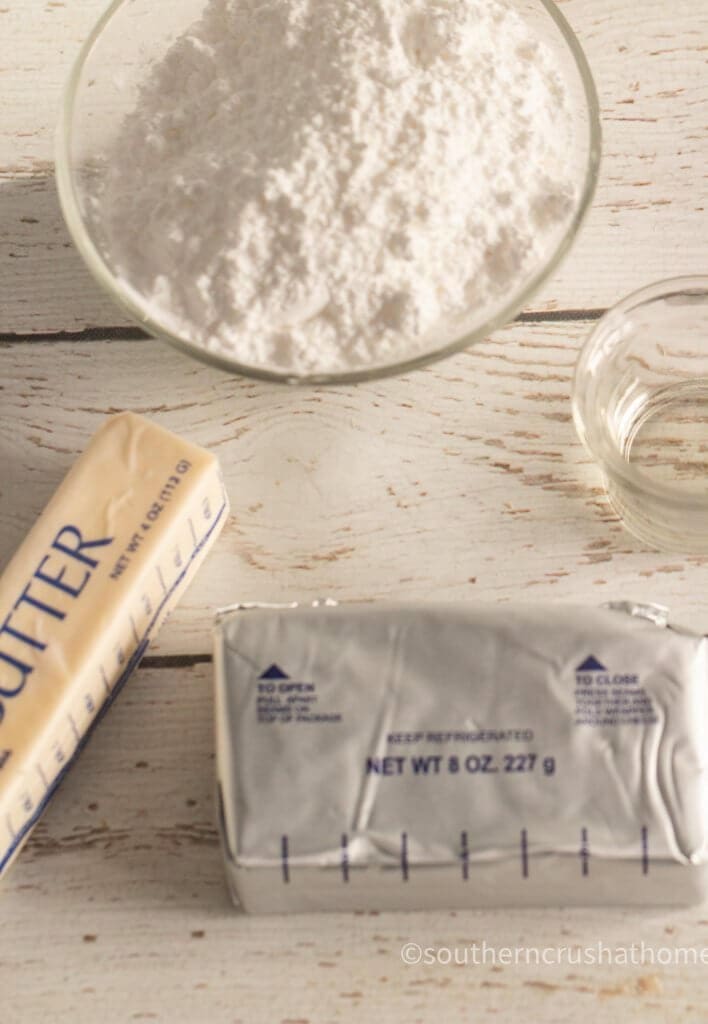 Easy
Cream Cheese Frosting
1 – 8 oz cream cheese, room temperature
¼ cup unsalted butter softened
2 1/2 cups powdered sugar
1 tsp pure vanilla extract
1 disposable piping bag or ziplock. bag
How to Make
Cream Cheese Frosting
The cream cheese frosting is as easy to make as the cake itself. Just toss all the ingredients into a stand mixer, and you're ready to frost!
Step 1 – Combine Ingredients
Using a standing mixer, beat all ingredients until combined and smooth.
Step 2 -Prepare Piping Bag
Scoop cream cheese frosting into a piping bag. Cut the tip off the piping bag.
Step 3 – Pipe Frosting
Pipe frosting onto the lemon bundt cake using a back-and-forth motion.
Cut into slices and enjoy!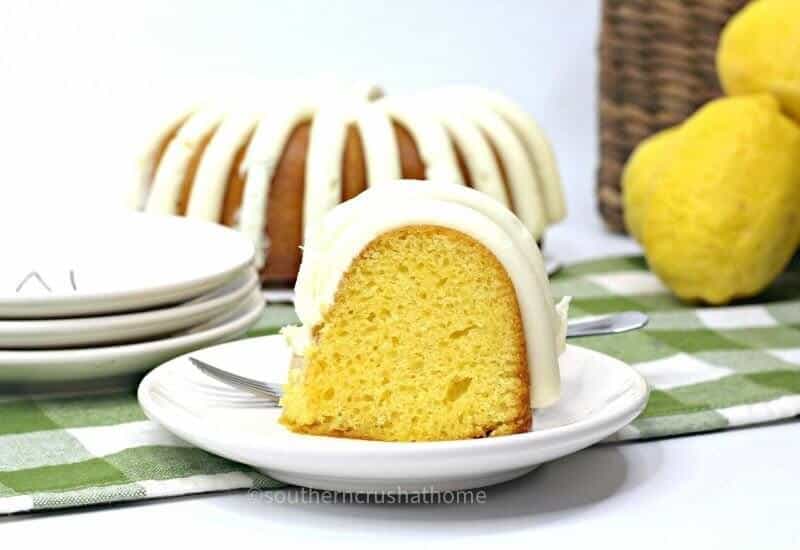 If you want smaller portions like the famous nothing bundt cakes lemon bundtlet, use this same recipe but try baking it in a cupcake pan instead.
You may also like to try my version of the Copycat Nothing Bundt Cake Red Velvet Cake below. It's just as amazing and delicious!
Can You Freeze Bundt Cake?
Dense bundt cakes can be made ahead of time and frozen before without frosting. Let the cake completely cool, wrap it in plastic wrap, then a layer of aluminum foil before putting it in the freezer.
Using the Saran Wrap layer will keep the lemon cake moist until you are ready to use it. To defrost the cake, set it on the counter in the morning to serve your lemon bundt cake that evening.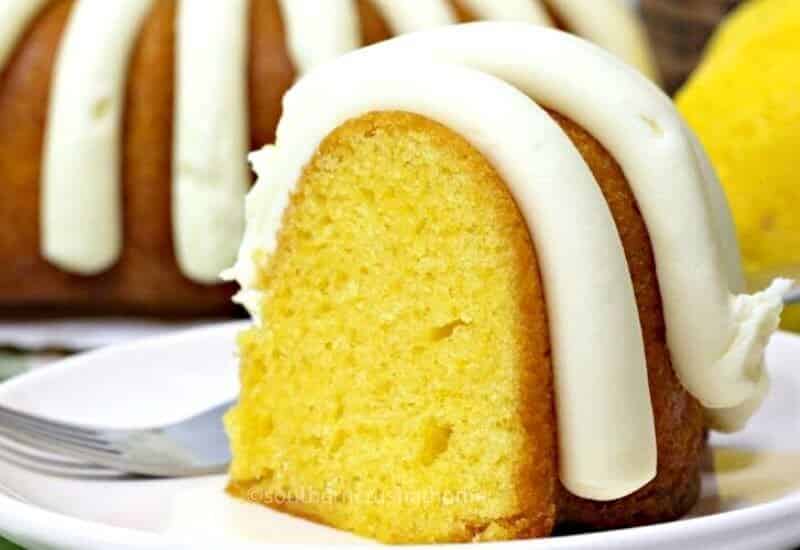 How to Make Lemon Bundt Cake with Pudding
This copycat nothing bundt cake lemon bundt cake is made with lemon-flavored pudding. It's a fabulous idea to add a box of your favorite complimentary pudding mix to any cake you want to give a richer, more moist texture and flavor. My favorites are lemon (of course), vanilla, strawberry, chocolate, and butterscotch!
Other Cake Recipes You May Love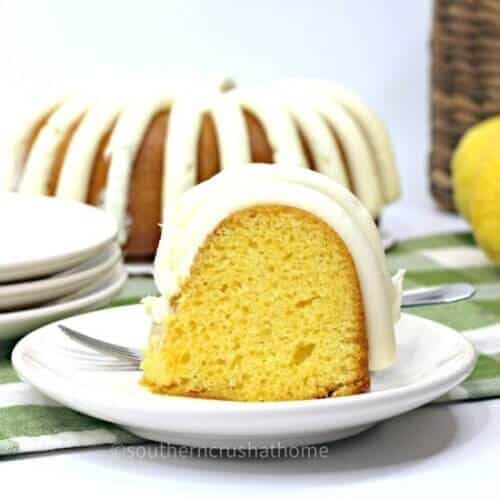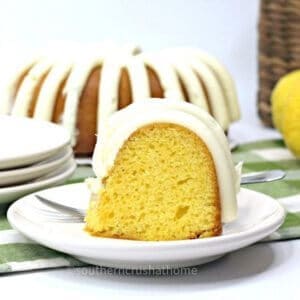 Best Lemon Bundt Cake (Nothing Bundt Cakes Copycat Recipe)
Even thought it's my favorite… there's no need to buy a dessert from Nothing Bundt Cakes with this Lemon Bundt Cake copycat recipe. It's an easy dessert to make using a lemon cake mix and it has the best tangy cream cheese icing!
Equipment
spatula

Ziploc Bag

scissors
Ingredients
1

lemon cake mix

1 – 3.4

oz

instant lemon pudding mix

1

C

sour cream

4

Lg eggs

½

C

canola oil

¼

C

fresh squeezed lemon juice

¼

C

water
Easy Cream Cheese Frosting
1

8 oz

cream cheese, room temperature

¼

C

unsalted butter, softened

2 ½

C

powdered sugar

1

tsp

pure vanilla extract

1

disposable piping bag
Instructions
Preheat oven to 350 degrees and spray a 9inch round bundt pan with pam baking spray

Using a standing mixer, beat the cake mix, pudding, sour cream, eggs, oil, lemon juice and water until combined

Pour the batter into the bundt pan

Bake in the oven for 45-55 minutes or until a toothpick comes out clean

Allow to cool completely

Place into the fridge overnight
Cream cheese frosting directions
Using a standing mixer, beat all ingredients until combined and smooth

Scoop into the piping bag

Pipe onto the frosting onto the bundt cake
Nutrition
Calories:
238
kcal
Carbohydrates:
34
g
Protein:
2
g
Fat:
11
g
Saturated Fat:
2
g
Polyunsaturated Fat:
2
g
Monounsaturated Fat:
5
g
Trans Fat:
1
g
Cholesterol:
8
mg
Sodium:
279
mg
Potassium:
34
mg
Fiber:
1
g
Sugar:
14
g
Vitamin A:
90
IU
Vitamin C:
1
mg
Calcium:
83
mg
Iron:
1
mg