The Most Popular Dolly Parton Cake Mixes & Where To Buy Them
We all love Dolly and that's why I'm so excited to share with you some of the most popular Dolly Parton cake mixes that are now available. She has recently partnered with Duncan Hines to bring at-home bakers a line of Southern-inspired cake mixes and frostings to create delicious cakes with just a few ingredients. Whether you're a fan of classic vanilla or want to try something new, there's something for everyone!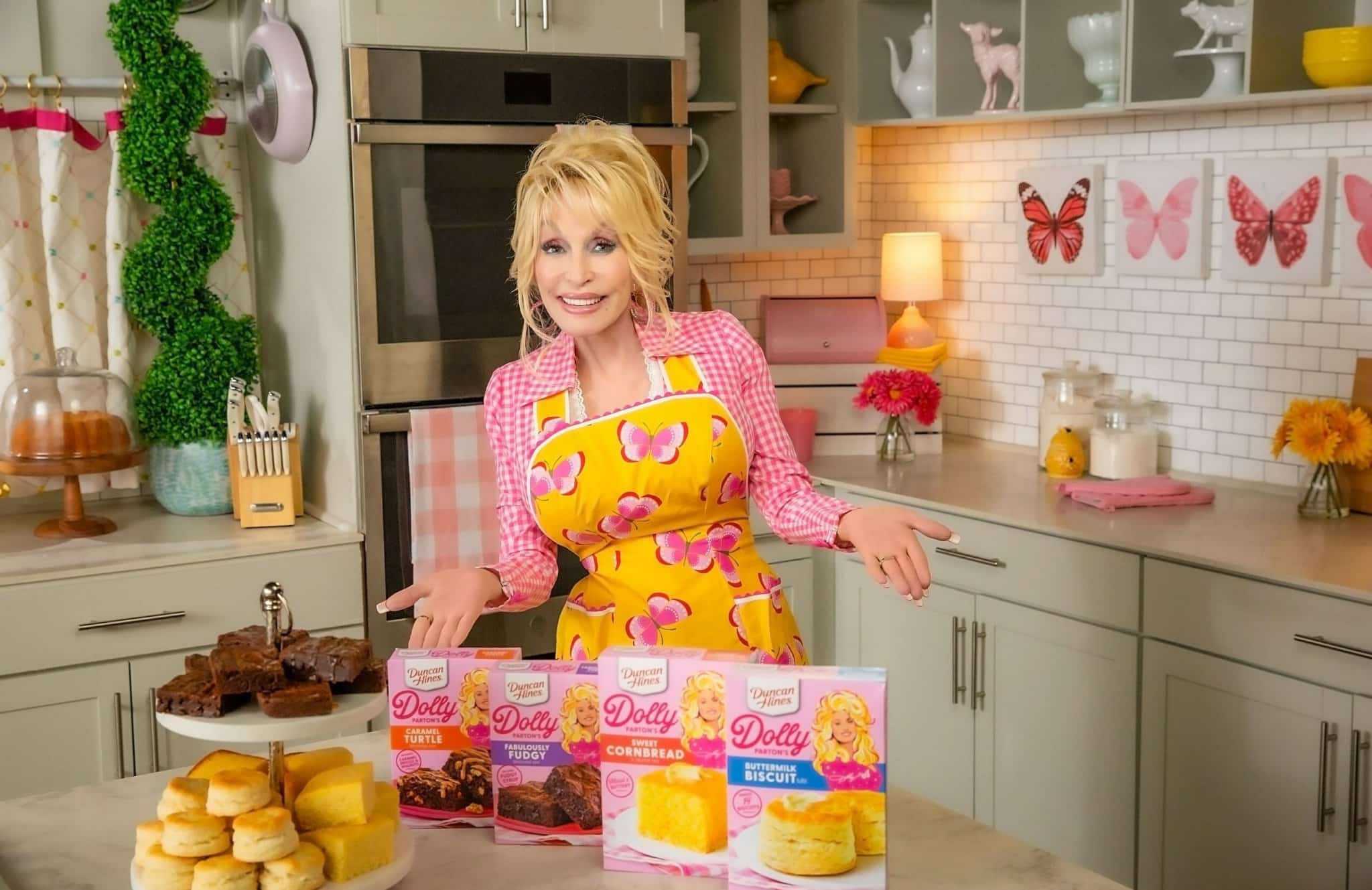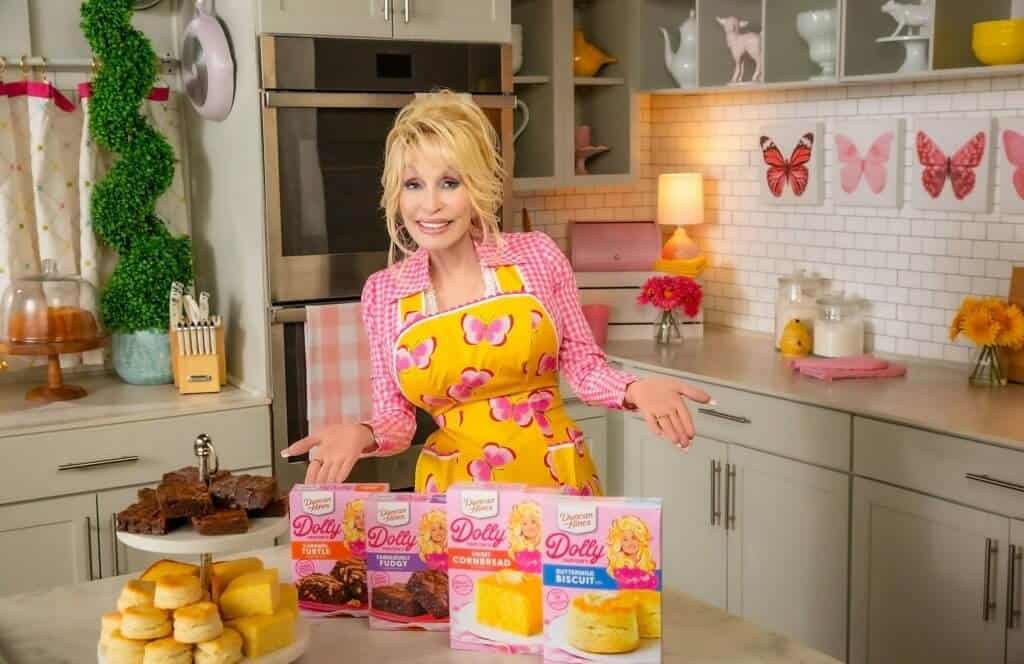 You no longer need to work "9 to 5" to create Dolly Parton-inspired cakes and other baked items when you get home. These just might be good enough to keep "Jolene" from stealing your man. Ha!
This blog post contains affiliate links. The opinions are wholly my own from my own experience. I may earn a small commission from clicks through to the websites that end in a purchase.

Check out my latest LIVE Video below where I share with you my favorite Cake Pans!
Dolly Parton's Cake Mixes – Here's Where to Buy Them!
Dolly Parton's cake mixes are the best around, and here's where you can buy them. They're available on Amazon Prime—which means you can get 'em delivered straight to your door in two days or less!

Dolly Parton Duncan Hines Cake Mix Flavors
These southern-style cake mixes by Duncan Hines come in all sorts of different flavors. In fact, there is a whole new line of baking mixes like Dolly Parton cornbread mix, Dolly Parton Biscuit Mix, and even Brownie Mix!
These classic cake mix flavors will transport you straight to Grandma's kitchen! No matter what kind of cake you're looking for, I promise there's one that will fit the bill!
Dolly Parton Banana Cake Mix: This southern-style mix is easy to make and has a delicious, distinctive banana flavor. By adding just a few simple ingredients, you can whip up a batch of cupcakes or an entire cake in no time. You can find this mix at Walmart or on Amazon below.

If you love all things banana, try these yummy recipes, too!
Dolly Parton Coconut Cake Mix: If you're looking for a decadent dessert, this cake mix is a perfect choice. It calls for help from sweetened coconut flakes and two other simple staples you will most likely already have on hand, milk and butter. Mmmmm! Make this cake today and tell me how it turns out in the comments below.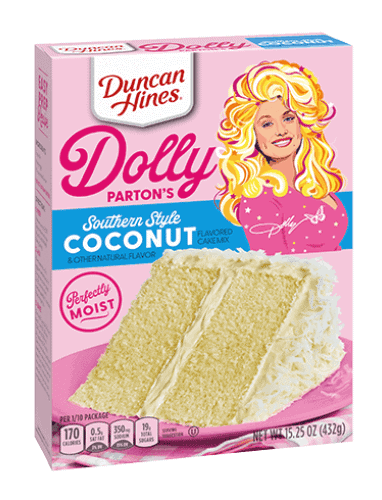 If you love coconut, you may also like this popular and super Easy Pioneer Woman Ambrosia Salad Recipe.

Don't forget the frosting! While homemade frosting and icing are the best, there is nothing wrong with getting a little help from Duncan Hines; especially with today's busy schedules.
Dolly Parton Chocolate Buttercream: A chocolate lover's dream come true! This chocolatey mix is moist and flavorful, making it the perfect base for all kinds of desserts.
Dolly Parton Creamy Buttercream: This classic buttercream frosting goes great on both of Dolly's cakes making it a sure win! Rich and delicious vanilla-flavored buttercream is ready to top your cake or your cupcakes.

No matter which flavors you choose, I guarantee that you won't be disappointed with any of these delicious cake mixes and frostings!
With just a few simple ingredients, you can have yourself a delicious treat in no time at all. So head on over to Amazon or Walmart and pick up one of these delicious Dolly Parton cake mixes today! I know y'all will love them as much as I do.
Dolly Parton Baking Collection
In addition to the individual cake mixes, there are also new baking mixes.
COMING SOON is an all-inclusive kit that includes a Dolly-inspired, collectible tea towel, spatula, and recipe cards, that are only available in the kit. Dolly Parton's Baking Collection can be purchased while supplies last. The kit includes:
Dolly Parton's Buttermilk Biscuit Mix
Dolly Parton's Sweet Cornbread & Muffin Mix
Dolly Parton's Fabulously Fudgy Brownie Mix
Dolly Parton's Caramel Turtle Brownie Mix
Collectible "What Would Dolly Do?" tea towel & spatula
Collectible recipe cards for some of Dolly's favorite recipes (all featured on pack as well):

Cheddar Chive Biscuits
Jalapeno Cornbread
Pecan Brownies
Peanut Butter Brownie Skillet Sundae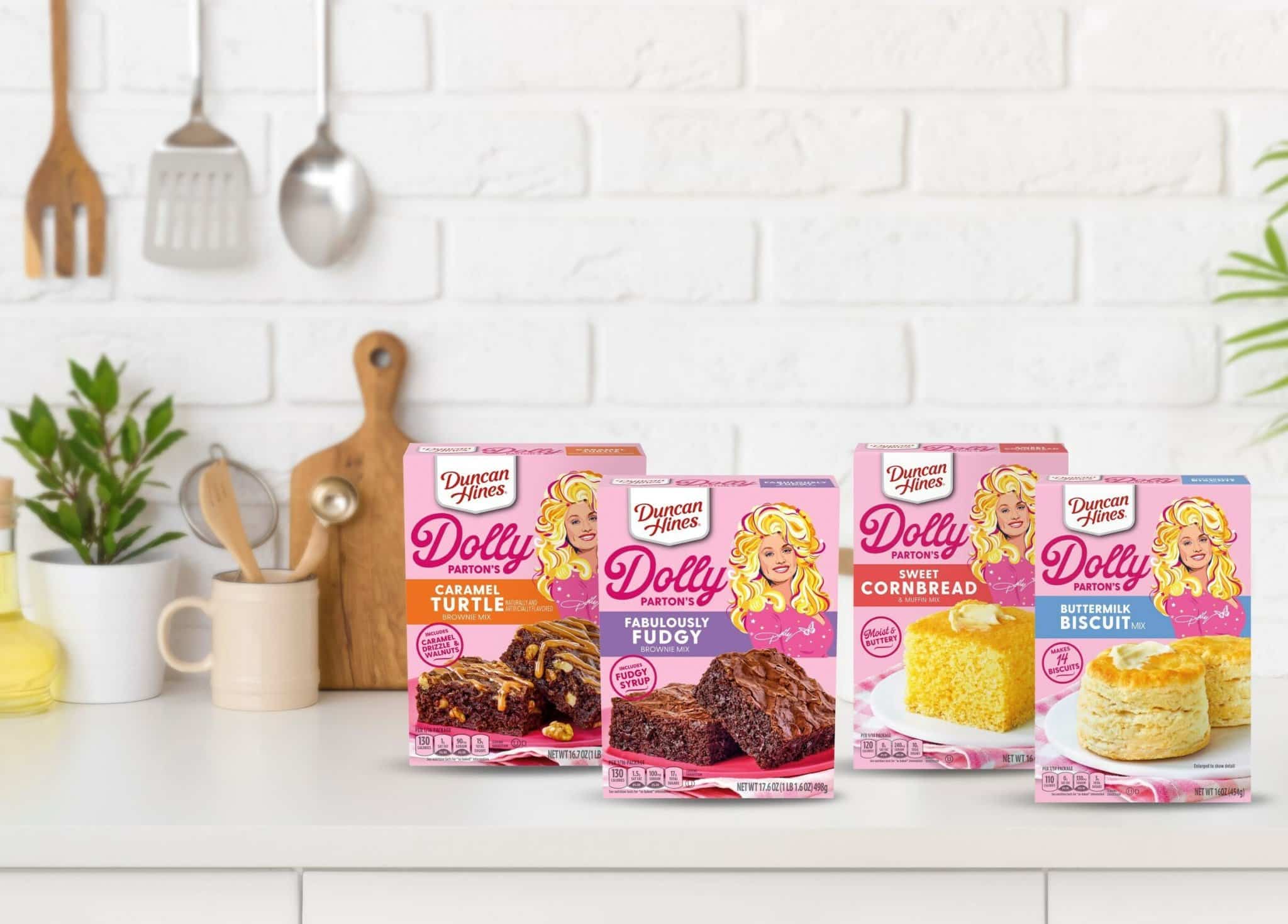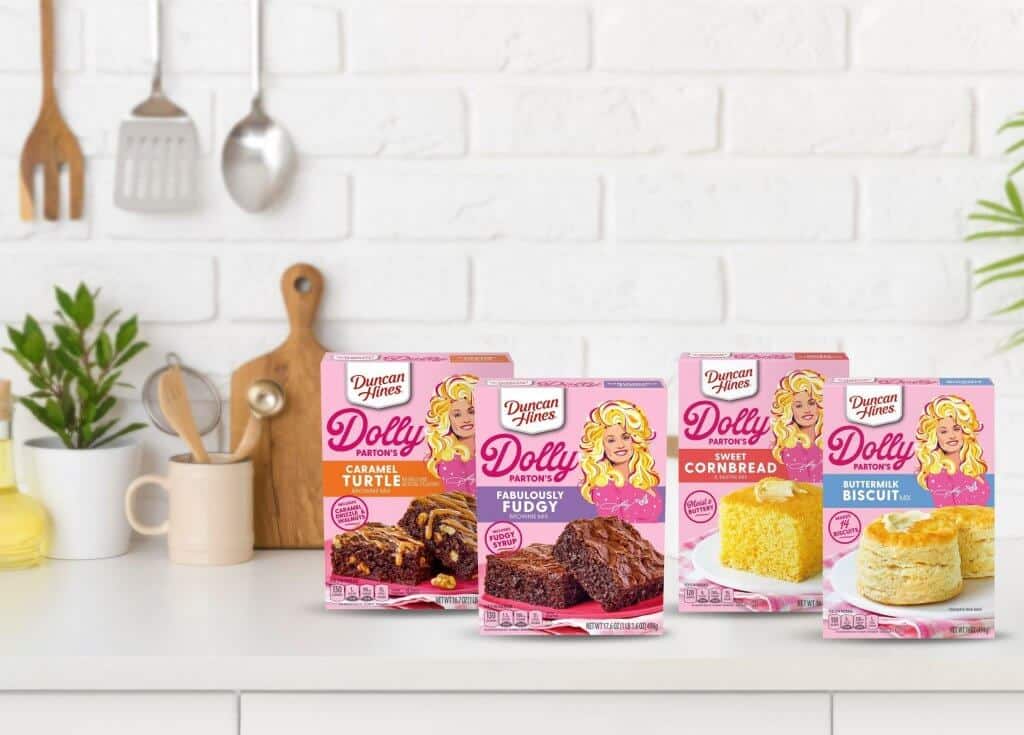 So there ya go—now you know why Dolly Parton's cake mixes are the best around, and where to buy 'em! Whether it's for a special occasion or just for fun, my delicious cakes are sure to put a smile on everyone's face (and stomachs!). So why wait? Get baking with Dolly Parton today!