Easy Thrift Store Pitcher Makeover
This clay pitcher was an amazing thrift store find that did not disappoint! When I saw it just sitting there on the shelf, I knew immediately the size was exactly what I wanted, the shape was just right, and the colors, well, I knew they would definitely not work for my space. But I had an idea. Thanks to a little spray paint and bling, that this floral pitcher was super easy thrift store makeover!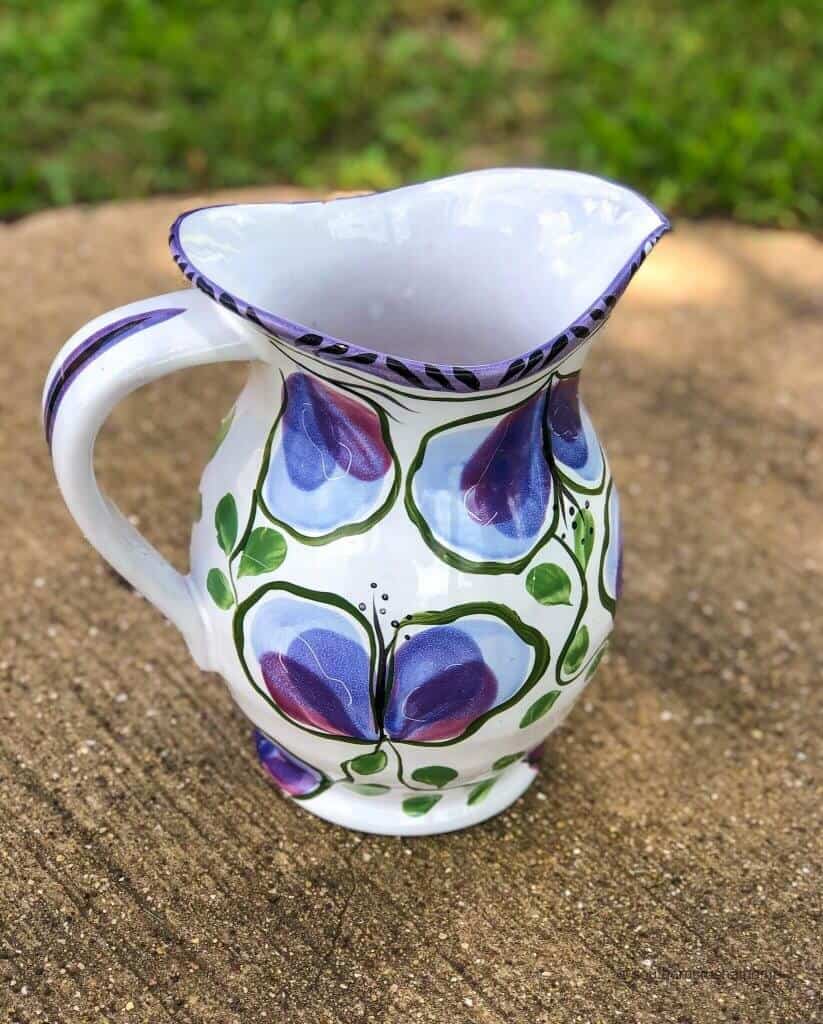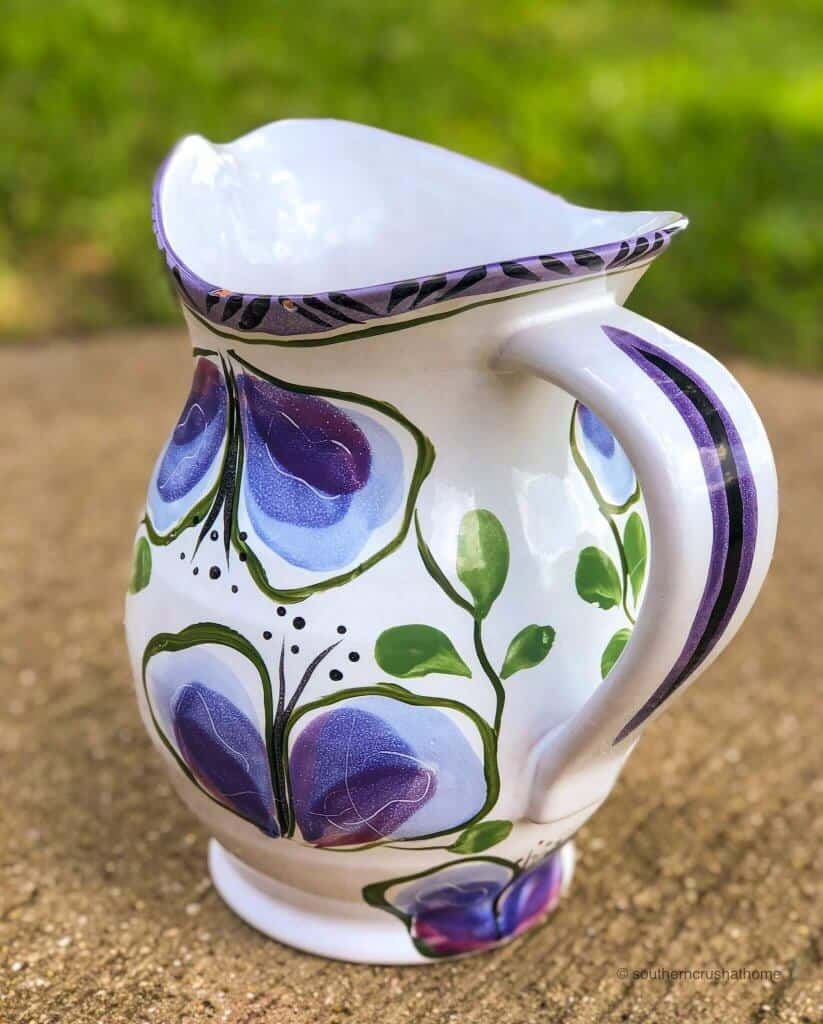 On the day of the project, it was sunny, which is preferred when painting outside. There was a breeze, too, which can prove to be a blessing as much as a curse when painting. While it helped to dry my project a little faster, it also made the bugs that flew in its path stick to my paint. I have no tips for avoiding this from happening apart from painting inside a garage or making a tent? It's just part of it I guess…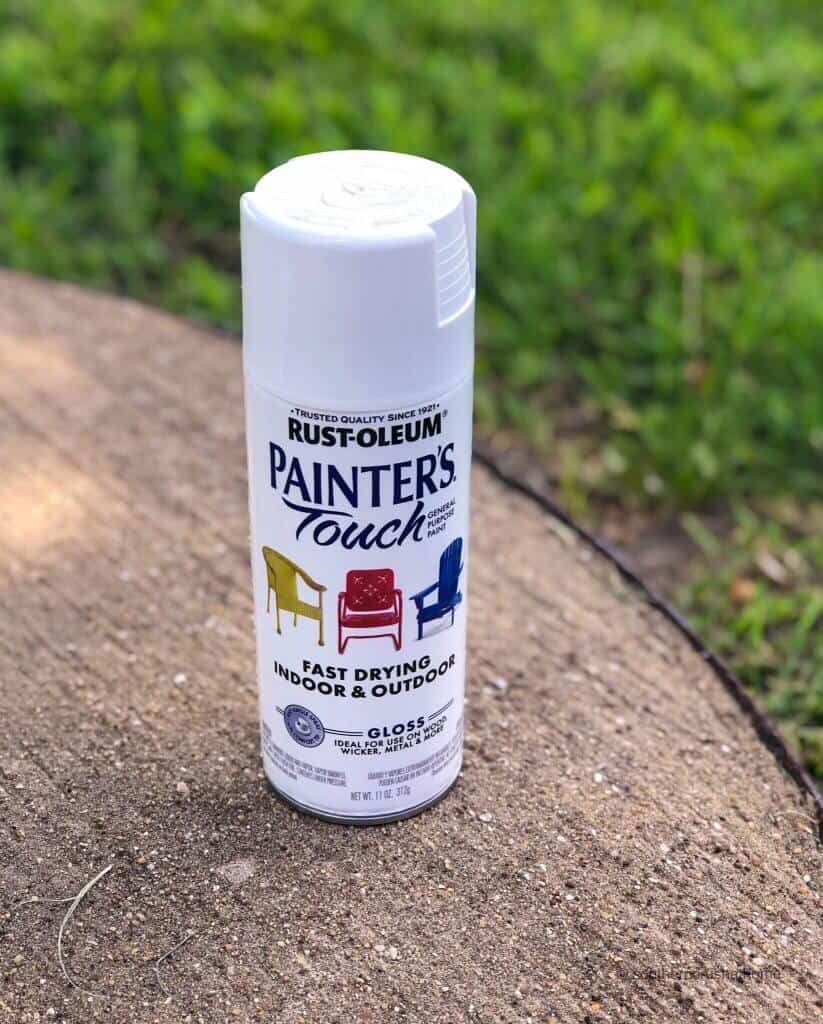 Spray Paint FOR EASY MAKEOVER
is truly the only supply you need for this project, other than your vintage vase or favorite, not favorite piece to be painted. I used Rust-Oleum Painter's Touch Spray Paint in Glossy White that was made for indoor and outdoor projects. I loved the color and it provided solid coverage. It was wonderful!
DIY TIP: I used a piece of wax paper underneath the pitcher so that it wouldn't stick TO THE SURFACE after painting it.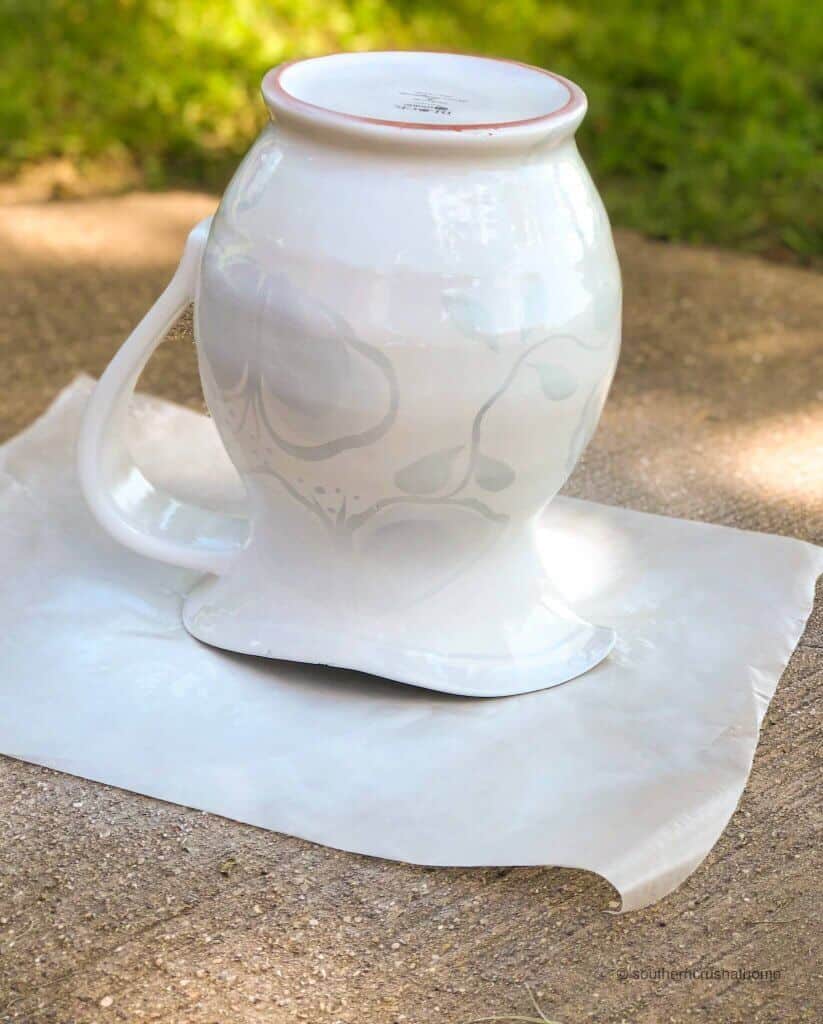 Step by Step THRIFT STORE MAKEOVER
Clean your piece and then let it thoroughly dry. This is important for the paint to adhere correctly to your piece. It's hard to be patient, but it really needs to be completely dry.
Spray paint your piece using short, light passes and several coats, letting each coat dry in between. Again, your patience is tested, but it's important for each coat to dry before adding the next in order for there to be a smooth looking finished piece.
Decorate if desired with ribbon, twine, or even your favorite bling
Display with or without greenery, twigs, or flowers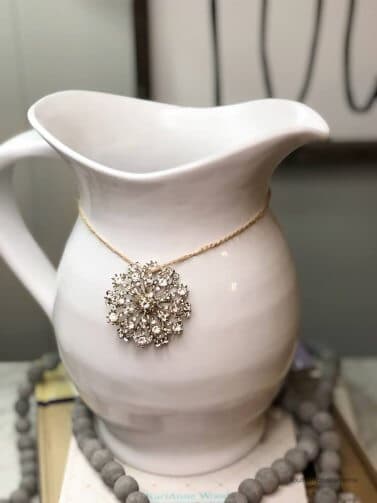 Here is an "up-close" picture of the BLING!!!!
You could easily use any embellishment you wish; ribbon, robe, bandana, necklace, or even leave it plain and it would still look beautiful and fresh.

Now My THRIFT STORE pitcher is oh So Pretty again!
This project was super easy and only took a few breaks during an afternoon to complete. This easy DIY makeover would actually work for any piece you have laying around that needs to be freshened up or giving new life. Look at that piece with a new perspective before you toss or donate it. It may just need a quick can of spray paint and some patience.
This is one way that I used the new pitcher! I added some branches from my yard that I spray painted and hot glued yellow flowers on! Super cute for Spring.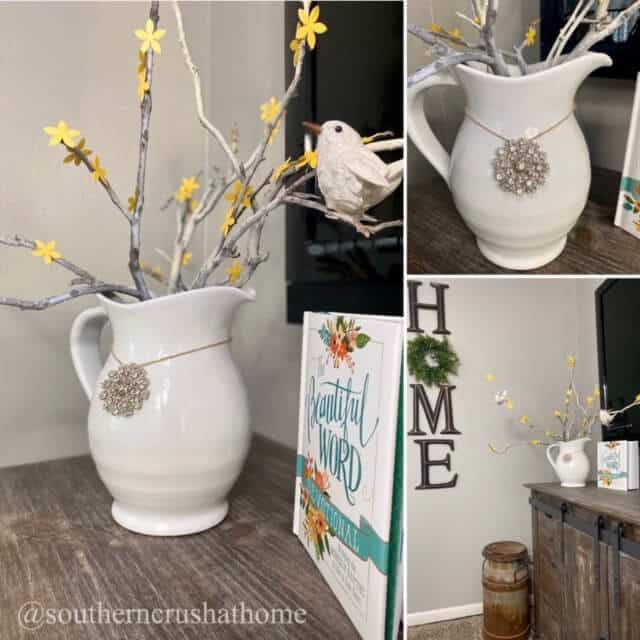 >>>Y'ALL BE SURE TO PIN THIS PROJECT FOR LATER!<<<
I love how this thrift store find turned out! It's on display in my home on a stack of books and looks as if it always belonged there. Speaking of books, one of my favorite projects Hand-Stamped Book Decor DIY with Bling Tassels used old books I had lying around.
If you love this kind of DIY project, you need to be getting my emails, friend! Each week I send out a couple of emails that include updates, crafts, shopping experiences and decor inspiration. Be sure to get yourself signed up below. I can't wait to meet you!
>>Leave your thoughts below in the comments please… BTW— Life is short—Enjoy the mess!
**P.S. Please join us over on our
Facebook Page
to see more fun projects "Live".