How to Make Blue Pumpkins (using Marble Spray Paint)
Navy blue pumpkins are trending and using some marble spray paint, you can easily transform a regular dollar store pumpkin into a beautiful blue one in just a few minutes.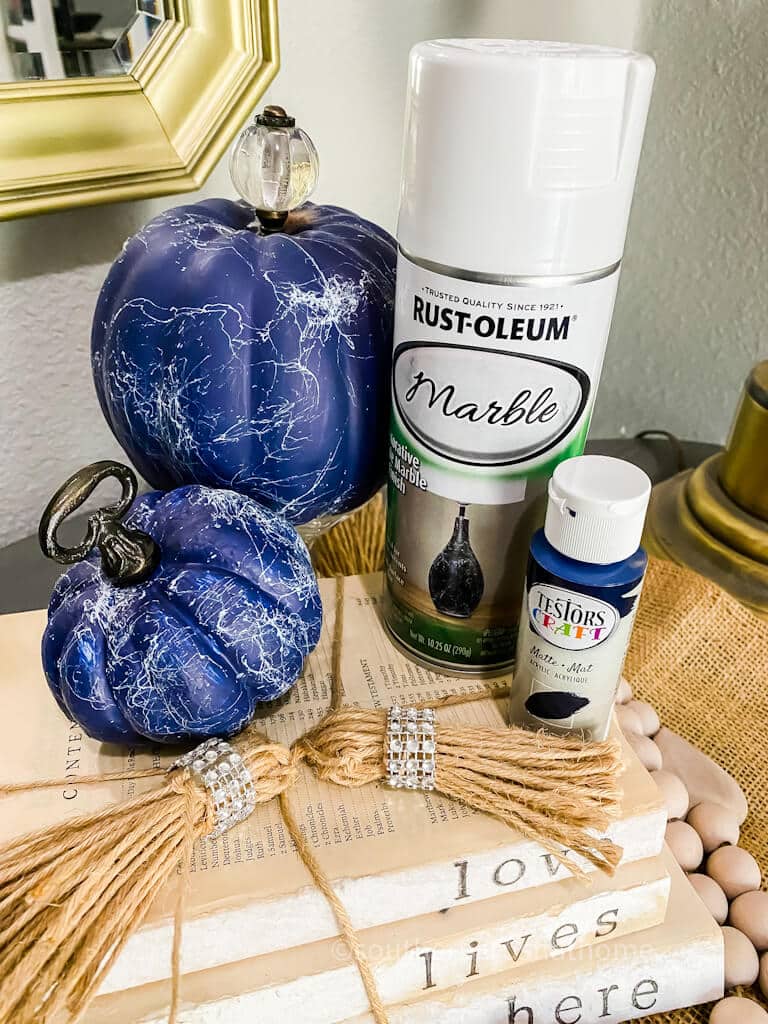 Rust-Oleum® Marble spray paint creates a marble effect in just minutes! This unique spray paint mimics the look of marble veining with a raised webbing-like texture.
You will fall in love with the look of these amazing blue pumpkins with a touch of white. They are the perfect complement to all kinds of decor.
This blog post contains affiliate links. The opinions are wholly my own from my own experience. I may earn a small commission from clicks through to the websites that end in a purchase.
I love fall because it's a time when the leaves change color and the weather gets cooler. It's also a great time to cozy up your home with some fun fall decorating ideas.
One of my favorite blue fall decorating ideas is to paint some pumpkins blue. You can either paint the entire pumpkin blue or use this fun marble paint effect on top. Either way, it'll look great as part of your fall decoration.

Why You'll Love Marble spray paint:
Imitates the look marble veining
Requires no primer
Comes in black or white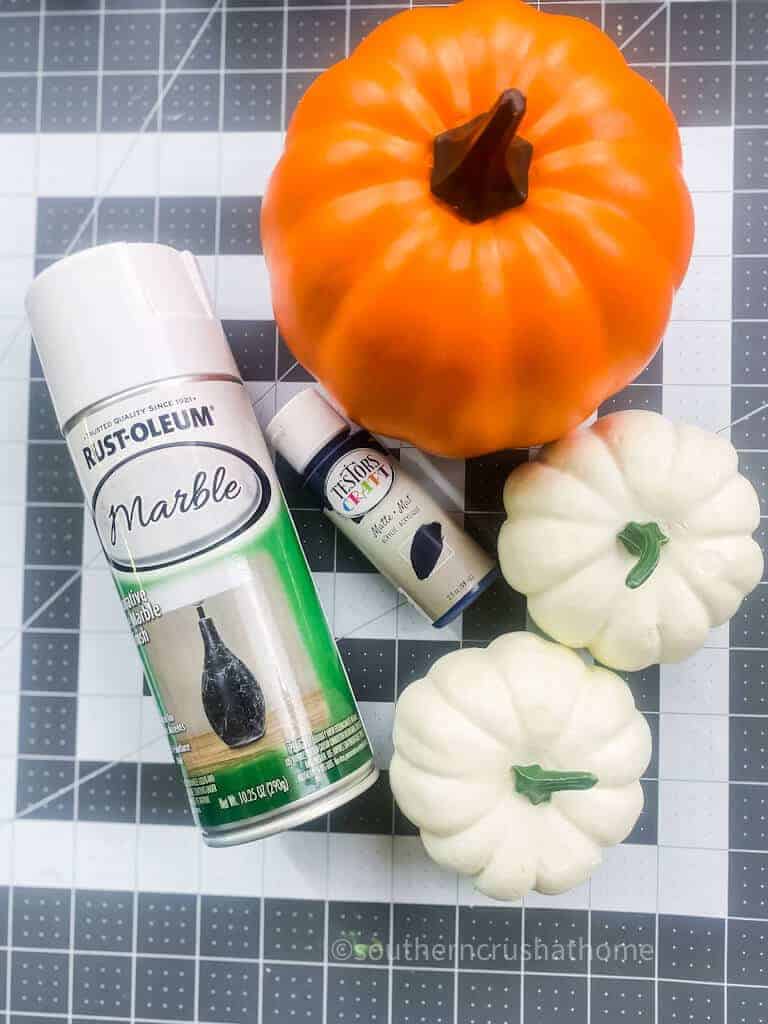 What You'll Need to Make Blue Pumpkin Decor:
Assorted sizes of Dollar Store pumpkins
Rust-Oleum® Marble spray paint in the color white
Cardboard or something similar (to create a barrier)
Foam brush
Optional knobs to replace stems
Dough bowl to display the finished pumpkins
How to Make Blue Pumpkins
If you're looking for a fun and easy way to update your fall decor, consider painting dollar store pumpkins blue! This budget-friendly project is quick and easy to do, and it adds a pop of color to any space. Plus, who doesn't love a good dose of blue during the autumn months?
Step by Step Video Tutorial
If you prefer to see a video tutorial sharing how to make blue pumpkins using marble paint, check out my YouTube video below.
First, start by making sure your plastic pumpkins are clean and dry. Then begin painting them blue with the foam brush.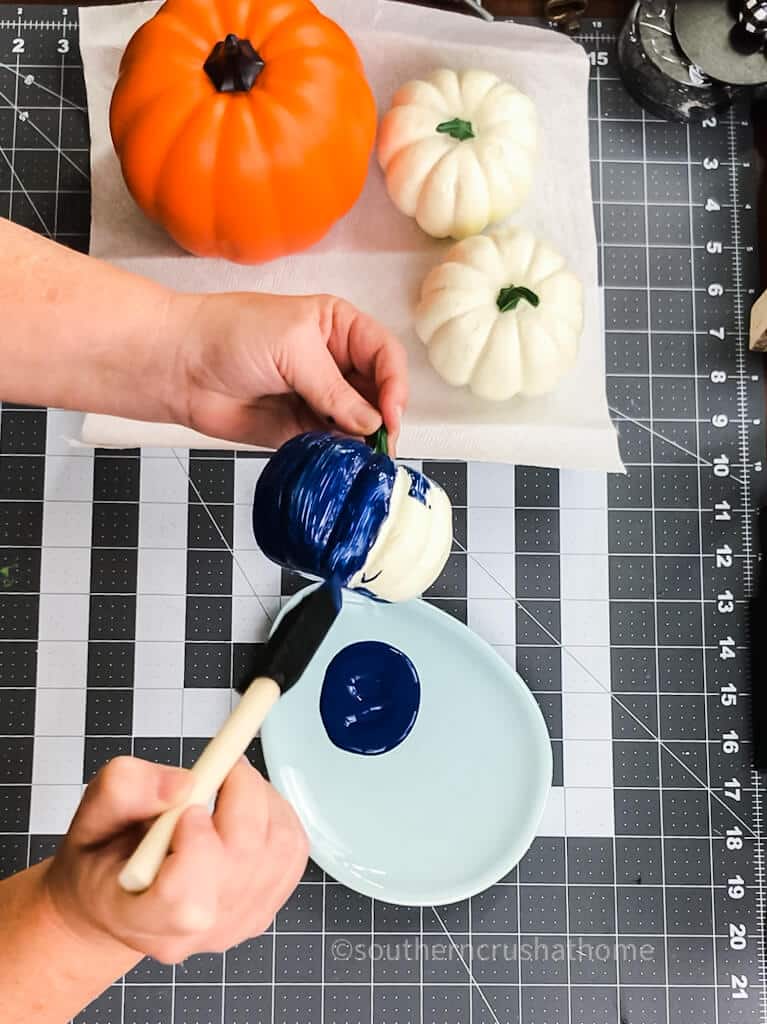 The brighter orange pumpkins may take at least two coats of paint drying in between. I used a heat gun on low from a distance to dry mine faster.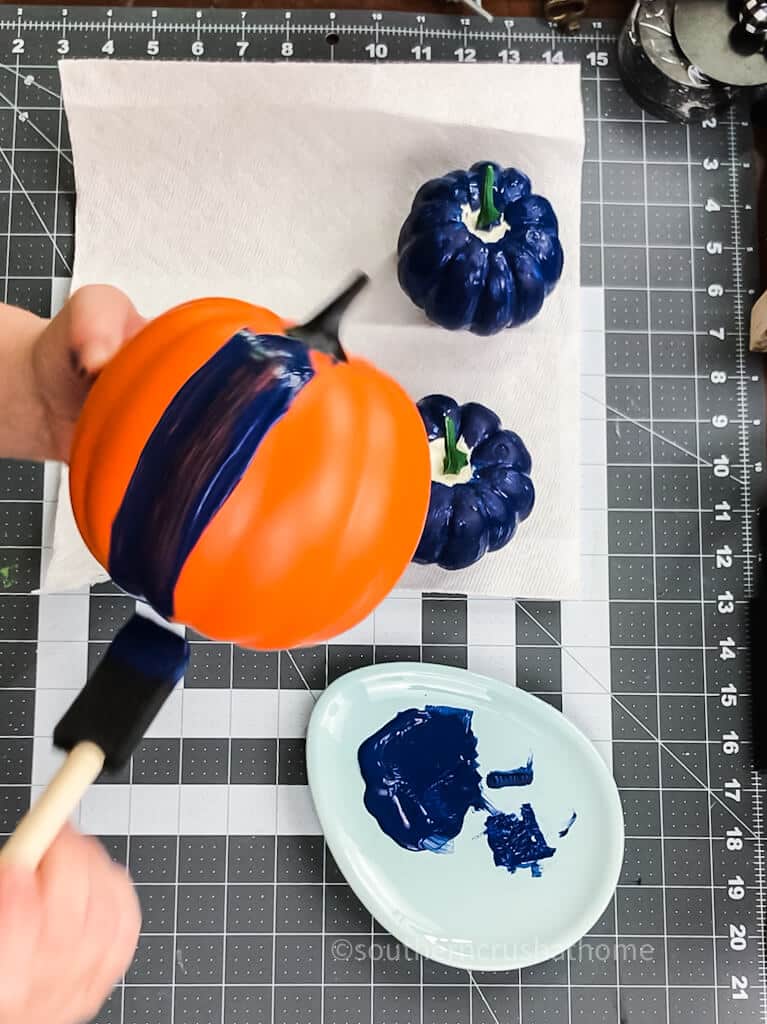 Remove the pumpkin stems and add chopsticks to the holes to create a way to hold your pumpkins.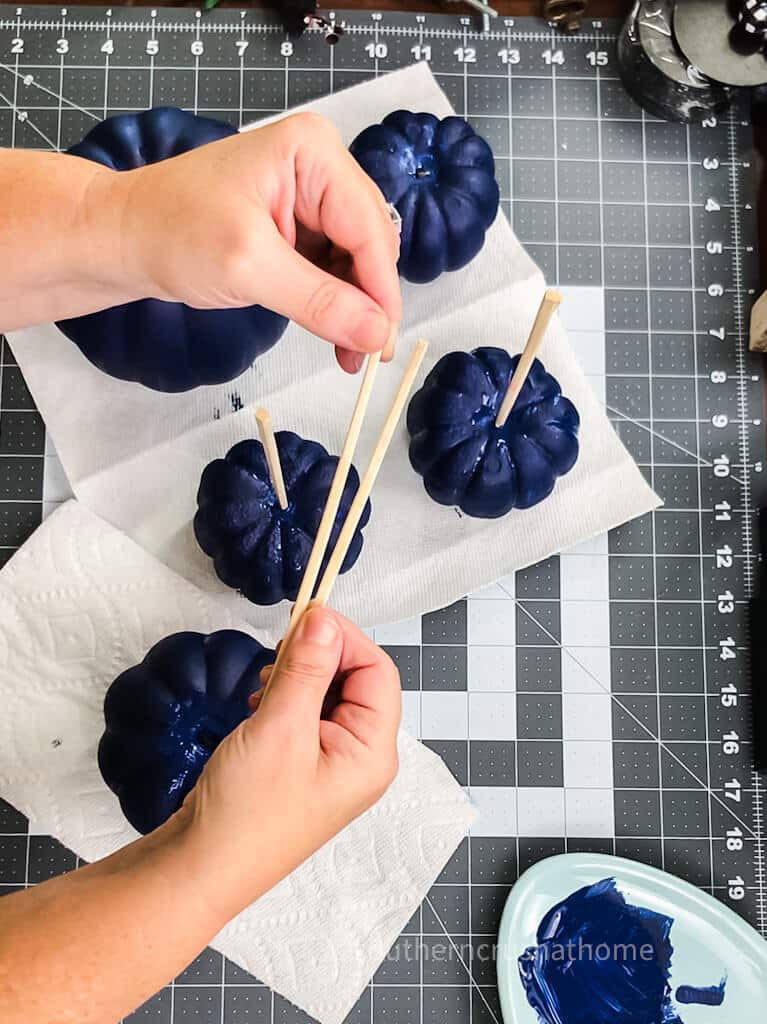 Then, using a piece of cardboard or something similar, create a barrier around the pumpkin that you don't want to get paint on. Next, shake up the can of marble spray paint and then hold it about 12-14 inches away from the pumpkin as you start spraying. Work in even strokes, making sure to cover the entire pumpkin.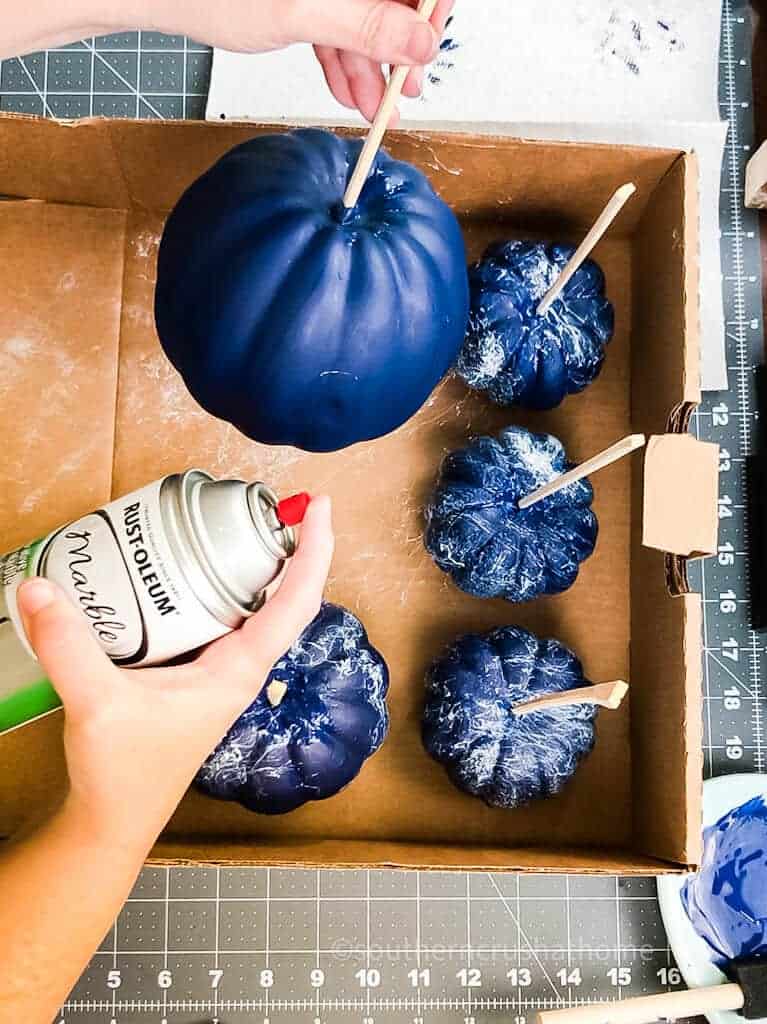 Once the pumpkin is evenly coated, set it aside to dry for about an hour. Replace the chopsticks with the cute knobs and that's it!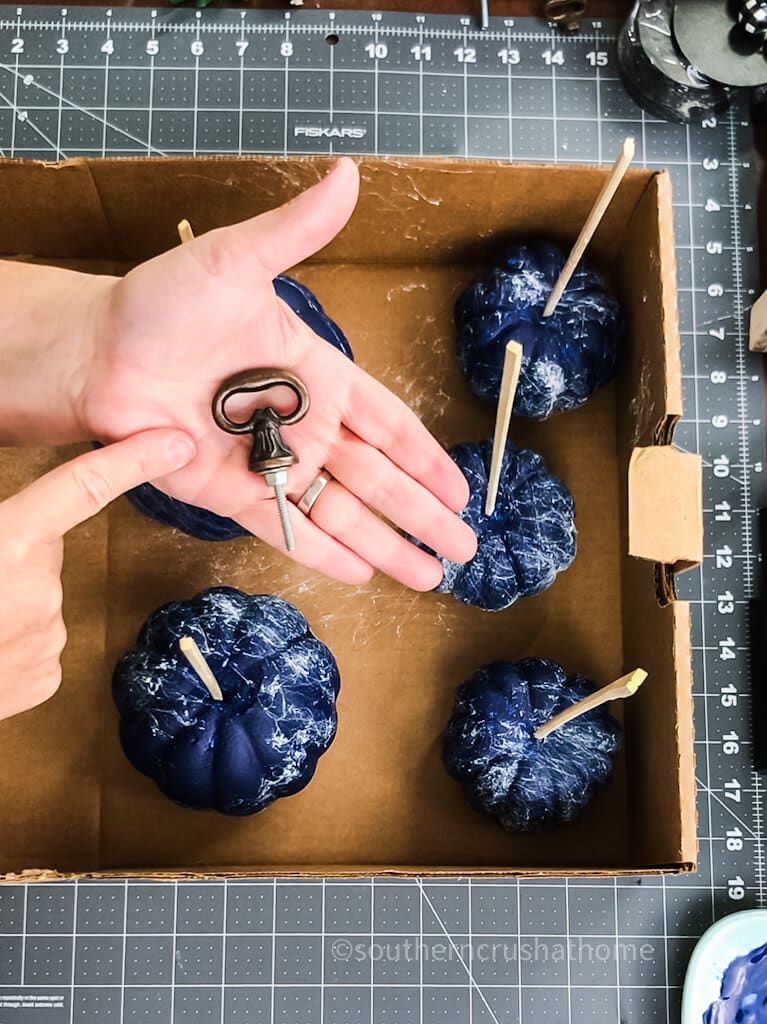 You now have a beautiful blue pumpkin that is perfect for fall decorating.
I added mine to a large round dough bowl by creating layers. Starting with these faux burlap leaves as a base.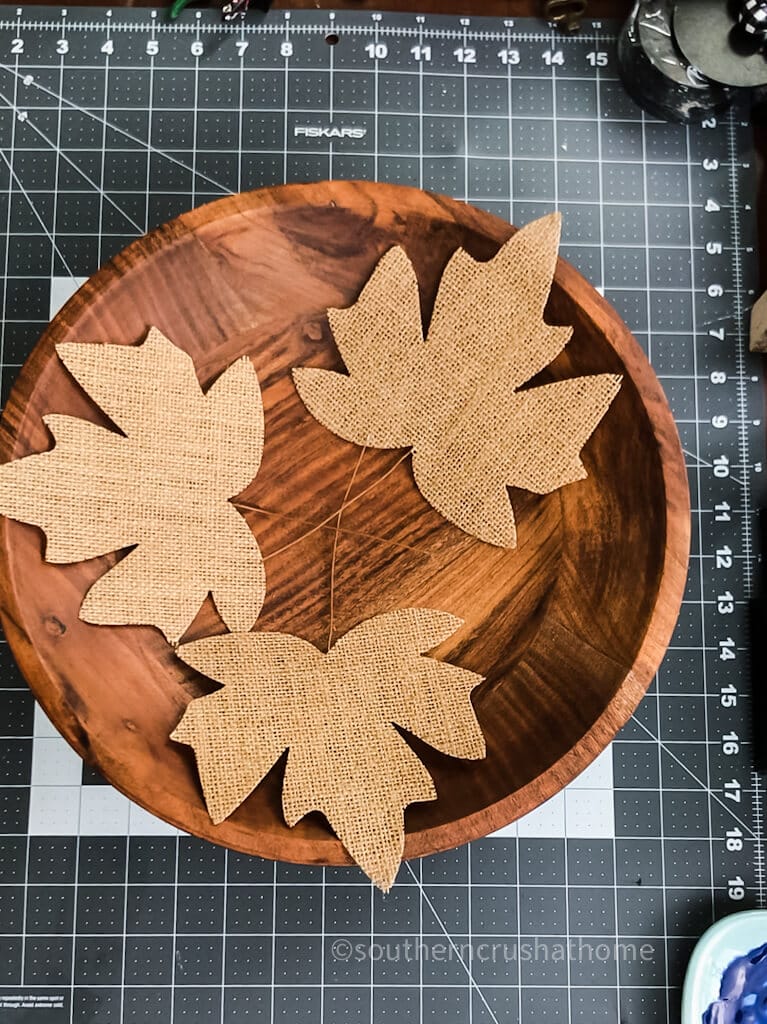 Next I added a glass candlestick from Dollar Tree to the bottom of my blue pumpkin to add height.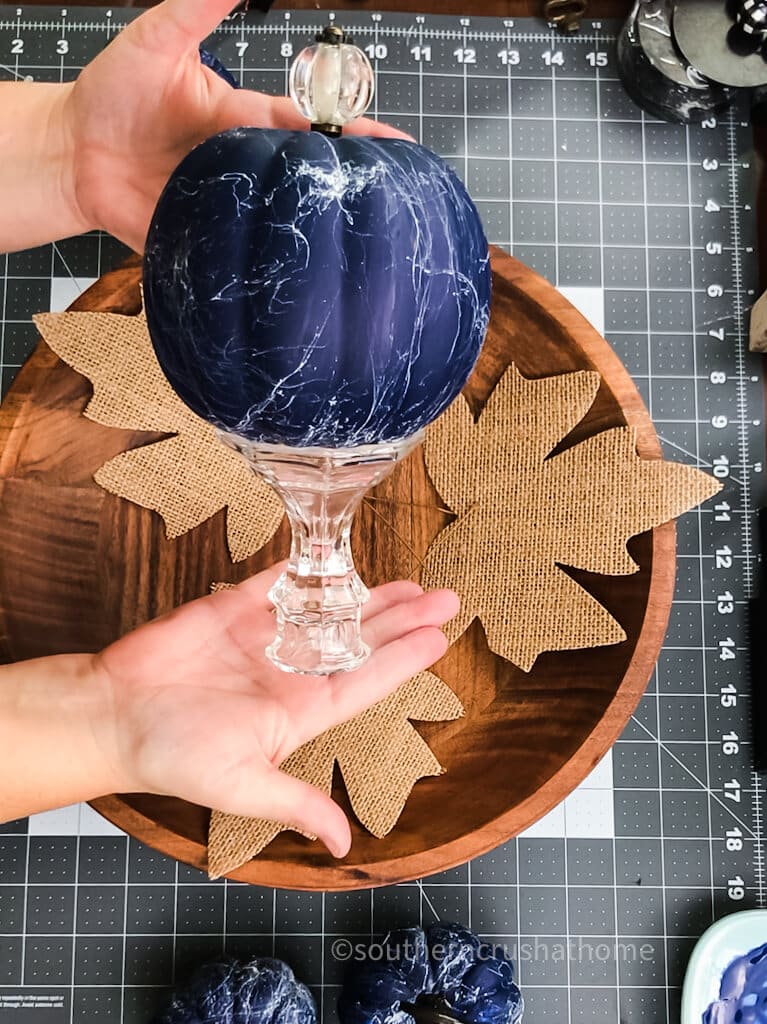 I tucked a few white pumpkins along with a wood bead garland into the bowl to add interest and contrast.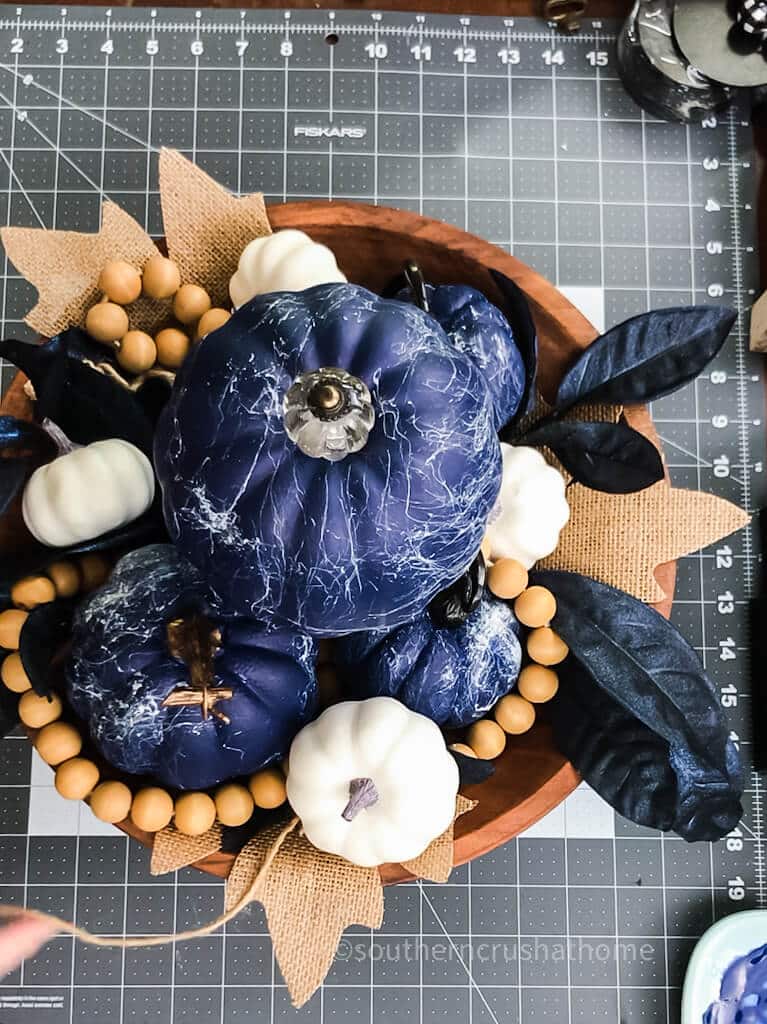 Finish off the dough bowl display with some wood sola flowers and pampas grass for a fun "boho" look.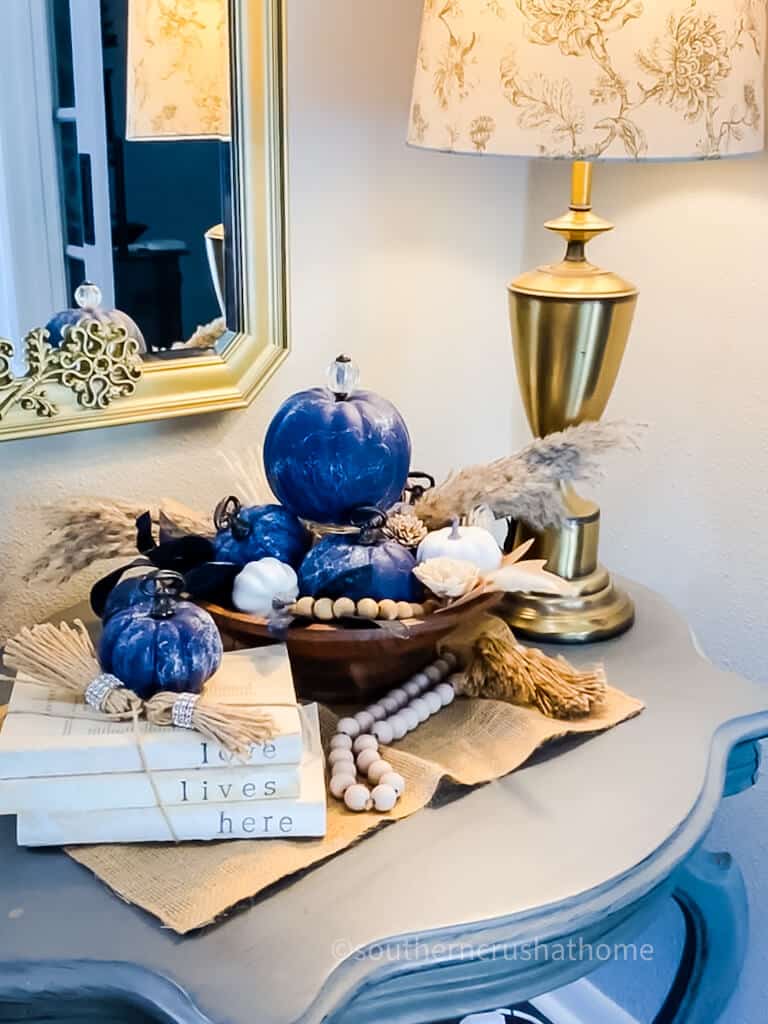 Pumpkin decor is the perfect way to add a touch of autumn to your home, and blue pumpkins are a beautiful and unique twist on the classic fall decoration. You can easily make blue pumpkins using marble spray paint, and they make a great addition to any fall display.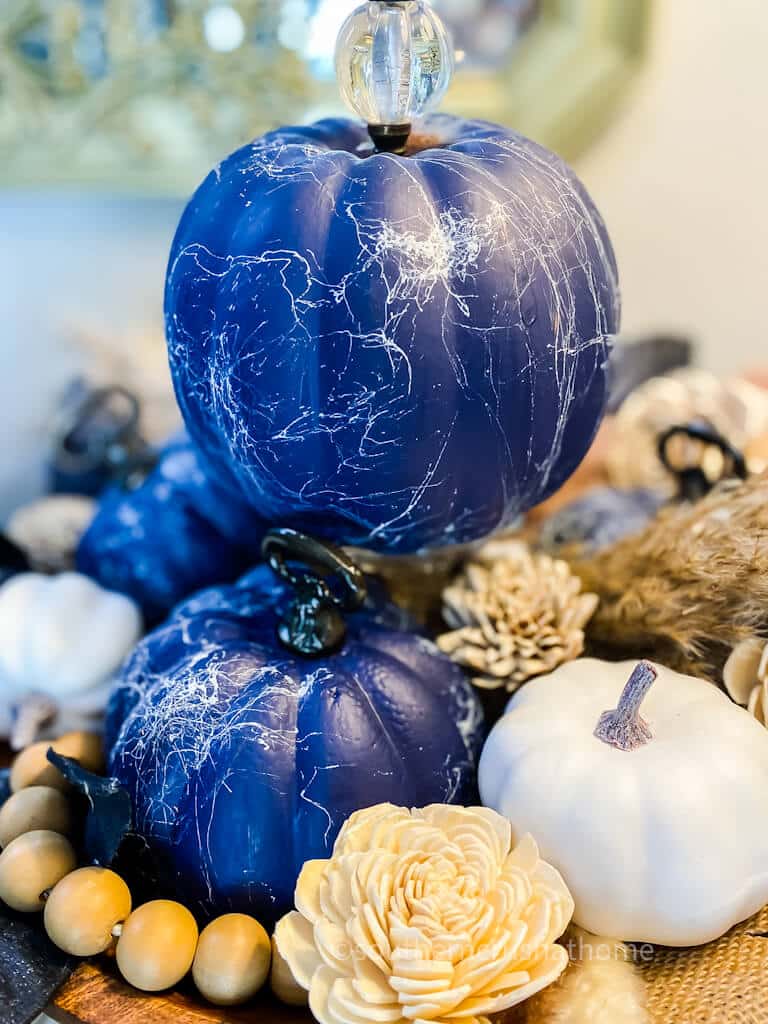 Ways to Display Blue Pumpkins:
-On an entry table to wow your guests as they enter your home (that's where mine is)
-In a Fall centerpiece on your dining room table
-On a mantel or shelf in your living room
-Set inside a built-in cabinet as part of a Fall-themed display
No matter how you choose to display your blue pumpkin, it's sure to add a touch of fun and whimsy to your home this Fall.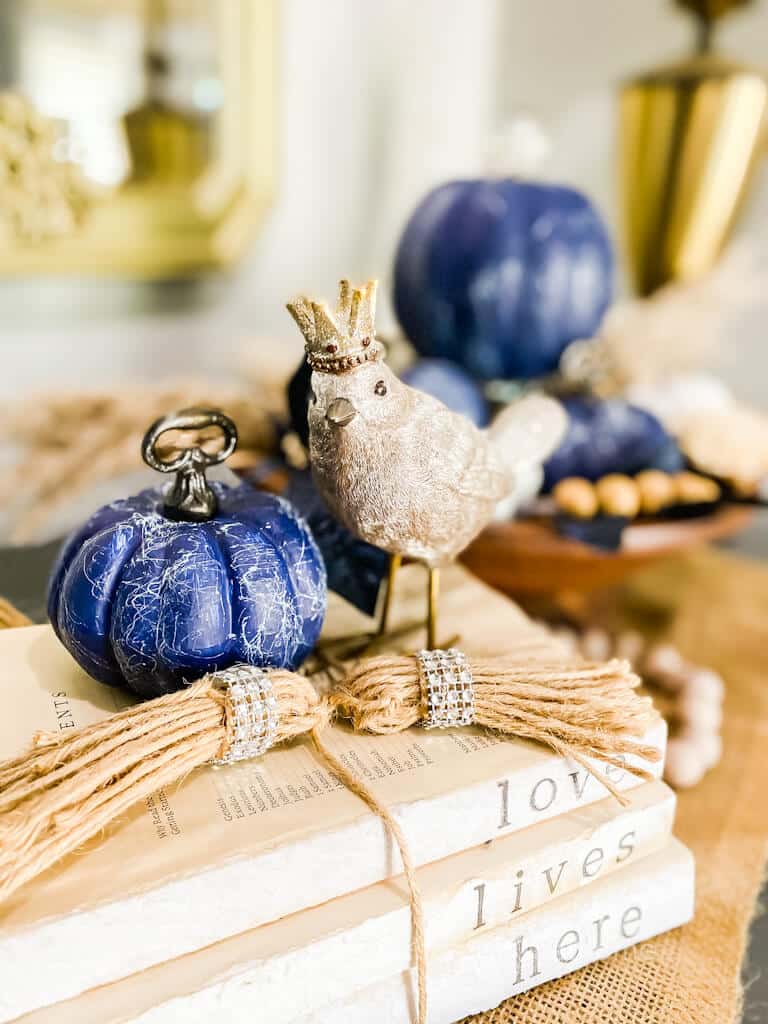 More Fall Decorating Ideas
1. Bring the outdoors in
One of the simplest ways to get into the autumnal spirit is to incorporate natural elements into your decor. Gather some fallen leaves, acorns, and pinecones to create beautiful, seasonal displays. Arrange these items in bowls or vases, or use them to create centerpieces for your dining table. You can also use them to decorate your mantel or shelves.
2. Incorporate warm colors
As the leaves start to change color, take inspiration from nature and incorporate warm tones into your home décor. Think earthy yellows, oranges, and reds. These colors will make your space feel cozy and inviting.
3. Bring in cozy textures
Autumn is the perfect time to add some cozy, warm textures to your home décor. Swap out light, breezy fabrics for heavier materials like wool or velvet. You can also add blankets and throws to your furniture to make it feel extra cozy.
Faux Pumpkins like these are synonymous with autumn, so it's only fitting that you incorporate them into your fall decorating. Carve them into jack-o'-lanterns, or use them as decorations for your mantel or table. You can even paint them or cover them in glitter to add some extra sparkle to your space.
Set the tone for autumnal gatherings by creating a festive fall tablescape like this one. Incorporate seasonal colors and textures, and use fall leaves as part of your decoration. You can also add gourds, pumpkins, and acorns to your tablescape for a truly seasonal look.
6. Add some autumnal artwork
Update your wall décor by adding some seasonal artwork. Look for pieces that feature fall colors or themes, such as leaves, pumpkins, or acorns. You can also find prints and posters with festive quotes about autumn.
7. Use candles to create ambiance
Candles are a great way to create a warm, inviting atmosphere in your home. And there's no better time to use them than in the autumn months. Choose candles with fall scents, such as pumpkin spice or cinnamon, to fill your space with the aromas of the season. You can also opt for unscented candles and add your own essential oils to them. See my list of ways to make your home smell like fall HERE
8. Swap out your light fixtures
If you want to give your home a whole new look for fall, consider swapping out your light fixtures. Go for warm-toned table lamps or floor lamps to create a cozy atmosphere. You can also add string lights around your windows or in your garden to give your space a festive look.
9. Get creative with pumpkins
Pumpkins don't just have to be carved into jack-o'-lanterns—you can get creative with them and use them in all sorts of ways. Paint them, cover them in glitter, or use them as vases for fall flowers. You can even hollow them out and use them as bowls for snacks or candy.
10. Make your own wreath
Wreaths like this one are a classic fall decoration, and they're relatively easy to make yourself. All you need is a base (you can use a store-bought one or make your own out of wire or straw), some fake leaves, and a hot glue gun. Simply attach the leaves to the base until it's covered, and voila! You have a beautiful, homemade wreath.
11. Decorate your front door
Make a great first impression by decorating your front door for fall. Hang a fall wreath like this one or garland, or add some seasonal décor to your porch or stoop. You can also put out a welcome mat with a festive design.
12. Bring in fresh flowers
Fresh flowers are always a welcomed addition to any home, and they're especially lovely in the autumn months. Look for flowers that are in season, such as chrysanthemums, and arrange them in a vase or pitcher. You can also add some greenery, berries, or acorns to your arrangement for a pop of color.
13. Make your own fall-themed porch sign
Welcome guests to your home with a fall-themed porch sign like this one. You can either buy one or make your own using a piece of wood, some paint, and some stencils. Simply paint your design onto the wood, and then add your desired text with the stencils. Hang it up on your front door or porch for a warm, inviting touch.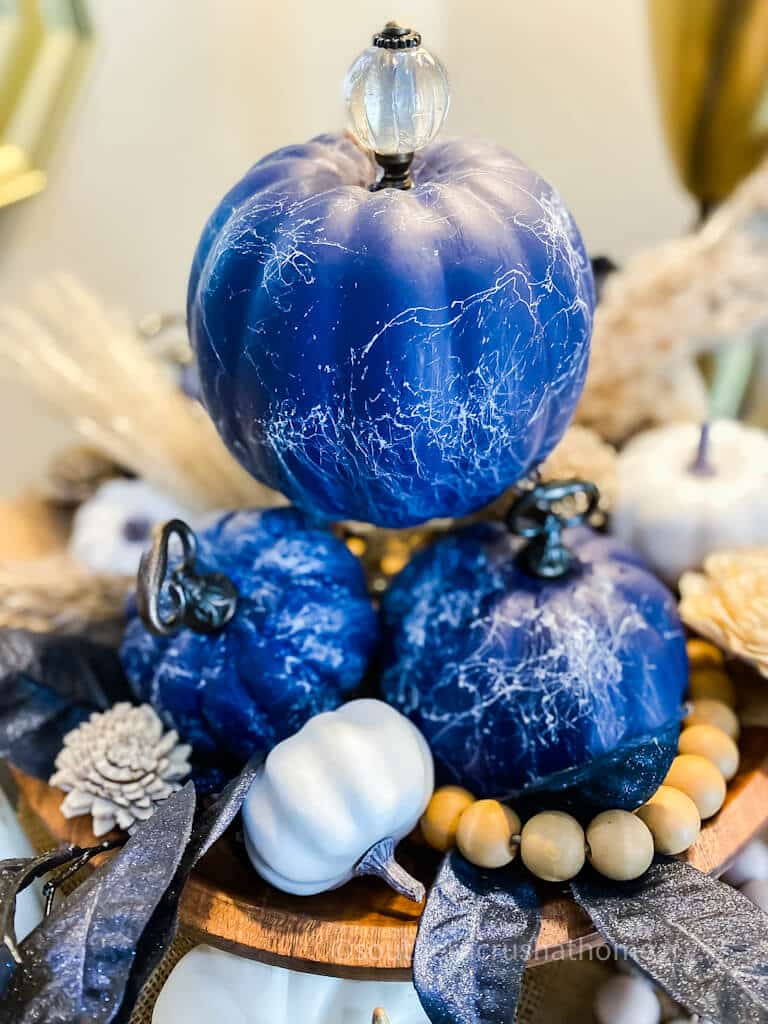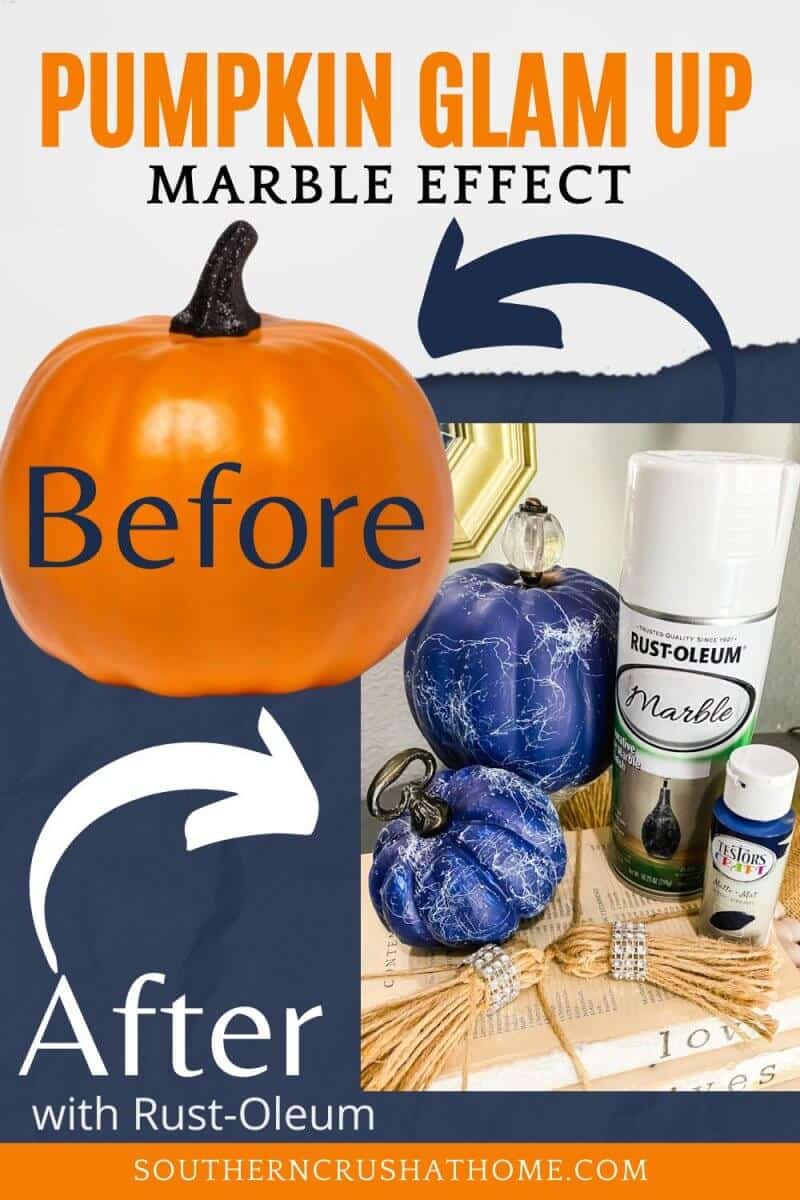 Be sure to PIN this for later!
How to Make Blue Pumpkins (using Marble Spray Paint)
Navy blue pumpkins are trending and using some marble spray paint, you can easily transform a regular dollar store pumpkin into a beautiful blue one in just a few minutes.
Materials
dollar store pumpkins

Rust-Oleum Imagine Marble Paint in white

Testors Craft paint in blue

foam brush

Chopsticks

knobs

dough bowl for display
Instructions
Paint pumpkins blue with foam brush

Remove the pumpkin stems and add chopsticks to the holes to create a way to hold your pumpkins.

Then, using a piece of cardboard or something similar, create a barrier around the pumpkin that you don't want to get paint on. Next, shake up the can of marble spray paint and then hold it about six inches away from the pumpkin as you start spraying. Work in even strokes, making sure to cover the entire pumpkin.

Let dry for about an hour

Replace chopsticks with cute knobs