Gorgeous Fall Dining Table Decor
As the leaves begin to change color and autumn sets in, it's the perfect time to get your dining table decor ready for fall entertaining. With a few simple touches, you can transform your space into a warm and inviting gathering place for family and friends.
This week I'm sharing my personal fall dining table decor and more fall decor from a few of my blogging friends. Be sure to check out my friend Lynne's fall entryway table with My Family Thyme HERE and Leene's fall decor tour with Sand Dollar Lane HERE.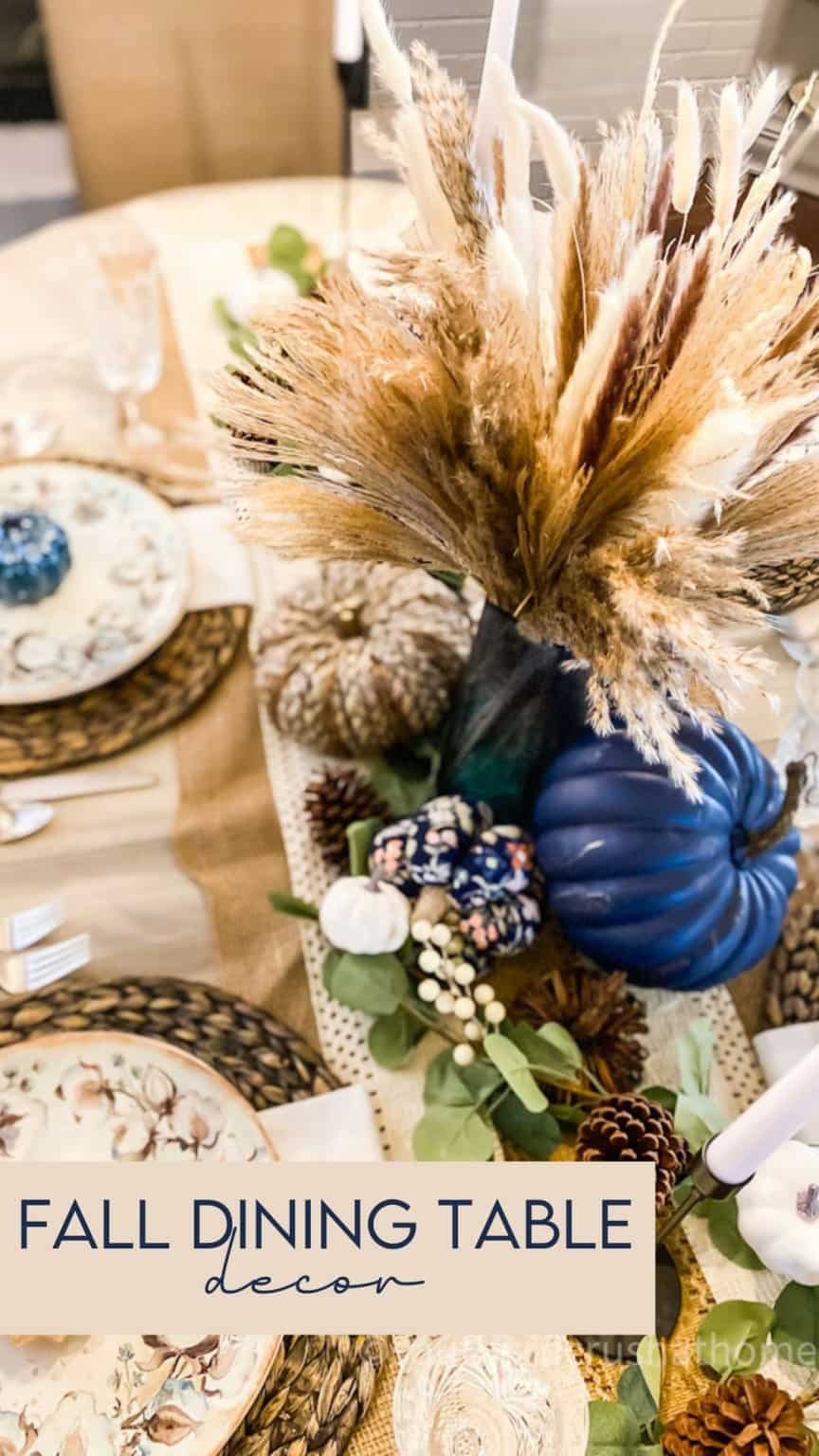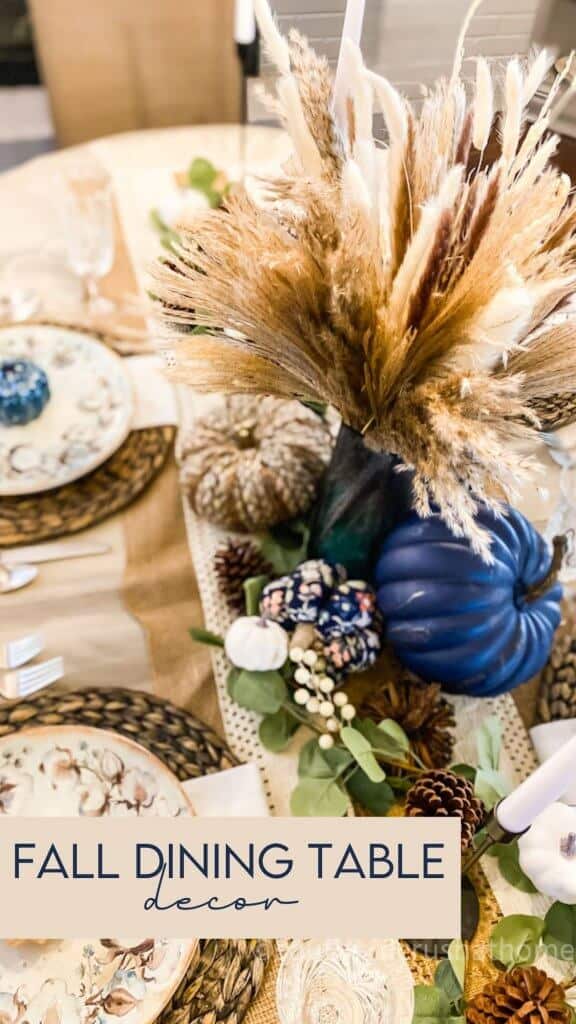 Be sure to PIN this for later!
This blog post contains affiliate links. The opinions are wholly my own from my own experience. I may earn a small commission from clicks through to the websites that end in a purchase.

Fall Dining Table Decor
You can easily turn your dining room into the perfect place to entertain during the fall season. So go ahead and invite your friends and family over for a cozy dinner party – they're sure to enjoy the atmosphere and the delicious food!
Start by swapping out your summer tablecloth for a neutral boho-inspired table runner like this one I found on Amazon! I layered mine with a scrap piece of burlap underneath for added interest and texture.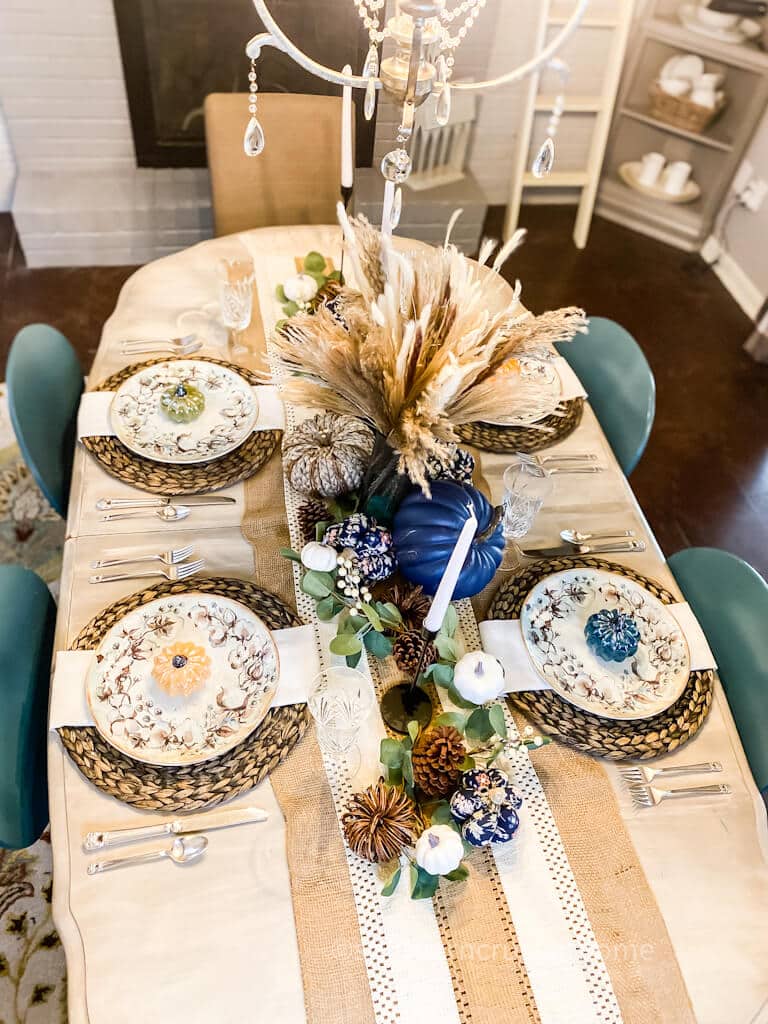 Next, I added in this farmhouse-style eucalyptus garland with white pumpkins and seasonal pinecones. Nothing says fall table decor better than pumpkins and pinecones! Am I right?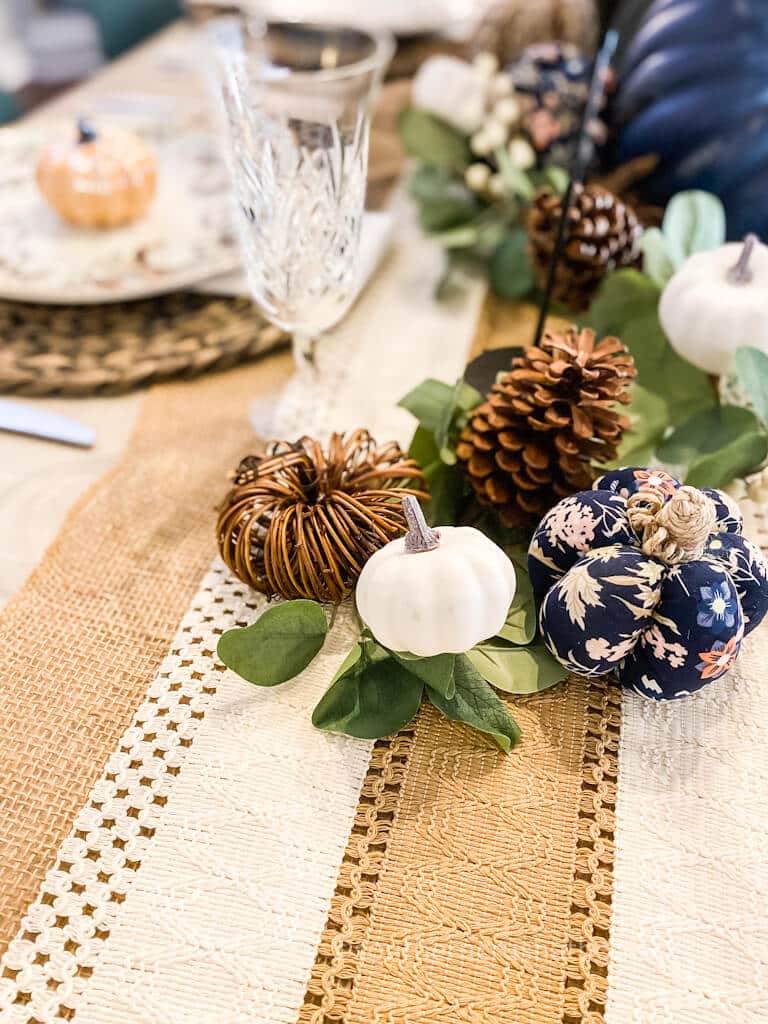 Add in some of this neutral-toned pampas grass to any vase for an instantly gorgeous centerpiece!
Set the mood with candles and soft lighting. Candles always create a cozy and intimate atmosphere. I added this set of three black candlesticks down the center of the table to bring in a modern pop to the fall table decor.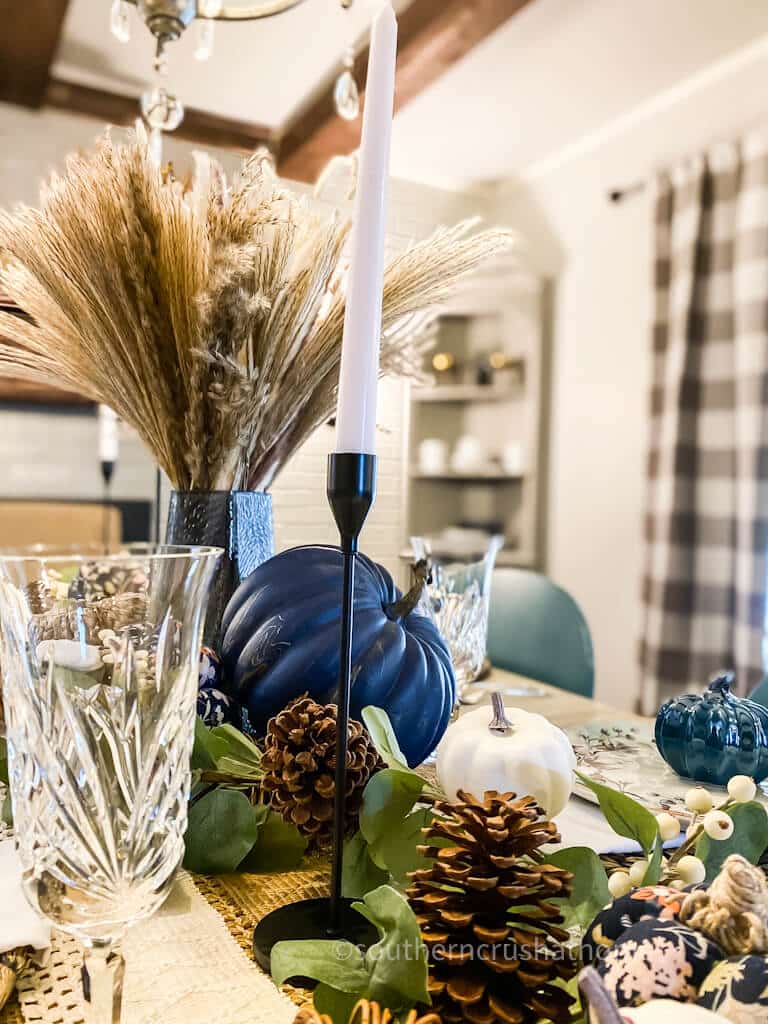 For the rest of your fall dining table decor, use your favorite dishes, glassware, and silverware. My cotton boll plates are from Hobby Lobby, my silverware is hand-me-down from my mother-in-law, and my stemware is Waterford Crystal from my wedding and can be found HERE.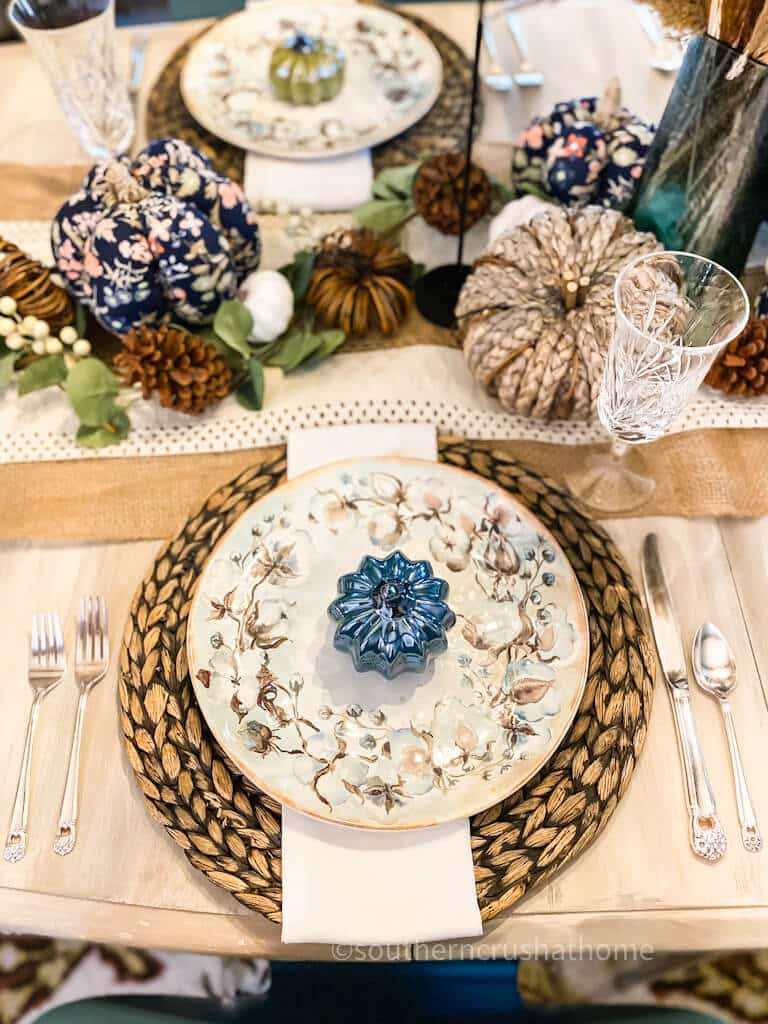 Each place setting has a small pearlized ceramic pumpkin from Dollar Tree. You can find similar ones HERE.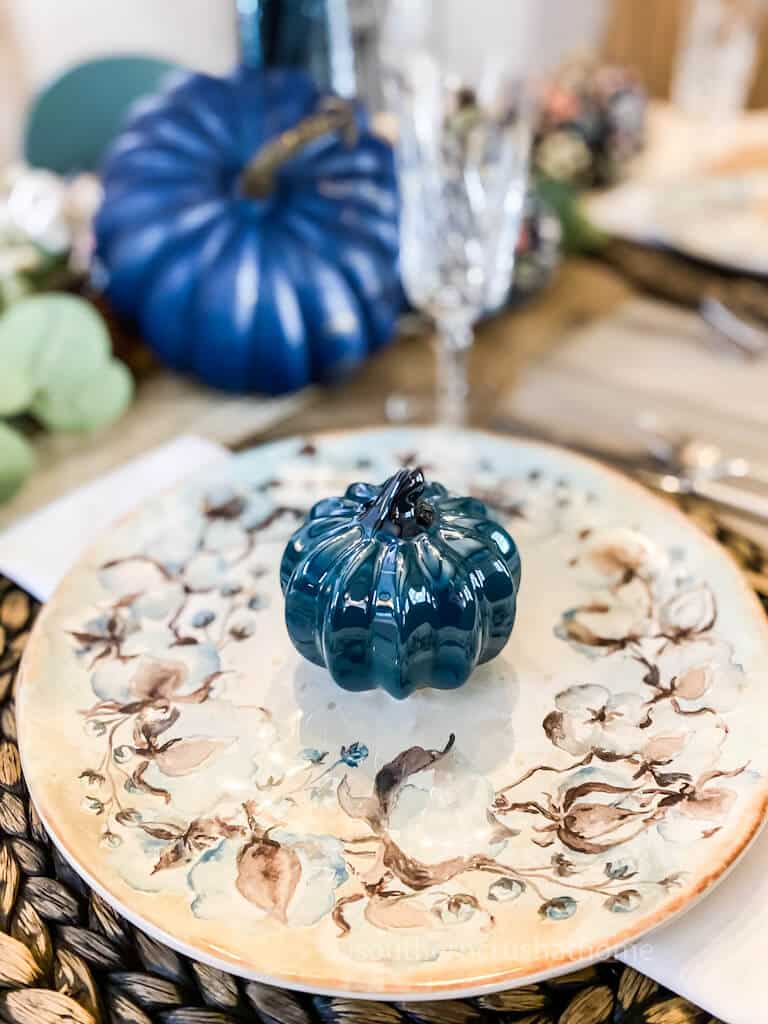 Finally, the fun navy and gold marbled pumpkin in the center was a DIY painting project I did several years ago, but you can still find the details on how to make these yourself HERE.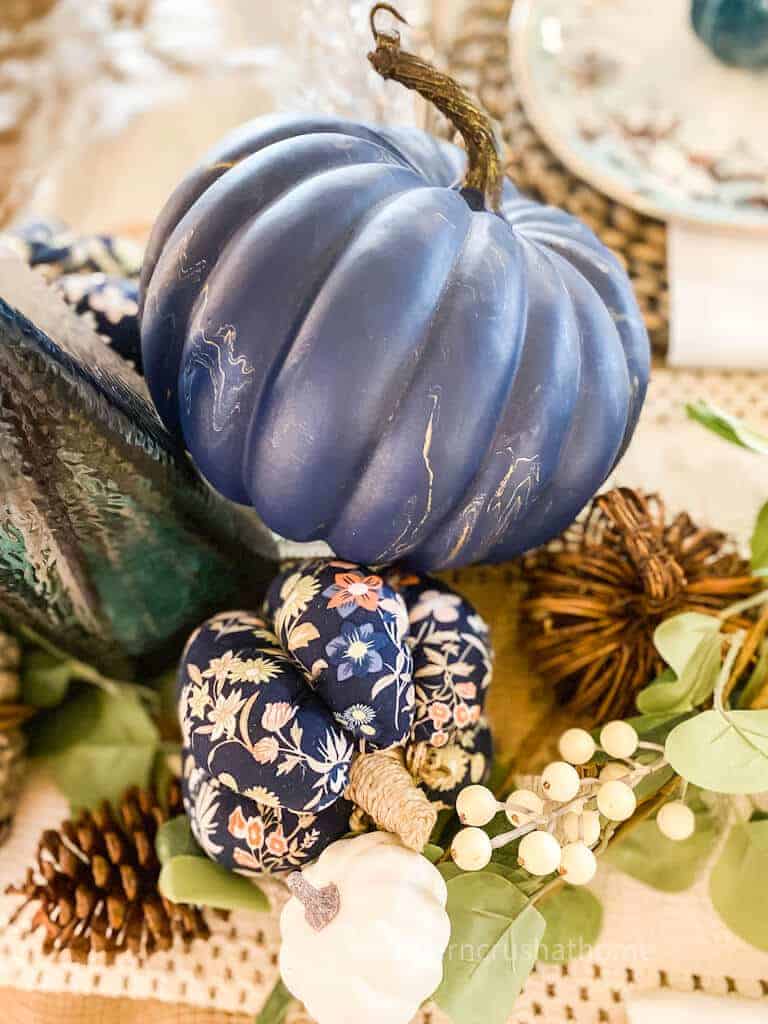 What an easy and gorgeous way to set your dining table for fall gatherings! Let me know in the comments below if you will try this!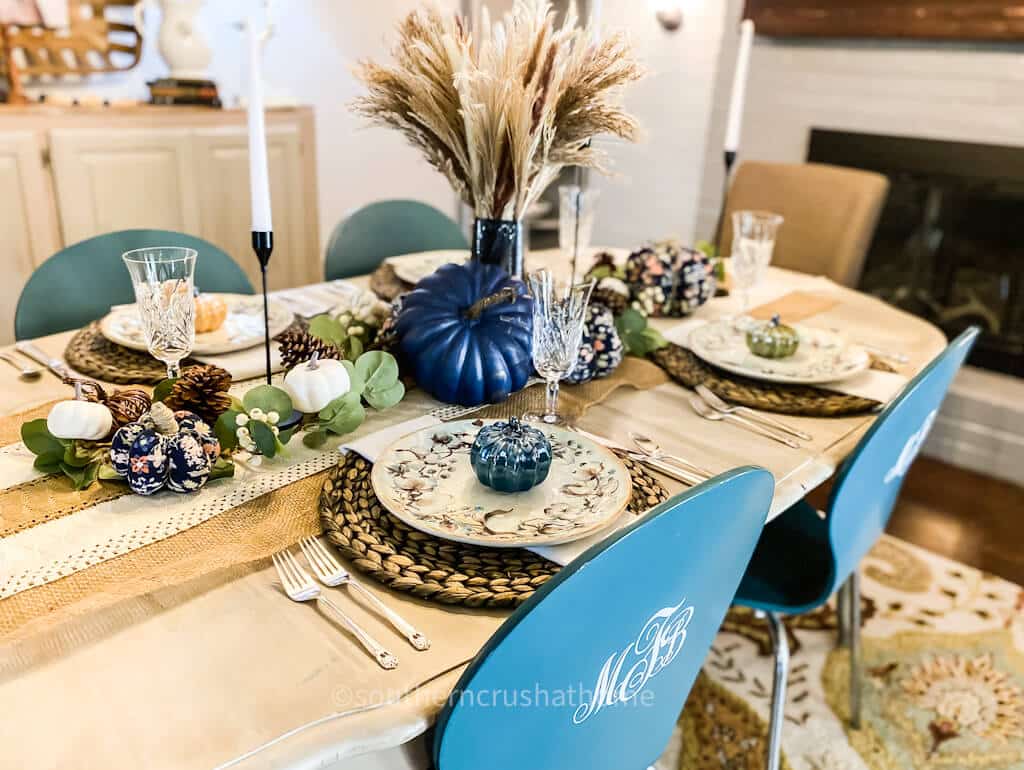 Shop for Fall Dining Table Decor
You can find most of the items shared in this post below for your convenience.

What is the proper way to set a table?
When hosting a formal dinner party, it is important to set the table correctly so that your guests feel comfortable and at ease. Here are some tips on how to do just that:
Where does the silverware go when setting a dining table?
When setting a table, it is important to know where each piece of silverware goes. forks go on the left side of the plate, and knives and spoons go on the right. This is so that guests can easily find the utensils they need.
If you're unsure about which fork to use for which course, here's a quick guide:
– The salad fork is the smallest fork and is used for salads or appetizers.
– The dinner fork is the next size up and is used for the main course.
– The dessert fork is the largest fork and is used for desserts.
When it comes to spoons, there are three different types:
– The soup spoon is the largest spoon and is used for soups or cereals.
– The teaspoon is the next size down and is used for coffee, tea, or dessert.
– The tablespoon is the smallest spoon and is used for condiments or sauces.
Now that you know where each piece of silverware goes, you can be sure to set your table correctly for any occasion!
Where do the glasses go on a table setting?
Glasses go on the right side of the place setting, above the knives. The order goes water glass, red wine glass, and white wine glass. If you're having a formal dinner, you may also have a dessert wine glass. For a casual meal, you can just have water and wine glasses.
By following these tips, you can be sure that your formal dinner party will be a success! Your guests are sure to enjoy the elegant atmosphere, the delicious food, and the beautiful table setting.
Don't forget to head over to my friends' blogs and check out even more amazing fall decor!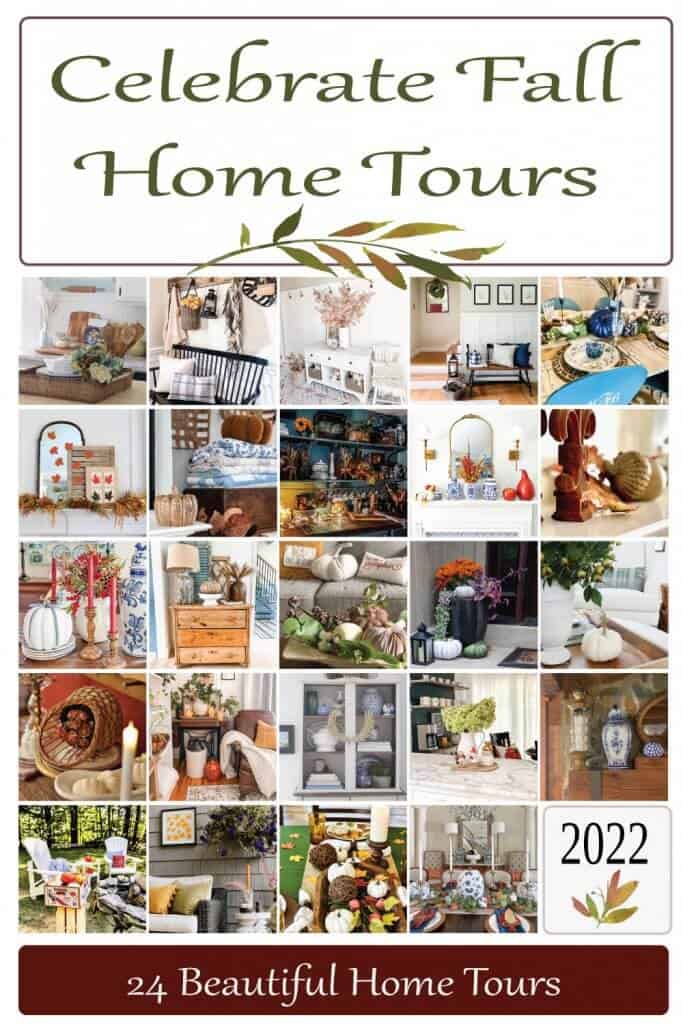 Monday
Sand Dollar Lane // Simply 2 Moms // Pasha is Home // My Family Thyme // Southern Crush at Home
Tuesday
Bluesky at Home // DIY Beautify // Amy Sadler Designs // 2 Bees in a Pod
Wednesday
Worthing Court // The Tattered Pew // Our Crafty Mom // Hearth and Vine // Thistle Key Lane
Thursday
Exquisitely Unremarkable // Aratari at Home // Sonya Burgess // At Lane and High // The Roots of Home
Friday
Dabbling and Decorating // A Life Unfolding // Zucchini Sisters
Southern Home and Hospitality // Feet Under My Table
You May Also Like These Table Decor Ideas