11 Ways to Make Your Home Smell Like Fall this Weekend
When it comes to fall, one of my favorite things is all of the amazing smells. It's the season for bonfires, cooking and lots of yummy fragrances. Here are my 11 ways to make your home smell like fall that you can do this weekend.
(This post most definitely has affiliate links. See disclosure here)
host a cookout or roast s'mores for fall fun
You can invite friends over for a fun cookout or simply cookout for yourself. Either way, this is a great way to create the smells of fall instantly! There is nothing like the smell of steaks or some other goodness on the grill to make your entire house smell yummy. You can use one of these fun BBQ tool storage DIY's while you're at it!
Roasting hot dogs or s'mores is another great way to bring the outdoors inside. No matter which way the wind blows, when you make a fire in your firepit outside the smells of fall are sure to make their way inside. The fragrance of the smoke from a fire in the firepit brings instant fall feels! Try out this fun twist on s'mores after you roast some marshmallows!
try out a fall scented candle
Candles are probably one of the easiest solutions to creating a fall scented home. You can purchase them just about anywhere these days. If you cannot cook out or do not have a firepit, this is my favorite candle alternative below.
If you have the time, you make prefer to make a DIY candle of your own. There are so many ideas for containers, here are a few as well as my favorite place to order supplies. Don't forget to use my discount code!
make homemade fall potpourri
Did you know that you can make your very own fall-scented potpourri? You probably already have all the ingredients you need at home. Try this easy recipe in your crockpot or stovetop and let me know how it goes:
DIY fall potpourri recipe
1/2

lemon (sliced thin)

1/2

an apple (sliced)

4 tsp

cinnamon sticks (or

1/2

ground cinnamon)

2 tbsp

whole cloves

1 tsp

vanilla extract
water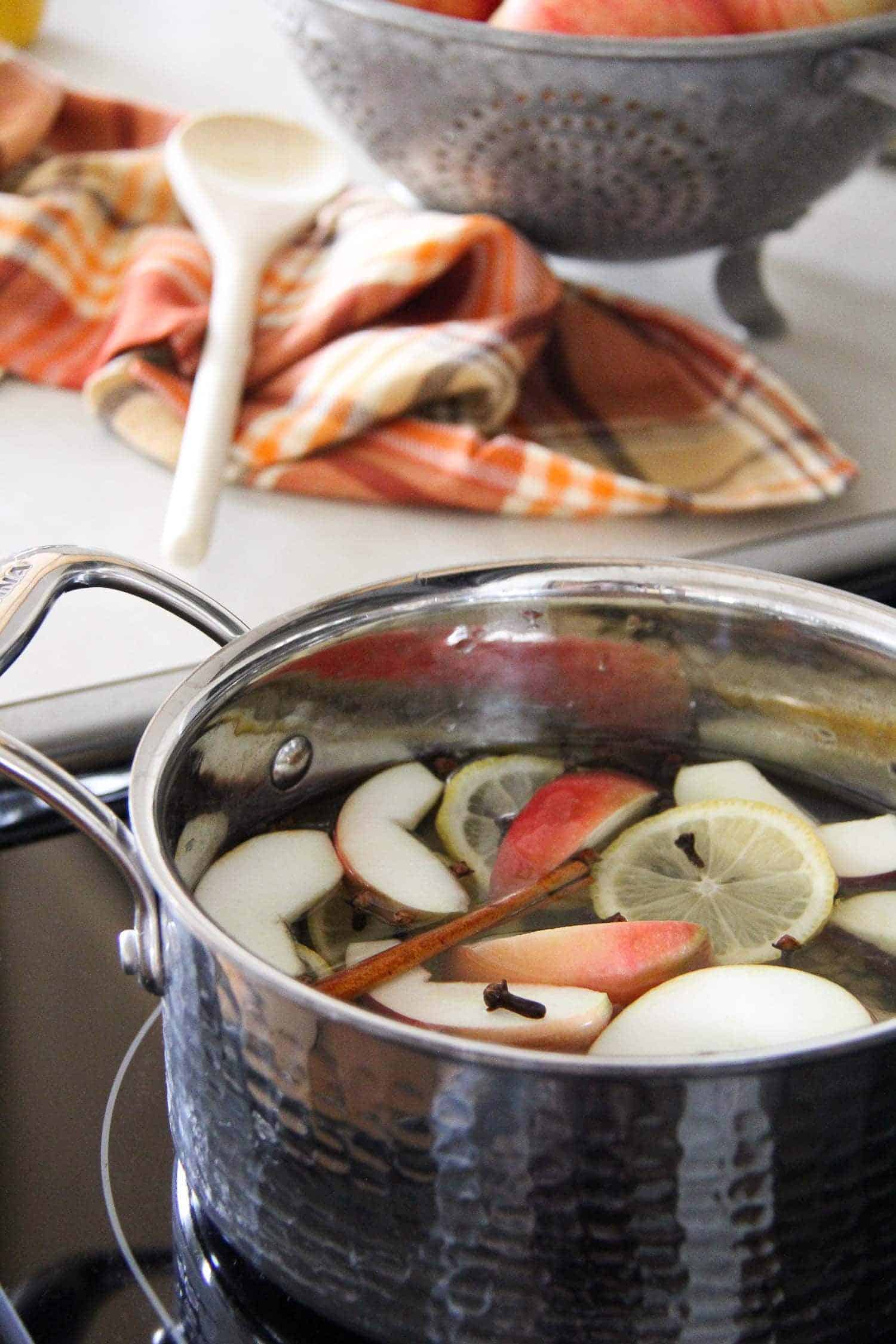 credit: a pretty life in the suburbs
warm essential oils in your oven
If you don't have time to make a full potpourri recipe, try this quick and easy idea. Place a few drops of your favorite essential oil on a piece of foil and place it in the oven on low until it permeates your house. You can also use your favorite extract like Vanilla, Cinnamon, Apple Cider, Coffee Cake, Gingerbread, Pumpkin Pie. This is a convenient way to grab them all HERE.
bake homemade cookies for fall gatherings
If oils aren't your thing, maybe you like to bake? Baking fresh homemade cookies is an amazing way to fill your home with the smell of fall goodness! You can try pumpkin cookies, sugar cookies, old-fashioned chocolate chip cookies, snickerdoodle cookies or one of my favorites my 3-Ingredient Peanut Butter Cookies!

use a fall-scented dusting spray
It may sound super strange, but I'm famous for spraying the rooms in my house with dusting spray without even dusting. I just love the way it makes the house smell like I just cleaned it. You can do this for fall as well. Most of the year I use the lemon-scented spray, but for fall, I prefer the Orange-Scented Pledge found HERE.
try using laundry boost beads for home fragrance
Along those same lines, I like to take laundry boost beads and sprinkle them into a little glass dish to set all over the house. They smell so good! This one from Downy called Bliss Sparkling Amber & Rose is really soft and makes any room you enter smell delightful!
spritz fall-scented cleaners
This idea is one that I also use year-round! There are so many amazing smelling cleaners on the market and Meyer's is my favorite! For fall they have so many choices like apple cider, acorn spice, mum, orange clove, and pear tree. What is your favorite? I simply spray this in my kitchen sink after washing the dishes or my bathroom sink each morning for a fresh scent every time I walk by… For the full effect grab the trio HERE!
sprinkle scented vacuum powder
This is yet another one of my famous tricks! I'll sprinkle the great smelling vacuum powder and leave it all day long! It really works! You can always vacuum it up as well, but the fragrance seems to permeate the house if I let it linger for a while first! This one is perfect for that fall scent we are looking for and you can find it HERE
use fall scented wax melts
This is one of my favorite ways to make my home smell like fall! Simply drop one or two of these yummy scented wax melts into a warmer and viola! The entire house smells great all day long! This is one of my favorite warmers and these little handy paper cups are an amazing trick to keeping your wax warmer clean! I love them!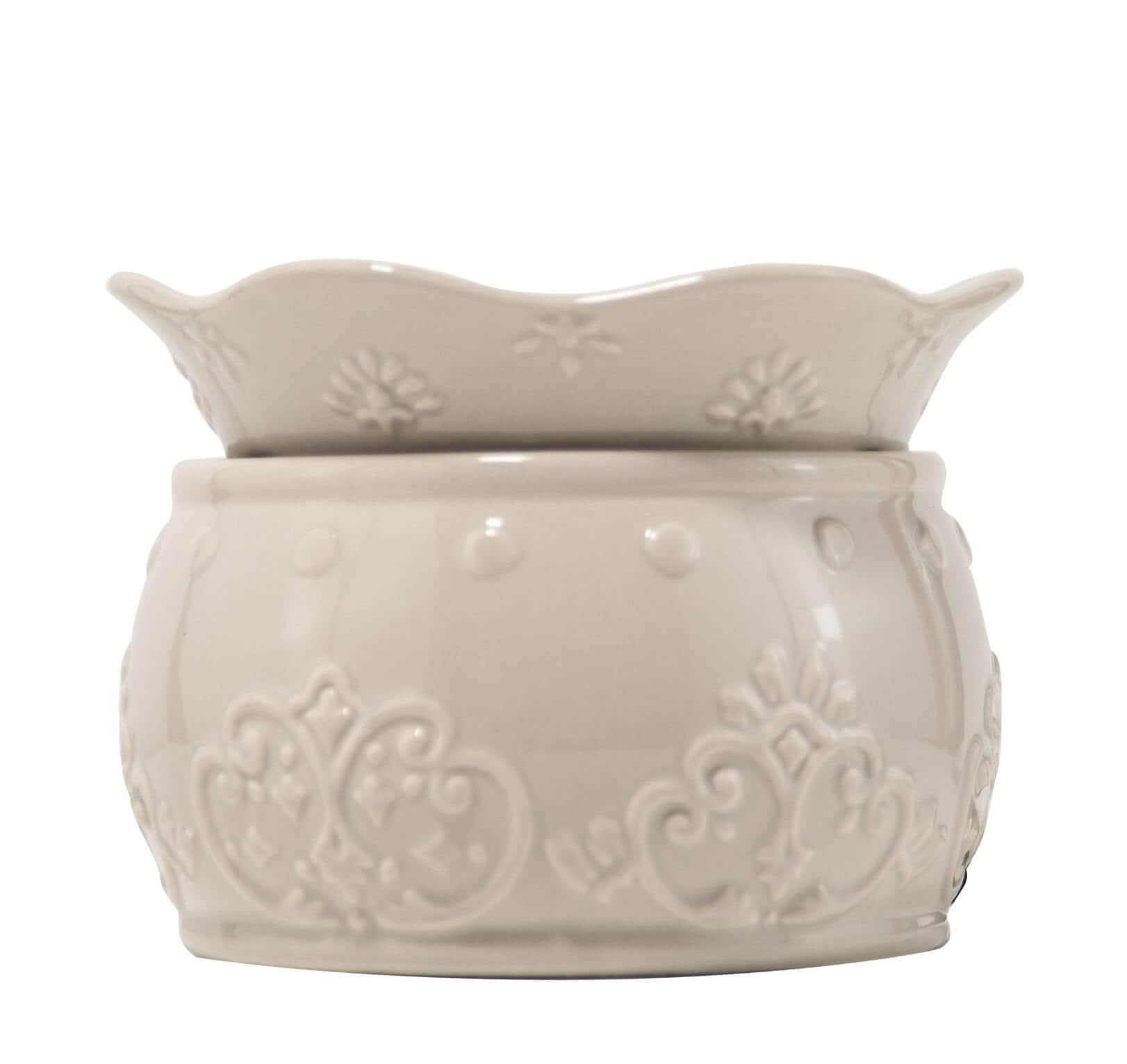 make a fall pomander
These are so much fun to create and super simple, too! Grab an orange and some cloves. Simply poke the orange with a toothpick to create your desired design and then follow up with a clove in the hole. These are perfect for making fun designs with a zester and then display in a wooden dough bowl any time of year but especially for the holidays. Let me know if you make some of these!
easy fall scents for your home
I hope you loved seeing this collection of ideas to make your home smell like fall! Were there any you hadn't heard of before? Are there any you hadn't tried before? I'd love to get your feedback in the comments below.
I'm inspired to make this my fall scent 'bucket list' and implement at least one of these ideas each week! There is just something about making your home smell amazing that really lifts your spirits. Happy Fall Y'all!