Easy $1 Farmhouse Candlestick DIY (Video Tutorial)
You will not believe that this gorgeous $1 Farmhouse Candlestick DIY was made with a pack of candlesticks from the dollar store and a little creativity!
Gather a few of your friends for a craft night and add this pretty candlestick to your farmhouse decor.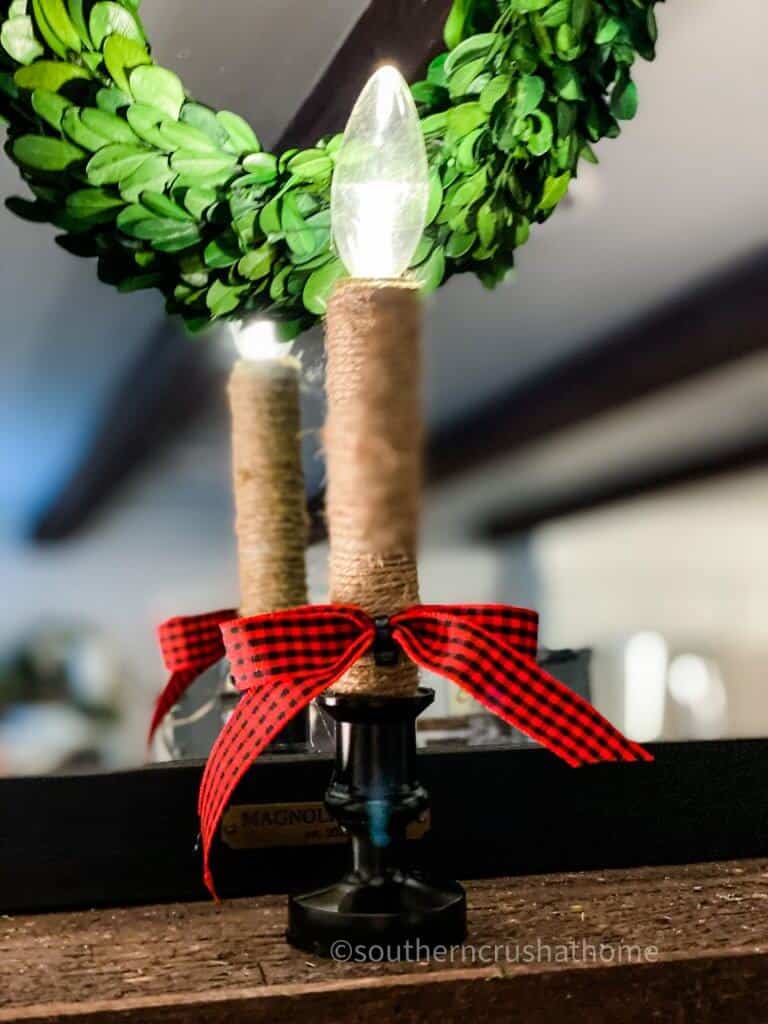 This simple candlestick DIY adds such a warm and cozy touch to your holiday home. Do you remember driving around as kids to see Christmas light displays? Seeing candles in every window was such a magical experience! To think that you can make your own for just a couple of dollars!
I think these would make great gifts for neighbors, teachers, co-workers, and more. Place them in a pretty box with tissue paper, add a gift tag and you have a sweet handmade gift.
Here is the easy, step-by-step tutorial including a video.
Supplies needed for Farmhouse Candlestick DIY
(This post most definitely has affiliate links. See disclosure here)
Candlestick (mine were from Dollar General)
Twine
Rustoleum Spray Paint
Hot Glue Gun
Ribbon
Fabric Scissors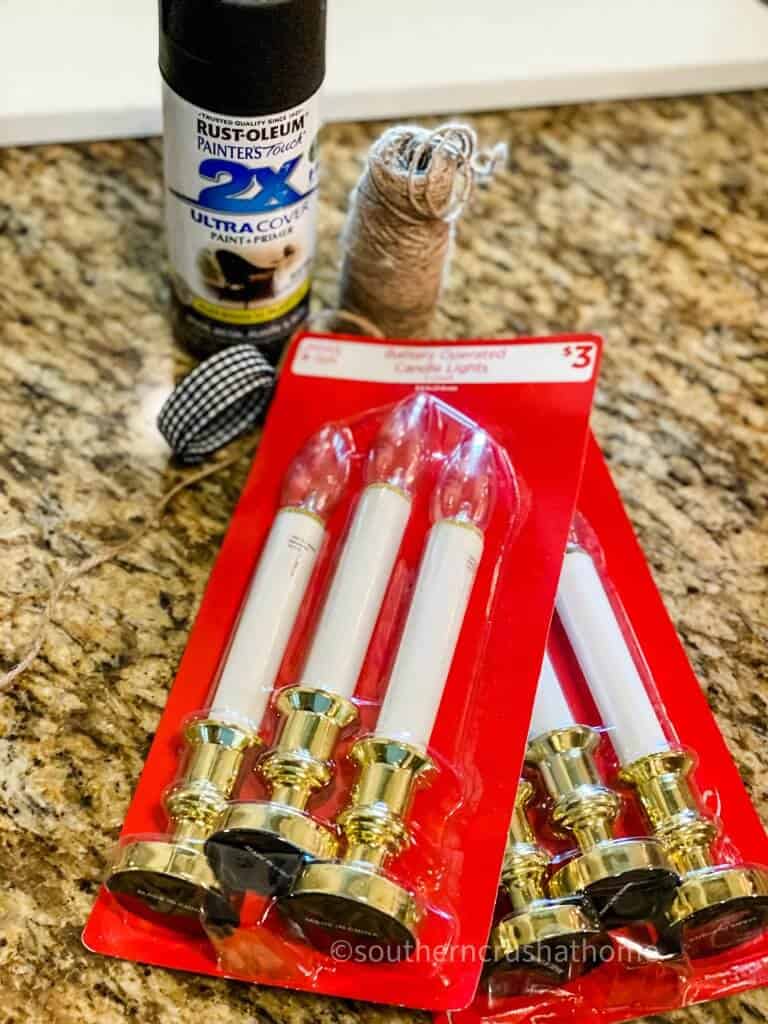 How to make Farmhouse Candlestick DIY
remove the faux brass stand
Step 1.
Remove the faux brass stand and set it aside for painting.
Getting rid of the shiny gold is the first step in transforming this into a more neutral farmhouse look.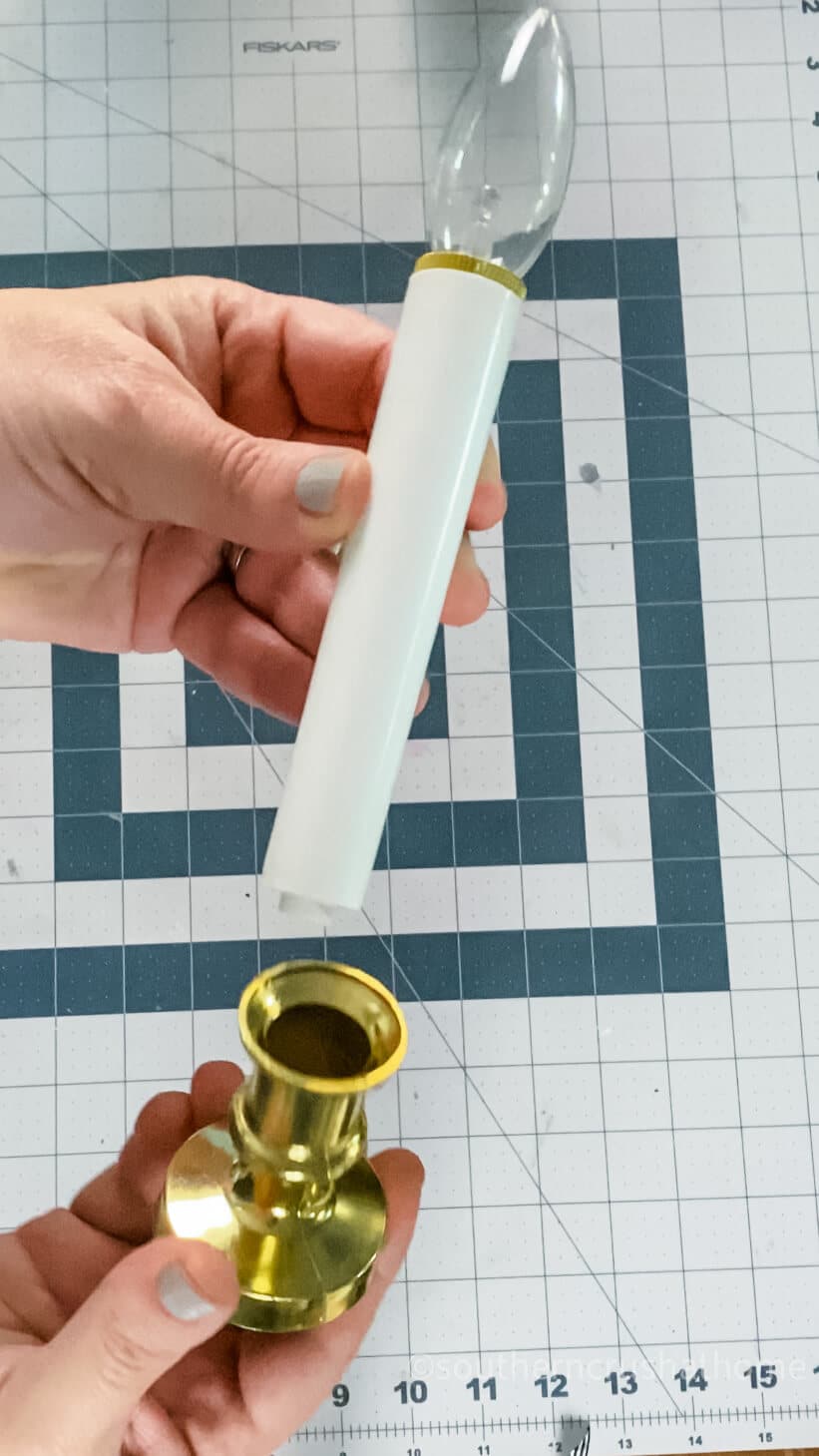 spray paint the candle stand
STEP 2.
Place the plastic stand(s) on a covered table in a well-ventilated area, or if the weather is warm enough go outside.
Give them a nice even coat of black spray paint. Be sure not to overspray or you will end up with drips. Use light, even strokes. Let dry.
You could also spray paint these with a rustic brown color or even a soft ivory color if you prefer. Whatever matches your home decor best.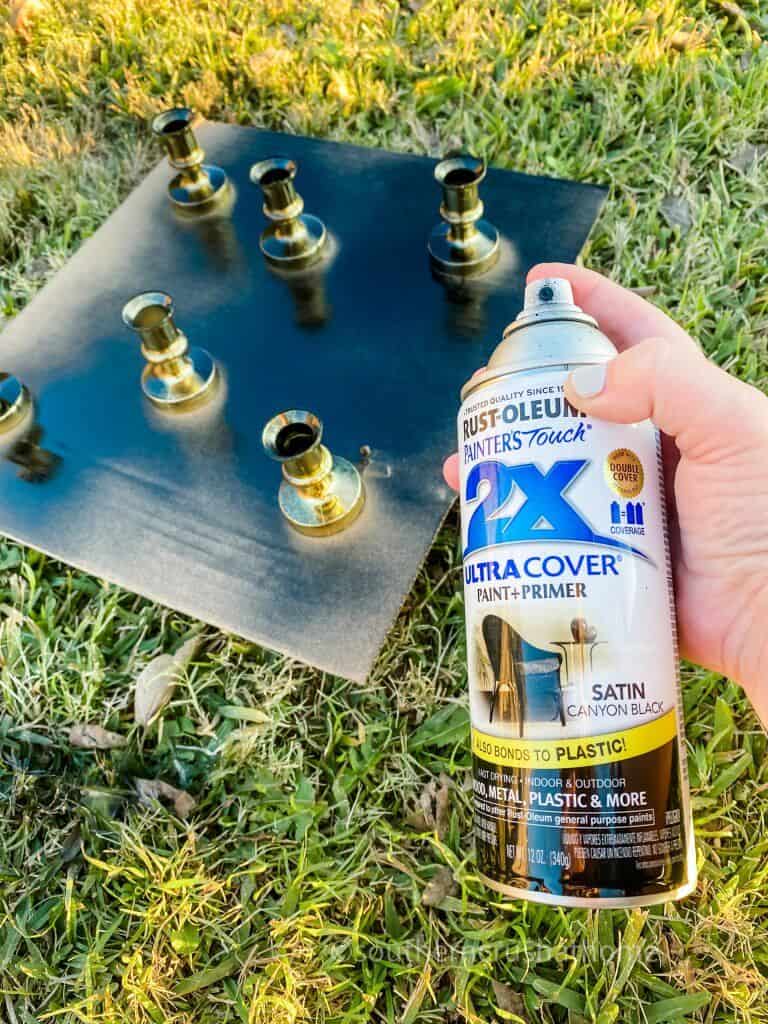 remove the light bulb
STEP 3.
Remove the light bulb and set it aside. It makes it easier to wrap the candle without it.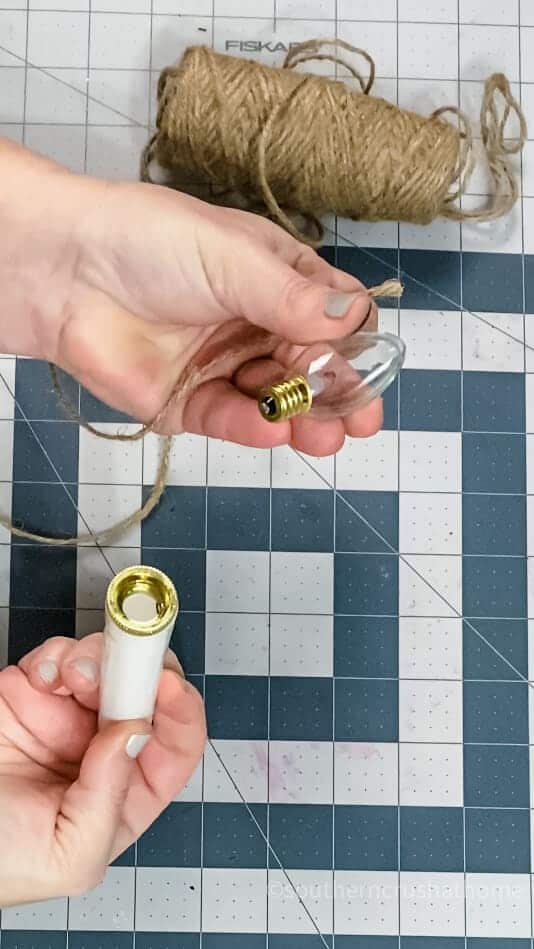 add the twine
STEP 4.
Place a drop of hot glue at the top of the candlestick and wrap the twine around it. Try to add the twine in single rows without overlapping. It looks neater when it is lined up.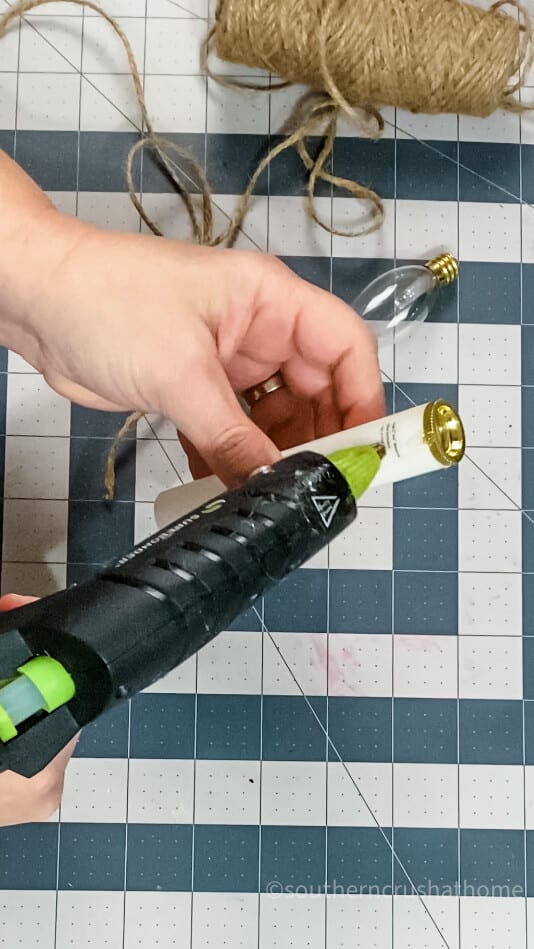 continue to add twine
STEP 5.
Continue to add the twine until the entire candle is covered. Finish the end off with another drop of hot glue to make sure it is secure.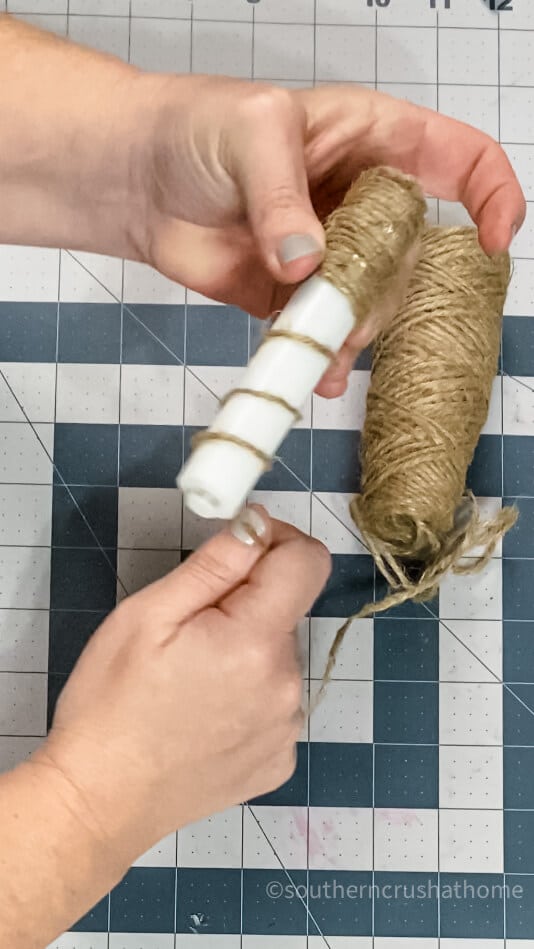 The twine really updates it doesn't it? Twine is one of those things I always have in my craft stash!
Jute twine is super affordable and adds just the right amount of "farmhouse" feel to the candlestick.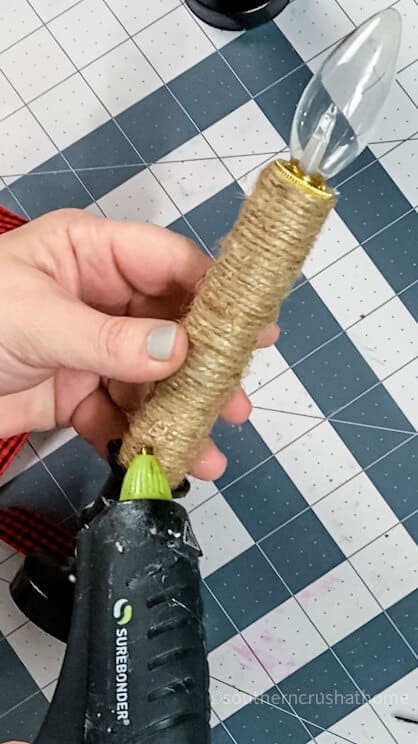 place the candlestick on base
STEP 5.
Simply place the twine-covered candlestick back into the candle base. It should fit nice and snugly. You could always add a touch of glue if you're worried about it popping out.
Add your AA batteries at this point. You can also add the lightbulb back on as well.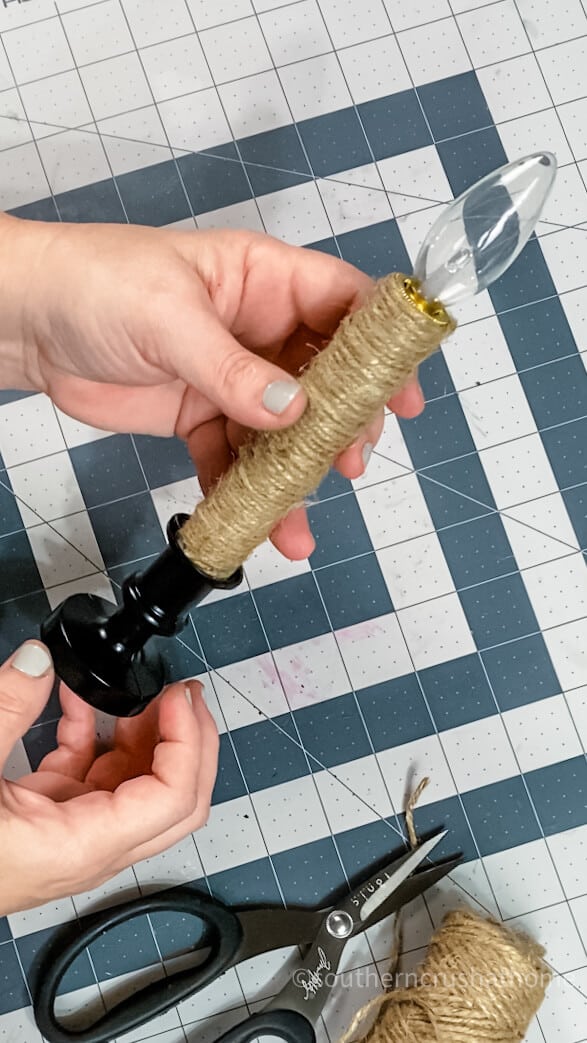 make a bow
STEP 6.
Make a simple bow and hot glue it to the bottom of the candlestick.
I found the cutest red and black buffalo plaid to use, but you can use any kind of ribbon that you like. I'm thinking maybe black and white or whatever matches your decor best!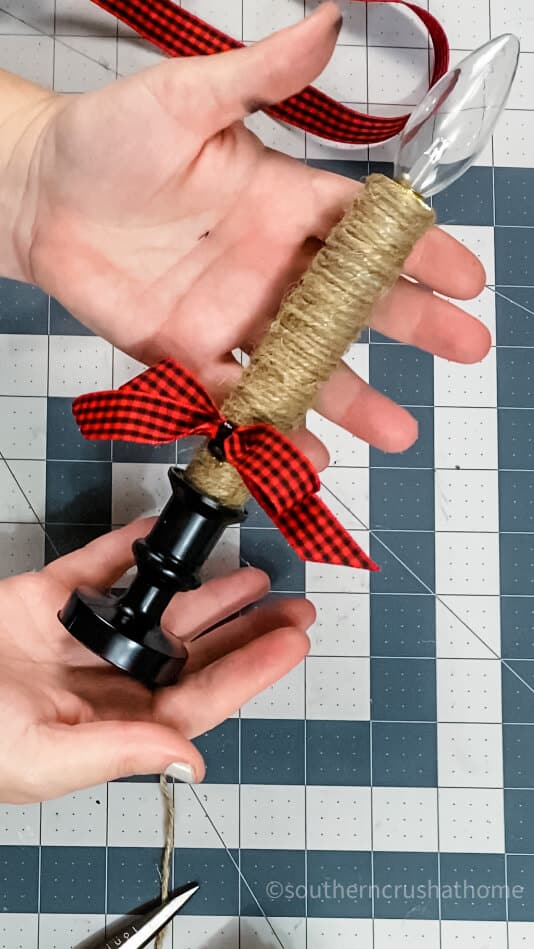 decorate with your window with farmhouse candlesticks
I added a set of three candlesticks to a window sill and they look just beautiful!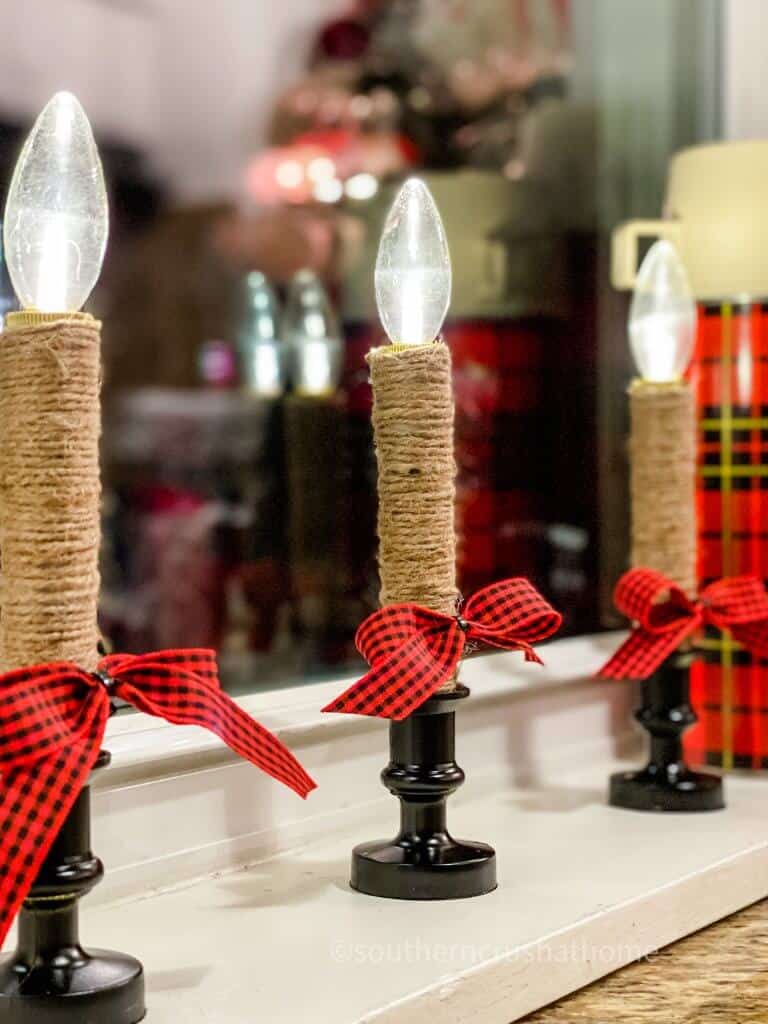 Another view of the pretty farmhouse-style candlestick… what do you think? Let me know in the comments below.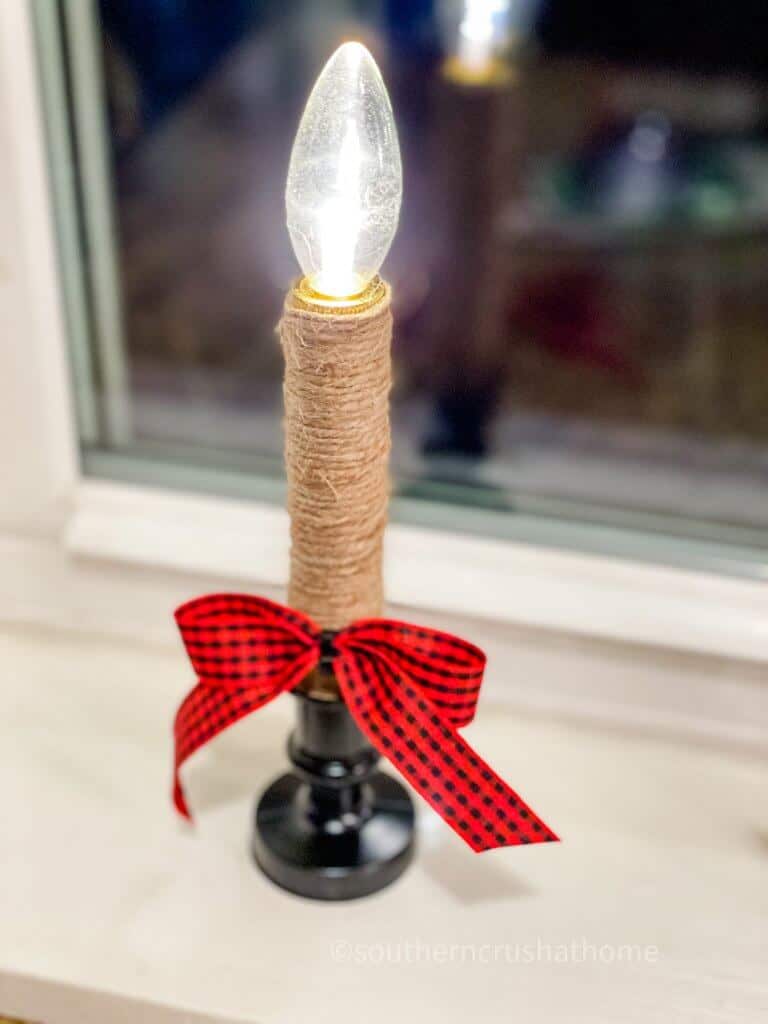 I made these for Christmas this year, but to my surprise, my husband fell in love with this easy little DIY project; therefore, we now keep one of these farmhouse candlesticks on our bathroom window sill year round!
It's so pretty and serves as a convenient nightlight, too!
Farmhouse Candlestick DIY
Here are a few other ways to decorate with your new and improved farmhouse candlesticks.
Make one to place in each window of your home for a warm welcome.
Make several to display on a mantel. Add pine cones and garland.
Use a tray to create a winter or Christmas vignette.
Add them directly to your Christmas tree without the base by twisting a branch around until secure.
Wrap a set of three with a ribbon for a thoughtful gift.
step by step video tutorial
If you want to see the exact step-by-step process, be sure to check out this video tutorial below over on my YouTube Channel!
BE SURE TO CHECK OUT THESE OTHER DIY CHRISTMAS IDEAS!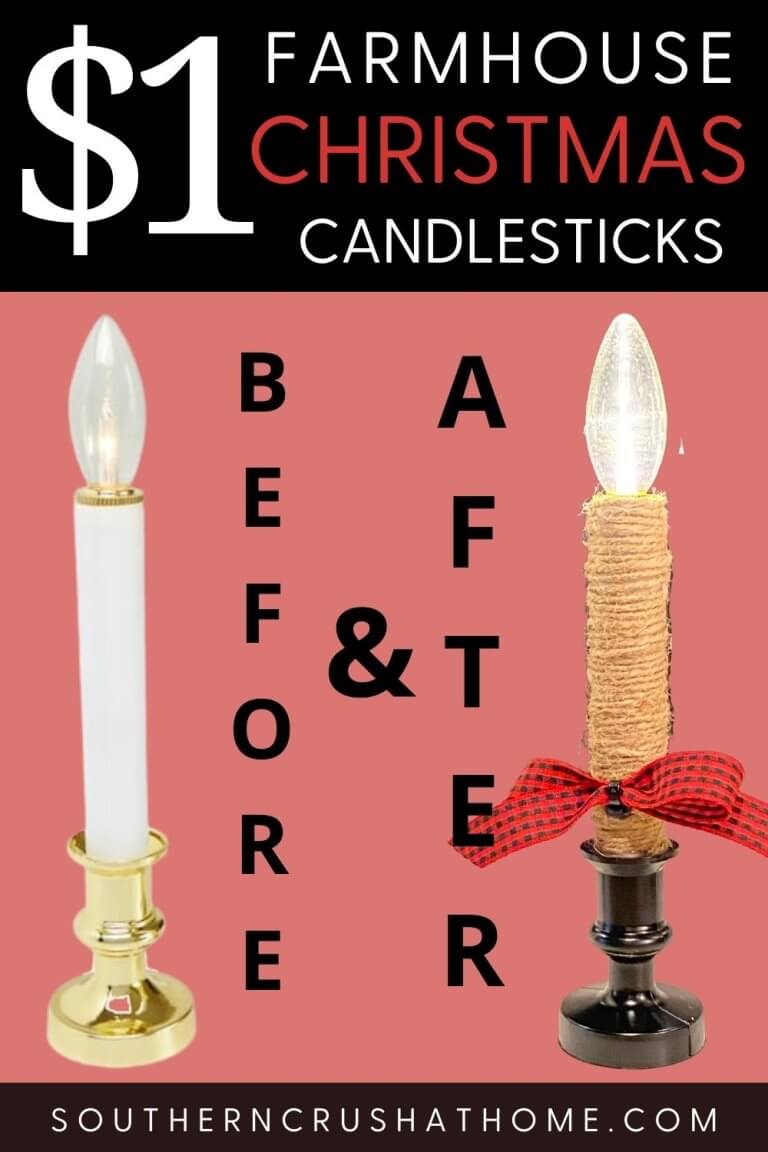 Be sure to PIN this for later!
Farmhouse Candlestick DIY
Pick up inexpensive window candlesticks and give them an easy makeover with a pretty farmhouse style.
Materials
Candlestick 

Twine

Rustoleum Spray Paint

Ribbon
Instructions
Remove the brass stand and set it aside for painting.

Give it a nice even coat of spray paint. Let dry.

Place a drop of hot glue at the top of the candlestick and wrap the twine around it. 

Place the twine-covered candlestick back into the candle base with the light bulb.

Make a simple bow and hot glue it to the bottom of the candlestick.