Amazon Prime Big Deal Days 2023
Get a head start on your holiday shopping and save BIG during the highly anticipated Amazon Prime Big Deal Days event, October 10 & 11, 2023. Enjoy exclusive discounts and deals on a wide range of products, from electronics and fashion to home goods and more.
Don't miss out on this exciting opportunity to score amazing savings and make your holiday shopping experience even more enjoyable. Shop now and make the most of this fantastic sale!
If you do not currently have an Amazon Prime membership, this may be the best time to start a FREE 30-day Trial and take advantage of the deep discounts on early gift buying! Find out more below.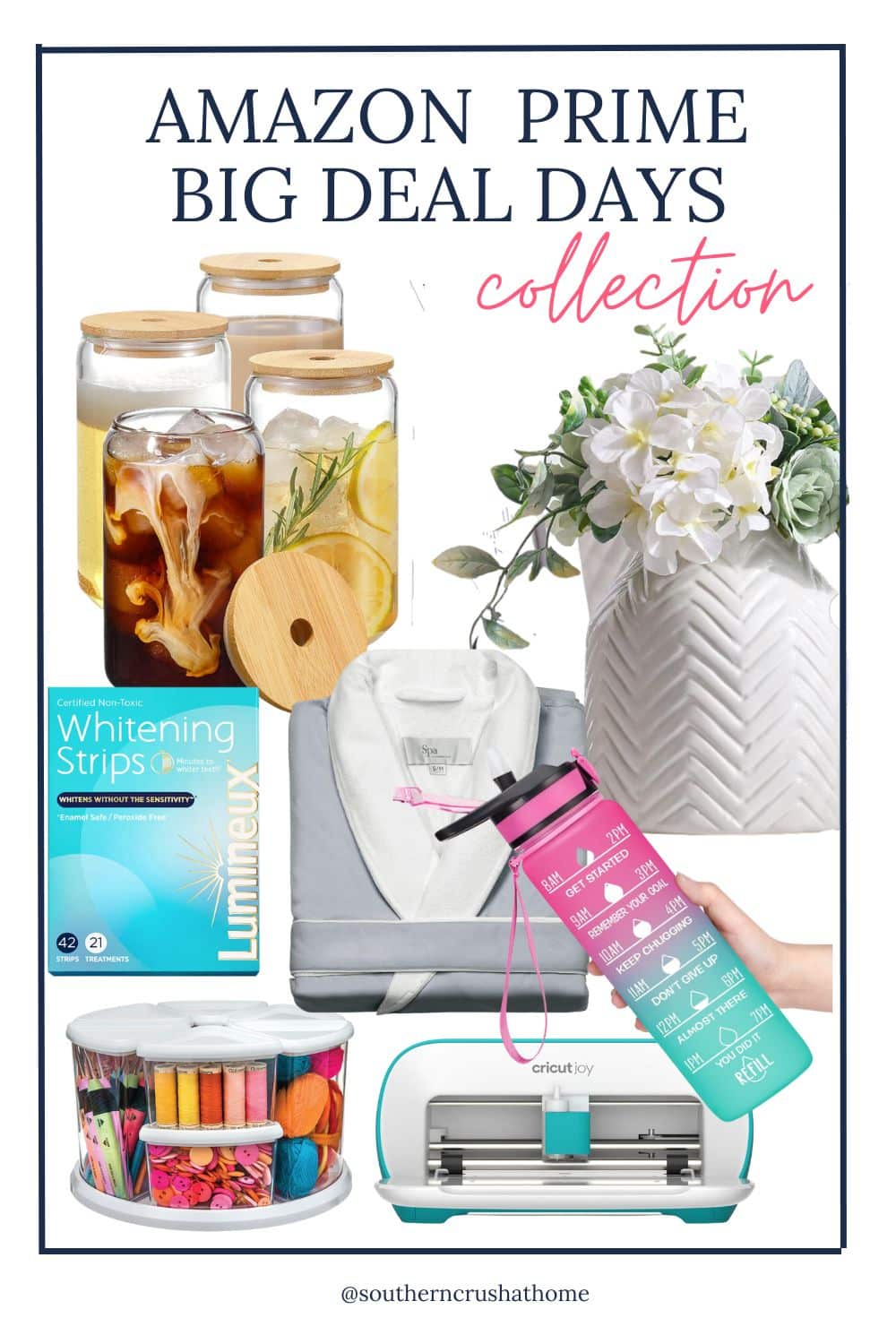 PIN this for later!
My Top Ten Favorite Deals
#bigdeals2023
Amazon Prime Big Deal Days Deal #1 Audible Subscription
Looking for the perfect gift that keeps on giving? Look no further than the Amazon Audible Monthly Gift Subscription, the ultimate gift for any book-lover in your life. With an Amazon Audible Monthly Gift Subscription, you can show your friends and family how much you care and give them a gift that will last all year. I absolutely love this idea~ for just about anyone on your list!
With a monthly subscription, your recipient can enjoy the convenience of having books on the go. From bestsellers to classic literature, the Amazon Audible Monthly Gift Subscription has something for everyone. With over 200,000 titles to choose from, the recipient can explore a world of audio books. And since the subscription is giftable and transferrable, your recipient can even share the joy of reading with others.
In addition to listening to books on the go, the Amazon Audible Monthly Gift Subscription can help your loved one discover their latest audio book obsession with Audible Channels. This feature is perfect for exploring top new releases, latest news, interviews, and more. With a collection of entertainment and podcasts, your loved one will never be bored.
A subscription to Amazon Audible is the perfect gift for any reader in your life. So show your loved ones how much you care and give them the gift that lasts. Give the gift of Amazon Audible, and give the gift of imagination. Choose between 1,3,6, and 12 months!
Big Deal Days Deal #2 Craft Organizer Carousel
This craft organizer carousel is the perfect addition to any craft room, office, or classroom – enabling you to be creative, organized, and productive!
Featuring 360-degree spin capability and six 3″ and three 6″ removable canisters, you can keep your small craft supplies always in reach.
The nifty clear, full-view canisters allow you to locate what you need quickly, while snap lids keep your supplies secure and prevent them from spilling out. This craft organizer carousel truly makes it easy and fun to stay productive and organized – you'll never run out of ideas or space again!
I bought two of these and use them every day!
Big Deal Days Deal #3 Versatile Modern Farmhouse Vase/Tissue Holder
This creamy white textured pattern modern farmhouse vase is perfect for weddings, parties, side tables, centerpieces, and coffee tables.
In addition to making a special floral arrangement, use the vase as a handy tissue storage for a more classy effect.
This also makes for a lovely gift for any special occasion.
Big Deal Days Deal #4 Bamboo Lidded Glasses with Glass Straws
Enjoy elegantly styled drinks with your friends all year round with these fancy pants Bamboo Lidded Glasses with Glass Straws.
The pretty drinkware set includes 4 can-shaped glass cups, 4 nature bamboo lids, 4 reusable glass straws, and 2 cleaning brushes. Each is crafted with durable clear glass that is lead-free, and BPA-free, and is able to withstand sudden temperature changes up to -68°F to 212°F, making them perfect for both hot and cold beverages.
Whether you're having a celebration or a quiet night in, these lidded glasses are perfect for making tea, smoothies, iced coffee, or any other holiday drink. Plus, they make the perfect gift for Birthdays, Housewarming, Weddings, Partie Hostess, Christmas, or any other special occasion.
So, grab a set today for someone on your list!
Big Deal Days Deal #5 Gray Spa Robe
Welcome to pure relaxation and luxurious comfort. Crafted with the utmost care and attention to detail, this robe combines style, functionality, and unmatched softness to create an indulgent spa-like experience within the comfort of your own home.
Just imagine slipping into this robe after a long, stressful day and feeling all your worries melt away. The interior lining of this robe is made of a heavenly blend of 80% cotton terry and 20% polyester, offering the perfect balance of absorbency and softness against your skin. The exterior is made from 100% microfiber, giving it a sleek and smooth finish.
Designed to fit and flatter all body types, the Gray Spa Robe comes in two versatile sizes: small/medium and large/x-large.
Experience the ultimate in comfort, style, and relaxation with the Gray Spa Robe. Commit to self-care and transform your daily routine into a blissful retreat.
Gift someone this robe with a yummy-smelling lotion or a spa gift certificate! Easy-peasy! They will love it! I know I love mine!
Big Deal Days Deal #6 Motivational Water Bottle
Stay hydrated in style with this fabulous motivational water bottle! It's designed with a secure flip top lid and sealing ring, ensuring your water jug stays dust and leak-free.
The design also includes a convenient silicone straw and a sturdy strap, so you can take your beverage on the go. Not to mention, it has adorable time markers and motivating quotes to encourage and inspire you as you quench your daily thirst.
Made of fresh, BPA-free eco-friendly Tritan co-polyester plastic, this reusable water bottle is safe and healthy for your daily water drinking. And with its wide mouth size, adding ice cubes or cleaning the inside is never a challenge.
A perfect gift for active friends and family, this fashionable and functional bottle comes in a variety of colors. With its 32oz capacity and pep-up phrases, you'll never have to remind yourself again to stay hydrated.
Who do you know this gift is perfect for?
Big Deal Days Deal #7 Teeth Whitening Strips
It may sound strange, but this is the number one requested gift item my family asks for every year! These are gamechanger in teeth whitening for those of us with sensitive teeth!
Welcome to Lumineux – a teeth whitening experience that combines clinically proven results with uncompromising natural ingredients – all while protecting your dental health, no matter your age or gender.
Each pack includes 42 whitening strips, enough for 21 treatments, so you can have a brilliantly healthy smile day after day.
Grab a box for yourself first, then a few for your loved ones! These make great stocking stuffers, too!
Big Deal Days Deal #8 Cricut Joy Machine
For all my crafty friends and even those who aren't~ this Cricut Joy machine makes creating a breeze! I love mine to pieces!
Cricut Joy is an absolute must-have! With Cricut Joy, you can discover your inner potential and make your ideas come to life with its 50+ specialty materials like adhesive vinyl, iron-on, and cardstock.
With precision cutting, this machine is perfect for intricate designs- the possibilities are endless.
The free Design Space app allows you to easily upload your own designs or choose from the Cricut Design Space library.
New to crafting? Don't worry! Cricut Joy has you covered with free live workshops, online courses, beginner cheatsheets, and world-class customer service.
If you're looking for a perfect addition to complete your crafty collection this machine is it. With Cricut Joy you can make, create, and craft your way to success.
This was my latest creation with a Cricut Joy machine!
Big Deal Days Deal #9 Boho Style Pampas Grass
Welcome to your new home decor essential – boho style pampas grass! Beautiful and versatile, this naturally elegant decoration can be used in homes, offices, and even weddings!
First of all – you'll love the attention-grabbing touch that pampas grass adds to any room, like a special sparkle of boho, farmhouse, or modern style.
It's also incredibly easy to maintain – simply lightly shake, leave it in the sun for a few hours to fluff it up, and you can even spray it with hairspray to preserve it.
Adding natural elements to your home has never been simpler – or more beautiful. I love mine and use it year round!
Big Deal Days Deal #10 Fiskars Cutting Mat and Rotary Tool Set
Create accurate measured cuts for your next project without damaging any work surfaces with the Fiskars Cutting Mat and Rotary Tool Set.
This set has everything you need to make your craft projects easier and more accurate, featuring a high-grade, precision-ground 45mm rotary blade ideal for cutting multiple layers of fabric, paper, felt, and vinyl.
The self-healing cutting mat offers easy-to-read measuring grids and 30, 45, and 60-degree bias lines to make angle cutting easy.
The large acrylic ruler is perfect for precise measurements with highlighted seam allowances and easy-to-read measurement lines.
For added convenience, the self-healing mat surface will last longer than other craft cutting mats and the full lifetime guarantee guarantees you'll have these reliable tools for years to come.
With this set, Fiskars has crafted the perfect combination of tools for any of your arts and crafts projects, from scissors and cutting mats to rotary and paper cutters, quilting and scrapbooking supplies, and more.
Make your projects easier and more accurate with the Fiskars Cutting Mat and Rotary Tool Set.
All in all, Amazon Prime days are a great way to save money and get special deals on your favorite items. With amazing deals available on such an array of items, Amazon is sure to become your go-to spot for shopping.
Plus you get the added benefit of free two-day shipping, which can be hard to come by with other retailers. Now that you know a few cool tricks to maximize your savings during these big deal days, take the opportunity to stock up on those perennial favorites while giving yourself some extra cash to spend later. So don't miss out – start browsing now!
If you do not currently have an Amazon Prime membership, this may be the best time to start a FREE 30-day Trial and take advantage of the deep discounts on early gift buying! Find out more below.