Christmas Lantern & Santa Mailbox Thrift Flips
Come see my new favorite thrift flips– a thrift store Christmas lantern & Santa mailbox. They went from basic to beautiful with paint and stencils! I'm sharing the step-by-step tutorial to inspire you to make your own!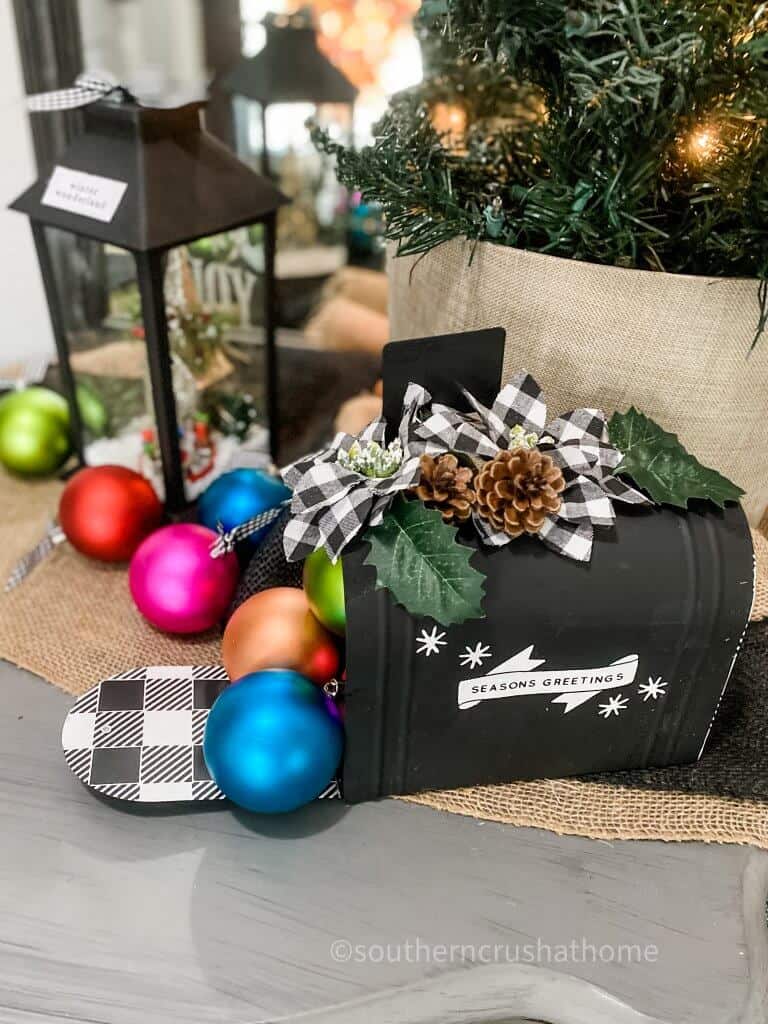 You may have seen a similar Christmas lantern and Santa's mailbox at the thrift store. There is nothing wrong with them, but I wanted to give them a little makeover to go with my holiday decor. That means paint and buffalo check to the rescue!
Don't forget to get all of your buffalo check Christmas shopping done here below…

This post may contain affiliate links at no extra cost to you. Please see my full disclosure here.
Paint Squeegee
Stencil Brush
Painter's Tape
Rust-Oleum Imagine chalkboard paint in black
Lantern
Santa's Mailbox
Small Figurines
Buffalo Check Ribbon
Christmas Ornament Balls
Christmas Stems
Hot Glue Gun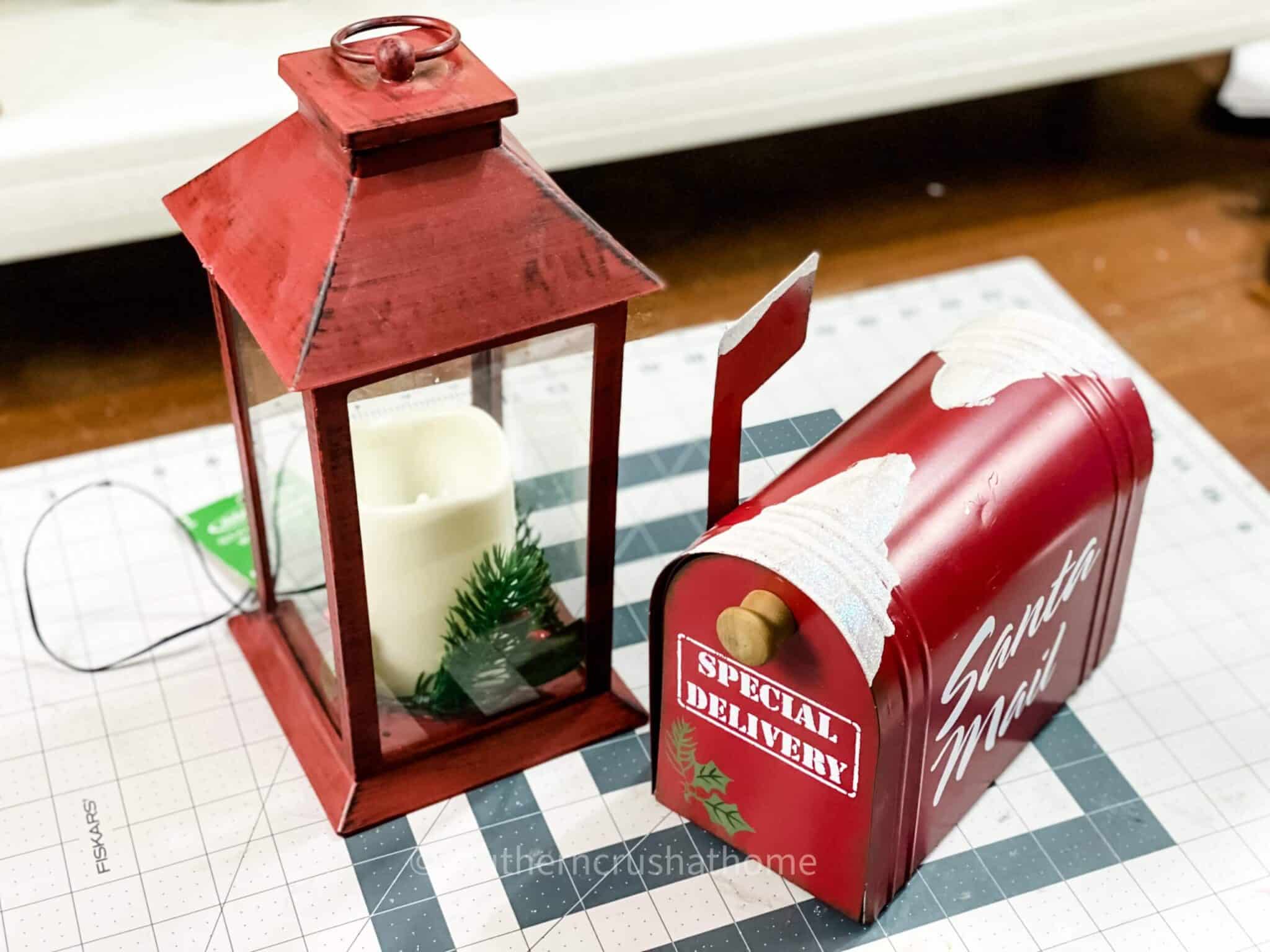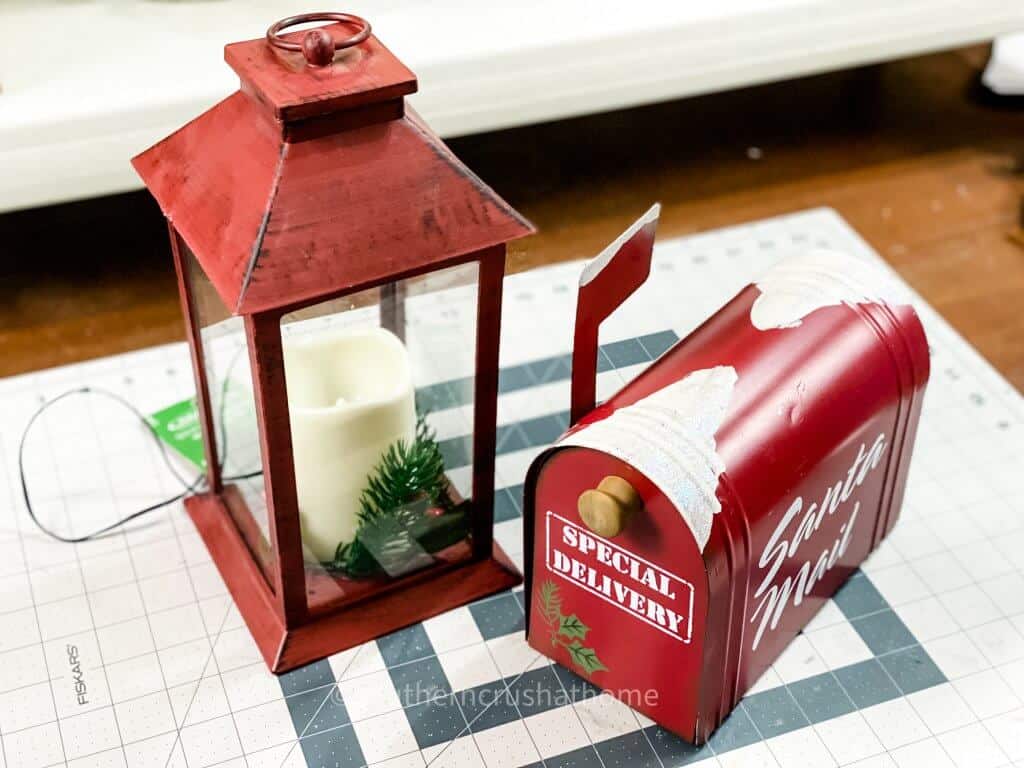 INSTRUCTIONS FOR Christmas lantern and SANTA'S MAILBOX DIY
step 1. lantern and mailbox
Gut the lantern by removing the top, the glass panels and the candle from the center of the base. Spray Rust-Oleum's Imagine Chalkboard Spray paint in smooth even strokes across the lantern and mailbox. Apply a thin layer and allow them to dry.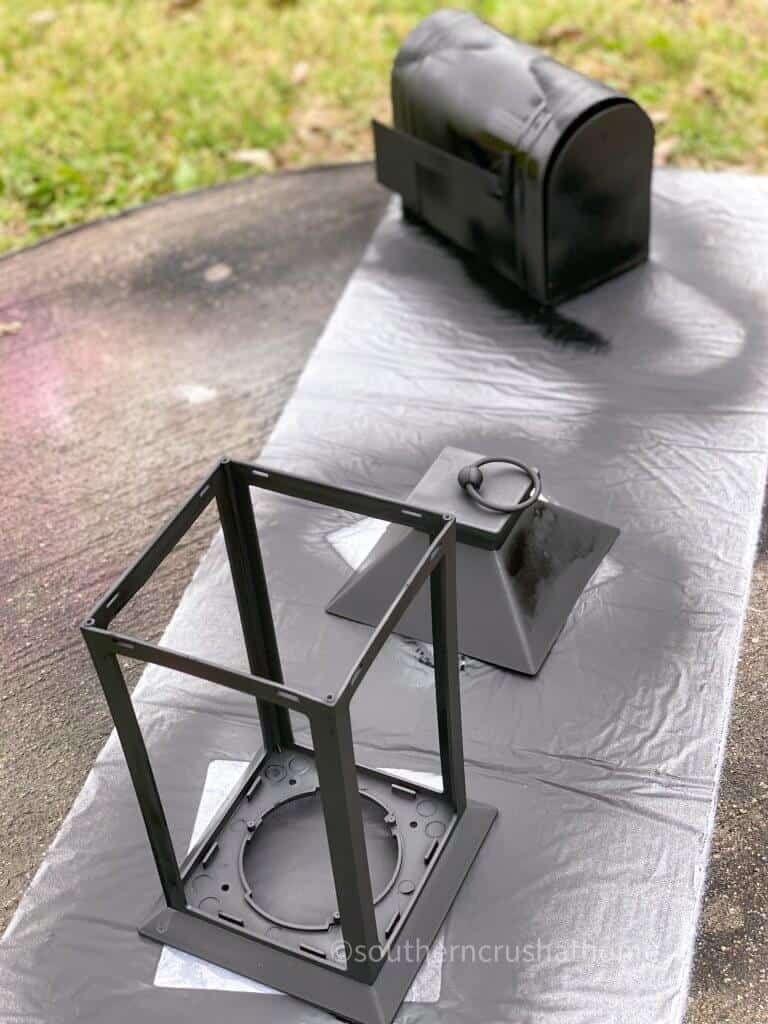 Add a second thin layer to ensure coverage of the glittered, textured portion of the mailbox and then allow them both to dry completely.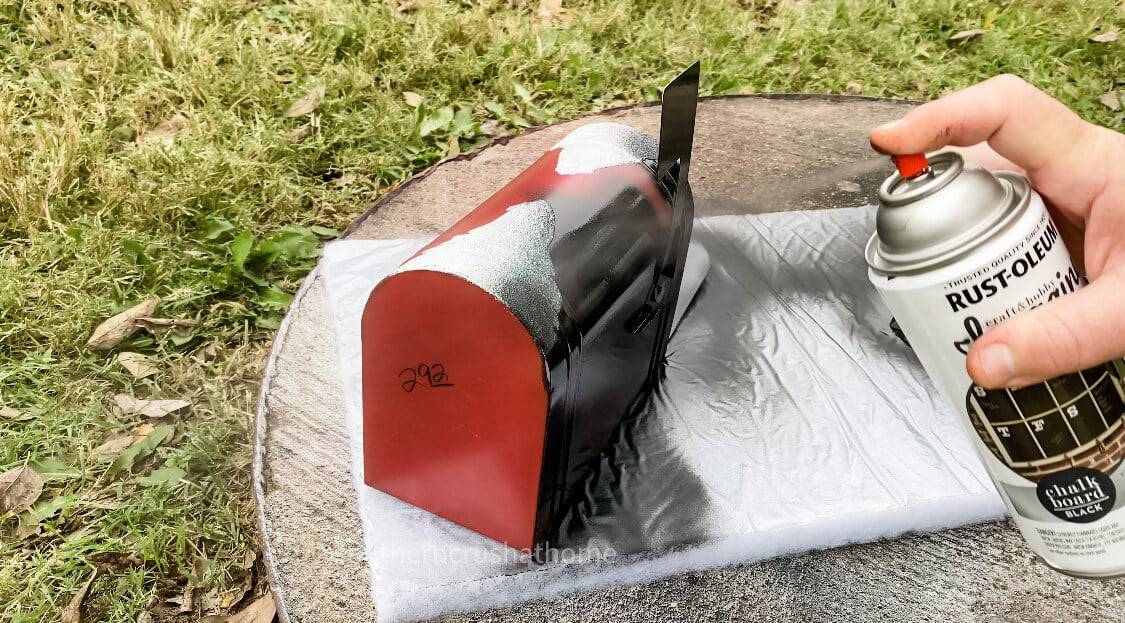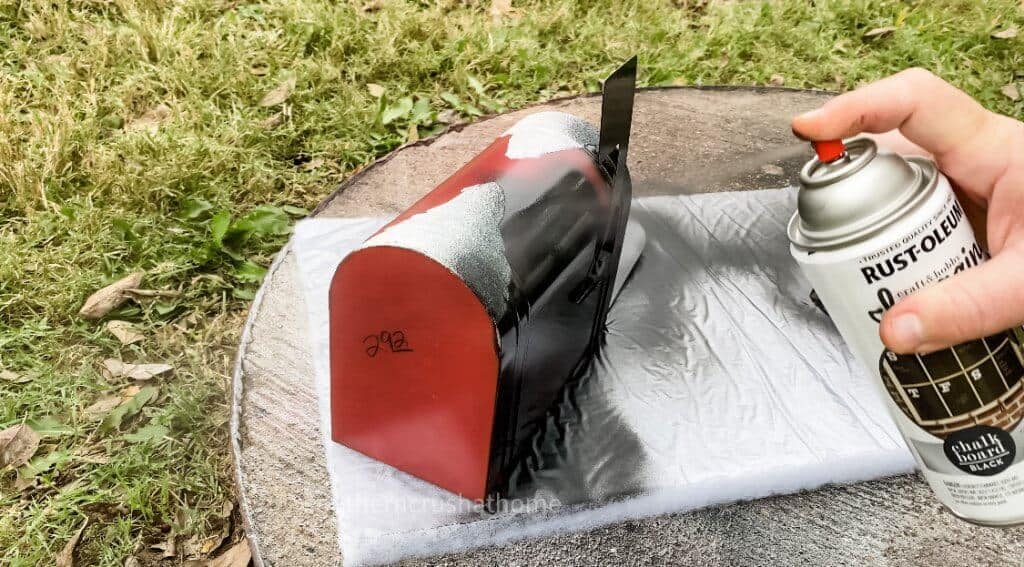 step 2. mailbox
Attach the buffalo check stencil to the mailbox. Use the squeegee and chalk paste to paint it on the mailbox. Remove the stencil and let dry. I applied this technique to the back of the mailbox as well as to the inside of the door so that it shows when opened.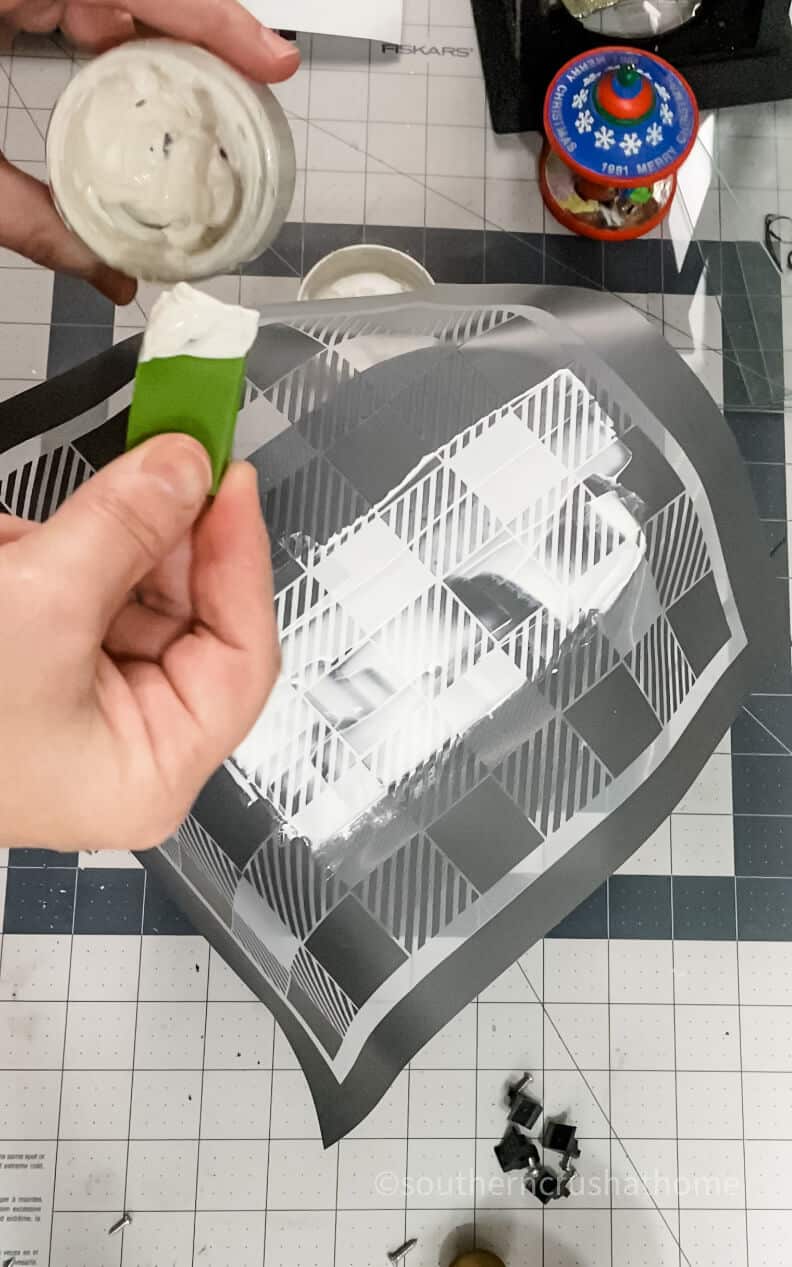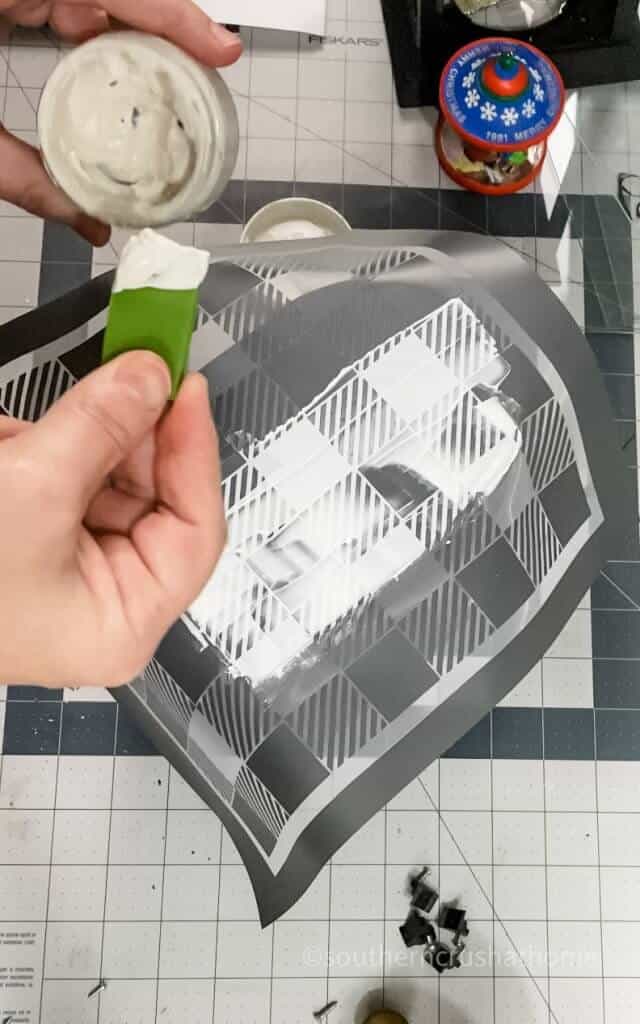 step 3. mailbox
Add the season's greeting and snowflake stencils to the mailbox. Use the squeegee and chalk paste to paint it. Remove the stencil and let dry.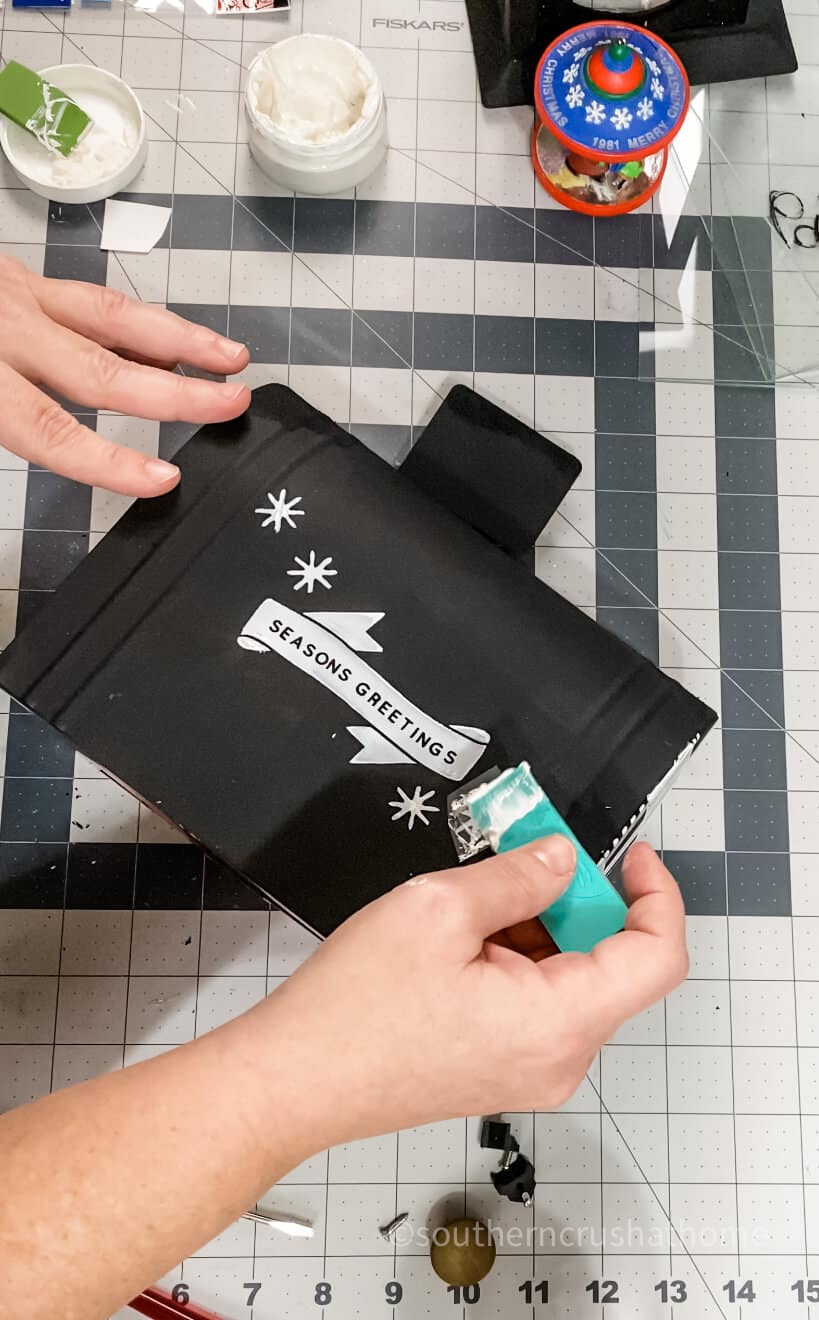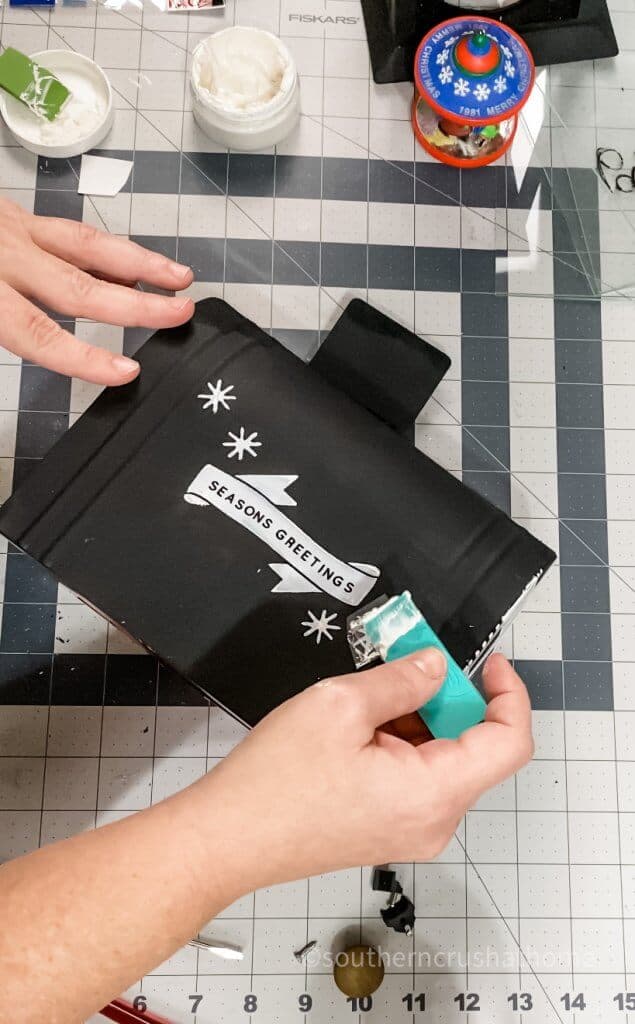 last step – mailbox
Disassemble the christmas picks and then using hot glue adhere the buffalo check flowers, baby pinecones and greenery across the top of the mailbox. I was careful to be sure and cover up where the textured parts were originally.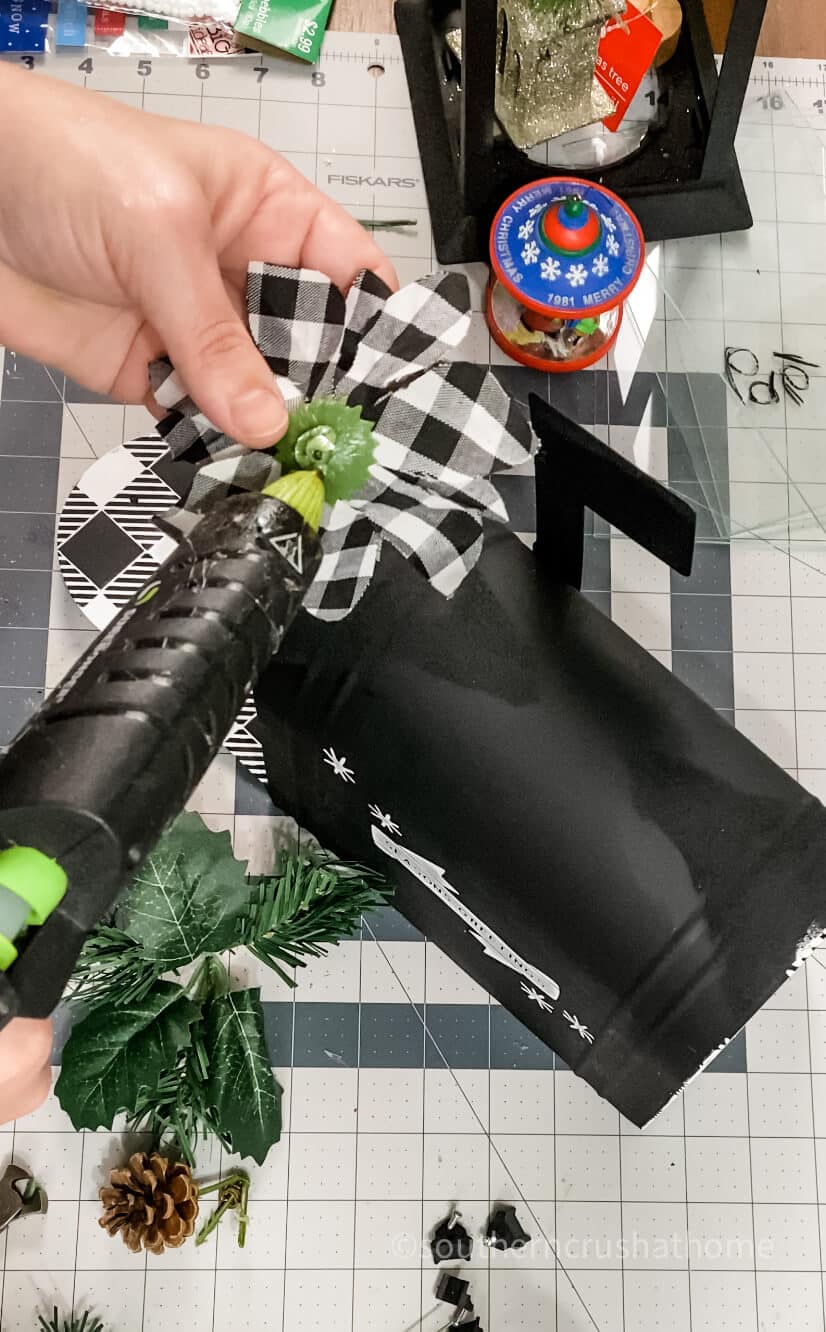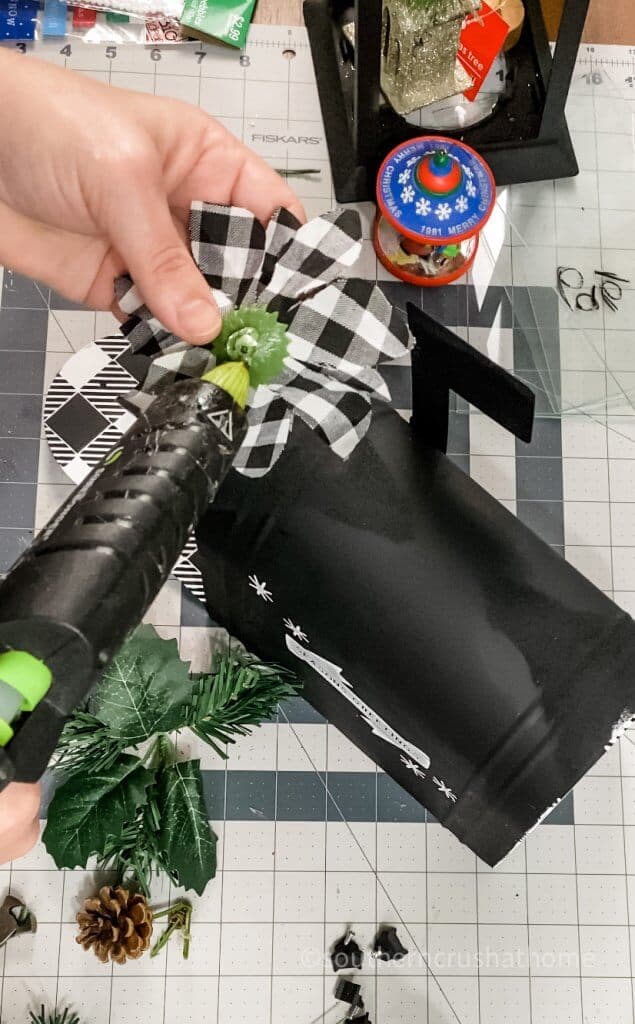 Fill the mailbox with pretty Christmas ornament balls and then place the new and improved Santa mailbox on a table to display.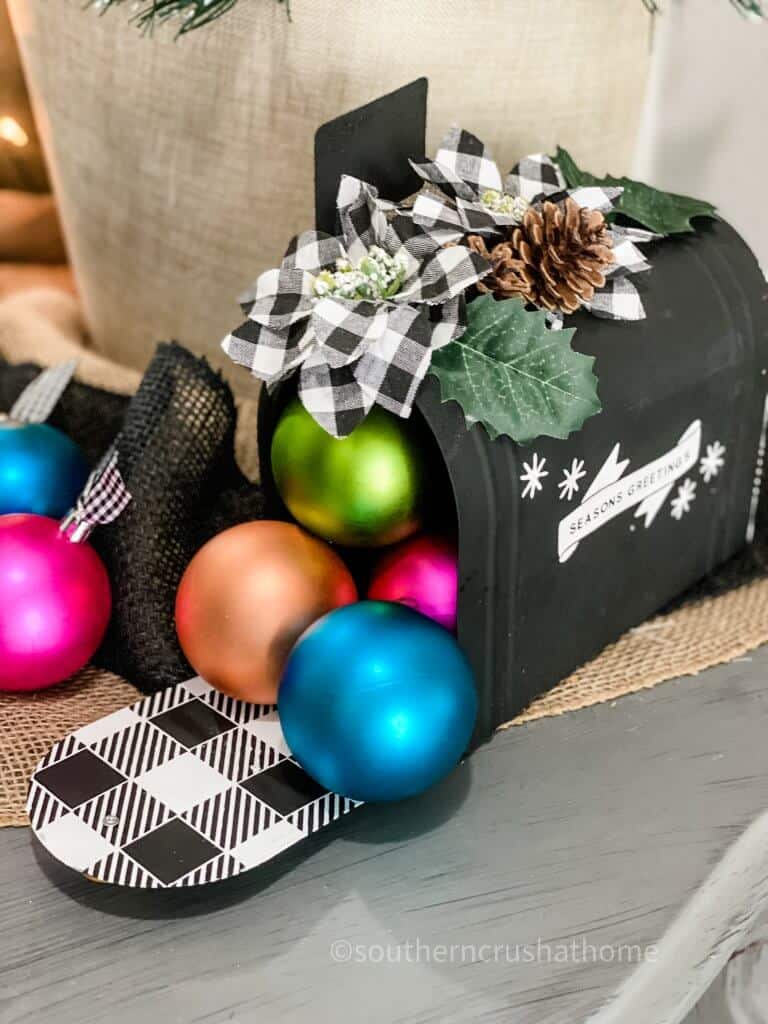 This is a better view showing off the buffalo check backside of this new and improved Santa Mailbox! What do you think? Will you be looking for one of these next time you go out thrifting?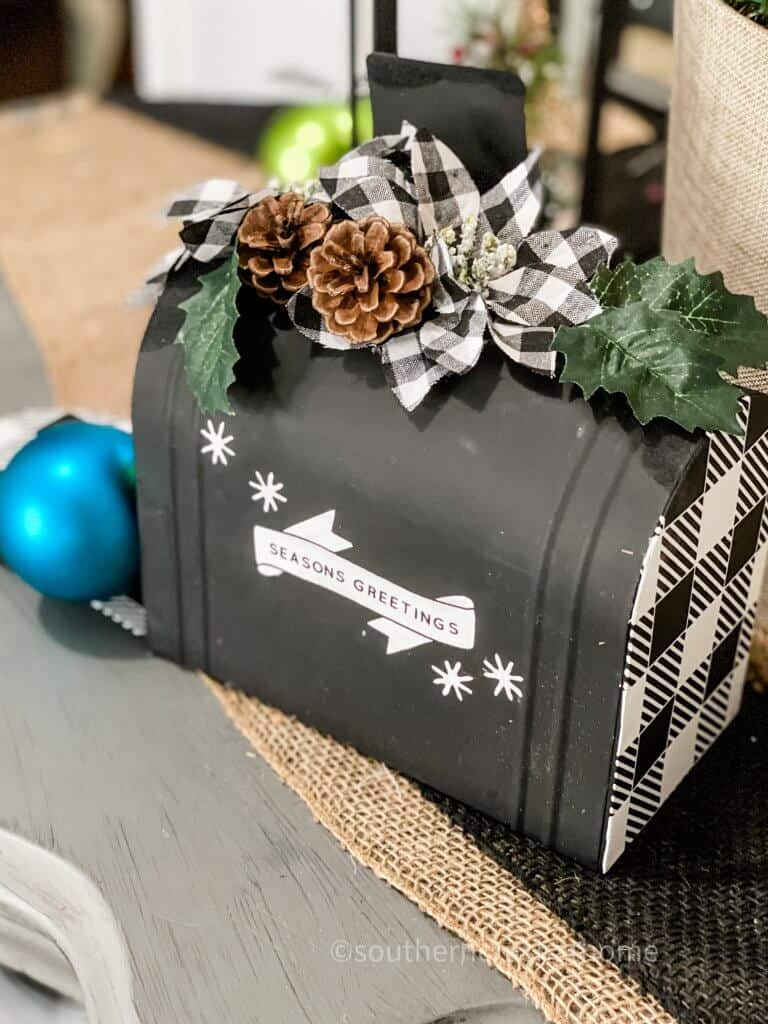 step 2. lantern
Use Armour Etch on the lantern glass panel with the Joy & snowflake stencil to create a fun unexpected touch.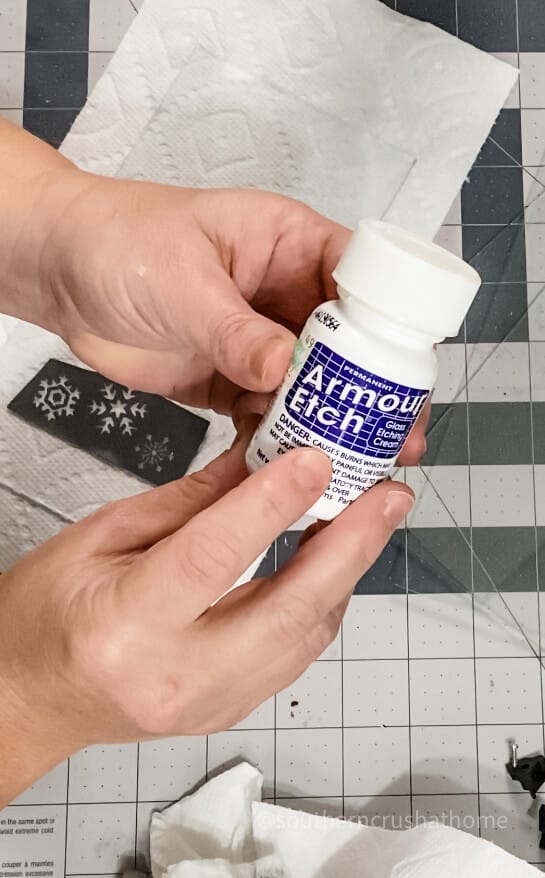 You can use a small paintbrush to add the etching cream. Wait 5 mins then rinse. You will see the beautiful image transferred to the lantern glass.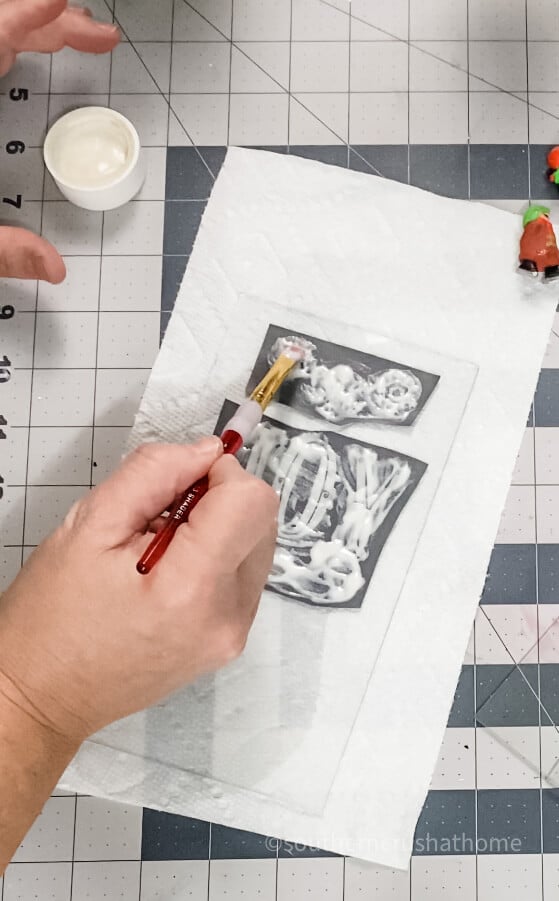 step 3. lantern
Return the glass panels to the base. Glue the miniatures into the base, then add styrofoam beads to cover the bottom of the Christmas lantern scene. I used an old ornament with fun ice skating figurines and a church with glitter from the Dollar Tree.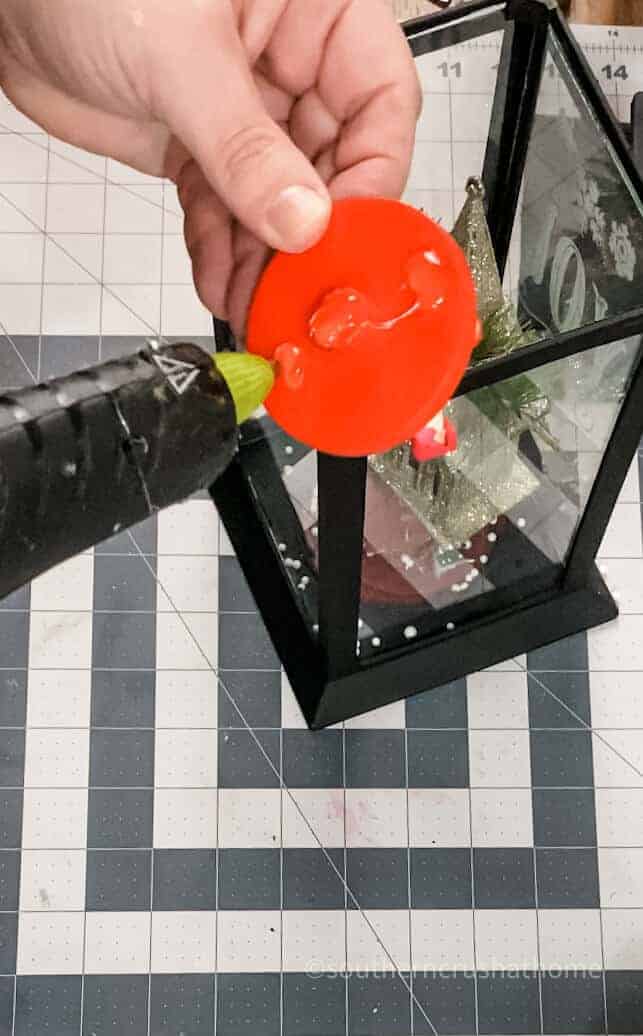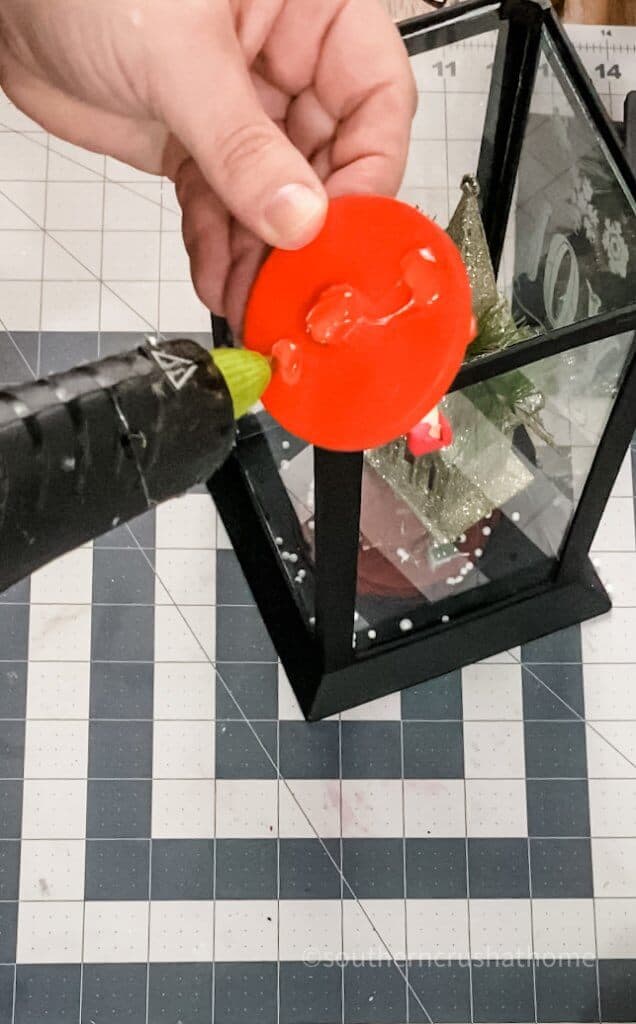 Aren't these little figurines adorable? I love how they look in the lantern.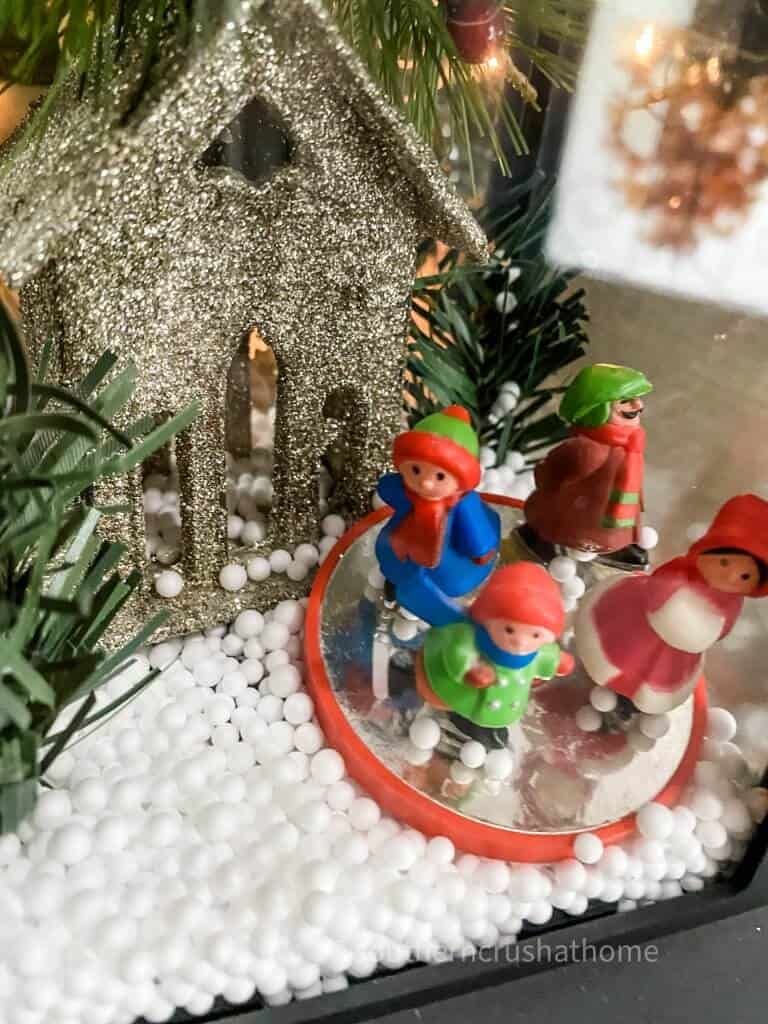 last step – lantern
Hot glue a simple zip tie buffalo check ribbon bow on top of the lantern where it meets the handle. I also added a whimsical "winter wonderland" lable to the top of the lantern for added effect.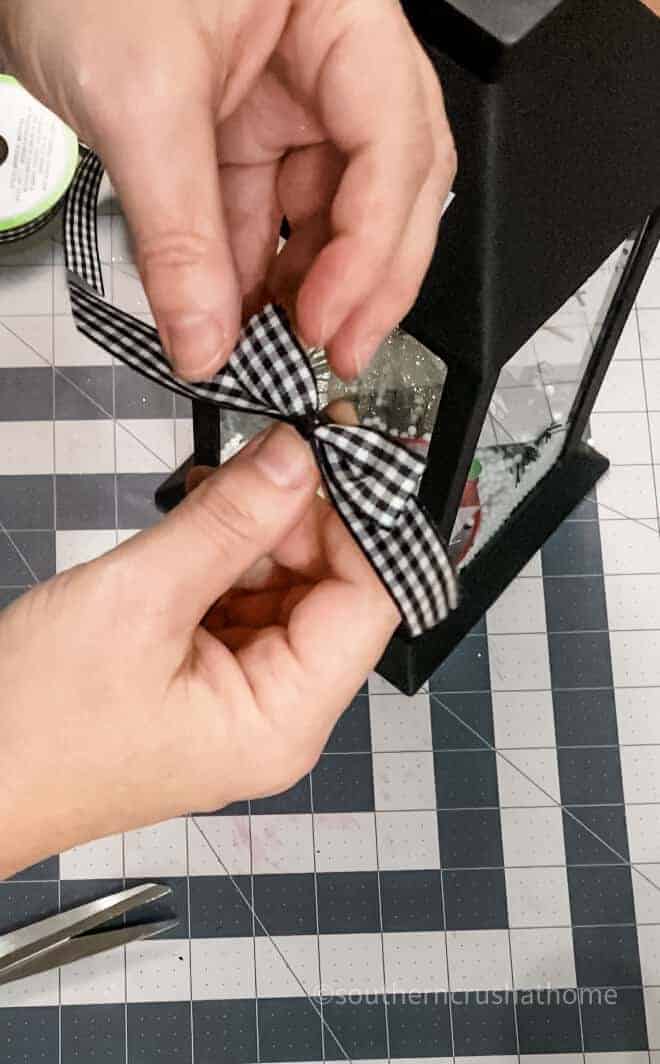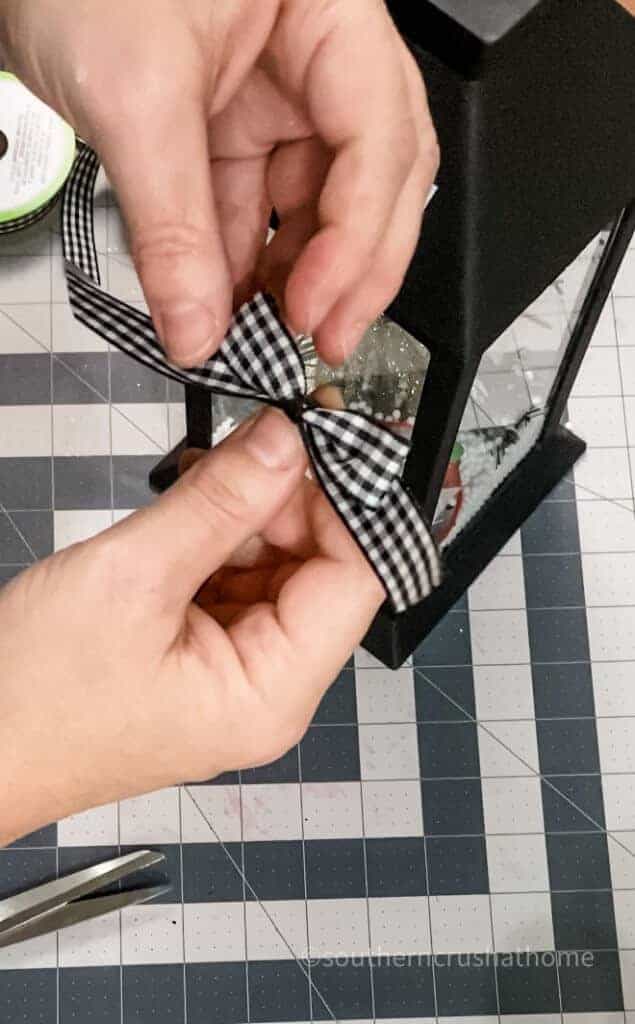 Look at how lovely this beauty is! So much prettier than the original red.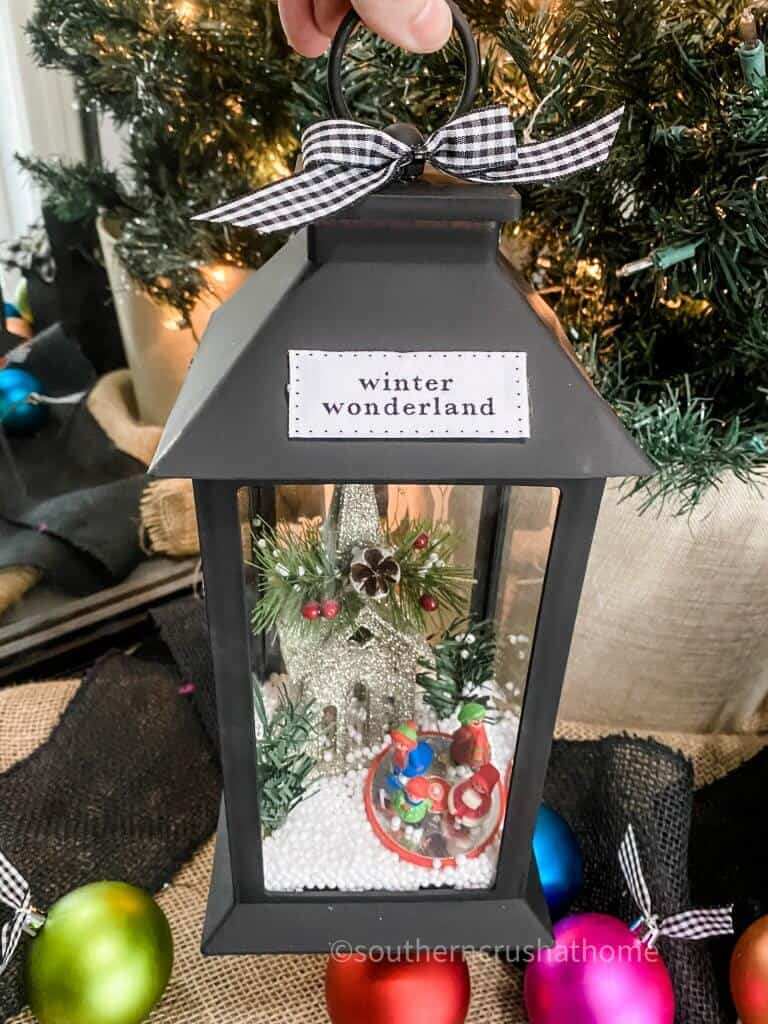 I love how the etching on the lantern glass turned out! You can really see it pop from the side view. There are so many options to choose from when it comes to using the etching on the glass. You can even free hand a design yourself. I can just see a pretty monogram here on a more farmhouse style lantern.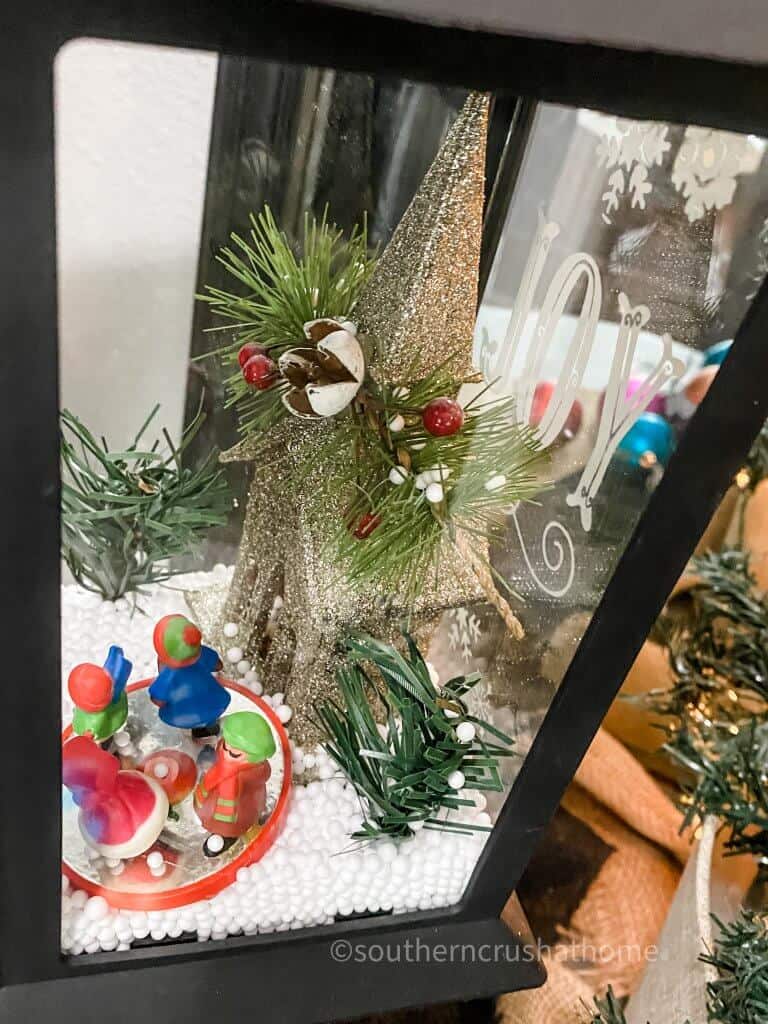 Here is a view of the Christmas lantern in all it's glory with the lights dimmed. You can even still see the etching of the glass in the reflection on the mirror. I'm in love with this thrift flip! How about you?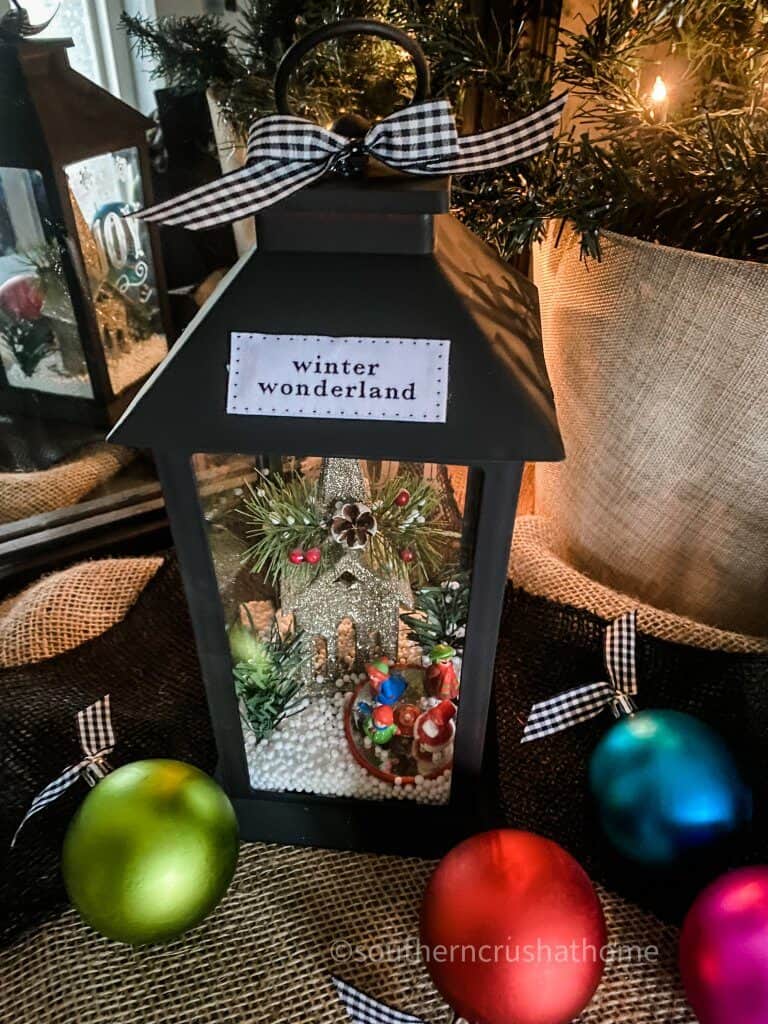 If you are more of a visual learner you may want to see the exact step-by-step process, be sure to check out this video tutorial below over on my YouTube Channel!
Don't miss my buffalo check gift guide for Christmas.
Want even more buffalo check…here you go!
Christmas Lantern and Mailbox Makeover
Turn a basic red lantern and mailbox from a thrift store into unique and updated buffalo check decor pieces with paint and stencils.
Materials
Buffalo Plaid Stencil

Paint Squeegee

Stencil Brush

Painter's Tape

Lantern

Santa's Mailbox

Small Figurines

Buffalo Check Ribbon

Christmas Ornament Balls

Christmas Stems
Instructions
Paint both the mailbox and lantern with 2-3 coats of spray paint.

Let dry in between coats.

Use the stencil and paste to apply images to the mailbox.

Attach buffalo check flowers to the mailbox.

Fill with Christmas ornament balls.

Use etching cream to add a graphic to the lantern. Let sit for five minutes before removing.

Hot glue figurines to the lantern base. Fill with white beads.

Hot glue a buffalo check ribbon to the top of the lantern.
Basic Cooking Measurements & Kitchen Conversions Chart DIY (featuring Rustoleum)
I am always looking for ways to make cooking easier and more enjoyable. So I turned my kitchen cabinet door into a basic cooking measurements and kitchen conversions chart. You can make one, too and take the guesswork out when preparing your favorite recipes this time of year.
Materials
Painter's tape

Rustoleum chalkboard paint

Measurement & Conversion stencils

Chalkpaste

Optional chalk paint pens

Adhesive hooks

Goof off
Instructions
Remove the kitchen cabinet from it's hinges using a screwdriver or a power drill.

Using painter's tape, tape the parameter of the cabinet door and make sure to cover outside edges as well to prevent any overspray.

Spray Rustoleum's Chalkboard Spray paint in smooth even strokes across the cabinet door. Apply a thin layer and allow it to dry an hour. Then add a second thin layer and allow it to dry completely.

carefully remove the painters tape from the edges.

Grab your favorite measurements & conversions chart or use this one for FREE!

Create a stencil using a cutting machine or a LED stencil maker.

Line up the stencils onto the top of the chalkboard section of the cabinet door making sure to space them out to include hooks and measuring cups.

Line up each row using a strip of painter's tape as a guide. Apply chalk paste to stencils one at a time.

Add adhesive hooks under each cooking measurement and hang meauring spoons and measuring cups!