How to Color Easter Eggs with Nail Polish
It's often last minute when I get around to coloring Easter eggs! That's why using this DIY project with nail polish is so awesome and fast! Grab an old nail polish in your favorite color and some eggs and let's decorate!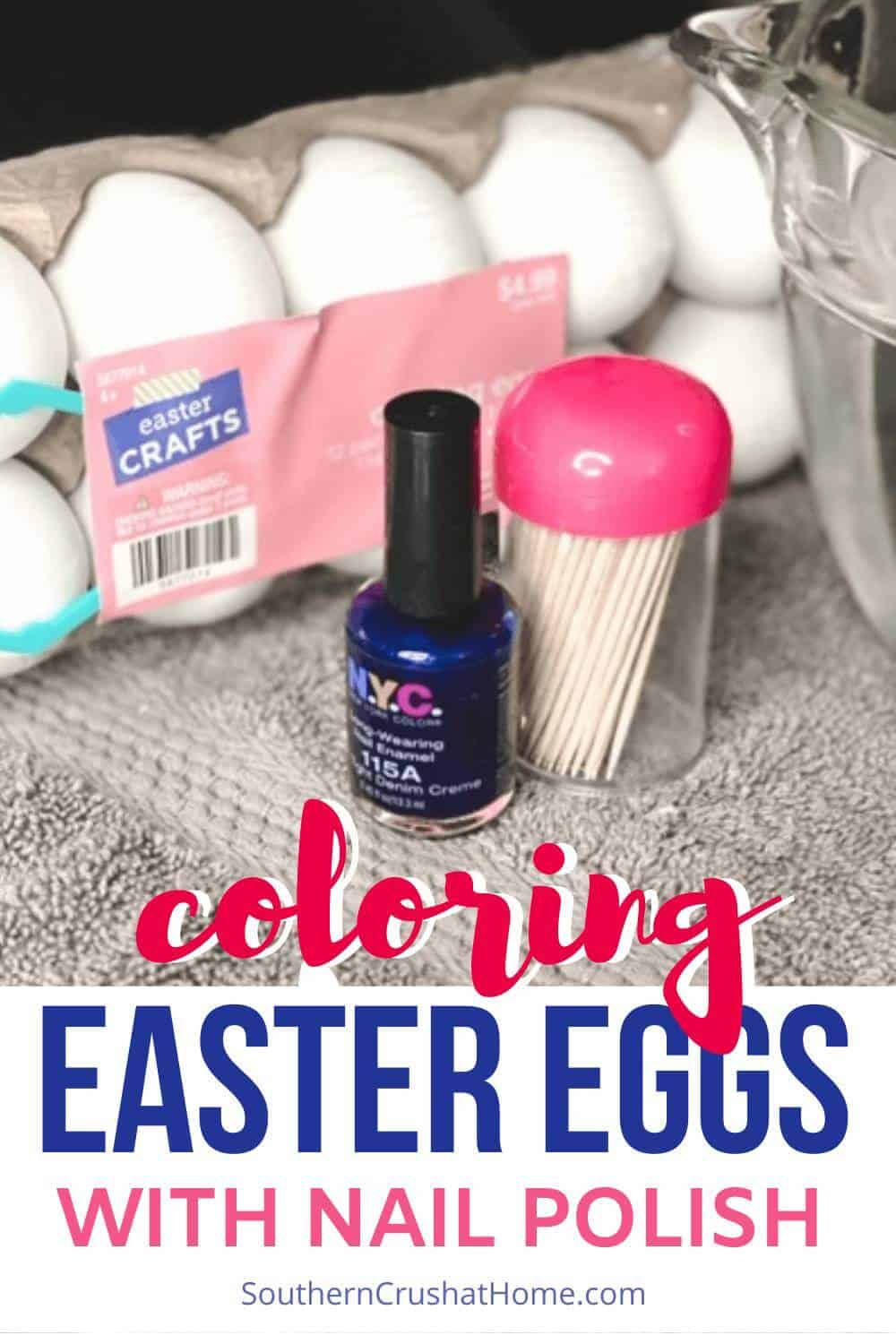 >>BE my PIN pal and Pin THIS FOR LATER!<<
Supplies needed to COLOR Easter eggs with nail polish
Craft Eggs or boiled eggs
Favorite nail polish color(s)
Bowl of cool water
Plastic gloves
Toothpicks
step by step instructions for COLORING Easter eggs with nail polish
Drizzle nail lacquer into bowl of cool water in a swirling motion.
Using toothpick, stir top of water to mix polish up a bit.
Wearing gloves, dip your egg under the water allowing the polish to adhere to the egg as its dunked. **Be sure to wear gloves, so that you don't end up with fingers like this! LOL!

Remove your egg and allow to dry a couple of seconds. That's literally all there is to it!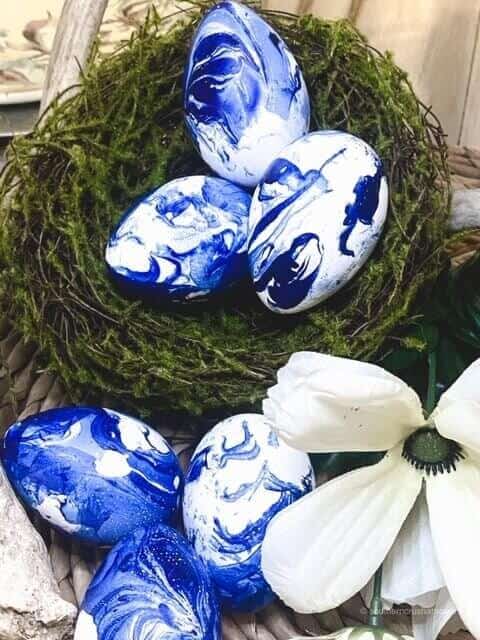 If you missed the video tutorial, watch it HERE.
viola! EASTER EGGS COLORED with Nail Polish!
Super simple and beyond beautiful, these decorative polish eggs make the perfect addition to any Spring Tablescape or Easter basket! The process is so fun that it's addictive. The finished look reminds me of Blue Willow patterned china or Wedgewood–so pretty! Will you be trying these for yourself?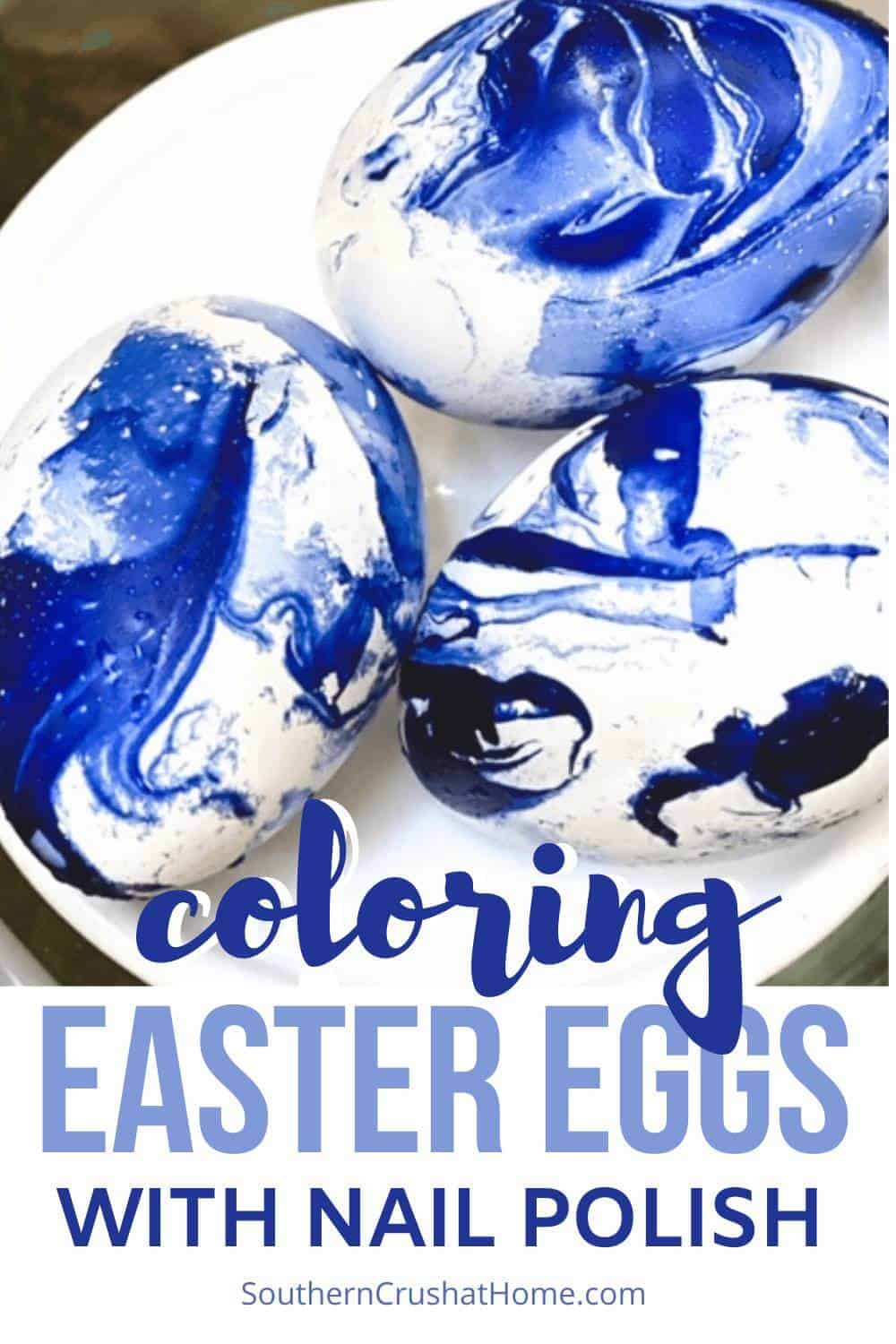 If you love these kind of DIY ideas, you need to be getting my emails, friend! Each week I send out a couple of emails that include updates, crafts, shopping experiences and decor inspiration. Be sure to get yourself signed up below. I can't wait to meet you!
>>Leave your thoughts below in the comments please… BTW— Life is short—Enjoy the mess!