Vintage Tea Pot Centerpiece DIY
Make a beautiful vintage tea pot centerpiece DIY with this craft tutorial. This centerpiece can be displayed on your table for a pretty brunch, or spring and summer tea party with your girlfriends. Use your favorite color flowers to really personalize it. Keep reading to learn how to make your own DIY tea pot centerpiece.
SUPPLIES NEEDED FOR Vintage tea pot centerpiece DIY
1 Tea Pot or Watering Can ( I will be using a Silver Tea Pot)
1 plastic charger – found at the Dollar Tree
1 spice jar of cinnamon
Black Marker with pointed tip (permanent marker)
1 bouquet of synthetic Tulips (I am using yellow)
10-15 strands of various spring ribbons 24" in length
Bling Embellishment – approx. 1 ½" diameter
1 kraft paper tag, shape of your choice
Jute – 24 " thin jute string 1 yard
1 set wooden chop sticks
Carbon Paper – 1 piece
HOW TO MAKE A vintage tea pot centerpiece
This project was crafted by Celebrity Crafter: Nichole Laliberte
Celebrity Crafter's Page: Cowgirls and Spurs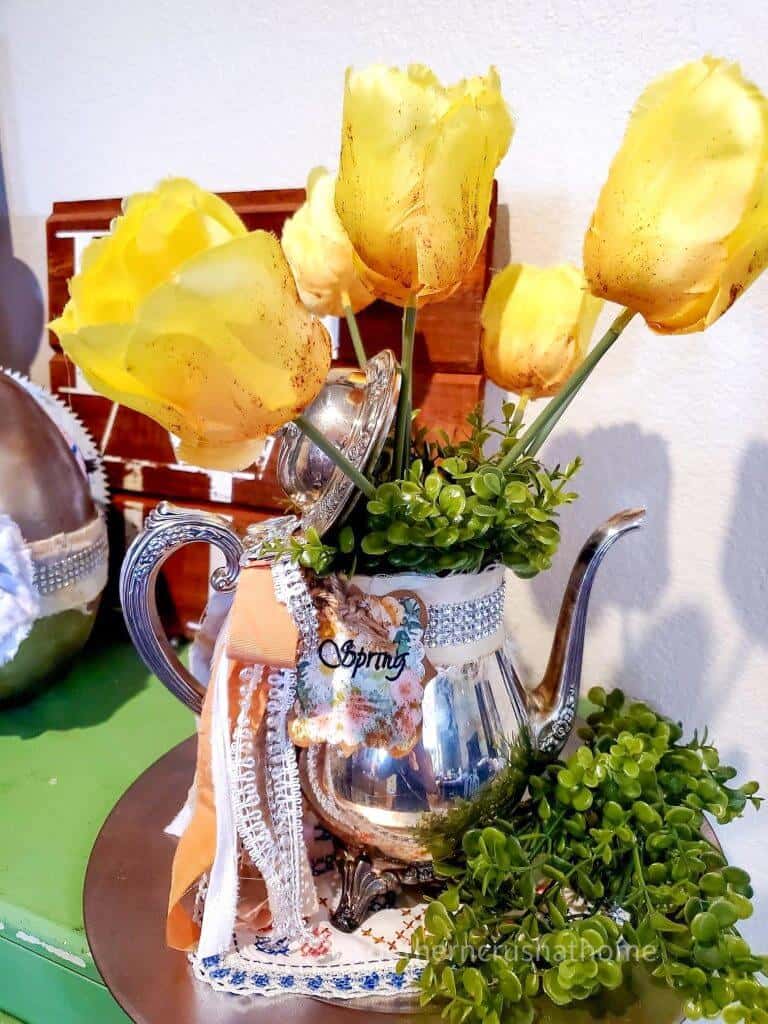 WHERE CAN I FIND vintage tea pots
Part of the fun of working with vintage goods is the thrill of the find! Isn't it such a great feeling when you find a treasure at a thrift store, or antique market? There is a bi-annual event across the country called Vintage Market Days.
I recently went to a Spring event. You can read all about my trip to Vintage Market Days of Denton here. Check to see if there is one near you!
Facebook Marketplace – you never know what you will find there.
Etsy – you may be able to buy some vintage tea pots from an Etsy seller.
Thrift stores – this is one of the best places to find vintage tea pots for cheap!
Antique Stores – you should be able to find pretty tea pots, but they may be a little pricey.
WHERE CAN I DISPLAY MY vintage tea pot centerpiece
Once you make this pretty centerpiece, you can display it in so many creative ways. Here are a few ideas to decorate with your DIY tea pot centerpiece:
set a pretty tablescape with the tea pot as the centerpiece.
decorate a dry sink, or buffet table with your tea pot centerpiece.
use it as a focal piece on a mantel display
OTHER FUN CRAFTS TO TRY:
This project is a great idea for a brunch centerpiece, or summer tea party. Wouldn't this be fun for Mother's Day too?
If you love this craft, consider joining us inside Southern Crush Creative Club VIP! In the meantime, if you love this kind of DIY idea, you need to be getting my emails, friend! Each week I send out a couple of emails that include updates, crafts, shopping experiences, and decor inspiration. Be sure to get yourself signed up below. I can't wait to meet you!
Make your own vintage tea pot centerpiece using your favorite flowers. Add some pretty wood beads for extra texture and dimension. I can't wait to see how yours turns out.
>>>Leave your thoughts below in the comments please…