Video: Pioneer Woman Mercantile Trip + Decor Ideas
I've been a long time fan of Ree Drummond otherwise known as, the Pioneer Woman. So when my friend and fellow blogger, Amy Sadler with Chateau Chic DIY suggested we meetup and visit the Pioneer Woman's Mercantile; I was quick to jump on the idea! I knew that not only would the trip to the Pioneer Woman's Mercantile be super fun; it would give me so many home decor ideas and boy was that right. These are my highlights and tips from the adventure…

Who is the Pioneer Woman?
Ree Drummond's climb to fame started out in 2006 when she began a blog called the Pioneer Woman. She homeschooled her four children while she wrote inspiring posts about her life as a photographer on a cattle ranch in rural Oklahoma with her four kids and husband Ladd (Marlboro Man). About a year into her blogging career, Ree shared her first recipe, and soon became a household name.
Where Is The Pioneer Woman Mercantile Located?
The Pioneer Woman Mercantile is located in Pawhuska, Oklahoma. If traveling from Tulsa, Oklahoma, it is about 71 miles (or 1 1/2 hours) traveling through Bartlesville.
Pioneer Woman Mercantile & Restaurant
532 Kihekah Ave, Pawhuska, OK 74056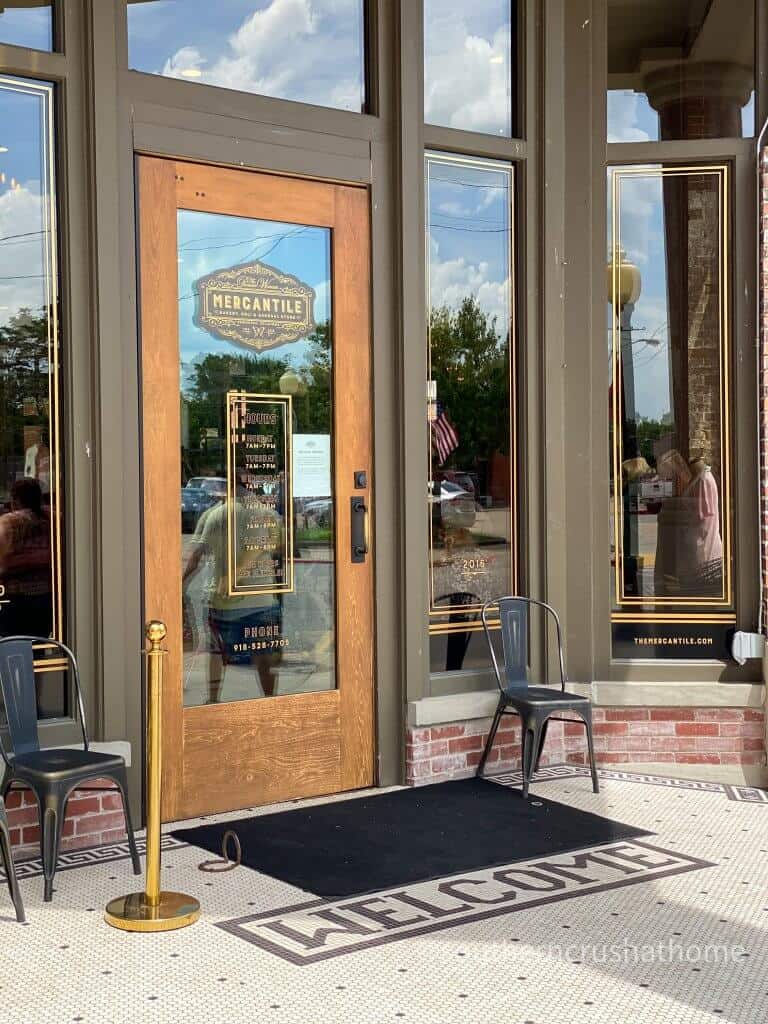 My travel from Dallas, TX included a short and affordable non-stop flight to Tulsa, OK. My friend Amy drove in from Joplin, MO which was only an hour and a half drive. We stayed in Tulsa, OK at a gorgeous, historical hotel called The Mayo. I almost always book a historical hotel wherever I go because, well, I'm addicted to all things vintage.
Then the drive from the hotel in Tulsa, OK to the Pawhuska, OK was easy with a friend. Chatting the entire drive made the one hour pass by quickly. Among the conversations was mention of hoping that there wouldn't be a long line because we were really hungry and couldn't wait to try the food about which we had heard such great reviews. We had heard many stories about how long the lines could be – even running around the block and down the street to get into the Mercantile!
Finally, as we drove through town on a Monday afternoon just after lunchtime, we were so happy to see that not only was there was no line coming out the door, there was a front row parking spot just sitting there waiting on us!
What are the hours at the Pioneer Woman Mercantile?
The Pioneer Woman Mercantile is open daily 7 am to 7 pm and on Friday and Saturday's until 8 pm. They are closed on Sundays so be sure to remember this when planning your trip! We went on a Monday and although it was a bit crowded on the inside; we had zero issues getting a parking space outside. When we entered the building, we were greeted and told the current wait for a table was two hours. Although we were hungry for lunch; we decided that something sweet from the bakery upstairs would satisfy us with no problem.
There are two floors at the Mercantile
Once we heard there was going to be a bit of a wait to be seated in the restaurant; we made our way upstairs to the bakery area. I always start with dessert anyway, don't you?
The first floor is the store, restaurant, and deli which has a grab and go menu; while, on the second floor is a large sitting area to relax and enjoy coffee & bakery goods!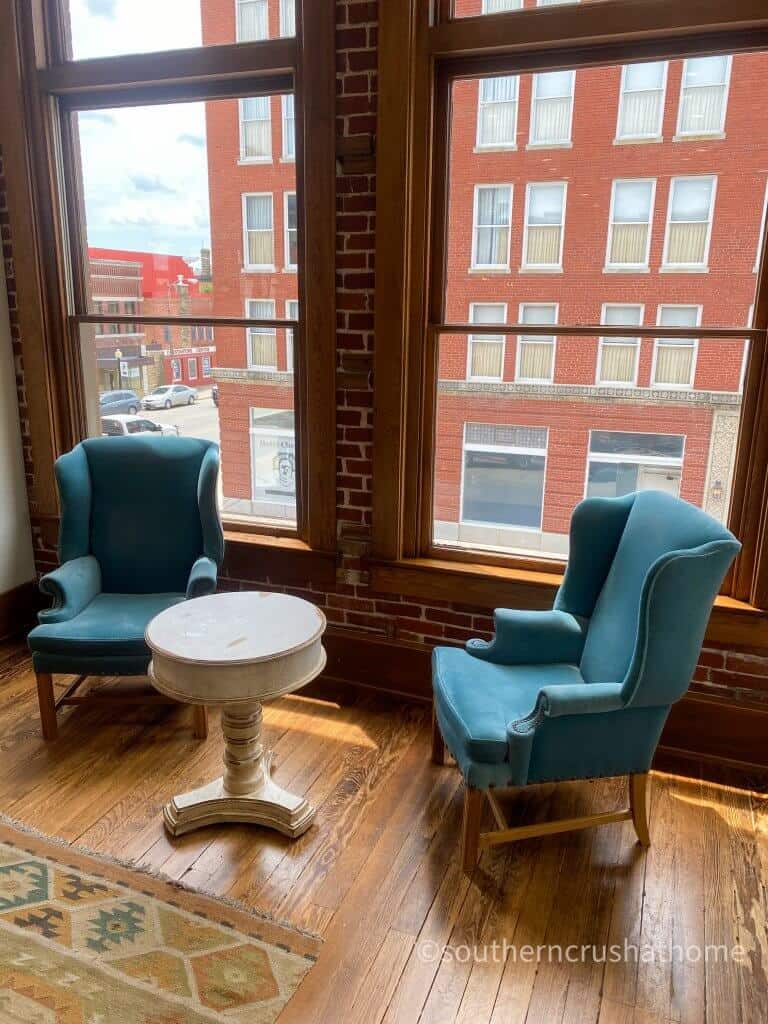 We tried several of the cupcakes and cookies as well as one of the savory biscuits. We both ordered iced coffees and took turns trying bites of everything. It was all amazingly delicious!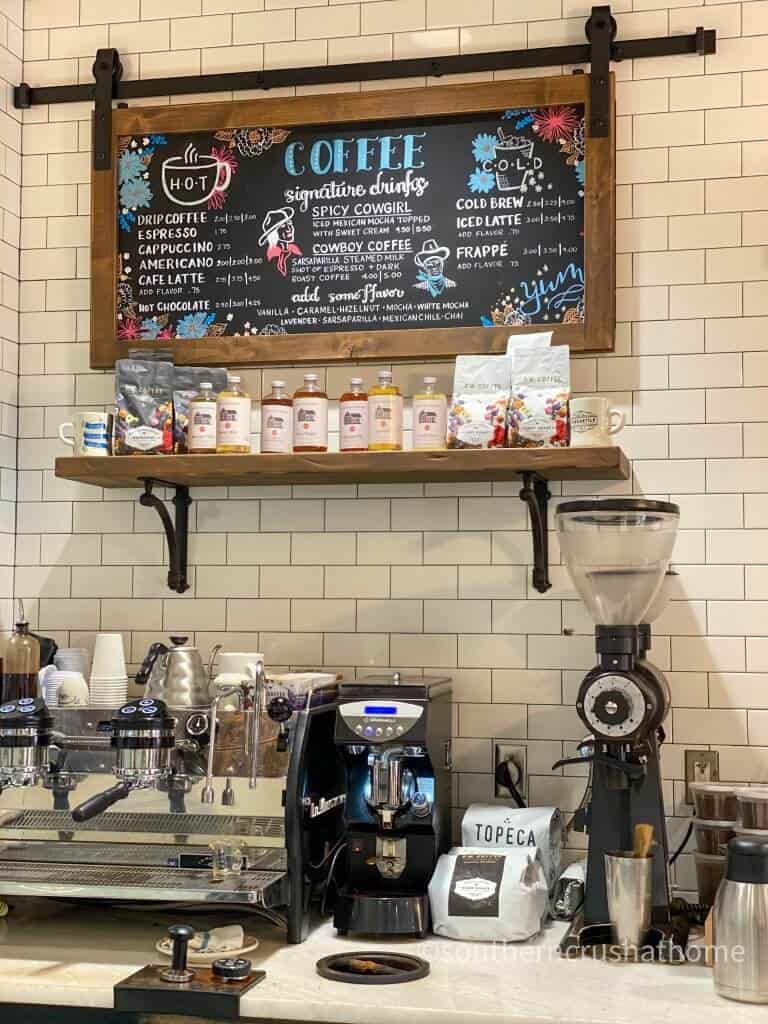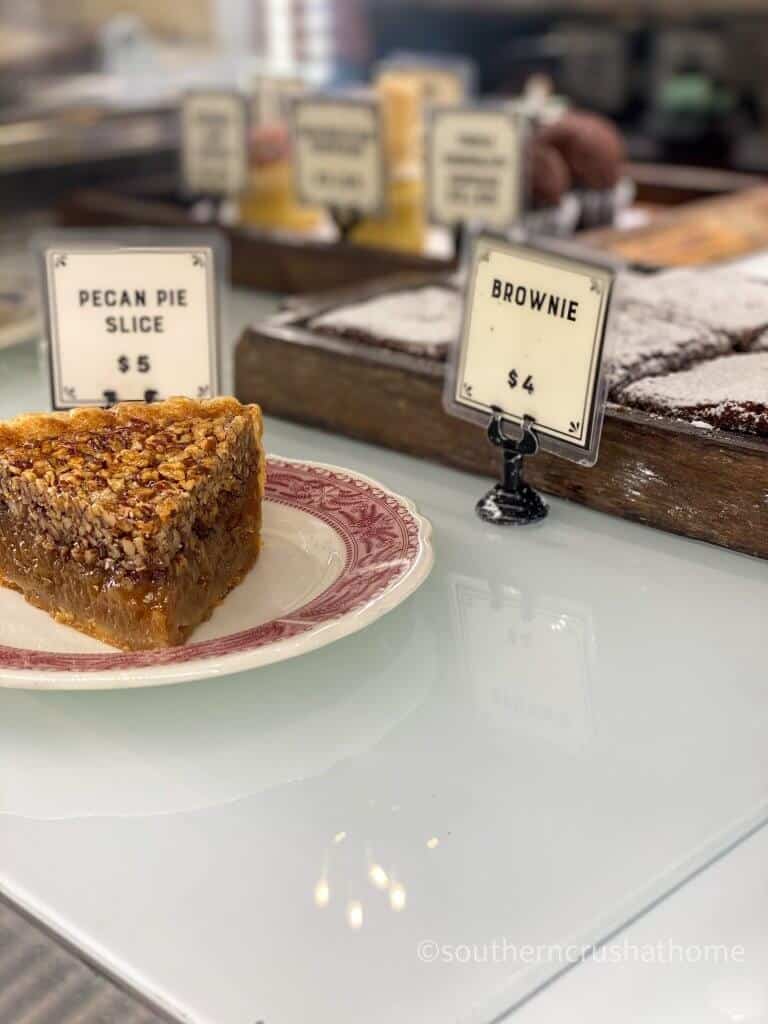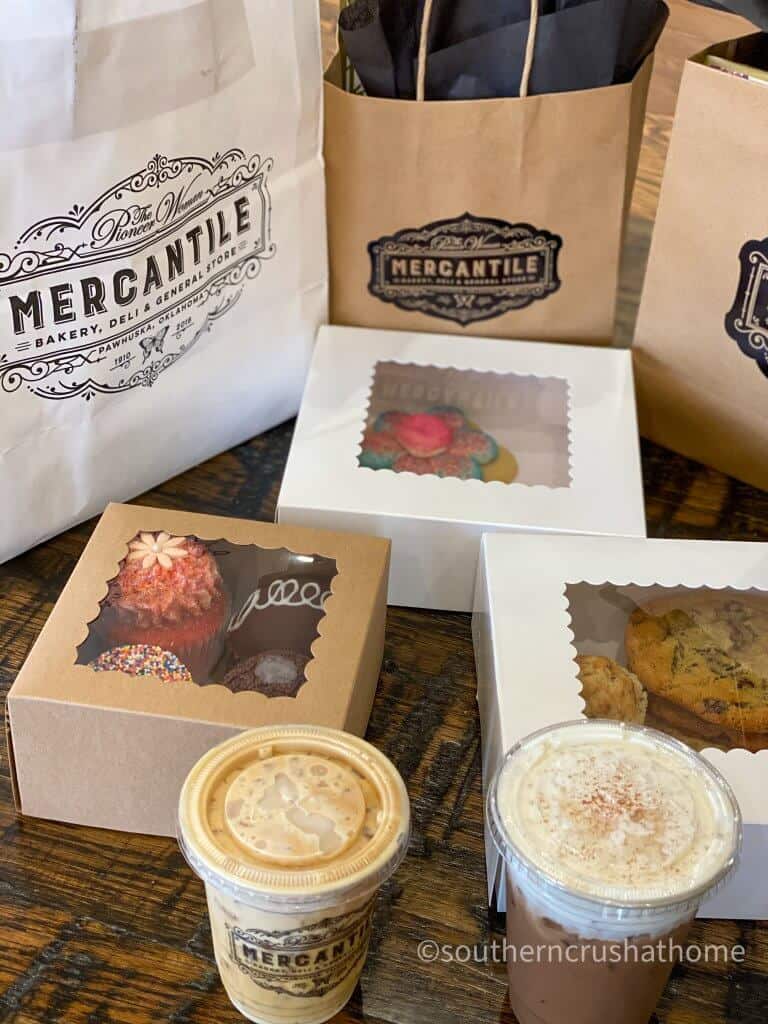 shopping at the pioneer woman mercantile
After we ate our snacks, we headed back downstairs to do what we love best–shopping! Boy oh boy was there shopping! I did a quick little Facebook LIVE video of our shopping here for you.
There were so many things to look at and drool over, but these were my favorites.
Mugs, Mugs, and more Mugs! Can you really ever have enough mugs? Especially bright pretty ones with flowers and sayings like these. And you must purchase some coffee beans to go with your new mug! I can't wait to try it.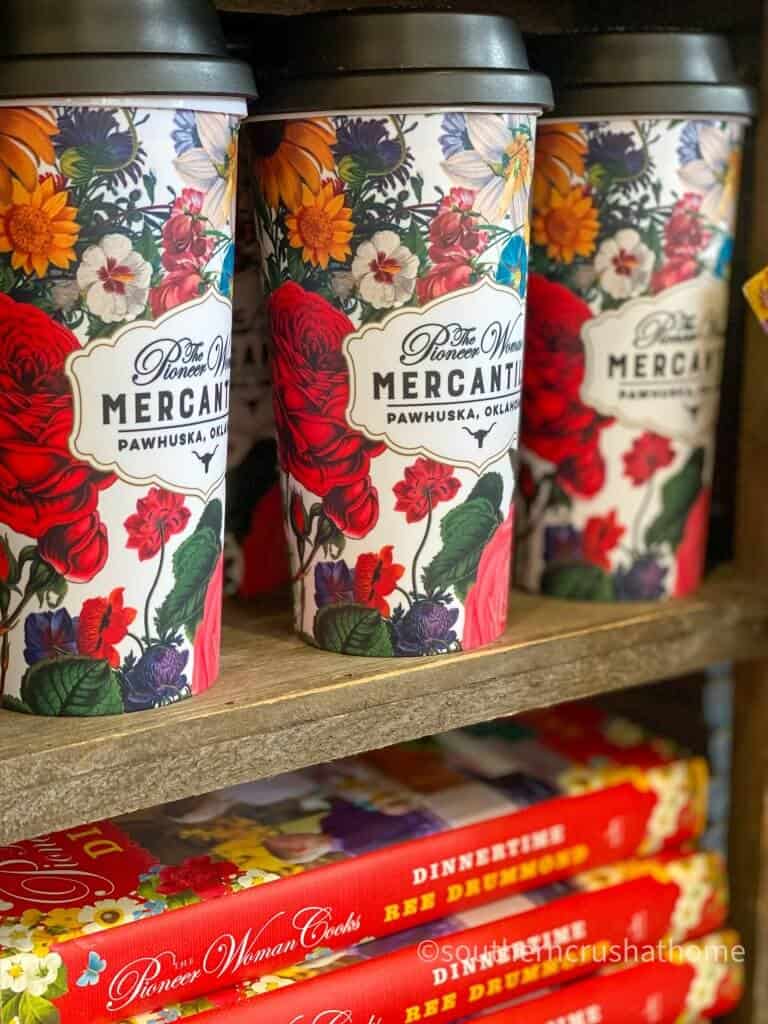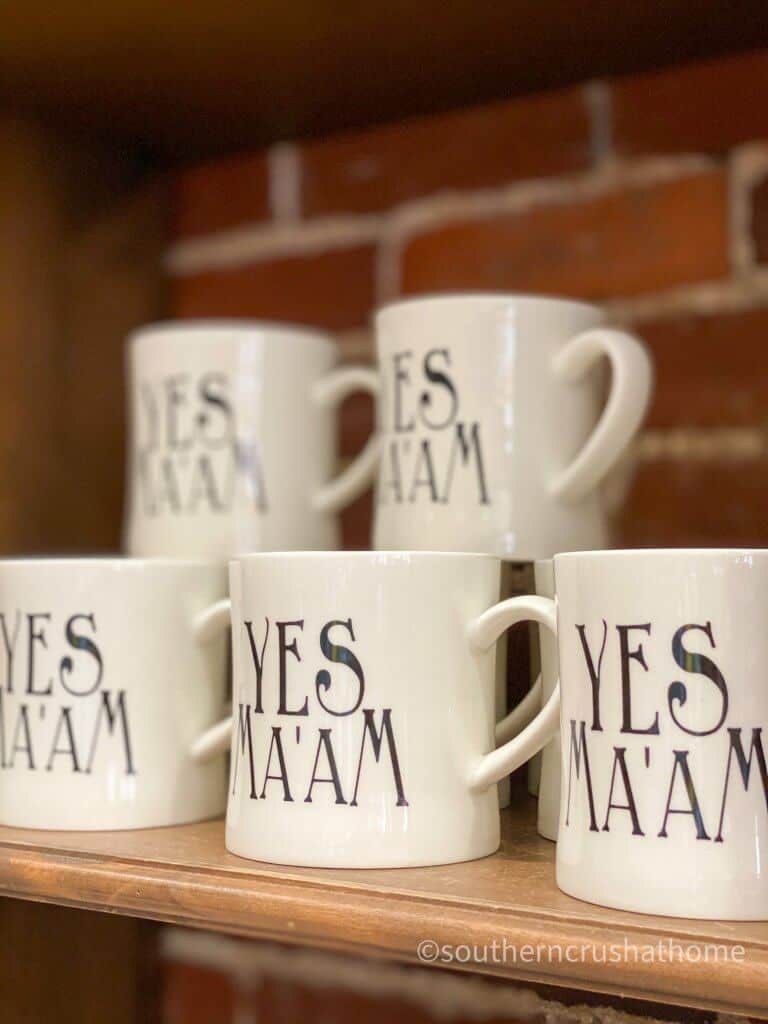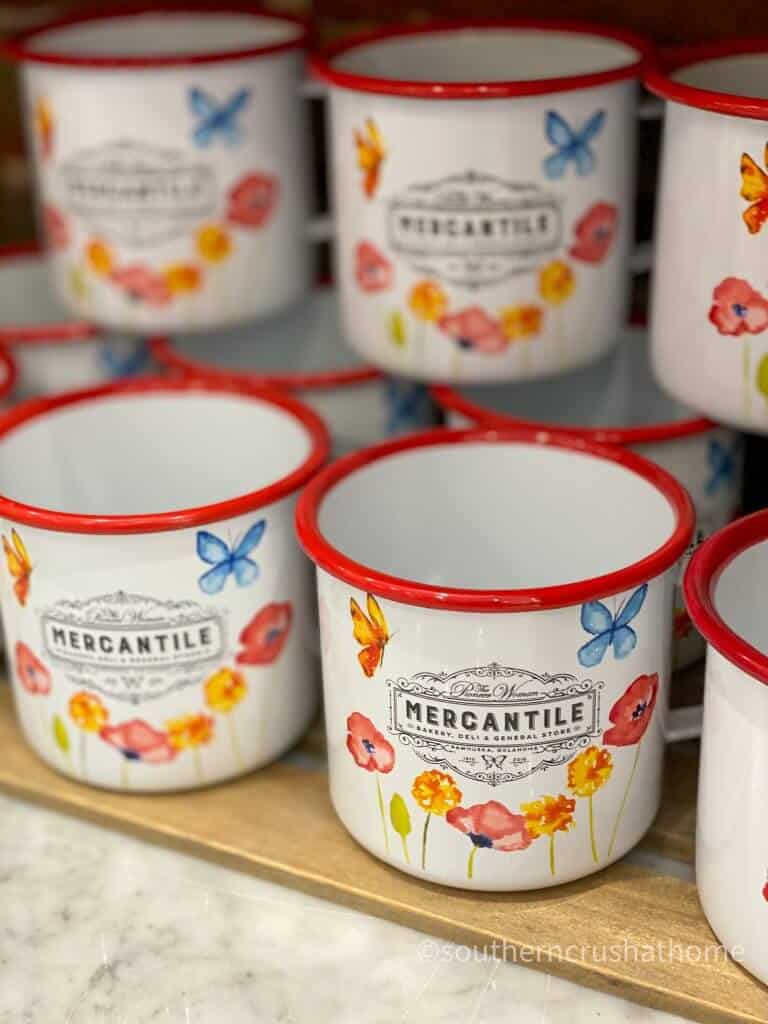 These were some of the cute memorabilia items with the Pioneer Woman Mercantile logo on them as souvenir decor!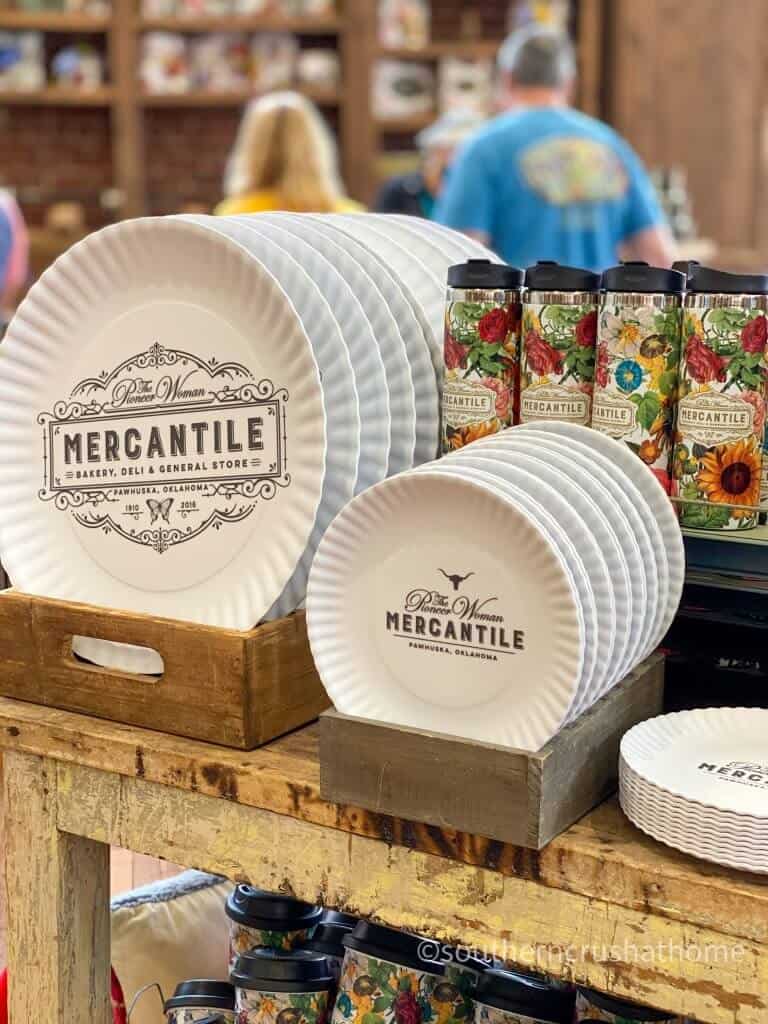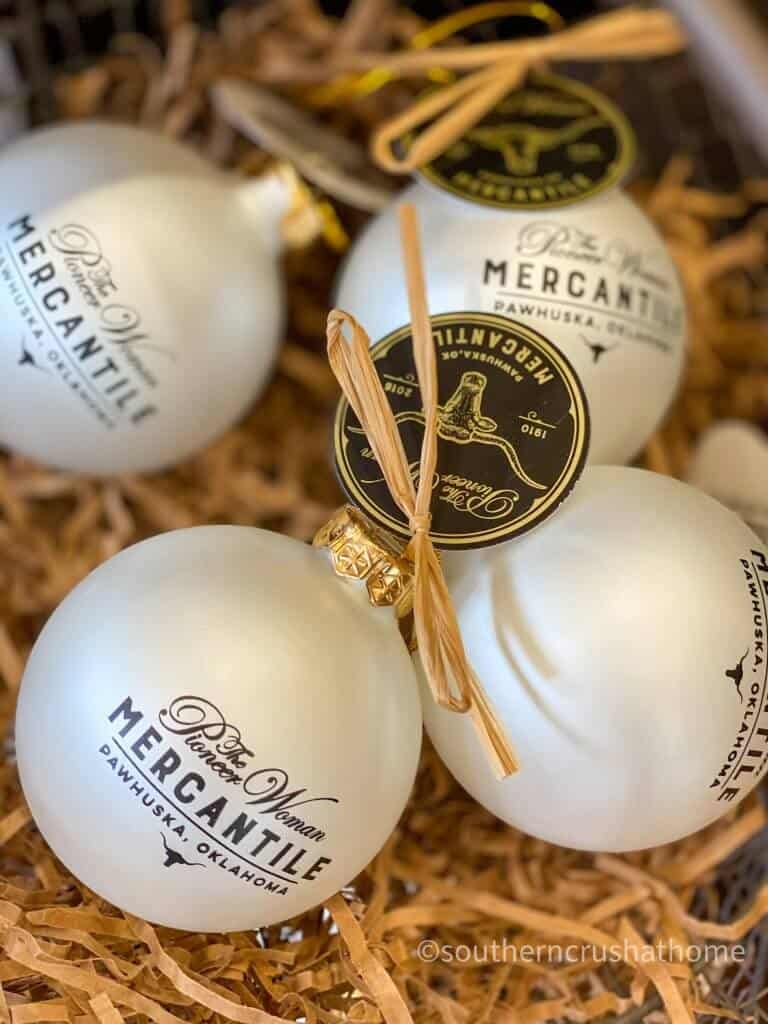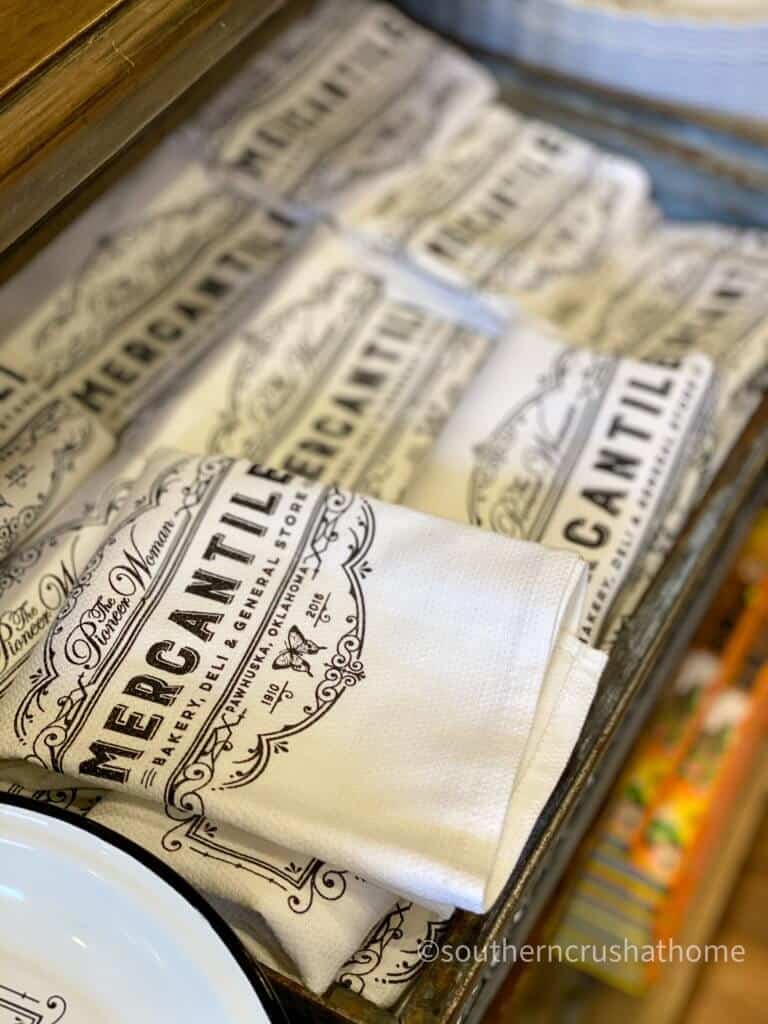 So much of the Pioneer Woman branding is based on beautiful florals. I'm in love with the bright pops of turquoise, hot pink and yellows that cover several of her signature decor items like these fabulous rolling pins and flour sifters. The rolling pins are the inspiration behind my DIY rolling pin project– you can make your own HERE. There was also a huge section dedicated to boutique clothing, candles and jewelry! Oh so many things to love!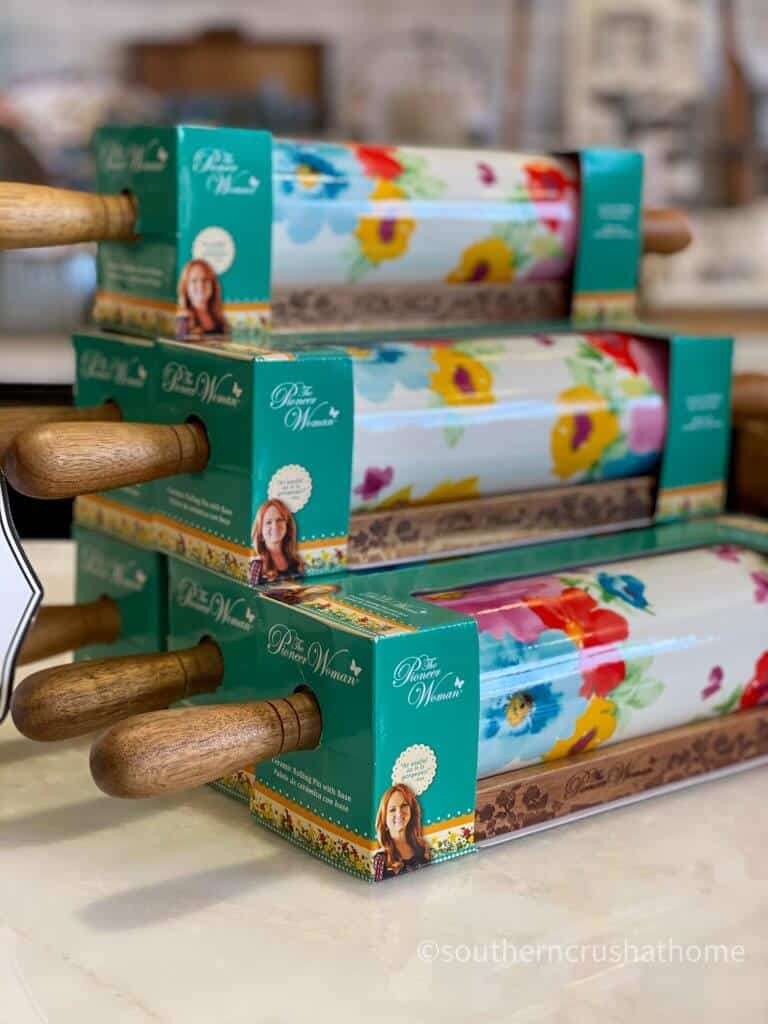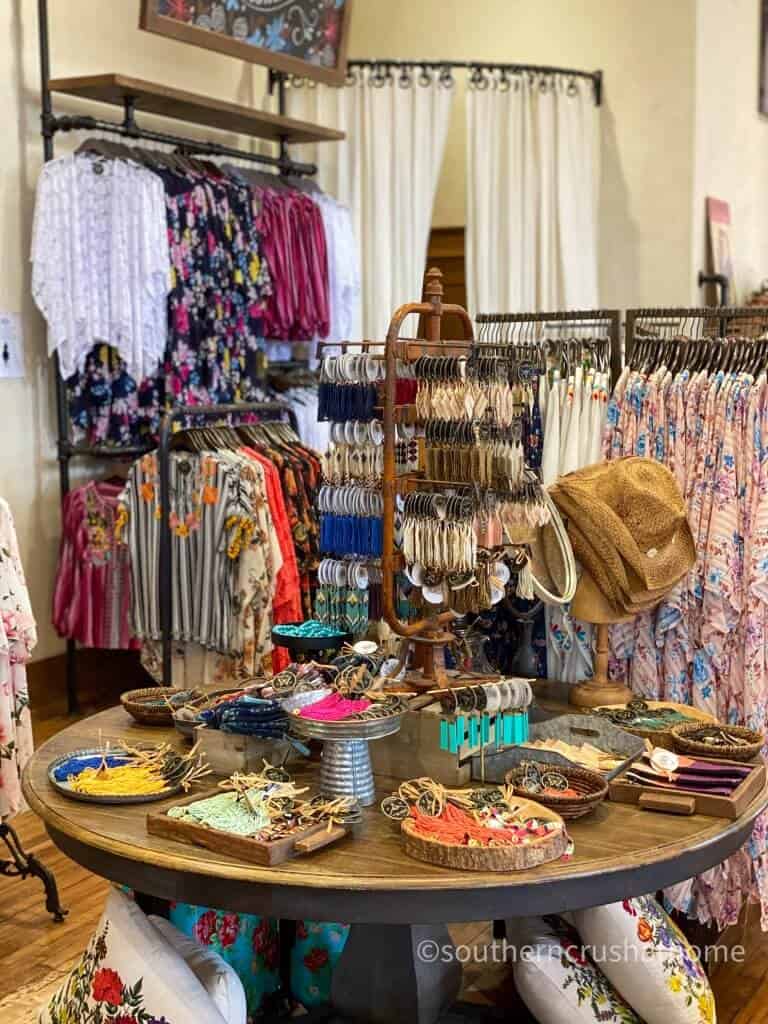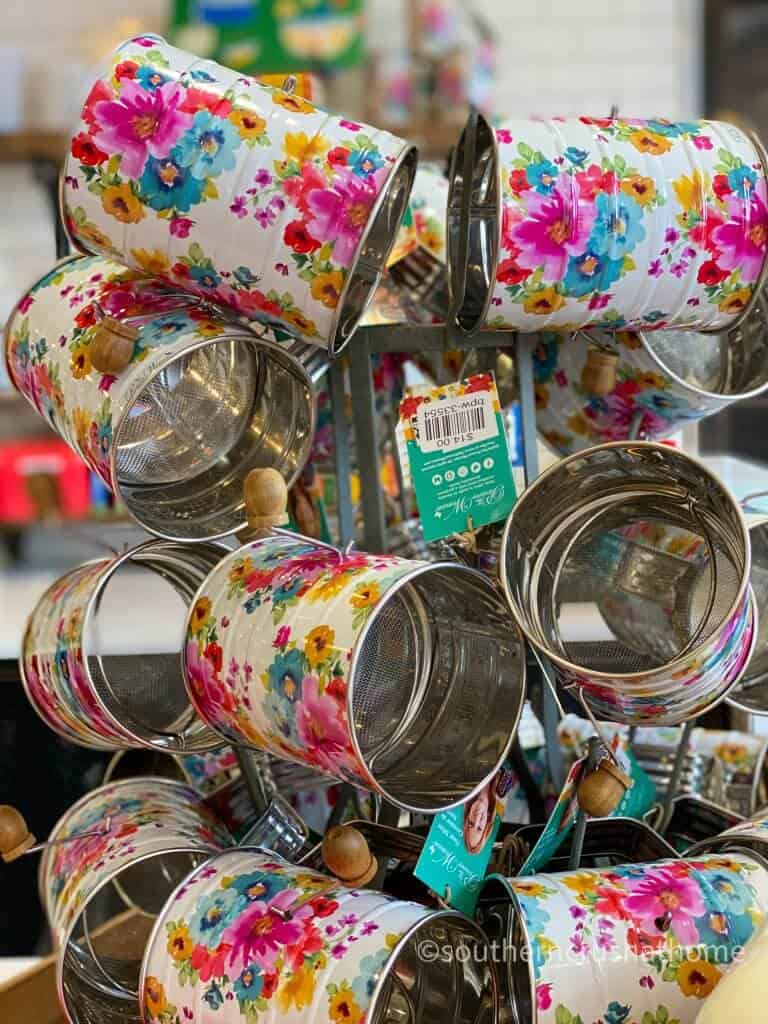 One of my favorite things I own from the Pioneer Woman is her cookbook – The Pioneer Woman Cooks. It's one of my favorite cookbooks that I refer to often for her recipes! Check out my entire selection of FAVORITES BELOW in my Amazon Shop
Everywhere you turn inside the Mercantile there is gorgeous decor that has obviously been strategically styled by Ree Drummond herself! Below are a few of the vignettes at the store when I visited.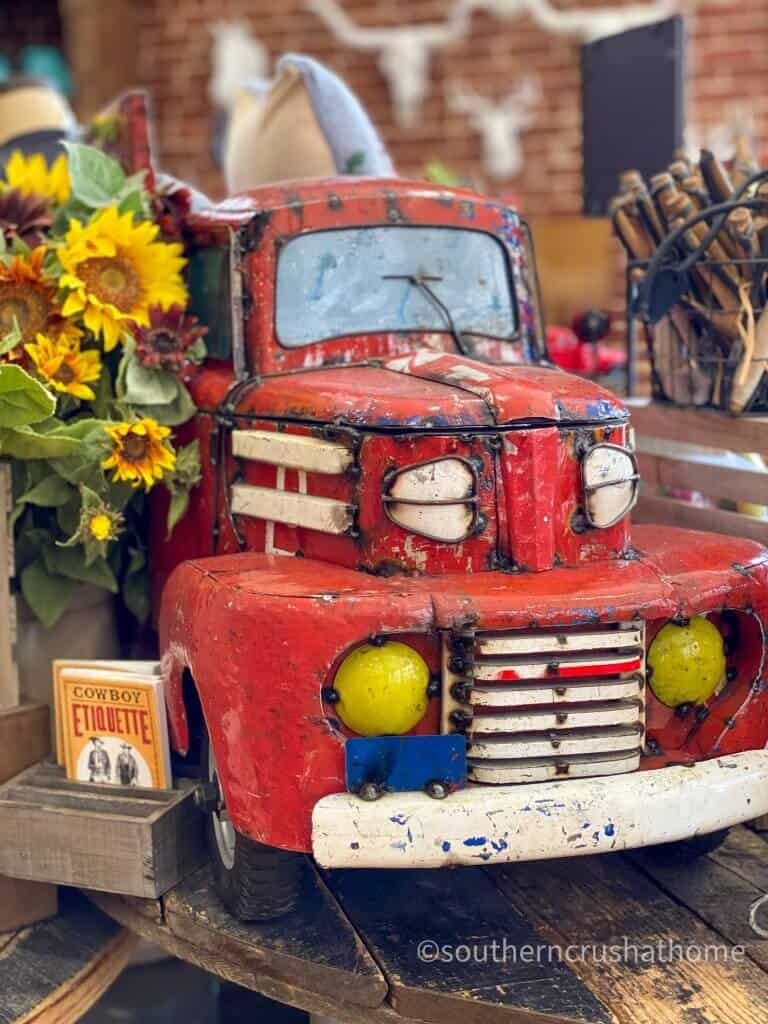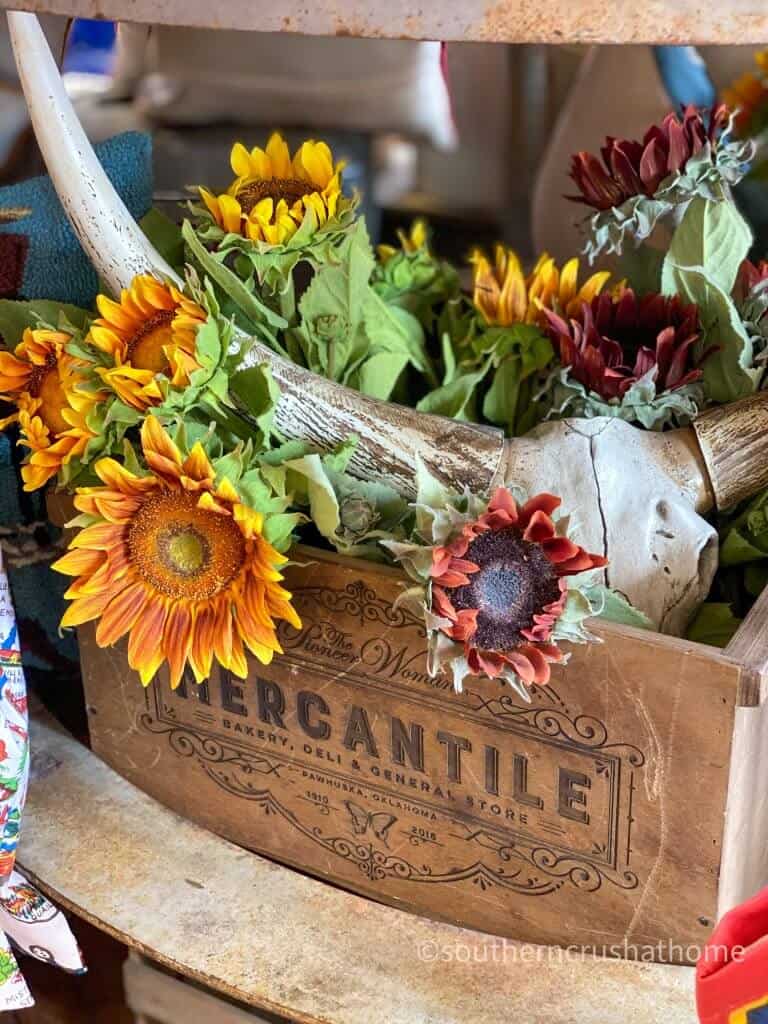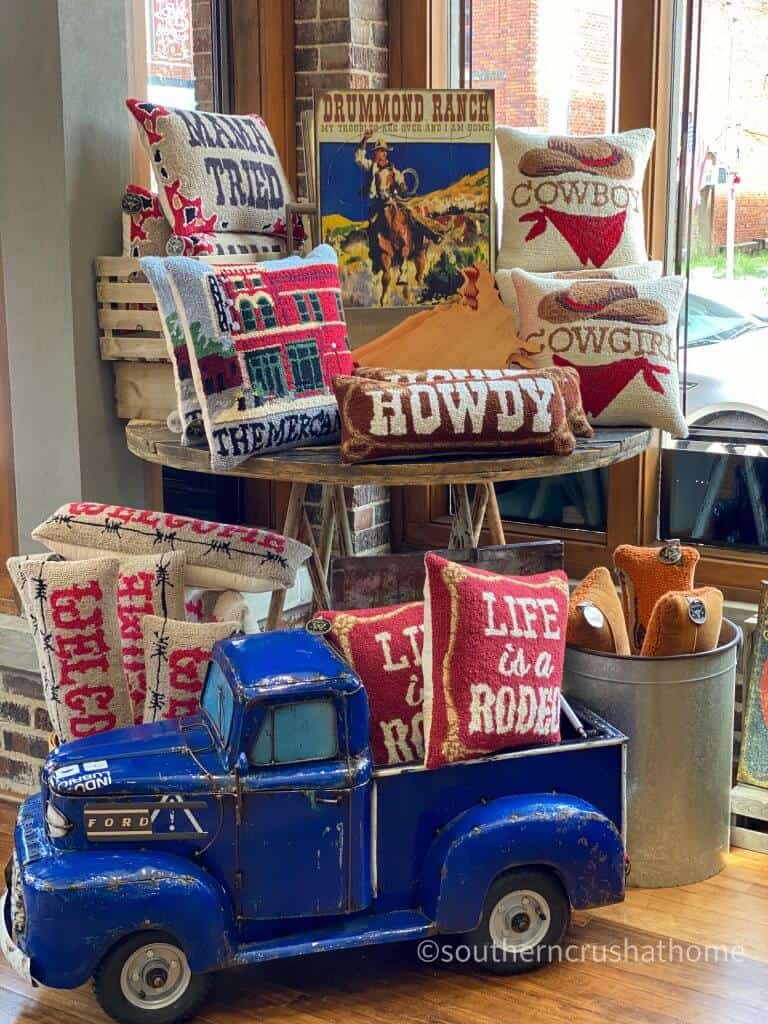 pioneer woman inspired printables
I loved all of the things at the Mercantile so much that I created a fun series of Pioneer Woman Inspired Printables to share with you! They are a fun reminder of so many of the cute things I saw while I was there. Grab your PRINTABLES HERE.
the restaurant at the mercantile
I can definitely share with you that it was well worth our two-hour wait. In fact, I'm actually glad we had to wait so that we could experience the coffee and dessert first and get all of our shopping done as well. The menu was full of yummy sounding options, but we ended up sharing the warm biscuits and delicious beet salad followed by veggie quesadillas for me and Ladd's chicken sandwich for Amy! Let's just say it's a good thing Pawhuska, OK is a ways away from me or I'd eat there everyday and gain a million pounds!
If you simply cannot wait for a table at the Mercantile or if you're staying in Pawhuska more than a few hours, there is another popular place to eat by the Pioneer Woman call P-Town which serves wood fired pizza.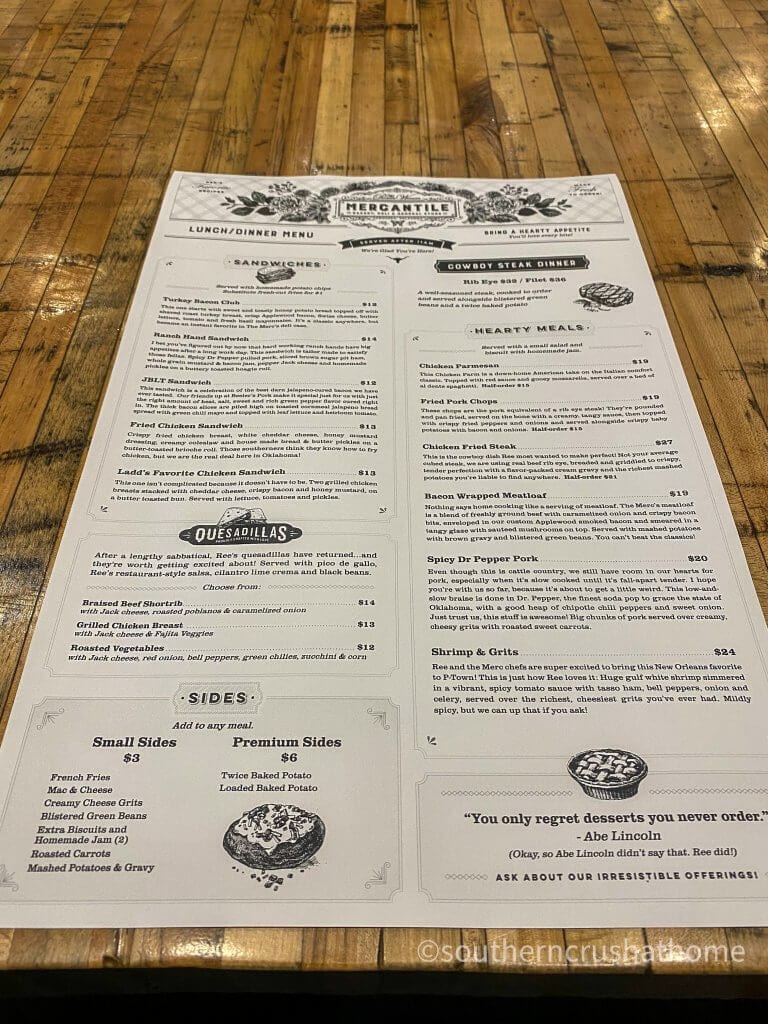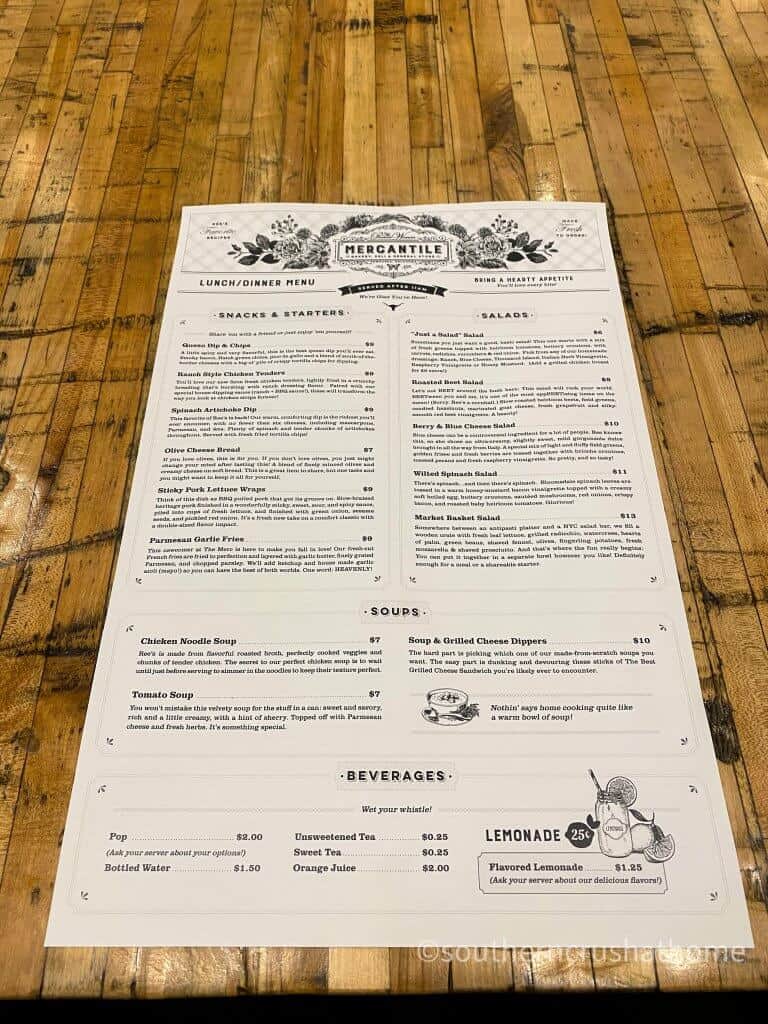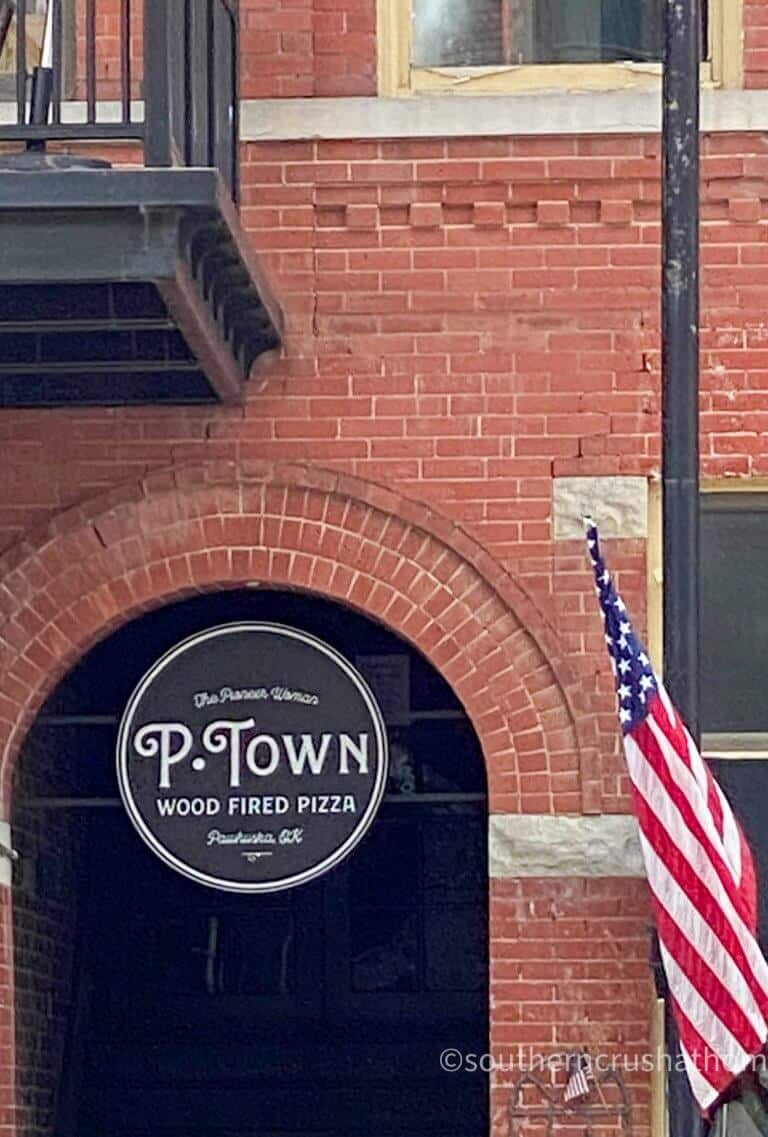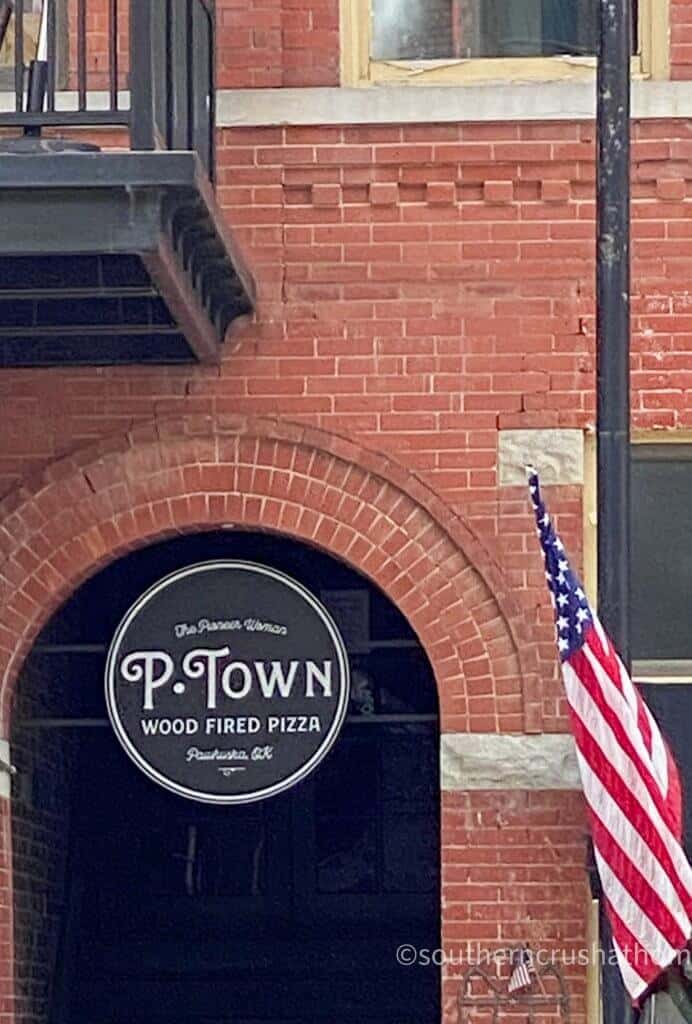 Where is the Pioneer Woman Lodge?
Did you know that you can visit and take a free tour of the Pioneer Woman's Lodge where she films her Food Network show?
The Lodge is approximately a 1/2 hour drive from Pawhuska. On the way to the Lodge, you will see the entrance to the Drummond Ranch. I have seen this shot many times on her show – but it's not how you get to the Lodge. The Pioneer Woman Lodge Tour Tickets are given to you at the Mercantile. Directions to the Lodge are not published on the website but are on the sheet of paper given to you as your ticket. There is one (1) ticket needed per carload.
The Lodge is open 9 am – 5 pm on Tour Dates
You can check out the dates here: Lodge Tour Dates
Unfortunately, we were pressed for time after we ate at the restaurant and didn't want to risk getting all the way to the Lodge and it being closed when we arrived. It's the perfect excuse for us to go back!
Where can you stay in Pawhuska, OK?
The Pioneer Woman Boarding House
If you're looking to stay in Pawhuska, Ree and Ladd have opened up The Boarding House. An eight (8) room "cowboy luxury" hotel. Ree designed four (4) of the rooms and Ladd designed four (4) of the rooms. The Boarding House is booked almost a year in advance, so plan your trip early if you want to stay at The Boarding House!
Here is the website: The Pioneer Woman Boarding House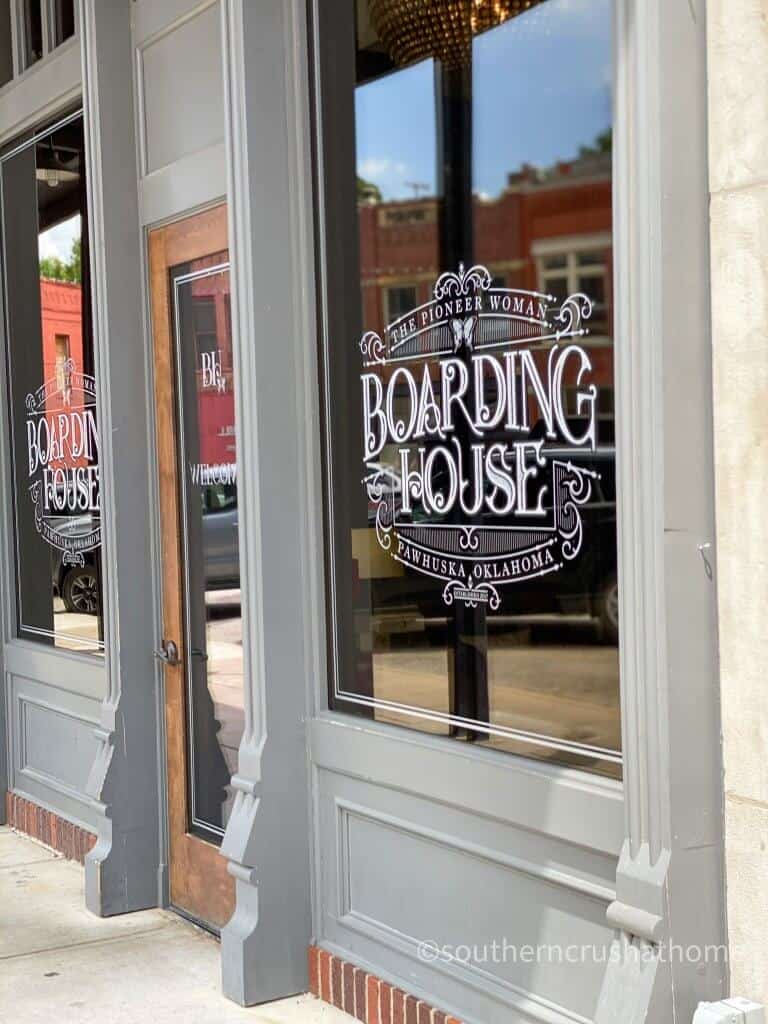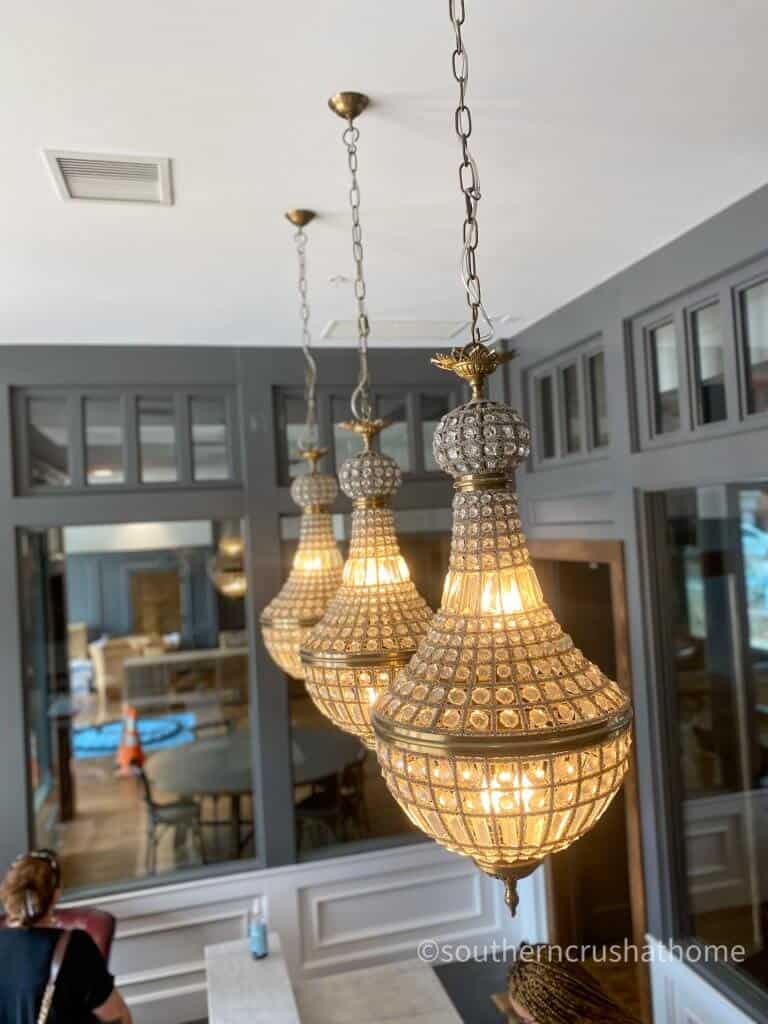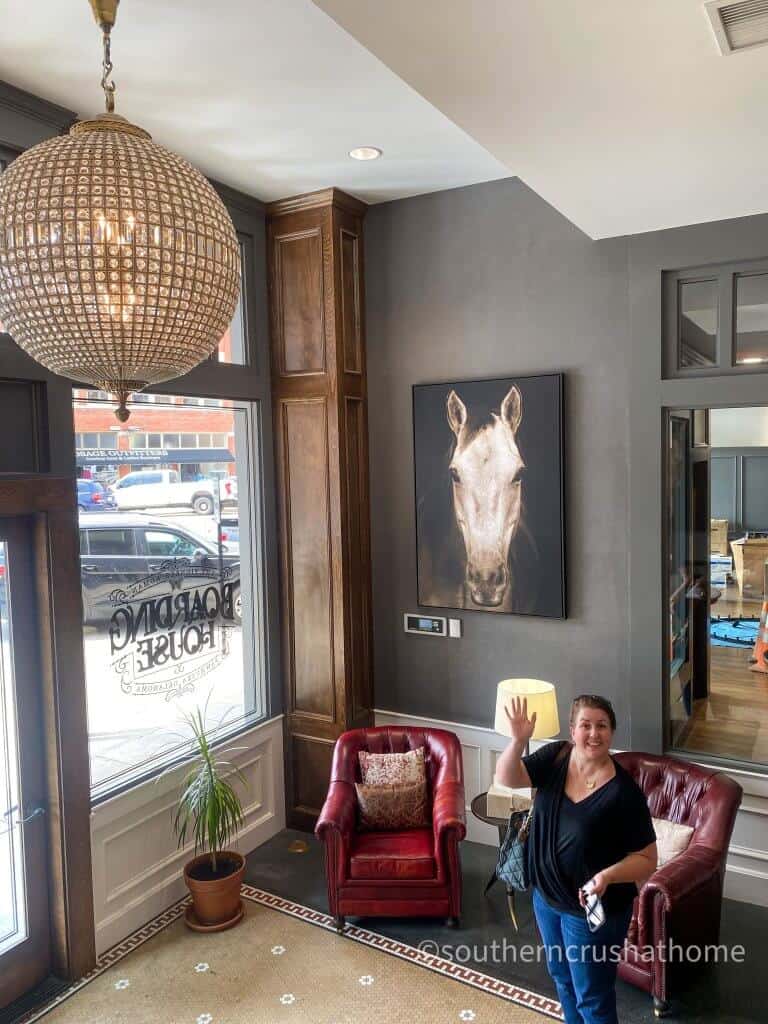 The Frontier Hotel
This is another hotel that is located just across the street from the Mercantile called the Frontier Hotel.
Here's their website for more information: The Frontier Hotel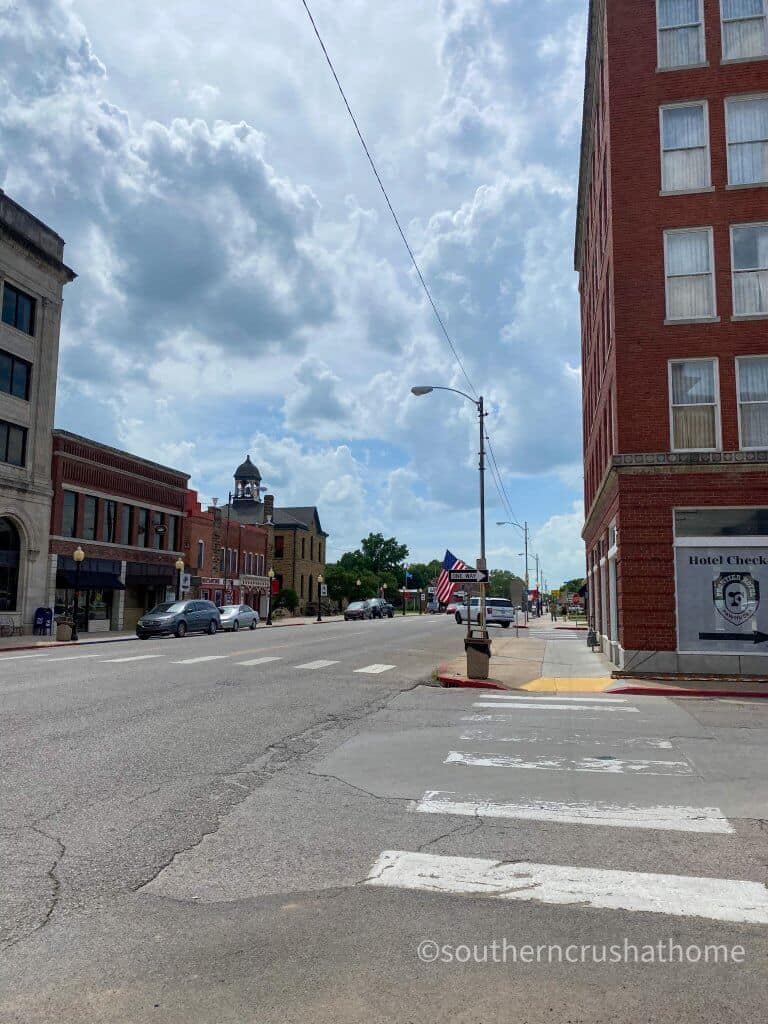 When is the Best Time to Visit the Mercantile in Pawhuska?
Because it is a popular place, it is busy year round; however, if you can plan ahead get there early. We went on a Monday afternoon and while there was easy parking, the building itself was packed and there was a two-hour wait for a table at the restaurant. The Merc stays open an extra hour on Saturdays and is closed on Sundays.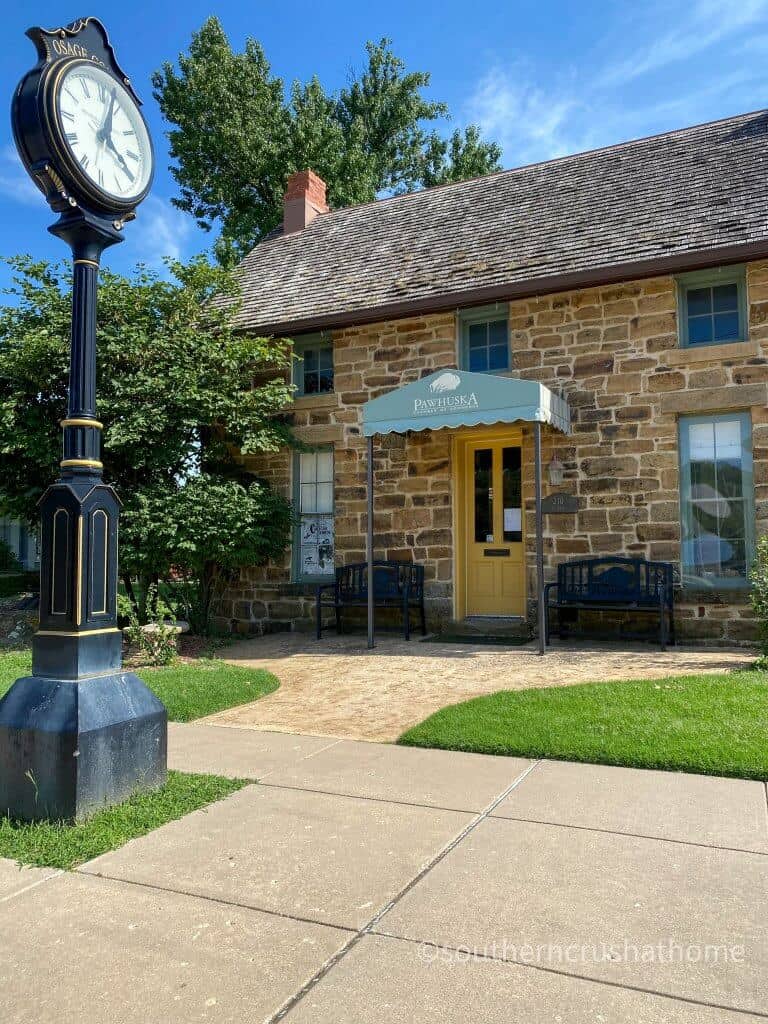 If you love this kind of adventure, you need to be getting my emails, friends! Each week I send out a couple of emails that include updates, crafts, shopping experiences, and decor inspiration. Get signed up HERE. I can't wait to meet you!
Leave your thoughts below in the comments, please and let me know if you take a trip here… BTW— Life is short—Enjoy the mess!
**P.S. Please join us over on our Facebook Page to see more fun shopping adventures "Live".
You might like a sneak peek at the post below!
Pioneer Woman Christmas Tree Theme + Free Fabric Christmas Tree Pattern