How to Make DIY Hobnail Milk Glass
This is a really cute vintage craft that you can give as a homemade gift. Learn how to make your very own hobnail milk glass!
I'm not really sure when my love for vintage started, but when I figured out how to turn ordinary clear glass into a DIY hobnail milk glass project, it was magic! This simple tutorial will show you how to make your own milk glass with the hobnail pattern using inexpensive Dollar Tree supplies. Before you know it, you'll be wanting to add this look to everything like me.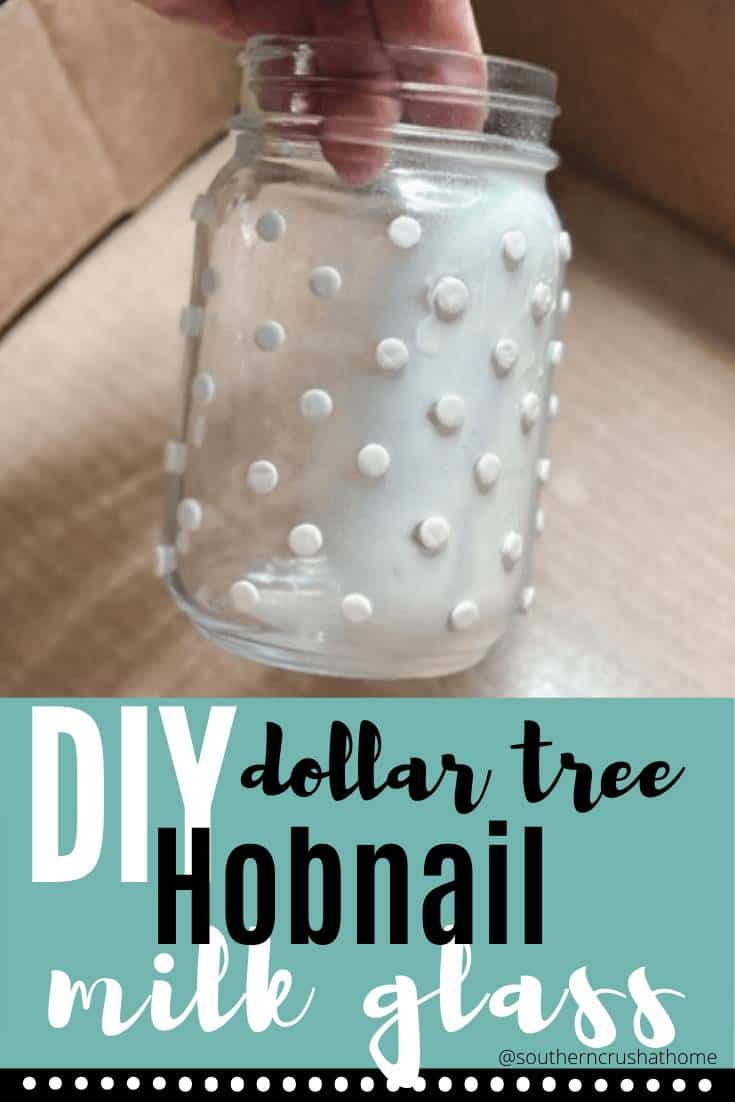 Be sure to pin this for later!
What Is Hobnail Glass?
If this is your first time hearing the term hobnail, let me tell you a little bit about it.
The term "hobnail" refers to the bumpy, raised pattern some antique glassware has. There are antique vases and glass dishes with a hobnail pattern that are very valuable because they were hand blown in Victorian times.
The most common antiques are known at Fenton Art Glass. In 1950, Fenton Glass introduced milk hobnail which was their most popular product.
What Is Milk Glass?
Milk glass is literally glass that has the same color as milk. If you wander into an antique shop, you might find some hand-blown glass items that are completely white and these are known as milk glass.
I decided that instead of spending tons of money on antiques, I'd make something that resembles it for a way less cost. Plus, it's so fun!
How To Make A Hobnail Milk Glass Vase
I made this vase out of Dollar Tree supplies. It's so inexpensive but looks vintage chic at the end. This is the perfect craft to make with your friends on craft night. It also makes a lovely vessel for a homemade gift – maybe throw in some flowers and clip some gift cards to them.
SUPPLIES FOR DIY HOBNAIL MILK GLASS
Dollar Tree pop-dot adhesives
Dollar Tree glass vase (or any glass you desire)
Glossy white spray paint
Ribbon embellishment (optional)
Stylus (optional)
Cardboard box (optional)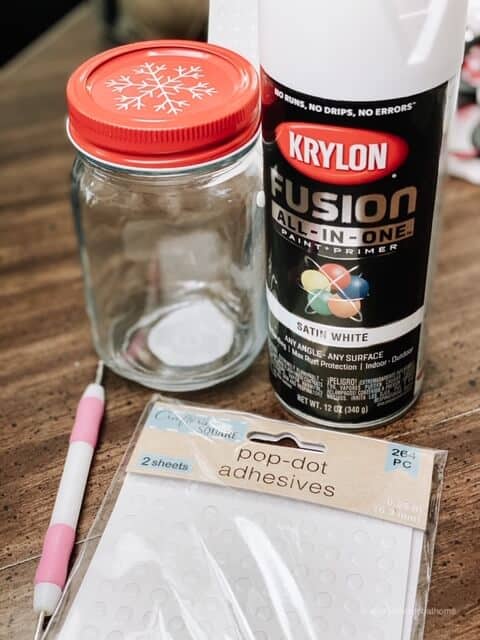 STEP BY STEP INSTRUCTIONS ON HOW TO MAKE MILK GLASS
Here's how to make a look-a-like hobnail milk glass out of Dollar Tree Supplies. It's so easy that anyone can do it!
Just follow these steps.
Separate one side of your pop dot adhesives to expose the stickiness. These are two-sided sticky, but just reveal one side so that it's easier to work with the dots. Taking the stylus, punch through each dot one at a time.
Then, place your sticky pop dot onto your glass into your desired placement. I chose to use a pattern that mimics that of the five on a dice. See below.
Once all of your dots are in place, take your spray paint and lightly spray your piece using a cardboard box to cut down on overspray. Spray outside or in a well-ventilated area.
Allow the glass jar to dry completely and then embellish it to your desired look. For my DIY, I used a pink ribbon. You can see my inspiration piece here next to the final piece! What do you think?
I love making videos for my crafts! If you are a visual learner, then follow along as I make this glass vase on my video tutorial.
Easy DIY Hobnail Milk Glass
I'm in love with the look of this super easy DIY. As much as I love this, I may have to add this vintage look to every single thing in my home – LOL! Nothing is safe now!
How To Customize This DIY Vase
I wanted to recreate my favorite hobnail milk glass and it's a very close match. There are several ways you can customize this jar and change it up if you don't want it to look like the Fenton antique.
Try one of these ideas:
Use different ribbons
Spray paint the jar different colors
Dip-dye the jar after it is painted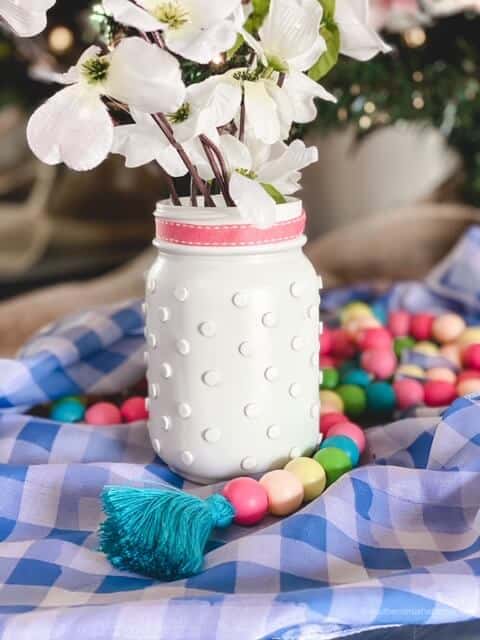 How To Use a DIY Hobnail Milk Glass Vase
Now that you have it, what are you going to do with it? Here are a few ideas you can use; please feel free to take them, use them, and tweak to fit your personal aesthetic!
Decorative Flower Vase
Since this is pure white, you can change the ribbon to match the season and fill it with seasonal flowers. It will brighten up the area around you and fill it with lovely charm.
Desk Organizer
It can also be used as a desk organizer to hold pens and other office supplies. The pure white color will add antique beauty to your office space.
Bathroom Beauty Organizer
Hang this jar up on the wall or set it on your bathroom shelves to hold makeup brushes, toothbrushes, or other beauty products that would otherwise end up all over your counters. It's a pretty way to keep things organized.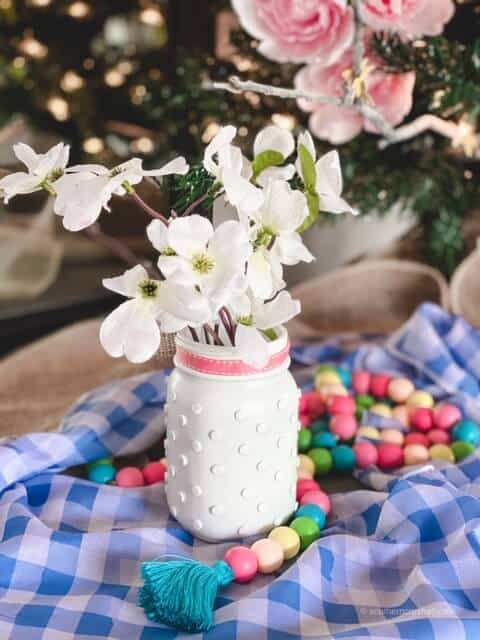 Bookshelf or Mantle Decor
Wrap the vase with seasonal ribbon or wooden beads for a charming farmhouse decoration. While it sits proudly on your mantle, either fill it with seasonal flowers or use battery-powered tealights inside of the jar to give the area a warm glow.
Diy Hobnail Milk Glass
There you have it! That's how to make and decorate a DIY hobnail milk glass vase. I hope you enjoyed this tutorial and now you have another easy project that you can make.
Don't forget to pin this post so you can find this tutorial again!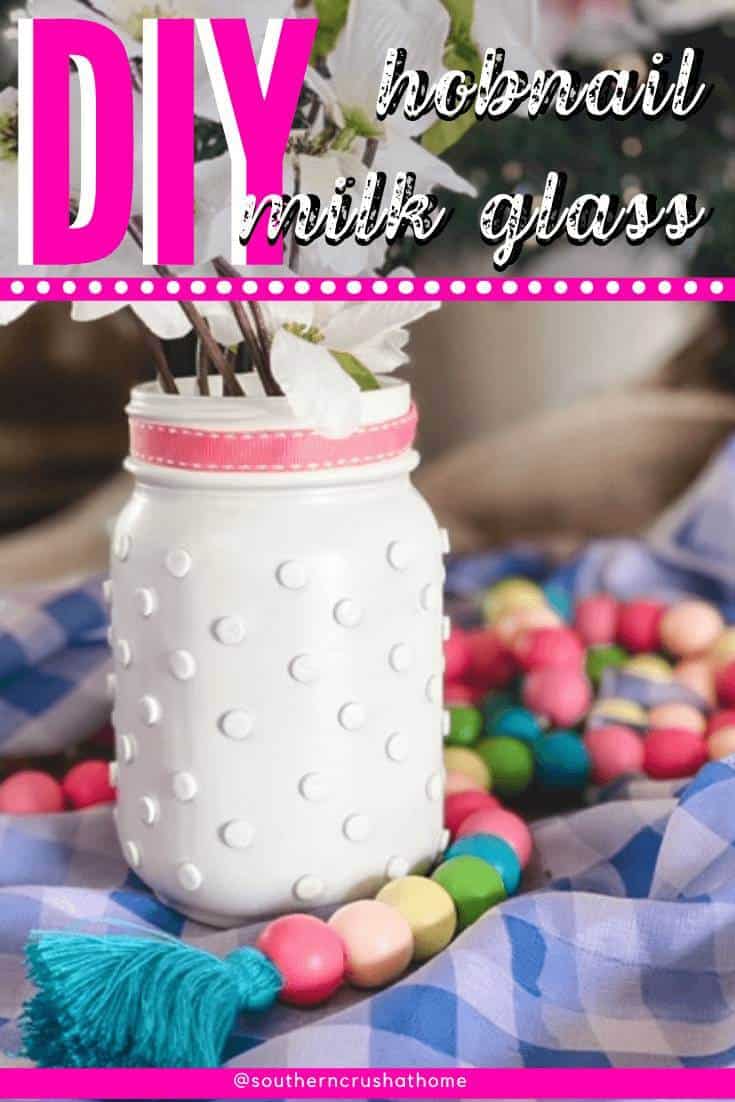 Sign Up for Emails
If you love these kinds of DIY ideas, you need to be getting my emails, friend! Each week I send out a couple of emails that include updates, crafts, shopping experiences, and decor inspiration. Be sure to get yourself signed up below. I can't wait to meet you! Leave your thoughts below in the comments, please… BTW— Life is short—Enjoy the mess!
More Lovely Vintage Crafts
If you enjoyed learning how to make this hobnail milk glass, then you will love these craft ideas too. Check them out and have fun creating new projects.
DIY Hobnail Milk Glass
Love the look of hobnail milk glass? Me too! Thankfully, I've figured out an easy way to replicate the look at home!
Materials
Pop-dot adhesives

I got mine from the Dollar Tree

Glass vase

Glossy white spray paint

Stylus

optional

Cardboard box

optional
Instructions
Separate one side of the pop dot adhesives to expose the stickiness. You only need to expose one of the sticky sides, not both. Use the stylus to punch through each dot.

Place the sticky side of the dots onto your jar in the desired placement.

Use white spray paint to spray the piece. I found it helpful to use a cardboard box to contain the overspray.

Allow to dry fully, then decorate as you like!