5 Minute Easy & Colorful Book Decor
This colorful diy project is seriously easy and only takes about 5 minutes to do. Super fun to do, this decor idea takes otherwise dull, boring books and turns them into colorful artwork you'll be proud to display! After following a few quick steps, you'll be ready to turn your old books into real conversation pieces, let me show you how…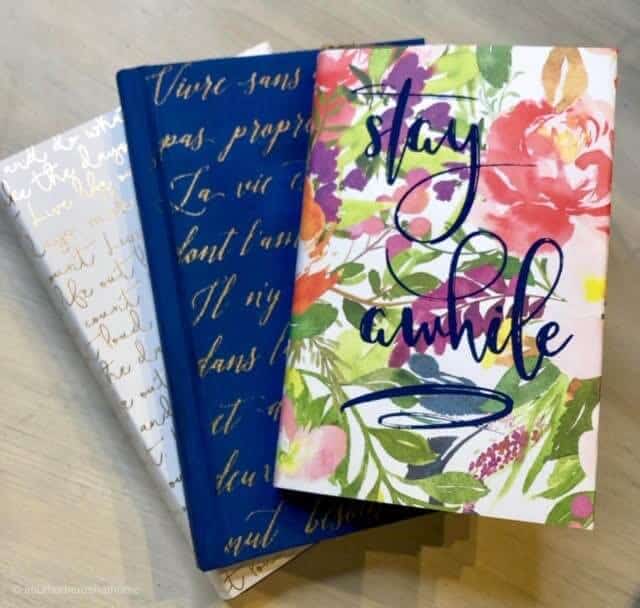 There are so many different ways you can create new beauty using old things. This reminds me of another upcycled project I did on an old cross I was ready to toss, but decided to make new with fabric and bling! Books are really easy to make over and turn into beautiful artwork. Most of the products I used for this diy project were from one of my favorite paint companies, A Makers Studio.
(I am an affiliate for them, so I get paid a small commission whenever you choose to make a purchase)
COLORFUL BOOK DECOR SUPPLY List:

Are you like me?
I have tons of old books lying around that need a good home. Some have bookshelves, some have closet space and some, quite frankly, are stuffed away in drawers! This January, we did a major overhaul and de-cluttering at our house. Check out this easy diy decluttering cabinet project we did! The books were identified as some of the items that no longer 'sparked joy' for me, LOL! Then came the same old dilemma I often find myself with; do I toss them or donate them or craft with them? Guess which choice became the winner? So I picked three random old books that were similar in size and the 5 minute easy color book decor project began!
The first book…
The fastest solution for one of the books was to simply cover it with a beautiful script craft paper, you know, like when you were in school and had to "cover" your textbooks? Wait, don't answer that if you don't know what I'm speaking of… it really shows my age. Moving along now.
For the second book…
I again covered it with a pretty floral craft paper (although any pretty paper will work here) and then stenciled it with a cute "stay awhile" mesh stencil. It serves as a simple reminder to slow down and relax; something we all need to do more of.
The final book was a little more detailed.
I started out with a book that was 'porous' in material on its cover so that the chalk-type paint or paste would 'soak' in best. Choosing a complimentary color, I painted the outside of the book. Once it dried, I took the beautiful script mesh stencil and went over it with the gold chalk art paste to create a neat french writing look on top of the book.
To finish it off (this is totally optional), I added a small bit of gilding size to the spine and applied the gold leaf in an effort to disguise the writing on the spine of the book and it worked like a charm!
In case you prefer to watch the fun video where I worked on these books "live" on Facebook, HERE it is! Be sure to share it and comment as if you're watching it live!
The moral of the story is…
Well, there is no moral of the story. LOL. Just be sure to look for creative inspiration in all places. You never know where you'll find it, it may even be sitting in a drawer. Then slow down and take time to "stay awhile" and relax with a good book.
>>>BE SURE TO PIN THIS FOR LATER!<<<
>>Leave your thoughts below in the comments please… BTW— Life is short—Enjoy the mess! I hope you try this quick and easy 5 minute diy project out for yourself, it can turn any old books into colorful conversation pieces! **P.S. Please join us over on our Facebook Page to see more fun projects "Live".