The term "upcycled" is new to me; no pun intended. It literally means to take something old or no longer of use and make it into something new that is useful! I didn't realize it, but I've been doing this forever! Regardless of what you call it, this easy diy project took no time at all. I simply created an updated look to an old cross I was about to get rid of anyway. It seems there's almost nothing a little buffalo check and bling cannot fix! Continue along to see what I mean…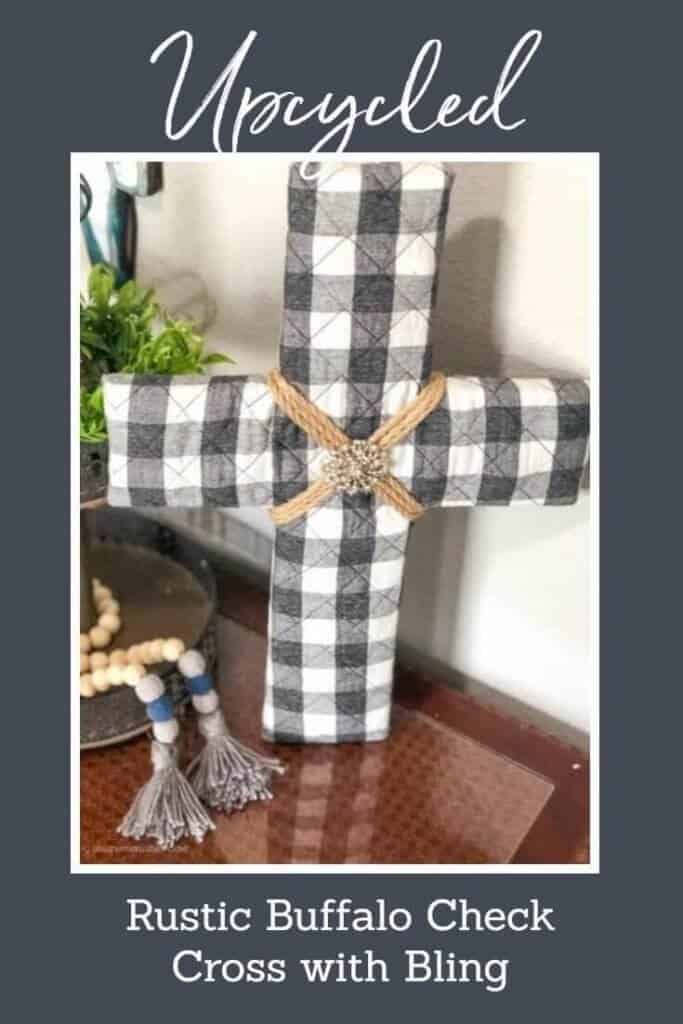 >>>BE SURE TO PIN THIS FOR LATER!<<<
Out with the old…
Have you ever heard of a "cross" wall? Well, I used to have one in my entry way for years! While they can be very pretty, I was officially 'over' mine! So when we had the house completely re-painted, it was the perfect opportunity to start over fresh! Down came the crosses. Most found new homes around the house and some of them literally found 'new homes'; however, I held on to a few of them, thinking I would donate them or toss them later. That was until one day when I needed to use some leftover buffalo check quilting up and decided to upcycle my old cross into a buffalo check cross. It was so easy and could've been done several different ways (a staple gun may have been the best route), but I went with my handy-dandy cordless glue gun…. see all supplies below.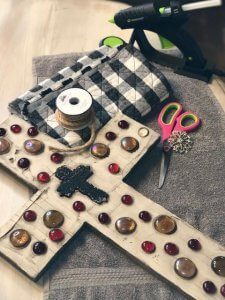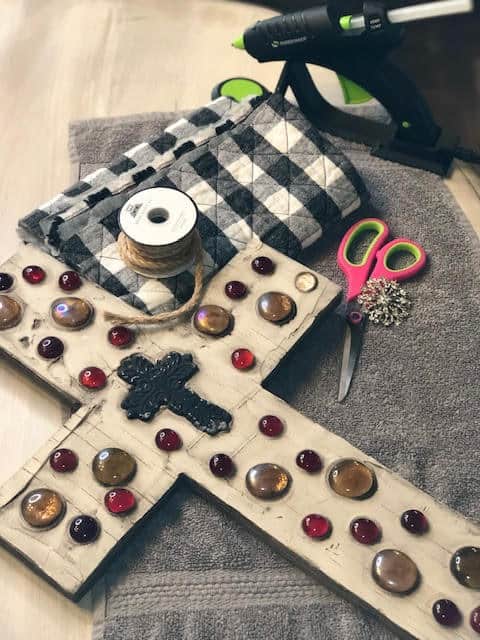 In with the new…
Taking the buffalo check quilting material, I cut out a rough outline of the cross leaving about a 2 inch edge around the cross. Additionally, I cut slits at every single corner of the cross to allow for the wrapping of the material. Seriously, at this point it was all glue gun! I glued down every flat edge and then wrapped the corners and glued them down as well, trimming some of them as I went. Then came the fun part. Decorating the cross. I chose to use a rustic rope to wrap around the middle of the cross and tied it around the back in a knot. Of course, this could have been glued down instead. But you can see how using the hot glue works here in the facebook live video.
Join me in making over a cross from my old "cross wall"! 🙌✅🥰🎚Join community here—-> https://tinyurl.com/inspiredlearnmore

Posted by Melanie Ferguson – DIY Home Decorating on Sunday, March 3, 2019
Finishing Touch…
The finishing touch was a huge bling adornment from my new favorite vendor for all things bling Totally Dazzled! I hot-glued that baby down in the very center and immediately fell back in love with my upcycled buffalo check old cross! "Upcycling" just may be my new, old favorite thing to do!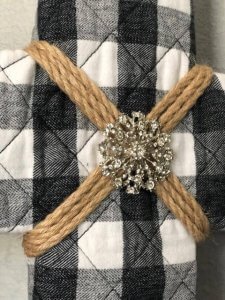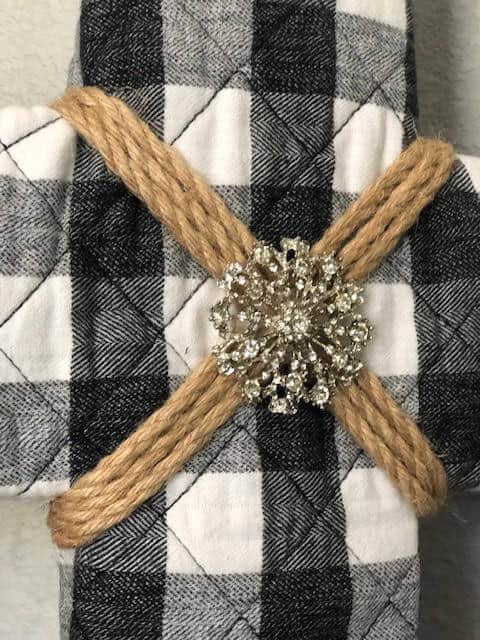 >>>Leave your thoughts below in the comments please… BTW— Life is short—Enjoy the mess! I hope you try this quick and easy diy project out for yourself, it can make your old crosses look new again! It reminds me of another quick and easy diy project I did re-loving my old porch pillows you can find here! **P.S. Please join us over on our Facebook Page to see more fun projects "Live".