Videos: How to Make Easy No Sew DIY Face Masks (3 One-Minute Face Masks)
If you need a last minute mask and don't sew, then you're in luck! Here are my three super easy, no sew DIY face masks that can be made in only one minute each. Complete no sew instructions and best practices are included.
My homemade face masks each have a removable filter pocket so you can add your own filter at any time. I have added a list of filter types below for you as well. You can always check the CDC Guidelines HERE if you have any questions.

Be sure to pin this one for later!
easy one Minute no sew DIY Bandana Face Mask
Most bandanas are made from a very lightweight fabric, making them an easy to breathe through fabric for DIY face masks. Their effectiveness depends on how many layers you use and still be comfortable. They are available just about everywhere. You can find bandanas online, in many big box stores and of course at HOBBY LOBBY. Just be sure you grab my FREE Sales Schedule Cheatsheet so that you get the best discounts available for that particular day.
only three materials are needed for a bandana mask
instructions for a bandana face mask
Take your square bandana or scarf and fold over point to point to create a triangle shape.
Fold down approximately 4″inches of the top as shown in the video.
Thread each hair tie onto the ends.
Fold in each end into the middle and tuck.
Secure with fabric glue if desired.
Tuck in the filter of your choice if desired. (Filter Types are listed below)
Easy to follow step by step instructions on how to make your own DIY bandana or scarf face mask. Feel free to pause the video, take notes or watch over and over again while making your project.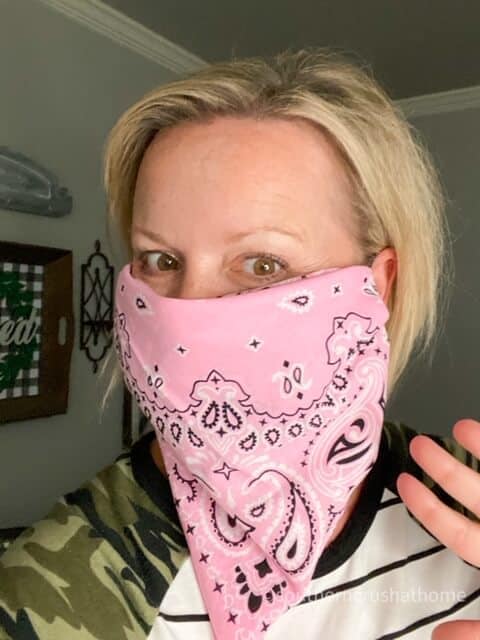 Hands down or hands up (LOL), the coolest mask around! I mean cool temperature of course. This is the perfect summertime mask to grab and go.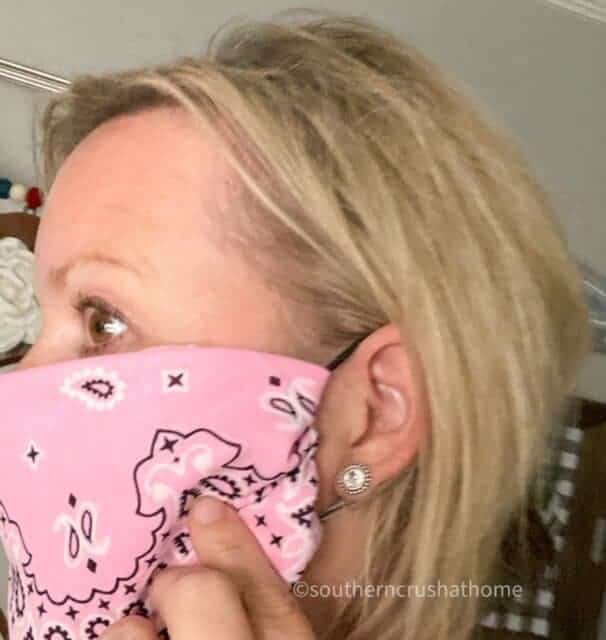 This is how it fits with the hair ties behind your ears. By far the most comfortable of these three masks. The way that it lays loose on your front makes it extra easy to breathe as well.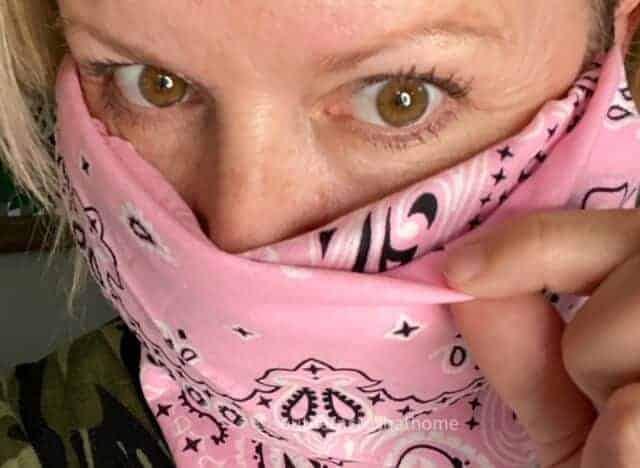 It's really easy to add a filter to this mask, even if you forgot! Quickly, tuck your filter of choice (I've provide a list of filter types below) right down into the space between the folds.
How to make a no sew diy Face Mask using an old Pillowcase
A Cotton Pillowcase is really the best choice for a DIY face mask material for several reasons. First of all, cotton is highly breathable. Cotton is also very absorbent and will pull the moisture out of the virus (which it needs to live). Finally, the best part is that cotton pillowcases are very easy to find, making it an excellent fabric for DIY face masks. You most likely have an old pillowcase laying around your house right now.
The optimum cotton material would be 180 thread count or higher. The higher the thread count of your cotton material, the tighter the weave, and therefore the more effective your face mask will be against the virus. If you're unsure of the threadcount of your pillowcase; simply hold it up to any light to see if any light comes through. The less light, the better.
Materials needed for Pillowcase face mask
step by step no sew instructions for pillowcase mask
Cut your pillowcase approximated 9″ down from the opening for a medium to large face mask.
Fold down approximately 1″inch opening and flip over to repeat the process.
Fold back and forth until completed; creating a fan-like shape.
Thread the scrunchies or hair ties onto either end of fan-like piece.
Calculate the size of mask needed and then fold each end inward towards the center accordingly.
Secure with a generouse bead of glue.
Trim excess pillowcase material.
Glue down the remaining layers of pillowcase until complete.
Flip over and fluff to fit.
Tuck filter of your choice into fold at the top if desired.
Step by step instructions on how to easily make your own DIY mask out of an old pillowcase. Feel free to pause the video, take notes or watch over and over again while making your project.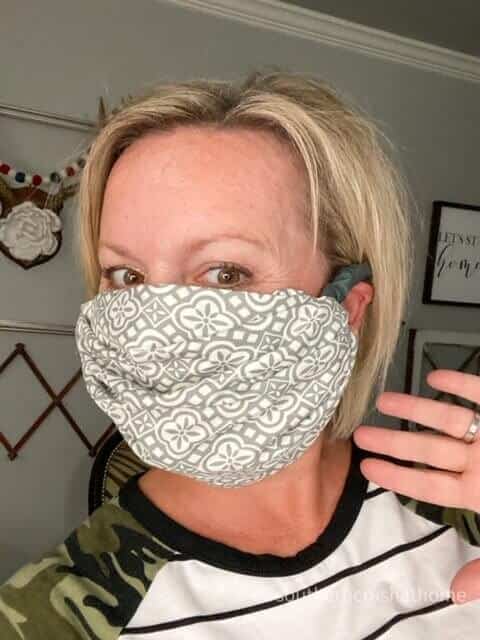 This is how it tucks behind your ears. The scrunchies make it super comforatble to wear for longer periods of time. This face mask is also really easy to make in all different sizes!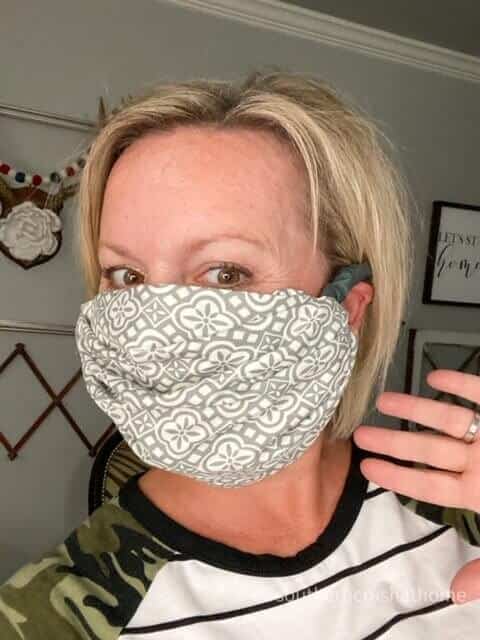 If you'd like to add a filter to this mask, tuck one right in between the fold of the pillowcase opening up top! Easy peasy!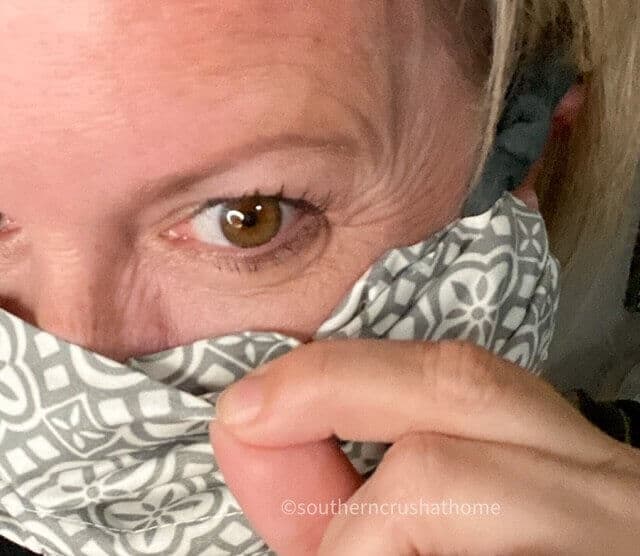 How to Make a Quick & Simple Face Mask using a Sock
Finally a use for all of those single socks you find in the dryer without a mate! Repurpose those mateless socks into a DIY face mask. You can also grab a pair of socks at your local Dollar Tree to make two face masks; one for yourself and one for someone else! These are so easy to make and work great for kid face masks! Half of the fun will be picking out your designs.
materials for sock face mask
Any sock will do, keep in mind that the size of sock will determine the size of your mask.
Scissors
Instructions for making a no sew sock mask
Trim top and toe off of your sock.
Fold over each end lengthwise and make a cut approximately 3/4 of the way in being careful not to cut the sock all the way through.
Tuck in filter of your choice if desired.
Secure your sock diy face mask by wrapping the openings at either end of your sock around your ears.
Step by step instructions on how to make your own DIY sock mask. Feel free to pause the video, take notes or watch over and over again while making your project.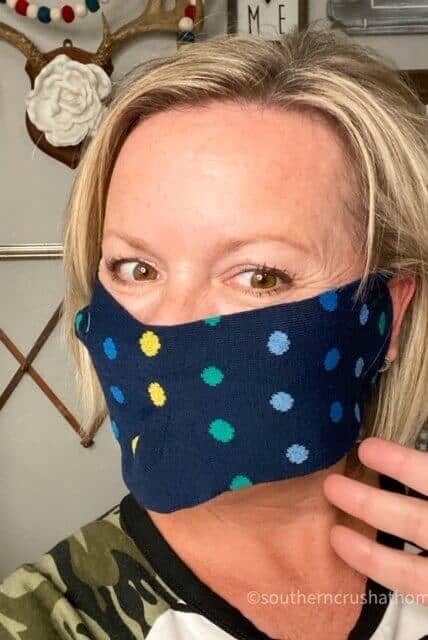 This is how it wears behind your ears. Super comfortable and easy to make different sizes!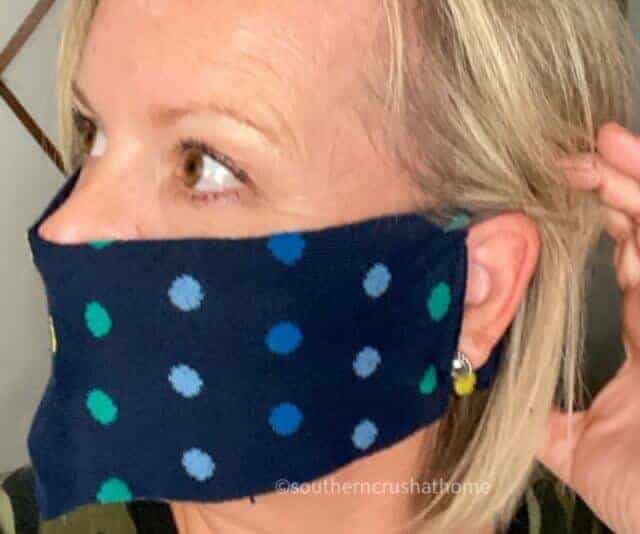 If you need a filter for this face mask, add it in between the layers of sock before you place over your ears. Super convenient and highly effective!
ANSWERS TO YOUR QUESTIONS ABOUT MAKING DIY FACE MASKS
With so many DIY face mask tutorials floating around the internet, it's hard to decide which ones to make. When it comes to making your own there are so many choices, and with choices comes all of the questions. Below, I try to answer some of the most asked questions regarding making DIY face masks from home.
The most important thing to remember is that when in doubt, check the CDC Guidelines HERE.
Why can't i just buy a face mask?
Of course you can buy one; however, there tends to be shortages of supplies so it's helpful to make your own face mask. This helps reserve medical grade masks for our essential healthcare workers. If you already own a medical grade face mask, making a DIY face mask to use when you don't plan to be at great risk will help to preserve your more expensive mask. You can also help the environment by upcycling materials to make your own face mask. Typically, you will already have the materials you need to make a DIY face mask laying around the house.
is a homemade face mask effective?
Yes. As long as you are using two or more layers or even a filter, the effectiveness is much greater. Continue to practice social distancing and avoid crowded areas to assist in your efforts to stay well. Be sure to clean your face mask regularly and change out your filter daily to cut down on germs.
how often does my homemade face mask need washing?
In a perfect world, you need to wash your face mask daily. The CDC has their own guidelines to help you decide. Wash on gentle or by hand if you made your mask with glue. Air dry to retain size and shape. Do not wash on HOT or your 100% cotton mask will shrink.
You should definitely change out any filter used inside of your mask daily. Discard any used filters. Do not reuse a filter.
DO I REALLY NEED A FILTER IN MY DIY FACE MASK AT ALL?
Two or more layers of cotton fabric is 74% effective, and the safest, simplest option for a DIY face mask. Your filter needs to be effective, but more importantly, still easy to breathe. When in doubt, if you're already using two layers of fabric, I would just skip the filter.
Types of filters for face masks
Coffee Filter
Polypropelene Reusable Shopping Bag
T-shirt material
Blue Shop Towels
Second 100% Cotton Layer (most effective)
NOTES
It's important to note which side you wear as the outside of your mask and always keep that side to the outside. You can always use a permanent marker or a Sharpie to make an small mark on one of the sides—if you made one of the Sharpie DIY mugs, then you most likely have them on hand!
JOIN MY LIST FOR MORE FUN AND EASY DIY IDEAS
If you love making DIY projects, then you need to be getting my emails, friends! Each week I send out a couple of emails that include updates, crafts, shopping experiences, and decor inspiration. Be sure to get yourself signed up below. I can't wait to meet you!
>>Leave your thoughts below in the comments please… BTW— Life is short—Enjoy the mess! I hope you try this quick and easy diy project out for yourself, please post your DIY no sew mask photos for me below!