11 Easy Ways to Decorate for Fall on a Budget (some are even FREE)
It's definitely time to start thinking about decorating your home for the upcoming fall season. If you're not able to get out much for one reason or another or maybe you're just wanting to save some money; I've put together 11 ways to decorate for fall on a budget to inspire you. These are simple ideas that you can use for more than just fall. I hope you'll try them…
(This post most definitely has affiliate links. See disclosure here)
here are 11 ways to decorate for fall on a budget
Use Neutral Decorations
Instead of using "holiday-centric" colors (I just made that word up, but it sure sounds good) opt for a neutral color palette instead. This will not only allow you to get creative with your decor but also gives you the freedom to extend your decorating for a longer period of time. See where I upcycled a pair of old jeans for this non-traditional denim pumpkin wreath.
Use Thrift Store Finds
2. Check thrift stores year-round. You never know what you'll find in the way of affordable decor and decorating supplies. For instance, the time I stumbled across these winter beanies and turned them into adorable pumpkins!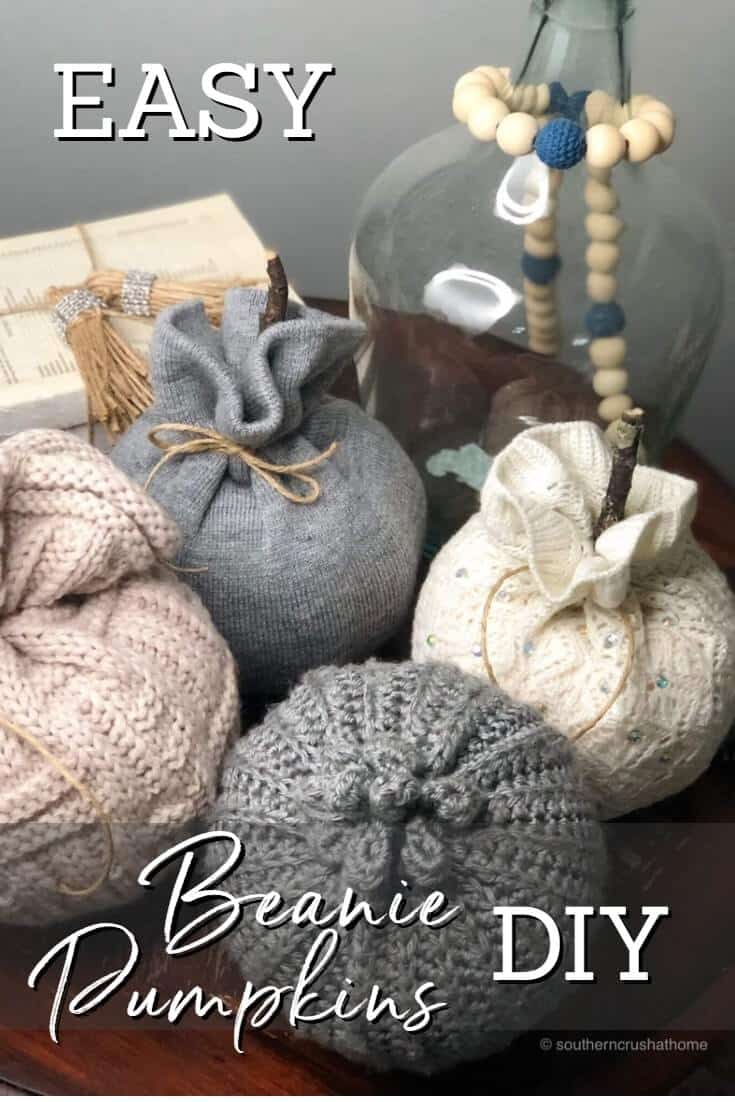 Create Ambiance with Cinnamon Scented Decor
3. If you want your house to smell amazing, buy cinnamon-scented items. Recently, I made a fun Scented Broom Gnome from one of the cinnamon brooms I found.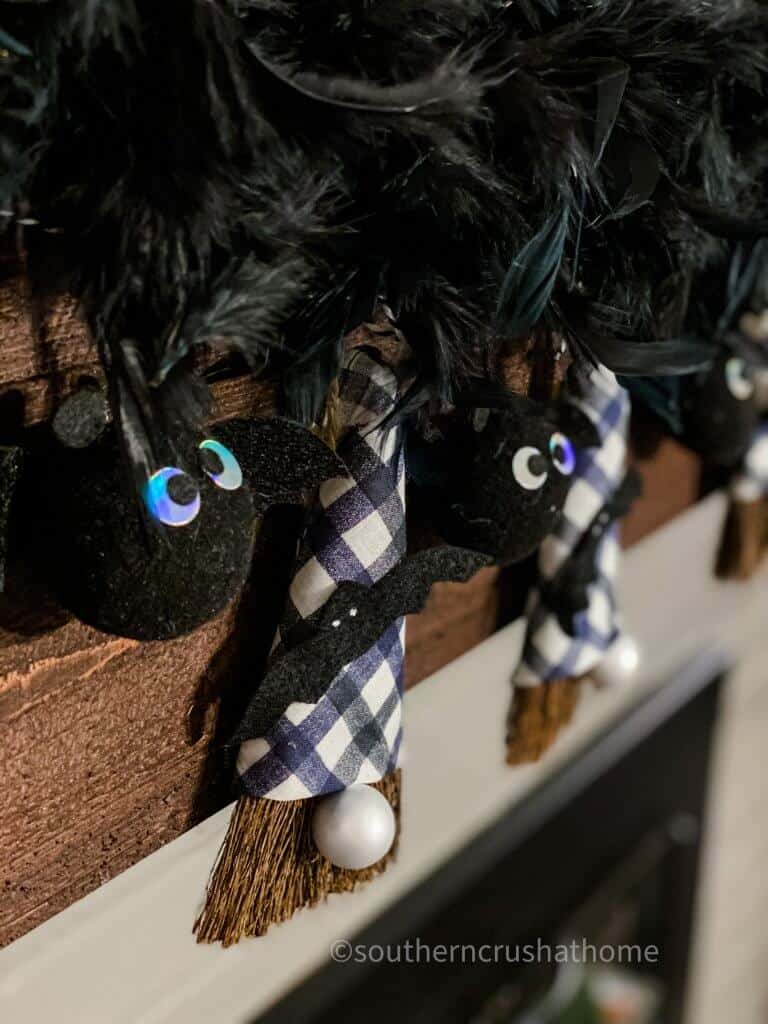 Use What You Already Have to decorate for Fall
4. Repurpose items in a festive way. You can make the cutest fall-scented candles by using a few containers from around the house. You can even pour them in fruit like wonderful smelling oranges! In this post, I share 13 different ideas for DIY candle containers.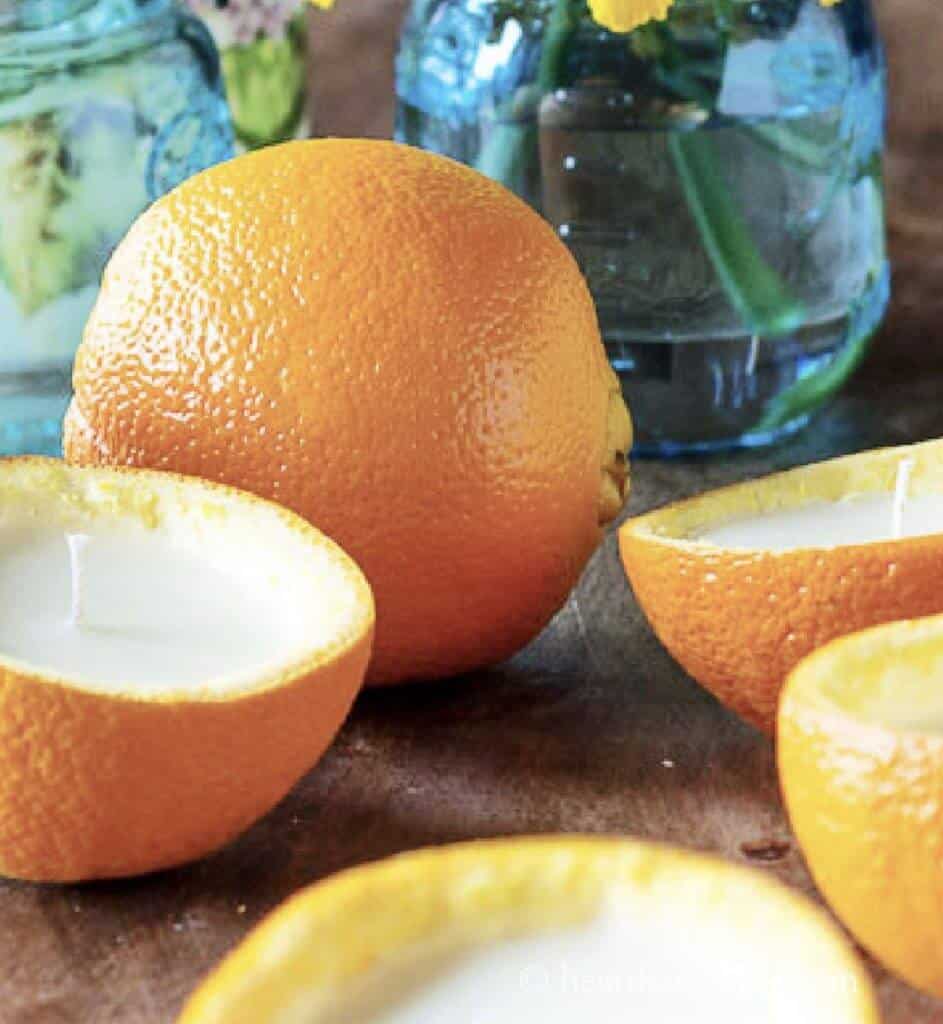 Bring the Outdoors Inside
5. Go outdoors and use nature. Nature is one of the best resources for budget-friendly decorating supplies. Use some sticks to make a pretty photo frame to display like this one.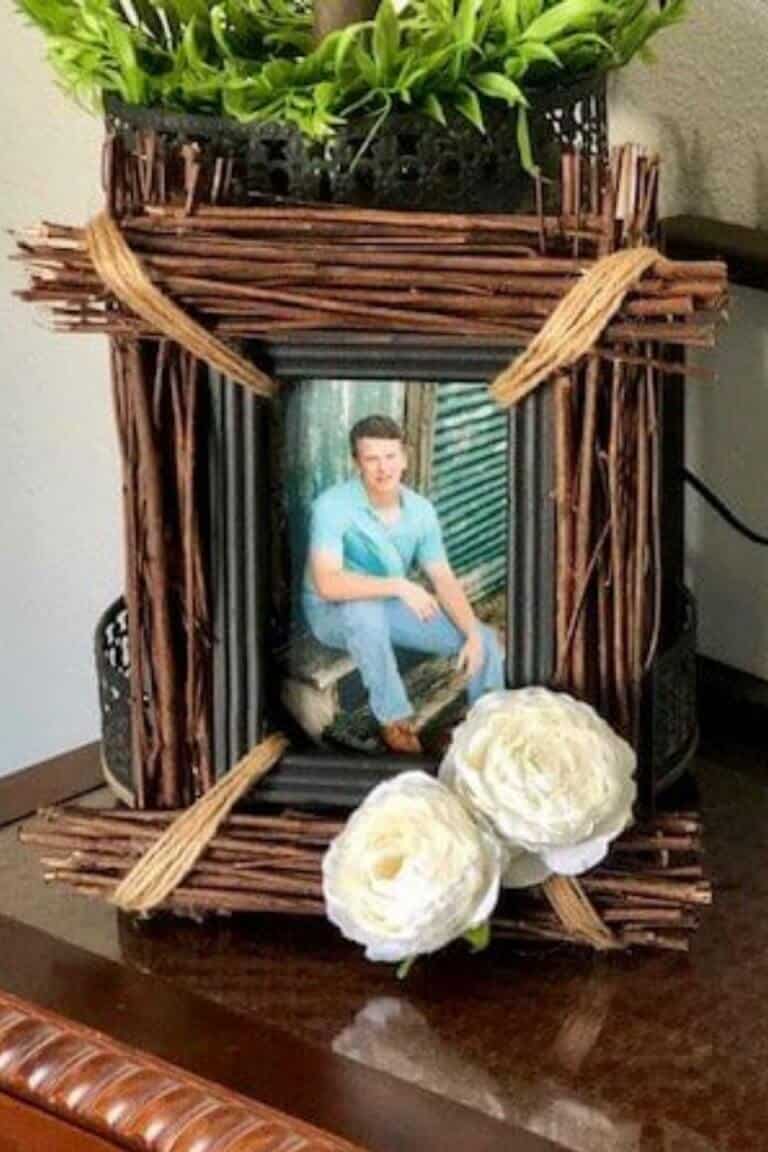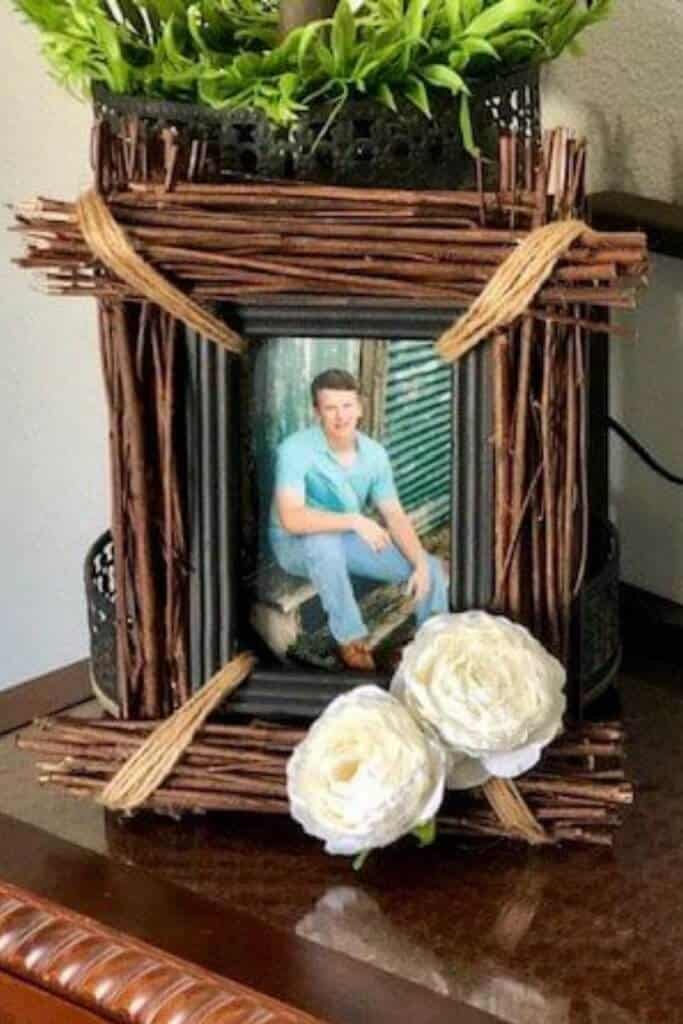 Repurpose the Ordinary into Something Extraordinary
6. Make a wreath with materials from around the house. That's what happened when I grabbed a fall-colored, plaid throw and an old square-shaped frame I had laying in the garage. See how it turned out here.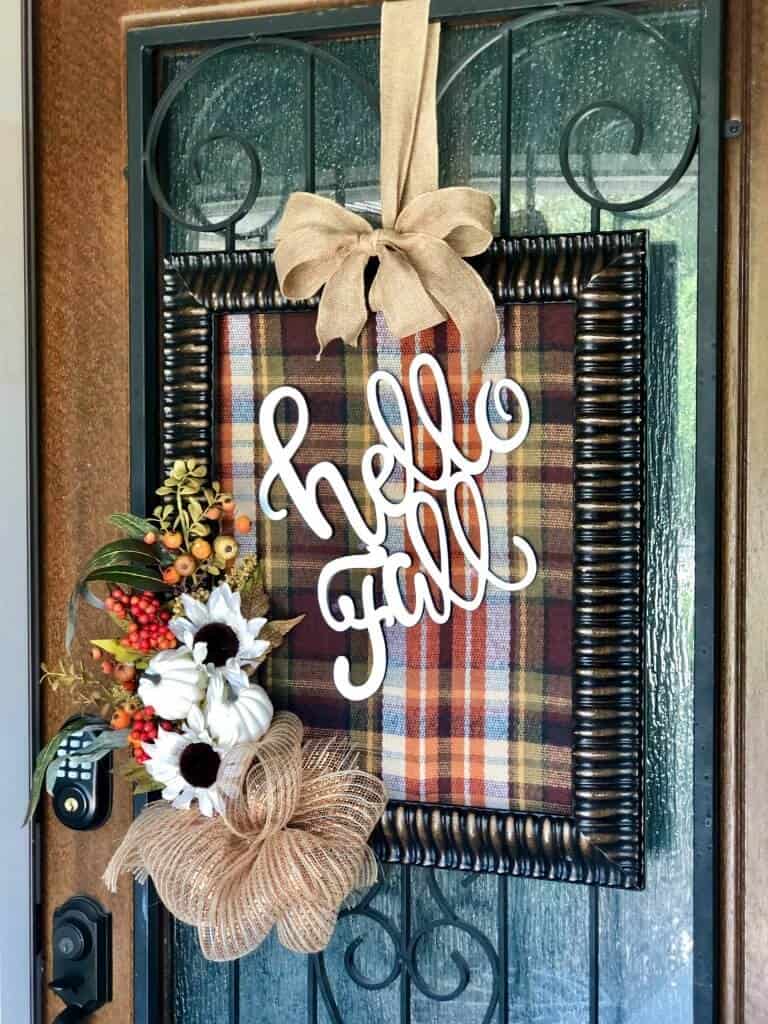 Support Local and Shop Small when decorating for Fall
7. Go to the pumpkin patch and buy some local pumpkins to display. You can grab a few small pumpkins to place on bookshelves or create a centerpiece for a table. Use larger ones to place on a hearth or on an entry table. You can also usually find good pumpkins at the grocery store or at a local nursery.
Buy Faux Fall Decor to Use Over and Over
8. Buy faux decor that can be stored and pulled out each season. These faux white pumpkins were the best purchase since I've used them year after year for my front porch.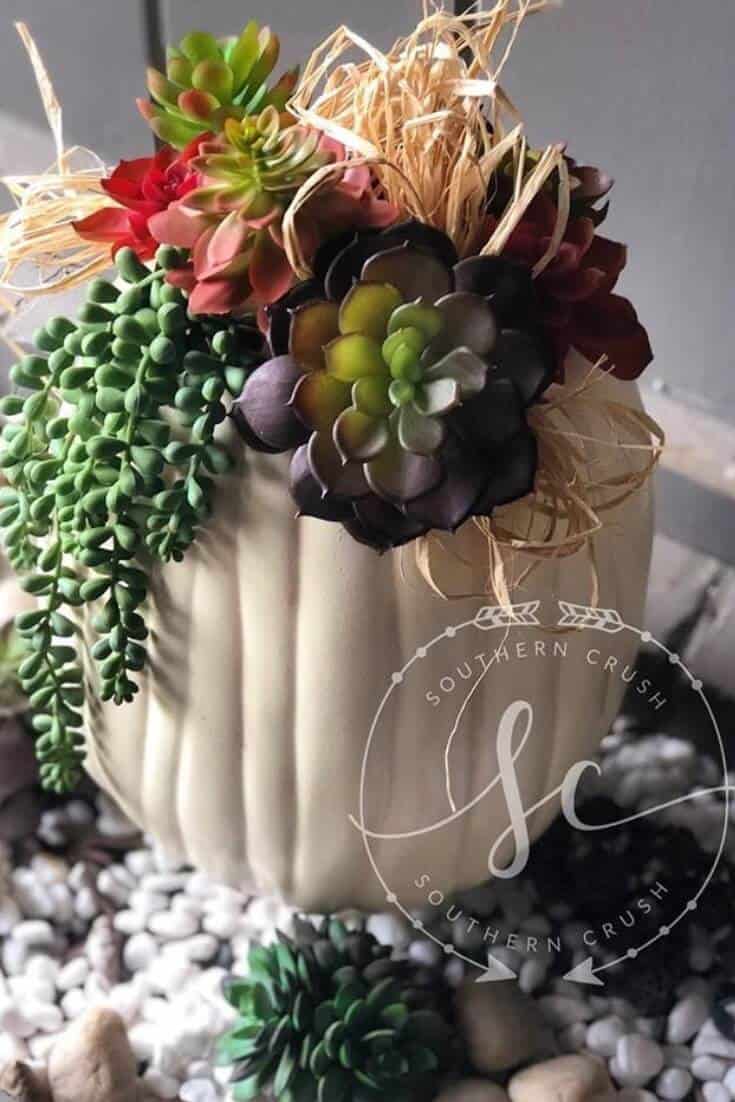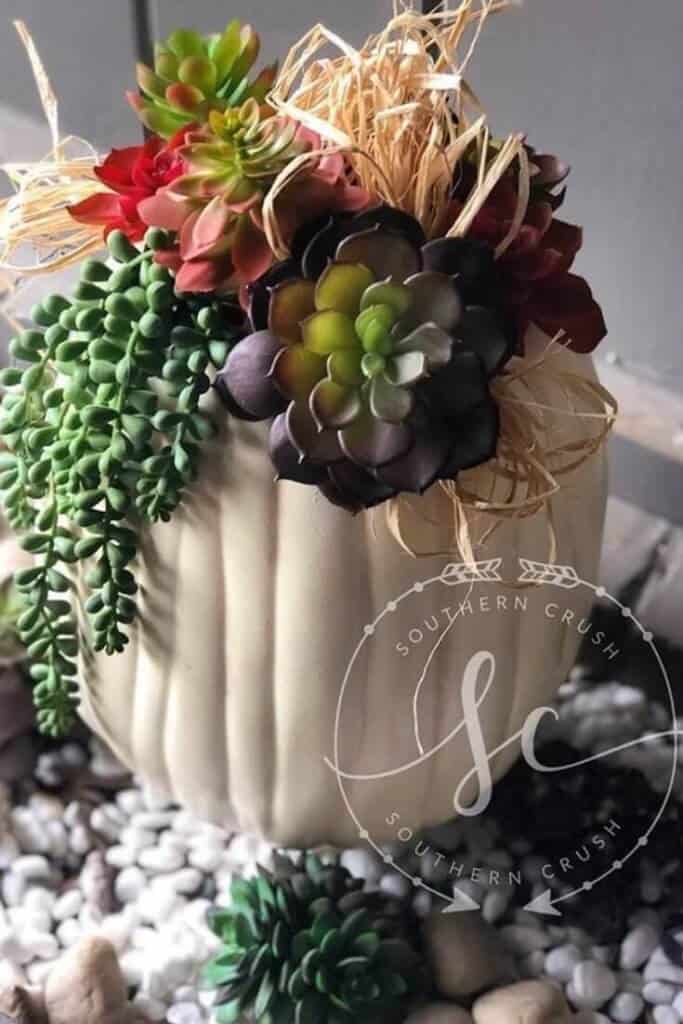 Go with Versatile Temporary Pillow Covers
9. Swap out your pillow covers. Use seasonal pillow covers to freshen up your sofa or chairs. It's easy to change them out and much more affordable than buying brand new pillows each season. I've picked out a few for you here that are my favorites!

Decorate with Blankets for Fall
10. Use cute blankets to decorate small places. Get creative and find new ways to display vintage quilts, inexpensive throws, and warm and cozy blankets. Here are a few I found online for you to get started!

Use Old or New Baskets
11. Decorate with baskets. Baskets are hands down one of the easiest ways to decorate. You can find them almost anywhere; garage sales, estate sales, Facebook marketplace, and thrift stores. If you're like me, you have them already all over the house and in the closets.
decorating for fall affordably
Seasonal decorating does not need to break the bank. You can still have an amazing-looking space using a few simple items from around the house or even outside in the yard. I hope you'll try some of these ideas and come back and let me see what you make below.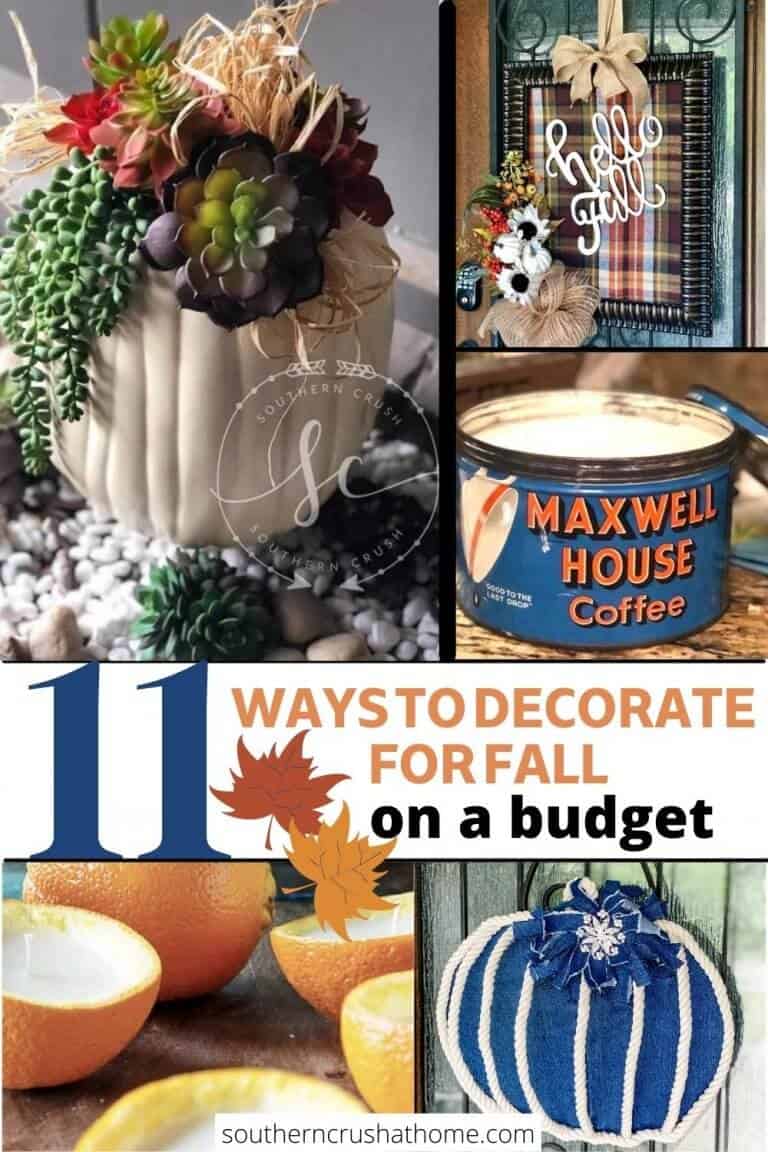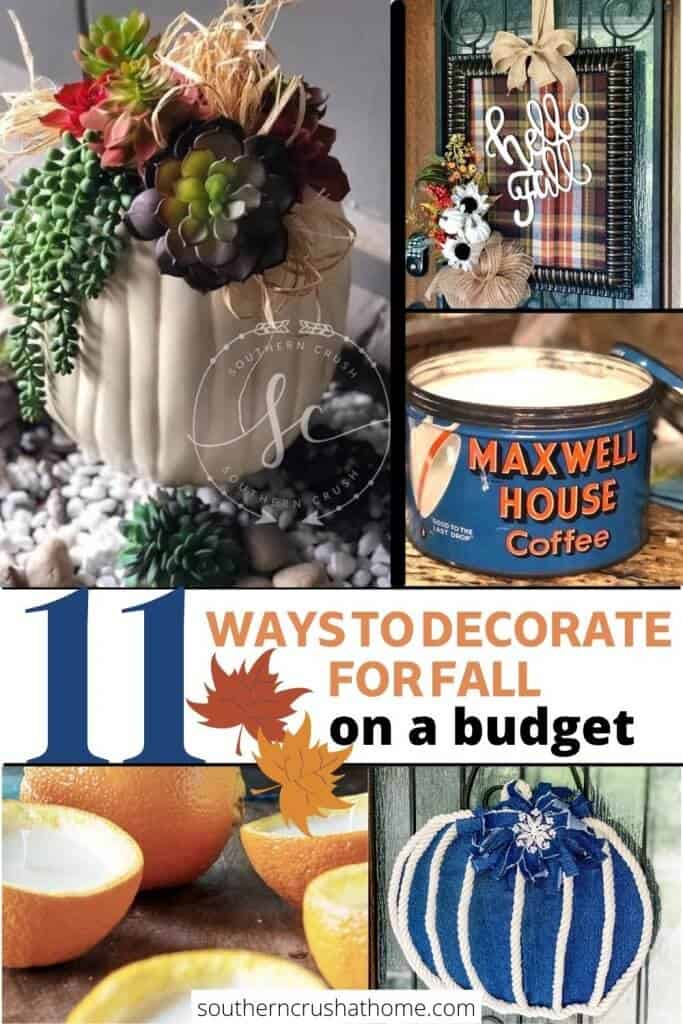 Be sure to PIN this one for later!
Check out this super cute Fall Welcome Printable bundle available for download now!
MORE IDEAS TO USE FOR FALL DECORATING