Budget Friendly Photo Frame Decor Idea
Thrift store finds were the main ingredients for this budget-friendly photo frame decor project! One average afternoon I found myself shopping the aisles of a familiar thrift shop in my area when I "spotted" a fun photo frame and a bundle of sticks and decided they were meant for one another! Come along to see what I mean…

>>>BE SURE TO PIN THIS FOR LATER!<<<
What makes something a good "find"? Well, first, it "finds" its way into your cart & and eventually "finds" its way into your heart! The photo frame stood out to me that day because of its gold polka dots. I knew it would never go with my current decor and it didn't bother me at all. I know most things are a paint project away from fabulous & this was no different.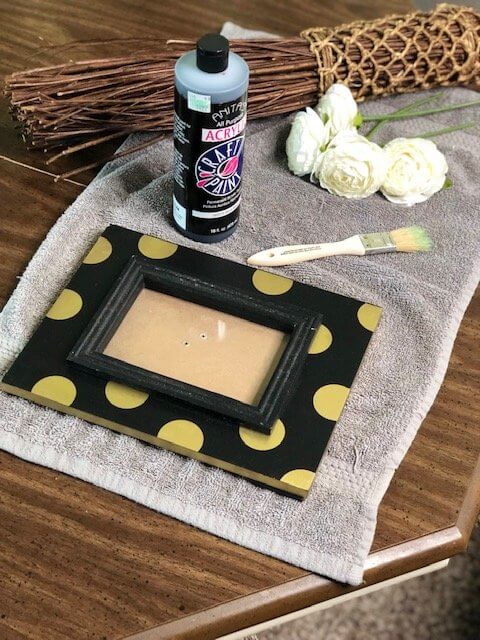 SUPPLIES USED FOR THRIFT STORE FRAME
Any Inexpensive Photo Frame
Random Group of Sticks

Black Acrylic Paint

Assorted Floral Picks
STEP BY STEP INSTRUCTIONS FOR PHOTO FRAME
Step One
Paint your photo frame a dark color to give it a clean start and hide any imperfections.
Step Two
Take groups of sticks at a time, trim with wire cutters to desired length and proceed to hot glue them down to the exterior edges of the frame. It helped to do this in sections starting at the bottom and then gluing sticks on top of the first layer of sticks.
Step Three
Take twine and wrap around the corners of the photo frame to create a more rustic feel and give your sticks more support if you desire.
Step Four
Accessorize your project with a few floral picks of your choosing.
Funny and true story—my daughter saw the pretty finished diy project and was not happy that I put her brother's photo in the frame instead of hers! It was just the first one I found to use, but she was not buying it! So WARNING: choose the photo you put in this cute "sticky" photo frame carefully!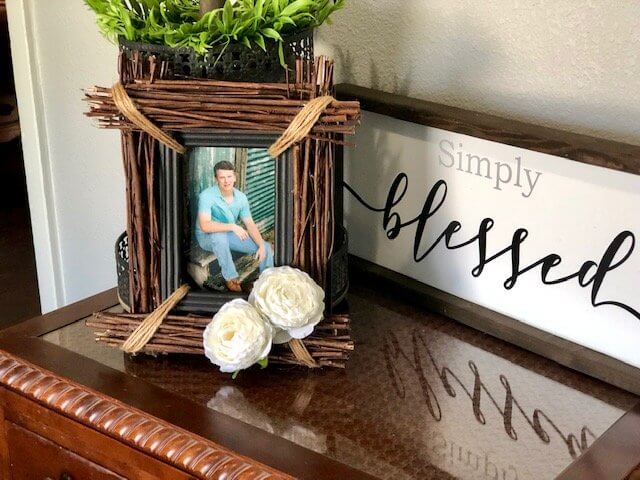 don't miss another diy
>>>Leave your thoughts below in the comments please… BTW— Life is short—Enjoy the mess! I hope you have a lot of fun making a thrift store find into a cute photo frame! I remember using jute to jazz up another great project here upcycled rustic buffalo check cross with bling here. **P.S. Please join us over on our Facebook Page to see more fun projects "Live".