How to Add Black & White Decor to Your Home for Fall on a Budget + Fall Printable
Decorating for Fall doesn't have to break the bank! I can show you how to add black and white decor to your home while staying on a budget. All of the items that I am sharing are great to use for fall decorating of bookshelves, fall tiered trays, fall tablescapes, coffee table, and fall vignette displays! It's super easy to decorate within a budget as well as make your home feel warm & cozy this fall! Let me show you how…
listen, Do you love black and white buffalo check decor?
If so, consider joining my FREE Facebook Group "Buffalo Check Obsessed" where we share all things buffalo check all the time!
Inexpensive ways to decorate your home for FALL
Stick with just a few colors. I love black and white decor as base colors to get you started. This will help you stay focused and keep from purchases that don't fit your color choices.
Bring the outdoors inside. Use branches, leaves, and acorns from the yard or the park for added decor. It brings much needed textures to the mix and the best part is that they're free.
Speaking of free, decorate your tables with pretty fall inspired scarves.
Yet another FREE way to decorate is with cute printables Like this fun buffalo check pumpkin ONE you can grab HERE! >>>To get this printable for FREE consider joining my VIP Creative Club where ALL PRINTABLES are included with your monthly membership!<<<
Use neutral basic decor items like burlap placemats, mason jars and white candles so that you can add ribbons or other adornments for the color for all the seasons; spring, summer, Christmas and fall.
Create a collection of seasonal fruits and/or vegetables to add to your fall tablescape.
trendy BLACK AND WHITE fall home decor finds on a budget
Everyone needs a warm, cozy blanket lying around so that anyone can snuggle up in a corner or on a couch and feel right at home. This blanket is perfect for displaying on a blanket ladder, on an ottoman or thrown over a cute chairand then on cold nights, it doubles as a warm wrap! Since it's black and white buffalo check it works as a neutral piece in a lot of spaces. This blanket is a great value.
At my house, we are big into blessings so this tray decor is a perfect reminder to slow down and be grateful for all things! The black and white enamel decor is trending this year and works with just about every decor style. This one is under $15.00 and doubles as a sign!
These vintage farmers market trucks are so popular in the decor world. It seems like no matter their color or the season these cute little trucks are all the rage. Super versatile, you can display this black and white vintage style truck on a bookshelf, mantle, counter top, side table, entry table or coffee table! Super affordable decor that won't break the bank.
Such a fun pop of whimsy to add to your decor! This three buffalo check pumpkin stacked topiary is buffalo check which is so hot this year. This would look great on a front doorstep as part of a vignette, a centerpiece for a tablescape or on a hearth as part of a seasonal grouping.
This is one of my favorite candles becuase it uses the wood wick to create a 'crackling' noise that sound just like a cozy fireside gathering that we all love. It's amazing to enjoy the scent of this one "fireside" which, if you close your eyes and breathe deeply, it will take you to a relaxing backyard oasis! This candle lasts what seems like forever, so it's a great value. You're welcome!
Such a cute set of three black and white buffalo check fabric covered pumpkins ready to decorate your home. I love the authentic, rustic look of the wooden stems in these. You can use them separately in different areas or together as a fall vignette. The three different sizes make these a great value.
Buffalo Check Pillow Cover Set
This set of four pillow covers come in a neutral black and white buffalo check which makes them perfect to use in all spaces and decor styles for your fall decorating. Use these on your porch, your couch or your favorite reading chair. Four covers under $5.00 each.
If you're into buffalo check, like I am, this buffalo check burlap garland is a must have. This banner can be used as a backdrop on your mantle or cabinets. You can always add some fun additions to this garland to make it work with any and every season. This one is a staple purchase to keep year round. Using this one as a base garland makes it extra budget-friendly.
Gnomes are uber popular. It seems like everywhere you look, you'll see a cute seasonal gnome you can use in your decor! This whimsical table runner can be used to add just a pop of fun to your Fall tablescape.
Family recipes are such an important part of fall celebrations and that is why this pumpkin pie kitchen towel spoke to me. Not everyone is a fan of pumpkin pie; but I am, are you? Besides fall decor; these make a great, affordable gift to give to a hostess during the fall holidays!
Buffalo Check Fall Pillow Cover Set #2
Happy Pumpkin Spice Season, Hello Fall, Fall Leaves Autumnal, Farm Fresh Pumkins. This set of Fall pillow covers is fantastic for an easy way to quickly cover basic pillows or pillow inserts to create instant Fall decor for your home. Four pillow covers under $5.00 each.
Honey, STOP the car! That's what this super cute outdoor garden flag screams when I see it waving me down. Seriously though, it is the cutest little buffalo check pumpkin flag I've ever seen! This flag is a decor steal at its under $10.00 price tag.
Black metal lanterns are trending everywhere. They are so versatile! These are heavy duty and can last a very long time and be used in a ton of ways making them a good value. You can fill them with pretty Fall decor, candles or even do some unique glass etching on the panes like I show you in this tutorial! Supplies needed to do the etching can be found HERE.
Every table needs silver. At least that is my philosophy. Silver is timeless and will be able to be used every single year if taken care of properly. These precious antique silver napkin rings make the perfect addition to a neutral, classic table setting. Neutral decor, like silver equals budget-friendly decor!
Happy Fall Y'all is somthing I say all the time, so this doormat was literally calling my name. The vintage truck is so popular and the buffalo check on the side makes it one of my top picks for fall decorating!
This vintage, rustic looking sign caught my eye right away. I love it's size and the way it feels like it's really old even though it's brand new. Since I haven't been to a flea market in a while, this will satisfy my need for finding something old to decorate with and it's nice and timeless for use over and over each season. This sign is timeless, which makes it a great value to use year after year.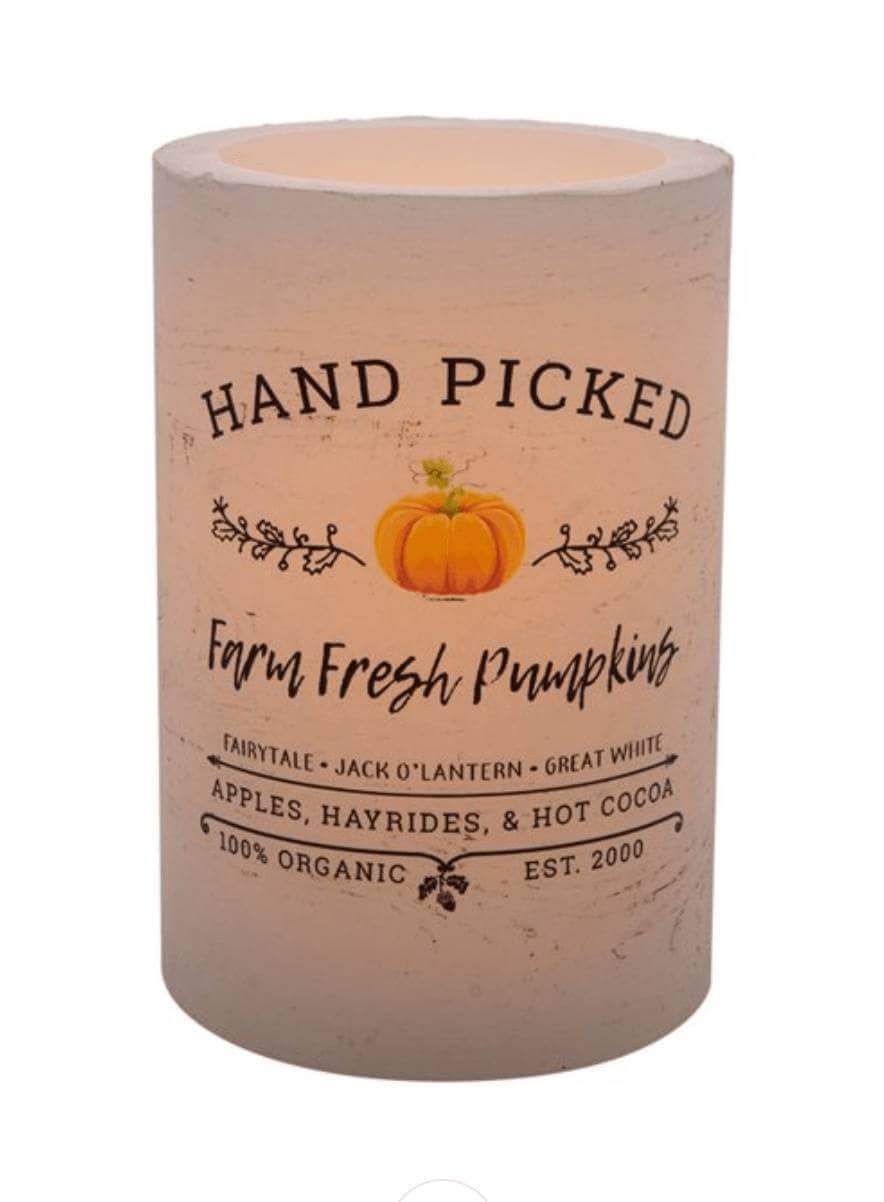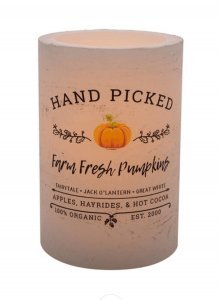 This is a great option for decorating and creating a bit of a cozy feel with some candlelight! Enjoy this battery operated seasonal candle in several sizes to fit any decor need.
Follow my blog with Bloglovin

How early can you decorate for fall?
Whether you're changing your outdoor decor or creating a fresh new look inside your home; you can get started decorating with your fall decor as early as late August and throughout the holiday season. The best option is to put up fall decor in September or October, once the weather starts changing… but for some people the sooner the better! That's me!