How to Reupholster a Couch (Without Removing the Old Fabric)
Have you been wanting to know how to reupholster a couch but you didn't want to deal with the hassle of removing the old fabric? In this blog post, I'll show you how! Keep reading for all the details!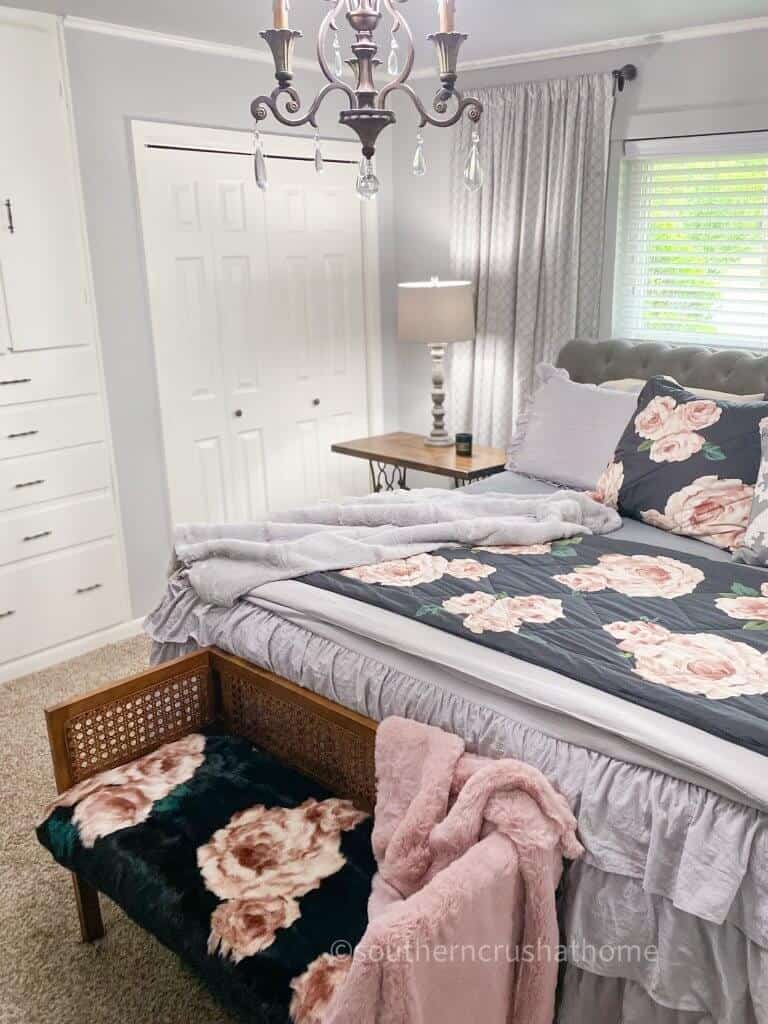 Is your old couch starting to show its age? Maybe the fabric is worn or stained, or maybe you just want a change of pace.
Regardless of the reason, reupholstering a couch can be a great way to give it new life.
In this tutorial, I'll show you how to reupholster a couch without removing the old fabric using a Pottery Barn throw blanket. Let's get started!
I found this vintage couch for just $15 at Goodwill. Can you believe the price?
Look at that gorgeous cane backing. What a score this was!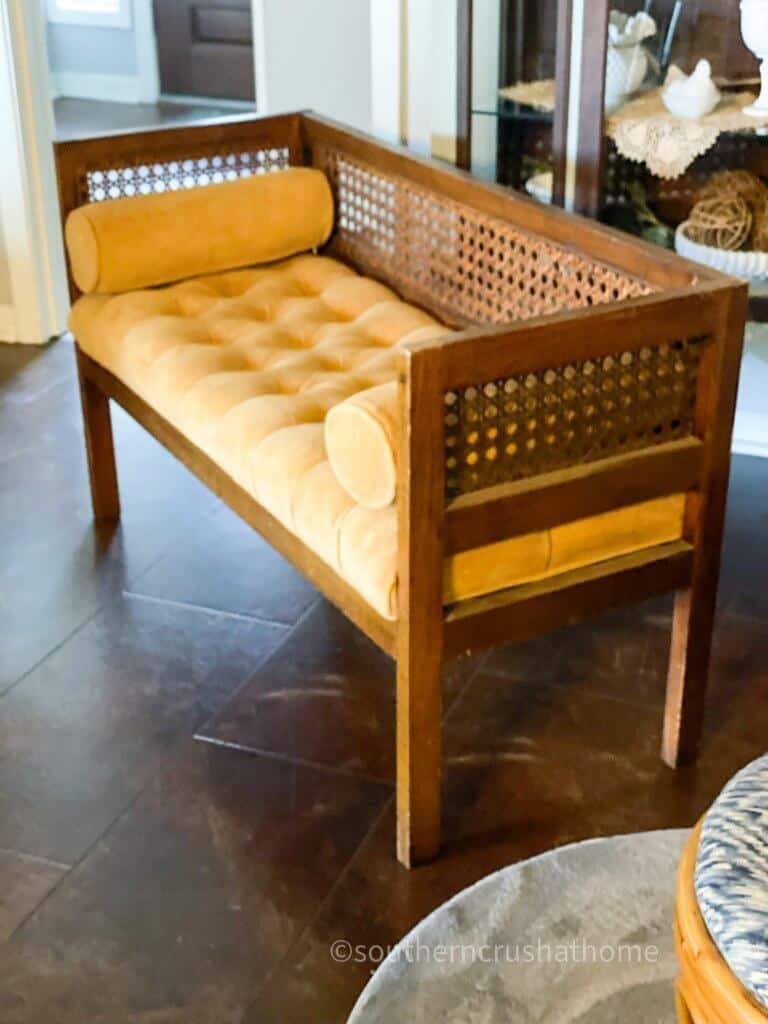 Refinishing the Wood Couch Frame
While I normally like to update thrift store finds with paint, I decided to leave this vintage piece as is. I knew reupholstering it would really give it a fresh look and I wanted to keep the original wood.
That is totally a personal choice though, so if you want to paint yours go for it. I bet a bleached wood or white would look great too!
This blog post contains affiliate links. The opinions are wholly my own from my own experience. I may earn a small commission from clicks through to the websites that end in a purchase.
Supplies Needed to Reupholster Couch
Heavy-Duty Staples
Screwdriver or Drill
Choosing the Right Upholstery Fabric
The most important part of reupholstering a couch is choosing the right upholstery fabric. You'll want to choose a heavy-duty upholstery fabric that's durable and easy to clean since it will be getting a lot of use.
The old fabric on this vintage couch was a pretty mustard-colored velvet; however, there were lots of stains and wear and tear on it.
I knew right away that I wanted new fabric for the couch, but it seemed like the re-tufting part of the upholstery fabric was beyond my skillset.
So I was on a mission to reupholster a couch without removing the old fabric first!
This is the beautiful Pottery Barn blanket throw that inspired this makeover. I just LOVE the bold oversized pink flowers. The fun thing with a DIY upholstery fabric project is you can make it your own.
You don't have to follow the rules and use upholstery fabric. You can use whatever new fabric you like, even drop cloth.
If your piece of furniture is large or you need to cover the back of the couch as well as the bottom of the couch, try bringing home a small piece of fabric before committing to the larger piece of new fabric needed to fit the couch.
A typical couch measured from end to end could require 9-12 yards of fabric. Although you can find new upholstery fabric at any fabric store, it can become costly if you want to reupholster a large sofa.
Since I wasn't keen on tufting and I didn't want to remove the fabric that was original, I decided the simple ready-made blanket was perfect for this upholstery project. I also decided not to redo the cushion covers either.
Once you've chosen your new fabric, follow these steps to reupholster your couch without ever removing the old fabric!
How to Reupholster a Couch
Is it Worth it to Reupholster a Couch?
Yes! Most definitely it is worth it to reupholster a couch. Especially, if you follow the steps no sewing method below and leave the old upholstery fabric in place.
Step 1.
Start by removing the couch cushions and pillows leaving the old fabric in place.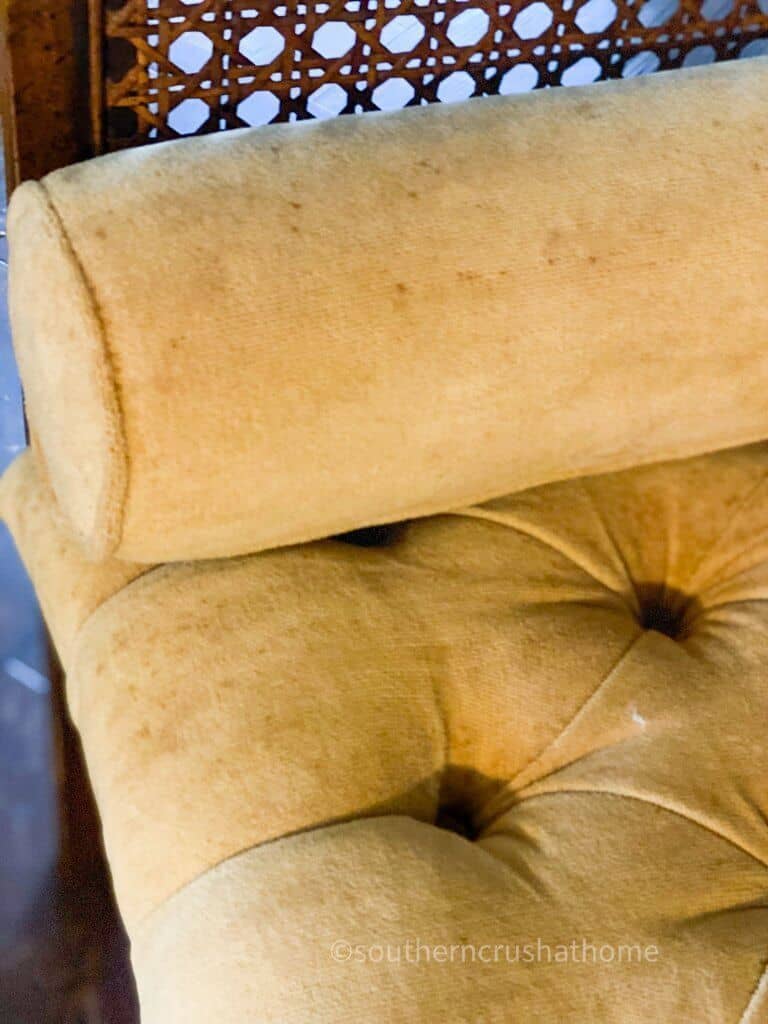 The easiest way is to flip the bottom of the couch over and use a flathead screwdriver or heavy-duty drill to remove the existing tack strips or screws.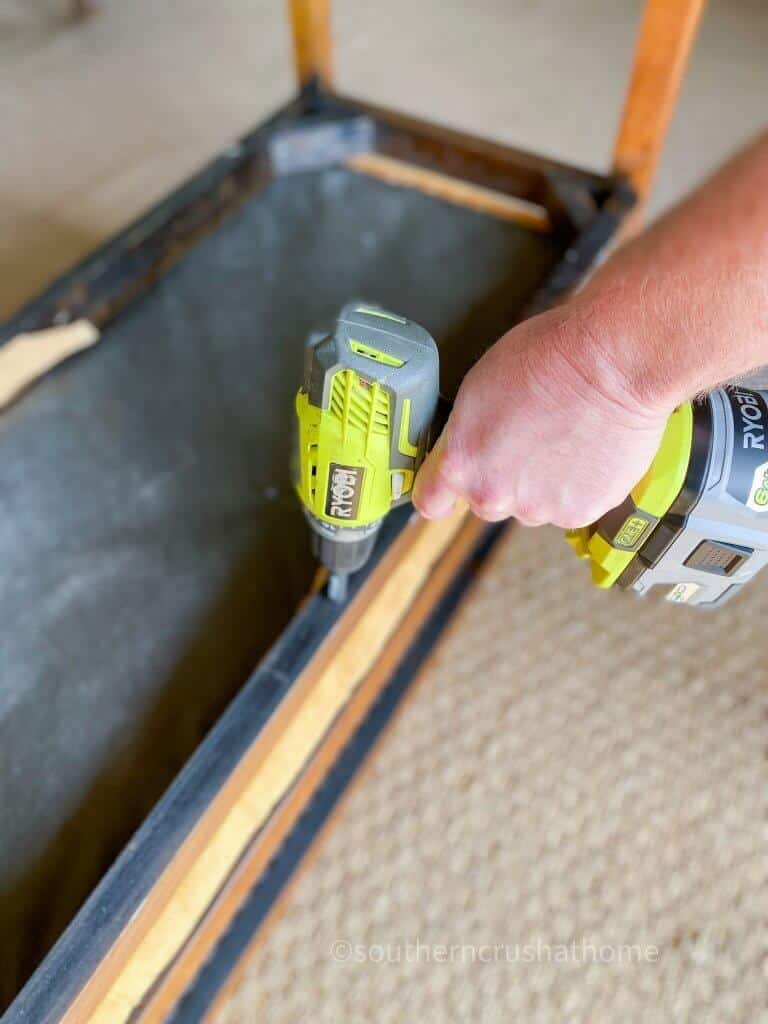 Step 2.
Once you remove the old screws, you can easily lift off the couch seat to reupholster. Lay your new piece of fabric on the living room floor or table with the finished design facing down.
Can I Reupholster Over Existing Fabric?
Yes! Simply place the couch cushions complete with old fabric on top of the new fabric or in my case the Pottery Barn blanket.
Start at one end of the couch and pull the fabric up and start to staple the fabric to the wood bench with your heavy-duty staple gun.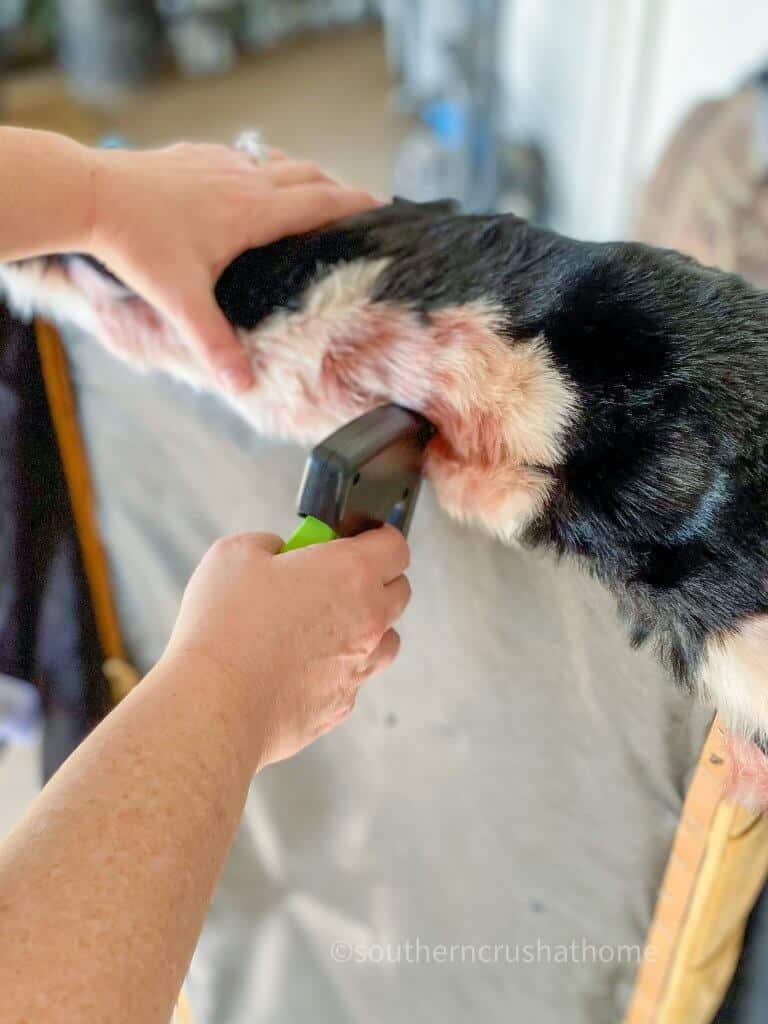 Step 3.
Continue to pull the fabric around each corner and fold it over like you wrap gift wrap.
Add a few extra staples so the corners are nice and snug.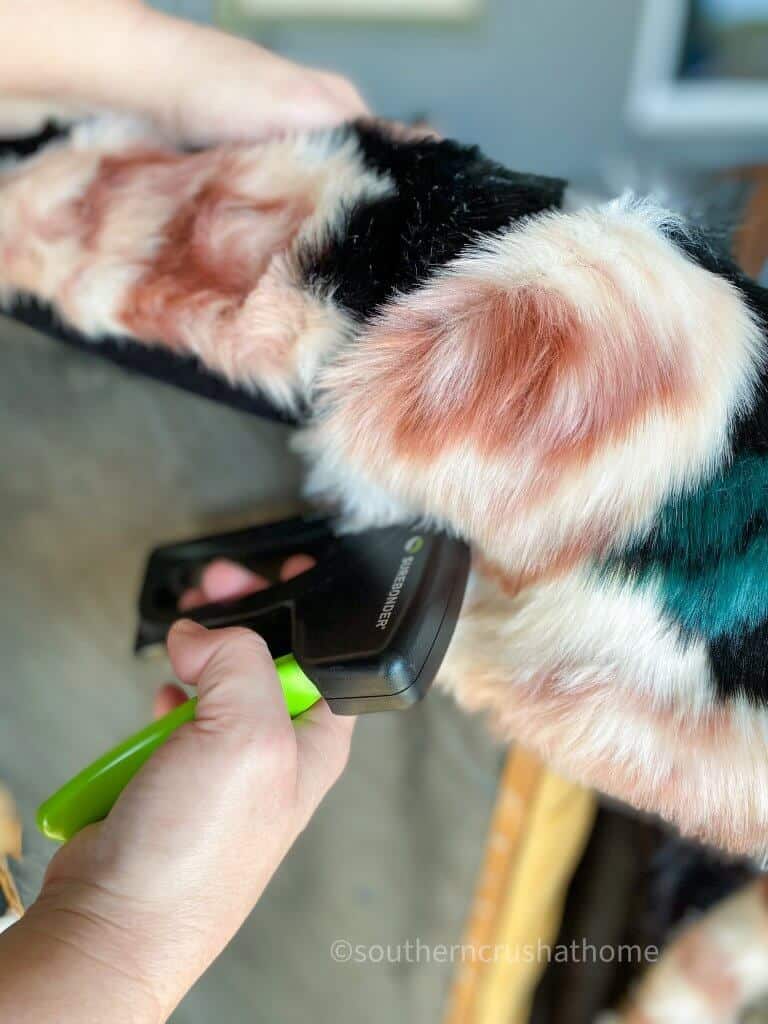 Step 4.
Continue reupholstering the couch with the faux fur fabric until the entire piece is covered. Be sure to add extra staples to each corner and pull it so it is secure and tight.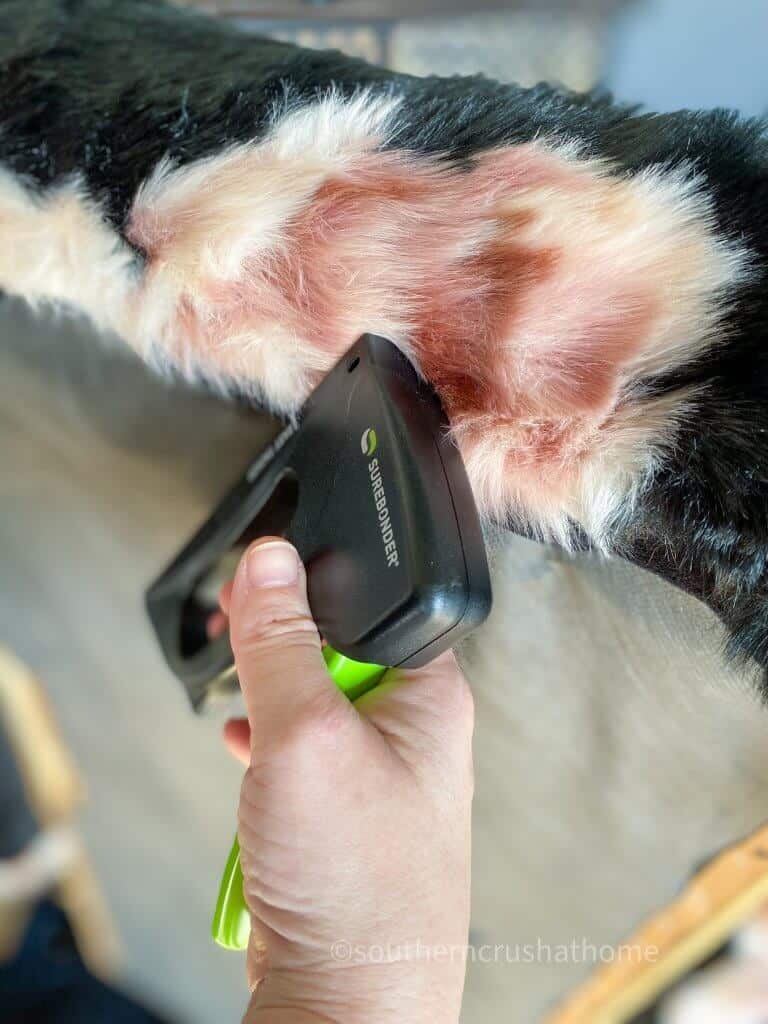 Step 5.
Cut off any excess fabric if you have any. Flip the couch back over and re-secure it to the cane couch frame using the same original screws.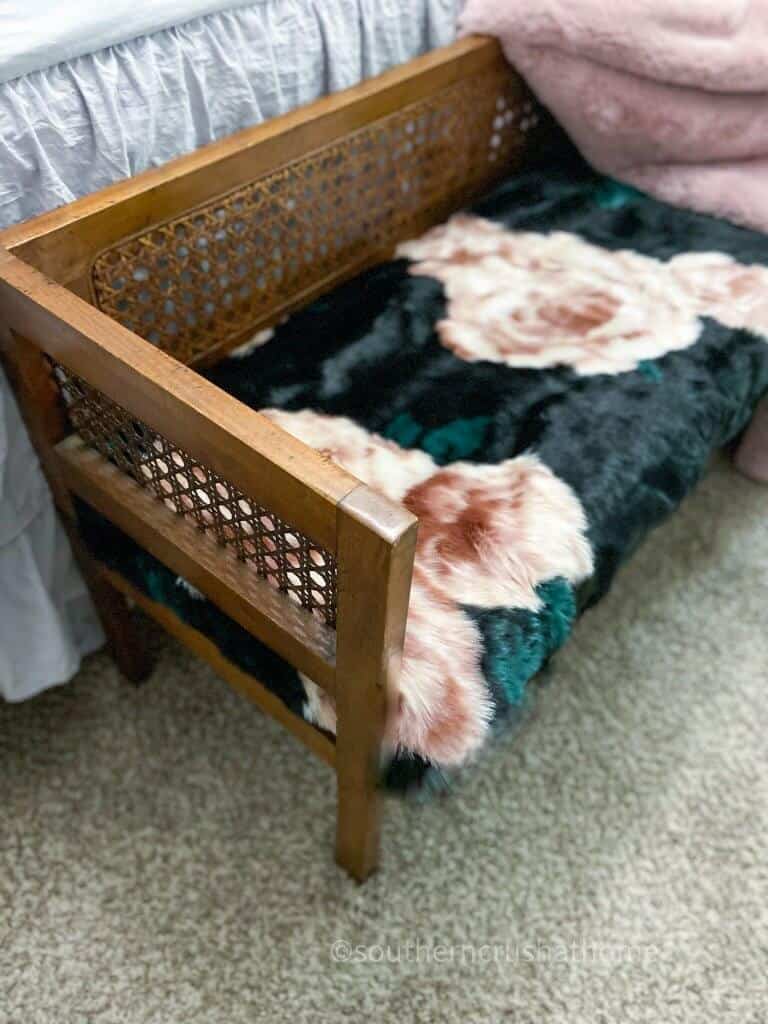 See how simple that was? And I didn't have to spend time-consuming hours removing the old fabric. I just love how this updated couch looks in the bedroom but would look good in the living room, too.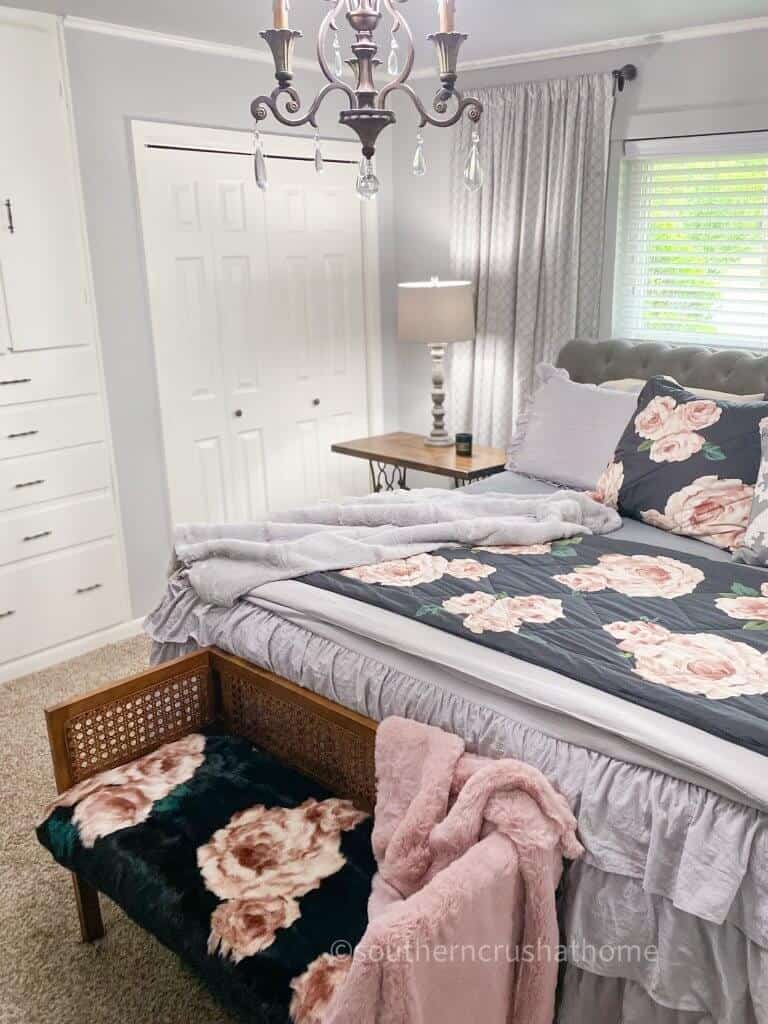 Is it Cheaper to Reupholster or Buy New Furniture?
If you're looking to save some money, reupholstering your couch is a great option. And, keep in mind, if you do it yourself, it could be a fun DIY project!
The next time you are out thrifting, check out the furniture section. You never know what amazing potential you might find.
This vintage cane sofa bench at only $15 would have cost at least triple the price at an antique store. With a little creativity (and a pretty Pottery Barn blanket) you can easily reupholster an old couch and not remove the fabric first, too!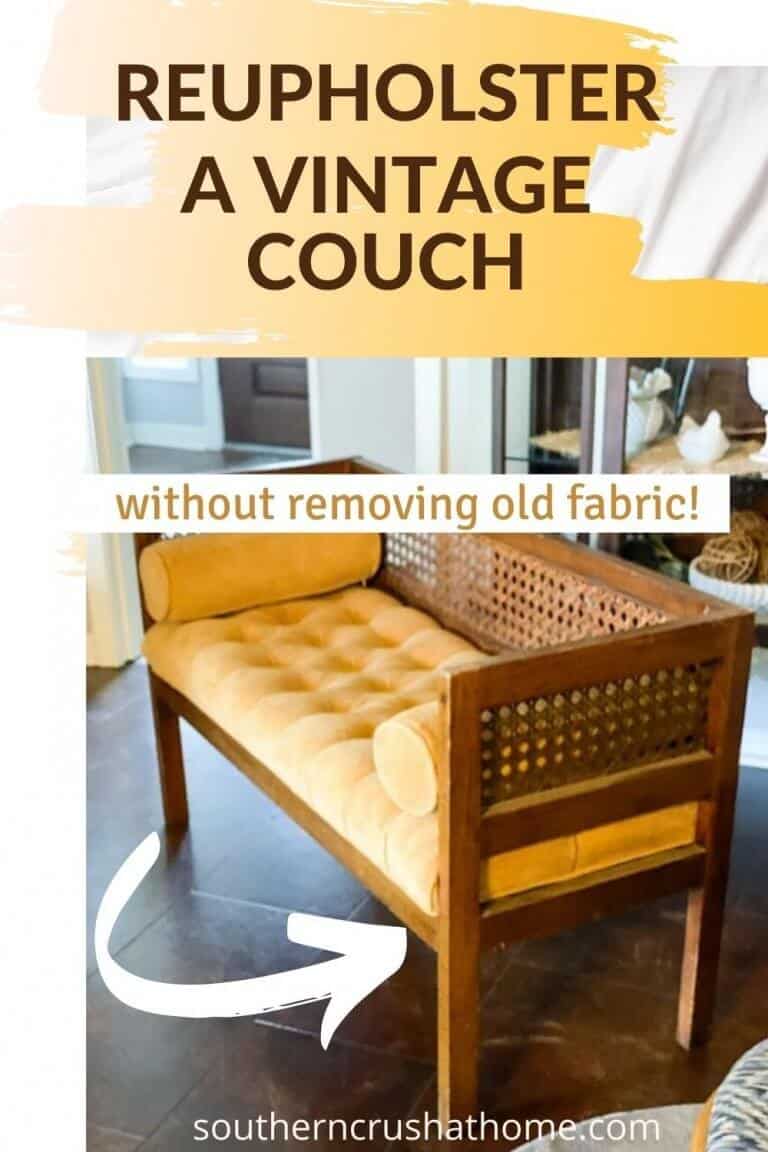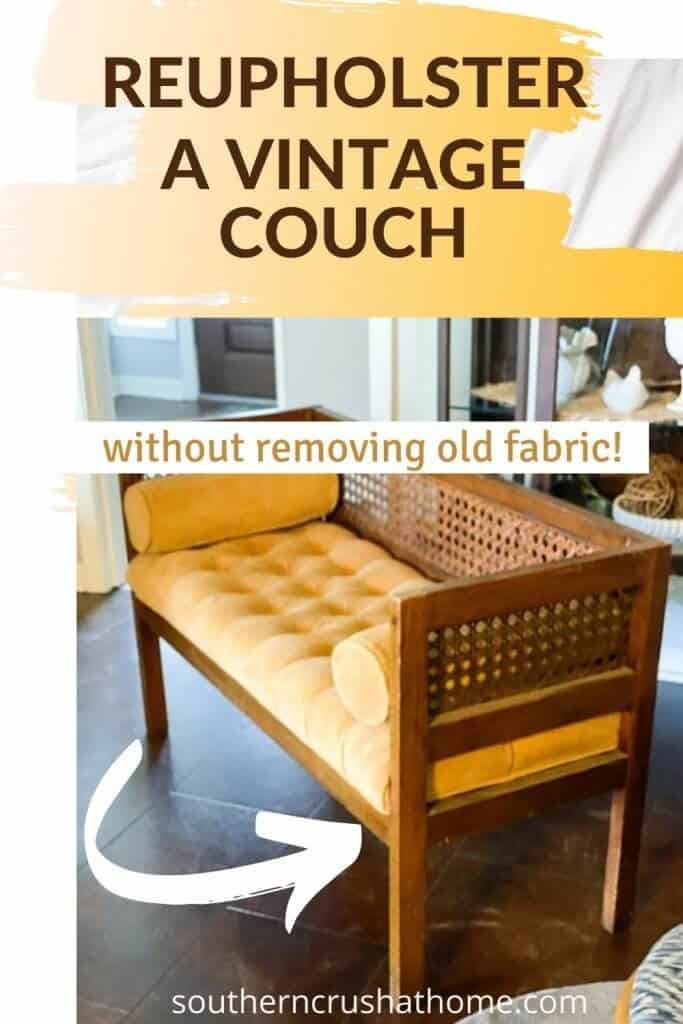 Be Sure to PIN this for Later!
Tips on How to Use A Staple Gun for Upholstery
A Good Staple Gun is a great tool to have around the house, especially if you're into DIY projects. Not only can it be used for upholstery, but it can also be used for crafts, decorating, and more.
Here are some tips on how to use a staple gun for upholstery:
1. Choose the right size staples. The wrong size staples can cause damage to your furniture or fabric.
2. Load the staple gun with the correct number of staples. Too many or too few staples can also cause damage.
3. Apply pressure evenly when stapling. This will help prevent wrinkles and unevenness in the fabric.
4. Be careful not to staple too close to the edge of the fabric. This can cause the fabric to tear.
5. When you're finished, remove the staples carefully so as not to damage the fabric.
Following these tips will help you use your staple gun safely and effectively for upholstery projects. Enjoy!
Can I use a regular staple gun for upholstery?
Yes! You can use almost any regular nose upholstery stapler and medium wire staples for upholstery, depending on your fabric.
20 and 22-gauge staples are the most common staples for upholstery applications.
How do you reupholster a couch with a staple gun?
Fold the fabric edge under by 1/2 to 1 inch and staple it to the frame, smoothing out wrinkles and pulling it taut.
Place a staple every 4 to 6 inches folding and stapling along the sides of the frame.
Fold the front edge under and staple it to the seat frame.
YOU MAY ALSO LIKE THESE VINTAGE FLIP DIY IDEAS!
#upcyclesquad collaboration
This post was part of an exciting collaboration with some of my favorite upcycling blogger friends. If you like this little DIY, then be sure to check out all of the other #upcyclesquad members' creative, amazing projects below. On the 4th Thursday each month, our squad will be sharing some awesome projects with you!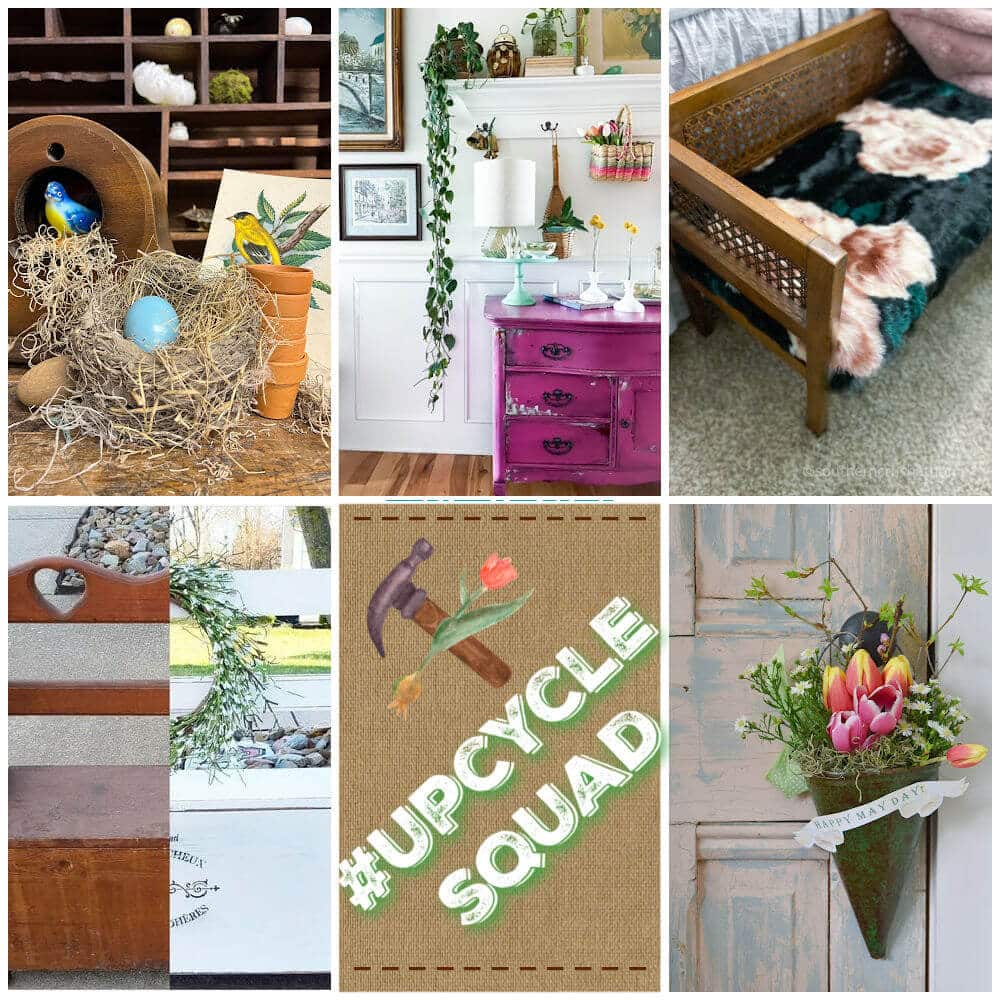 Looking for a way to repurpose an old clock case? Brooke has you covered! Check it out!
Looking for a fun and easy DIY project? I'm sharing how to turn a candlestick holder into a bud vase!
What can you do with a rusty, old cemetery cone? Here's a death to life DIY project!
Have an old, dated furniture piece that needs updating? Here's an exciting makeover of a 90's bench turned into a fresh, farmhouse piece.
How to Reupholster a Couch (Without Removing the Old Fabric)
Let me show you how to reupholster a couch without removing the old fabric. It's so quick and easy!
Materials
Pottery Barn Faux Fur Throw
Instructions
Use a drill to remove the old furniture screws and remove the couch seat.

Lay the throw flat and place the couch seat on top.

Begin stapling the new fabric onto the couch, pulling it nice and snug as you go.

Continue reupholstering the couch with the throw folding over the corners like you are wrapping a present until the couch is covered.

Flip the couch over and reattach it to the couch frame.