Easy Blueberry Scones with Lemon Glaze
Soft, chewy and loaded with blueberries these scones are perfect to pair with your tea or coffee. This blueberry scone recipe with lemon glaze comes together quickly without any funky equipment or scarce ingredients.
Blueberry Scones with lemon glaze are perfect to serve at a Sunday brunch and great to have on the kitchen counter when you feel like a snack. They are a good alternative to muffins when you are in the mood for something home baked.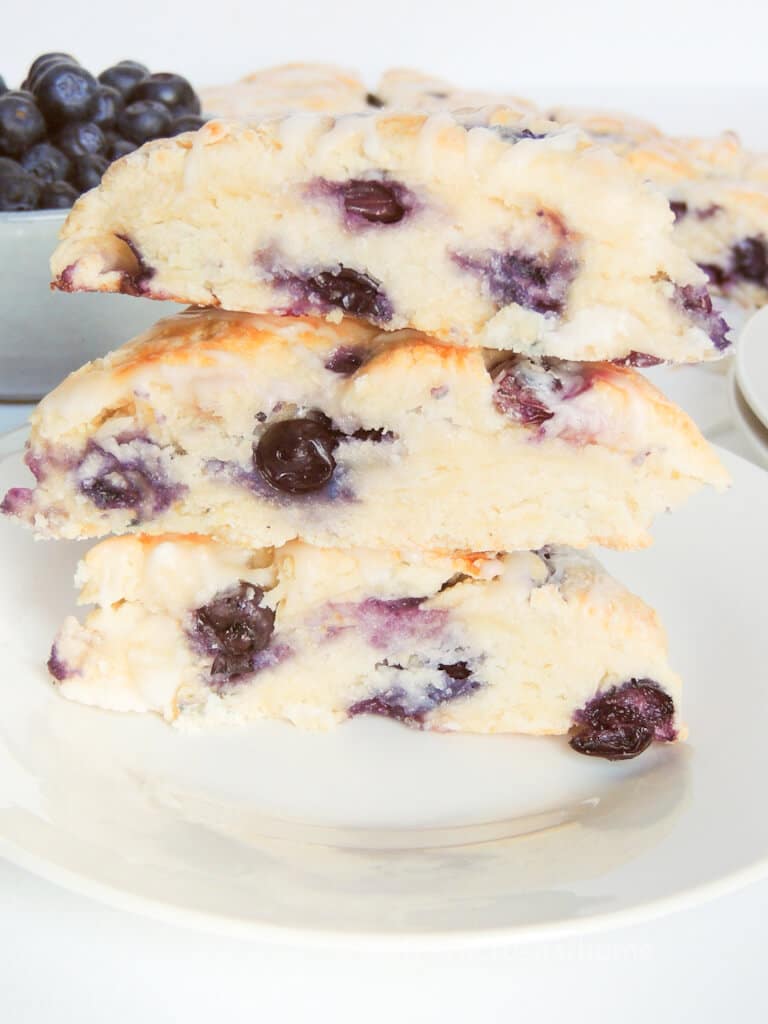 Looking for other treats to drink with your coffee or tea? Check out these No Bake Cookies With Nutella, this Best Peanut Butter Bread Recipe or these Healthy Mini Apple Muffins.
Why You'll Love These Greek Yogurt Blueberry Scones With Lemon Glaze
Soft, crumbly texture
Fresh juicy blueberries
Tart glaze
Quick and easy to make – no kneading required
Equipment You Need To Make This Blueberry Scone Recipe
Cookie sheet
Measuring cups and spoons
Whisk
Pastry knife
Mixing bowl
Ingredients For Easy Blueberry Scones With Lemon Glaze
Scone Ingredients:
2 cups all-purpose flour
1 TBS baking powder
½ tsp salt
2 TBS sugar
5 TBS cold butter sliced
1 ½ cups blueberries
1 cup Greek yogurt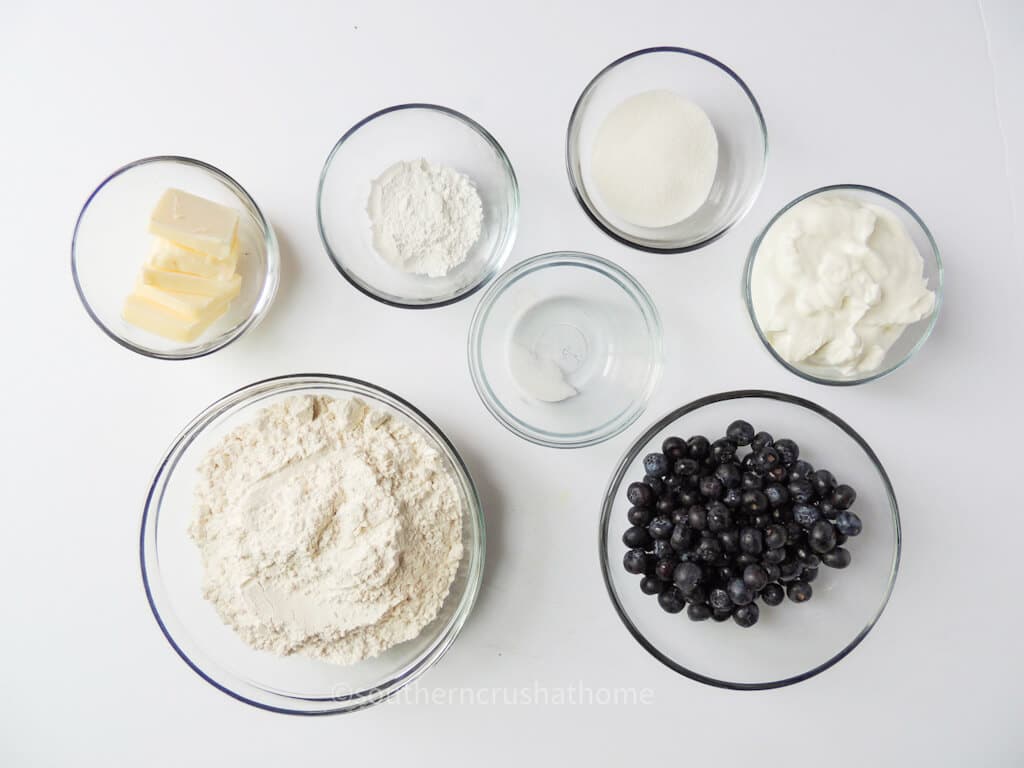 Lemon Glaze:
1 cup powdered sugar
½ tsp vanilla extract
2 TBS milk
2 TBS lemon juice
1 TBS lemon zest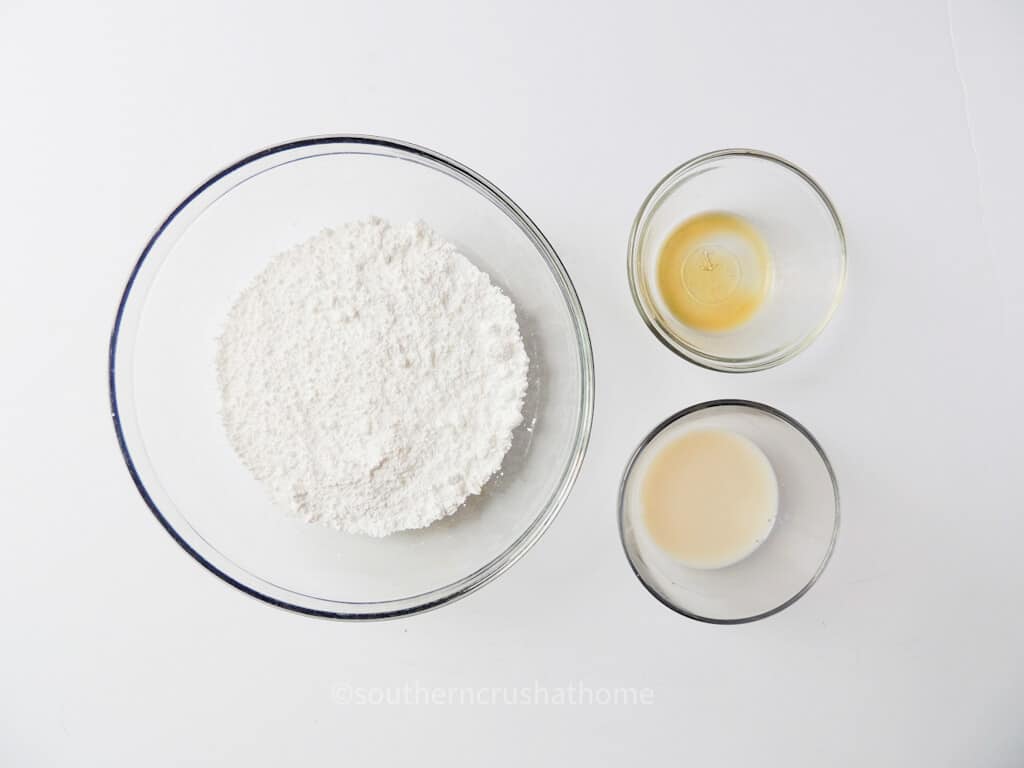 How To Make Blueberry Scones With Lemon Glaze
Preheat oven to 350F. Line 9 x 13 cookie sheet with parchment paper and set aside.
In a large bowl, sift all the dry ingredients.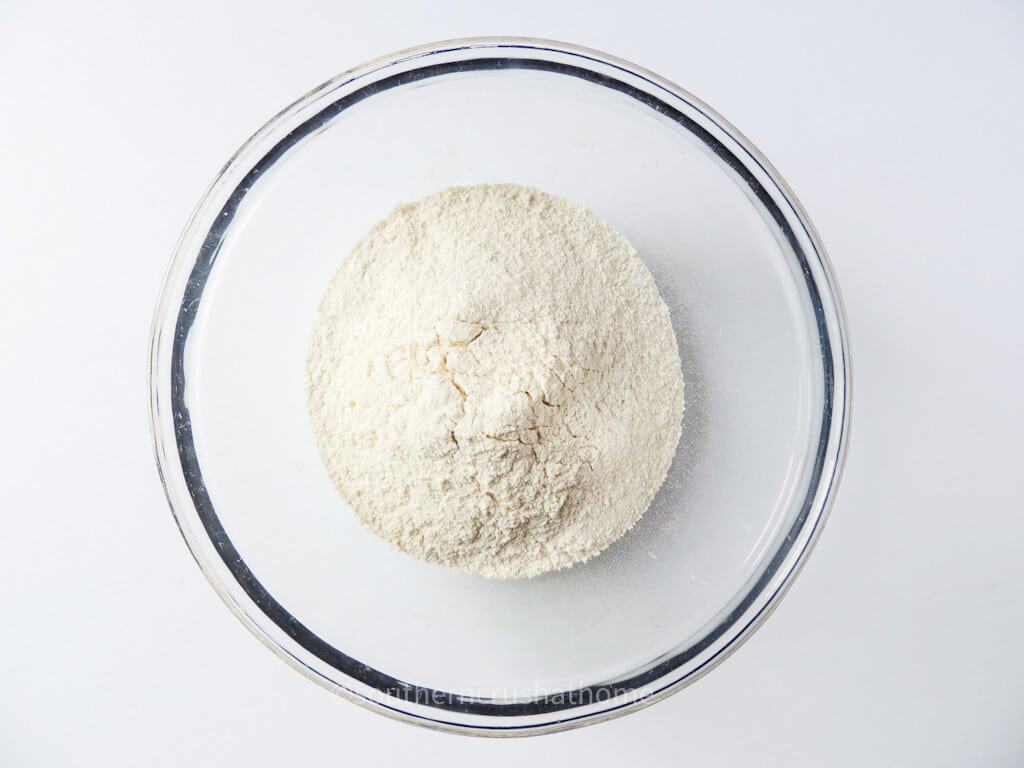 Using a pastry knife cut the butter into the flour mixture until pea-sized crumbs form.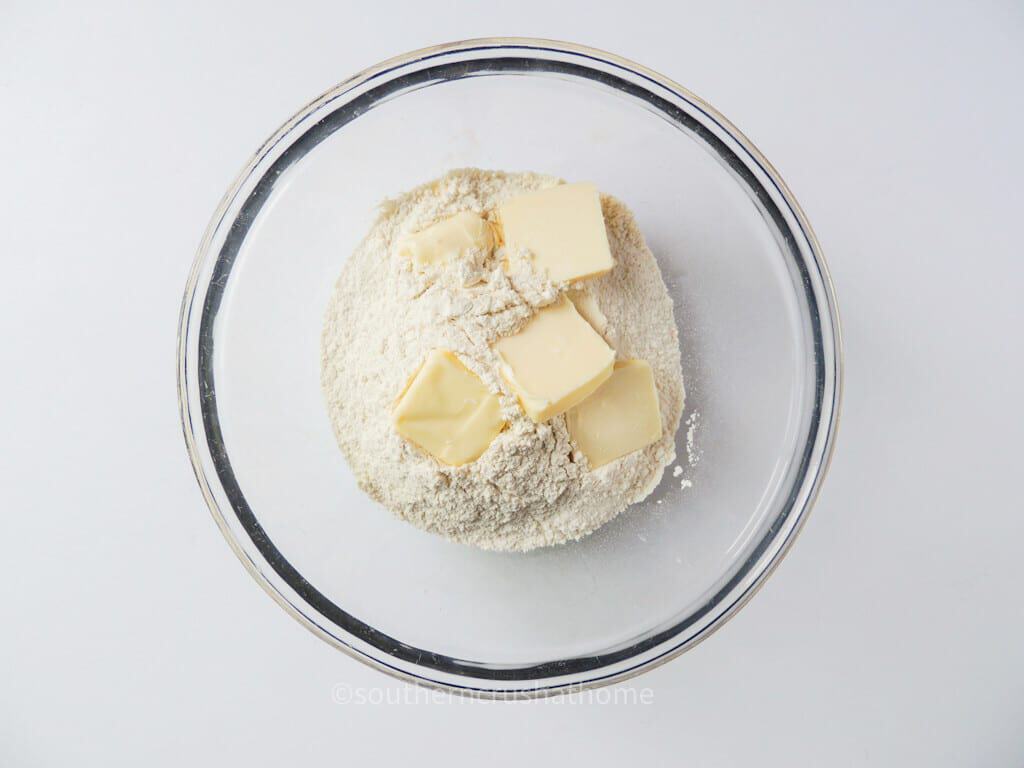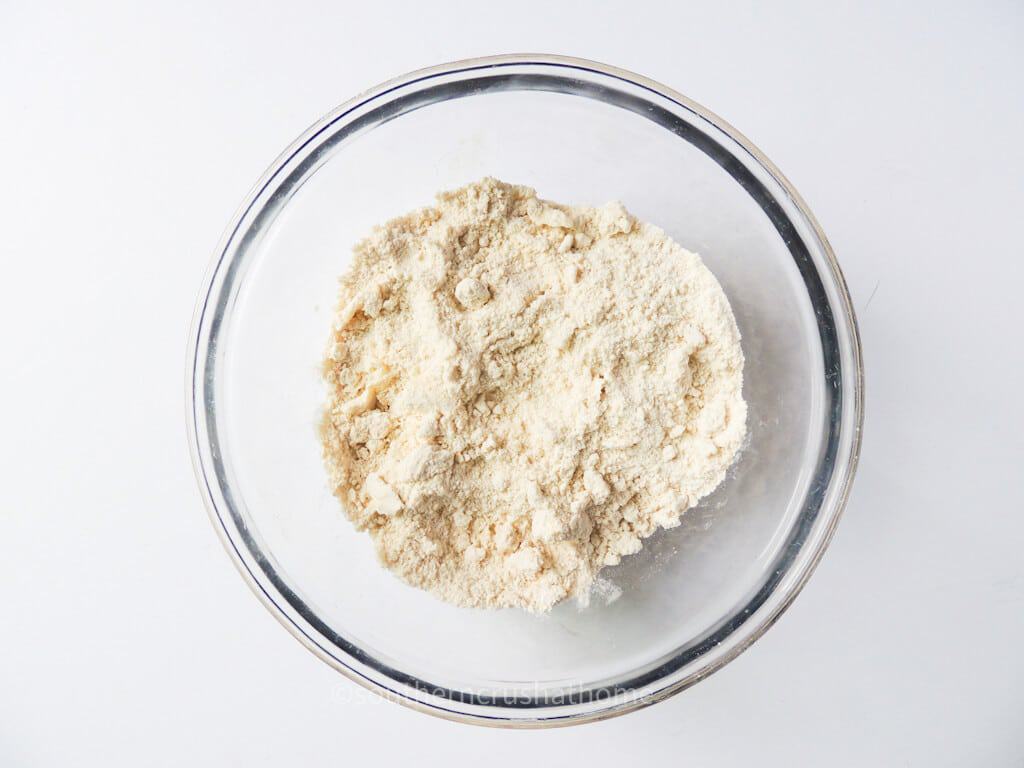 Gently fold in the blueberries.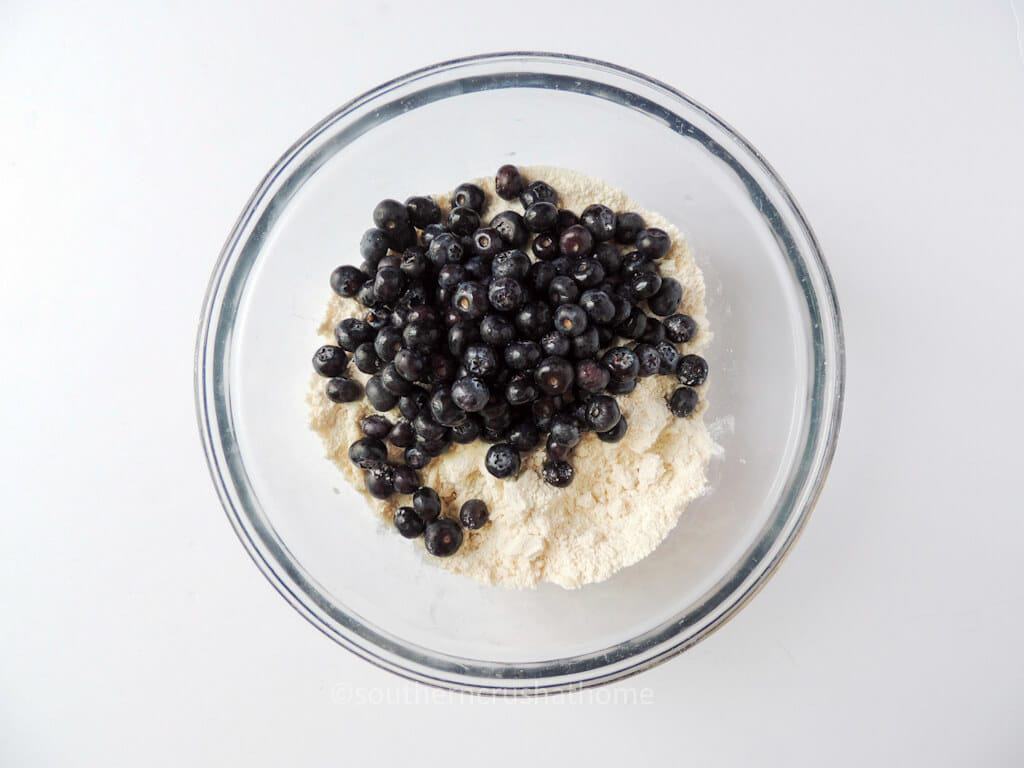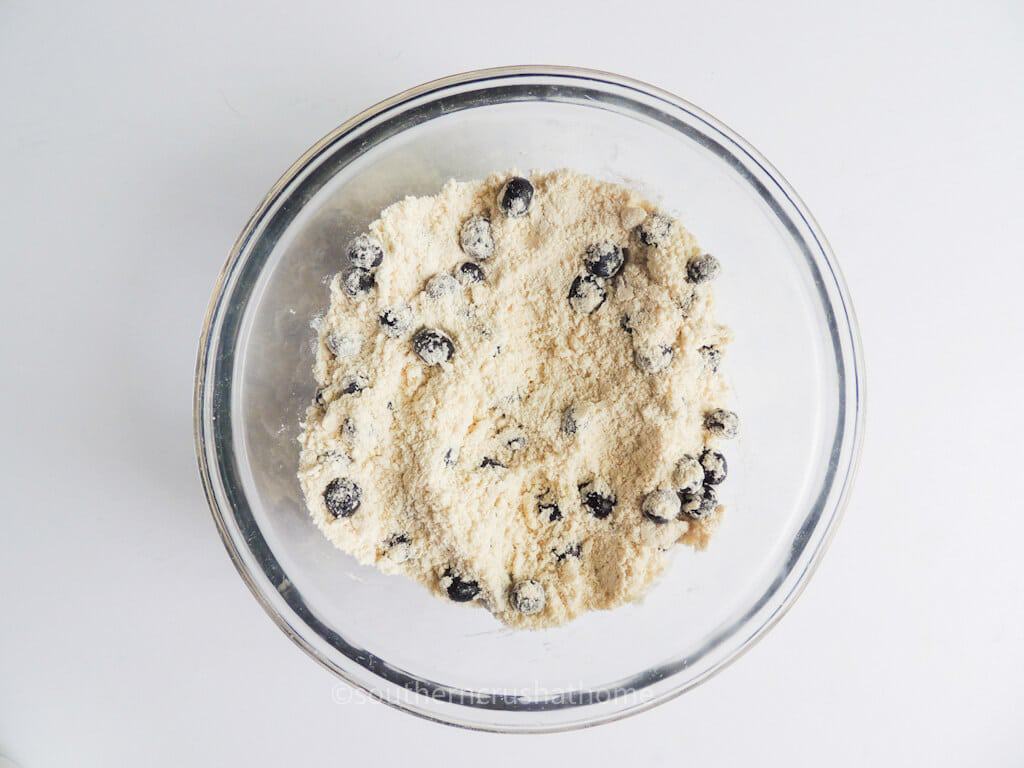 Gently fold in the Greek yogurt until well incorporated.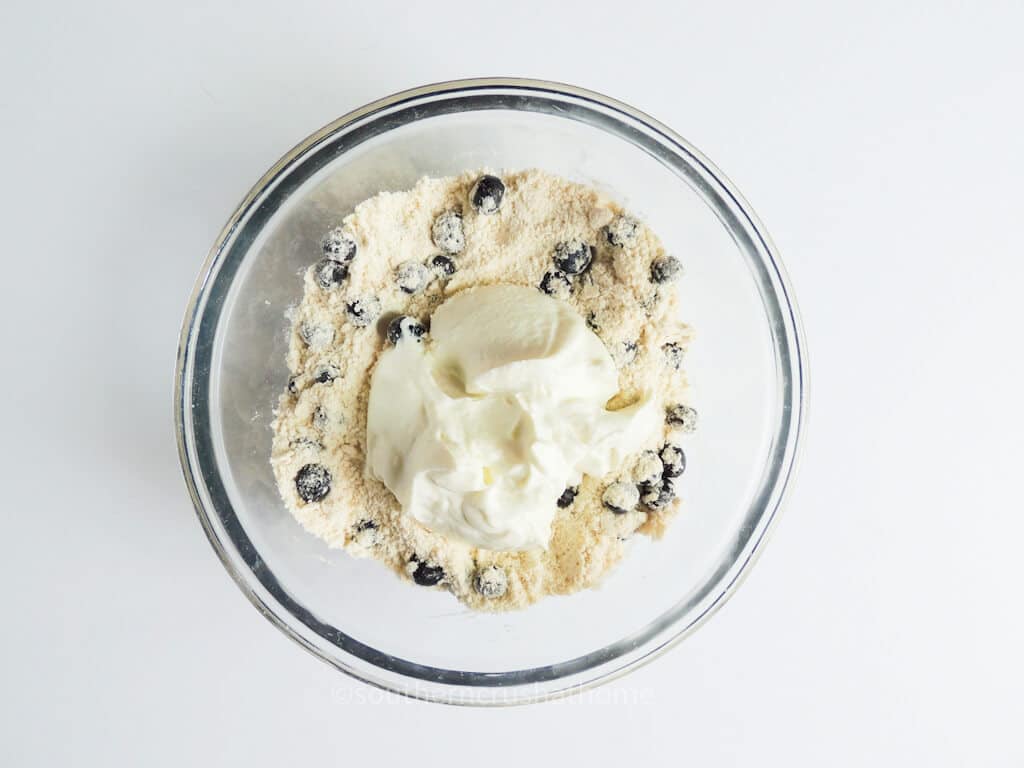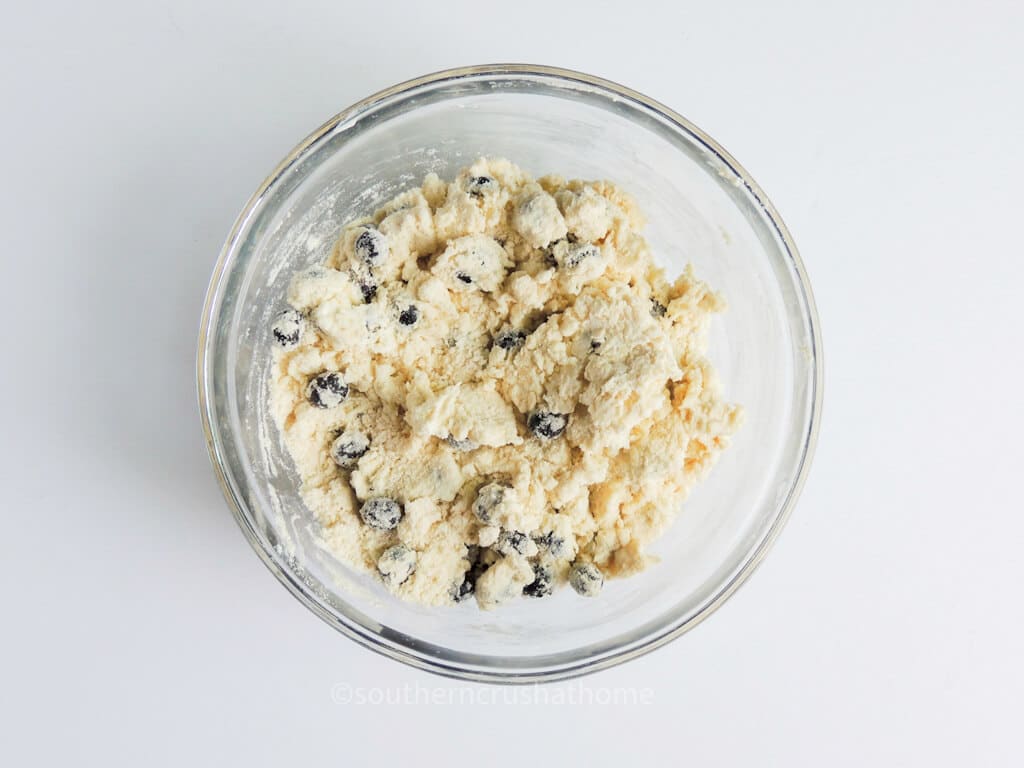 Transfer dough onto the cookie sheet and press into a rectangle about 1 inch thick.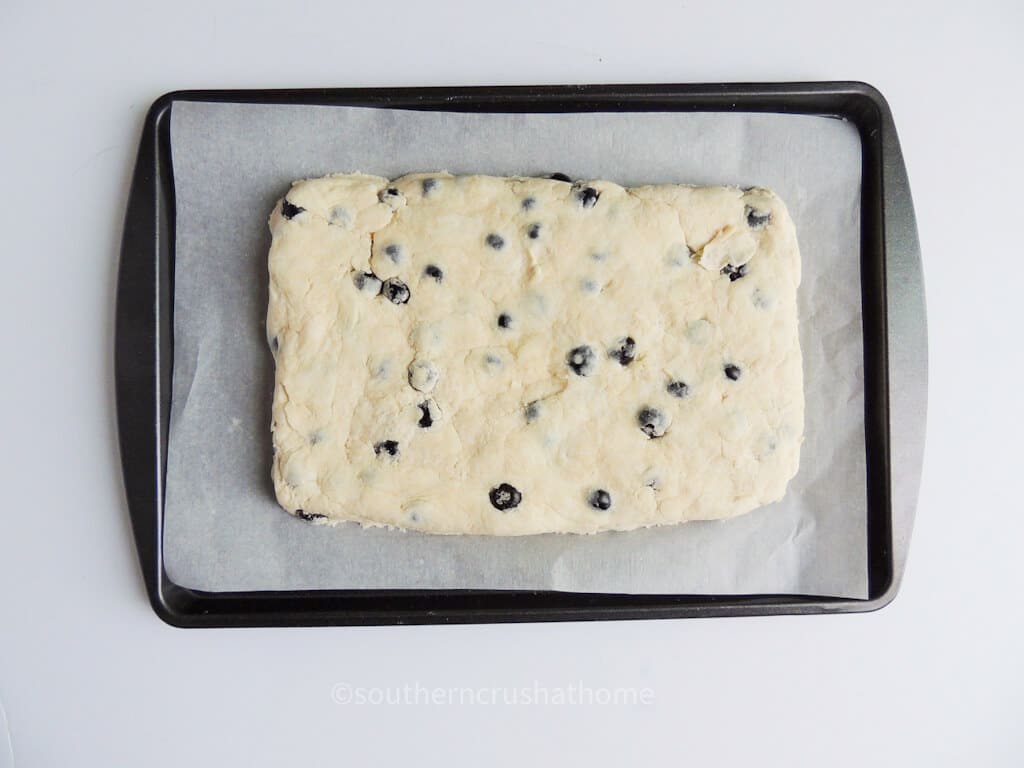 Score dough with a knife to precut the scones into 12 pieces.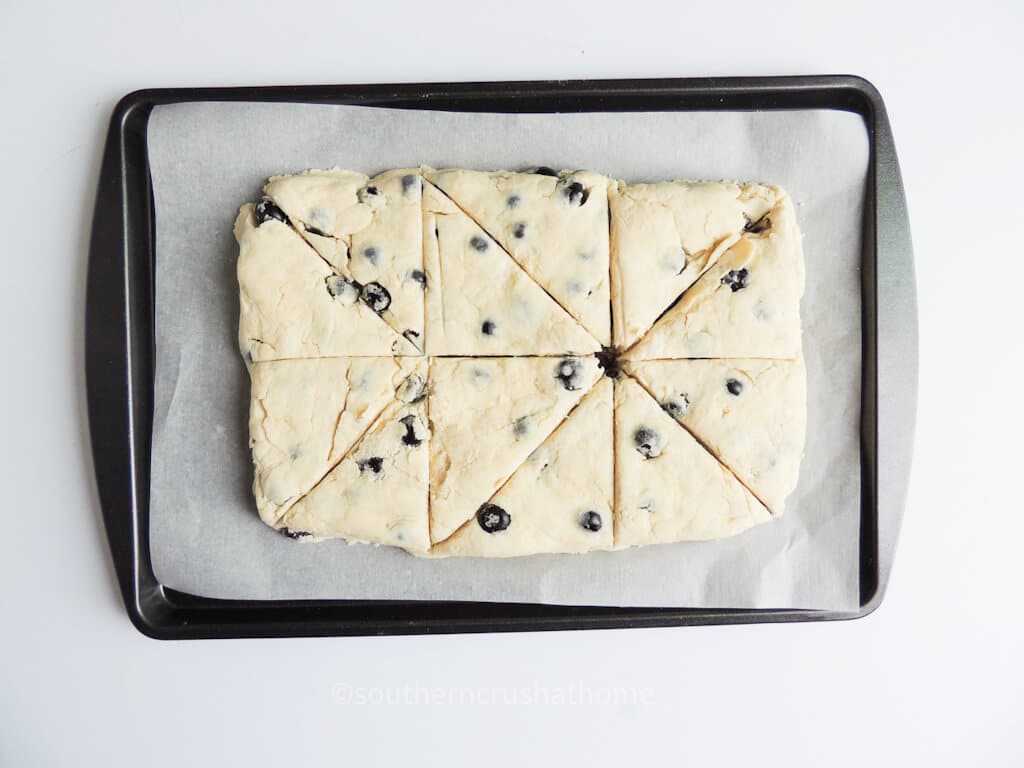 Bake for 20-25 min or until golden brown. Then transfer to a cooling rack.
Once baked, score the scones with a knife to fully cut into 12 pieces.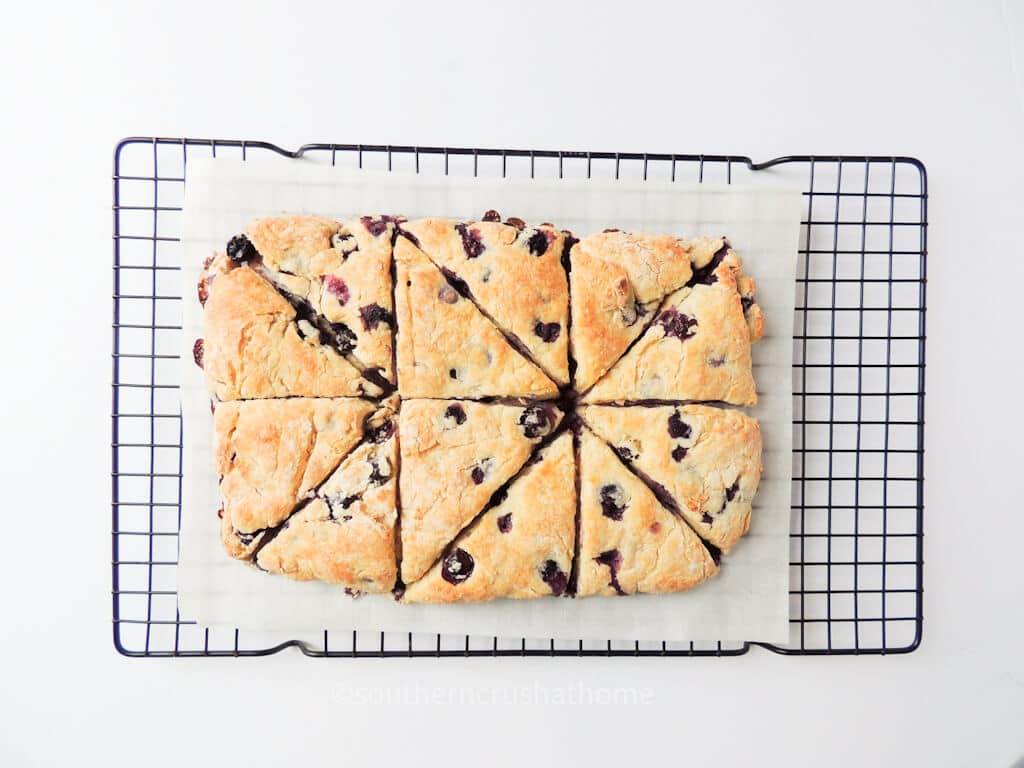 In a medium bowl whisk together powdered sugar, vanilla, lemon juice, lemon zest and milk until well incorporated.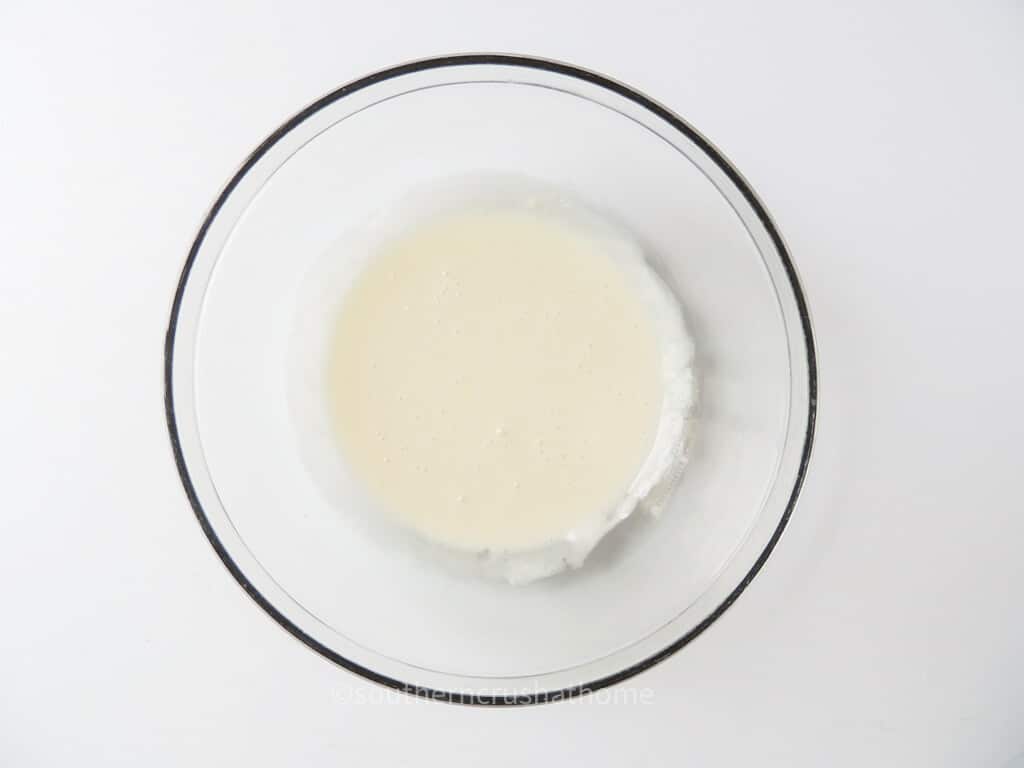 Drizzle cooled scones with glaze.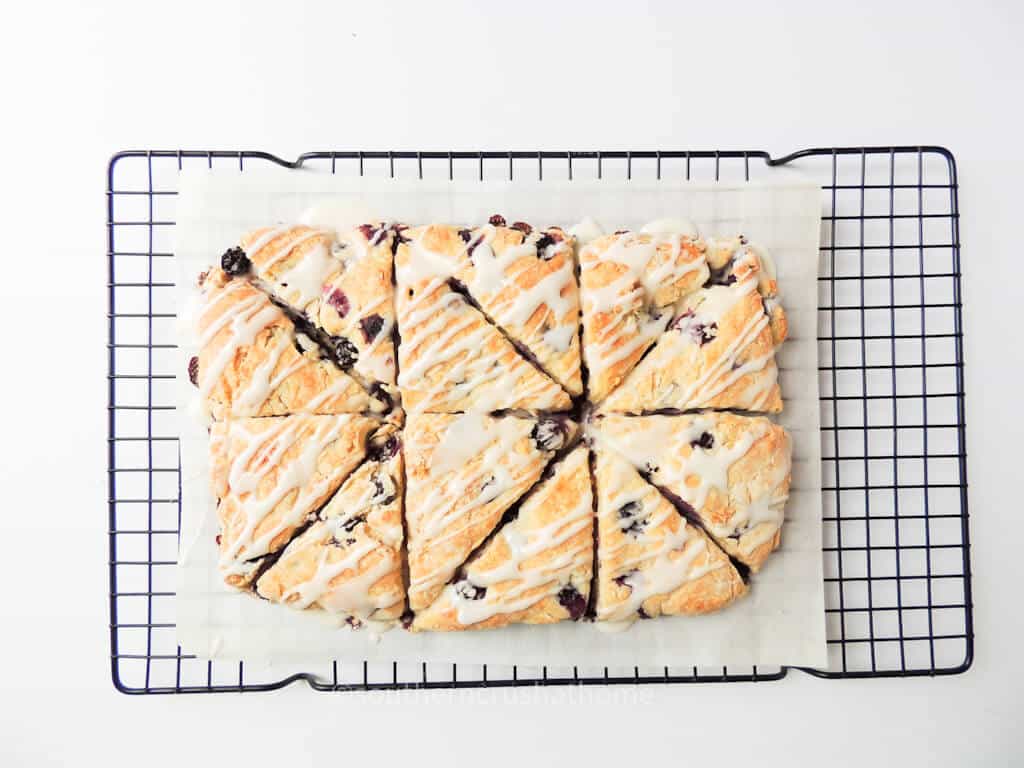 Store scones in an airtight container for up to 3 days.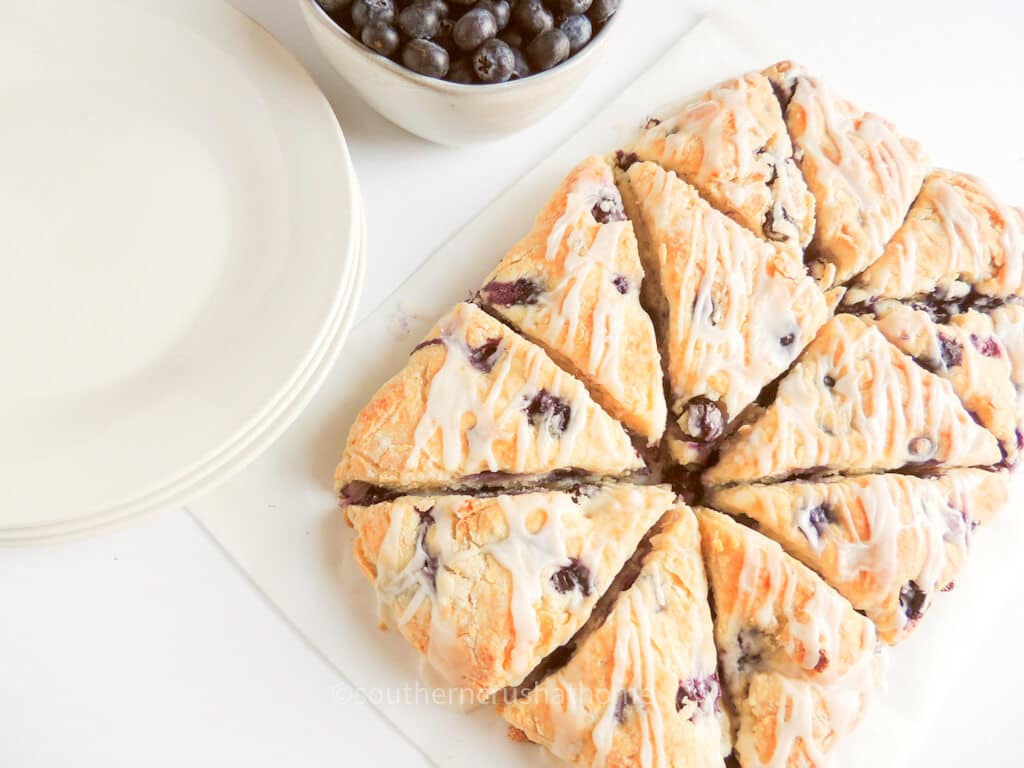 Variations Of Blueberry Scones
use strawberries, raspberries or cranberries instead of blueberries
add chocolate chips to the batter and glaze with melted chocolate
add a teaspoon of pumpkin spice to the batter
make a savory scone by reducing the amount of sugar and sprinkling cheese on top
add a teaspoon of cinnamon to the batter
add orange or lime zest to the batter or glaze
add poppy seeds to the batter
top with sprinkles or other cake decorations
Tips and Tricks For Making Blueberry Scones With Lemon Glaze
Cut the butter into blocks and store in the fridge until ready to use
Make the glaze beforehand so it has time to thicken up
Keep a bag of frozen blueberries in the freezer
Zest the lemon before you juice it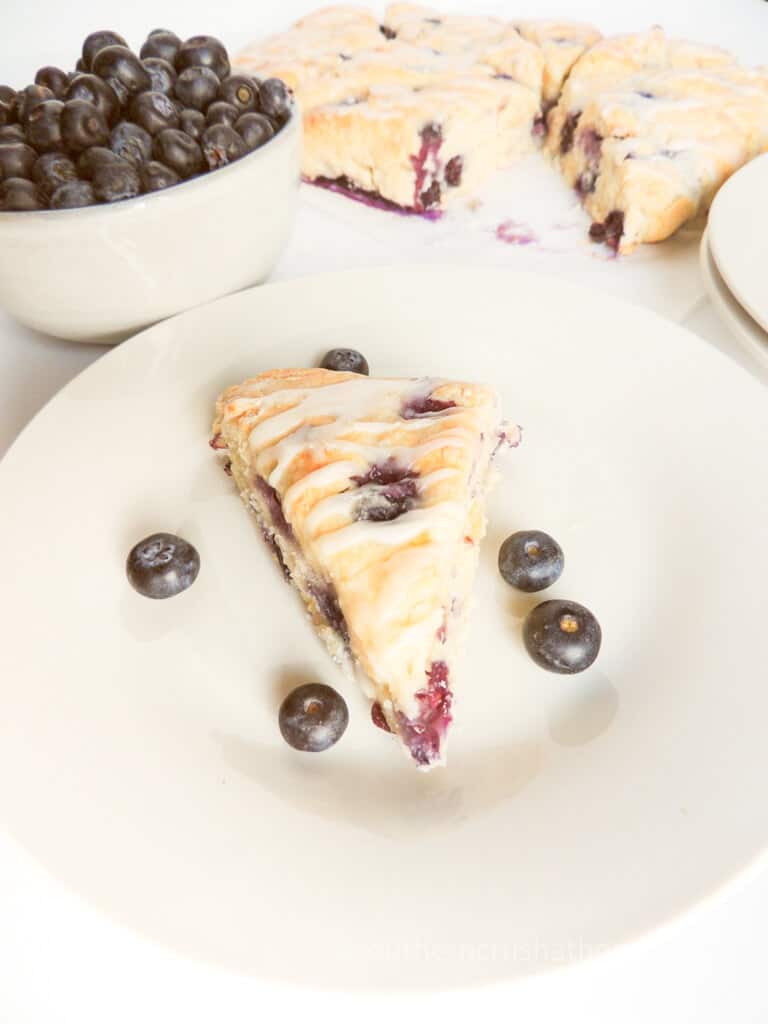 How To Store Blueberry Scones With Lemon Glaze
Easy Blueberry Scones with Lemon Glaze will keep well on the counter in an airtight container for a few days. If you want to freeze a few to eat at a later date feel free to throw a few in a plastic bag and place in the freezer.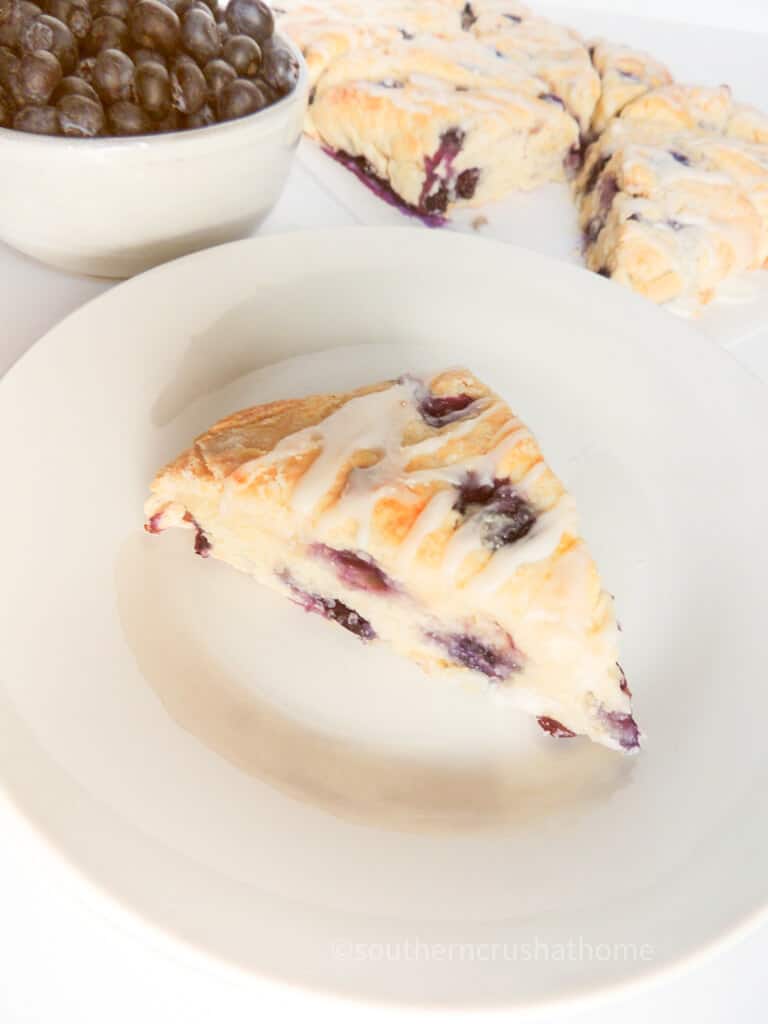 FAQs
Should you glaze scones?
To glaze or not to glaze is really up to you. However, considering scones are fairly dry by nature adding a glaze really complements the texture well.
What is the secret to making good scones?
The real secret to doing anything well, making scones included, is to practice. Some things aren't as easy to make as others and if your scones don't turn out quite right the first time, try again.
A few tips: make sure your butter is cold and mix the batter with your hands to get a crumbly mixture.
How do I get my fruit scones to rise and be fluffy?
Make sure not to let the dough sit too long. Bake as soon as you have finished blending.
What do you put on top of scones?
What to put on top of your scones is really up to you. Try adding more fruit, clotted cream, whipped cream or even some jam.
How do you make gluten free scones?
If you want to make gluten free blueberry scones substitute a gluten free flour that is used on a 1-1 basis like Cup4Cup or Bob's Red Mill. Though take note that gluten free scones will not have the same texture as scones made with all purpose flour.
Should you rest your scones?
In this recipe I do not allow the dough to rest before baking it. If you choose to rest your dough let me know how they turn out.
Can I use frozen blueberries instead of fresh?
Yes, frozen blueberries will work well. Rinse off any ice crystals and pat them dry.
Can I use vanilla yogurt in this recipe?
To make Greek yogurt scones you can also use vanilla Greek yogurt if you don't have plain Greek yogurt on hand.
Can I use cream instead of milk in the glaze?
Cream can be substituted for milk in the glaze recipe. Any kind of cream will work; light cream, half and half. Any kind of milk also works; whole milk, low fat or lactose free.
Can I make these blueberry scones vegan?
I have never made these scones vegan but if you want to try to veganize them you can substitute non dairy options for the butter, Greek yogurt and milk.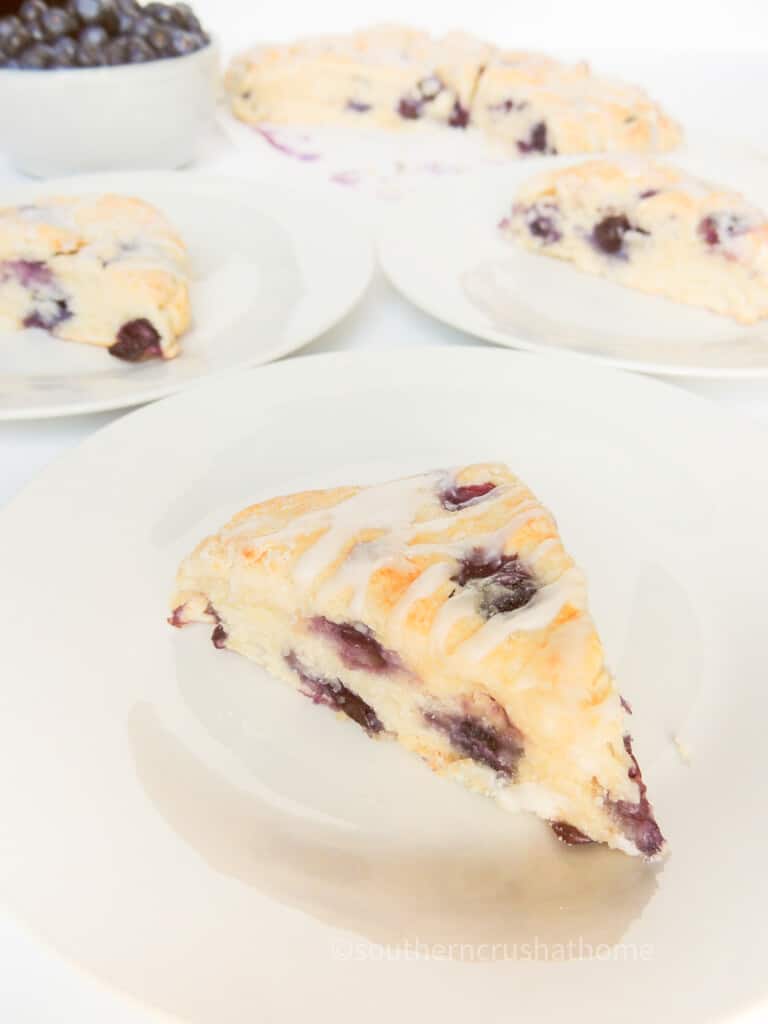 The History of Scones
Scones are thought to have originated in the early 1500s in Scotland. Research tells us they may have originally been made with oats.
Scones were apparently named for the 'Stone of Destiny' which is were Scottish kings were apparently once crowned.
Does meal planning feel like a chore? Yes, I get it. It sometimes does so I created this Meal Planning guide to make life a little easier.
Looking for more recipes and ideas? Make sure to sign up for my newsletter!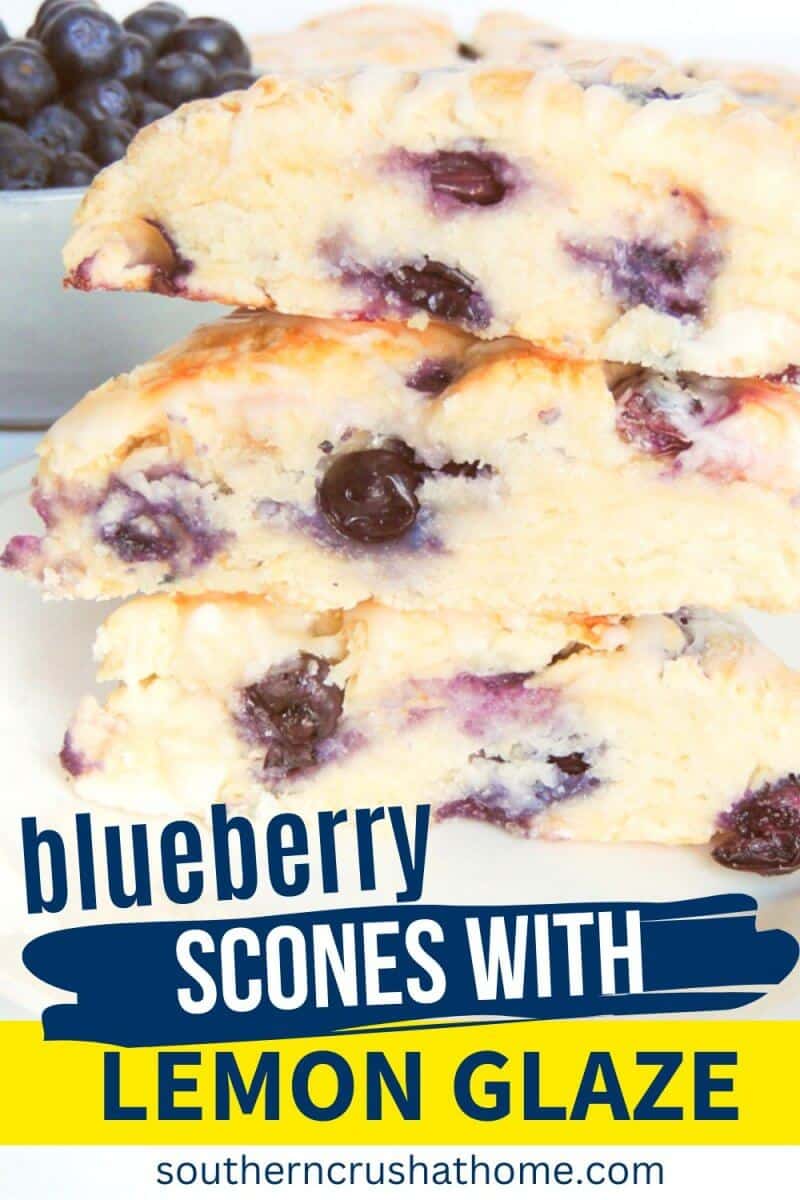 Be sure to PIN this for later!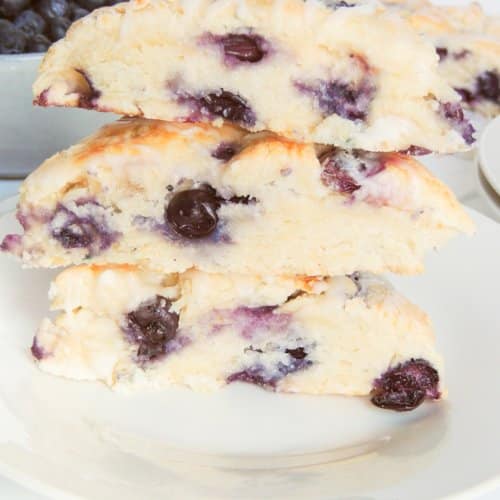 Easy Blueberry Scones with Lemon Glaze
Soft chewy blueberries scones with a fresh lemon glaze
Ingredients
2

cups

flour

all purpose

1

tbsp

baking powder

½

tsp

salt

2

tbsp

sugar

5

tbsp

cold butter

sliced

1 ½

cups

blueberries

1

cup

Greek yogurt
Lemon Glaze
1

cup

powdered sugar

½

tsp

vanilla

2

tbsp

lemon juice

1

tbsp

lemon zest

2

tbsp

milk
Instructions
Preheat oven to 350F. Line 9x 13 cookie sheet with parchment paper and set aside.

In a large bowl, sift all dry ingredients

Using a pastry knife cut the butter into the flour and mix until pea-sized crumbs form.

Gently fold in blueberries

Gently fold in Greek yogurt until well incorporated

Transfer dough onto the cookie sheet and press into a rectangle about 1 inch thick

Score dough with a knife to precut the scones into 12 pieces

Bake for 20-25 min or until golden brown

Once baked, score the scones with a knife to fully cut into 12 pieces
Lemon Glaze
In a medium bowl whisk together powder sugar, vanilla, lemon juice, lemon glaze and milk until well incorporated

Drizzle cooled scones with glaze