Trays are such a fun piece of decor to add to any space and to use for any occasion! This DIY Halloween tray decor in particular was super fun and easy to create and can be personalized any which way you like. Get creative with this project and add your own spin! Mine turned out a little farmhouse, a little modern and trendy looking. Halloween is upon us and this tray was the perfect addition to my "coffee ottoman" as a unique piece of decor once I paired it with my Halloween beaded tassel and a simple orange pumpkin from the Dollar Tree!
Y'ALL DON'T FORGET TO PIN THIS FOR LATER!
Supplies for DIY Halloween Tray
Wooden tray (this one was from Dollar General)
Paint (mine was DecorArt from Walmart in white)
Painters Tape
Paint Brush
Halloween Style Pumpkin Decorating Stickers (from Hobby Lobby)
Easy to Follow Instructions
Measure out where you would like your stripes to go. (I completely 'eye-balled' mine, but I don't recommend this method if you'd like them to be straight or a particular way). You can go with one, two, three or even four stripes like I did. A variety of sizes is fun, too!
Place the blue painters tape in between where you would like the paint to be and press down pretty hard to avoid bleeding.
Paint your accent color (I used white) in between the painter's tape and allow to dry thoroughly before attempting to remove the tape–it's tempting, I know.
PRO TIP: Use a light sanding with 120 grit fine sand paper over any areas where the paint bleeds out from underneath the tape in order to clean up your lines.
Choose your favorite Halloween Pumpkin Decorating Sticker from the package of three and peel and place in your desired location on the tray one section at a time. These stickers were originally intended to be used by kids on Halloween pumpkins in lieu of carving or painting. They are heavy duty stickers with a felt front to them. Use extreme care when peeling them off of their backing as they tend to want to stay stuck and if you pull too hard, they will tear. You can easily repair them by putting them exactly into place.
Decorate and accessorize your tray. (I used a handmade Halloween wooden beaded tassel and an inexpensive plastic orange Dollar Tree pumpkin, that will later be replaced with a bowl of Halloween candy after these pictures were taken)
If you missed the Facebook live where I started this project, you can view it below.
VIOLA! DIY Halloween Tray Decor!
It's wonderful to know that we don't have to choose in life whether we want a 'trick' or a 'treat'. Jeremiah 29:11 says "For I know the plans I have for you, declares the Lord, plans for peace and not for evil, for a future and a hope." So no tricks for me please, I'll take all treats! How about you? Comment below.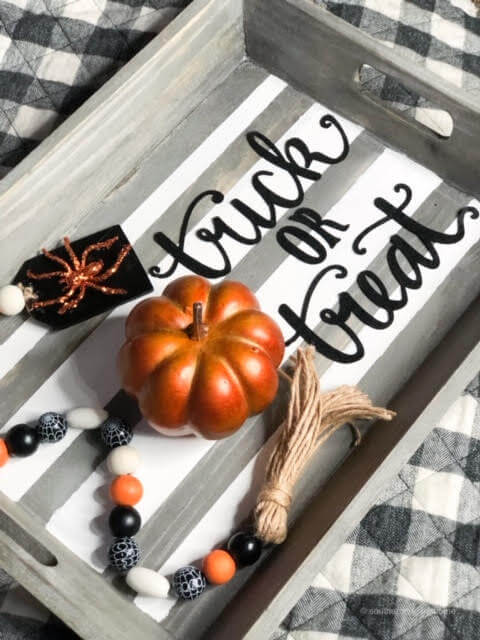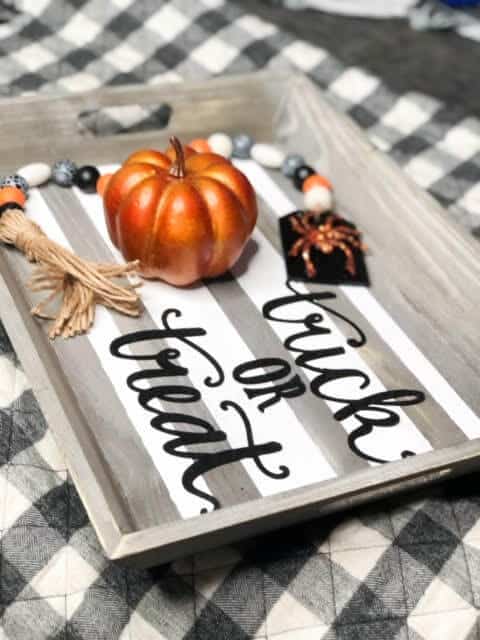 This project was so easy and reminds me of my another Halloween table top project seen here. The felt sticker lettering makes it look like it was professionally made. If you cannot find the stickers, you can always easily cut similar lettering from a silhouette or cricut machine. The hardest part of this DIY was waiting for the paint to dry! Oh, and some of the stickers were a little tough to remove from their backing. Other than that, I highly recommend giving this one a try! The tray is ready for entertaining on October 31st with either a bowl of dip or a cute bowl with 'trick or treat' candy!
If you love this kind of DIY project, you need to be getting my emails, friend! Each week I send out a couple of emails that include updates, crafts, shopping experiences and decor inspiration. Be sure to get yourself signed up below. I can't wait to meet you!
>>>Leave your thoughts below in the comments please… BTW— Life is short—Enjoy the mess!
**P.S. Please join us over on our
Facebook Page
to see more fun shopping trips "Live".