Best 8×10 Blue Area Rugs for Your Living Room (plus Rug Size Guide)
This hand-picked selection of 8×10 blue area rugs includes everything from traditional blue and white rugs to modern blue rugs for the living room. These rugs are sure to add style and personality to any space. I personally own the My Texas House Blue and White Rug below for my living area!
This blog post contains affiliate links. The opinions are wholly my own from my own experience. I may earn a small commission from clicks through to the websites that end in a purchase.

Blue rugs are a great way to add color and style to your living room. There are many different shades of blue to choose from, so you can find the perfect one to match your décor.
Consider a blue living room rug if you want to help tie together the different elements in your room.
An 8'x10′ rug fits nicely in an 11'x13′ or slightly larger room, or in an open floor plan space. In a defined living area, the best layout leaves a 12″-18″ border of flooring around your rug.
To make it even easier for you to find just the right size rug for your home, I've also created a rug size guide cheat sheet pdf that you can download for FREE.
This handy guide will take all the guesswork out of finding the right size for your new living room area rug.
So let's get to all the gorgeous area rugs so you can choose a favorite design for your home.

Blue Area Rugs 8×10
Are you looking for beautiful blue rugs for living rooms? Or maybe you want to check out a few blue and white rugs for a new home office that will make a statement.
Whatever your needs, I've got the perfect collection of blue rugs for you!
This eye-catching rug is made with polypropylene yarn, making it perfect to use as an indoor/outdoor area rug. The floral pattern is so soft and adds instant style to any space.
If you need a rug that can stand up to heavy foot traffic, this white and blue area rug is perfect! It has a traditional look and that's hand-looped and hooked from 100% cotton.
There is nothing like the timeless look of a floral Damask pattern. It's right at home in a farmhouse living room or cozy bedroom. Plus, it's made with super soft hand-tufted 100% wool.
This light blue and ivory trellis pattern area rug will create a relaxed traditional look in your living room decor.
For a contemporary take on a Morrocan design, check out this blue and white rug that works with modern, transitional, and traditional style decor.
This stunning blue and white rug is approved for both indoor and outdoor use. It has soft neutral colors and patterns for instant warmth and texture.
If you need a rug that can stand up to life's sometimes unpredictable messes from kids or pets, this distressed medallion design is safe for high foot traffic and everyday use. Plus, it's just beautiful!
This blue and white area rug has a stunning snowflake-inspired medallion design. It is extremely versatile and will work in just about any room of your home including the living room, dining room, bedroom, or even a nursery.
Consider this pale blue and ivory color rug pattern in a pretty two-tone design. It has just the right amount of fading to make it look antique.
Soft denim mixed with ivory hues is detailed in this classic art deco-inspired rug design to create a delicate filigree. It is filled with texture and dimension that will instantly warm up any space.
You can't go wrong with a traditional floral Damask pattern. With a white and blue color scheme that will be right at home on any farmhouse living room or bedroom floor.
So what do you think of these blue and white area rugs? Do you have a favorite that jumps at out you? I sure do!
How do I find the area rug size for a living room?
To find the size of an area rug for the living room:
First, measure the length and width of your living room.
Remove two feet from both measurements.
Multiply the resulting length and width.
You have your rectangle area rug size for the living room.
For example, if your living room is 10 ft x 12 ft, you need an area rug of 8 ft x 10 ft, i.e., 80 ft2.
Don't forget to download my rug size guide cheatsheet pdf so you can make sure you buy the right size rug for your living room. Enjoy!

Blue Area Rug Tips
1. When shopping for blue area rugs, you will want to keep in mind the style of the room. If you have a modern living room, you will want to find a rug that has clean lines and a simple design. If you have a more traditional living room, you may want to look for a rug with more intricate designs. Either way, you are sure to find a beautiful blue area rug that will compliment the style of your living room.
2. You can find blue area rugs at most home improvement stores or online. When shopping online, you will have a much larger selection to choose from and you can often find better deals. Just make sure that you take the time to read the reviews before purchasing anything. This way, you can be sure that you are getting a quality product.
3. When it comes to cleaning your rug, you will want to vacuum it on a regular basis. This will help to keep the dirt and dust from settling into the fibers of the rug. You may also want to spot clean it with a mild detergent if there are any stains that you see.
4. If you do notice any stains on your blue rug, you will want to treat them as soon as possible. The longer that they sit, the harder they will be to remove. You can use a carpet cleaner or you can even try using a mixture of water and vinegar.
5. When it comes to storing your area rug, you will want to make sure that it is in a cool, dry place. This will help to prevent any mold or mildew from growing on it. You may also want to roll it up when you are not using it so that it doesn't take up too much space.
These are just a few tips to help you keep your blue area rug looking its best. By following these simple tips, you can be sure that it will last for years to come. If you take the time to care for it, you will be able to enjoy it for many years to come.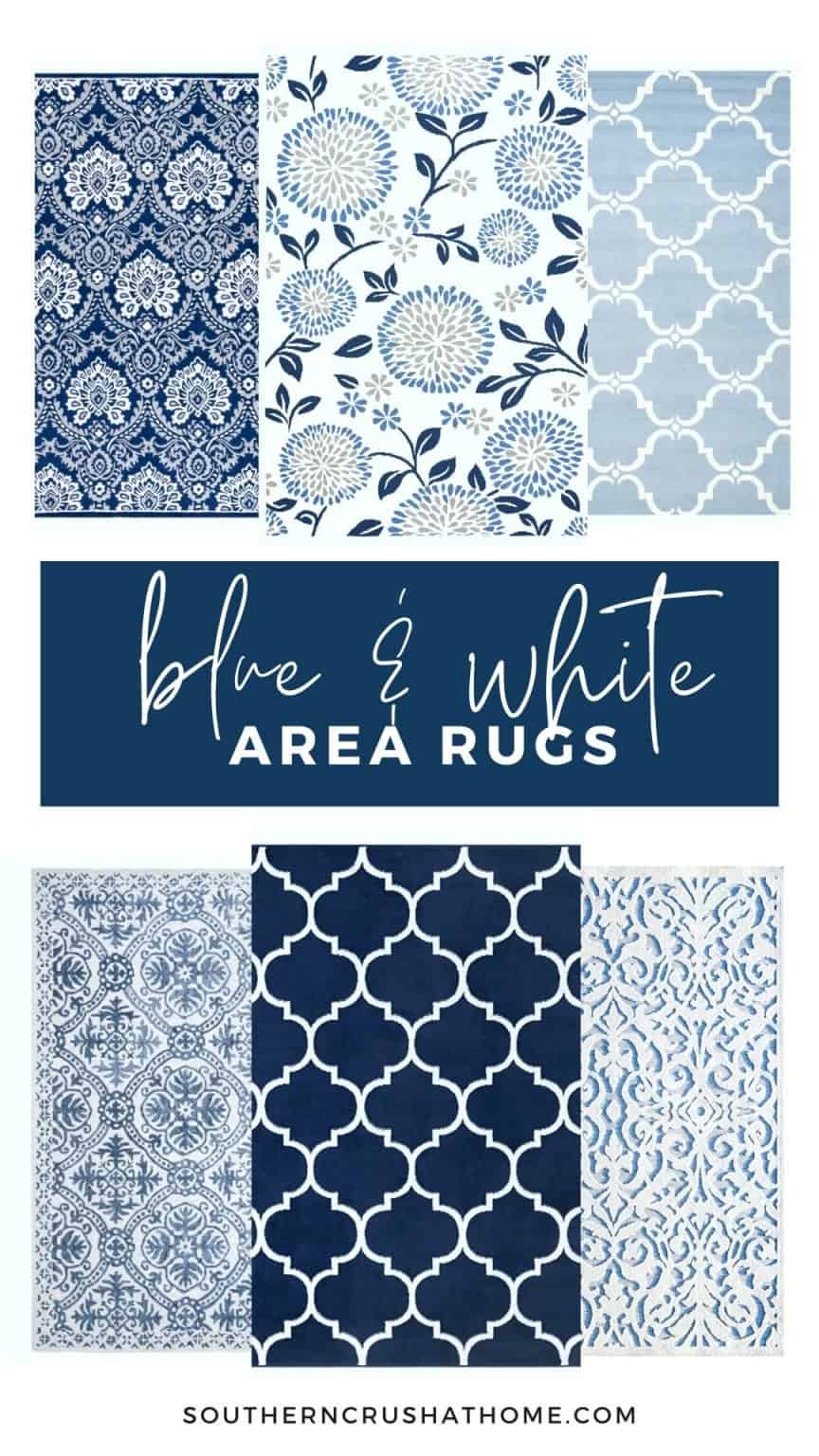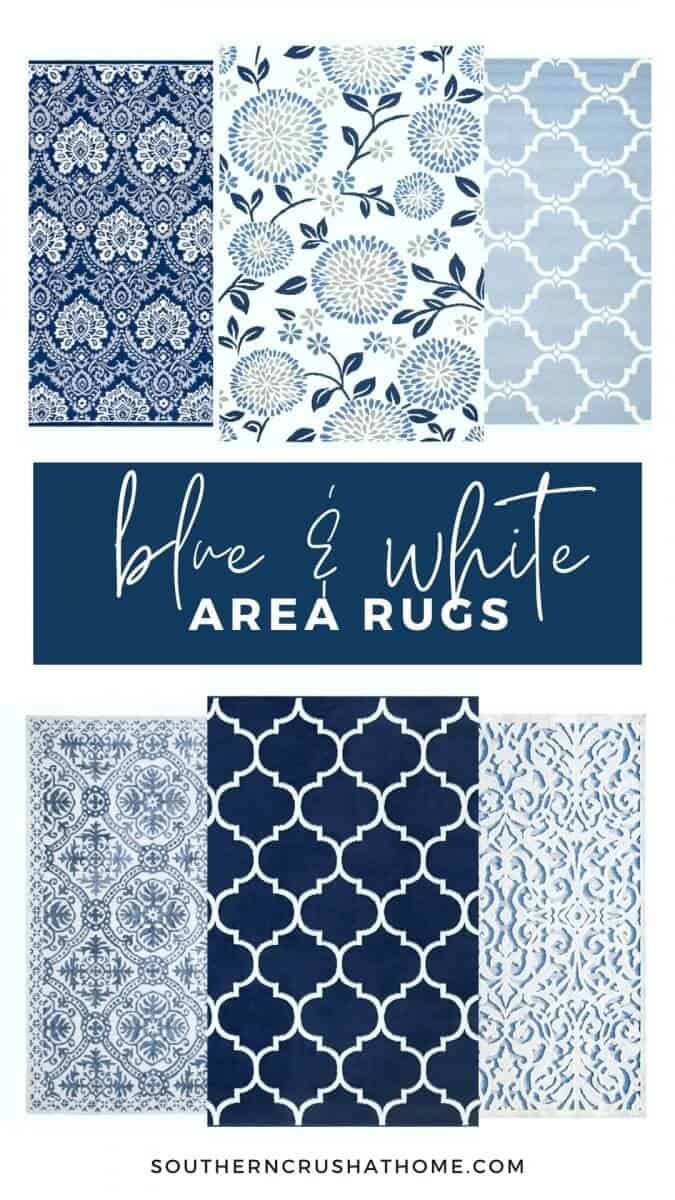 Be Sure to PIN this for Later!

Enjoy even more home decorating ideas below: