Sweet Chex Mix White Trash Recipe
Soft and chewy bits of your favorite Chex Mix cereal mixed with sweet, creamy white chocolate make this white trash recipe a truly addictive crunchy delicacy. Don't be put off by the name, this is a scrumptious treat that is anything but actual trash!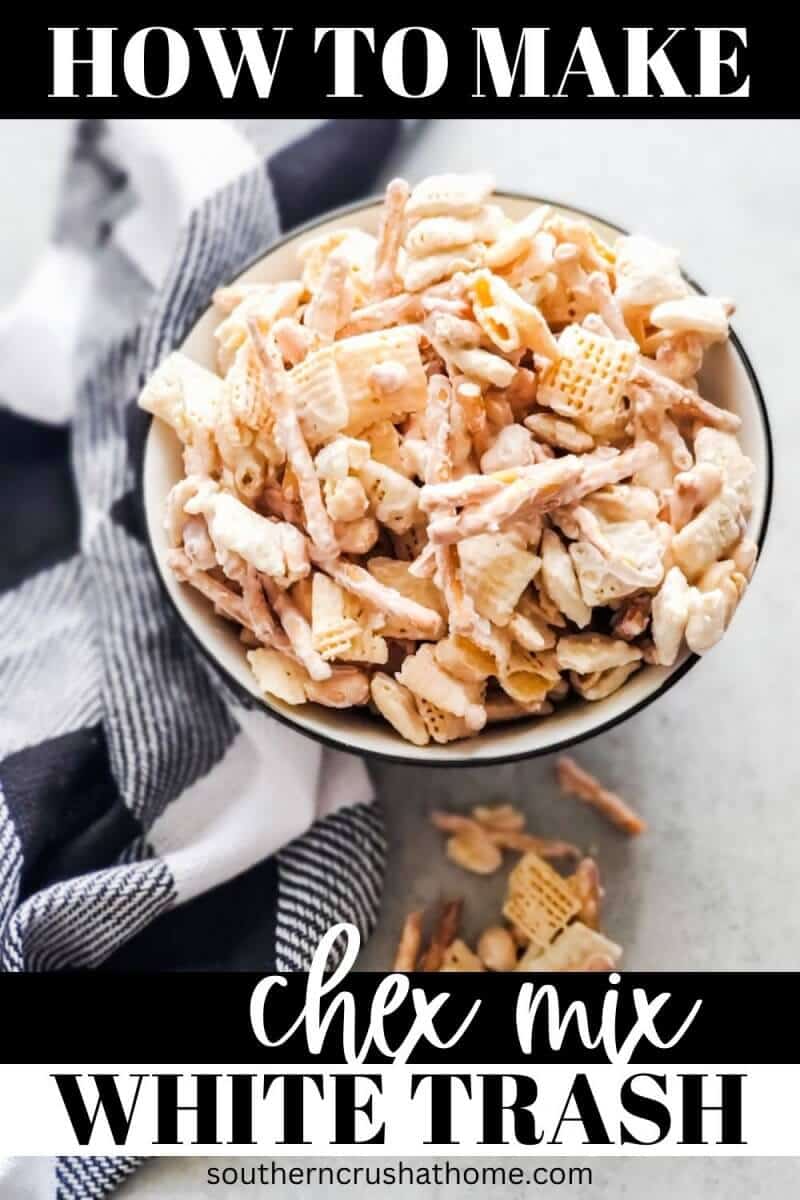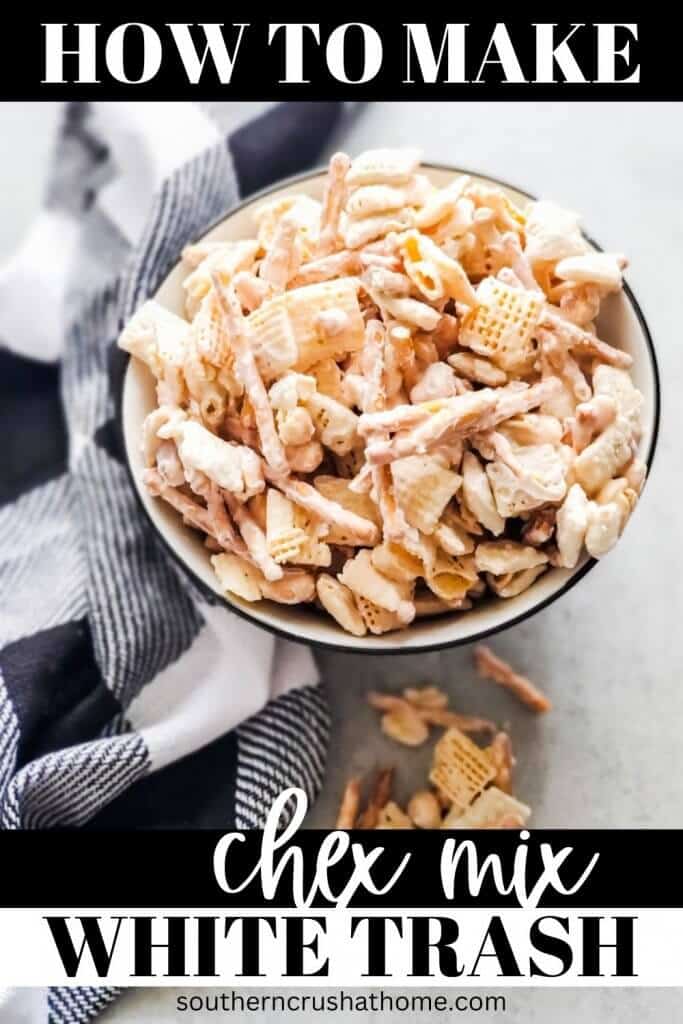 Be sure to PIN this one for later!
This sweet chex mix recipe for white trash combines a Rice Chex and Corn Chex cereal mixture, along with salted pretzels, crunchy peanuts, and white chocolate chips for a sweet and salty treat. A true mouthful of flavors and textures.
This decadent white trash snack mix is great to have on hand when the gang comes over to watch their favorite game or movie. It's also perfect to add to the pantry as a white chocolate trail mix or an easy party snack. You can easily make it ahead of time and store it in an airtight container until you are ready to serve it. Best of all, it keeps for a few weeks so if there are any leftovers they won't go to waste.
I thoroughly enjoy preparing and eating, of course, no-bake desserts. I have a whole section dedicated to them on my website. But if you are looking specifically for this type of snack you should definitely give these sweet recipes with marshmallows, white chocolate, and almond bark a try:
I often make a double batch of this Chex white trash recipe as it lasts a long time and I like to keep a stash on the counter.
Why You'll Love This Recipe
No-bake dessert comes together quickly and easily.
Simple, easy-to-find ingredients.
Good for feeding a hungry crowd on game day.
Long shelf life.
Chex mix or "white trash candy" is a delicious white chocolate snack mix that balances salty and sweet flavors making it simply irresistible. Furthermore, since it is so easy to prepare, it can quickly become a favorite family treat or a big hit at any party–like a football watch party!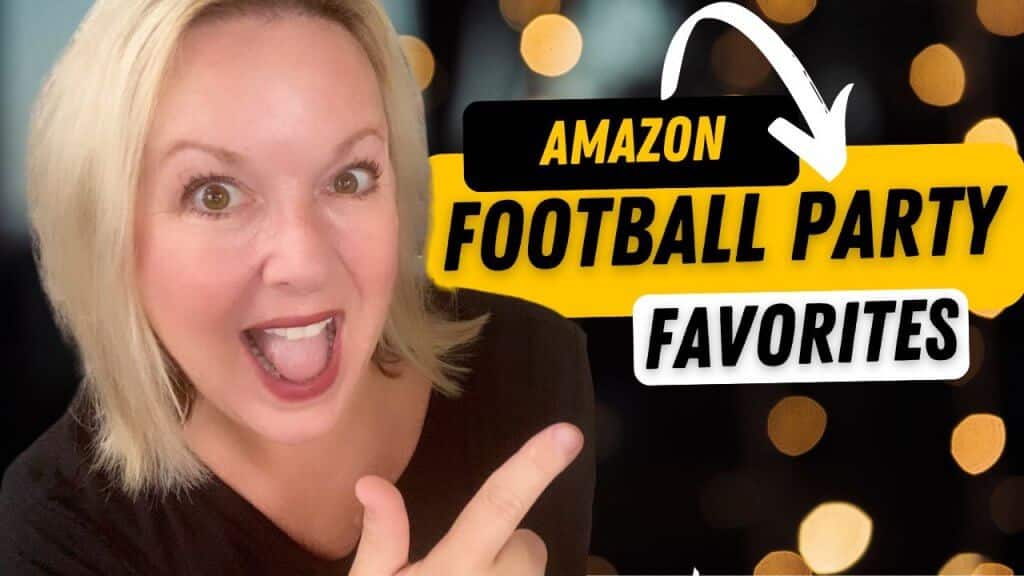 Equipment Needed
Measuring cups
Large mixing bowl
Saucepan
Large Baking Sheet
Wax paper or parchment paper
Ingredients Needed To Make Chex Mix White Trash
3 cups Rice Chex Cereal
3 cups Corn Chex Cereal
2 cups pretzel sticks
1 cup dry roasted peanuts, salted, unsalted, or lightly salted peanuts
1 lb. white chocolate or the equivalent white chocolate chips, white chocolate melting wafers or even white chocolate almond bark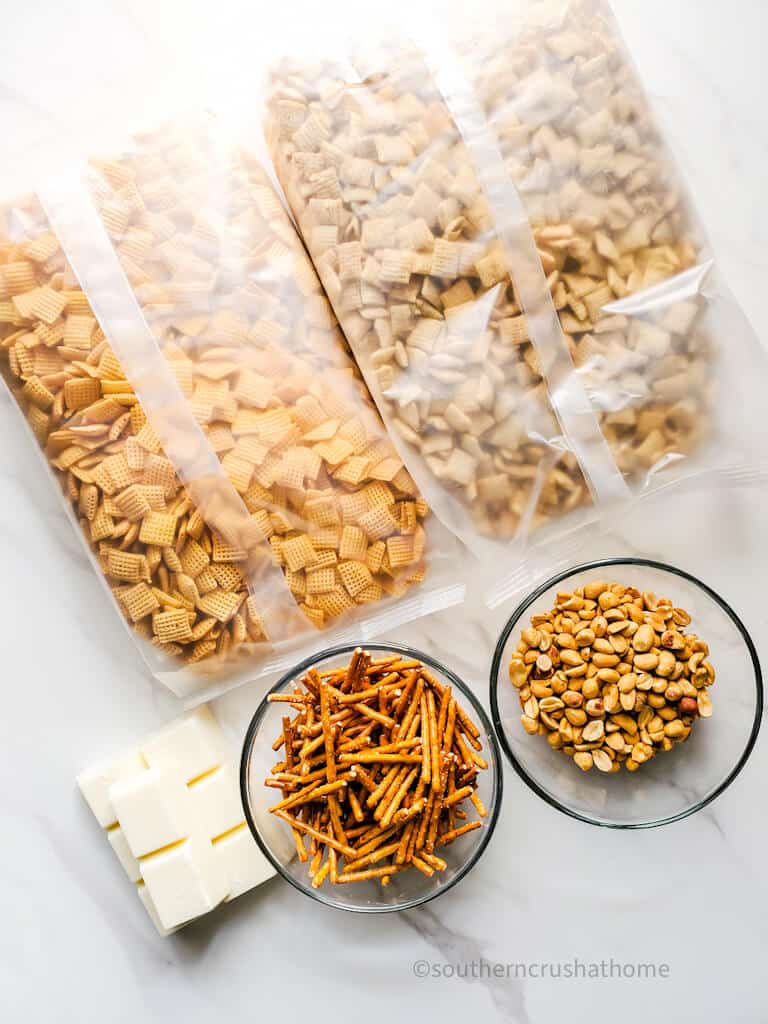 How to Make White Trash Recipe
Add corn chex cereal and rice chex cereal, nuts, and pretzels to a large mixing bowl.
Melt white chocolate or almond bark in a pan over low heat or double boiler, stirring constantly until smooth. Alternatively, you can use a microwave-safe bowl to melt the white chocolate.
Pour melted chocolate over the cereal, nut, and pretzel mixture, and gently stir gently to coat.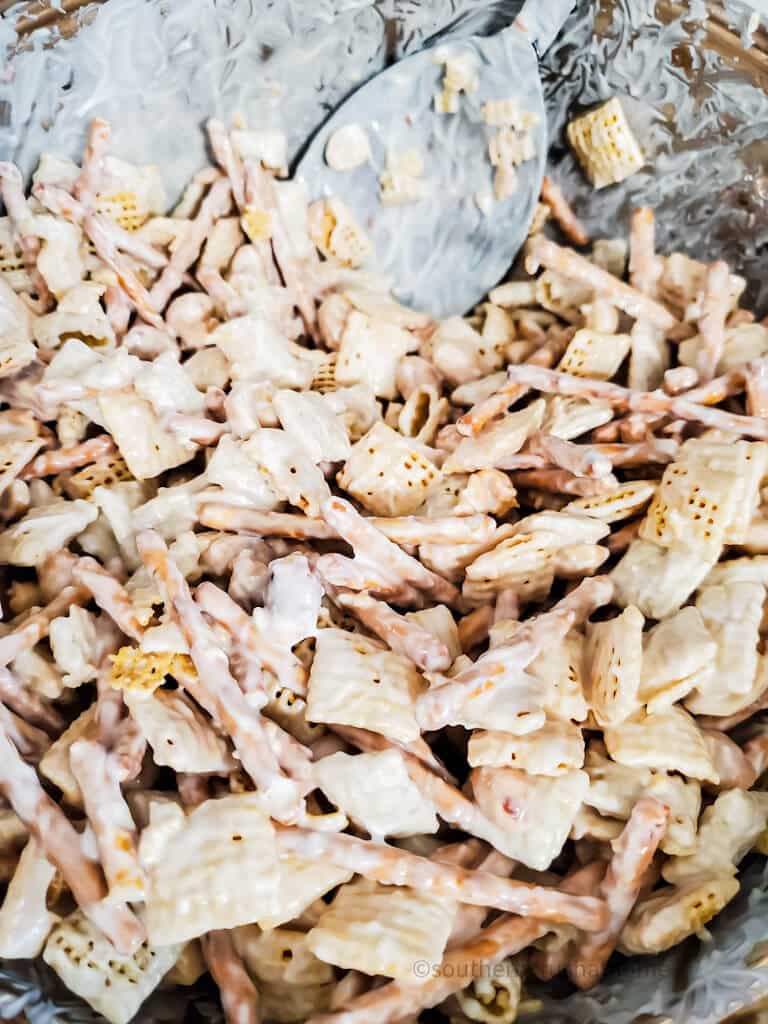 Spread the melted chocolate-covered mixture onto the baking sheet lined with wax or parchment paper.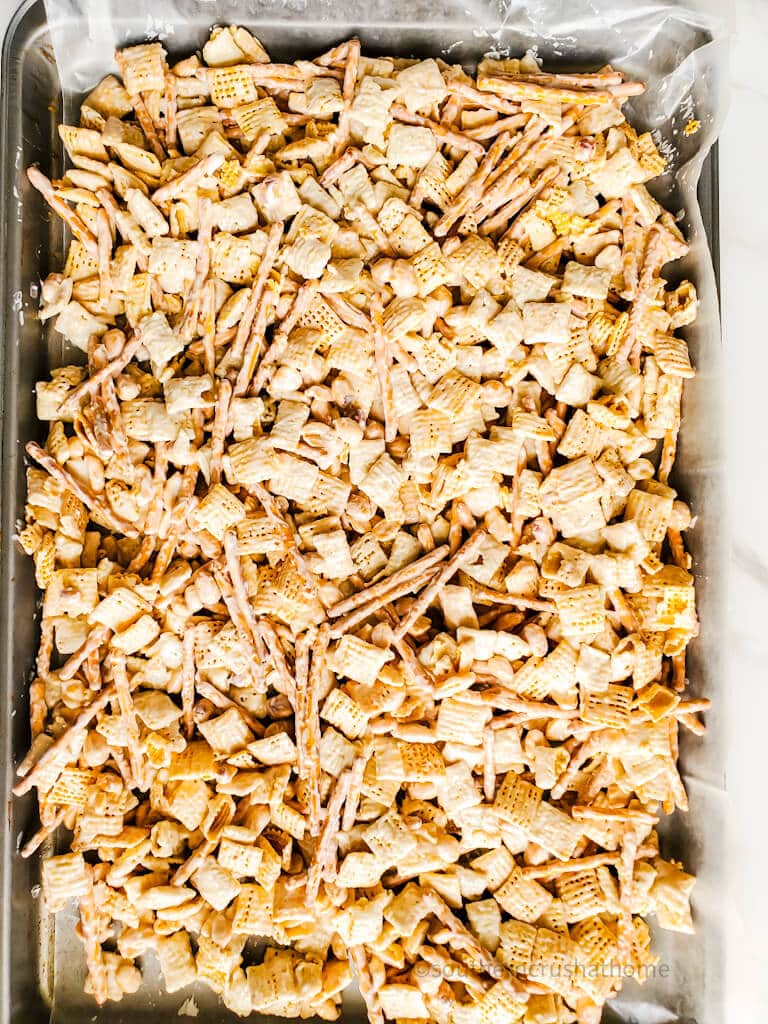 When cool, break into bite-sized pieces and place in an airtight container.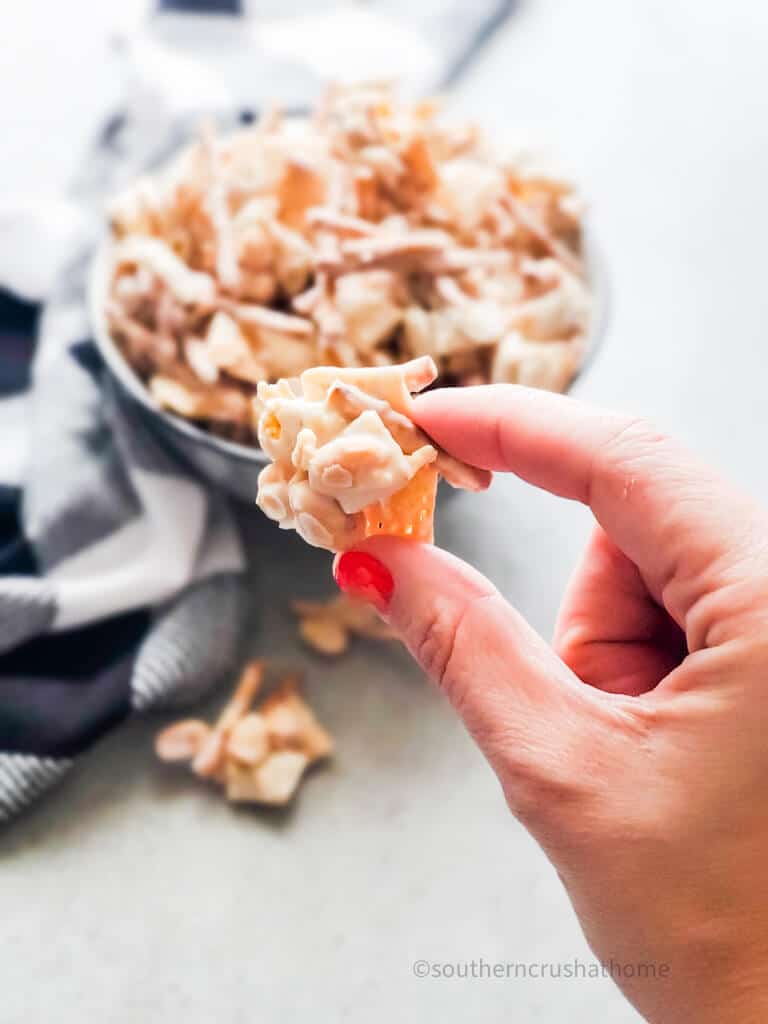 Warning…between the sweet melted white chocolate and the salty mixed nuts, this white chocolate trail mix will quickly become one of your favorite sweet and salty snacks for the holiday season or any season really.
Tips and Tricks
Make sure the mixture is completely dry before breaking it into pieces.
White chocolate chips work just as well as bulk white chocolate and melt faster.
If you find the white chocolate mixture is too thick you can add a drop of coconut oil.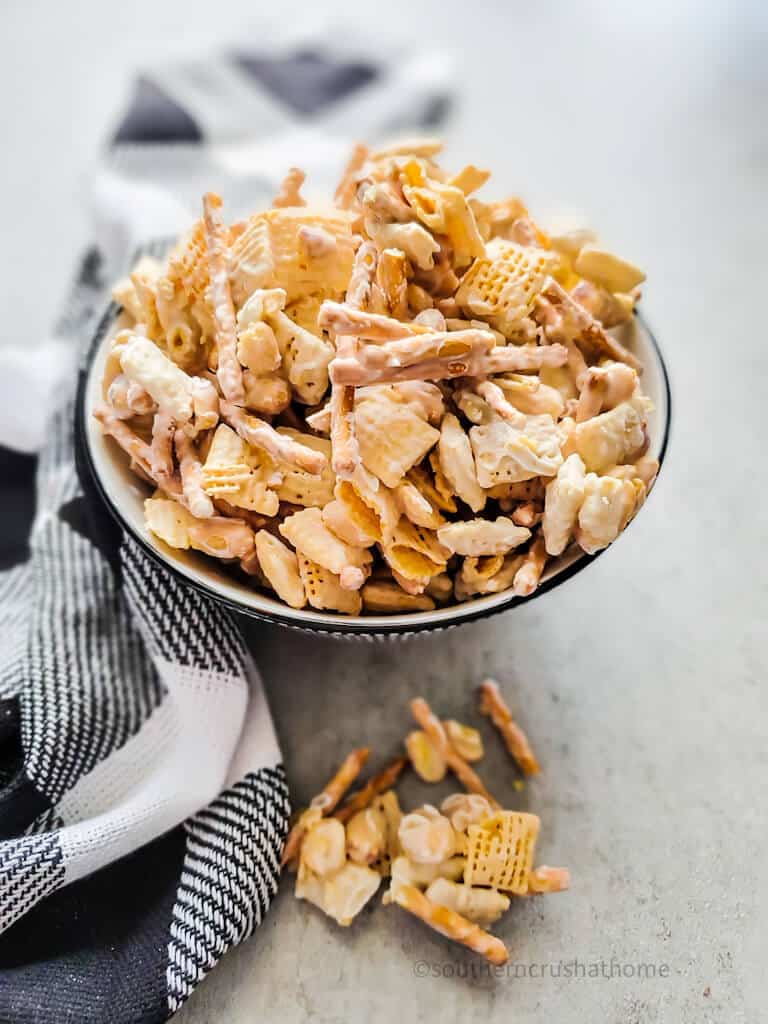 Variations
Change up the cereal to Cheerios or try Fruit Loops to add some color.
Add mini marshmallows, chocolate chips, or popcorn to the mixture.
Try a different nut; pecans, almonds, or even sunflower seeds. You can use flavored or unflavored nuts and seeds.
Throw in some colored candies like M&M or Skittles.
Mix in coconut flakes or coconut chips.
Change up the Chex mix flavors by using dark chocolate or sprinkling in some cinnamon.
Add colorful sprinkles to make your white trash mix pop!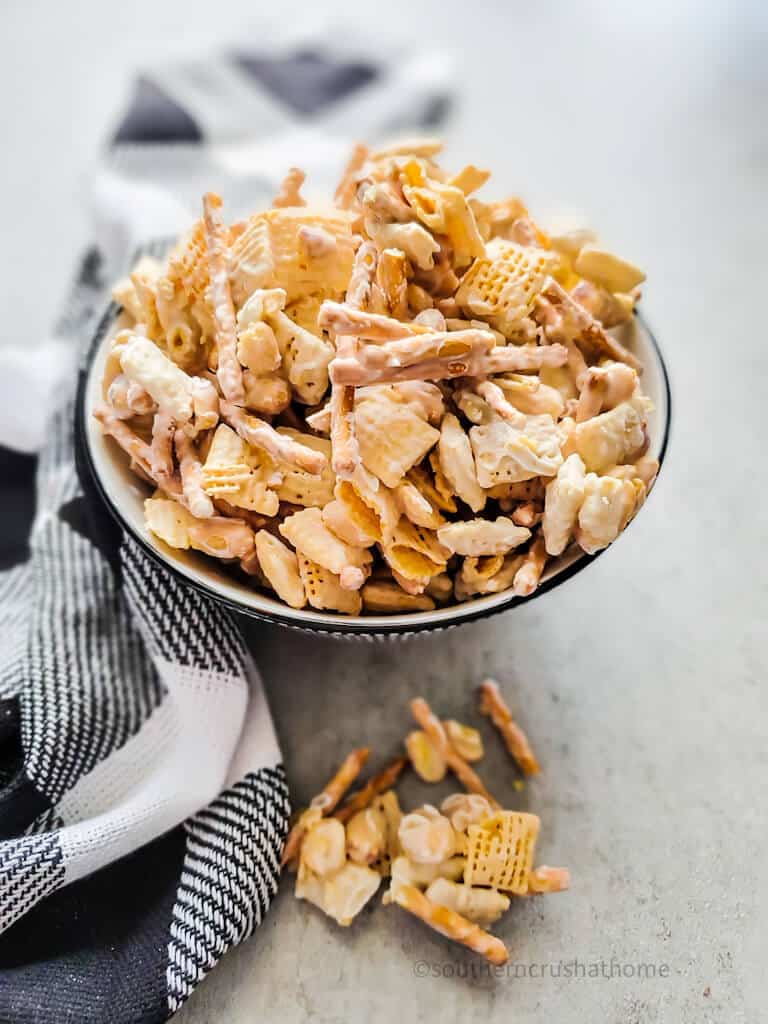 FAQs
What is white trash made of?
Various kinds of cereal like Chex and Cheerios mixed with pretzels and nuts all covered in white chocolate.
Does white trash need to be refrigerated?
This white trash recipe with Chex mix does not need to be stored in the fridge. You can keep it on the counter in an airtight container for 2-3 weeks. If it lasts that long!
Can I freeze white trash candy?
I haven't frozen this white trash mixture so I am not sure how it will taste when it's thawed. It does have a long shelf life so not to worry if you don't finish it all in one sitting.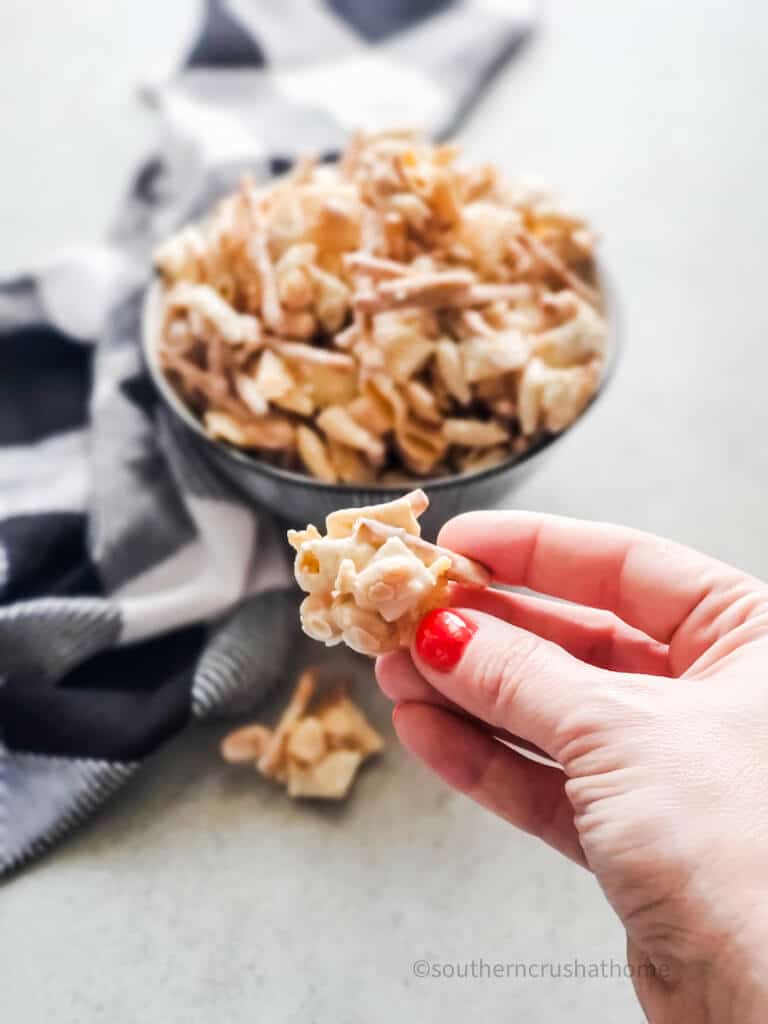 Is white trash gluten-free?
Whether or not white trash is gluten-free depends on the cereal you use. Both the Chex corn and rice flavors are gluten-free. You can easily use gluten-free pretzels and then the mixture will be gluten-free. Make sure to read the labels of all the ingredients just to be sure.
Why is this Chex mixture called white trash?
That is a good question! Research tells us there may be a few reasons; 1. the combination of various items is like cleaning out the pantry with things you'd be throwing in the trash. 2. you can literally throw anything you want into the mixture. Who really knows why it is called white trash? It definitely tastes good in spite of its name.
What is Texas Trash?
Texas trash is another white trash recipe made with the same mixture of Chex mix cereals, pretzels, and nuts but instead of being sweet, it's made with melted butter, seasoned with celery salt, garlic salt, salt, cayenne pepper, Tabasco, and Worcestershire sauce, and then baked at a low temperature to make it toasty and super crunchy. Yum!
Can I use almond bark instead of white chocolate?
Yes, almond bark would be a good substitute for white chocolate. Almond bark is an artificial chocolate that is often used as a substitute for white chocolate. Almond bark is one of those staple items to keep in the pantry on hand for anytime the mood hits for some of this white trash chex mix.
I hope you enjoyed this quick and budget-friendly recipe for white trash white chocolate chex mix. It is an easy and delicious treat to make and only requires a few ingredients that you probably already have in your pantry. If you want to try something a little different, you can try this powdered sugar Chex mix muddy buddies recipe. Enjoy!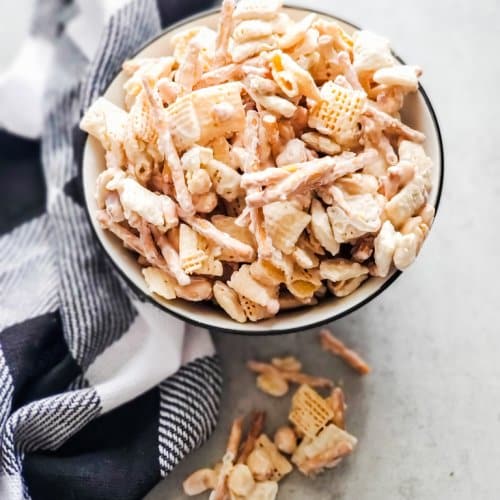 Chex Mix White Trash Recipe
Soft and chewy bits of your favorite cereal mixed with sweet, creamy white chocolate make this recipe a treat that is anything but trash!
Ingredients
3

cups

Rice Chex

3

cups

Corn Chex

2

cups

Pretzel sticks

1

cup

Dry roasted peanuts

salted or unsalted

1

lb

White chocolate
Instructions
Add cereal, nuts and pretzels to a large bowl.

Melt chocolate in pan over low heat or double boiler, stirring constantly until smooth.

Drizzle chocolate over cereal, nut, and pretzel mixture, stirring gently to coat all.

Spread the chocolate mixture onto wax paper.

When cool, break into bite-sized pieces.