We play a lot of games in our family; I mean a lot! When I heard about a popular game using Saran Wrap and dice, I knew we just had to play it. If you are looking for the perfect party game idea for your next gathering then you have to check out this fun and easy saran wrap ball game idea! There are a lot of variations of the Official Saran Wrap Ball game; but, I'll show you how to make the saran wrap ball and how to play the saran wrap ball game along with my version of the rules and my ideas of what to put in your Saran Wrap ball…

saran wrap ball game defined
The saran wrap ball game is a fun game for both adults and kids of all ages. It is made up of various prizes wrapped tightly inside a ball of saran wrap. The goal of the game is to unravel the saran wrap to reveal as many prizes as you can during your turn. The prizes you unwrap, you get to keep! There are also several variations on how to play this game.
To get started create your saran wrap ball with your desired prizes inside. Then proceed to the rules below; finally, review and choose any variations of the rules you want to use for your own game.
supplies needed for saran wrap ball game
Two rolls of Saran Wrap (You can try other brands of plastic wrap as well; I Glad Cling Wrap brand plastic wrap and it worked very well for this particular use.)
Various candies, money, gift cards, chapsticks, etc. See Complete List of Ideas below
Pair of Dice
Funny Hat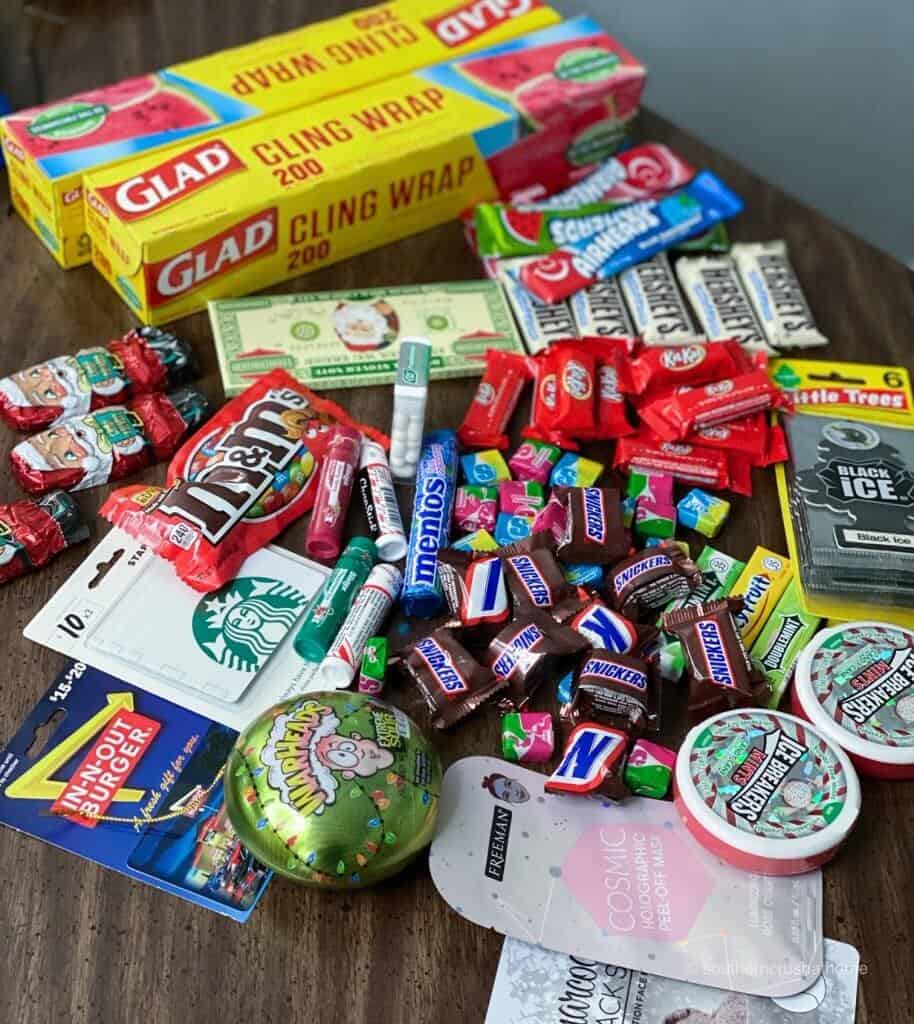 List of Ideas to add to your ball
To create your saran wrap ball you'll need a couple of rolls of saran wrap as well as prizes of various values. You'll want to scatter the BEST prizes throughout the ball, to make it more exciting and fun for everyone. Here are some ideas of saran wrap ball game prizes:
ORDER EVERYTHING YOU NEED FOR YOUR SARAN WRAP BALL GAME HERE NOW!
[show_boutique_widget id="1003740″]
The next step after you have all of your supplies is to start wrapping each item up keeping the saran wrap tight as you go. Wrap the items in in all different directions, adding prizes randomly to it as you go. Have fun and make it as big as you want!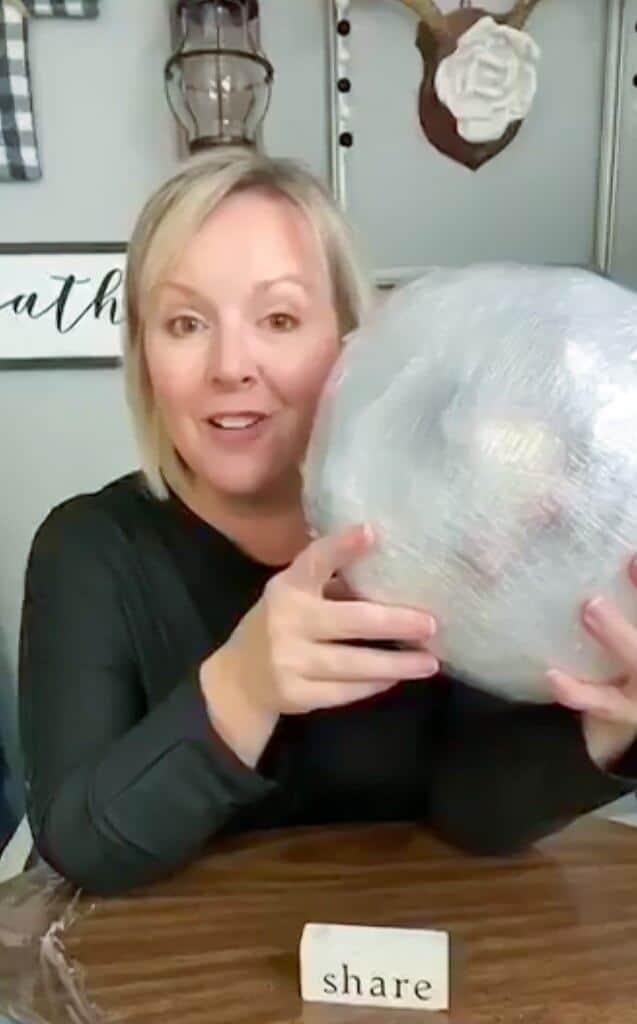 my SARAN WRAP BALL GAME RULES
To play the saran wrap ball game you'll need your loaded and wrapped saran wrap ball, a fun hat and a pair of dice. Begin by rolling the dice to see who goes first. Highest roll wins.
To play, gather in a circle and the winner of the dice roll puts on the hat and starts unwrapping the saran wrap ball. You must keep the ball on the table top at all times and unwrap it as fast as possible while the person to the right keeps rolling the dice until they get doubles. Once they roll doubles the dice will then pass to the person on their right and the hat plus the saran wrap ball will pass to the person who was the dice roller. Once the person to their right rolls doubles, the hat and the ball gets passed again.
Keep unwrapping the saran wrap ball as fast as possible the entire time the person is rolling the dice, until they roll doubles. You get to keep any goodies you unwrap (no trading until the end). The hat must be completely on your head in order to begin unwrapping the saran wrap ball.
HAVE FUN!!!!
saran wrap ball game variations
There are so many variations of the saran wrap ball game rules out there! I'm listing a few of them below. Feel free to choose the one that you like best or change it up every time you play.
Add colorful paper confetti to the saran wrap ball.
Create a scavenger hunt like saran wrap ball by wrapping up numbers on pieces of paper for each prize instead of the actual prize! When you unwrap the paper with the number on it you get the corresponding prize.
Make your game like musical chairs! Instead of rolling dice, use music! You unroll the ball until the music stops and then pass it on to the next person.
Try wearing oven mitts or bulky gloves to make it unwrapping the ball more difficult.
Mix it up and create some action by adding some pieces of paper that say things like "reverse", "steal", or "skip " in place of prizes. If it says to reverse the game then the ball will go back the opposite direction. If you get a steal card then you can steal a prize that someone has already unwrapped and won. And of course skip, skips that player.
Make sure to include a little something for your pet, too! My dog got a little jealous and stole the Santa hat!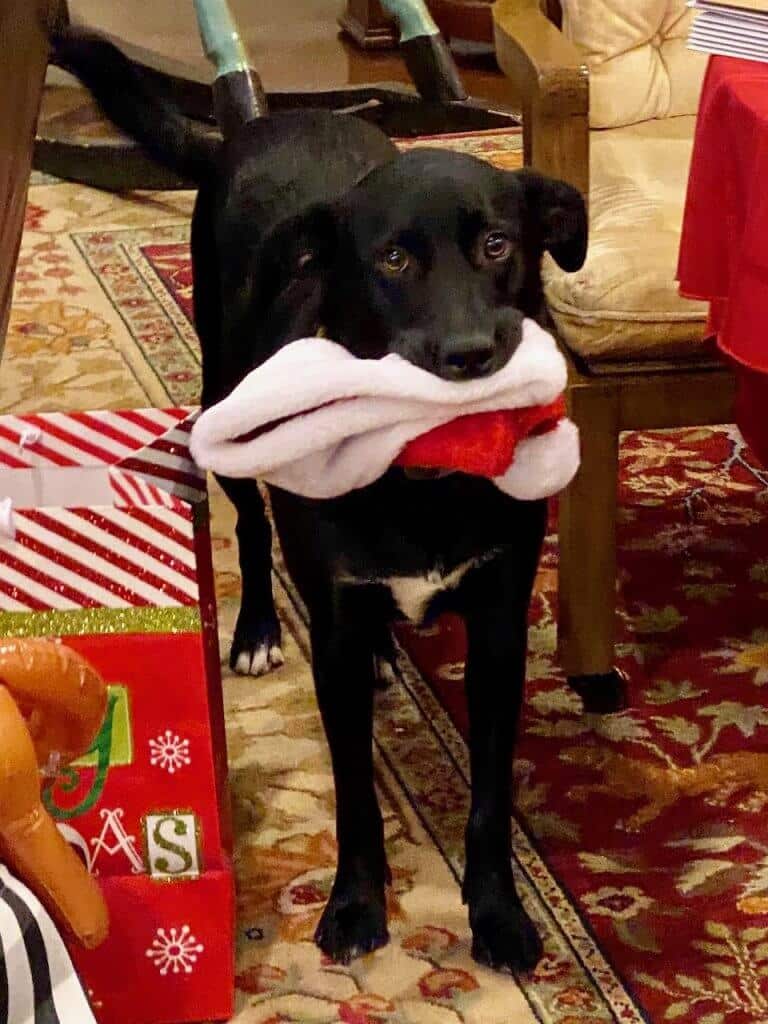 If your family plays a lot of games like mine does, you may enjoy creating this super cute Game Table Centerpiece!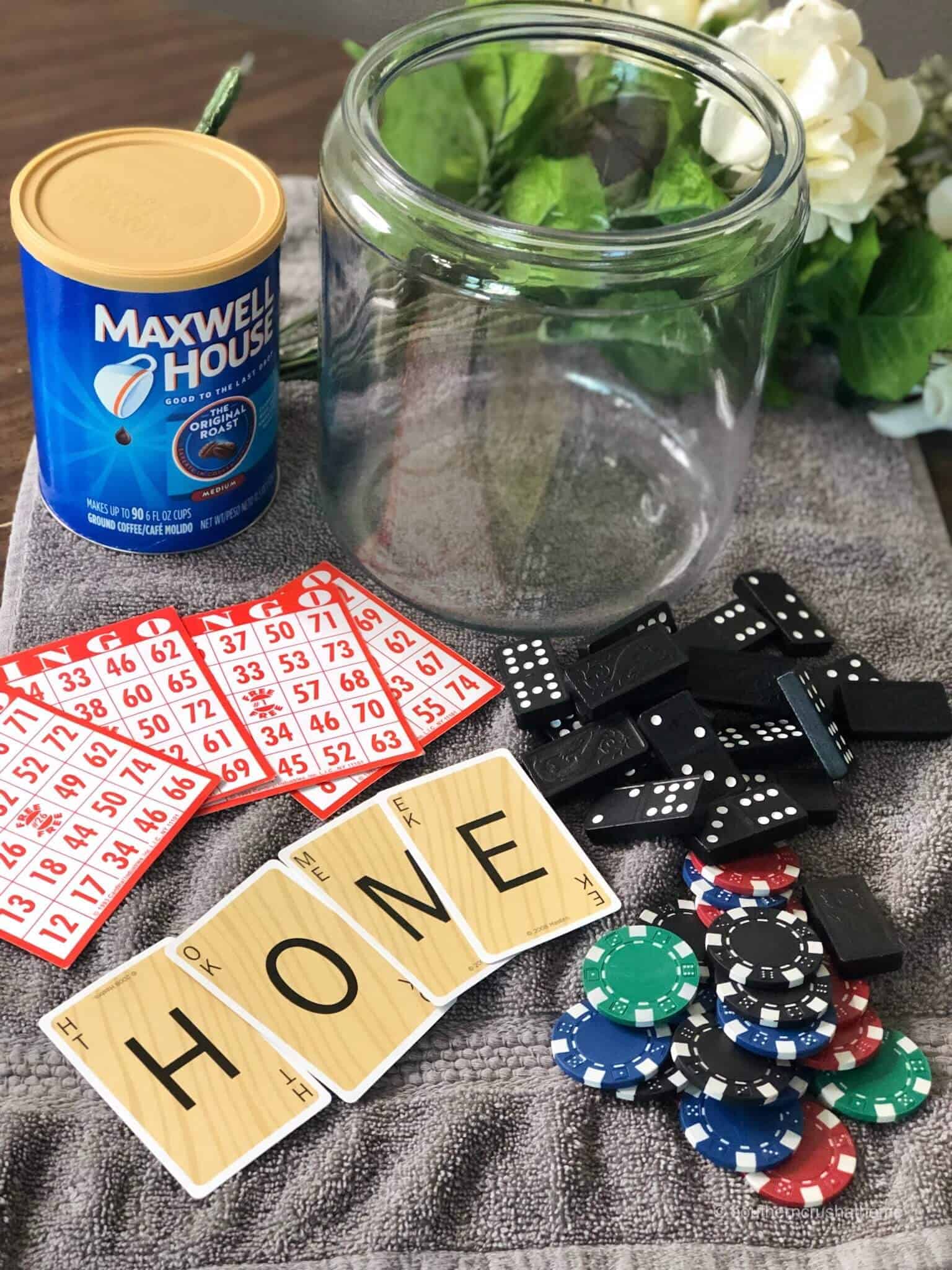 sign up for my emails
If you love this kind of DIY project, you need to be getting my emails, friend! Each week I send out a couple of emails that include updates, crafts, shopping experiences and decor inspiration. Be sure to get yourself signed up below. I can't wait to meet you!

>>>Leave your thoughts below in the comments please… BTW— Life is short—Enjoy the mess!