Tutorial: DIY Scrap Fabric Butterfly + FREE Pattern
Butterflies are so beautiful and colorful which makes it perfect for creating them out of multi-colored scrap fabrics! I'm even including a FREE no sew pattern with butterflies in three different sizes for you to make it even easier! You can use these scrap fabric butterflies in so many ways to accessorize and decorate and I'll show you how in this no sew tutorial.
How do you make a butterfly out of scrap fabric?
These are probably the cutest little DIY project as well as the easiest and finally the fastest! You literally only need a few scrap pieces of fabric (picking the fabric out is my favorite part), pair of fabric scissors, my FREE no-sew pattern HERE, and any center of your choice. (see options below)
What can you use for the center of fabric butterflies?
step by step tutorial for making scrap fabric butterflies
Print out your FREE no-sew butterfly pattern HERE. Use any paper, but a thicker paper will be better to cut several butterflies. You can always print out the pattern and then cut them out and glue onto cardboard base to multiple uses.
Choose the different pattern sizes you want to use for your butterflies and cut out those patterns.
Using the pattern as a guide, cut out the butterfly shapes using your scrap pieces of fabric. Use the varying pattern sizes to create a 'layered' look.
Layer your scrap fabric in coordinating patterns as desired.
Connect your layers using one of the center options listed above. Wrap your center piece around your two pieces of fabric and twist at the top to create antennae for your butterfly!
Depending on your choice of center, you may need to glue yours down where ever you choose to display your butterfly.
how do you display fabric butterflies?
These are so fun to make and the sky is the only limit on the options of colors and coordinating fabrics! Here are some fun, creative ways that you can show off your DIY scrap fabric butterflies!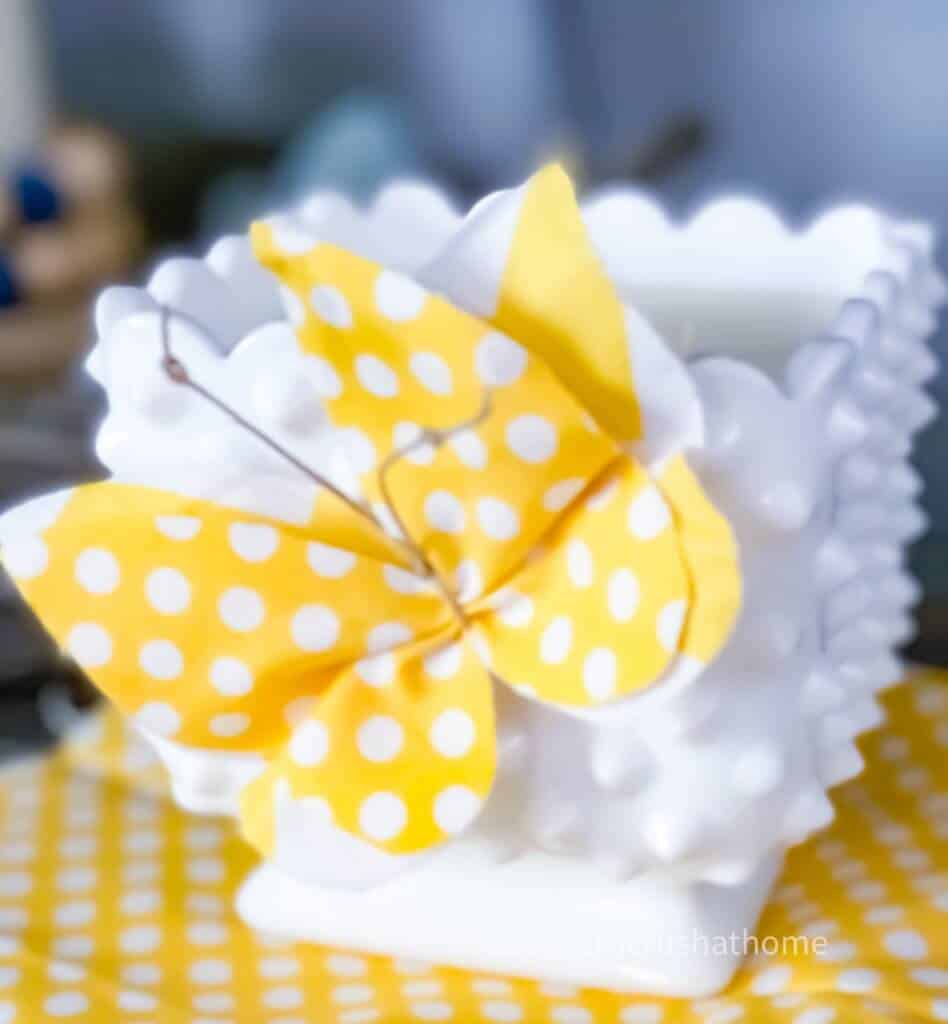 Display on the side of a beautiful vintage candle. See how to make a look-a-like DIY hobnail milk glass container of your own HERE.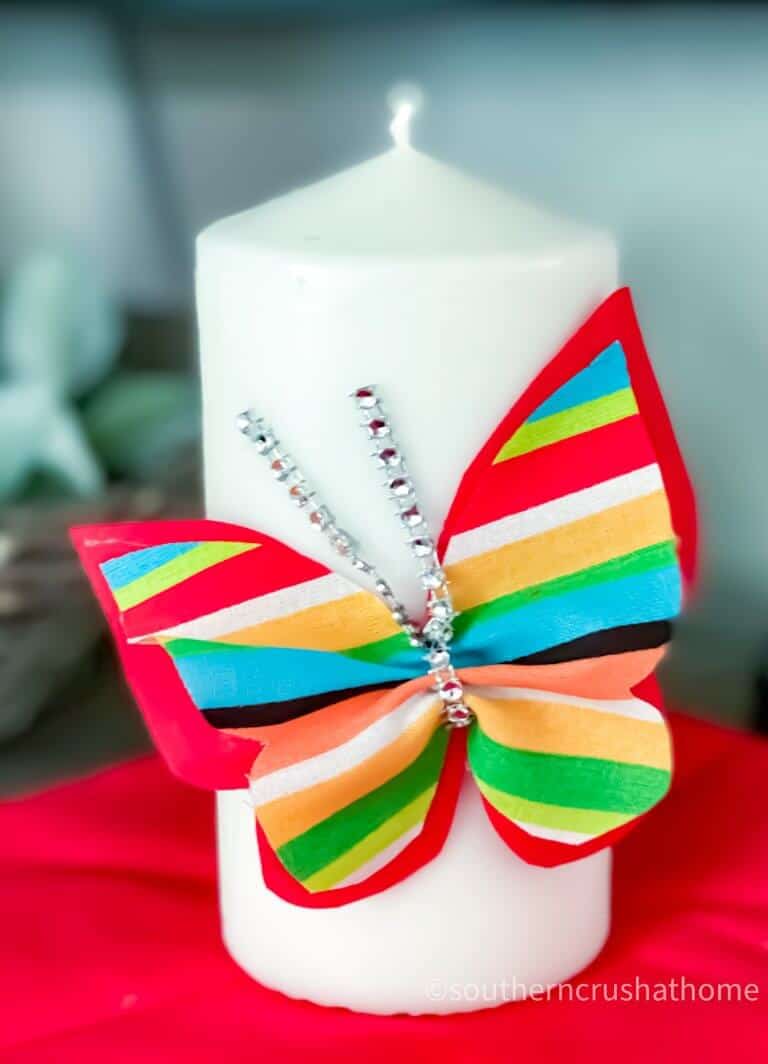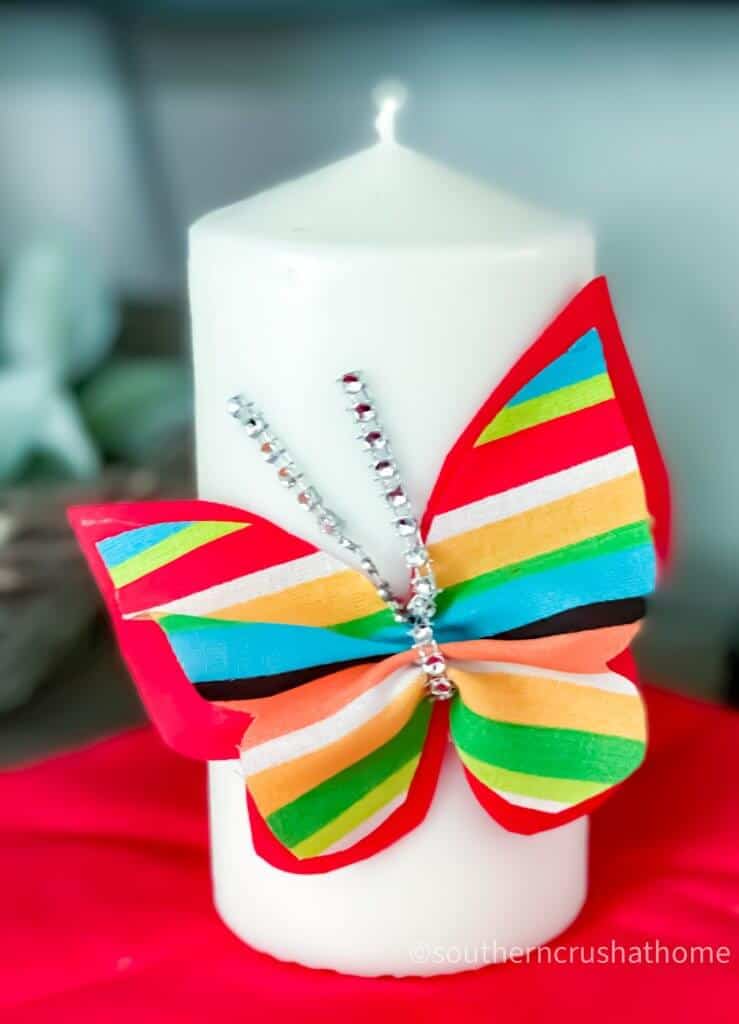 Attach a fabric butterfly to the outside of a Dollar Store candle to dress it up and make it look glamorous! You can pin it with a floral pin or hot glue it on either way!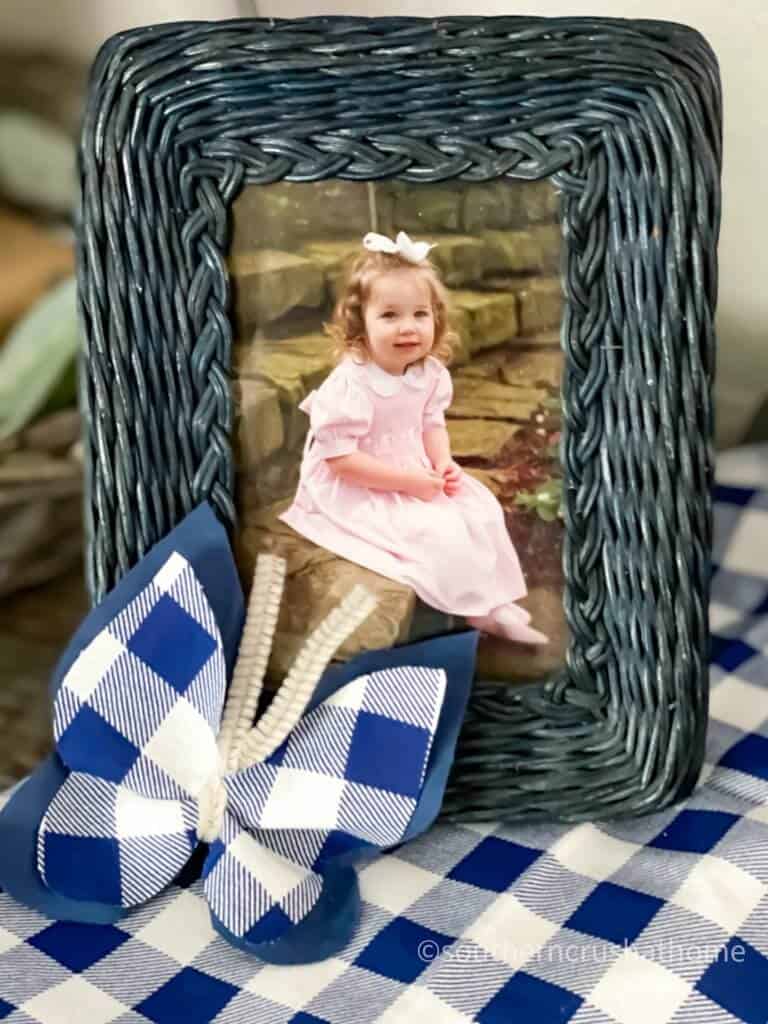 You can also glue it to a photo frame as shown here. If you don't want it to be permanent; simply "lean" it up next to your frame to create the same look.
Other ways to display your fabric butterflies:
Make a hanging mobile for displaying them over a crib and use the coordinating fabric from the baby's decor!
Toss a few on a tiered tray for added texture and a fun pop of color for any season!
Make some fabric butterflies out of all burlap and neutral colors to attach to a decorative book stack!
Add a few of these in a larger scale to create dimension on a spring themed Gallery Wall!
Use them as a collection and design a colorful, unique 3-D collage in an art frame.
what else can you do with fabric scraps?
The first thing that comes to my mind for re-purposing fabric scraps is my signature DIY MESSY BOW of course! If you have not made one of these yet; make one today! Complete instructions are listed HERE.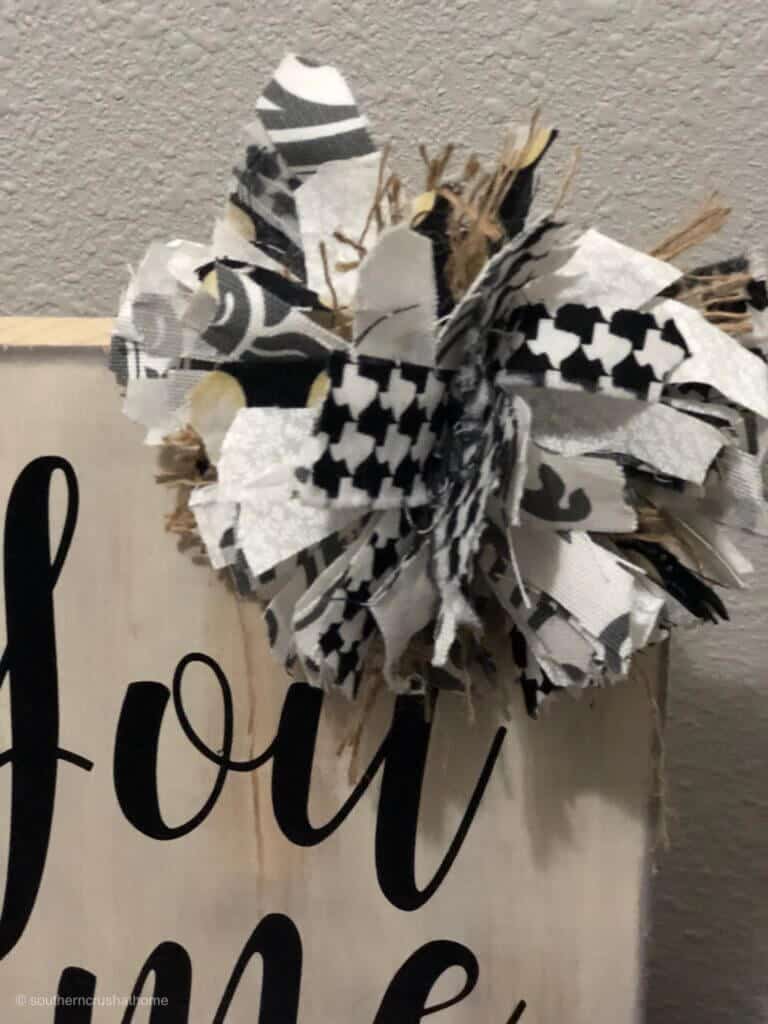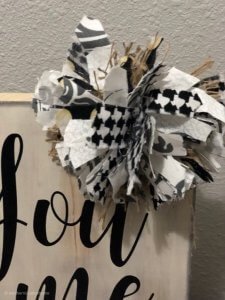 You can also try your hand at making one of these Easy T-shirt Bows with scrap fabric t-shirt materials you may already have lying around the house or in your craft stash!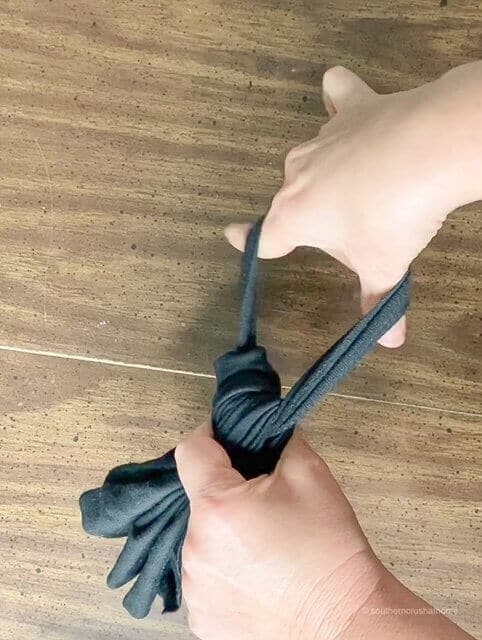 This cute DIY Fabric Rosette Necklace is another creative way to use scrap fabric up! These rosettes can be used on tons of projects include bracelets, jeans, pockets, gifts, etc.
Scrap fabric is a great way to re-purpose out of date decor, too! This is one of my most popular projects using buffalo check scrap quilting fabric to cover an old cross to make it new again! See how HERE.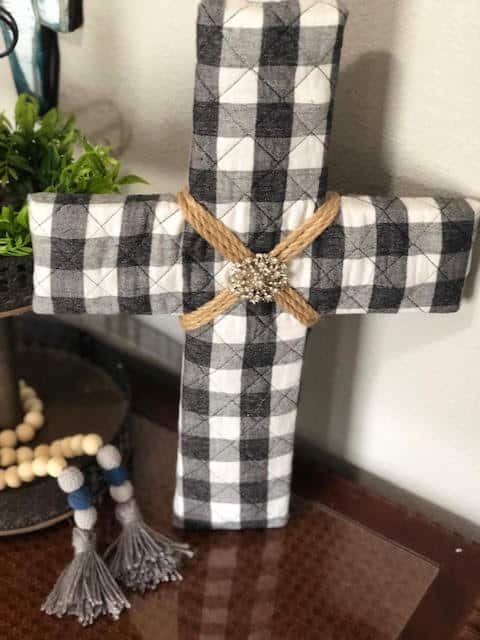 Even more ways to use scrap fabric:
Use your tiny scrap fabric pieces to stuff a pillow cover and create your own DIY pillow.
Keep scraps in the garage for quick use to clean up messes.
T-shirt scraps can be used for dusting around the house.
Some fabric scraps can be used as strainers.
Wrap a quick gift instead of using wrapping paper.
Use them in kid's crafts.
Birds love scrap fabrics add some to their little nests.
Display colorful scrap fabric in glass containers.
Cut them into geometric shapes and adhere them to an ordinary greeting card for a little something extra.
Grab a mason jar lid and replace the insert with fabric for a cute gift.
What ways can you think of besides these to use up old scrap fabric pieces? Tell me in the comments below.
If you love this kind of DIY project, you need to be getting my emails, friends! Each week I send out a couple of emails that include updates, crafts, shopping experiences, and decor inspiration. Be sure to get yourself signed up below. I can't wait to meet you!
Leave your thoughts below in the comments, please… BTW— Life is short—Enjoy the mess!
**P.S. Please join us over on our Facebook Page to see more fun "Live".