Repurposed Vintage Singer Sewing Machine Ideas
Vintage Singer sewing machines are not just beautiful pieces of history that can be passed down from generation to generation. They can also be repurposed into functional and stylish items, adding a unique and timeless touch to your living space.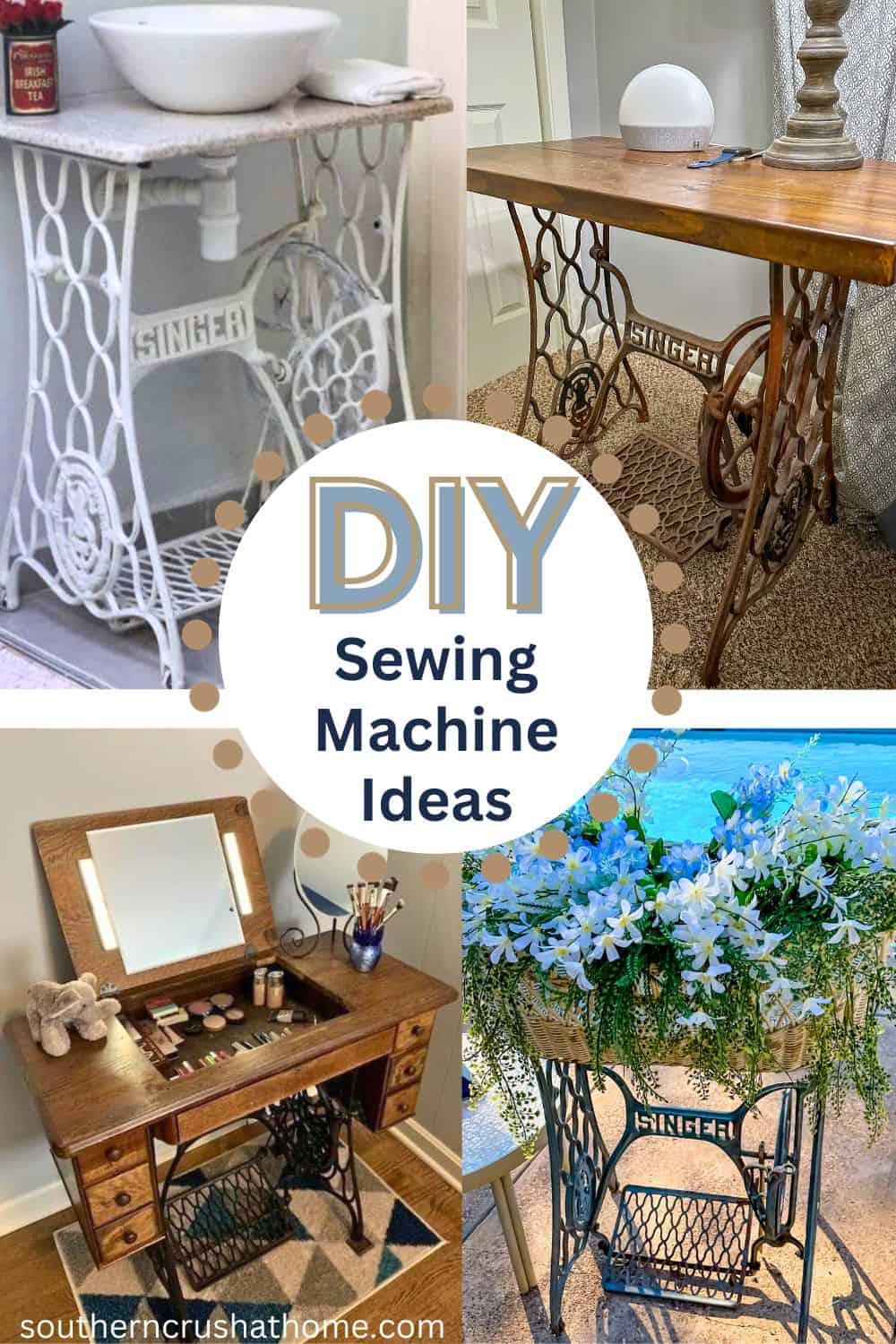 PIN this for later!
Repurposed Vintage Singer Sewing Machine Ideas
In this post, I'll share some creative ideas for repurposing vintage Singer sewing machines that might inspire you to give your old machine a new life.
Vintage Sewing Machine Vanity Viral Facebook Post
First and foremost I want to mention that I was inspired to share this with you because a post about a fun Vintage Sewing Machine turned into a makeup vanity went viral over on my Facebook Page HERE BELOW.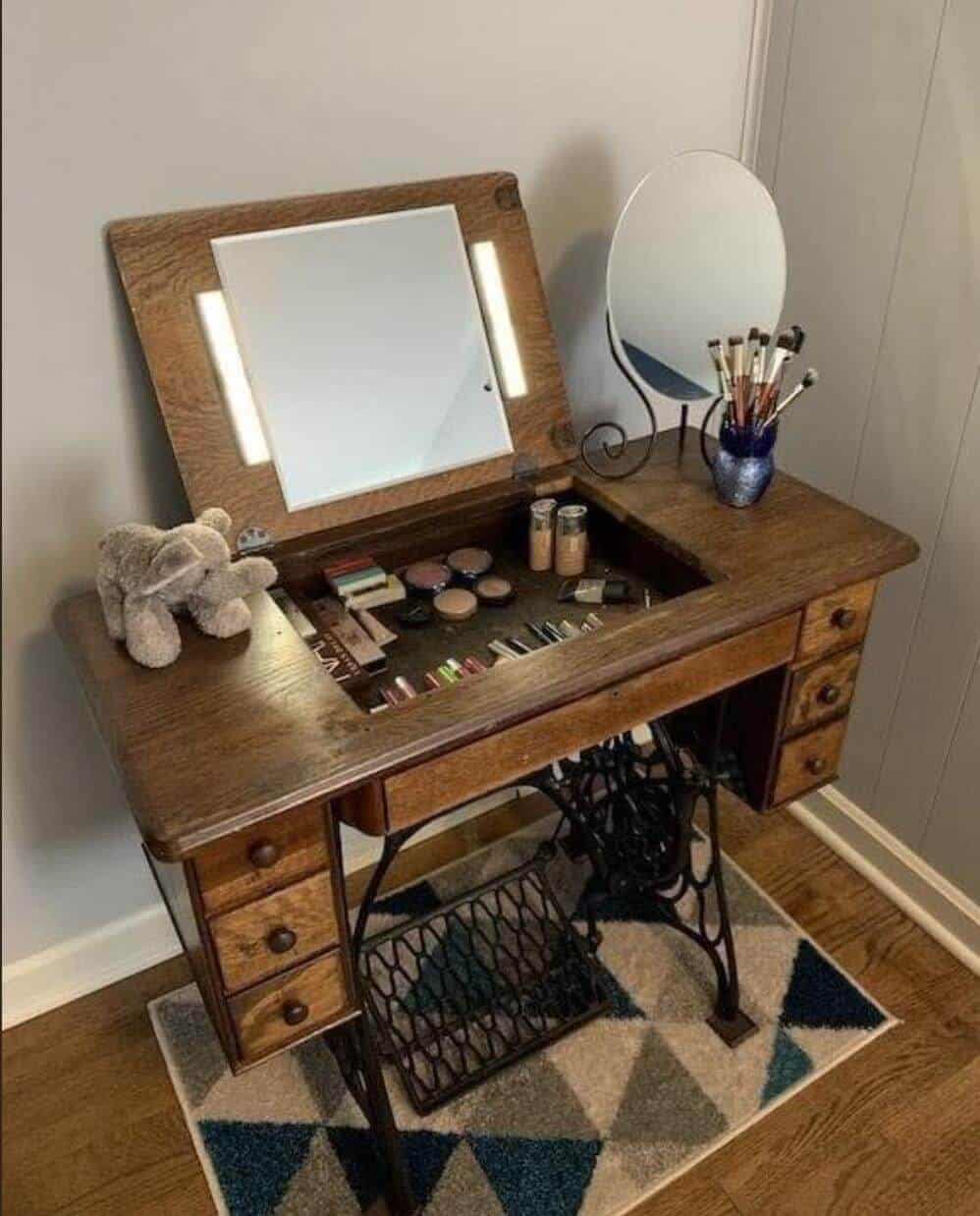 Repurposed Sewing Machine Nightstand Table
One of the most popular ways to repurpose vintage Singer sewing machines is by transforming them into a table. You can remove the machine from its original base and attach a new top to create a unique piece of furniture.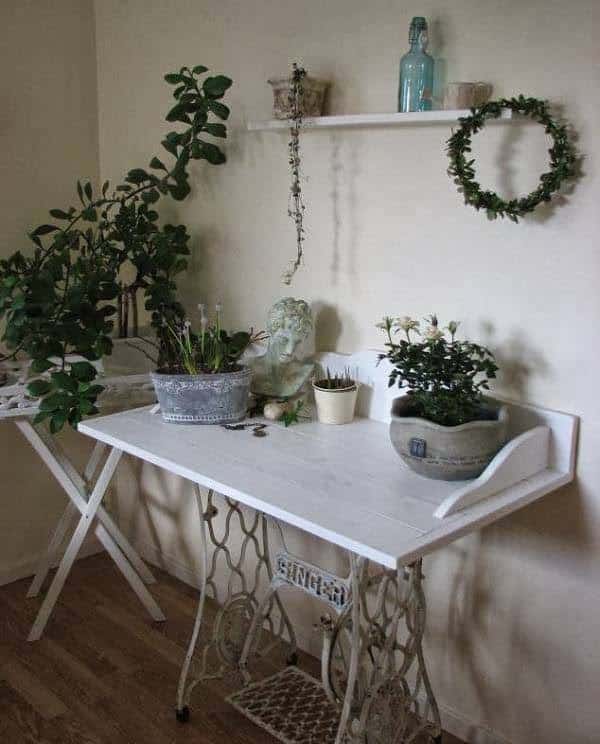 You can also add a salvaged wooden top or a piece of glass to create a sleek design that can match any home décor. With this repurposed sewing machine table, you can create a conversation piece that draws the eye of your visitors.
This is my Vintage Singer Sewing Machine DIY nightstand table!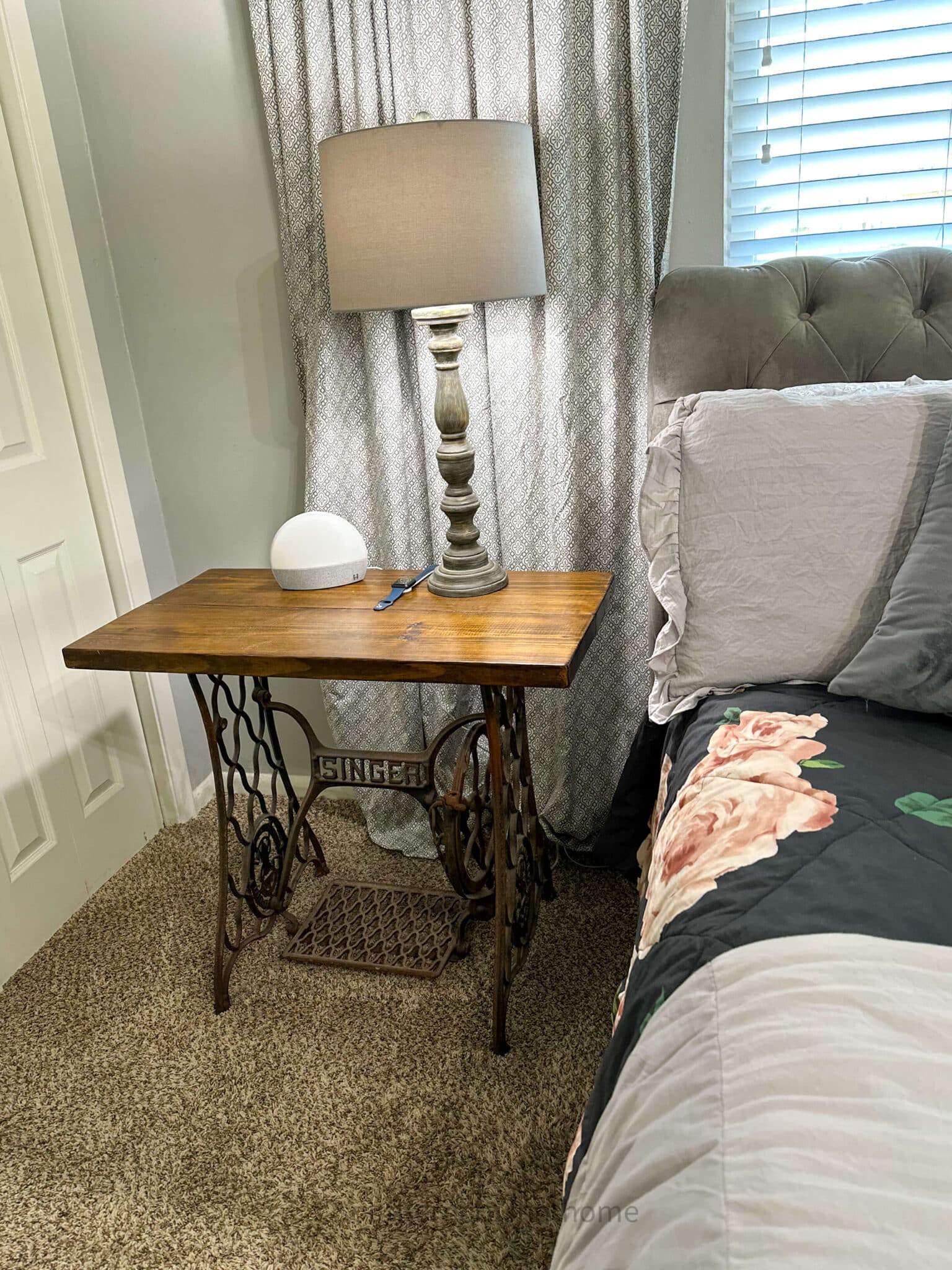 I absolutely love how it looks at the side of my bed as it evokes memories of times passed.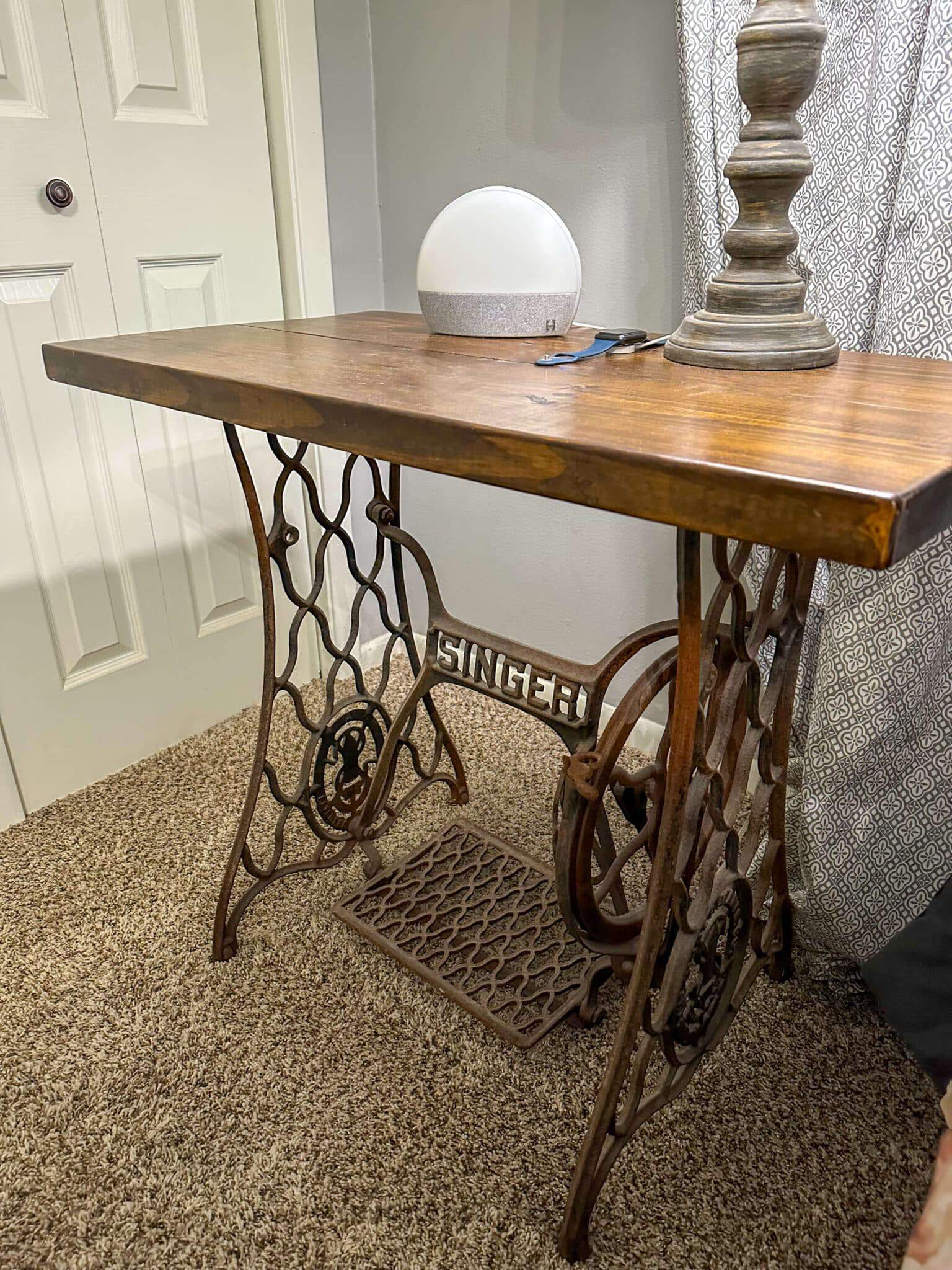 Sewing Machine Bathroom Vanity
Another creative idea is to repurpose a vintage Singer sewing machine and transform it into a bathroom vanity.
All you need is your sink and plumbing supplies to transform the machine's drawers to put your towels, toiletries, and other bathroom necessities.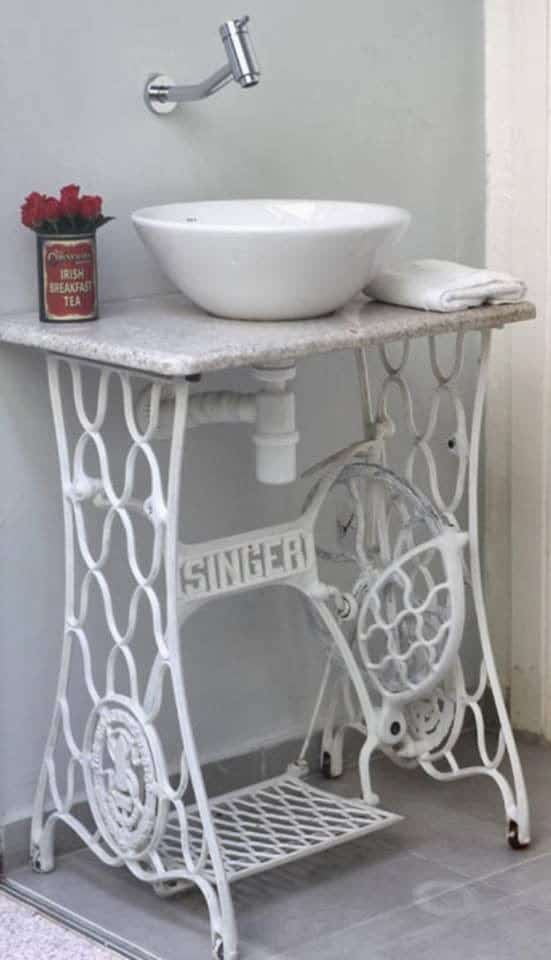 You can also add a shelf beneath the marble or granite for added space to store some additional items. The end result is a unique piece of furniture that will add character and charm to your bathroom.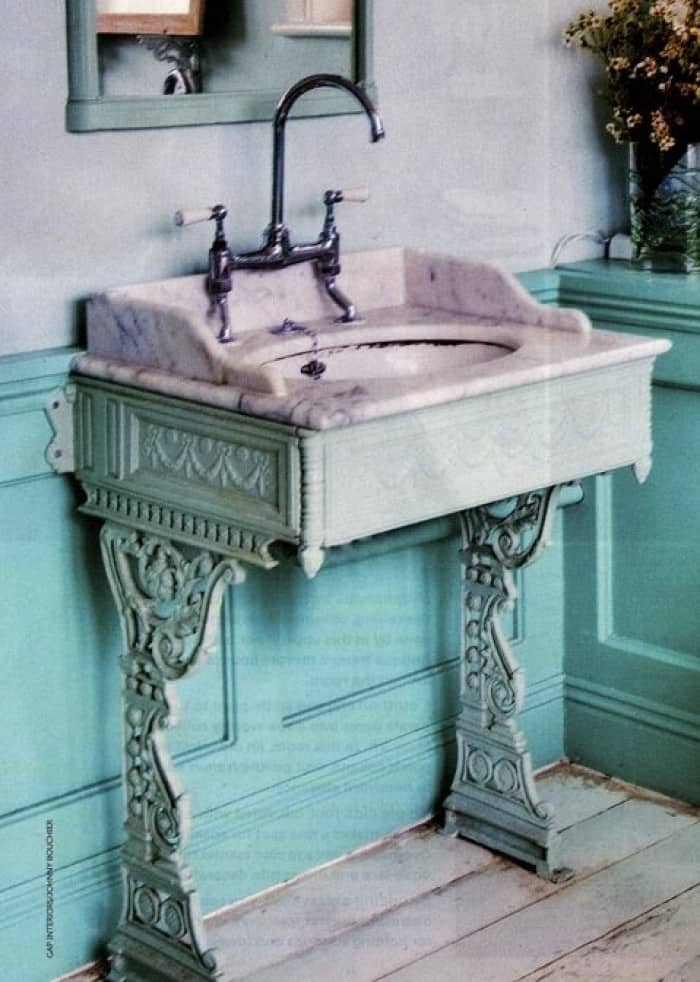 Vintage Sewing Machine Kitchen Island
If you're looking for a way to add a touch of vintage to your kitchen, then a sewing machine island is a great option. You can easily attach any wood or marble top to your Singer sewing machine base to add a bit of character to a more modern kitchen.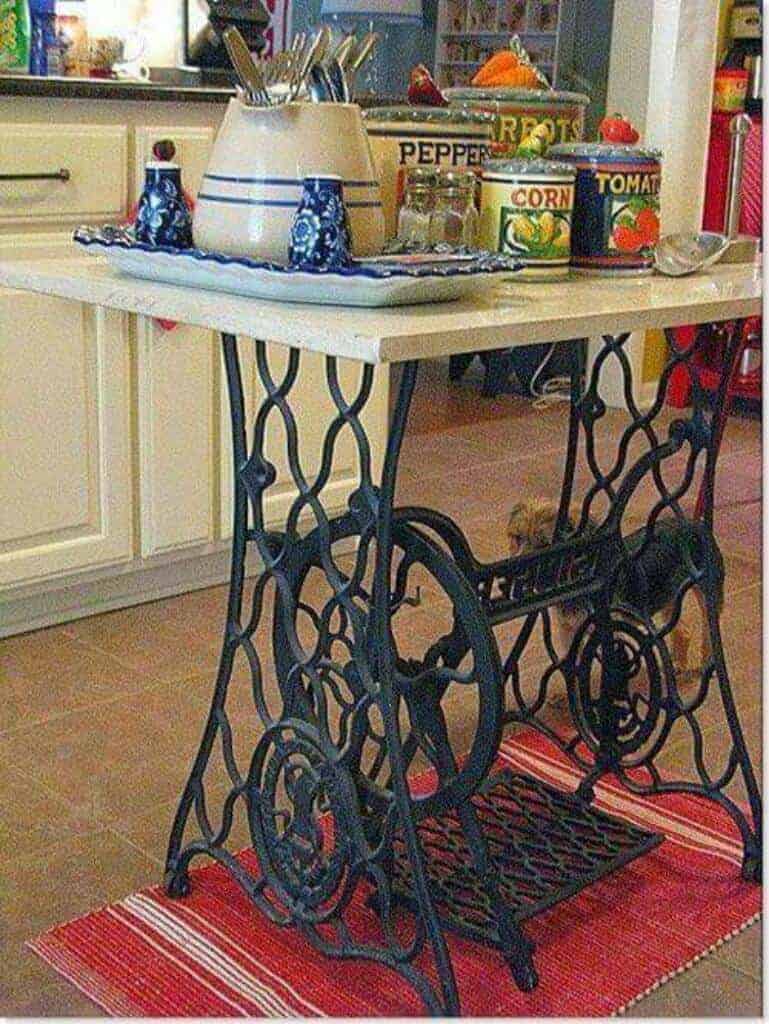 You can also give the machine a fresh coat of paint and add decorative items like dish towels to create a shabby chic design.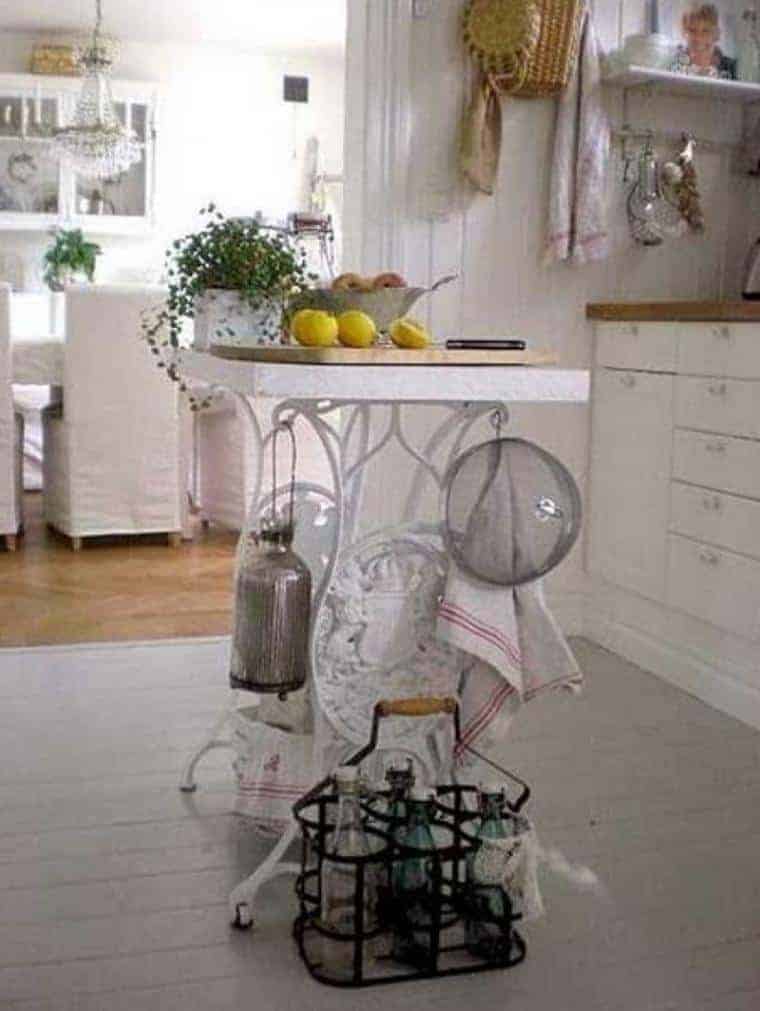 Vintage Sewing Machine Planter
If you're a plant lover and don't have much space to plant them, then a sewing machine planter is perfect for you. Just detach the sewing machine from its base, add some soil and plants, and then place it wherever you want your plants.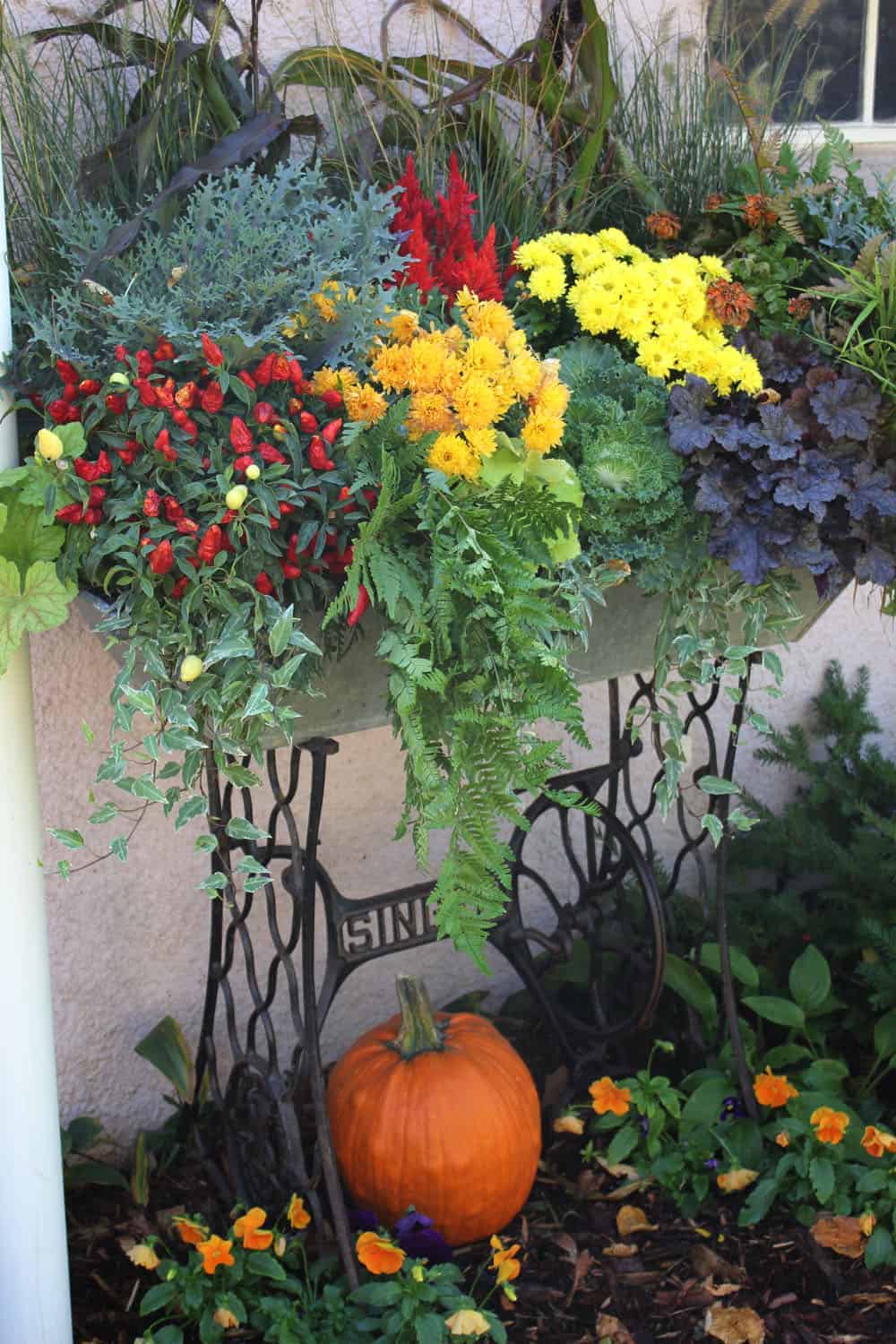 You can use the sewing machine drawer for added storage, or you can put small succulents to add some color and charm to the machine top.
I added a vintage basket to my gray Singer Sewing Machine Base and a few faux florals to display by my pool.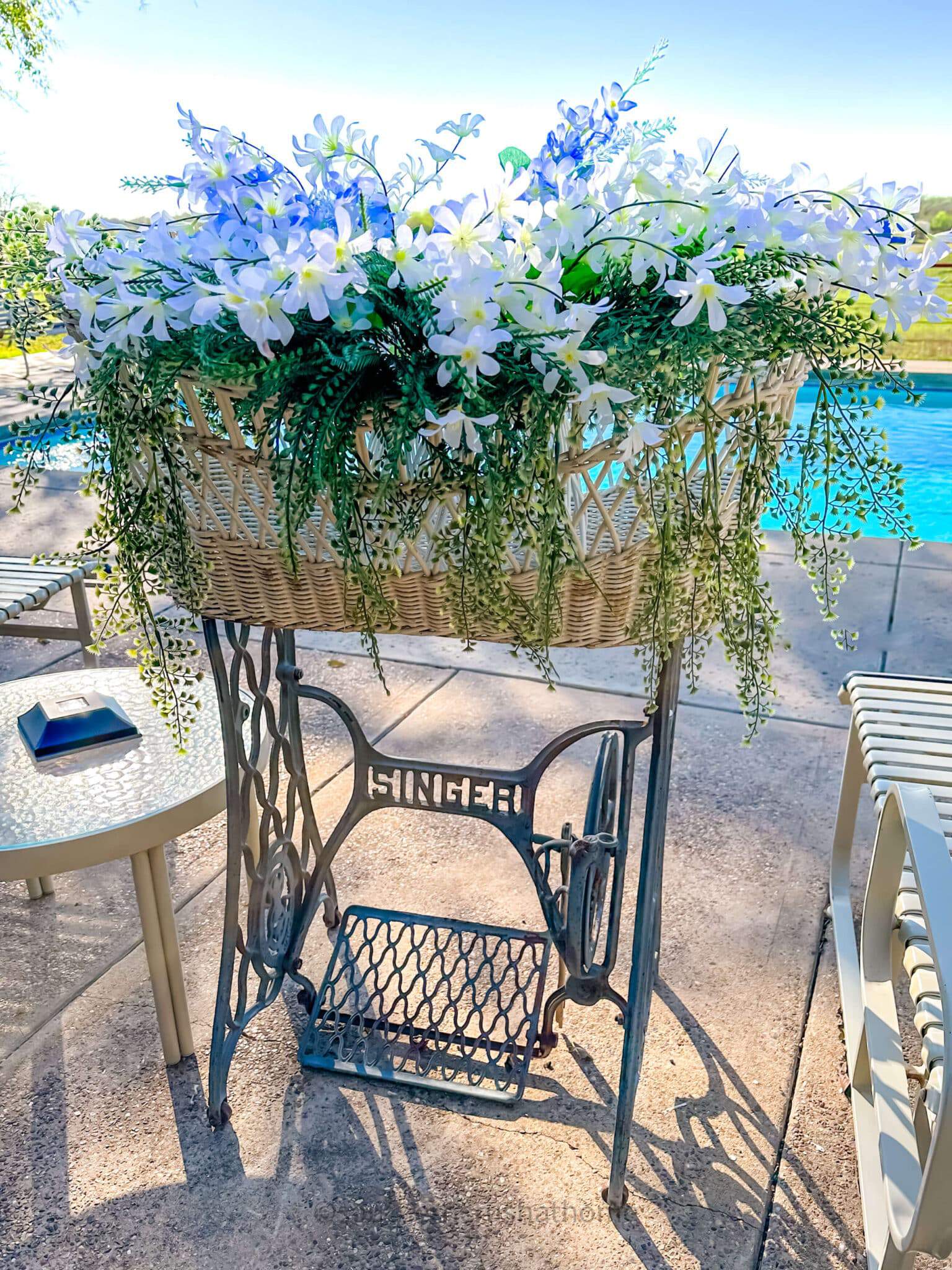 This look is also so easy and fun to change out for the seasons!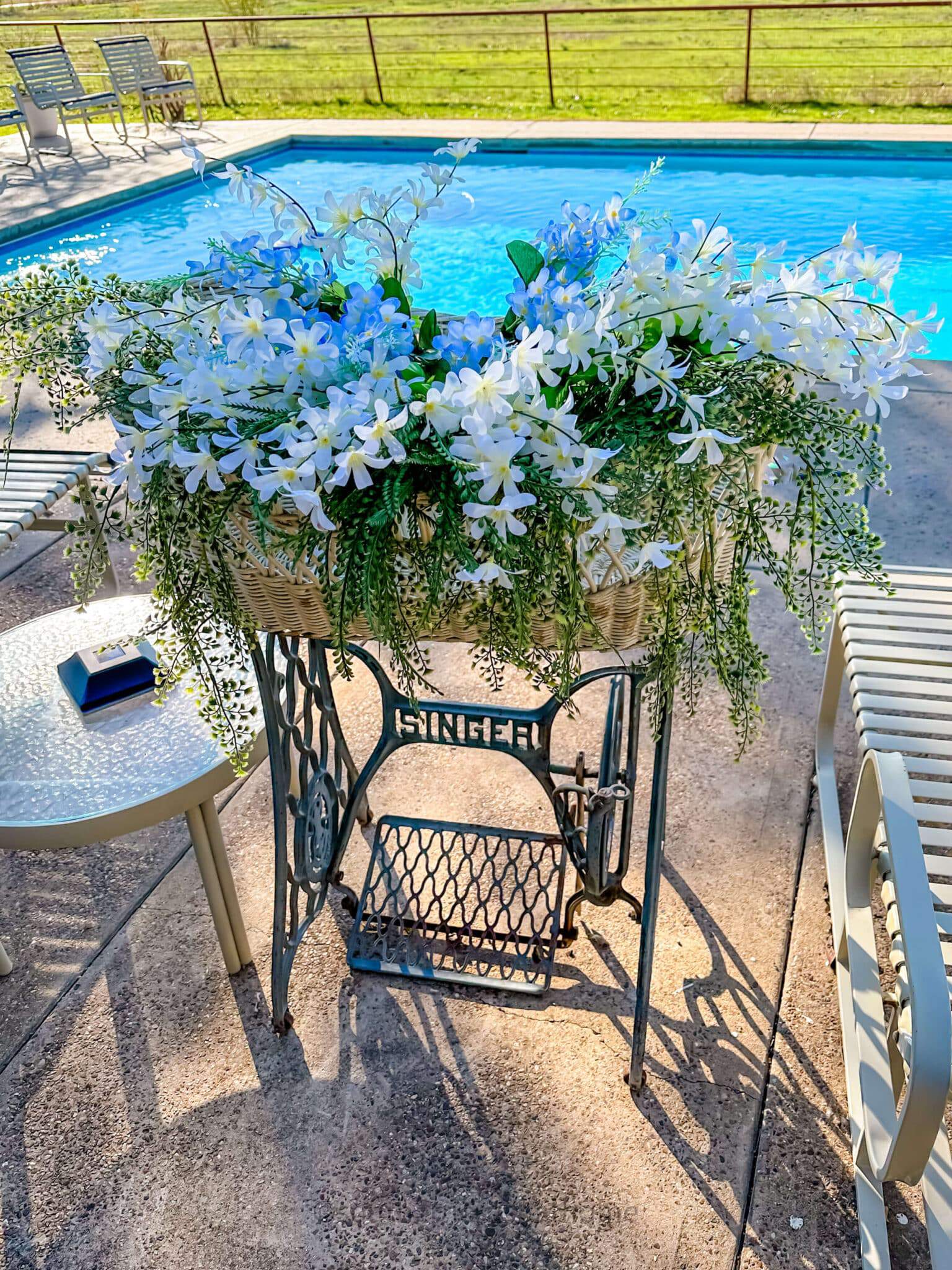 Sewing Machine Bookshelf
Lastly, you can repurpose vintage Singer sewing machines as bookshelves. Simply detach the sewing machine head and attach it to a wall to create a cool space for displaying your favorite books, photos, or decorative pieces. The machine's drawers can also serve as small storage spaces.
Or add them to the sewing machine pedal as seen below.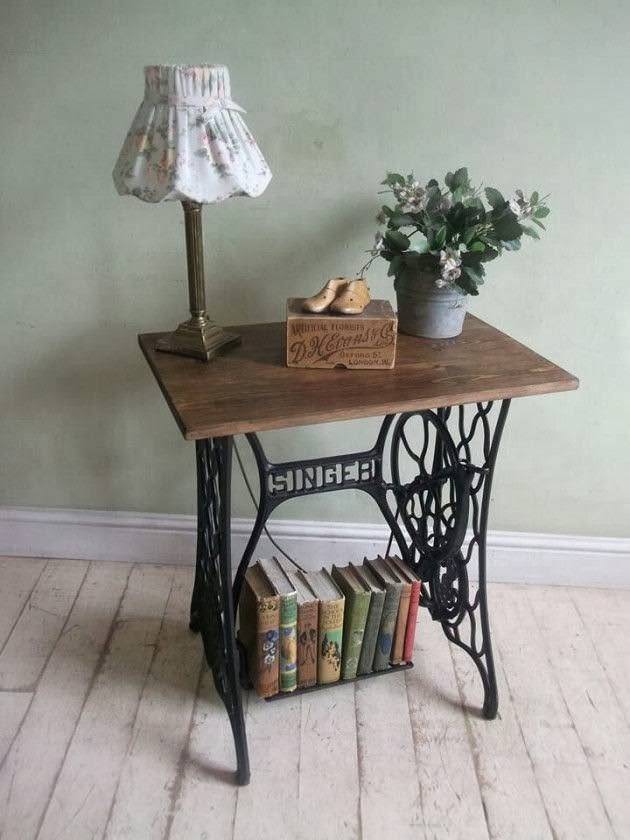 Repurposing vintage Singer sewing machines can be a fun and creative way to decorate your home, with these ideas serving as inspiration for your next DIY project.
Be sure to share your ideas in the comments below. Happy repurposing!
More Repurposing Ideas