Review of the Ninja Toaster Oven and How to Make Perfect Toast
A few months ago, our toaster decided to stop working and while that may not have normally been a huge deal; we had family coming into town. I thought what better time than now to test the new Ninja® Toaster Oven that I had had my eye on for weeks! After several rounds of toasting bread, bagels, and English muffins I have come away with the results and want to share them with you!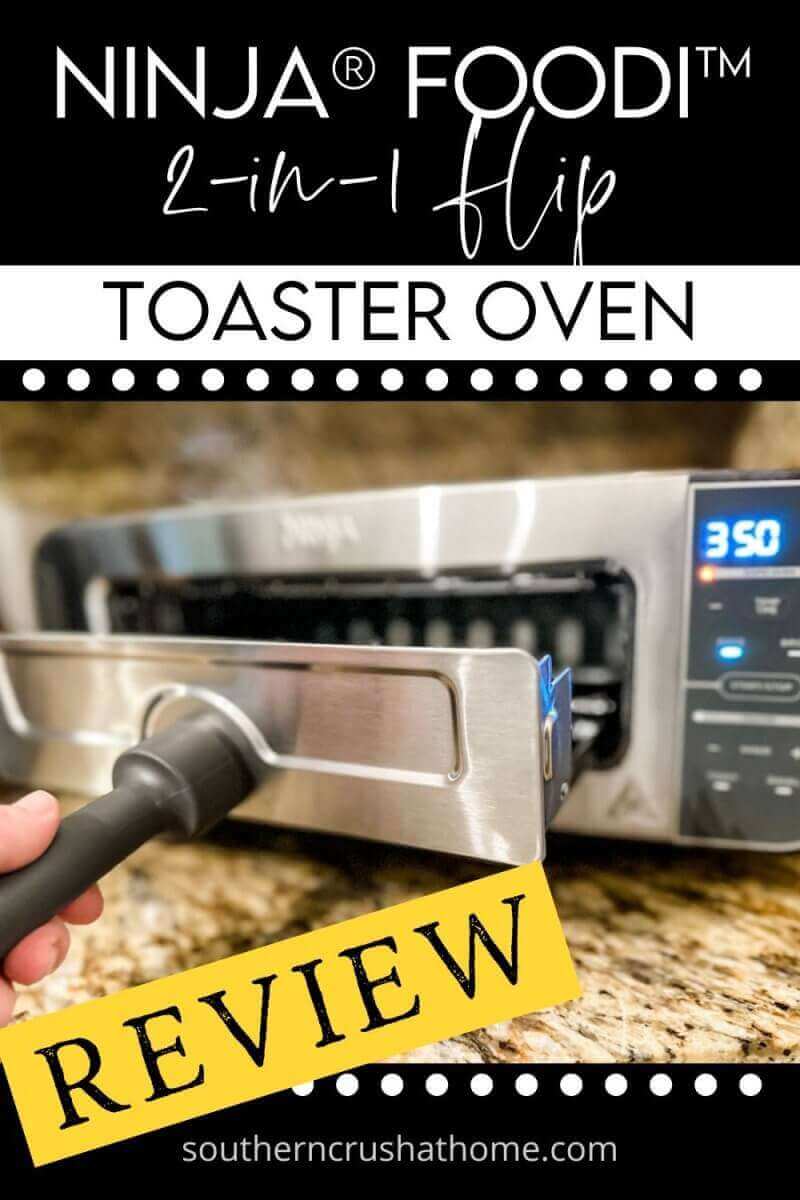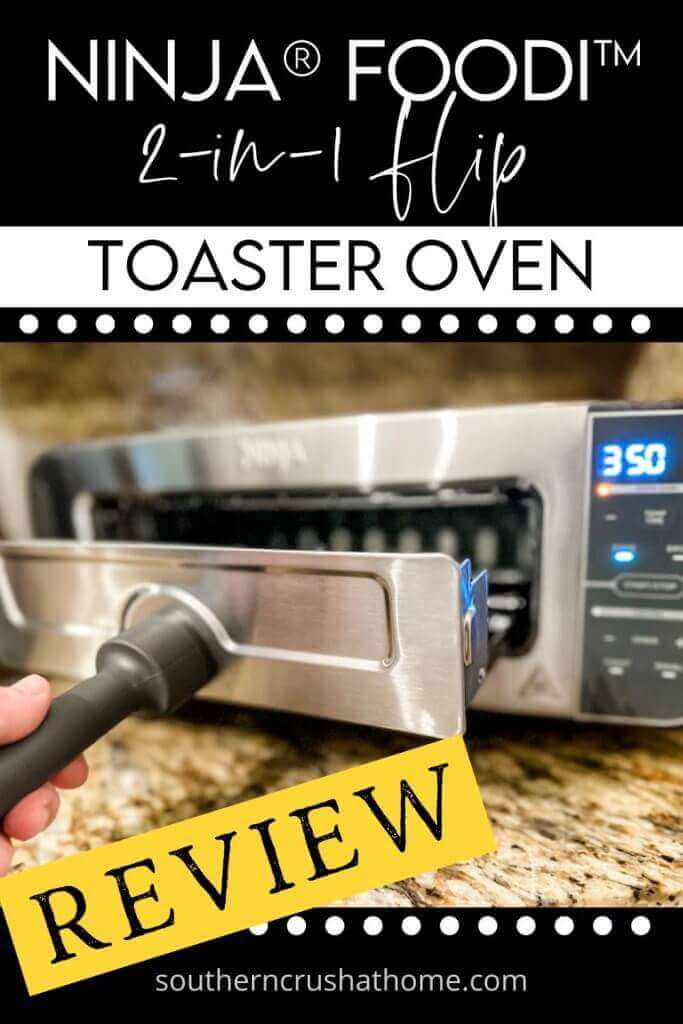 Be sure to PIN this for later!
This blog post contains affiliate links. The opinions are wholly my own from my own experience. I may earn a small commission from clicks through to the websites that end in a purchase.

From breakfast to dinner, there's something so comforting and satisfying about a freshly toasted slice of homemade bread. The golden-brown crunch it offers is unrivaled in texture, making it the perfect foundation for a hearty sandwich or snack.
But why settle for the same old two-slice pop-up toaster when you can get the new Ninja® Foodi™ 2-in-1 Flip Toaster? With its innovative 2-in-1 design, this countertop appliance does way more than just toast—it's an oven, too, which guarantees that your meal prep will be revolutionized from start to finish. Let me tell you all about my experience with this incredible kitchen gadget!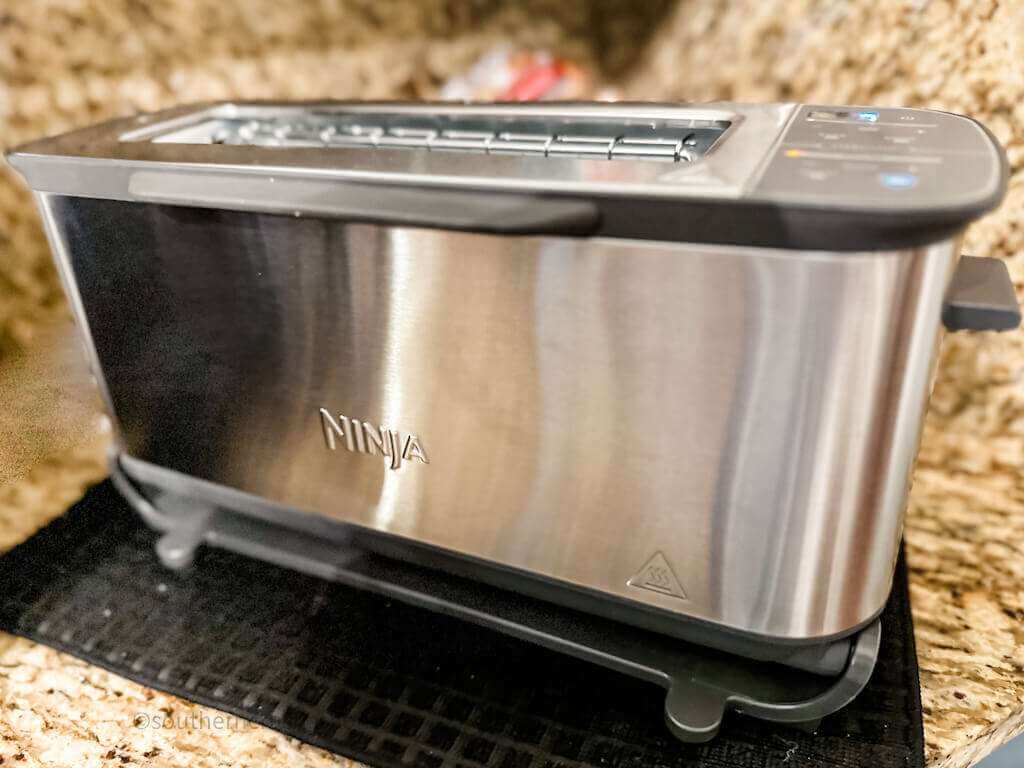 Where to Buy the Ninja Toaster Oven
If you want perfectly toasted bagels each morning, investing in a high-quality toaster is essential. I love to make breakfast for my friends and family when they come into town, so having a dependable and consistent toaster is especially important for me.
Not only does it save you time, but toasting your foods with a top-of-the-line device will give the food an even and consistent brown, leading to tastier breakfast treats!
A high-quality toaster also provides greater efficiency since it stays hot longer, allowing you to quickly pop in multiple pieces of bread while saving energy! Toaster shopping may seem like a mundane task, but choosing the right one can be an integral part of your overall cooking experience.

Toasting bread is a fantastic way to start the morning, but having a high-quality toaster can make this experience even better. Investing in a good-quality toaster not only ensures you're able to reliably enjoy the perfect (crispy on the outside and fluffy on the inside) piece of toast every time, it also ensures you will never again waste precious energy making unsuccessful attempts at getting your toast just right.
Let's remember how important it is to invest in quality kitchen equipment if we want delicious food! Quality must always come first!
Key Features of the Ninja® Foodi™ 2-in-1 Flip Toaster
2-in-1 design for toasting and baking
Digital display for easy operation
Adjustable temperature and cooking time
Non-stick cooking surface
Built-in drip tray for easy cleaning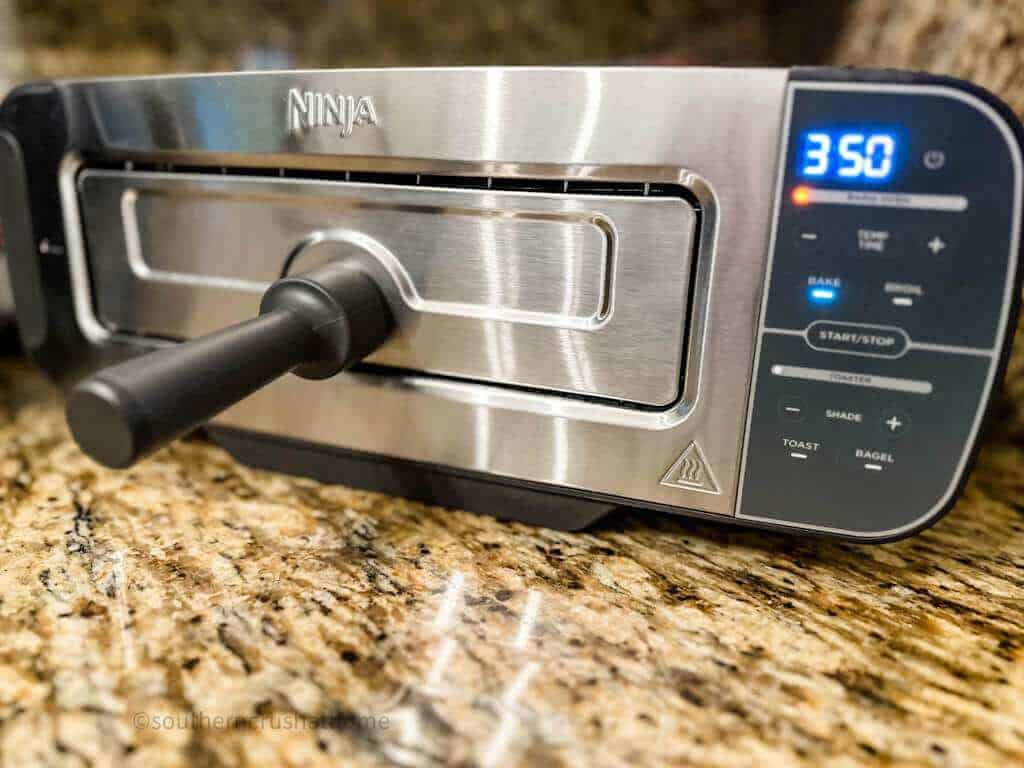 Performance Test
If you're looking for a toaster that will take your toasting and baking game to the next level, look no further than the Ninja® Foodi™ 2-in-1 Flip Toaster. It's a toaster and oven all in one!
Toasting results
With even heat transfer and even browning, you can be sure that whatever type of bread you choose for your toast will consistently come out perfectly every single time – no guesswork involved! Evenness of toasting is key to making sure the flavor of each bite is balanced.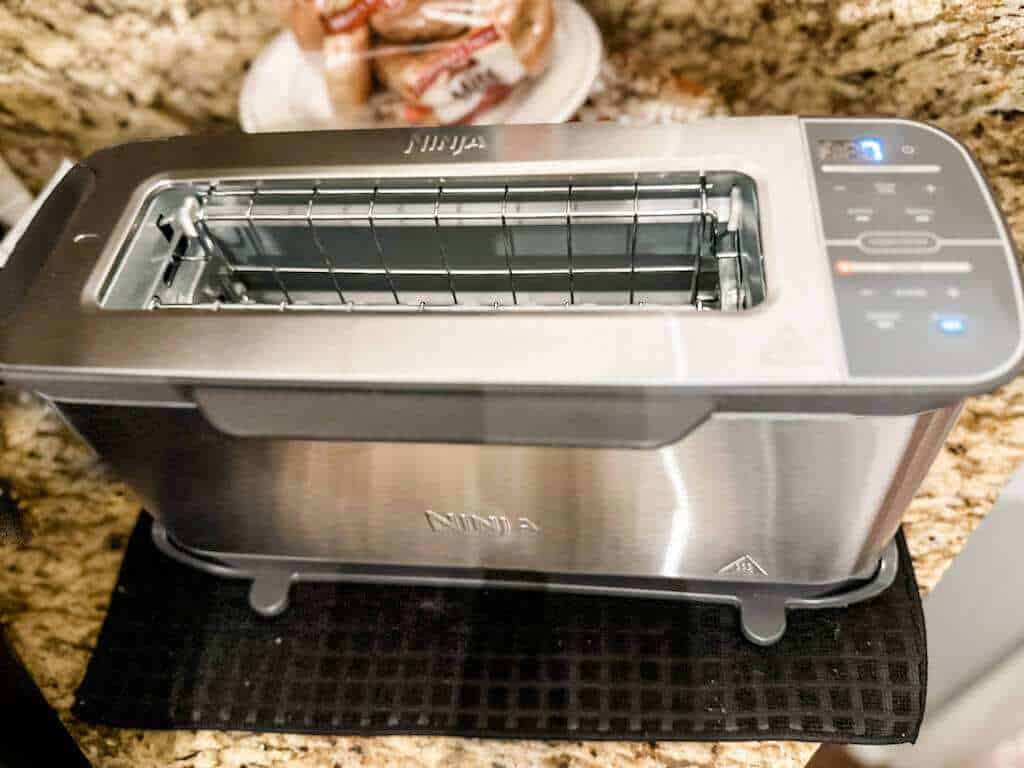 Toaster Oven results
It's fast, too! With up to 400°F of heat and no preheating required, you can cook up to 35% faster vs. a full-size electric oven.
Toaster and Compact Toaster Oven in one appliance. Flip up for toaster mode and flip down to unlock oven mode.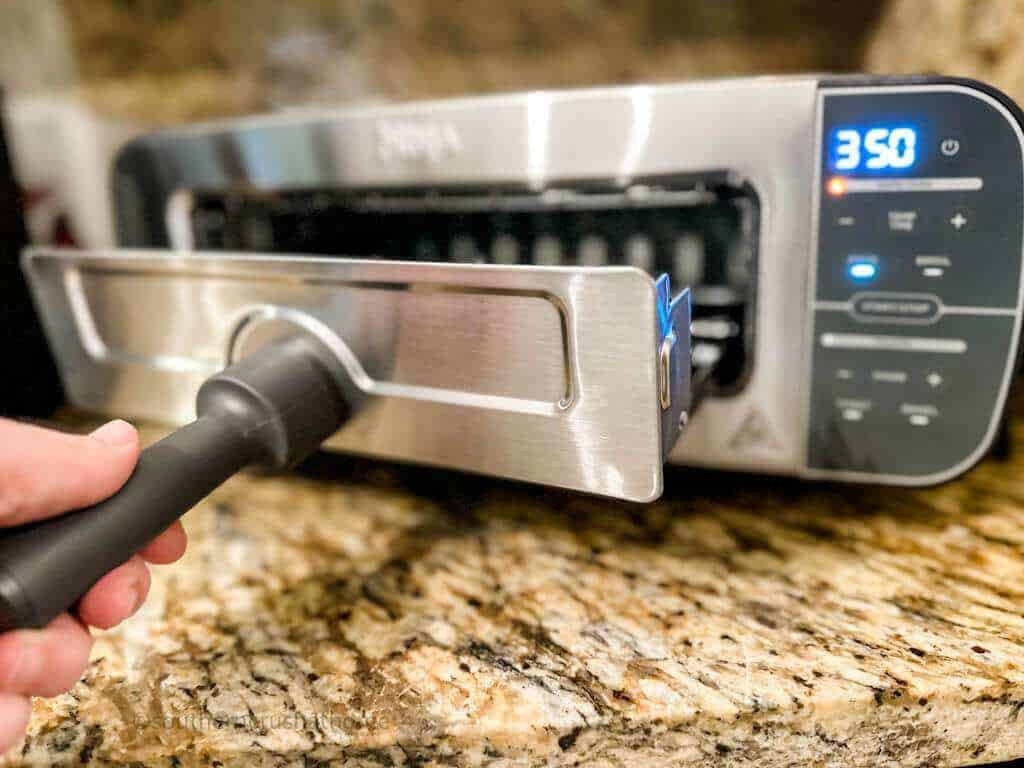 Pros and Cons of the Ninja® Foodi™ 2-in-1 Flip Toaster
| Pros | Cons |
| --- | --- |
| Versatile 2-in-1 design | Limited baking capacity |
| Easy-to-use digital display | Higher price compared to traditional toasters |
| Adjustable temperature and cooking time | Larger footprint on the counter |
| Non-stick cooking surface | |
Pros:
Versatile 2-in-1 design allows for both toasting and countertop baking.
Easy-to-use digital display makes operation simple.
Adjustable temperature and cooking time allow for customized cooking.
Non-stick cooking surface makes for easy cleaning.
Cons:
Limited cooking capacity may not be suitable for large families or frequent entertaining.
Higher price compared to traditional toasters so it may not be budget-friendly for some.
Larger footprint on the counter due to its larger toasting capacity.
How to Use the Ninja Toaster Oven
The Ninja® Foodi™ 2-in-1 Flip Toaster has multiple settings, from Toast, Bagel, Defrost, Bake, Broil, and Reheat (and Gluten Free for dense breads) so you can find the perfect level of toastiness for your favorite foods.
The 70% wider slot vs. traditional slot toaster fits long artisan bread or bakery-style bagels allowing bulky items to be evenly heated. Plus, the flip feature is great for cooking even larger, messier items.
This little appliance is sure to become an everyday staple in your kitchen. You can find all kinds of fun inspiration HERE.
Here's how to use the Ninja® Foodi™ 2-in-1 Flip Toaster:
Plug in the toaster:
Plug the toaster into a wall outlet and turn it on.
Choose your settings:
Use the digital display to select the temperature and cooking time for your food. Choose from the Toast, Bagel, and Defrost functions when the toaster is flipped up. The toaster allows for 7 shade settings as well as a setting for gluten-free, so you can customize your cooking to your preferences.
Flip the toaster down to unlock the Bake, Broil, and Reheat functions.
Load your food:
Load your food into the toaster, either directly into the top slots or flip it on its side. Be sure to leave enough space between your food and the toaster walls for proper air circulation.
Start cooking:
Once you have loaded your food, press the "start" button on the digital display. The toaster will begin cooking your food according to the settings you selected.
Check the progress:
Keep an eye on the digital display to monitor the progress of your cooking. You can also use the window on the toaster to check on your food without opening the door.
Remove the food:
Once your food is cooked to your liking, carefully remove it from the toaster and enjoy.
Note:
Always refer to the owner's manual here for the complete list of instructions and safety precautions for the Ninja® Foodi™ 2-in-1 Flip Toaster.
How to Make Perfect Toast
Making the perfect toast takes a little bit of practice, but once you've perfected your technique, you'll breeze through it in no time.
Begin by finding the perfect slice of homemade bread from any variety that suits your taste buds. White bread is usually the go-to for classic toast, but feel free to switch it up with sourdough bread, rye bread, wheat bread, garlic bread or even my recipe for peanut butter bread!
As for the heat level on your toaster, start at medium-high – adding more time based on personal preference – and be sure to watch as it pops up from its slot so you know just when to take it out and serve.
Once complete, add some butter can help keep things moist, a pinch of salt to bring out even more flavor. Try sprinkling over some cinnamon or sugar to create a truly delightful treat. Enjoy!
How to Clean the Ninja Toaster Oven
Cleaning your Ninja® Foodi™ 2-in-1 Flip Toaster doesn't have to be a big deal! Start by unplugging the toaster and waiting for it to cool down.
Then, remove the crumb tray and clear out any debris from the bottom of the unit.
Finally, wipe down the exterior using a mild detergent and a damp cloth or sponge. Be sure not to use abrasive materials like steel wool, as this could scratch or damage your appliance. After you've cleaned your toaster, you'll be ready to enjoy perfect toast again – it's that simple!
Final Thoughts
The Ninja® Foodi™ 2-in-1 Flip Toaster is truly a marvel of modern engineering. It's perfect for anyone who wants time-saving solutions for their morning routine. This flip toaster is not only able to make perfectly crispy toast, it also comes with Rapid Oven™ Technology so no preheating is required allowing you to crisp up your favorite snacks and dishes in minutes. Plus, the nonstick interior and removable crumb tray make cleanup a breeze.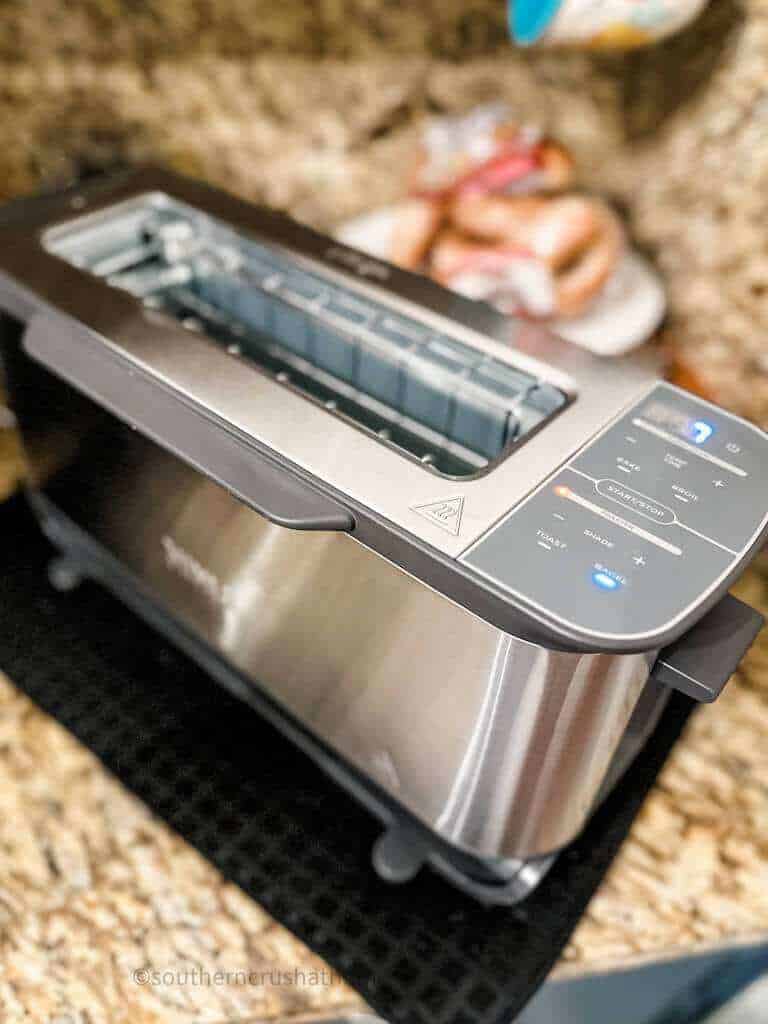 If you're looking for an easier way of making toast, snacks, and small meals, the Ninja® Foodi™ 2-in-1 Flip Toaster is your best bet for convenience and delicious results!
The Ninja® Foodi™ 2-in-1 Flip Toaster has proven itself to be a wonderfully reliable countertop appliance.
Best of all, the toaster is equipped with seven different settings making it easy to select the perfect amount of toastiness – from lightly golden brown to deep dark toast that just tastes like heaven!
With its ease of use and helpful features, I can confidently recommend this product as one that will make breakfast preparation streamlined for busy mornings.
A complete list of Ninja® Foodi™ 2-in-1 Flip Toaster FAQ's is here.