How To Make A Dollar Tree Picnic Paper Plate/Napkin Holder
Make an adorable watermelon picnic paper plate/napkin holder using Dollar Tree supplies. This sweet craft is perfect to use at an outdoor barbecue, or to bring to a picnic. It's just the right size to hold both plates and napkins. Make one of your own in plenty of time for summer entertaining!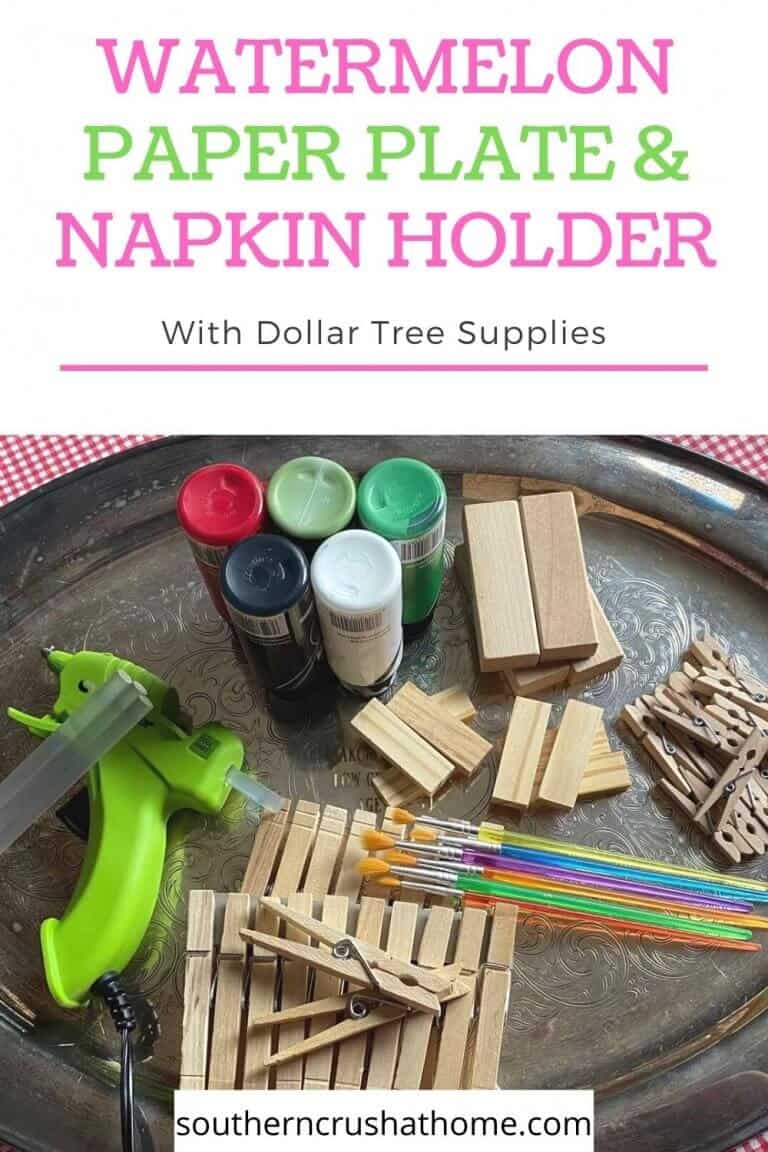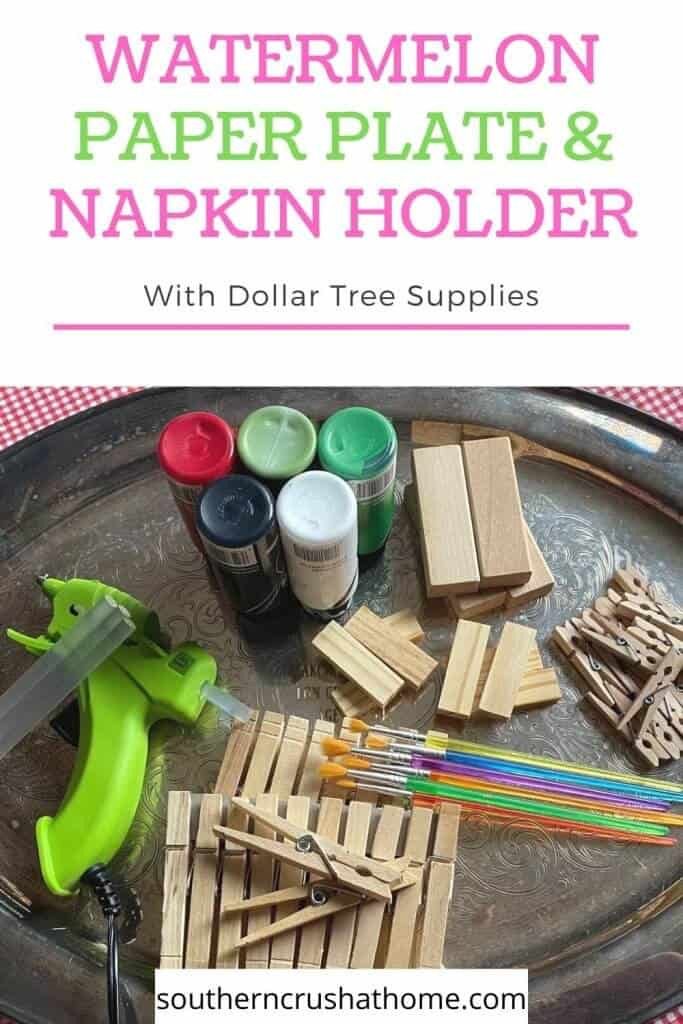 supplies needed for Picnic Paper Plate/Napkin Holder
32 regular size clothes pins
Glue gun and glue sticks
4 standard size Jenga blocks
Assorted painted brushes
Acrylic paint: black, white, red, dark green, light green
Alternative supplies: replace standard clothes pins and Jenga blocks with 8 small blocks and 24 small clothes pins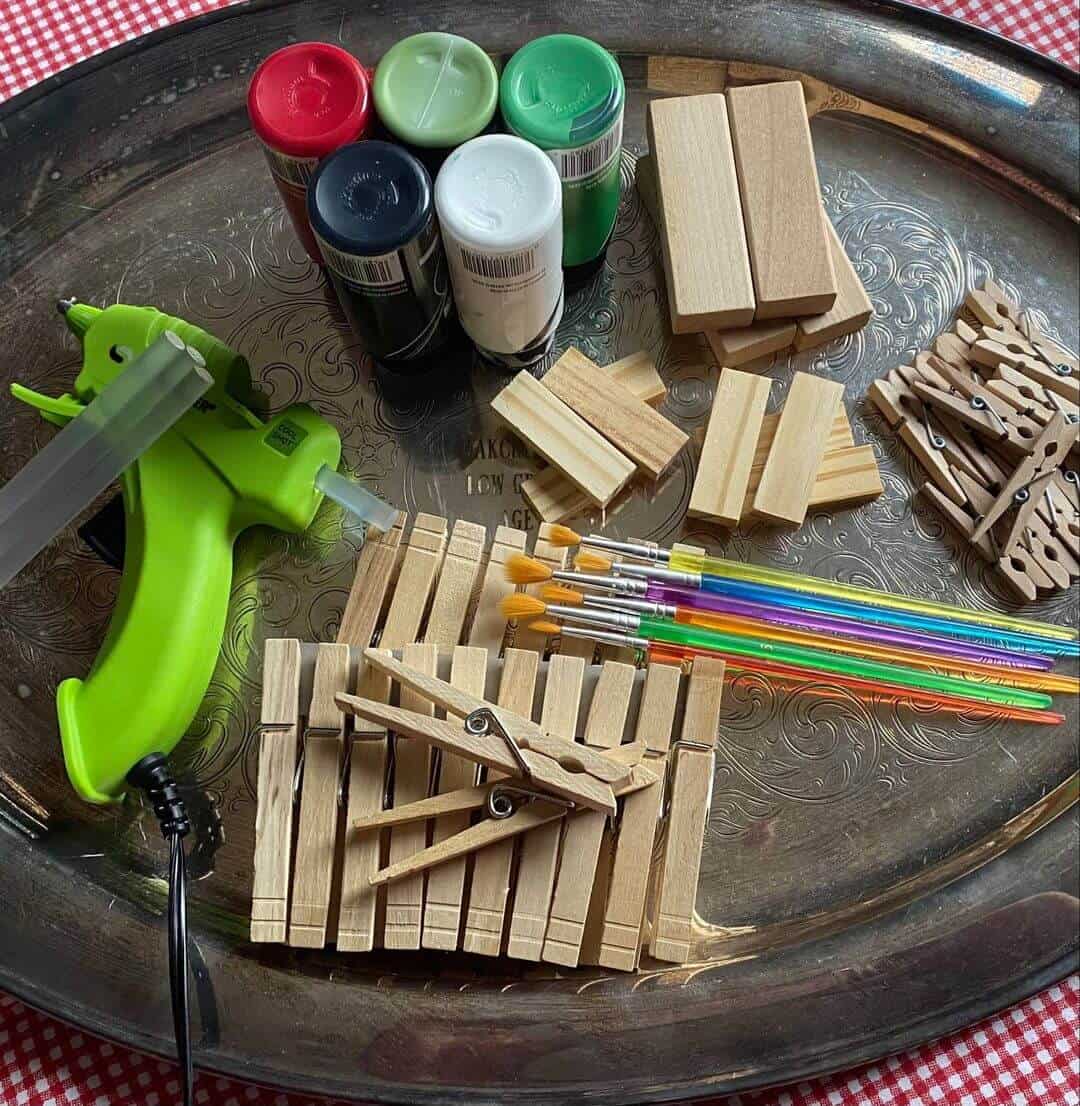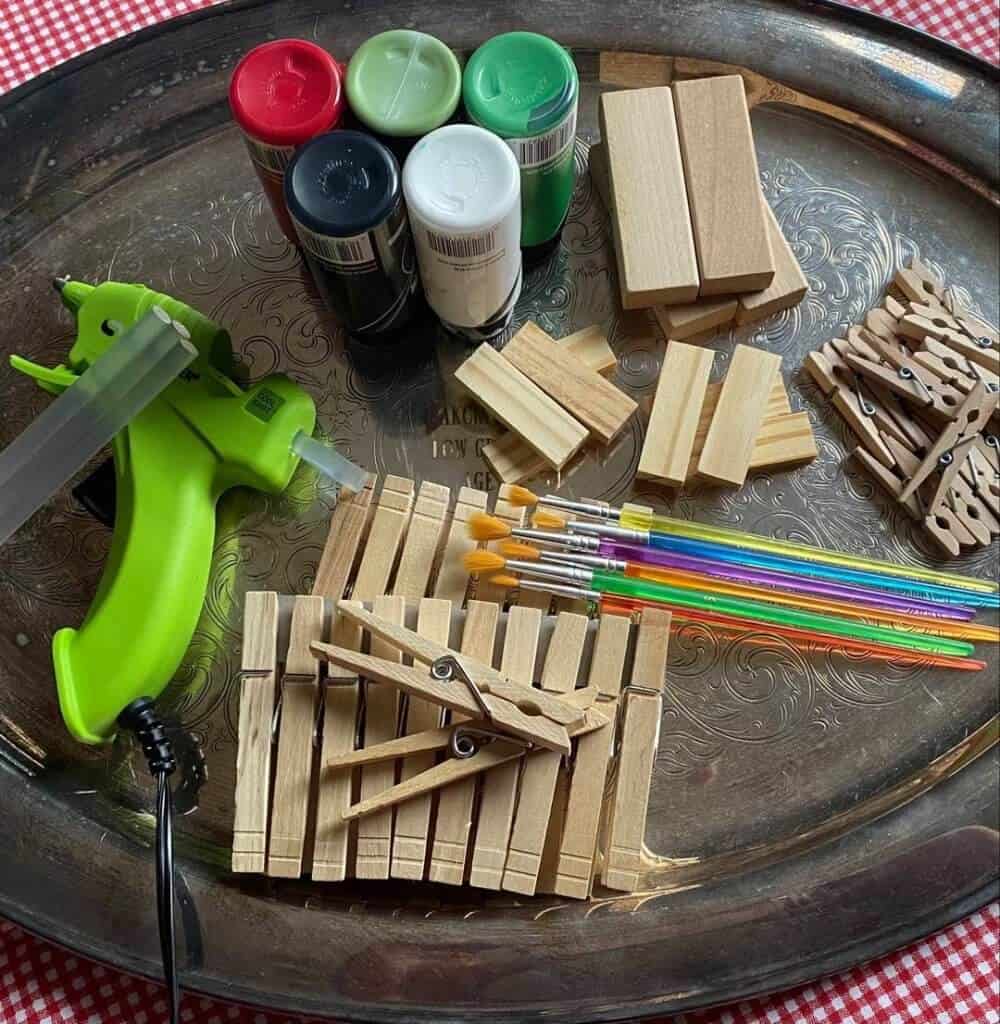 how to make a Picnic Paper Plate/Napkin Holder
This project was crafted by Celebrity Crafter: Regina Rhodes
Celebrity Crafter's Etsy Page: Prairie Rhodes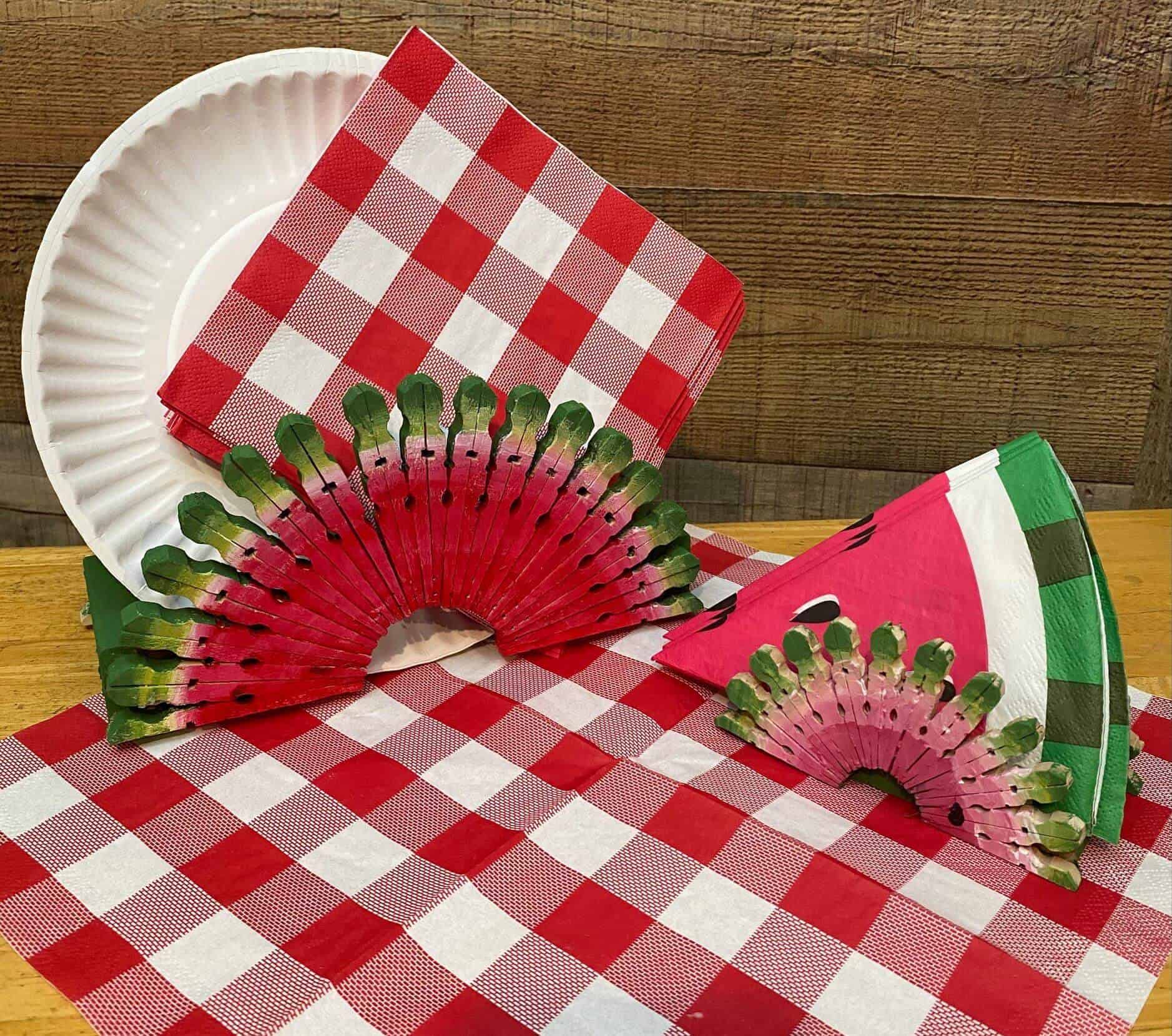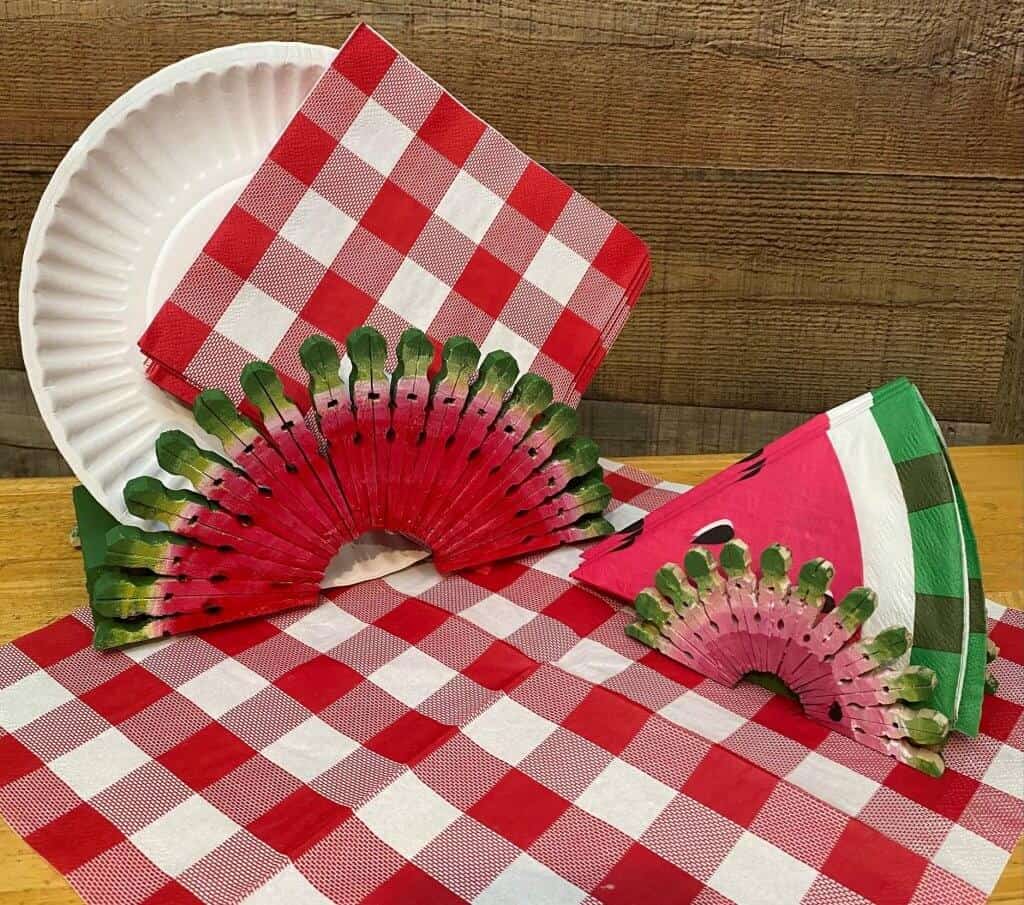 What CAN I ADD TO MY paper plate/napkin holder?
Seasonal napkins that match the napkin holder really step up the cute factor! Here are some places you can look for unique and fun napkins and plates to go with your DIY holder:
Dollar Tree – you can usually find adorable napkins at the Dollar Tree, especially seasonal designs.
Craft Store – check out the seasonal section at the craft stores for pretty napkins and plates. It's always good to look at the end of season to score deep discounts to use for next year.
Home Store – if you have a home store like Homegoods, or Tuesday Morning, take a peek in their kitchen section for pretty napkins and plates. You will be surprised what you can find, especially for holidays.
Other fun DIY crafts:
I especially love this project because it can be used year after year and is so easy to make!
If you love this craft, consider joining us inside Southern Crush Creative Club VIP! In the meantime, if you love this kind of DIY ideas, you need to be getting my emails, friend! Each week I send out a couple of emails that include updates, crafts, shopping experiences and decor inspiration. Be sure to get yourself signed up below. I can't wait to meet you!
There are so many ways you can make this sign your own! I can't wait to see how yours turns out.
>>>Leave your thoughts below in the comments please…