Front Porch Decor: How to Make a Pink Vintage Sled
Winter is here for most of us and if you are like me, you are starting to think about your front porch decor. This year, I wanted to do something a little different, so I decided to add a touch of the hot Barbiecore trend by creating a pink vintage ombre snow sled using Rust-Oleum spray paints. It's really easy to do and looks great on the front porch!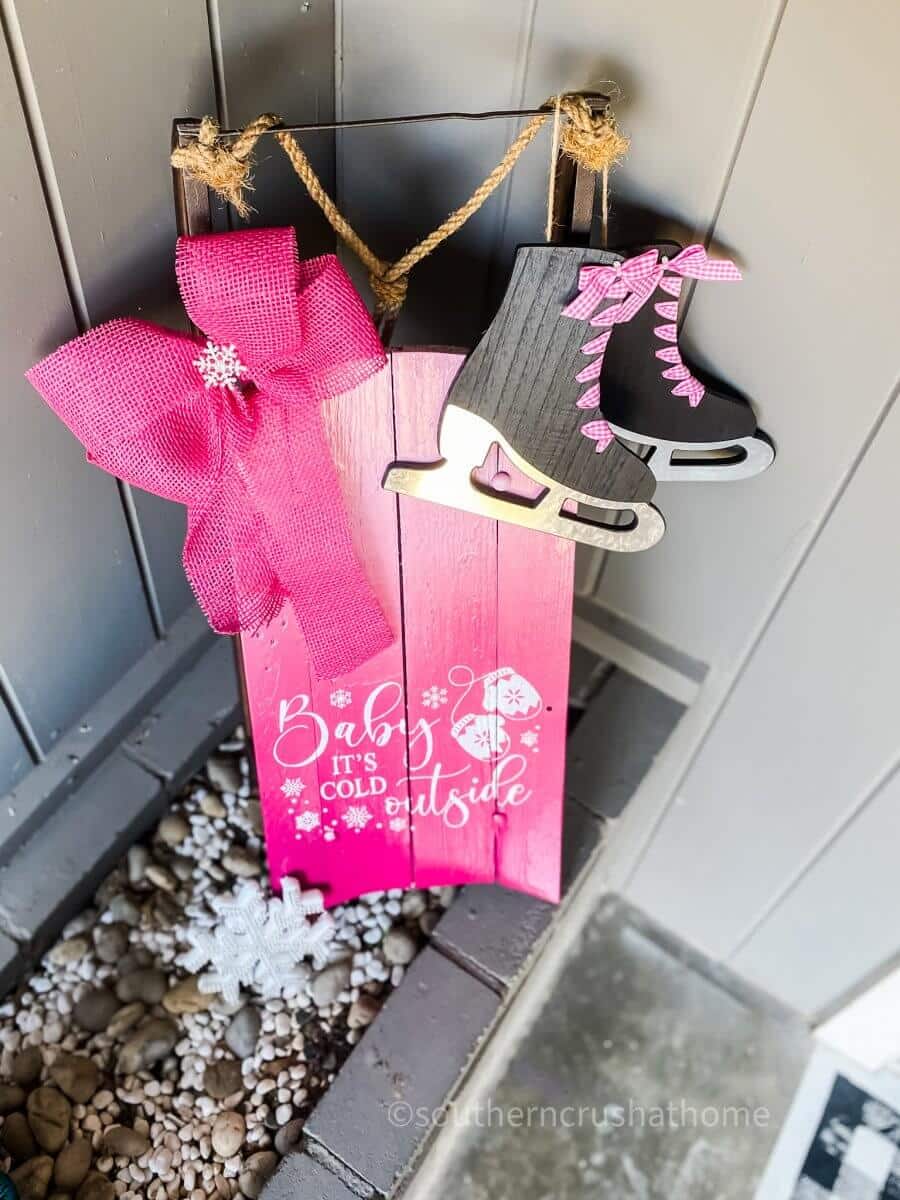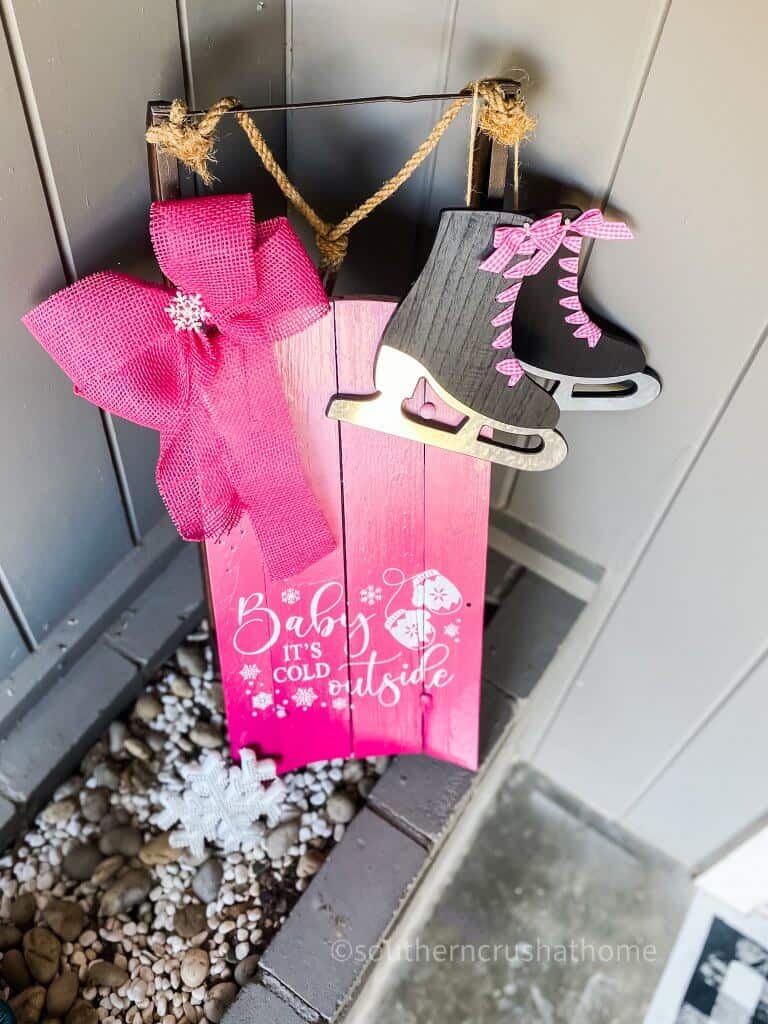 Front Porch Decor
It's officially the holiday season, which means it's time to start decking out your home in all things festive! Decorating your front porch even if it's a small front porch is a great way to add some extra holiday cheer.
Today, I will show you how to make this super fun Pink Ombre Vintage Sled. This project is really easy and can be completed in just a few simple steps. Let's get started!
This blog post contains affiliate links. The opinions are wholly my own from my own experience. I may earn a small commission from clicks through to the websites that end in a purchase.
Supplies Needed for Pink Ombre Effect
Rust-Oleum® Painter's Touch® 2X Ultra Cover® spray paint provides twice the coverage* in each coat so you can finish projects faster. This Rust-Oleum® spray paint dries quickly and leaves a smooth, durable finish on nearly any surface.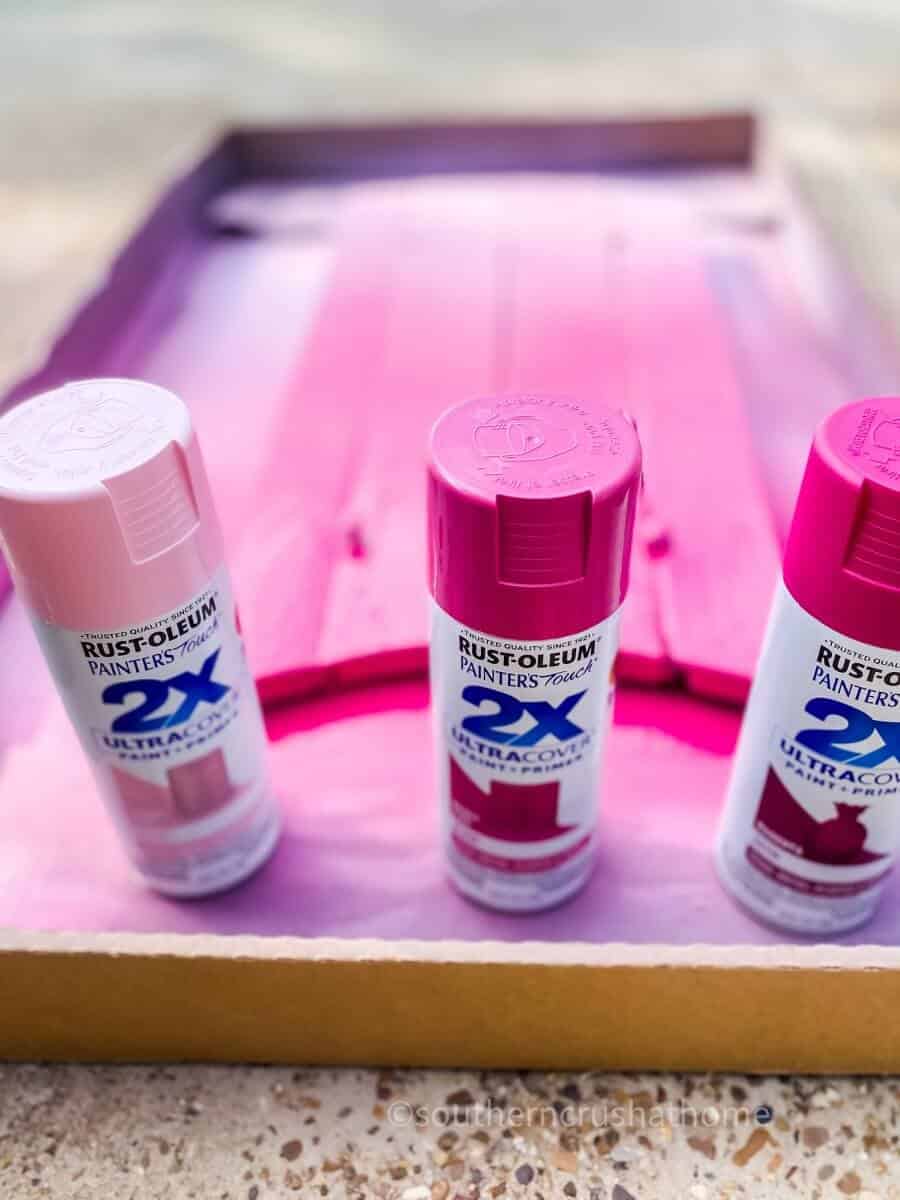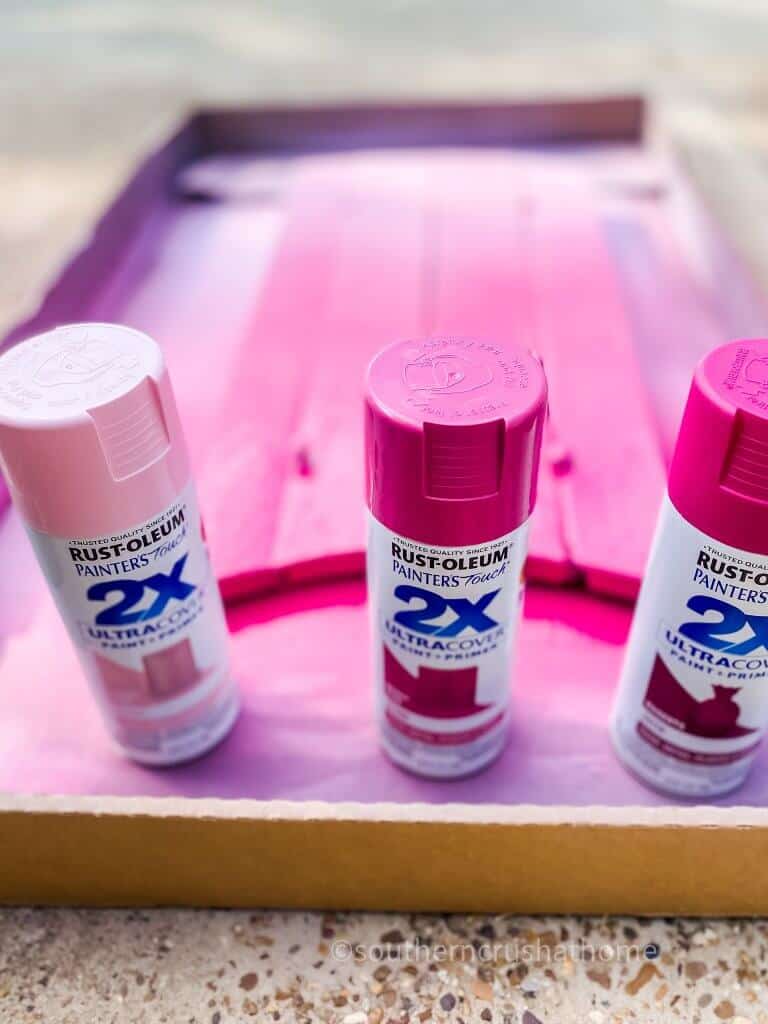 Where to find Rust-Oleum paints:
How to Make a Pink Ombre Vintage Sled for your Front Porch
If you prefer to watch a YouTube video tutorial on the ombre spray paint process, you can find it here below.
First I removed the wooden slats part of the vintage snow sled from the rails by removing the nuts from the bolts on the back.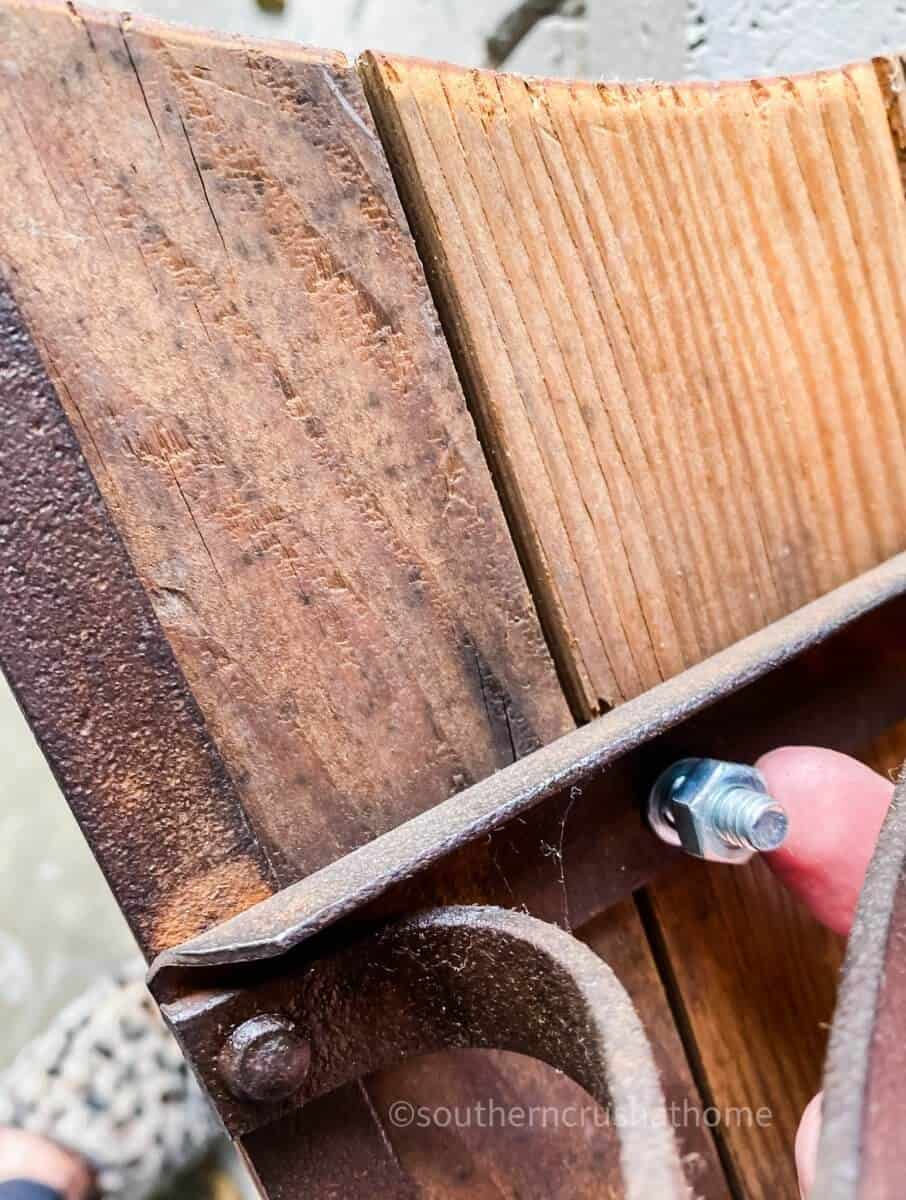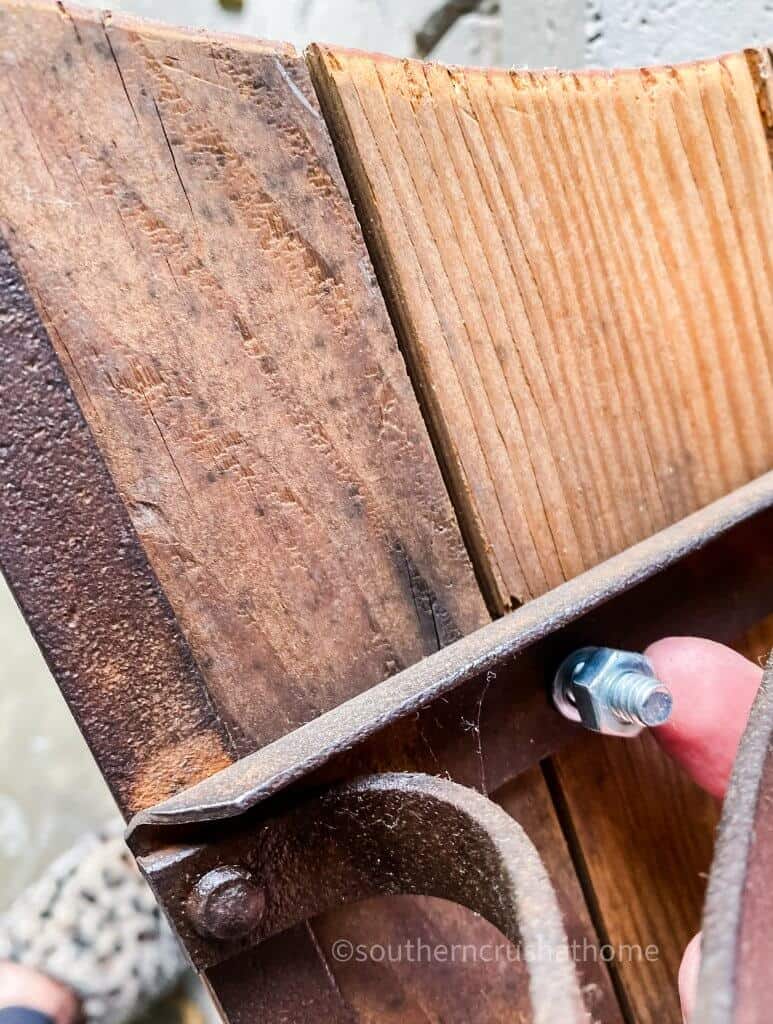 Once the two parts of the snow sled are separated it's much easier to spray without getting overspray on the metal base.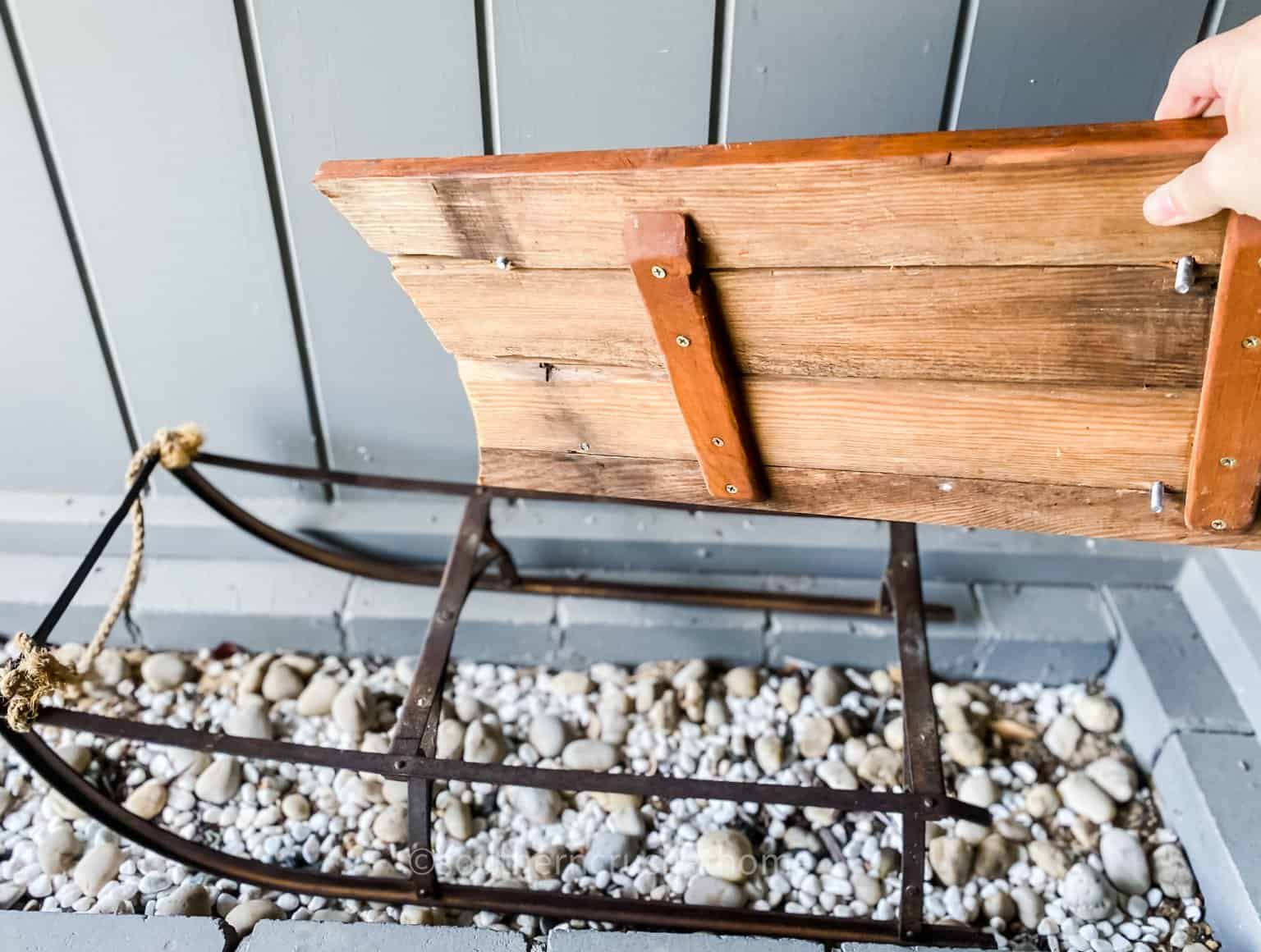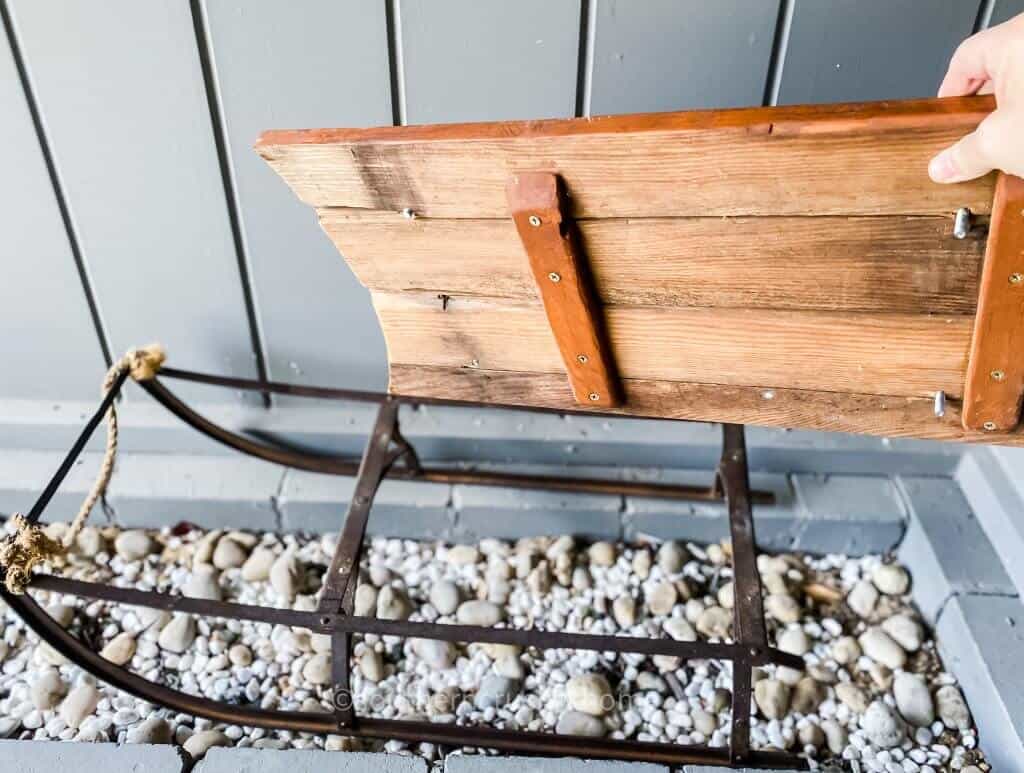 Use a piece of scrap cardboard underneath the project to catch all of the overspray.
Apply the color Candy Pink as the first layer of the ombre effect using light even strokes approximately 12-14 inches away from the sled.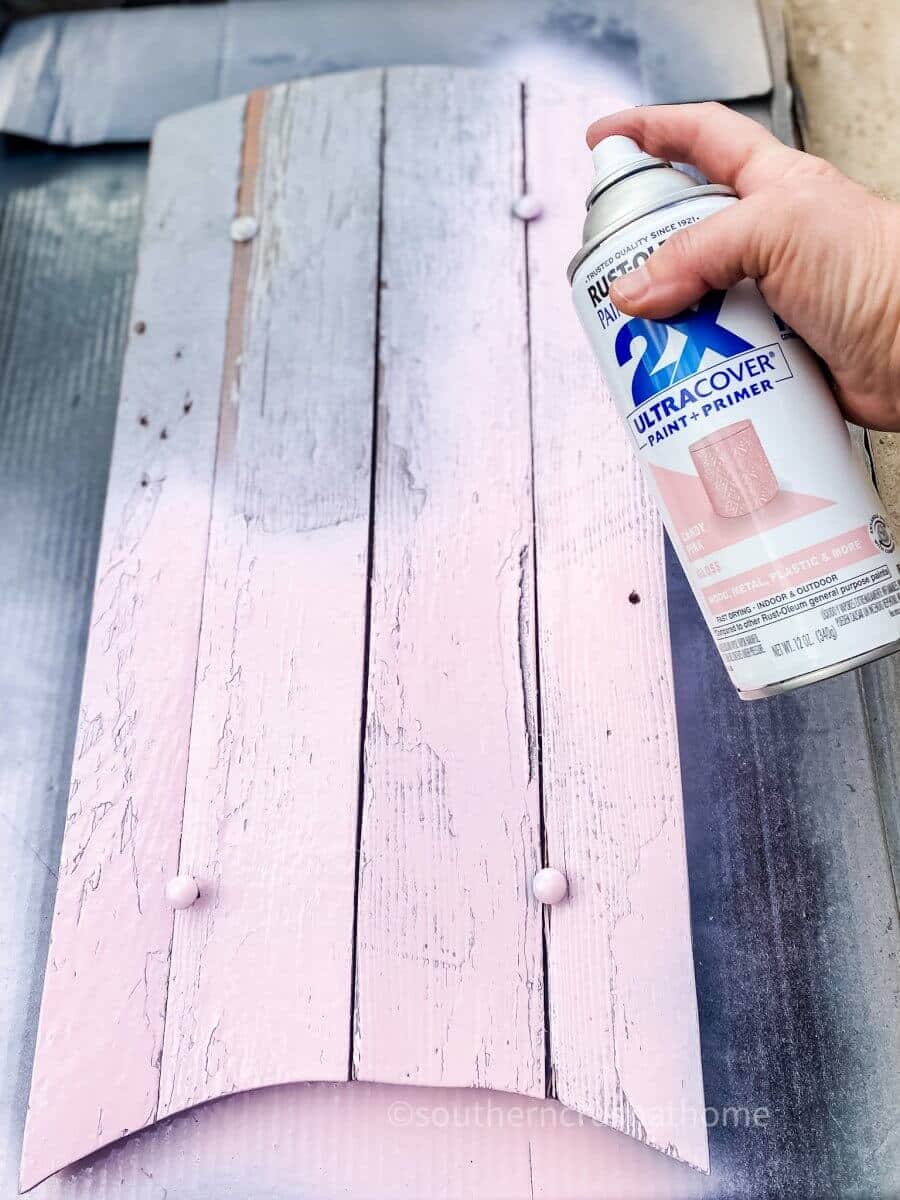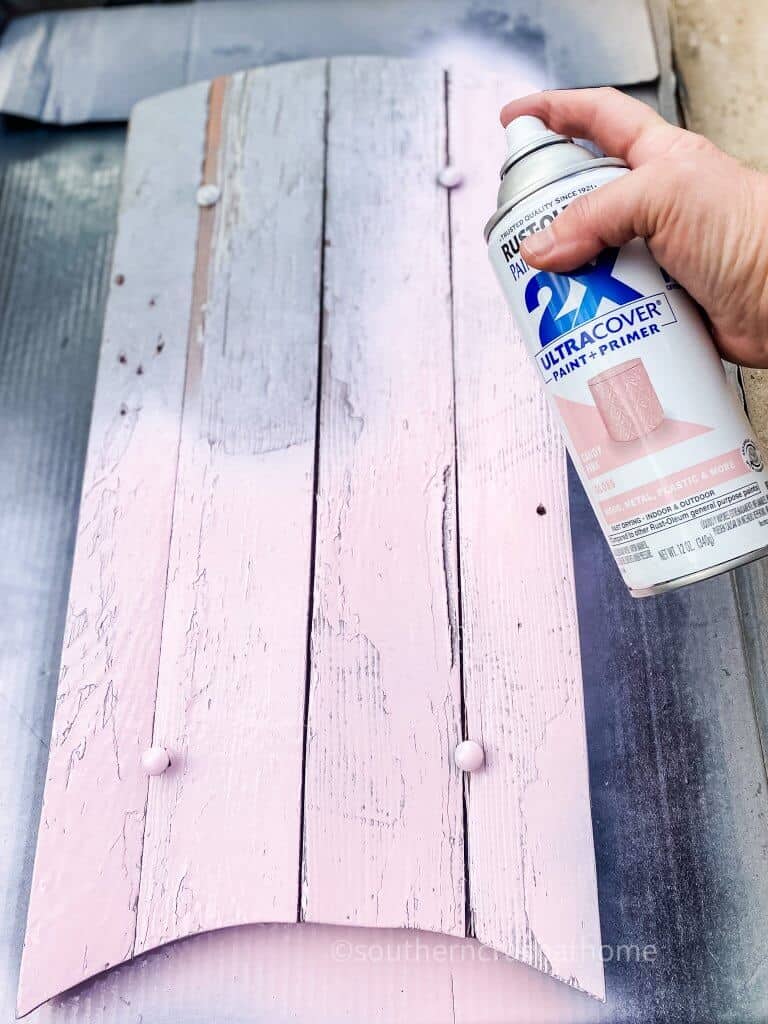 Cover the entire base using two coats if needed.
Next comes the mid-range color Berry Pink.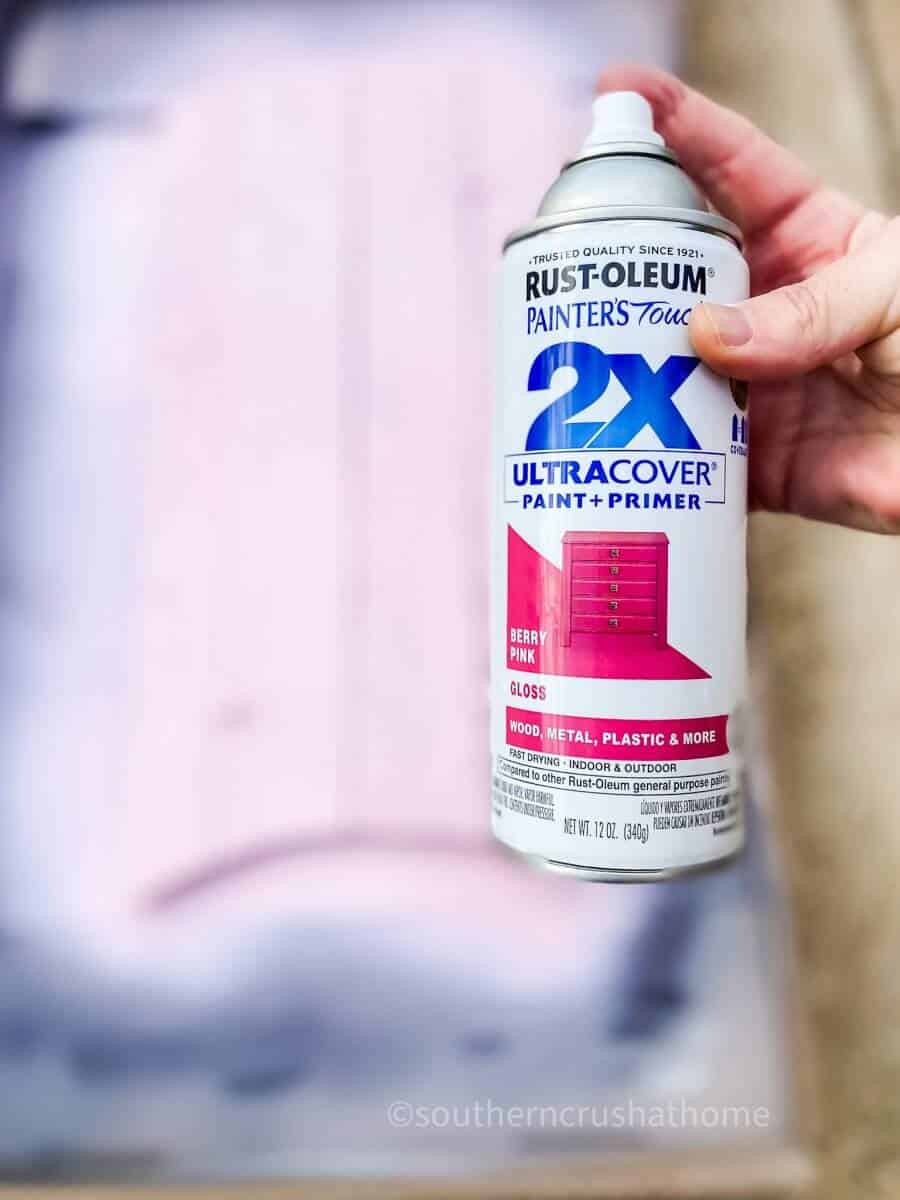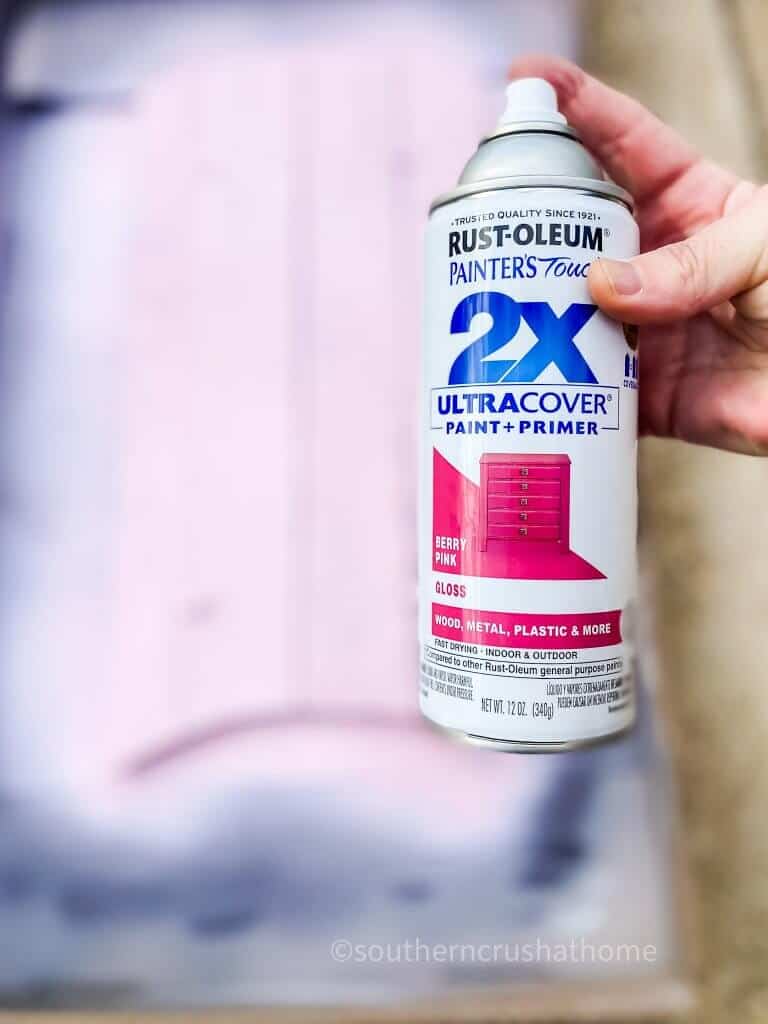 Spray this second color solid at the bottom third and slightly pull back the can from the subject as you get about halfway up. This will cause the spray to dissipate and not be solid giving it the illusion of creeping up the lighter pink color.
Finally, add the magenta color starting at the base again.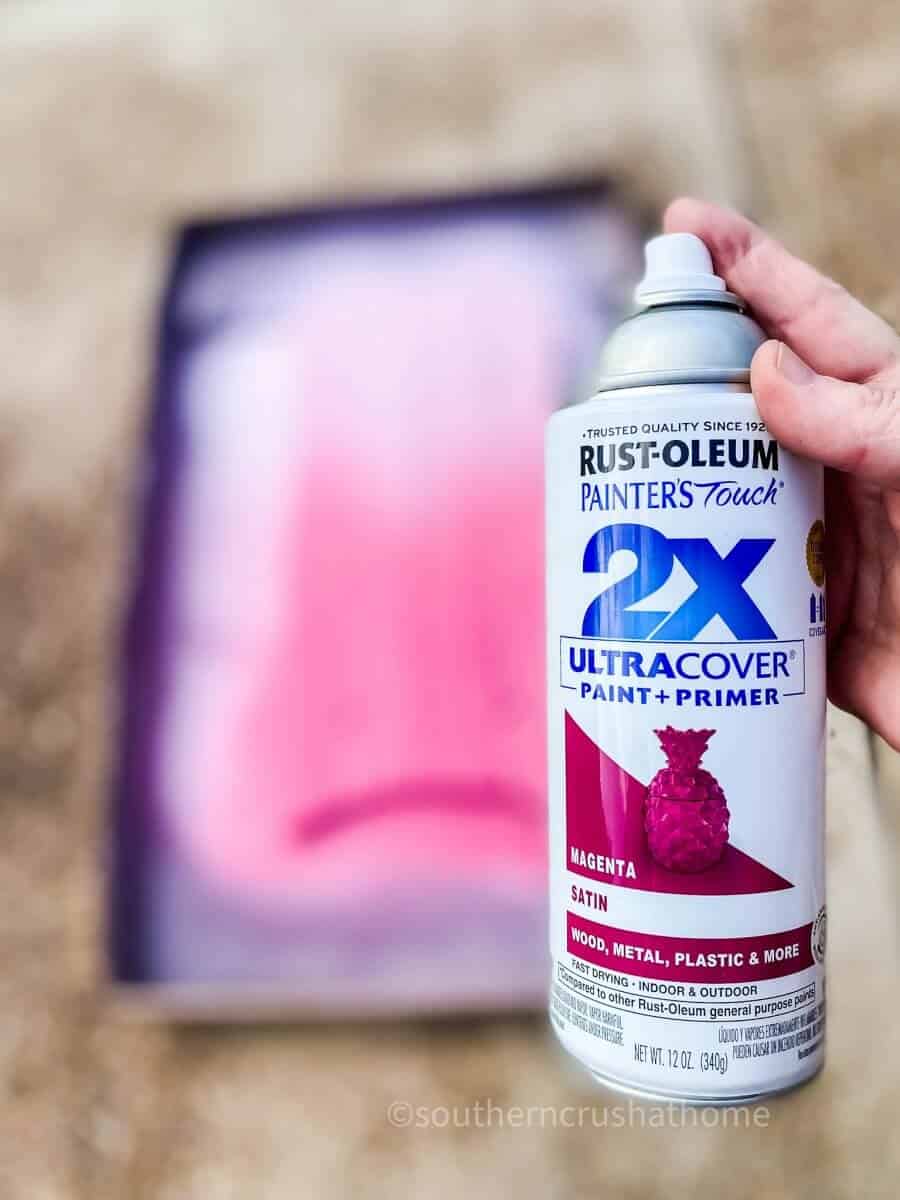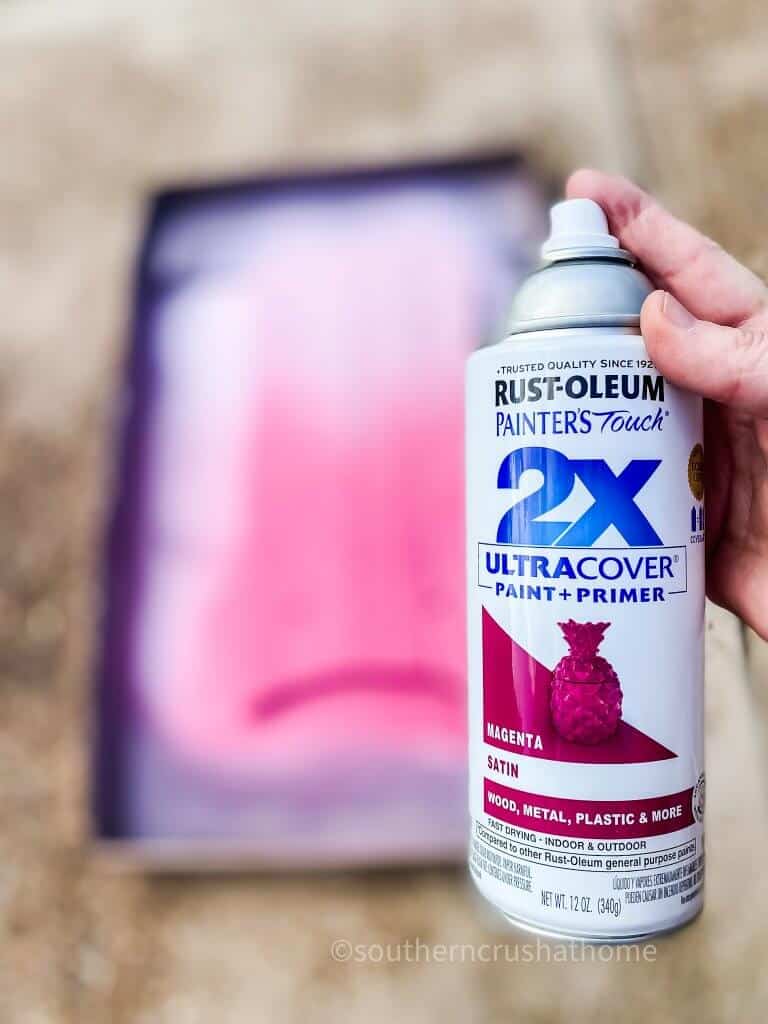 For this color, you will only coat the very bottom third pulling back as you reach the candy pink color.
This will leave you with a gorgeous modern pink aesthetic ombre look on your otherwise vintage snow sled!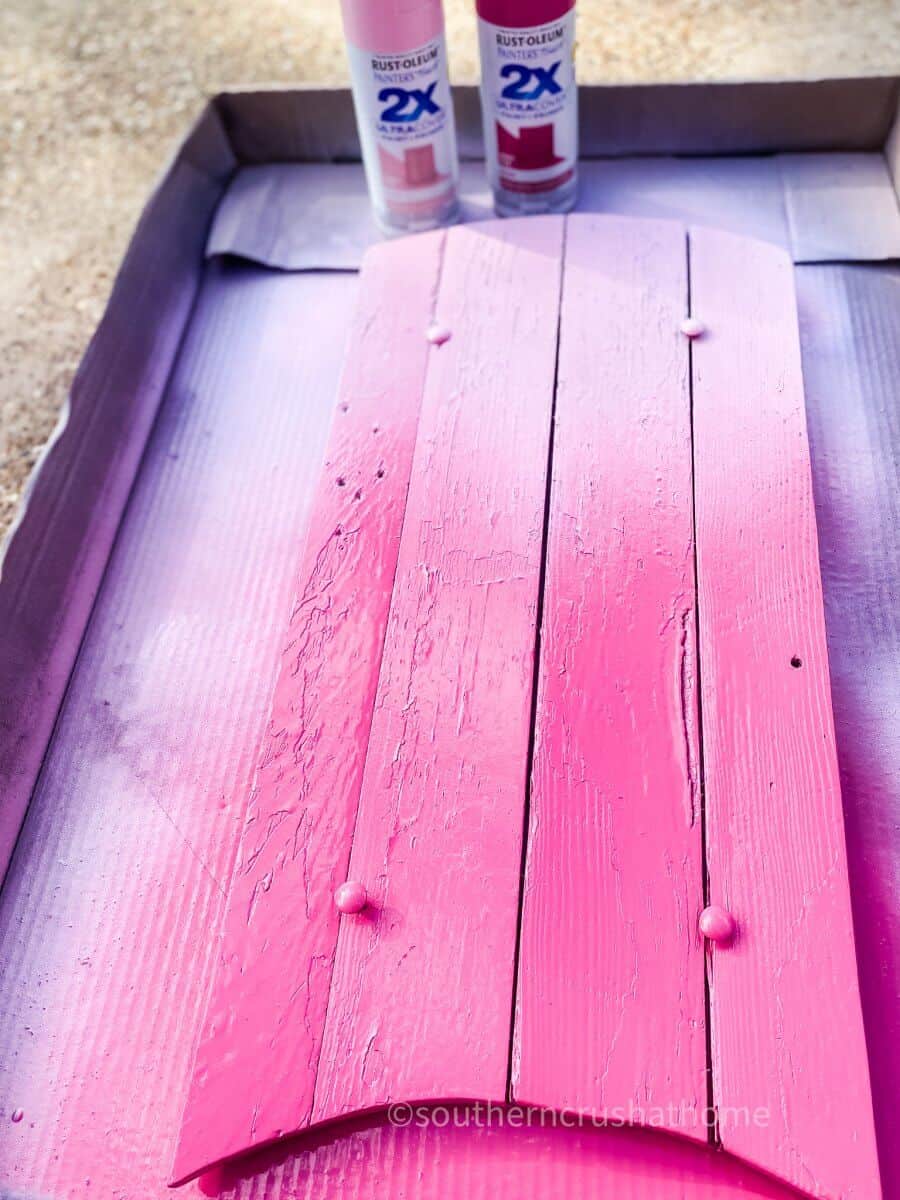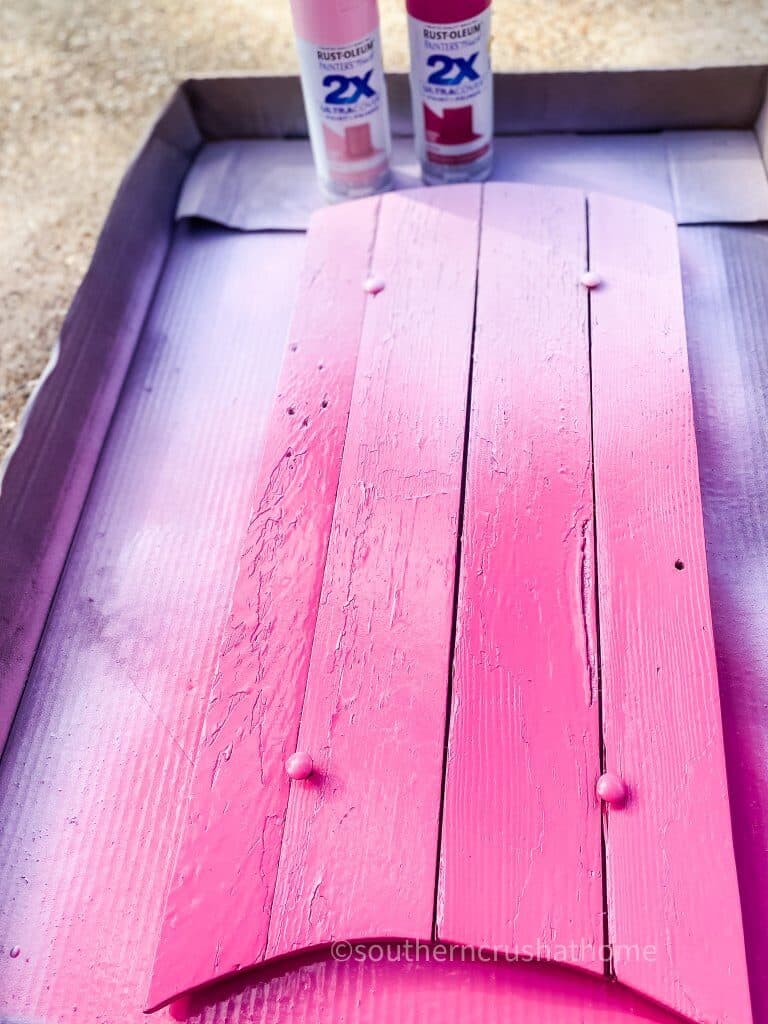 Allow to dry completely and reattach it to the metal rails using the nuts.
Add Embellishments to the Vintage Snow Sled
Once dry, you can embellish with a stencil design like I did here by adding white chalk paste and a fun "Baby it's Cold Outside" stencil.
Add a Fun Stencil Design
Apply the Brilliant White chalk paste over the stencil with a squeegee.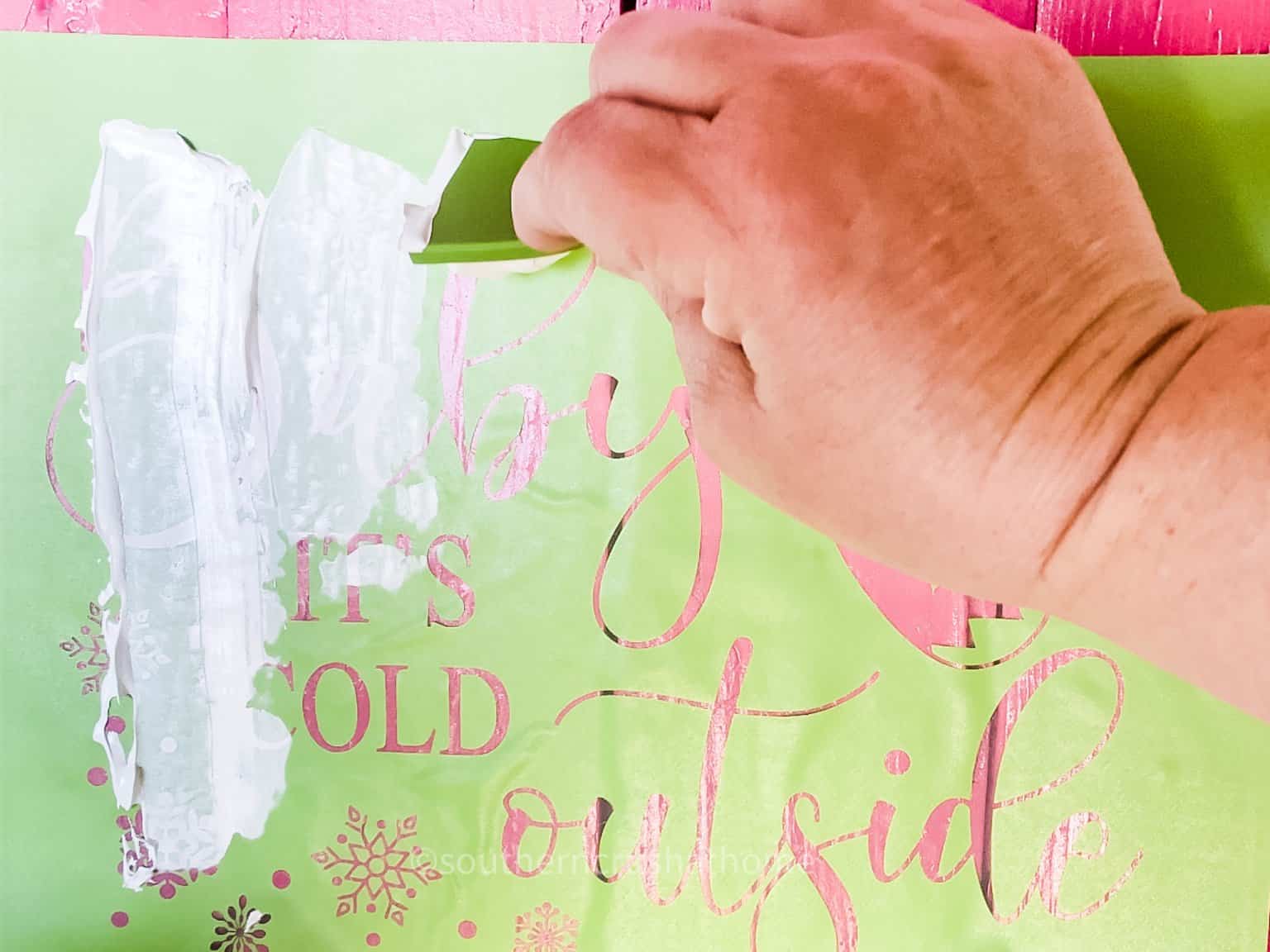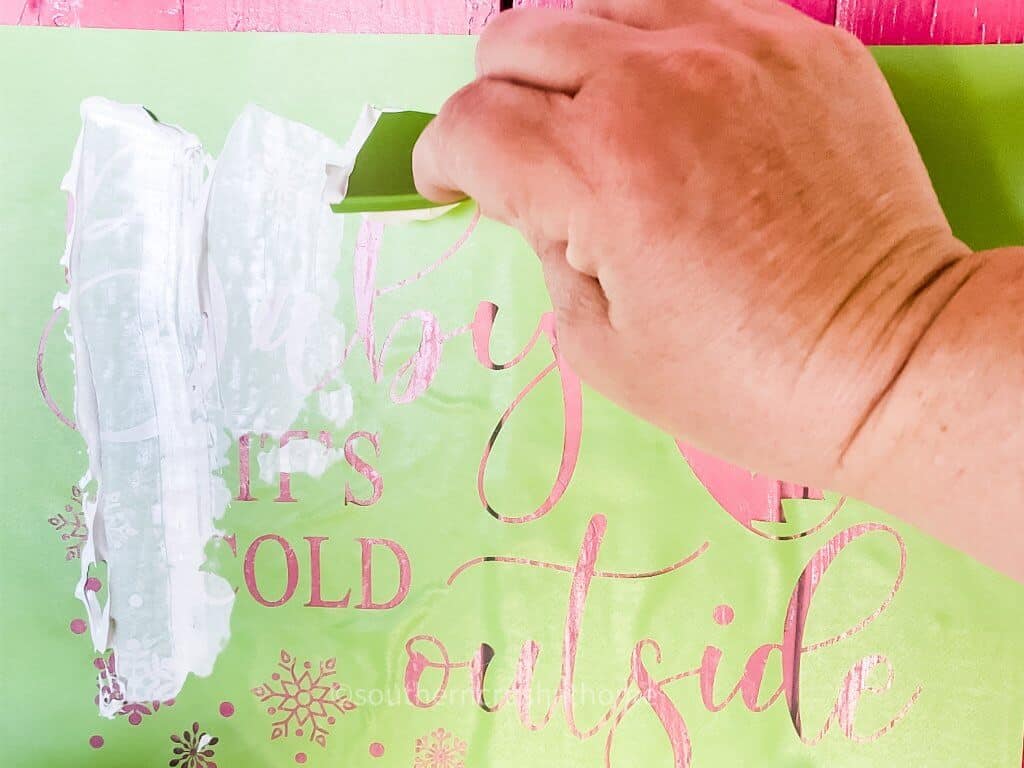 Carefully peel off the stencil so as not to remove any of the ombre spray paint.
Add Wooden Ice Skates
Once the stencil design is dry, you can add some cute wooden ice skates like these I found at Target Dollar Spot!
I simply swapped out the jute twine laces for some pink and white gingham ribbon and viola! Super cute to hang on the corner of our snow sled.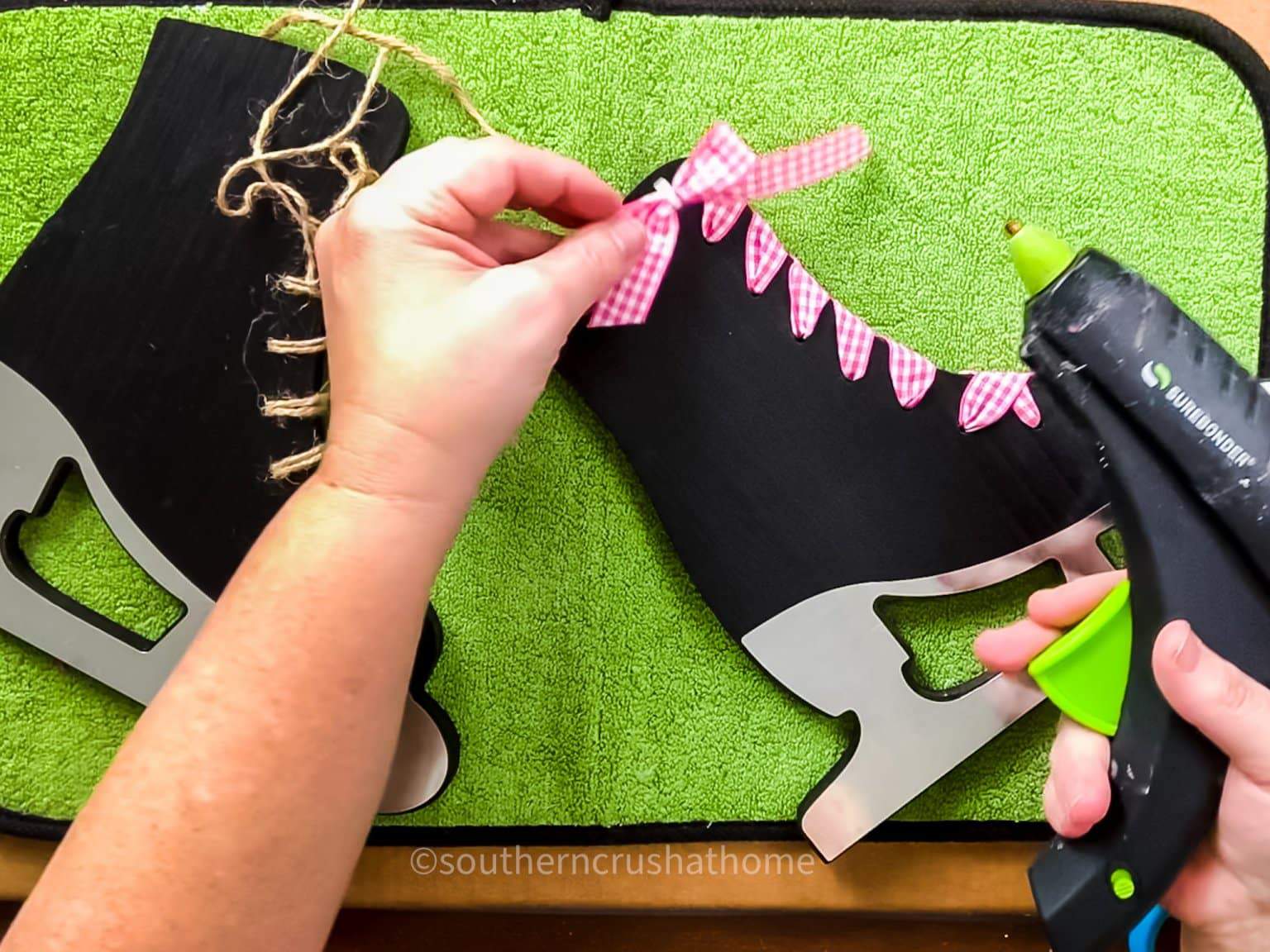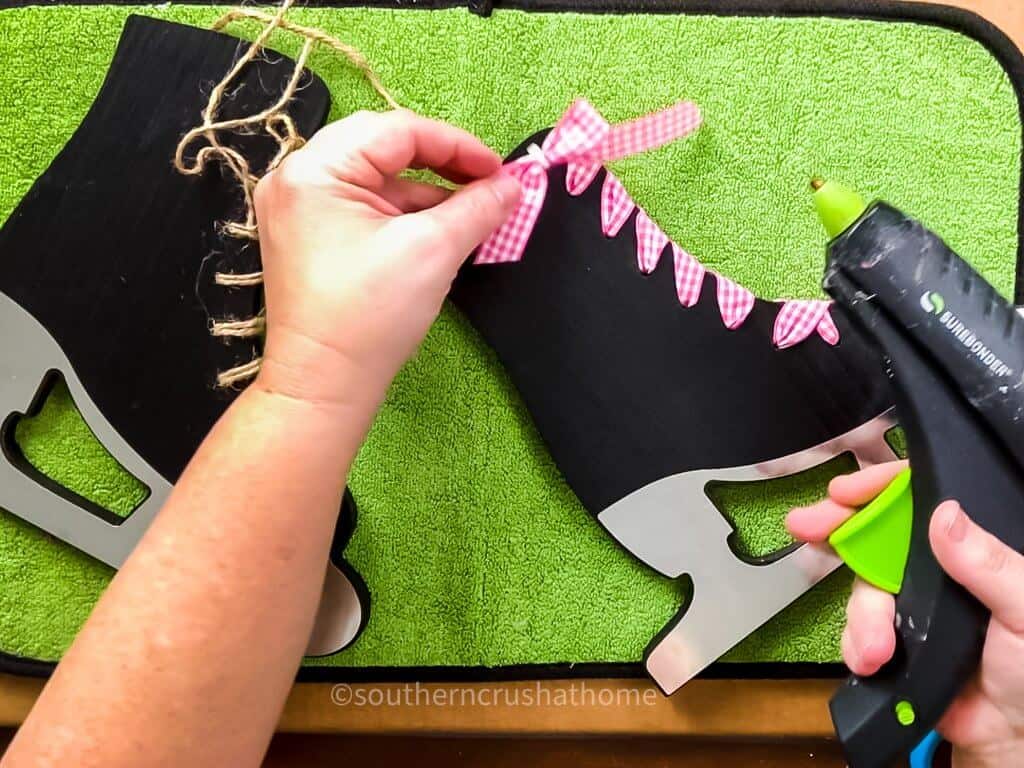 Add a Pink Burlap Bow
Finally, to extend the Barbiecore look even further, I decided to add a pink burlap bow to the snow sled using my DIY Bow Maker and some fun, sparkly snowflake bling. Super easy to make and looks great!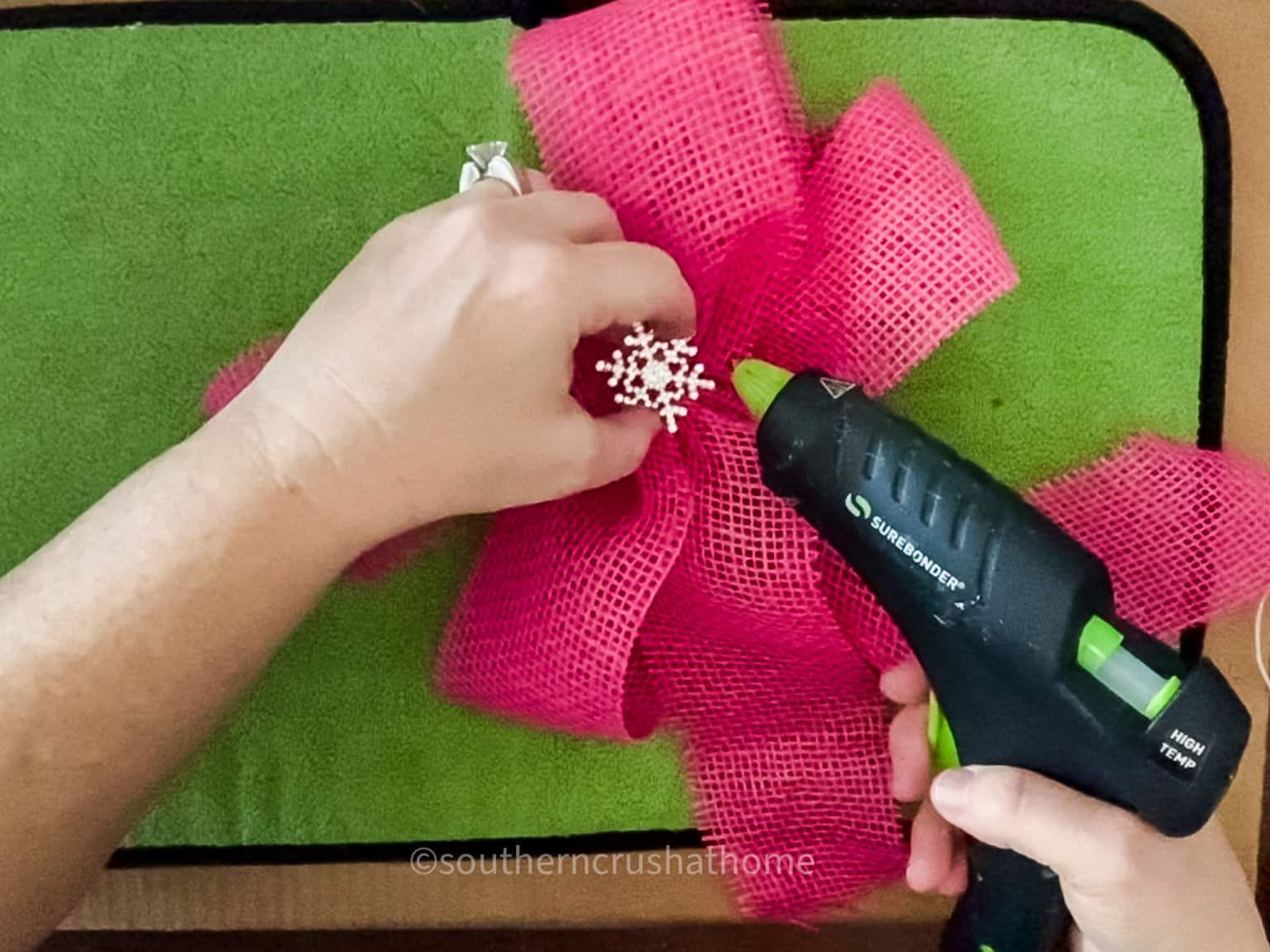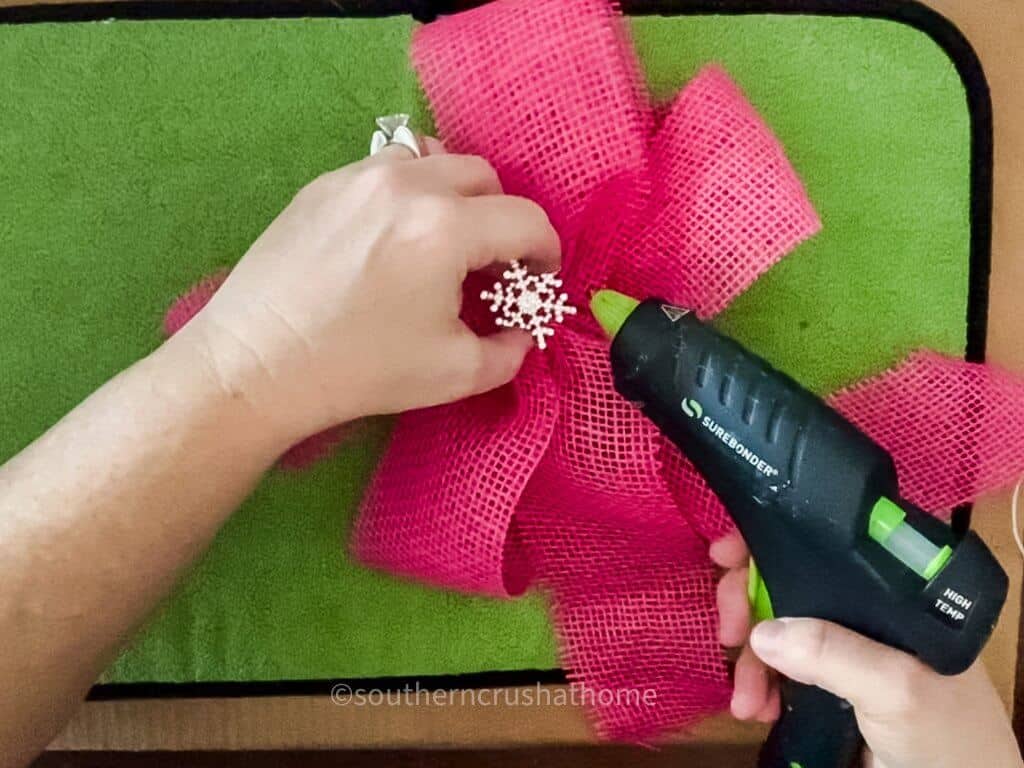 If you know me, I add a bow to almost everything I make… seems to make me feel better and I love the touch of femininity it gives to any project!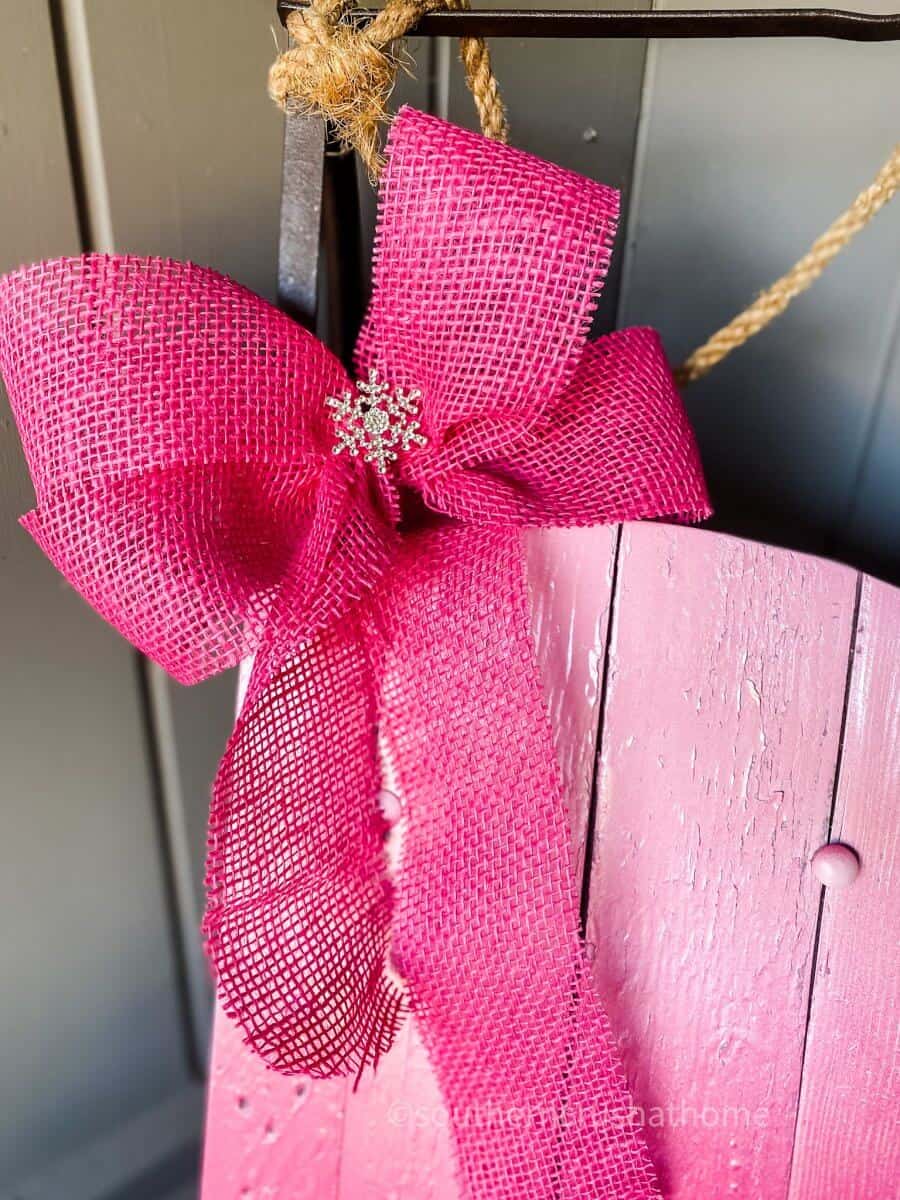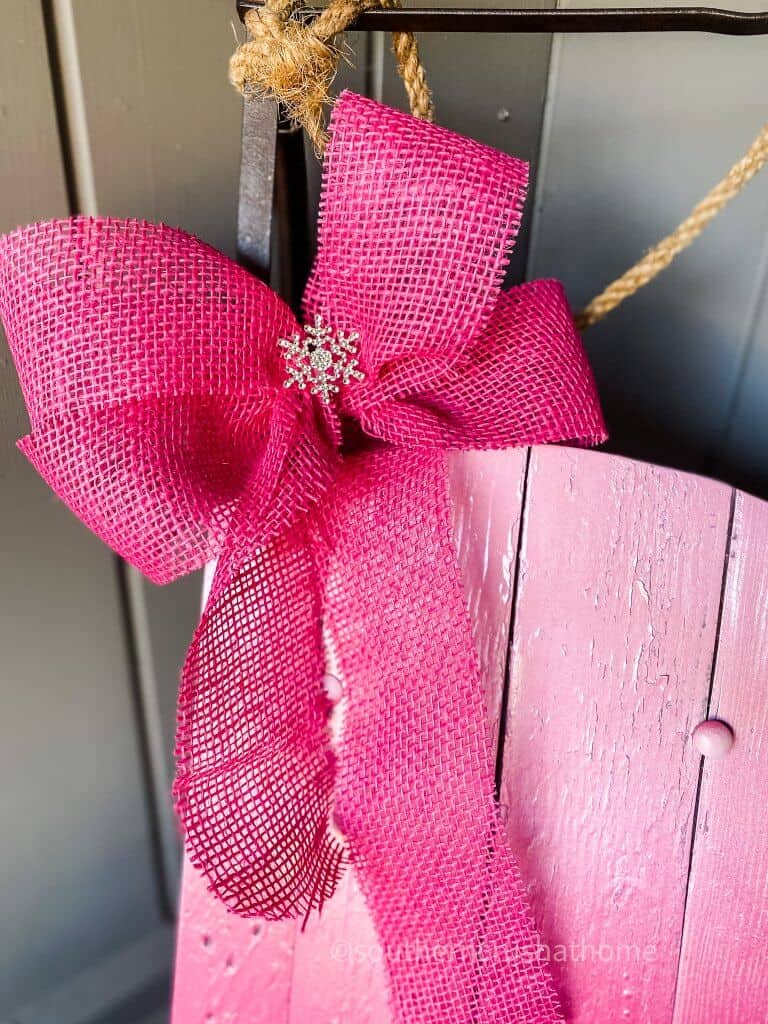 What do you think? Will you be adding some cute, whimsical Barbiecore pink aesthetic to your front porch decor this year?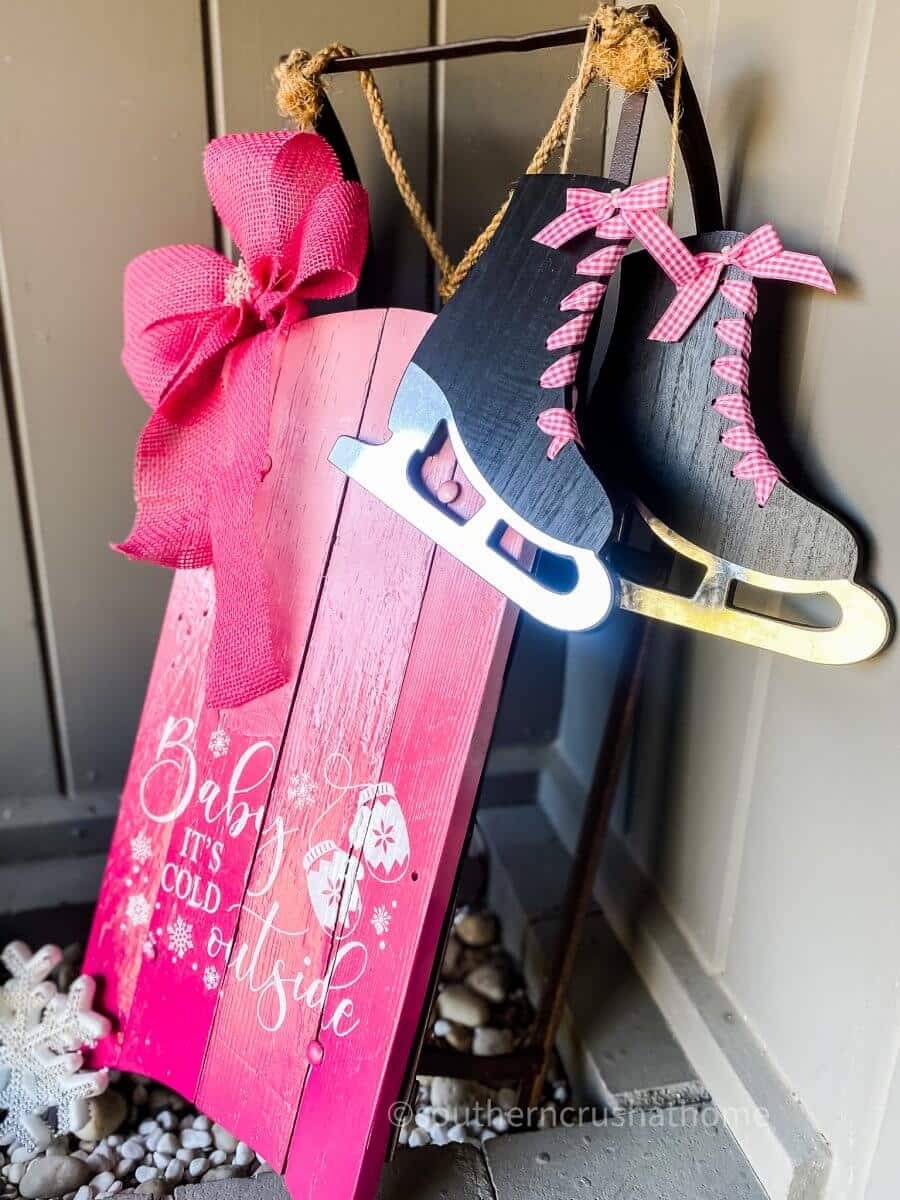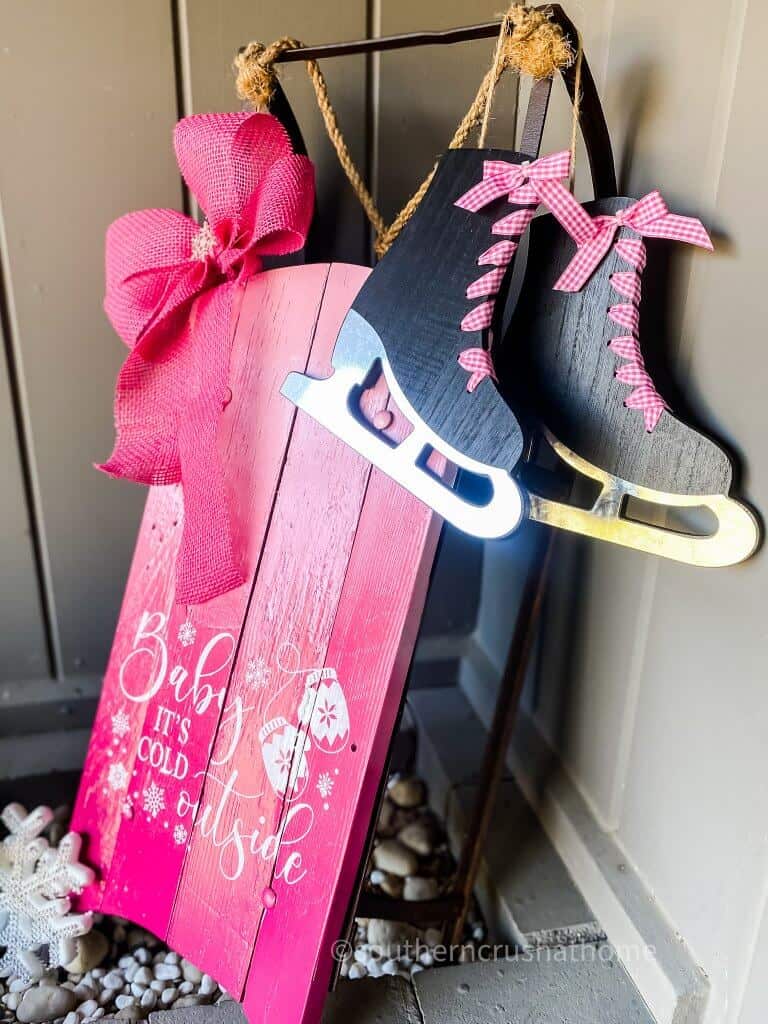 Add faux fir trees and Glitter Snowflakes to your Front Porch Decor
I decided to add a few Dollar Tree trees as well as some Dollar Tree glittery snowflakes to my decor to really round out the Winter Wonderland snow sledding theme.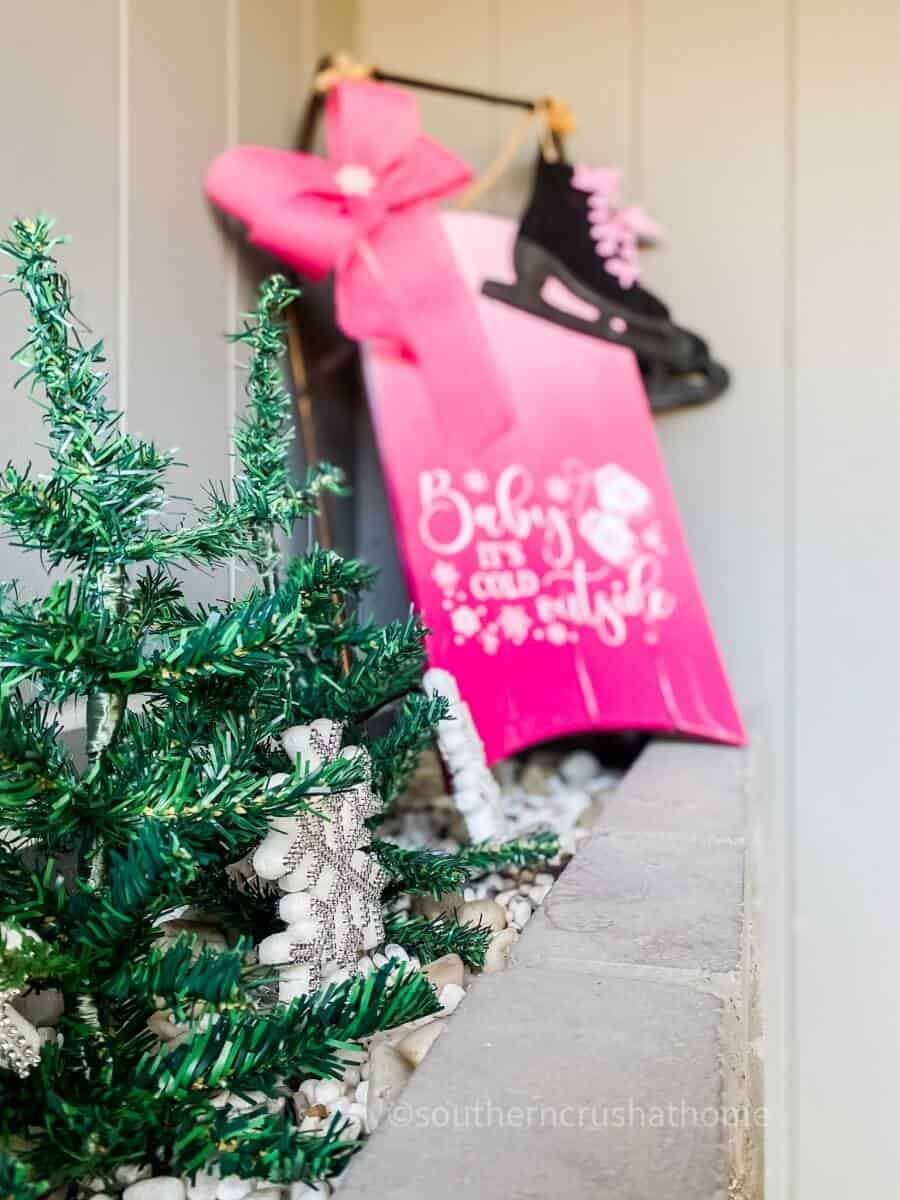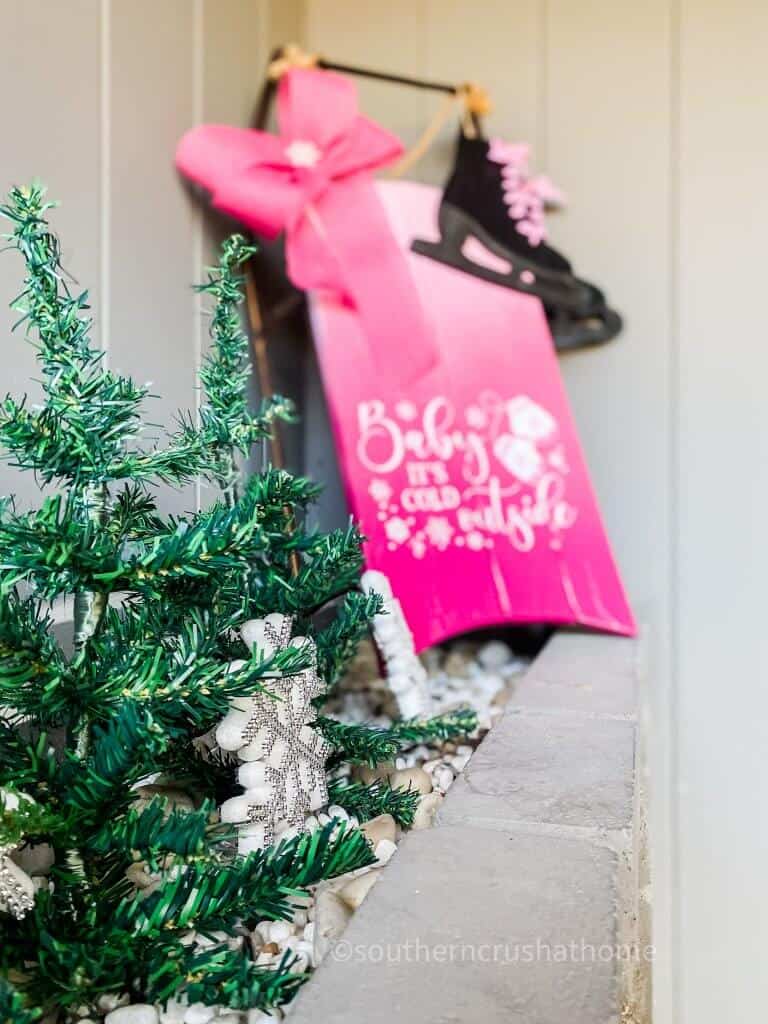 Now the Amazon delivery people will have something fun to see when they drop off my holiday packages.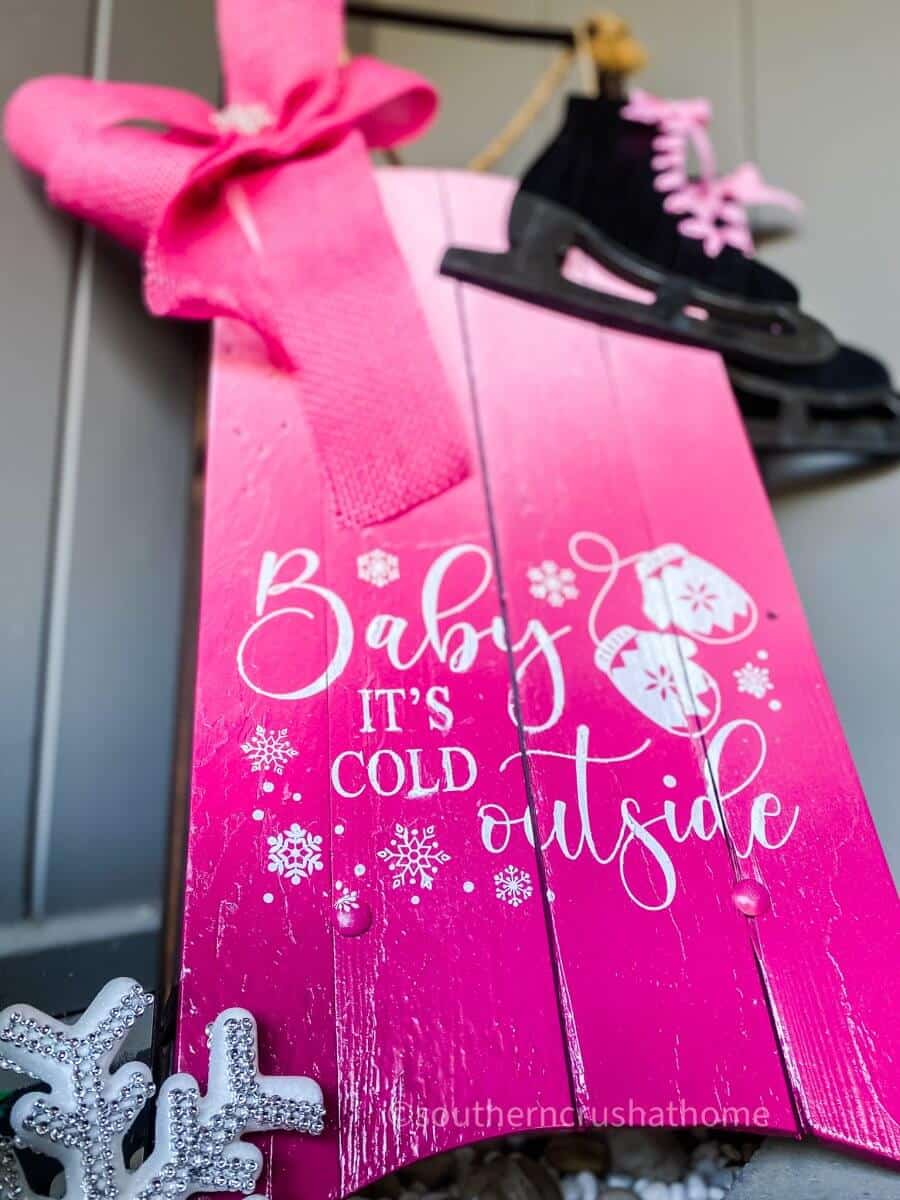 I feel like the front porch as well as the back porch are both fabulous spots to add a pop of fun and non-traditional colors! The pink shades that make up this ombre effect are the perfect way to weave in something new like this Barbiecore look!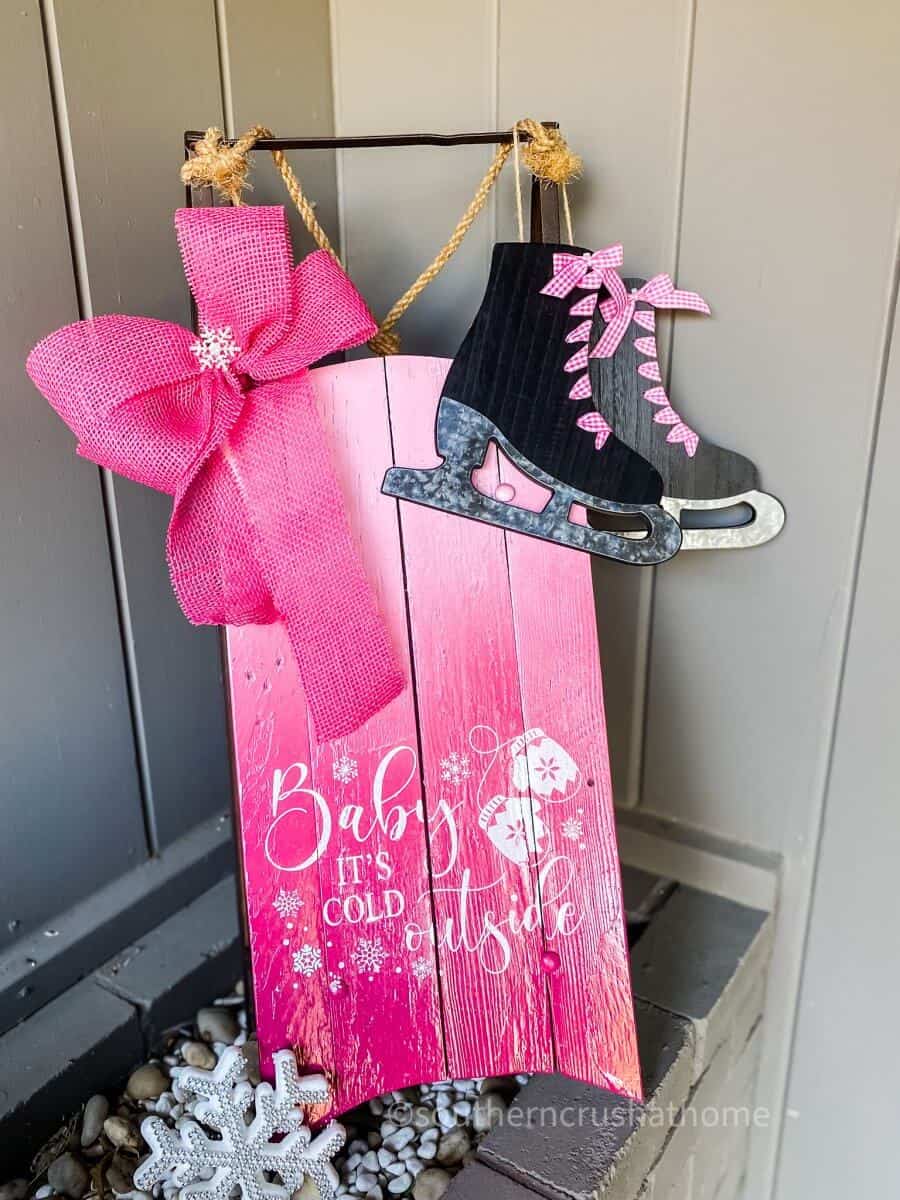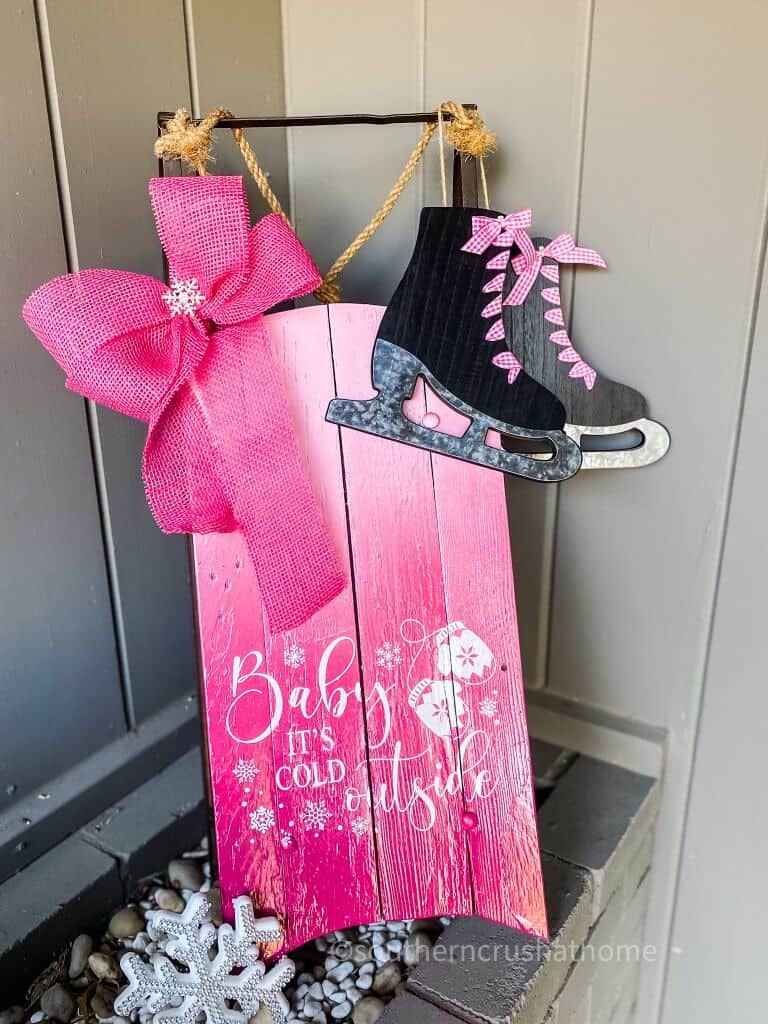 Barbiecore Home Decor Trend
Barbiecore embraces all that is fun and whimsical in the world, from fashion to home decor. The Barbiecore trend is inspired by the classic Mattel Barbie doll. It is about using all things pink and girly-girl in your home decor. It's perfect for anyone who wants to add a touch of whimsy to their space.
To achieve the Barbiecore look for your home, consider starting small by simply taking traditional decor and adding some pink flair. With its bright and glamorous elements, the Barbiecore aesthetic is perfect for anyone who wants to add a pop of bold to their home. I absolutely love it!
If you're looking for a creative way to add some cheer to your porch, look no further than this pink ombre snow sled! It's easy to make and adds a bit of whimsy to your porch decor. Best of all, it can be reused year after year!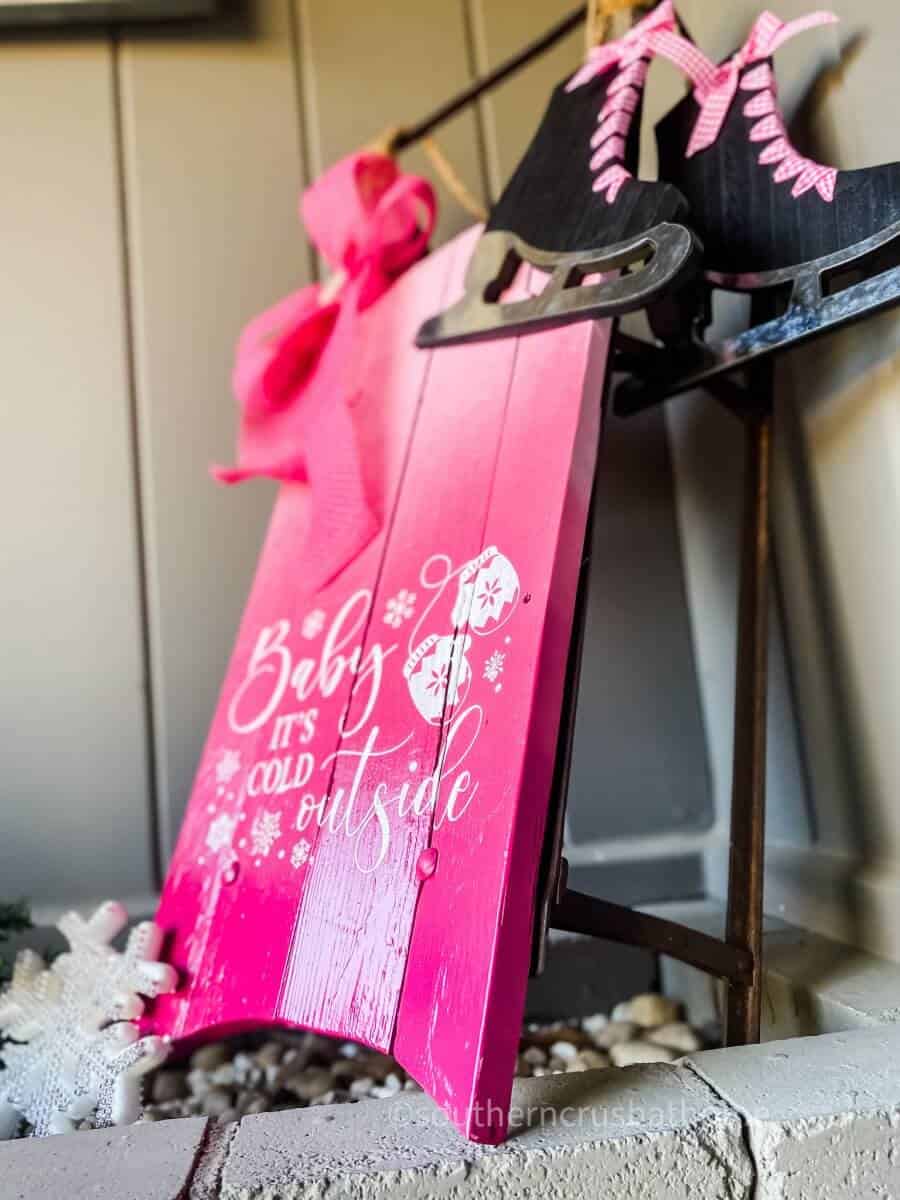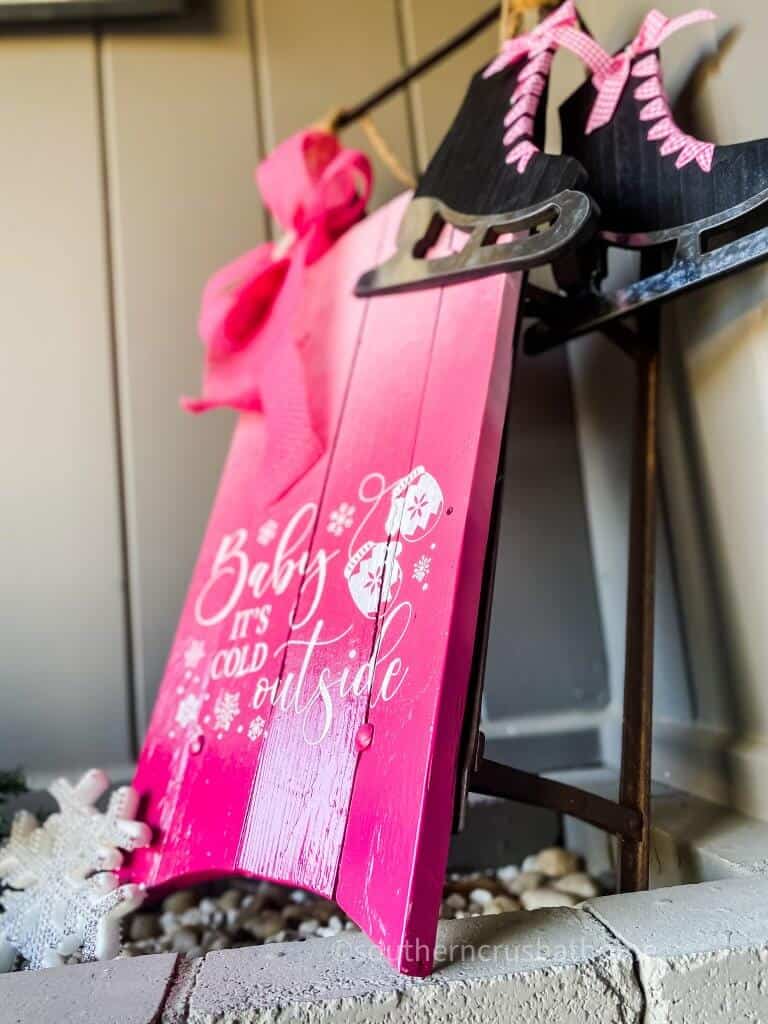 Once you get a taste of all things pink and girly-girl by incorporating just a few pieces of pink home decor here and there, you can decide if you want to go bigger. Starting with a few pillows, towels and decorations is a great way to sample this fun and "more is more" trend.
If you love it, you can think about painting your kitchen cabinets pink, adding a pink kitchen island, or maybe even a pink guest bathroom?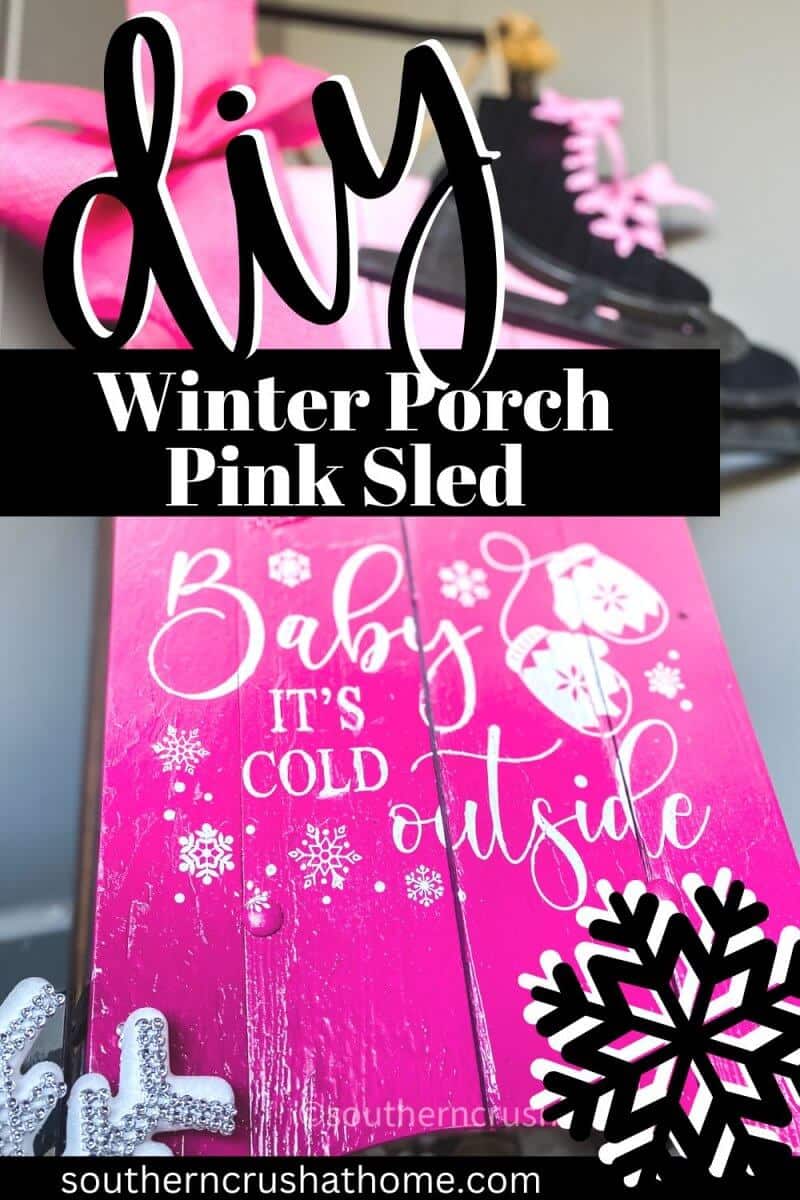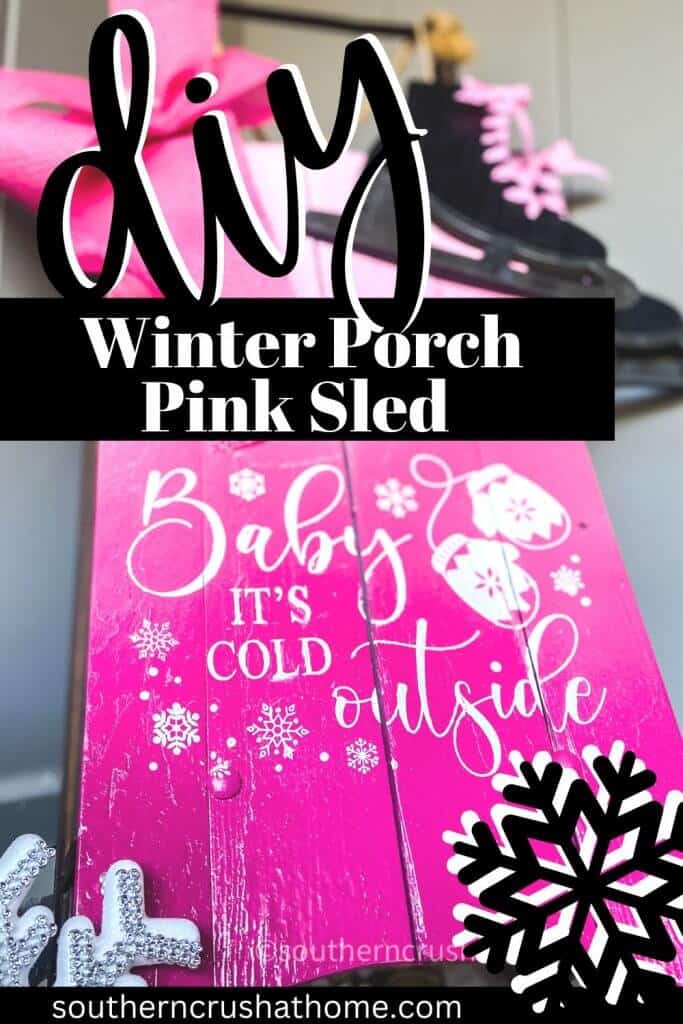 Be sure to PIN this one for later!
More Easy Painting Ideas
For more inspiration, check out these ideas!